EMAIL PURCHASE ORDER TO: TIPSPO@TIPS-USA.COM
ATTACH PO AS A PDF - ONLY ONE PO PER EMAIL
PO MUST REFERENCE TIPS CONTRACT NUMBER
VENDOR

Sharp Electronics Corporation NJPA

WEBSITE

sharpgov.com/njpa.com

SERVICE/PRODUCTS DESCRIPTION

Sharp Electronics Corporation is offering our National Joint Powers Alliance (NJPA) contract as a purchasing vehicle for The Interlocal Purchasing System. NJPA is a municipal contracting agency that acts on the behalf of its members, which includes states, cities, counties, colleges and K-12 public schools; as well as non-profit agencies. Sharp's NJPA contract provides the opportunity to purchase copiers, fax and multifunction machines through a nationally competitively bid contract. The products on Sharp's NJPA contract have been meticulously engineered to help businesses maximize their document workflow efficiency while providing outstanding image quality and performance. Sharp's products offer high-resolution, touchscreen color displays with graphical menu navigation and retractable keyboards for easy data-entry; all with industry leading security features to preserve your organization's document integrity.
CONTRACT: 2032615 Copiers, Faxes and Multifunction Machines
Mar-26-2015 to Mar-26-2018
Sharp Electronics Corporation NJPA
CONTRACT: 2032615 Copiers, Faxes and Multifunction Machines
Mar-26-2015 to Mar-26-2018
TIPS CONTACT

PAYMENT TO

NAME

Meredith Barton

ADDRESS:

One Sharp Plaza

POSITION

TIPS CONTACT

PHONE

866-839-8477

CITY:

Mahwah

FAX

866-839-8472

STATE:

NJ

MOBILE

ZIP:

07495

EMAIL

tips@tips-usa.com
| | |
| --- | --- |
| FEDERAL OR EDGAR COMPLIANCE DOCUMENTS FILED WITH CONTRACT: | NO |
| DISADVANTAGED/MINORITY/WOMAN BUSINESS ENTERPRISE | NO |
| HISTORICALLY UNDERUTILIZED BUSINESS (HUB) | NO |
| | |
| --- | --- |
| | AL AK AZ AR CA CO CT DE DC FL GA HI ID IL IN IA KS KY LA ME MD MA MI MN MS MO MT NE NV NH NJ NM NY NC ND OH OK OR PA RI SC SD TN TX UT VT VA WA WI WY |
0

We are committed to provide a financing experience based on unwavering integrity, unmatched service and complete transparency. Our processes have been established with the client in mind, and we are dedicated to ensuring that you enjoy your experience working with our team. Our goal is for you to build a long-term relationship with Live Oak Equipment Finance, not only as your financial partner, but also a firm that can help you grow and excel as a professional in your industry.
Contact Information:
Phone: (512) 726-0367
Email: tips@loequipmentfinance.com
Website: www.loequipmentfinance.com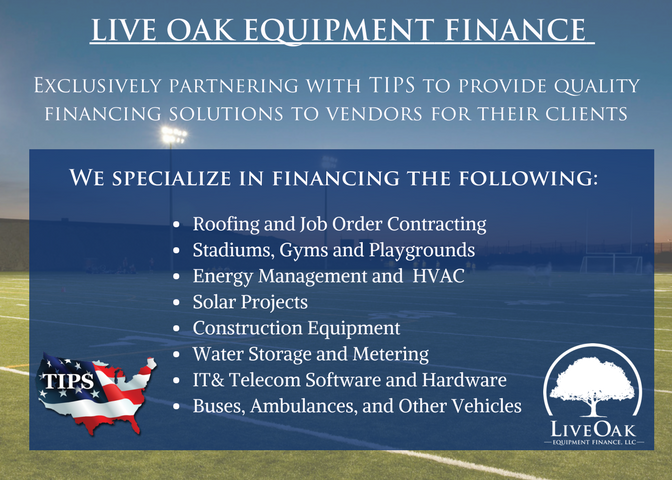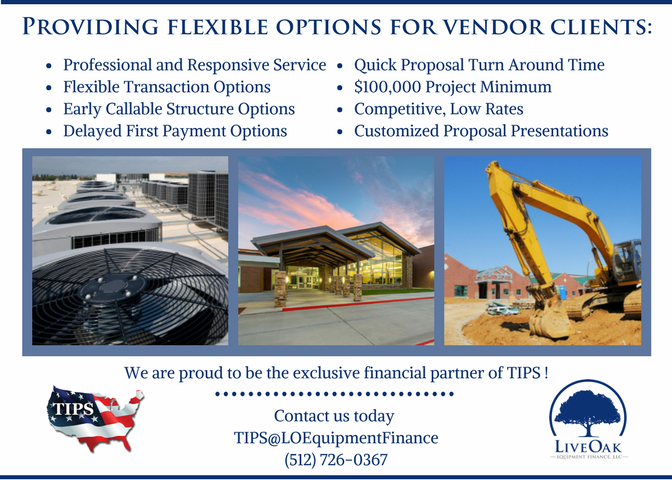 Resellers listed below may also hold a current TIPS contract. PO's for quotes provided by a reseller that are also awarded in the same category will be processed and sent directly to that reseller.
Please check under "ALL VENDORS" before requesting a quote from any listed reseller.
Resellers
Address
360 Document Solutions LLC www.360documentsolutions.com
Contact: Mark Lindquist
Contact Phone:(316) 630-8334
Contact Email: markl@360documentsolutions.com
7804 E Funston #206, Witchita, KS 67207
Phone:
Fax:
360TII www.360dti.com
Contact: Joe Payne
Contact Phone:(866) 360-9697
Contact Email: jpayne@360dti.com
360 East First St, Tustin, CA 92780
Phone:
Fax:
A Plus Imaging Inc www.aplusimaging.com
Contact: Brian Boelke
Contact Phone:(507) 292-8888
Contact Email: bboelke@aplusimaging.com
1937 7th Street NW S-B, Rochester, MN 55901
Phone:
Fax:
A&E Office Machines INC www.aeofficemachines.com
Contact: Adam Crappel Jr
Contact Phone:(985) 384-0336
Contact Email: adam@aeofficemachines.com
1005 Clothilde St, Morgan City, LA 70380
Phone:
Fax:
A2Z Business Systems www.a2zbizsys.com
Contact: Marc Cimmet
Contact Phone:(415) 656-2400
Contact Email: mcimmet@a2zbizsys.com
200 Valley Drive #12, Brisbane, CA 94005
Phone:
Fax:
AAA Business Systems, INC. www.aaabm.com
Contact: Mark Wagstaff
Contact Phone:(479) 442-4185
Contact Email: mwagstaff@aaabm.com
2715 Drake St., Fayetteville, AR 72703
Phone:
Fax:
Abadan Tri Cities www.abadantc.com
Contact: Tyler Best
Contact Phone:(509) 946-2029
Contact Email: tylerb@abadantc.com
79 Aaron Drive, Richland, WA 99352
Phone:
Fax:
Aberdeen Office Equip INC www.aberdeenoffice.com
Contact: Fred Scott
Contact Phone:(360) 533-0352
Contact Email: fscott@aberdeenoffice.com
322 E First, Aberdeen, WA 98520
Phone:
Fax:
ABM Business Systems www.abmcopiers.com
Contact: Ben La Torre
Contact Phone:(203) 453-9533
Contact Email: ben@abmcopiers.com
1200 Village Walk, Guilford, CT 06437
Phone:
Fax:
ABS Business Products, INC www.absproducts.com
Contact: Jim Donnellon
Contact Phone:(513) 769-7800
Contact Email: j.donnellon@absproducts.com
10855 Medallion Dr, Cincinnati, OH 45241
Phone:
Fax:
Access Technologies INC www.accesssystens.com
Contact: Shane Sloan
Contact Phone:(515) 987-6227
Contact Email: ssloan@accesssystems.net
1050 SE Olson Drive Ste 1, Waukee, IA 50263
Phone:
Fax:
Action Imaging Group www.actionimg.com
Contact: Jeff Woloshin
Contact Phone:(520) 408-4940
Contact Email: jwoloshin@actionimg.com
3776 North 1st St, Tucson, AZ 85719
Phone:
Fax:
Action Repro Systems www.actionreprosystem.com
Contact: Nick Mauney
Contact Phone:(916) 638-3272
Contact Email: nick.mauney@actionreprosystem.com
3298 Monier Circle, Rancho Cordova, CA 95742
Phone:
Fax:
Active Office Solutions, LLC Contact: Charlie Jung
Contact Phone:(773) 539-3333
Contact Email: activecopy@aol.com
3839 W. Devon Avenue, Chicago, IL 60659
Phone:
Fax:
AD Solutions www.myadsusa.com
Contact: Moody Hamdan
Contact Phone:(407) 412-6929
Contact Email: mhamdan@myadsusa.com
4303 Vineland Rd, Ste F15, Orlando, FL 32811
Phone:
Fax:
Advanced Business Systems, INC www.absqc.com
Contact: Dan Knox
Contact Phone:(309) 797-1231
Contact Email: knoxd@absqc.com
4631 44th St, Moline, IL 61265
Phone:
Fax:
Advanced Copier Technologies, INC www.advancedcopiertech.com
Contact: Jerry Simpson
Contact Phone:(704) 868-3022
Contact Email: jerrys@advancedcopiertech.com
713 E Second Avenue, Gastonia, NC 28054
Phone:
Fax:
Advanced Copy Systems INC. www.advancedcopysystems.com
Contact: Walter Ferguson
Contact Phone:(909) 889-4006
Contact Email: ACS.Walter@verizon.net
571 E Redlands BLVD, San Bernadino, CA 92408
Phone:
Fax:
Advanced Forms & Printing Contact: Stephen Lovejoy
Contact Phone:(239) 549-7578
Contact Email: slovejoy@advforms.com
715 NE 19th Place, Cape Coral, FL
Phone:
Fax:
Advanced Imaging Solutions www.ais-mn.com
Contact: Michael Keating
Contact Phone:(952) 930-1882
Contact Email: mkeating@ais-mn.com
6121 Baker Street Suite 110, Minnetonka, MN 55345
Phone:
Fax:
Advanced Imaging Technologies, INC www.aitsolution.net
Contact: Peter Whittier
Contact Phone:(508) 778-0885
Contact Email: pwhittier@aitsolutions.net
115A Mid Tech Drive, West Yarmouth, MA 02673
Phone:
Fax:
Advanced Office Automation INC. www.aoa-sharpdigital.com
Contact: Joseph Silva
Contact Phone:(805) 644-1900
Contact Email: aoainc@earthlink.net
1520 Goodyear Avenue Ste B, Ventura, CA 93003
Phone:
Fax:
Advanced Office Equipment Contact: Christopher S. Noving
Contact Phone:(703) 421-4800
Contact Email: scott@sharp-aoe.com
Silverbrook Ctr Drive, Sterling, VA
Phone:
Fax:
Advanced Office Systems www.aosnj.com
Contact: Gene Naspo
Contact Phone:(908) 298-0220
Contact Email: genenaspo@aosnj.com
129 East 1st Ave, Roselle, NJ 07203
Phone:
Fax:
Advantage Office Solutions INC www.aosbiz.com
Contact: Paul Charles
Contact Phone:(920) 434-5982
Contact Email: paulc@aosbiz.com
1610 Cornell Rd, Green Bay, WI 54313
Phone:
Fax:
Alexander Business Machines www.alexandercopyingmachinesmi.com
Contact: J.T. Alexander
Contact Phone:(989) 739-9178
Contact Email: abmjta@gmail.com
208 S State Street, Oscoda, MI 48750
Phone:
Fax:
Alexanders Office Center www.alexandersonline.net
Contact: Genevieve Alexander
Contact Phone:(478) 272-6495
Contact Email: nalexander@alexandersonline.net
517 Academy Ave, Dublin, GA 31021
Phone:
Fax:
All Copy Products Inc. www.allcopyproducts.com
Contact: Brad Knepper
Contact Phone:(303) 295-0741
Contact Email: bknepper@allcopyproducts.com
4141 Colorado BLVD, Denver, CO 80216
Phone:
Fax:
Allen Business Machines www.abmfw.com
Contact: Dave Ferro
Contact Phone:(260) 744-4259
Contact Email: dferro@abmfw.com
1816 South Calhoun, Fort Wayne, IN 46802
Phone:
Fax:
Allen Young Off Machines www.allenyoungofficemachines.com
Contact: Burk Young
Contact Phone:(325) 655-6558
Contact Email: bkhyoung@wcc.net
60 N Chadbourne, San Angelo, TX 76903
Phone:
Fax:
Allfax Specialties INC www.allfax.com
Contact: Brian Grosch
Contact Phone:(504) 733-3418
Contact Email: brian@allfax.com
130 James Drive, St Rose, LA 70087
Phone:
Fax:
Allied Business Solutions, INC www.digitalallied.com
Contact: Tom Beeles
Contact Phone:(541) 889-7697
Contact Email: t.beeles@digitalallied.com
1252 SW 4th Avenue, Ontario, OR 97914
Phone:
Fax:
Alltech Business Systems www.myalltech.com
Contact: Christopher Guiffre
Contact Phone:(908) 241-2000
Contact Email: chris@myalltech.com
762 Fairfield Ave, Kenilworth, NJ 07033
Phone:
Fax:
Alpha Copy Office Equipment Contact: Sim Reid
Contact Phone:(770) 845-7108
Contact Email: alpha-sim@hotmail.com
140 Moss Creek Walk, Fayetteville, GA 30214
Phone:
Fax:
Alpine Business Corp www.alpinebusiness.com
Contact: Rich Patrick
Contact Phone:(530) 926-2244
Contact Email: rich@alpinebusiness.com
110 W Lake St, Mount Shasta, CA 96067
Phone:
Fax:
AM Copier Service www.amcopiers.com
Contact: Andres Marrujo
Contact Phone:(760) 352-6007
Contact Email: marrujo_andres@hotmail.com
301 Wake Avenue Ste 313, El Cantro, CA 92243
Phone:
Fax:
American Copy Equipment, INC www.acecleveland.com
Contact: John Baron
Contact Phone:(216) 642-9555
Contact Email: jb@acecleveland.com
6599 Granger Road, Cleveland, OH 44131
Phone:
Fax:
American Document Solutions www.americandocsolutions.com
Contact: Steve Menefee
Contact Phone:(973) 970-9737
Contact Email: smenefee@americandocsolutions.com
111 Canfield Ave Ste A14, Randolph, NJ 07869
Phone:
Fax:
American Office Solutions INC www.aos-sharp.com
Contact: Ted McEldowny
Contact Phone:(517) 783-2855
Contact Email: trm@aos-sharp.com
10326 S Meridian Rd, Clark Lake, MI 49234
Phone:
Fax:
Americatechnology Contact: Dean Herr
Contact Phone:(201) 258-7301
Contact Email: dherr@ameritechgraphics.com
280 N Midland Ave, Saddle Brook NJ
Phone:
Fax:
A-OK Office Systems INC www.aokoffice.com
Contact: Gordon Colis
Contact Phone:(580) 357-4700
Contact Email: info@aokoffice.com
2208 West Gore BLVD, Lawton,OK 73501
Phone:
Fax:
Appalachia Business Communications www.disonline.biz
Contact: Todd Jackson
Contact Phone:(865) 531-9000
Contact Email: toddjackson@appalachiamail.com
232 South Peters Rd, Knoxville, TN 37923
Phone:
Fax:
Applied Business Concepts www.abcla.com
Contact: Ben Ragusa
Contact Phone:(225) 752-1195
Contact Email: ragusaj@abcla.com
17991-A Old Perkins Road E, Baton Rouge, LA 70809
Phone:
Fax:
Applied Laser Technologies, LLC www.altconnect.com
Contact: Scott Treher
Contact Phone:(216) 663-8181
Contact Email: streher@altconnect.com
4560 Johnston Parkway, Cleveland, OH 44128
Phone:
Fax:
Archer Business Systems, INC www.sharp-abs.com
Contact: Richard Archer
Contact Phone:(956) 440-9800
Contact Email: ajorich@aol.com
717 North 77 Sunshine Strip, Harlingen, TX 78550
Phone:
Fax:
Arista Business Imaging Solutions www.aristadoes.com
Contact: Lorrie Eysel
Contact Phone:(925) 825-8400
Contact Email: leysel@aristadoes.com
553 Commercial Circle, Concord, CA 94520
Phone:
Fax:
Arizona Document Solutions www.teximgsys.com
Contact: Randy Davidson
Contact Phone:(480) 967-3200
Contact Email: randyd@texdocsol.com
1406 West 14th St #102, Tempe, AZ 85281
Phone:
Fax:
Artic Office Products www.articoffice.com
Contact: William Borchardt
Contact Phone:(907) 276-2322
Contact Email: bborchardt@articoffice.com
100 West Fireweed Lane, Anchorage, AK 99503
Phone:
Fax:
Ashley's Business Solutions www.ashleysoficeworld.com
Contact: Ashley Johnson
Contact Phone:(229) 386-4345
Contact Email: ajohnson@ashleysbusinesssolutions.com
2020 McCormick Drive, Tifton, GA 31793
Phone:
Fax:
Aspen Laser & Technologies www.aspentechgroup.com
Contact: John Burreson
Contact Phone:(303) 530-2922
Contact Email: mbiesiada@aspentechgroup.com
1551 South Sunset St. Ste D, Longmont, CO 80501
Phone:
Fax:
Associated Imaging Solutions, INC www.associatedimaging.com
Contact: Phil Bowman
Contact Phone:(215) 322-9145
Contact Email: pbowman@associatedimaging.com
130 Almshouse Rd Ste 209, Richboro, PA 18954
Phone:
Fax:
Atlantic Business Systems www.atlanticbusinesssystems.com
Contact: Barry J Wallingford
Contact Phone:(321) 259-7575
Contact Email: bwallingford@abs4sharp.com
5131 Industry Dr Ste 101, Melbourne, FL 32940
Phone:
Fax:
Atlantic Image Machines www.atlanticimagemachines.com
Contact: John Howe
Contact Phone:(781) 938-0720
Contact Email: jthowe@atlanticimagemachines.com
24 Torrice Drive, Woburn, MA 01801
Phone:
Fax:
Atlantic Office Automation www.aoa-sf.com
Contact: Chi C. Chao
Contact Phone:(650) 259-8088
Contact Email: sales@atlanticofficeautomation.com
890 Cowan Rd Suite I, Burlingame, CA 94010
Phone:
Fax:
Atlas Business Solutions www.atlashelps.com
Contact: Hoot Beckett
Contact Phone:(432) 570-1310
Contact Email: hoot.beckett@mmbo.com
3001 W Loop 250 North Ste 127, Midland, TX 79705
Phone:
Fax:
Atlas Star Corporation www.atlastar.com
Contact: Gary Bradford
Contact Phone:(845) 297-0078
Contact Email: gb@atlastar.com
753 Route 9, Wappingers Falls, NY 12590
Phone:
Fax:
Automated Business Solutions www.absne.com
Contact: Alan Abergaria
Contact Phone:(401) 732-3000
Contact Email: alana@absne.com
415 Kilvert Street, Warwick, RI 02886
Phone:
Fax:
Axis Business Consultants LLC www.axis-bc.com
Contact: Cindy Enscoe
Contact Phone:(412) 788-6262
Contact Email: cindy@axis-bc.com
1810 Parkway View Drive, Pittsburgh, PA 15205
Phone:
Fax:
B & C Business Products www.bcbusinessproducts.com
Contact: Terri Grove
Contact Phone:(405) 372-3882
Contact Email: kdisney@bcbusinessproducts.com
113 W 9th Street, Stillwater, OK 74074
Phone:
Fax:
Bailey Office Equipment INC www.baileyoffice.com
Contact: Greg Gardner
Contact Phone:(641) 684-6528
Contact Email: greg@baileyoffice.com
123 E Second St, Ottumwa, IA 52501
Phone:
Fax:
Ball Office Machines www.ballofficemachines.com
Contact: Timothy Ball
Contact Phone:(606) 573-0548
Contact Email: timball@setel.com
HWY 1137 #442, Cawood, KY 40815
Phone:
Fax:
Bek, INC www.bekinc.net
Contact: Gilbert Buthlay
Contact Phone:(207) 729-7600
Contact Email: gil@bekinc.net
9 Industrial PKWY Ste 1, Brunswick, ME 04011
Phone:
Fax:
Bespoke Office Solutions Contact: John Mooney
Contact Phone:(888) 865-8914
Contact Email: john@jbmooney.com
65 Enterprise, Aliso Viejo, CA 92656
Phone:
Fax:
Best Copy Products, INC. www.bestcopyproducts.com
Contact: Bret Reid
Contact Phone:(334) 749-2378
Contact Email: bret@bestcopyproducts.com
525 Airport Road, Auburn, AL 36830
Phone:
Fax:
Better Business Equipment www.bbeomaha.com
Contact: Daron Smith
Contact Phone:(402) 393-6666
Contact Email: daron@bbeomaha.com
7929 West Center Rd, Omaha, NE 68124
Phone:
Fax:
Better Business Equipment Co www.bbesolutions.com
Contact: John Taylor
Contact Phone:(615) 255-6485
Contact Email: jtaylor@bbesolutions.com
310 Wilson Pike Circle, Brentwood, TN 37027
Phone:
Fax:
Blackburn Office Equip www.blkbrn.com
Contact: Randy Grunhurd
Contact Phone:(360) 733-7660
Contact Email: grunhurdr@blkbrn.com
203 West Chestnut, Billingham, WA 98225
Phone:
Fax:
Blakemans Valley Office Equipment www.valleyoffice.com
Contact: Steve Blakeman
Contact Phone:(330) 729-1000
Contact Email: steve@valleyoffice.com
8534 South Ave, Youngstown, OH, 44514
Phone:
Fax:
BMC, INC. www.bmc-inc.com
Contact: Barach Eichenbaum
Contact Phone:(818) 787-2622
Contact Email: barach@bmcinc.cc
6735 Odessa Ave, Van Nuys, CA 91406
Phone:
Fax:
BMS INC www.bmswv.com
Contact: Jon Baker
Contact Phone:(304) 445-0026
Contact Email: jonbmsinc@frontier.com
132 Main Street, New Martinsville, WV 26155
Phone:
Fax:
Brady's Business Systems www.bbsbradys.com
Contact: Pamela Brady
Contact Phone:(810) 606-0080
Contact Email: polly@bbsbradys.com
8173 Embury Road, Grand Blanc, MI 48439
Phone:
Fax:
Business Electronics Corp. www.businesselectronics.com
Contact: Terry Chapman
Contact Phone:(205) 942-6007
Contact Email: tchapman@businesselectronics.com
219 Oxmoor Circle, Birmingham, AL 35209
Phone:
Fax:
Business Equipment Center www.bec-memphis.com
Contact: Bill Matthews
Contact Phone:(901) 345-5650
Contact Email: bmatthews@bec-memphis.com
2991 Directors Row, Memphis, TN 38131
Phone:
Fax:
Business Interiors & Equipment INC www.bieml.com
Contact: Mike Chase
Contact Phone:(509) 765-5800
Contact Email: michael@bieml.com
1634 W Broadway, Moses Lake, WA 98837
Phone:
Fax:
Business Techs INC www.businesstechins.com
Contact: Beau Franklin
Contact Phone:(352) 326-3418
Contact Email: beauf@businesstechsinc.com
421 N. Palmetto, Leesburg, FL 34748
Phone:
Fax:
Business World INC. www.businessworld-usa.co
Contact: Wade Timmermann
Contact Phone:(501) 374-7000
Contact Email: wade.timmermann@businessworld-usa.com
920 S Spring Street, Little Rock, AR 72203
Phone:
Fax:
C3 Office Solutions www.c3officesolutions.com
Contact: Tricia Sanchez
Contact Phone:(714) 689-1700
Contact Email: tricias@c3os.com
1565-C Mc Gaw Avenue, Irvine, CA 92614
Phone:
Fax:
Caltronics CPO www.caltronics.net
Contact: Dan Reilly
Contact Phone:(916) 363-2666
Contact Email: reillyd@caltronics.net
10491 Old Placerville RD, Sacramento, CA 95827
Phone:
Fax:
Capital Business Machines INC www.cbm-wa.com
Contact: Dean Hartman
Contact Phone:(360) 491-6000
Contact Email: DHartma@cbm-wa.com
3660 Pacific Avenue, Olympia, WA 98501
Phone:
Fax:
CAPX Solutions LLC www.capxsolutions.com
Contact: John Vassos
Contact Phone:(301) 365-3040
Contact Email: john@capxsolutions.com
9000 Bronson DR, Potomac, MD 20854
Phone:
Fax:
Carolina Business Equipment www.cbesc.com
Contact: John Eckstrom
Contact Phone:(803) 798-7522
Contact Email: johne@cbesc.com
5123 Bush River Road, Columbia, SC 29210
Phone:
Fax:
Carolina Office Equipment Company Contact: Randy Humphrey
Contact Phone:(800) 682-6844
Contact Email: rhumphrey@coeco.com
N Church Street, Rocky Mount, NC
Phone:
Fax:
Cascade Imaging Solutions Contact: Shawn Billington
Contact Phone:(206) 459-3175
Contact Email: shawn@cascadeimagingsolutions.com
12920 NE 140th St, Kirkland, WA 98034
Phone:
Fax:
CDS Office Technologies www.cdsofficetech.com
Contact: Jerome Watson
Contact Phone:(217) 753-6529
Contact Email: jwatson@cdsofficetech.com
612 S Dirksen Parkway, Springfield, IL 62703
Phone:
Fax:
Cell Business Equipment www.cbeofficesolutions.com
Contact: Tarek Hafiz
Contact Phone:(949) 830-1400
Contact Email: tarek@kopiers.com
4 A Mason, Irvine, CA 92618
Phone:
Fax:
Central Business Solutions, INC www.mycbsteam.com
Contact: Damien McClave
Contact Phone:(646) 223-1044
Contact Email: dmcclave@cbscopiers.com
209 West 40th St 5th Floor, New York, NY 10018
Phone:
Fax:
Central Business Systems www.centralcopiers.com
Contact: Michael Chambers
Contact Phone:(631) 249-1990
Contact Email: mchambers@centralcopiers.com
1219 Walt Whitman Rd, Melville, NY 11747
Phone:
Fax:
Central Business Systems INC www.cbsedge.com
Contact: Frank Shoaf
Contact Phone:(859) 276-1690
Contact Email: fshoaf@cbsedge.com
2670 Wilhite Drive, Lexington, KY 40503
Phone:
Fax:
Centric Business Systems, INC www.centricbiz.com
Contact: Rick Bastinelli
Contact Phone:(410) 902-3300
Contact Email: rbast@centricbiz.com
10702 Red Run BLVD, Owings Mills, MD 21117
Phone:
Fax:
Century Business Technologies INC www.centuryunited.com
Contact: Dawna McCabe
Contact Phone:(785) 267-4555
Contact Email: dawna@centuryunited.com
401 SW 30th St, Topeka, KS 66622
Phone:
Fax:
Charleston Imaging Products www.charlestonimaging.com
Contact: Sean Mummert
Contact Phone:(843) 769-7774
Contact Email: sean@charlestonimaging.com
1315 Ashley River Rd, Charleston, SC 29407
Phone:
Fax:
Chattanooga Business Machines INC www.cbmtn.com
Contact: Harry Fields
Contact Phone:(423) 855-5222
Contact Email: hfields@cbmtn.com
6220 Airpark Dr, Chattanooga, TN 37421
Phone:
Fax:
Choice Solutions INC www.pitneysolutions.com
Contact: Mike Conway
Contact Phone:(201) 704-0998
Contact Email: mgconway@pitneysolutions.com
39 Plymouth Rd Unit 6, Fairfield, NJ 07004
Phone:
Fax:
Choice Technical Services INC. www.ctschoice.com
Contact: Rudy Reisander
Contact Phone:(714) 522-8123
Contact Email: rudy@ctschoice.com
17517 Fabrica Way STE B, Cerritos, CA 90703
Phone:
Fax:
Cicchinelli Enterprises www.uopalbany.com
Contact: Michael Cicchinelli
Contact Phone:(518) 238-1315
Contact Email: universal5690@yahoo.com
43 Broad Street POB 187. Waterford, NY 12188
Phone:
Fax:
Coastal Business Systems, INC. www.coastal-business.com
Contact: Michael Dominick
Contact Phone:(707) 445-3095
Contact Email: mike@coastal-business.com
336 First Street, Eureka, CA 95501
Phone:
Fax:
Collins Distributing www.collinsdistributing.com
Contact: Bruce Collins
Contact Phone:(901) 396-4484
Contact Email: bruce@collinsdistributing.com
3326 Commercial PKWY, Memphis, TN 38116
Phone:
Fax:
Compton Office Machine Co www.comptonoffice.com
Contact: Dan Smith
Contact Phone:(304) 343-5683
Contact Email: dlrmsmith@suddenlink.com
1829 Bigley Avenue, Charleston, WV 25302
Phone:
Fax:
Computer 1 Products of America www.computer1products.com
Contact: Julius Argumedo
Contact Phone:(626) 213-2400
Contact Email: julius@computer1products.com
11135 Rush St Suite A, South El Monte, CA 91733
Phone:
Fax:
Computerland of Silicon Valley www.cland.com
Contact: Cathy Souza
Contact Phone:(408) 519-3200
Contact Email: csouza@cland.com
482 W San Carlos St, San Jose, CA 95110
Phone:
Fax:
Coordinated Business Systems LTD www.coordinated.com
Contact: James Oricchio
Contact Phone:(952) 894-9460
Contact Email: jimo@coordinated.com
851 W 128th Street, Burnsville, MN 55337
Phone:
Fax:
Copeco INC www.copeco.com
Contact: Brian Frank
Contact Phone:(330) 499-7337
Contact Email: bfrank@veohio.com
3874 Highland Parl Rd Nw, North Canton, OH, 44720
Phone:
Fax:
Copier Consultants, INC www.copierconsultants.com
Contact: Mitch Ware
Contact Phone:(330) 497-4724
Contact Email: mware@copierconsultantsinc.com
5590 Lauby Rd Ste 9, North Canton, OH, 44720
Phone:
Fax:
Copier Expo INC. www.copierexpoinc.com
Contact: Jin Choi
Contact Phone:(909) 468-5434
Contact Email: jasonc@copierexpoinc.com
20635 Valley BLVD, Walnut, CA 91789
Phone:
Fax:
Copiers Hawaii INC www.copiershawaii.com
Contact: Donald Ibara
Contact Phone:(808) 947-1366
Contact Email: tmaunakea@copiershawaii.com
944 Akepo Lane, Honolulu, HI 96817
Phone:
Fax:
Copiers Northwest www.copiersnw.com
Contact: Mark Petrie
Contact Phone:(206) 282-1200
Contact Email: mpetrie@copiersnw.com
601 Dexter Ave North, Seattle, WA 98109
Phone:
Fax:
Copy Center INC www.shorebusinesssolutions.com
Contact: Jeff Pruden
Contact Phone:(732) 280-1333
Contact Email: georgekrebs@shorebusinesssolutions.com
1720 Route 34. wall, NJ 7719
Phone:
Fax:
Copy Link www.copylink.net
Contact: Kevin Mashall
Contact Phone:(619) 424-8000
Contact Email: kevin@copylink.net
3441 Main St S #100, Chula Vista, CA 91911
Phone:
Fax:
Copy Products Company (AOE) www.copyproductscompny.com
Contact: Roger Wallace
Contact Phone:(850) 432-1580
Contact Email: rwallace@copyproductscompany.com
910E Cervantes St, Pensacola, FL 32501
Phone:
Fax:
Copyrite Imaging Solutions Inc www.imgsolutions.net
Contact: Steven Halter
Contact Phone:(816) 364-7914
Contact Email: stevenh@imgsolutions.net
5901 NE Woodbine Rd, Saint Joseph, MO 64505
Phone:
Fax:
Copywrite of N Miss INC www.copywriteinc.net
Contact: Gloria Scott
Contact Phone:(662) 534-2683
Contact Email: gscott@copywriteinc.net
1011 Munsford Dr, New Albany, MS 38652
Phone:
Fax:
Core Business Solutions INC www.cbs-tx.com
Contact: David Armstrong
Contact Phone:(956) 631-9393
Contact Email: darmstrong@cbs-tx.com
4014 N Jackson Rd, Pharr, TX 78577
Phone:
Fax:
Cornerstone Off Systems www.cornerstoneos.com
Contact: Jon Pellowe
Contact Phone:(269) 321-9442
Contact Email: jpellowe@cornerstoneos.com
7170 Beatrice Drive, Kalamazoo, MI 49009
Phone:
Fax:
Corrigan-Manning www.corriganmanning.com
Contact: Susan Manning
Contact Phone:(610) 353-8484
Contact Email: susan@corriganmanning.com
590 E Lancaster Ave Suite 110, Frazer, PA 19355
Phone:
Fax:
Cost/Copy Consultants INC www.costpercopyconsultants.com
Contact: Phyllis M. Spilman
Contact Phone:(847) 949-5678
Contact Email: phyllisspilman@hotmail.com
942 Turret Court, Mendelein, IL 60060
Phone:
Fax:
Crabtree Companies, INC ww.crabco.net
Contact: Richard Crabtree
Contact Phone:(651) 688-2727
Contact Email: rich@crabco.net
2020 Silver Bell Road, Eagen, MN 55122
Phone:
Fax:
Crumbacher Business Systems www.crubsy.com
Contact: John Crumbacher
Contact Phone:(505) 820-6007
Contact Email: john@crubsy.com
1440A S St Francis Dr, Santa Fe, Nm 87505
Phone:
Fax:
Dakota Business Center www.dakotabusiness.com
Contact: Carter Tayler
Contact Phone:(605) 342-8934
Contact Email: cartert@dakotabusiness.com
1635 Deadwood Ave, Rapid City, SD 57702
Phone:
Fax:
Dan Cooks INC. www.dancooks.com
Contact: Bruce Thompson
Contact Phone:(870) 836-5018
Contact Email: bruce@dancooks.net
37 W Washington #112, Camden, AR 71701
Phone:
Fax:
Data Technologies of VA www.dtvinc.com
Contact: Frank Joyce
Contact Phone:(804) 346-8300
Contact Email: jeath@dtvinc.com
3941 Deep Rock Rd, Richmond, VA 23233
Phone:
Fax:
DCS Technologies Corporation www.dcs-tech.com
Contact: John Taylor
Contact Phone:(800) 827-3271
Contact Email: john.taylor@dcs-tech.com
6501 State Route 123, Franklin, OH 45005
Phone:
Fax:
De Plaines Office Equipment Contact: Chip Miceli
Contact Phone:(847) 879-6400
Contact Email: chip@dpoe.com
1020 Bonaventure, Elk Grove Village, IL
Phone:
Fax:
Delaware Business Systems www.dbs-inc.net
Contact: W. Brosi/L. Brosi
Contact Phone:(607) 746-3533
Contact Email: dbsinc@delhi.net
89 Main St, Delhi, NY 13753
Phone:
Fax:
Diamond Office Technology www.diamondofficetech.com
Contact: Robert Meachum
Contact Phone:(616) 735-4444
Contact Email: rmeachum@diamondofficetech.com
1975 Waldorf NW Ste D, Grand Rapids, MI 49544
Phone:
Fax:
Digital Copier Associates www.dcac.biz
Contact: Nancy Ludwig
Contact Phone:(301) 577-1021
Contact Email: nludwig@dcaimaging.com
4438 Lottsford Vista Road, Lanham, MD 20706
Phone:
Fax:
Digital Imaging Solutions www.disimaging.com
Contact: Mark Lenz
Contact Phone:(509) 535-8000
Contact Email: mlenz@disimaging.com
11712 E Montgomery BLDG C S6, Spokane, WA 99206
Phone:
Fax:
Digital Office Equipment Co Inc www.digitalofficeequipment.com
Contact: Roy Blackmon
Contact Phone:(912) 489-6964
Contact Email: roy@digitalofficeequipment.com
3051 Northside Dr West, Statesboro, GA 30458
Phone:
Fax:
Digital Solutions www.digitalsolutionscopier.com
Contact: Bob Metcalf
Contact Phone:(843) 448-4141
Contact Email: bmetcalf@digitalsolutionscopier.com
1258 Third Ave South, Myrtle Beach, SC 29577
Phone:
Fax:
Digitec LLC www.digitecllc.com
Contact: Chip Ayres
Contact Phone:(615) 885-1534
Contact Email: ayretn@bellsouth.net
3522 Central Pike Ste 210, Hermitage, TN 37076
Phone:
Fax:
Docuforce Innovative Doc Solutions www.docuforce.biz
Contact: Michael Ward
Contact Phone:(316) 636-5400
Contact Email: meward@rkblackkansas.com
8343 East 32nd Street North, Wichita, KS 67226
Phone:
Fax:
Document Imaging Solutions, LLC www.disoklahoma.com
Contact: Terence Bourke
Contact Phone:(918) 664-8800
Contact Email: tbourke@disoklahoma.com
9300 Broken Arrow Expressway, Tulsa, OK 74145
Phone:
Fax:
Document Management Solutions www.dmsarizona.com
Contact: Richard Pesqueira
Contact Phone:(520) 745-4477
Contact Email: rich@dmsarizona.com
2544 North Country Club, Tucson, AZ 85716
Phone:
Fax:
Document Technology Solutions Inc Contact: Gordy Running
Contact Phone:(952) 516-7902
Contact Email: grunning@dtsimaging.com
Bloomington MN
Phone:
Fax:
Doing Better Business, INC www.doingbetterbusiness.com
Contact: Debra Dellaposta
Contact Phone:(412) 279-1400
Contact Email: djd@wpssolutions.com
2735 Railroad Street, Pittsburgh, PA 15222
Phone:
Fax:
Doug Moorer Business Machines www.dougmoorerbusinessmachines.com
Contact: Douglas R. Moorer
Contact Phone:(251) 575-4816
Contact Email: dmoorer@frontiernet.net
108 West Claiborne, Monroeville, AL 36461
Phone:
Fax:
Dowdy's Office Equipment, LLC www.dowdys.net
Contact: Lewis Couch
Contact Phone:(256) 543-9222
Contact Email: lewis@dowdys.net
120 North 5th St., Gadsden, AL 35901
Phone:
Fax:
DTI Office Solutions www.dtios.com
Contact: Austin Surprenant
Contact Phone:(217) 431-2967
Contact Email: auston@dtiofficesolutions.com
3 Southgate Drive, Tilton, IL 61833
Phone:
Fax:
Eagle Systems, INC www.eagleny.com
Contact: Richard Smith
Contact Phone:(716) 893-0506
Contact Email: rsmith@eagleny.com
2421 Harlem Rd, Buffalo, NY 14225
Phone:
Fax:
Eakes Office Solutions www.eakes.com
Contact: Mark Miller
Contact Phone:(308) 382-8026
Contact Email: mmiller@eakes.com
617 West Third Street, Grand Island, NE 68802
Phone:
Fax:
Eastern Business Systems, INC www.gotoebs.com
Contact: Anthony Williams
Contact Phone:(631) 567-8111
Contact Email: anthony@gotoebs.com
125 Wilbur Place Suite 210, Bohemia, NY 11716
Phone:
Fax:
Eastern Office Supply of Upstate NY www.easternoffice.com
Contact: Phillip Tiberio
Contact Phone:(518) 377-8000
Contact Email: phil@easternoffice.com
139 Erie BLVD, Schenectady, NY 12305
Phone:
Fax:
EBE Office Solutions www.ebe-usa.com
Contact: Patrick Bakker
Contact Phone:(913) 577-8100
Contact Email: pbakker@ebe-usa.com
15080 W 116th St, Olathe, KS 66062
Phone:
Fax:
EBE Office Source www.ebeofficesource.com
Contact: Daniel J. Williams
Contact Phone:(607) 723-0000
Contact Email: ebedan@aol.com
70 Travis Ave, Binghamton, NY 13904
Phone:
Fax:
Elite Business Systems INC www.elitebusinesssystems.com
Contact: Michael Nerland
Contact Phone:(605) 332-7248
Contact Email: miken@elitebusinesssystems.com
700 East 41st St, Sioux Falls, SD 57105
Phone:
Fax:
Executex, INC www.executex.com
Contact: Dominick Mastrocola
Contact Phone:(914) 345-0930
Contact Email: dominick@executex.com
50 Broadway, Hawthorne, NY 10532
Phone:
Fax:
Executive Business Products www.executivebusinessproducts.com
Contact: Guy Edwards
Contact Phone:(618) 533-5233
Contact Email: guye@ebpinc.biz
312 South Locust, Centralia, IL 62801
Phone:
Fax:
Executive Officelinx www.shopofficelinx.com
Contact: Ronnie Thrift
Contact Phone:(318) 322-1951
Contact Email: rthrift@goebp.com
107 Melvyn Dr, Monroe, LA 71203
Phone:
Fax:
Fax Plus INC www.faxplusinc.com
Contact: John Theil
Contact Phone:(703) 807-1000
Contact Email: susans@faxplusinc.com
820 Greenbrier Circle St 4, Chesapeake, VA 23320
Phone:
Fax:
Flex Print, INC www.flexprintinc.com
Contact: Phil Lampugnano
Contact Phone:(312) 410-9064
Contact Email: phil@flexprintinc.com
180 N Lasalle Ste 3140, Chicago, IL 60601
Phone:
Fax:
Flex Print, INC. www.flexprintinc.com
Contact: Phil Lampugnano
Contact Phone:(888) 353-9774
Contact Email: phil@flexprintinc.com
2845 N Omaha ST, Mesa, AZ 85215
Phone:
Fax:
Formax (Bescorp, INC) www.formax.com
Contact: Ryan Lindsay
Contact Phone:(603) 682-5800
Contact Email: trlindsay@formax.com
1 Education Way, Dover, NH 03820
Phone:
Fax:
Forrest Office Machine www.forrestofficemachines.com
Contact: Barry Forrest
Contact Phone:(870) 932-7852
Contact Email: bwforrest@sbcglobal.net
1005 Gee St, Jonesboro, AR 72401
Phone:
Fax:
Four-U-Office Supplies, INC www.four-u-inc.com
Contact: Robert Uhlenhake
Contact Phone:(419) 586-3025
Contact Email: bob@four-u-inc.com
1640 Industrial Dr, Celina, OH, 45822
Phone:
Fax:
Fraser Advanced Info Systems www.fraser-ais.com
Contact: William Fraser
Contact Phone:(610) 378-0101
Contact Email: wfraser@fraser-ais.com
320 Penn Center, Reading, PA 19611
Phone:
Fax:
Frontier Business Products www.fbponline.com
Contact: Carol Mitschke
Contact Phone:(303) 390-3603
Contact Email: carol@vw-m.net
3250 Quentin ST. Suite 120, Aurora, CO 80011
Phone:
Fax:
Future Business Solutions, INC. www.fbsaz.com
Contact: Micah Winter
Contact Phone:(602) 454-1121
Contact Email: mwinter@fbsaz.com
4820 East McDowell Rd #120, Phoenix, AZ 85008
Phone:
Fax:
Fuzzells Business Machines www.fuzzells.com
Contact: Del Fuzzell
Contact Phone:(405) 721-2222
Contact Email: sales@fuzzells.com
5959 NW 37th, Oklahoma City, OK 73122
Phone:
Fax:
G A Blanco and Sons Inc Contact: Ed Blanco
Contact Phone:(413) 528-9500
Contact Email: eblanco@gablanco.com
Great Barrington, MA
Phone:
Fax:
Gaffaney's Of Williston INC www.wgaffaney.com
Contact: Kurt Bjorgen
Contact Phone:(701) 572-6381
Contact Email: bjorgen@wgaffaney.com
101-103 East Broadway, Williston, ND 58801
Phone:
Fax:
Galaxie Business Equip www.gbeinc.com
Contact: Nathan French
Contact Phone:(620) 221-3469
Contact Email: nathan@gbeinc.com
913 Main St, Winfield, KS 67156
Phone:
Fax:
G-Five Incorporated www.g5sharp.com
Contact: Gary Gerack
Contact Phone:(864) 675-5755
Contact Email: gary@gfive.net
297-H Garlington Road, Greenville, SC 29615
Phone:
Fax:
Gibbs Technology Company Contact: Bruce Gibbs
Contact Phone:(314) 997-6300
Contact Email: bgibbs@gfidigital.com
Maryland Heights MO
Phone:
Fax:
Gordon Flesch Co INC www.gflesch.com
Contact: Tom Flesch
Contact Phone:(608) 271-2100
Contact Email: tflesch@gflesch.com
2675 Research Park Drive, Madison, WI 53711
Phone:
Fax:
Graffaney's of Minot Inc www.wgaffaney.com
Contact: Richard Pardon
Contact Phone:(701) 852-3381
Contact Email: gaffaney@srt.com
416 20th Ave Southeast, Minot, ND 58701
Phone:
Fax:
Gray and Creech, INC www.gccopiers.com
Contact: Alec Bean
Contact Phone:(336) 691-0203
Contact Email: alec@gccopiers.com
20-D Oak Branch Drive, Greensboro, NC 27407
Phone:
Fax:
Hansen Associates, INC www.hansenassociatesinc.com
Contact: Kevin Runyen
Contact Phone:(847) 986-3500
Contact Email: krunyen@hansenassociatesinc.com
888 E Belvidere Rd, Grayslake, IL 60030
Phone:
Fax:
Heartland Office Systems www.heartlandofficesystems.com
Contact: Roger Gould
Contact Phone:(620) 343-7470
Contact Email: roger@heartlandofficesystems.com
626 Commercial St, Emporia, KS 66801
Phone:
Fax:
Herrin Document Systems www.herrinds.com
Contact: Keith Herrin
Contact Phone:(912) 267-7802
Contact Email: keith@herrinds.com
101 Lakeview Circle, Brunswick, GA 31525
Phone:
Fax:
Hilyards INC. www.hilyards.com
Contact: Roberly Hilyard
Contact Phone:(302) 995-2201
Contact Email: Rhilyard@hilyards.com
1616 Newport Gap Pike, Wilmington, DE 19808
Phone:
Fax:
Hogland Office Equipment www.hoglandofficeworks.com
Contact: DJ Hastings
Contact Phone:(806) 763-9525
Contact Email: dj@hoglandofficeworks.com
2401 Avenue F, Lubbock, TX 79404
Phone:
Fax:
Hoppstetters Office Prod www.hoppstetters.com
Contact: Chris Hoppstetter
Contact Phone:(928) 782-3633
Contact Email: chris@hoppstetters.com
102 S Main Street, Yuma, AZ 85364
Phone:
Fax:
Hudson Office Solutions, INC www.hudsonofficesolutions.com
Contact: Perry Hudson
Contact Phone:(812) 254-0495
Contact Email: perry@hosol.com
900 West National Highway, Washington, IN 47501
Phone:
Fax:
ICT Corp, INC www.ictcorp.net
Contact: Martin Mouton
Contact Phone:(713) 983-9839
Contact Email: mmouton@ictcorp.net
1131 Meadowglen LN Ste B, Houston, TX 77082
Phone:
Fax:
Ideal Office Machines www.idealofficeinc.com
Contact: James Carson
Contact Phone:(501) 268-6909
Contact Email: Jcarson@idealofficeinc.com
110 South Main, Searcy, AR 72143
Phone:
Fax:
IGM Copy Products, INC www.igmcopy.com
Contact: Chuck Carafa JR
Contact Phone:(440) 352-2327
Contact Email: chuck@igmcopy.com
29 Charlotte ST, Painesville, OH 44077
Phone:
Fax:
Image 2000 www.image-2000.com
Contact: Richard Campbell
Contact Phone:(818) 781-2200
Contact Email: rjcambell@image-2000.com
7510 Hazeltine Ave, Van Nuys, CA 91405
Phone:
Fax:
Image Business Solutions www.imagebusinesssolutions.com
Contact: Matthew Wittbrodt
Contact Phone:(248) 669-0221
Contact Email: mwittbrodt@imagebusinesssolutions.com
28339 North Beck Road Suite F2, Wixom, MI
Phone:
Fax:
Imaging Technologies www.imagingtech.net
Contact: Larry Perry Jr
Contact Phone:(515) 256-4000
Contact Email: lperry@imagingtech.net
3950 NW Urbandale Drive, Urbandale, IA 50322
Phone:
Fax:
Inacom Information Systems www.inacom-sby.com
Contact: Hunter Johnston
Contact Phone:(410) 543-8200
Contact Email: hunter@inacom-sby.com
111 Davis St, Salisbury, MD 21804
Phone:
Fax:
Inland NW Sevices INC www.inlandnwservices.com
Contact: Stephen Crouse
Contact Phone:(208) 746-2557
Contact Email: daboss@inlandnwservices.com
3204 5th St, Lewiston, ID 83501
Phone:
Fax:
Innovex www.innovex.co
Contact: Peter Parisi
Contact Phone:(401) 232-7000
Contact Email: pparisi@innovex.co
11 Powder Hill Rd
Phone:
Fax:
Integrated Bus Solutions of HI www.businessworkshawaii.com
Contact: Mike Murray
Contact Phone:(808) 545-5540
Contact Email: mike@businessworkshawaii.com
99-1046 Iwaena St, Honolulu, HI 96701
Phone:
Fax:
Integrated Business Technologies www.ibt-i.com
Contact: Mike Mueller
Contact Phone:(210) 378-6812
Contact Email: mmueller@ibt-i.com
13424 West Ave, San Antonio, TX 78216
Phone:
Fax:
Integrated Document Solutions www.idocsny.com
Contact: Joan Wong
Contact Phone:(212) 470-3818
Contact Email: joan@idocsny.com
30 Broad st 14th Floor, New York, 10004
Phone:
Fax:
Integrated Offic Solutions Inc www.ios-duluth.com
Contact: Scott Thul
Contact Phone:(218) 722-3111
Contact Email: ios406@aol.com
1915 W. 1st Street, Duluth, MN 55806
Phone:
Fax:
Interactive Office Systems www.interactiveofficesystems.com
Contact: Chris Chaft
Contact Phone:(908) 232-4467
Contact Email: cchaft@interactiveofficesystems.com
250 Sheffield St, Mountainside, NJ 07092
Phone:
Fax:
Island Business Systems Contact: Tom Egyhazi
Contact Phone:(305) 303-0488
Contact Email: islandbusiness@ymail.com
114 Sands Lane, Long Key, FL 33001
Phone:
Fax:
J2 Office Products www.j2op.com
Contact: John Flink
Contact Phone:(406) 752-8520
Contact Email: john@j2op.com
700 Sunset BLVD, Kalispell, MT 59901
Phone:
Fax:
Jay's Business Systems www.jaysbusinesssystems.com
Contact: Joe Tomaro
Contact Phone:(570) 347-2973
Contact Email: JTomaro@jaysbsi.com
1901 North Main Ave, Scranton, PA 18508
Phone:
Fax:
Jim Gordon www.jginc.com
Contact: James Gordon
Contact Phone:(812) 372-7871
Contact Email: mgordon@jginc.com
800 S College Ave, Bloomington, IN 47402
Phone:
Fax:
Journal Office Supply www.journalofficesupply.com
Contact: James R. Horner
Contact Phone:(970) 522-2755
Contact Email: jim@journalofficesupply.com
119 No 2nd St, Sterling, CO 80751
Phone:
Fax:
JQ Office Equipment www.jqoffice.com
Contact: Greg Quirk
Contact Phone:(402) 339-5003
Contact Email: gquirk@jqoffice.com
3350 North 90th Street, Omaha, NE 68134
Phone:
Fax:
Kachina Business Systems (image2000) www.image-2000.com
Contact: Richard Campbell
Contact Phone:(520) 571-0888
Contact Email: rjcambell@image-2000.com
1951 W Grant Rd Ste 180, Tucson, AZ 85745
Phone:
Fax:
Kelley Imaging Systems INC www.kelleyimaging.com
Contact: Aric Manion
Contact Phone:(206) 284-9100
Contact Email: aric.manion@kelleyimaging.com
8725 South 212th St, Kent, WA 98031
Phone:
Fax:
Kerr Albert Office Supply www.kerralbert.com
Contact: Victor Albert
Contact Phone:(810) 984-4129
Contact Email: erniea@kerralbert.com
1121 Military St, Port Huron, MI 48060
Phone:
Fax:
Knight Office Solutions, INC www.knightoffice.com
Contact: John Cheney
Contact Phone:(210) 340-8909
Contact Email: johnc@knightoffice.com
12961 Park Central Ste 1470, San Antonio, TX 78216
Phone:
Fax:
Kraft Business Systems INC www.kraftbusiness.com
Contact: Jeffrey Cousins
Contact Phone:(616) 915-6908
Contact Email: jcousins@kraftbusiness.com
3445 36th St SE, Grand Rapids, MI 49512
Phone:
Fax:
Kramer Leonard INC www.kramerleonard.com
Contact: Kevin Leonard
Contact Phone:(219) 926-1171
Contact Email: kleonard@kramerleonard.com
312 Roberts Roads, Chesterton, IN 46304
Phone:
Fax:
L&R Investment (Les Olson For GSA) www.lesolsoncompany.com
Contact: James Olson
Contact Phone:(801) 486-7431
Contact Email: JimO@LesOlson.com
3244 South 300 West, Salt Lake City, UT 84115
Phone:
Fax:
Lakeland Office Systems www.lakelandoffice.com
Contact: John Tyson
Contact Phone:(918) 540-2488
Contact Email: jtyson@lakelandoffice.com
10550 South Highway 69, Miama, OK 74355-1029
Phone:
Fax:
Laser Line, Inc www.amalaserline.com
Contact: William McFarland
Contact Phone:(410) 636-1700
Contact Email: wmcfarland@amalaserline.com
1025 W Nursery Road #122, Linthicum, MD 21090
Phone:
Fax:
Laser Rite Technologies www.laserrite.com
Contact: Teresa Esper
Contact Phone:(941) 955-2737
Contact Email: Tesper@laserrite.com
1744 Independence BLVD, Saratosa, FL 34234
Phone:
Fax:
LDICA, LLC www.cds-sharp.com
Contact: Doug Vos
Contact Phone:(818) 781-8110
Contact Email: dvos@myldi.com
6704 Valjean Ave, Van Nuys, CA 91406
Phone:
Fax:
Leader Office Solutions www.leader-os.com
Contact: James Yang
Contact Phone:(562) 633-6688
Contact Email: jamesy@leader-os.com
2399 Miguel Miranda, Irwidale, CA 91010
Phone:
Fax:
Les Olson Company www.lesolsoncompany.com
Contact: James Olson
Contact Phone:(801) 486-7431
Contact Email: JimO@LesOlson.com
2975 Lincoln Rd
Phone:
Fax:
Les Olson Company www.lesolsoncompany.com
Contact: James Olson
Contact Phone:(801) 486-7431
Contact Email: JimO@LesOlson.com
3244 South 300 West, Salt Lake City, UT, 84115
Phone:
Fax:
Leslie Digital Imaging LLC www.ldicolortoolbox.com
Contact: Jerome Blaine
Contact Phone:(516) 877-9100
Contact Email: jblaine@ldicolortoolbox.com
50 Jericho Quadrangle Ste 115, Jericho, NY 11753
Phone:
Fax:
Leslie Total Office Solutions Contact: James Leslie
Contact Phone:(772) 215-5818
Contact Email: jim@ltos.biz
114 Bryce Lane, Jupiter, FL 33458
Phone:
Fax:
Lewisburg Office Equipment INC www.lewisburgofficeeqipment.com
Contact: Justin Wigglesworth
Contact Phone:(304) 645-7428
Contact Email: justin@loeonline.net
267 Dawkins Drive, Lewisburg, WV 24901
Phone:
Fax:
Lockrows, INC www.lockrows.com
Contact: Kurt Mowry
Contact Phone:(518) 563-4900
Contact Email: kmowry@lockrows.com
187 Margaret St, Plattsburgh, NY 12901-0749
Phone:
Fax:
Logan Business Machines www.loganbusinessmachines.com
Contact: Hal Logan
Contact Phone:(785) 233-1102
Contact Email: nlogan@lbm-sharp.com
417-B NE HWY 24, Topeka, KS 66608
Phone:
Fax:
Loudy Office Machines, INC www.loudy.net
Contact: Tim Loudy
Contact Phone:(937) 548-1818
Contact Email: tloudy@loudy.net
119 Martin St, Greenville, OH 45331
Phone:
Fax:
Magic Valley Business Sys www.mvbs.net
Contact: Terry C. McCurdy
Contact Phone:(208) 734-6181
Contact Email: terry@mvbs.com
393 Eastland Dr South, Twin Falls, ID 83303
Phone:
Fax:
Malone Office Environments www.maloneoffice.com
Contact: Sam Buracker
Contact Phone:(800) 822-8670
Contact Email: sburacker@maloneoffice.com
1345 13th Avenue, Columbus, GA 31901
Phone:
Fax:
Marco, Inc www.marconet.com
Contact: Jeff Gau
Contact Phone:(320) 259-3000
Contact Email: jeffg@marconet.com
4510 Heatherwood Road, St Cloud, MN 56301
Phone:
Fax:
Mark David Burt Contact: Mark David Burt
Contact Phone:(206) 856-4416
Contact Email: markburt2222@yahoo.com
9008 191 Street East, Puyallup, WA 98375
Phone:
Fax:
Massy Distribution USA INC www.nealmassy.com
Contact: Richard Schuler
Contact Phone:(305) 882-1500
Contact Email: idarcy@nealmassy.com
13100 NW 113th Ave Rd, Medley, FL 33178
Phone:
Fax:
Maui Office Machines INC www.mauioffice.com
Contact: Karin Felker Harris
Contact Phone:(808) 242-8640
Contact Email: joeg@mauioffice.com
280 Ho'okahi St, Wailuku, HI 96793
Phone:
Fax:
Mesa Business Machines www.mesabusimaging.com
Contact: Dave Johnson
Contact Phone:(940) 723-0757
Contact Email: david@mesabizmachines.com
4084 Regent Drive, Witchita Falls, TX 76308
Phone:
Fax:
Metroland Business Mach www.metrobusma.com
Contact: Edward Neary
Contact Phone:(518) 452-2600
Contact Email: info@metrobusma.com
25 Kraft Avenue, Albany, NY 12205
Phone:
Fax:
Microtech www.microtech.net
Contact: Ray Miles
Contact Phone:(703) 891-1071
Contact Email: ray.miles@microtech.net
8330 Boone BLVD Ste 600, Vienna, VA 22182
Phone:
Fax:
Midland Office Equipment www.midlandoffice.com
Contact: Mark Koerber
Contact Phone:(406) 252-2141
Contact Email: mark@midlandoffice.com
902 Central Ave, Billings, MT 59102
Phone:
Fax:
Mid-Tennesse Office Equipment Co www.midtennofficeequipment.com
Contact: Barry Clemons
Contact Phone:(615) 735-9435
Contact Email: mtoe2@comcast.net
124 West Third Ave, Carthage, TN 37030
Phone:
Fax:
Midwest Business Products www.mbponline.com
Contact: Cindy Hintermeister
Contact Phone:(563) 556-8736
Contact Email: chintermeister@mbponline.com
4370 Dodge St, Dubeqe, IA 52003
Phone:
Fax:
Millennium Business Systems www.getmillennium.com
Contact: David Bartlow
Contact Phone:(513) 924-9600
Contact Email: dbartlow@getmillennium.com
11085 Mongomery Rd, Cincinnati, OH 45249
Phone:
Fax:
Miller Document Solutions INC www.millermakesitwork.com
Contact: Scott Miller
Contact Phone:(502) 254-5200
Contact Email: scott@millermakesitwork.com
11470 Bluegrass Parkway, Louisville, KY 40299
Phone:
Fax:
Miller Office Equipment www.millersharp.com
Contact: Frank Miller
Contact Phone:(618) 392-5521
Contact Email: sharp15@hotmail.com
712 East Main Street, Olney, IL 62450
Phone:
Fax:
Modular Document Solutions LLC www.modulardocument.com
Contact: Bill Sprecher
Contact Phone:(800) 881-6245
Contact Email: wsprecher@modularmailing.com
12320 Crystal Commerce Loop, Fort Meyers, FL 33913
Phone:
Fax:
MOS www.mosofficessystems.com
Contact: Barbara Godwin
Contact Phone:(740) 676-2943
Contact Email: micromaid@aol.com
3153 Belmont Street, bellaire, OH 43906
Phone:
Fax:
MOS/MCCRIMONS Office Systems INC www.moscopier.com
Contact: Jim Clark
Contact Phone:(386) 362-2171
Contact Email: jim@moscopier.com
9993 100th Place, Live Oak, FL 32060
Phone:
Fax:
Mosiac Business Solutions www.seemosiac.com
Contact: Grant Sadowski
Contact Phone:(954) 738-2417
Contact Email: grant@seemosiac.com
6600 Wes 20th Ave, Fort Lauderdale, FL 33301
Phone:
Fax:
Mossmans Business Machines www.mossmans.net
Contact: Tom Mossman
Contact Phone:(609) 562-0600
Contact Email: tmossman@comcast.net
206 W Whitehorse Pike, Pomona, NJ 8240
Phone:
Fax:
Mountain West Business Solutions www.mountainwestcopiers.com
Contact: George Barker
Contact Phone:(307) 856-9925
Contact Email: randy.barker@mountainwestcopiers.com
1125 #A HWY 89, Evanston, WY 82930
Phone:
Fax:
MT Business Technologies, Inc www.mtbt.com
Contact: Carlton Fernyak
Contact Phone:(419) 529-6100
Contact Email: cfernyak@mtbt.com
1205 Corporate Drive, Holland, OH 43528
Phone:
Fax:
Netlink Business Solutions www.netlinkbus.com
Contact: Timothy Schaub
Contact Phone:(231) 946-8808
Contact Email: tschaub@netlinkbus.com
6005 E Traverse Highway, Traverse City, MI 49684
Phone:
Fax:
New London Copy Specialists INC www.nlcscolor.com
Contact: Philip M. Grant Jr
Contact Phone:(603) 863-9042
Contact Email: pdgrant@nhvt.net
86 Sunapee St, Newport, NH 03773
Phone:
Fax:
Newton Business Machines (Nusin) www.newtonbusiness.com
Contact: Jeff Hagstrom
Contact Phone:(802) 254-4119
Contact Email: jeff@newtonbusiness.com
447 Canal St, Brattleboro, VT 05301
Phone:
Fax:
Next Level Business Strategies INC Contact: Jim Leivas
Contact Phone:(949) 636-4438
Contact Email: jiml@nxxtlevel.com
2 Shelton Court, Ladera Beach, CA 92694
Phone:
Fax:
Nittany Office Equipment www.nittanyoffice.com
Contact: Thom Kerr Sr
Contact Phone:(814) 238-0568
Contact Email: paulkerr@nittanyoffice.com
1207 S Atherton St, State College, PA 16801
Phone:
Fax:
Northern Business Machine www.nbminc.com
Contact: William Tracia
Contact Phone:(781) 272-4560
Contact Email: tracia@nbminc.com
24 Terry Avenue, Burlington, MA 01803
Phone:
Fax:
Northern Business Systems www.northernbusinesssystems.com
Contact: Cathy Dimon
Contact Phone:(907) 456-1912
Contact Email: cdimon@acsalaska.net
3526 International St, Fairbanks, AK 99701
Phone:
Fax:
Northern Copy Products www.northerncopy.com
Contact: Kevin Chamberlain
Contact Phone:(315) 788-8040
Contact Email: chamb68@yahoo.com
307 SO Hamilton St, Watertown, NY 13601
Phone:
Fax:
Northshore Business Technology www.nsbt.com
Contact: Nick Kirtz
Contact Phone:(262) 267-3355
Contact Email: nkirtz@nsbt.com
9114 58th Place Ste 100, Kenosha, WI 53144
Phone:
Fax:
Northwest Office Technologies INC www.nwotech.com
Contact: Rick Wickham
Contact Phone:(208) 769-7572
Contact Email: rwickham@nwotech.com
6280 E Seltice Way Suite B, Post Falls, ID 83854
Phone:
Fax:
Northwestern Office Supply INC www.northwesternoffice.com
Contact: Jim Keller
Contact Phone:(785) 625-7323
Contact Email: nwosservice@eaglecom.net
800 Main St, Hays, KS 67601
Phone:
Fax:
Nuworld Business Systems www.nuworldinc.com
Contact: Young H. Lee
Contact Phone:(800) 729-8320
Contact Email: ylee@nuworldinc.com
13125 Midway Place, Cerritos, CA 90703
Phone:
Fax:
OBM www.obm-nbi.com
Contact: Salvatore Spagnola
Contact Phone:(216) 485-2000
Contact Email: sal.spagnola@obm-nbi.com
1111 Superior Ave Suite, Cleveland, OH 44114
Phone:
Fax:
OES Solutions www.oes-solutions.com
Contact: Chip Terril
Contact Phone:(317) 867-4999
Contact Email: cterril@pro4online.com
17735 Commerce Drive, Westfield, IN 46074
Phone:
Fax:
Office Copying Equipment www.oceltd.com
Contact: Tom Sett
Contact Phone:(414) 778-0000
Contact Email: mgraff@oceltd.com
1540 S 113th St, Milwaukee, WI 53214
Phone:
Fax:
Office Document Solutions, INC www.officeds.com
Contact: Daniel Bonner
Contact Phone:(631) 241-0445
Contact Email: dan@officeds.com
131-5 Gary Way, Ronkonkoma, NY 11779
Phone:
Fax:
Office Equipment Co-Montana www.oecinc.com
Contact: Garrett Edmonds
Contact Phone:(406) 265-9611
Contact Email: garrett@oecinc.com
200 2nd St, Havre, MT 59501
Phone:
Fax:
Office Imaging Solutions www,myois.biz
Contact: Chris Phares
Contact Phone:(717) 447-0265
Contact Email: chris.phares@myois.biz
197 West 4th Street, Lewiston, PA 17044
Phone:
Fax:
Office Machines Co INC www.officemachines.com
Contact: Lois Berghuis
Contact Phone:(231) 726-2198
Contact Email: huettner@officemachines.com
2185 Roberts Street, Muskegon, MI 49444
Phone:
Fax:
Office Plus Business Centre www.opbizz.com
Contact: Charles Haynsworth
Contact Phone:(434) 797-9090
Contact Email: chaynsworth@opbizz.com
840 Memorial Dr, Danville, VA 24541
Phone:
Fax:
Office Products INC www.officeproinc.net
Contact: Ted Zimmerman
Contact Phone:(775) 423-5403
Contact Email: Ted.Zimmerman@officeproinc.net
121 Freeport Circle, Fallon, NV 89406
Phone:
Fax:
Office Solutions and Services www.os2inc.com
Contact: Kevin Hughet
Contact Phone:(406) 541-2020
Contact Email: kevin@os2inc.com
1020 North Ave West, Missoula, MT 59801
Phone:
Fax:
Office Solutions INC Contact: Richard Taylor
Contact Phone:(620) 276-3131
Contact Email: r.taylor@officesolutionsinc.biz
1007 North 8th, Garden City, KS 67846
Phone:
Fax:
Office Solutions USA, INC www.os-usa.com
Contact: Rod Eitland
Contact Phone:(608) 634-6811
Contact Email: rod.uos@mwt.net
123 Swiggum Road, Westby, WI 54667
Phone:
Fax:
Office Specialists INC www.officespecialists.biz
Contact: Jeanne Conlon
Contact Phone:(309) 342-7711
Contact Email: jeanne@osi.biz
143 E Ferris St, Galesburg, IL 61401
Phone:
Fax:
Office Works www.officeworks4u.com
Contact: Matt Drake
Contact Phone:(760) 241-7111
Contact Email: mdrake@officeworks4u.com
15401 Anacapa Rd, Victorville, CA 92392
Phone:
Fax:
Offix LC Contact: Steve Valenta
Contact Phone:(703) 530-1200
Contact Email: svalenta@offix.com
Wellington Center Circle, Gainesville VA
Phone:
Fax:
Oklahoma Copier Solutions, LLC www.soonercopy.com
Contact: John Miller
Contact Phone:(405) 364-7700
Contact Email: johnscm@coxinet.com
650 Alameda, Norman, OK 73069
Phone:
Fax:
On Demand INC www.ondemandhouston.com
Contact: Michael Gray
Contact Phone:(832) 333-2929
Contact Email: mgray@ondemandhouston.com
2650 Fountain View Dr Ste 140, Houston, TX 77057
Phone:
Fax:
Ozark Business Systems www.obscopy.com
Contact: Glen Vanzandt
Contact Phone:(417) 451-4440
Contact Email: gvozark@gmail.com
122 E Spring, Neosho, MO 64850
Phone:
Fax:
Pacific Business Tech North Contact: Michael Call
Contact Phone:(818) 786-8706
Contact Email: mikecall777@yahoo.com
5900 Sepulveda Blvd Sherman Oaks CA
Phone:
Fax:
Pacific Business Technologies www.pbtechnologiesllc.com
Contact: Ed Kambe
Contact Phone:(310) 787-8300
Contact Email: pbtechnologies@yahoo.com
2341 W 205th St Suite 116, Torance, CA 90501
Phone:
Fax:
Pacific Office Automation www.pacificoffice.com
Contact: Terry Newsom
Contact Phone:(480) 305-5500
Contact Email: dpitassi@pacificoffice.com
1305 W 1st Street, Tempe, AZ 85281
Phone:
Fax:
Pacific Office Automation www.pacificoffice.com
Contact: Terry Newsom
Contact Phone:(503) 641-2000
Contact Email: Doug.Pitassi@pacificoffice.com
1747 NW Greenbrier Parkway, Portland, OR 97006
Phone:
Fax:
Page Office Supply (Jubil) www.pageofficesupply.com
Contact: Craig Decker
Contact Phone:(417) 532-4012
Contact Email: admin@pageofficesupply.com
207 W Commercial, Lebanon, MO 65536
Phone:
Fax:
Parallel Document Systems Contact: Jim Brooks
Contact Phone:(877) 237-9470
Contact Email: jim@paralleldocument.com
2578 Broadway Suite 114, New York, NY 10025
Phone:
Fax:
Parrett Company www.parrettcompany.com
Contact: Gregory Parrett
Contact Phone:(269) 429-6630
Contact Email: greg@parrettcompany.com
2602 Niles Rd, St Joseph, MI 49085
Phone:
Fax:
PCG Copiers www.pcgcopiers.com
Contact: Fernando Flores
Contact Phone:(877) 635-8799
Contact Email: fernando92821@gmail.com
587 Explorer Rd, Brea, CA 92821
Phone:
Fax:
Peak Performance Imaging Solutions www.peakdigital.com
Contact: Alan Warholoski
Contact Phone:(970) 262-2555
Contact Email: pstretton@peakdigital.com
135 W 11th St. POB 1968, Silverthorne, CO 80498
Phone:
Fax:
Perry Protech www.perryprotech.com
Contact: Barry Clark
Contact Phone:(419) 228-1360
Contact Email: bclark@perryprotech.com
545 West Market St, Lima, OH 45801
Phone:
Fax:
Phillips Office Solutions www.buyphillips.com
Contact: William Shuey
Contact Phone:(717) 944-0400
Contact Email: bshuey@buyphillips.com
501 Fulling Mill Rd, Middletown, PA 17057
Phone:
Fax:
Phillips Supply House www.pshi.com
Contact: Trey Phillips
Contact Phone:(570) 322-6112
Contact Email: treyp@pshi.com
431 Hepburn St, Williamsport, PA 17701
Phone:
Fax:
Piazza Office Supply INC Contact: Mark Piazza
Contact Phone:(337) 893-0807
Contact Email: mark.piazza@cox-internet.com
301 Pere Megret, Abbeville, LA 70510
Phone:
Fax:
Picasso Business Solutions INC www.my-pbs.com
Contact: Howard Topal
Contact Phone:(732) 431-0182
Contact Email: htopal@my-pbs.com
843 Route 33 Suite 11, Freehold, NJ 07728
Phone:
Fax:
Pike Business Machines, INC www.pbminc.org
Contact: Larry Quin
Contact Phone:(601) 684-7855
Contact Email: lquin@pbminc.org
610 Georgia Ave, McComb, MS 39648
Phone:
Fax:
Pitney Bowes Of Puerto Rico (Tischer) www.pb.com
Contact: Faustino Garcia
Contact Phone:(787) 641-9601
Contact Email: faustino.garcia@pb.com
Calle Tabunuco #7 Ste 120, Guaynabo, PR 00968
Phone:
Fax:
Platinum Copier Solutions LLC www.platinumcopiersolution.com
Contact: Kimberly Gonzales
Contact Phone:(281) 645-4036
Contact Email: kimberly@platinumcopiers.com
1920 Rankin Rd Ste 170, Houston, TX, 77073
Phone:
Fax:
Powers Business Machines INC www.powersbm.com
Contact: Connie Powers
Contact Phone:(757) 959-2646
Contact Email: wcpiii@powersbm.com
9701 Warwick BLVD, Newport News, VA 23601
Phone:
Fax:
Precision Copy Products, INC www.precisioncopyproducts.com
Contact: Tom Pickford
Contact Phone:(412) 233-3000
Contact Email: julieb@precopy.com
600 State Street, Clairton, PA 15025
Phone:
Fax:
Preferred Business Systems www.freedmansofada.com
Contact: Mike Wolfinbarger
Contact Phone:(918) 252-2199
Contact Email: mike@pbscopy.com
5334 E 46th St, Tulsa, OK 74135
Phone:
Fax:
Preferred Office Equipment www.preferredofficeequipment.com
Contact: Wayne Olson
Contact Phone:(406) 454-1391
Contact Email: waynepreferred@aol.com
501 8th Ave S, Great Falls, MT 59405
Phone:
Fax:
Prime Office Innovations www.prime-office.com
Contact: Donna Kalmeta
Contact Phone:(586) 992-1810
Contact Email: dkalmeta@prime-offie.com
15776 Leone Drive, Macomb, MI 48042
Phone:
Fax:
Printers And Stationers, INC. www.psi-online.net
Contact: Robert Cox
Contact Phone:(256) 764-8061
Contact Email: bcox@psi-online.net
113 North Court St., Florence, AL 35630
Phone:
Fax:
Prior & Nami Business Systems www.priornami.com
Contact: Anthony Nami
Contact Phone:(609) 584-5252
Contact Email: tony@priornami.com
1666 Hamilton Ave, Hamilton, NJ 08629
Phone:
Fax:
Prodata Imaging, INC www.prodataimaging.com
Contact: Peter G. Gilmore
Contact Phone:(949) 851-5065
Contact Email: pgilmore@prodataimaging.com
2152 Michelson Drive, Irvine, CA 92612
Phone:
Fax:
Professional Serv Techniques www.pst-pros.com
Contact: John Lear
Contact Phone:(740) 452-8901
Contact Email: jlear39@hotmail.com
833 James Street, Zanesville, OH 43701
Phone:
Fax:
Purcells Off Equipment www.purcells.com
Contact: Linda Hayes
Contact Phone:(270) 465-8502
Contact Email: linda@purcells.com
222 East First Street, Campbellsville, KY 42718
Phone:
Fax:
Quality Retail Systems, INC www.qrs1.com
Contact: David Akin
Contact Phone:(800) 753-7702
Contact Email: dakin@qrs1.com
1531 NY Route 67, Schaghiticoke, NY 12154
Phone:
Fax:
Queen City Business Sys www.queencitybusinesssystems.com
Contact: David Sensabaugh
Contact Phone:(301) 759-4700
Contact Email: davids@qcbs.biz
505 National HWY, La Vale, MD 2150
Phone:
Fax:
RDI Solutions, LLC www.rdisolutions.com
Contact: Lourdes Regan
Contact Phone:(212) 244-9480
Contact Email: lourdes.regan@rdisolutions.com
80 Maiden Lane Ste 1503, New York, NY 10038
Phone:
Fax:
Reliable Office Technologies Corp. www.reliableofficetech.com
Contact: Thomas Rihn
Contact Phone:(301) 695-0464
Contact Email: tomrihn@reliableofficetech.com
211 South Jefferson St, Frederick, MD 21701
Phone:
Fax:
Rhyme Supply Service www.rhymebiz.com
Contact: Mike Steinhoff
Contact Phone:(608) 742-3747
Contact Email: msteinhoff@rhymebiz.com
N6832 Highway 51 South, Portage, WI 53901
Phone:
Fax:
Right Click Inc Contact: Tim Cheung
Contact Phone:(212) 518-3938
Contact Email: tim@rightclickny.com
43-01 21st St, Long Island City, NY
Phone:
Fax:
RK Black Inc Contact: Chris Black
Contact Phone:(405) 943-9801
Contact Email: cblack@rkblack.com
4111 Perimeter Center Place, OK City, OK
Phone:
Fax:
Royal Business Systems INC www.royalbusinesssystems.com
Contact: Peter Nauditt
Contact Phone:(209) 928-6555
Contact Email: peter@myimagetech.com
1515 East Houston Ave, Spokane, WA 99217
Phone:
Fax:
Royal Office Products www.royalofficeproducts.com
Contact: Wayne Bennett
Contact Phone:(812) 423-6475
Contact Email: dbennett@royalofficeproducts.com
2021 W Lloyd Expressway, Evansville, IN 4771-0197
Phone:
Fax:
S&S Business Machines INC www.ssbusinessmacines.com
Contact: Leroy Sakaguchi
Contact Phone:(808) 245-9549
Contact Email: ssbmi@usa.net
3088-A Aukele Street, Lihue, HI 96766
Phone:
Fax:
S3 Business Solutions www.s3mps.com
Contact: edward Scherer
Contact Phone:(212) 719-9500
Contact Email: escherer@s3mps.com
516 Cherry Lane, Floral Park, NY 11001
Phone:
Fax:
Sandhills Office Systems, INC www.sandhillsofficesystems.com
Contact: Laverne Schultz
Contact Phone:(910) 895-2669
Contact Email: lavernes@sandhillsofficesystems.com
504 East Broad Ave, Rockingham, NC 28379
Phone:
Fax:
Sapphire Office Solutions www.sapphire-solutions.com
Contact: Paul Holstein
Contact Phone:(516) 682-8383
Contact Email: paul@sapphire-solutions.com
500 North Broadway Ste 224, Jericho, NY 11753
Phone:
Fax:
Saratoga Technologies Inc Contact: David Temple
Contact Phone:(423) 722-1703
Contact Email: david.temple@saratogaus.com
101 Med Tech Pkwy, Johnson City, TN
Phone:
Fax:
Schoon Corporation www.schoon.com
Contact: Robert Schoon
Contact Phone:(510) 895-1381
Contact Email: bob@schoon.com
2559 Nicholson St, San Leandro, CA 94577
Phone:
Fax:
Schwegmans Office Supply www.schweg.com
Contact: Terry King
Contact Phone:(870) 698-1557
Contact Email: tgking@schweg.com
308 E Main St., Batesville, AR 72501
Phone:
Fax:
Scott Tanner Business Equipment www.scotttannerbiz.com
Contact: Scott Tanner
Contact Phone:(530) 284-1112
Contact Email: scott@psin.com
17585 Pioneer Rd, Greenville, CA 95947
Phone:
Fax:
Seacoast Business Machines INC www.sbmweb.com
Contact: Terrence Miltner
Contact Phone:(603) 330-3555
Contact Email: tmiltner@sbmweb.com
11 Colonial Way, Barrington, NH 03825
Phone:
Fax:
Select Business System-Bakersfield Contact: Timothy Joseph Murphy
Contact Phone:(661) 397-2100
Contact Email: tmurphy@sbsofbak.com
3001 Auto Mall Ste 200 Bakersville, CA
Phone:
Fax:
Select Business Systems www.1select1.com
Contact: Todd Mumma
Contact Phone:(559) 446-0118
Contact Email: tmumma@1select1.com
4545 N Marty Ave, Fresno, CA 93722
Phone:
Fax:
Sharp Business Sys of Georgia www.ga.sharp-sbs.com
Contact: Jim McCarter
Contact Phone:(770) 663-8400
Contact Email: james.mccarter@sharpusa.com
2755 Marconi Drive Ste 100, Alpharetta, GA 30005
Phone:
Fax:
Sharp Business Systems Arizona az.sharp-sbs.com
Contact: Howard Bennett
Contact Phone:(480) 303-9700
Contact Email: snapsbsaz@sharpusa.com
610 W Alameda, Tempe, AZ 85282
Phone:
Fax:
Sharp Business Systems Charlotte nc.sharp-sbs.com
Contact: Brian Alspector
Contact Phone:(704) 523-3333
Contact Email: snapsbsnc@sharpusa.com
4404-A Stuart Andrew BLVD, Charlotte, NC 28217
Phone:
Fax:
Sharp Business Systems Chicago www.il.sharp-sbs.com
Contact: Rich Mytnik
Contact Phone:(630) 620-6024
Contact Email: snapsbschi@sharpusa.com
2808 Centre Circle Ste A, Downers Grove, IL 60515
Phone:
Fax:
Sharp Business Systems Greenville sc.sharp-sbs.com
Contact: Thomas Pickens
Contact Phone:(864) 859-5013
Contact Email: snapsbssc@sharpusa.com
109 Ben Hamby Drive, Greenville, SC 29615
Phone:
Fax:
Sharp Business Systems Indianapolis in.sharp-sbs.com
Contact: Steve Orander
Contact Phone:(317) 844-0033
Contact Email: snapsbsindi@sharpusa.com
7330 E 86th St S 900, Indianapolis, IN 46256
Phone:
Fax:
Sharp Business Systems Memphis www.tn.sharp-sbs.com
Contact: Randy McLain
Contact Phone:(901) 367-5499
Contact Email: mclainra@sharpsec.com
4050 South Mendenhall Rd, Memphis, TN 38115
Phone:
Fax:
Sharp Business Systems Miami fl.sharp-sbs.com
Contact: John Wollitz
Contact Phone:(305) 558-2721
Contact Email: snapsbsmiami@sharpusa.com
14791 Oak Lane, Miami Lakes, FL 33016
Phone:
Fax:
Sharp Business Systems New Jersey nj.sharp-sbs.com
Contact: Jeff Randazzo
Contact Phone:(201) 529-8644
Contact Email: snapsbsnj@sharpusa.com
One Sharp Plaza, Mahwah, NJ 07430
Phone:
Fax:
Sharp Business Systems of San Francisco sd.sharp-sbs.com
Contact: Pravin Chand
Contact Phone:(925) 417-8400
Contact Email: snapsbssd@sharpusa.com
470 Boulder CT S 100, Pleasanton, CA 94566
Phone:
Fax:
Sharp Business Systems San Diego sf.sharp-sbs.com
Contact: Dale Wedge
Contact Phone:(619) 258-1400
Contact Email: snapsbssf@sharpusa.com
8670 Argent St, Santee,CA 92071
Phone:
Fax:
Sharp Business Systems Seattle seattle.sharp-sbs.com
Contact: Melani Patterson
Contact Phone:(425) 885-4755
Contact Email: snapsbssea@sharpusa.com
11900 NE 1st St Ste 110, Bellevue, WA 98005
Phone:
Fax:
Sharp Business Systems Washington dc.sharp-sbs.com
Contact:
Contact Phone:(703) 313-9400
Contact Email: snapsbsdc@sharpusa.com
1300 Wilson BLVD Ste 800, Rosslyn, VA 22209
Phone:
Fax:
Shore Office Systems www.shoreny.com
Contact: Douglas Garvey
Contact Phone:(631) 581-5000
Contact Email: dgarvey@shoreos.com
100 Milbar BLVD, Farmingdale, NY 1735
Phone:
Fax:
Simple Office Solutions www.simple-sos.com
Contact: Thomas Pierucci
Contact Phone:(707) 575-9429
Contact Email: tom@simpleoffcesolutions.com
1831 Gurneville Road, Santa Rosa, CA 95403
Phone:
Fax:
Skelton Business Equipment www.sbesharp.com
Contact: James Beyer
Contact Phone:(281) 351-5128
Contact Email: jim@sbesharp.com
901 West Main Street, Tomball, TX 77375
Phone:
Fax:
Smart Image Systems www.smartimagesystems.com
Contact: Warren Haskins
Contact Phone:(405) 619-0999
Contact Email: warrenh@smartimagesystems.com
2709 S. I-35 Service Road, Oklahoma City, OK 73129
Phone:
Fax:
Smile Business Products INC. www.smilebpi.com
Contact: Joseph Reeves
Contact Phone:(800) 790-7701
Contact Email: Jreeves@Smilebpi.com
4525 Auburn BLVD, Sacremento, CA 95841
Phone:
Fax:
Smith Office Systems www.smithofficesystems.biz
Contact: Dan Smith
Contact Phone:(207) 883-4931
Contact Email: dsmith@smithofficesystems.biz
224 Gorham Rd Suite B, Scarborough, ME 04074
Phone:
Fax:
Source One Solutions www.sosfl.net
Contact: Greg Wyatt
Contact Phone:(561) 863-0044
Contact Email: greg@sosfl.net
990 Old Dixie Highway Ste 2, Lake Park, FL 33403
Phone:
Fax:
South Arkansas Business Solutions www.goabs.com
Contact: Bruce Mitchell
Contact Phone:(870) 879-6400
Contact Email: bmitchell@goabs.com
3801 Camden Rd Suite 23, Pine Bluff, AR 71603
Phone:
Fax:
South Coast Office Supply www.southcoastoffice.com
Contact: Frank Hanson
Contact Phone:(541) 267-5114
Contact Email: Frank@southcoastoffice.com
199 N Broadway, Coos Bay, OR 97420
Phone:
Fax:
South Mississippi Business Machines www.smbm.net
Contact: Mark Busch
Contact Phone:(228) 864-4845
Contact Email: mjbusch@smbm.net
1915 25th Ave, Gulfport, MS 39502
Phone:
Fax:
Southeastern Business Machines www.sebmhsv.com
Contact: Alan Bean
Contact Phone:(256) 882-0190
Contact Email: alan.bean@sebmhsv.com
3413 Memorial Parkway SW, Huntsville, AL 35801
Phone:
Fax:
Southern Duplicating Of Clarksdale www.southernduplicating.com
Contact: Billy Steen
Contact Phone:(662) 624-2976
Contact Email: billys@southernduplicating.com
125 Highway 322, Clarksdale, MS 38614
Phone:
Fax:
Southern Office Machines www.sosonline.com
Contact: Tony McKee
Contact Phone:(620) 626-4300
Contact Email: tmckee@sharpcopiers.com
417 N. Kansas, Liberal, KS 67901
Phone:
Fax:
Southern Office Machines www.sominc.com
Contact: Sheldon Michaels
Contact Phone:(770) 919-8989
Contact Email: smichaels@sominc.com
1555 Williams Dr, St 110, Marietta, GA 30066
Phone:
Fax:
Southwest Copy Systems, INC www.southwestcopy.com
Contact: Michael Contois
Contact Phone:(505) 344-8211
Contact Email: mc@southwestcopy.com
4545 Mcleod Road NE, Albuquerque, NM 87109
Phone:
Fax:
Southwest Office Systems www.sostexas.com
Contact: Vincent Puente Sr
Contact Phone:(817) 255-8602
Contact Email: vincepuente@sostexas.com
13960 Trinity Boulevard, Euless, TX 76040
Phone:
Fax:
Sparks Office Supply www.sparksos.com
Contact: Keith Sparks
Contact Phone:(505) 885-3146
Contact Email: k.sparks@sparksos.com
301 No Canal St, Carlsbad, NM 88220
Phone:
Fax:
Speciality Business Machines www.specialitybusiness.com
Contact: Steve Schaps
Contact Phone:(212) 587-9600
Contact Email: steve@specialitybusiness.com
253 West 35th St Suite 12A, New York, NY 10001
Phone:
Fax:
Spectrum Imaging Systems www.spectrumimagingsystems.com
Contact: Kyle Elliot
Contact Phone:(915) 781-2000
Contact Email: kyle@spectrumimaging.net
5900 Gateway East, El Paso, TX 79905
Phone:
Fax:
St Croix Bus Machines Inc Contact: Vernon Nicholas
Contact Phone:(340) 778-0980
Contact Email: scbusmac@viaccess.net
Sion Farm, Saint Croix, VI
Phone:
Fax:
Standard Business Machines www.sbmlexky.com
Contact: Jeff Baumgardner
Contact Phone:(859) 254-7331
Contact Email: jb@sbmlexky.com
1093 S Broadway Suite 1140, Lexington, KY 40504
Phone:
Fax:
Standard Digital Imaging Inc www.printcopyfaxscan.com
Contact: John Branks Sr
Contact Phone:(215) 992-4220
Contact Email: john.branka@standardigital.com
1370 Industrial BLVD, Southampton, PA 18966
Phone:
Fax:
Standard Office Machines of Atlanta, INC. www.soscanhelp.com
Contact: Bryan Ammons
Contact Phone:(770) 449-9100
Contact Email: bammons@soscanhelp.com
2475 Meadowbrook PKWY Ste 1, Duluth, GA 30096
Phone:
Fax:
Star Graphics INC www.stargraphicsinc.com
Contact: Paul Skinner
Contact Phone:(409) 866-1405
Contact Email: mike@stargraphicsinc.com
4785 Eastex Freeway, Beaumont, TX 77706
Phone:
Fax:
Sterling Business Machine www.callsbm.com
Contact: Wendy Johnson
Contact Phone:(815) 625-4375
Contact Email: wjohnson@callsbm.com
501 Locust St, Sterling, IL 61081
Phone:
Fax:
Sterling Office Systems www.sterlingofficesystems.com
Contact: Jeff Polites
Contact Phone:(248) 426-6200
Contact Email: jpolites@sterlingofficesystems.com
23939 Research Drive, Farmington Hills, MI 48335
Phone:
Fax:
Stiles Office Solutions INC www.stilesofficesolutions.com
Contact: Mark Sanders
Contact Phone:(618) 529-4950
Contact Email: msanders.stiles@il.net
601 Industrial Park Road, Carbondale, IL 62901
Phone:
Fax:
Stone's Office Equipment Co INC www.stoneoffice.com
Contact: Samuel Stone
Contact Phone:(804) 288-9000
Contact Email: sstone@stoneoffice.com
5604 West Broad Street, Richmond, VA 23230
Phone:
Fax:
Striglos www.striglos.com
Contact: Mike O'Brien
Contact Phone:(217) 429-9250
Contact Email: mobrien@striglos.com
140 E William, Decatur, IL 62523-0157
Phone:
Fax:
Stuarts of Shreveport www.stuartsinc.com
Contact: Richard Stuart
Contact Phone:(318) 869-3595
Contact Email: jon@stuartsinc.com
3642 Youree Drive, Shreveport, LA 71105
Phone:
Fax:
Superior Office Systems www.sosny.com
Contact: Tim Glover
Contact Phone:(212) 695-5588
Contact Email: tglover@sosny.com
49 W 37th St 3rd Fl, New York, NY 10018
Phone:
Fax:
Superior Office Systems www.superiorofficenj.com
Contact: Phil Blank
Contact Phone:(732) 738-0093
Contact Email: pblank@superiorofficenj.com
19 Gross Ave, Edison, NJ 08837
Phone:
Fax:
Superior Photocopy of Atlanta www.superiordocumentsolutions.com
Contact: Rick Hale
Contact Phone:(770) 446-5325
Contact Email: rhale@superior-docs.com
1925 Breckenridge Plaza Suie 160, Duluth, 30096
Phone:
Fax:
Tascosa Office Solutions www.tascosaofficemachines.com
Contact: Kelly King
Contact Phone:(806) 372-8787
Contact Email: kking@ytom.com
1013 W 8th St, Amarillo, TX 79101
Phone:
Fax:
TC Technologies www.tctechnologies-inc.com
Contact: Richard Hermann
Contact Phone:(716) 743-9900
Contact Email: rhermann@e-tct.com
1000 Young Street Suite 490, Tonawanda, NY 14150
Phone:
Fax:
Team Solutions Group www.tsg-la.com
Contact: David Akin
Contact Phone:(818) 728-1444
Contact Email: dakin@tsg-la.com
4622 Van Nuys BLVD, Sherman Oaks, CA 91403
Phone:
Fax:
Technifax Office Solutions Contact: Michael Moon
Contact Phone:(972) 478-2800
Contact Email: mmoon@technifaxdfw.com
Keller Springs, Carrollton, TX
Phone:
Fax:
Technology www.technocopy.com
Contact: Kevin Dubois
Contact Phone:(337) 993-2670
Contact Email: kevin@technocopy.net
105 Steen Rd, Lafayette, LA 70508
Phone:
Fax:
Texas Business Systems INC www.texasbusinesssystems.com
Contact: James Harrison
Contact Phone:(713) 680-3300
Contact Email: jim@texasbusinesssystems.com
6955 Portwest Dr Ste 170, Houston, TX 77024
Phone:
Fax:
Texas Document Solutions INC www.texasimagingsystems.com
Contact: Randall Davidson
Contact Phone:(512) 835-1000
Contact Email: randyd@teximgsys.com
2600 Longhorn BLVD Suite #102, Austin, TX 78758
Phone:
Fax:
The Chambers Group www.thechambers-group.com
Contact: Dorthea Chambers
Contact Phone:(610) 993-8088
Contact Email: Dchambers@thechambers-group.com
447 Veit Road, Huntingdon Valley, PA 19006
Phone:
Fax:
The Office Center, INC www.officecenterinc.com
Contact: Dorven King
Contact Phone:(575) 356-4478
Contact Email: craig@officecenterinc.com
1500 South Avenue D, Portales, NM 88130
Phone:
Fax:
The Office Technology Group www.theotg.com
Contact: Dave Weiss
Contact Phone:(414) 475-0522
Contact Email: dweiss@theotg.com
8858 West Schlinger Ave, Milwaukee, WI 53214
Phone:
Fax:
The Performance Group www.performancegroupusa.com
Contact: William M. Fitzgerald
Contact Phone:(805) 289-0010
Contact Email: mfitzgerald@performancegroupusa.com
762 Calle Plano, Camarillo, CA 93012
Phone:
Fax:
The Wilson Group Contact: Derrick Wilson
Contact Phone:(412) 841-7957
Contact Email: dwilson@wilsonworkflowsolutions.com
801 Vinial St. Pittsburgh, PA
Phone:
Fax:
TLC Office Systems www.tlcofficesytems.com
Contact: Wayne Harryman
Contact Phone:(713) 695-3900
Contact Email: wharryman@tlcofficesystems.com
8711 Fallbrook Drive, Houston, TX 77064
Phone:
Fax:
Tongass Business Center www.tbcenter.com
Contact: Marvin Davis
Contact Phone:(907) 225-9015
Contact Email: mdavis@tbcenter.com
618 Dock St, Ketchikan, AK 99901
Phone:
Fax:
Top Office Products www.topofficeproduts.net
Contact: Charlie Bassett
Contact Phone:(307) 674-7465
Contact Email: charlesb@topofficeproducts.net
124 SO Main St, Sheridan, WY 82801
Phone:
Fax:
Total Corporate Solutions, INC. www.totalcorporatesolutions.com
Contact: Richard Gomez
Contact Phone:(310) 436-8600
Contact Email: rgomez@teamtcs.com
20335 South Western Ave, Torrance, CA 90501
Phone:
Fax:
Total Document Management www.lightsourceimaging.com
Contact: Anthony Ferdinand
Contact Phone:(888) 412-6285
Contact Email: tony@tdmnow.net
210 Old DIxie Highway, Vero Beach, FL 3296
Phone:
Fax:
Total Laser Care of NC www.tlc-nc.com
Contact: Rick Echols
Contact Phone:(919) 957-1801
Contact Email: rick@tlc-nc.com
220 Page Rd Ste 105, Durham, NC 27703
Phone:
Fax:
Total Service INC www.totalservice.com
Contact: Russell Mcelhaney
Contact Phone:(724) 539-8824
Contact Email: gene@totalserviceinc.com
1117 Ligonier St, Latrobe, PA 15650
Phone:
Fax:
Toziers Office Products www.toziers.com
Contact: Tiffini Tozier-Salyer
Contact Phone:(530) 899-6977
Contact Email: tiffany.toziers@pacbell.net
1803 Mangrove Ave Ste A, Chico, CA 95926
Phone:
Fax:
Tri State Business Systems INC www.tri-statebusiness.com
Contact: Scott Carlson
Contact Phone:(715) 392-6221
Contact Email: scott@tri-statebusiness.com
2829 Banks Ave, Superior, WI 54880
Phone:
Fax:
Tri State Camera Exchange www.tristatecamera.com
Contact: Michael Beilush
Contact Phone:(347) 417-7022
Contact Email: michael@tristatecamera.com
150 Sullivan Street, Brooklyn, NY 11231
Phone:
Fax:
Tri State Mailing Sys INC www.tri-statemailing.com
Contact: James Henry
Contact Phone:(800) 264-1450
Contact Email: shenry@tri-statemailing.com
3216 Alvey Park Drive E, Owensboro, KY 42303
Phone:
Fax:
Tri-County Business Systems www.tcbs-usa.com
Contact: Joey Bartlett
Contact Phone:(831) 753-6216
Contact Email: joey@tcbs-usa.com
855 Main Street, Salinas, CA 93901
Phone:
Fax:
Tri-State Office Products www.tristateofficeproducts.com
Contact: Pat Angle
Contact Phone:(229) 246-3011
Contact Email: pat@tristateofficeproducts.com
1505 E. Shotwell Street, Bainridge, GA 39818
Phone:
Fax:
Triumph Office Solutions www.triumphoffice.com
Contact: Pam Feld
Contact Phone:(714) 544-2679
Contact Email: pfeld@triumphoffice.com
14712 Franklin Suite A, Tustin, CA 92780
Phone:
Fax:
Ultrex Business Products www.ultrex.net
Contact: Rolf Berkefeld
Contact Phone:(805) 783-1234
Contact Email: rwcbi@aol.com
712 Fiero LN Ste 33, San Luis Obispo, CA 93401
Phone:
Fax:
United Business Machines www.ubmnh.com
Contact: Ken Lamalfa
Contact Phone:(603) 216-9249
Contact Email: klamalfa@ubmnh.com
13 Delta Dr Units 9 & 10, Londonderry, NH 03053
Phone:
Fax:
United Business Machines, INC www.ubmofma.net
Contact: Kenneth Lemoine
Contact Phone:(413) 592-4757
Contact Email: kenneth.lemoine@ubmofma.net
1029 North Road Box 5, Westfield, MA 1020
Phone:
Fax:
United Business Systems www.ubscopy.com
Contact: Andy Ruggiero
Contact Phone:(973) 276-6299
Contact Email: aruggiero22@optonline.net
302 Route 46 East, Fairfield, NJ 07004
Phone:
Fax:
Universal Business Solutions, INC www.ubsna.com
Contact: Abraham Thomas
Contact Phone:(212) 643-4808
Contact Email: abe@ubsna.com
90 John St Ste 502, New York, NY 10038
Phone:
Fax:
University Office Technologies www.universityofficetech.com
Contact: Kevin Van Kannel
Contact Phone:(734) 434-5900
Contact Email: kvankannel@universityofficetech.com
4872 Washtenaw Ave, Ann Arbor, MI 48108
Phone:
Fax:
UP Office Equipment Systems www.upoes.com
Contact: Patti Roll
Contact Phone:(906) 226-2558
Contact Email: tomr@upoes.cm
1909 Enterprise St, Marquette, MI 49855
Phone:
Fax:
US Business Products INC. www.usbpi.com
Contact: Dennis Egge
Contact Phone:(334) 983-8735
Contact Email: dennis@usbpi.com
3860 Napier Field Rd, Dothan, AL 36304
Phone:
Fax:
US Business Systems INC www.usbus.com
Contact: Ronald Hulett
Contact Phone:(574) 264-3065
Contact Email: ron.hulett@ubus.com
3221 Southview Drive, Elkhart, IN 46514
Phone:
Fax:
Valley Business Machines, INC. ww.vbmalaska.com
Contact: Loren Rupe
Contact Phone:(907) 376-5077
Contact Email: loren@vbmalaska.com
5825 E Mayflower Court, Wasilla, AK 99654
Phone:
Fax:
Valley Business Systems www.valleybusinesswv.com
Contact: Allen Rhodes
Contact Phone:(304) 636-0504
Contact Email: arhodes@3wlogic.net
610 Glenmore Loop Road, Elkins, WV 26241
Phone:
Fax:
Valley Imaging Solutions www.valleyimagingsolutions.com
Contact: Jackie D Suggs
Contact Phone:(520) 458-1025
Contact Email: jackie.suggs@valleyimagingsolutions.com
902 East Fry BLVD, Sierra Vista, AZ 85635
Phone:
Fax:
Valley Office Equipment www.valleyoffice.net
Contact: Tom Day
Contact Phone:(760) 321-1560
Contact Email: tom@valleyoffice.net
36-665 Bankside Dr Ste B, Cathedral City, CA 92234
Phone:
Fax:
Valley Office Systems www.valleyofficesystems.com
Contact: Howard Hansen
Contact Phone:(208) 529-2777
Contact Email: hhansen@valleyofficesystems.com
2050 First Street, Idaho Falls, ID 83401
Phone:
Fax:
Vandi Tech INC www.vanditech.com
Contact: Gene Vandi
Contact Phone:(941) 812-8573
Contact Email: gvandi@vanditech.com
3120 Shoreline Dr, Clearwater, FL 33760
Phone:
Fax:
Velocity Imaging Products INC www.velocityimagingproducts.com
Contact: John Stavola
Contact Phone:(619) 433-8000
Contact Email: john@velocitysd.com
8139 Center St, La Mesa, CA 91942
Phone:
Fax:
Velox Systems INC www.veloxsystems.com
Contact: Angelo Buquicchio
Contact Phone:(321) 639-6292
Contact Email: ab@fbaholding.com
4270 Dow Road, Suite 209, Melbourne, FL 32934
Phone:
Fax:
Vermont Digital www.vermontdigital.com
Contact: Peter Welch
Contact Phone:(802) 775-5113
Contact Email: peter@vtdig.com
80 Beldon Road, Rutlad, VT 05701
Phone:
Fax:
Wam Ventures, INC www.wvsharp.com
Contact: William Minor
Contact Phone:(312) 214-6136
Contact Email: bill@wvsharp.com
70 W Madison St #1403, Chicago, IL 60602
Phone:
Fax:
Watts Copy Systems www.wattscopy.com
Contact: Carol Watts
Contact Phone:(217) 529-6697
Contact Email: cswatts@wattscopy.com
2860 Stanton Ave, Springfield, IL 62703
Phone:
Fax:
WB Mason Company, LLC www.wbmason.com
Contact: Leo J. Meehan III
Contact Phone:(508) 436-8273
Contact Email: jessica.gilman@wbmason.com
59 Centre St, Brockton, MA 02303
Phone:
Fax:
Western Office Products Plus INC www.westernofficeplus.com
Contact: Steve McNally
Contact Phone:(402) 371-2108
Contact Email: steve@westernofficeplus.com
435 Norfolk Ave, Norfolk, NE 68701
Phone:
Fax:
Williams Office Prod www.williamsoffice.com
Contact: Dave Jones
Contact Phone:(618) 462-1079
Contact Email: davejones@williamsoffice.com
500 E Broadway, Alton, IL 62002-6399
Phone:
Fax:
Wisconsin Imaging Solutions LLC www.wisconsinimaging.com
Contact: Tony Beck
Contact Phone:(414) 423-3045
Contact Email: tony@wisconsinimaging.com
17020 W Glendale, New Berlin, WI 53151
Phone:
Fax:
Witcher Office Supply www.witcheroffice.org
Contact: Steven Jarman
Contact Phone:(205) 221-2536
Contact Email: wstevejarman@gmail.com
1000 Highway 78 East, Jasper, AL 35501
Phone:
Fax:
Workplace Business Solutions www.theworkplacegroup.com
Contact: Mike Damico
Contact Phone:(631) 273-7500
Contact Email: md@theworkplacegroup.com
4 aerial Way Ste B, Syosset, NY 11791
Phone:
Fax:
WPS (Word Processing Systems) www.wpssolutions.com
Contact: Joe Dellaposta
Contact Phone:(800) 765-1977
Contact Email: dealerprinciple@wpssolutions.com
14500 Byers Rd, Hagerstown, MD 21742
Phone:
Fax:
X Print Solutions www.xprintsol.com
Contact: James Dunn
Contact Phone:(919) 795-9377
Contact Email: jdunn@xprintsol.com
807 Spring Forest Rd #2000, Raleigh, NC 27609
Phone:
Fax:
Xerographic Business Equipment INC www.xbeinc.com
Contact: Brad Robinson
Contact Phone:(502) 899-1969
Contact Email: brad@xbeinc.com
2119 Frankfort Avenue, Louisville, KY 40206
Phone:
Fax:
Xerographic Digial Solutions www.flexprintinc.com
Contact: Phillip Hill
Contact Phone:(813) 915-9200
Contact Email: phil@floridacopiers.com
4237 Sandy Shores Drive, Lutz, FL 33558
Phone:
Fax:
XSE Group, INC. www.aztecoffice.com
Contact: Gerry Crean
Contact Phone:(800) 533-6552
Contact Email: creang@xsegroup.com
35 Philmack D. Ste A100, Middleton, CT 06457
Phone:
Fax:
Young Systems Corporation www.nuworldinc.com
Contact: Young Lee
Contact Phone:(562) 921-2256
Contact Email: ylee@nuworldinc.com
13125 Midway Place, Cerritos, CA 90703
Phone:
Fax:
Yuma Office Equipment www.yumaofficeequipment.com
Contact: Danie Bombard
Contact Phone:(928) 343-2298
Contact Email: daniel@yumaofficeequipment.com
340 South Main St, Yuma, AZ 85364
Phone:
Fax: