EMAIL PO & VENDOR QUOTE TO: TIPSPO@TIPS-USA.COM
PO MUST REFERENCE VENDOR'S TIPS CONTRACT NUMBER
ATTACH PO AS A PDF - ONLY ONE PO (WITH QUOTE) PER ATTACHMENT

Print
VENDOR

Outdoor Aluminum Inc

PO Box 118 Geneva AL,36340

WEBSITE

www.outdooraluminum.com

SERVICE/PRODUCTS DESCRIPTION

Outdoor Aluminum, Inc. has been under the same ownership and location in Geneva, Alabama for over 30 years. Our bleachers, benches and picnic table have been developed as a cost effective, durable, low maintenance solution for seating needs. Our design and products have the best fit and finish in the industry. Outdoor Aluminum is committed to providing quality products and service to our customers.
Outdoor Aluminum Inc
CONTRACT: 170801 Auditorium, Stadium, Field Seating, Bleachers and Installation Services
Oct-26-2017 to Oct-29-2020
EDGAR COMPLIANCE : (Contact TIPS for Verification)
Outdoor Aluminum Inc

Print
Auditorium, Stadium, Field Seating, Bleachers and Installation Services(170801)
Exp.Date 10/29/2020 EDGAR: (Contact TIPS for Verification)
| | |
| --- | --- |
| DISADVANTAGED/MINORITY/WOMAN BUSINESS ENTERPRISE | No |
| HISTORICALLY UNDERUTILIZED BUSINESS (HUB) | No |
| | |
| --- | --- |
| | AL , AK , AZ , AR , CA , CO , CT , DE , DC , FL , GA , HI , ID , IL , IN , IA , KS , KY , LA , ME , MD , MA , MI , MN , MS , MO , MT , NE , NV , NH , NJ , NM , NY , NC , ND , OH , OK , OR , PA , RI , SC , SD , TN , TX , UT , VT , VA , WA , WI , WY |
Live Oak Equipment Finance is the exclusive financial parter of TIPS! Allow LOEF to help assist you in your financial needs today!

We are committed to provide a financing experience based on unwavering integrity, unmatched service and complete transparency. Our processes have been established with the client in mind, and we are dedicated to ensuring that you enjoy your experience working with our team. Our goal is for you to build a long-term relationship with Live Oak Equipment Finance, not only as your financial partner, but also a firm that can help you grow and excel as a professional in your industry.
Contact Information:
Phone: (512) 726-0367
Email: tips@loeqf.com
Website: www.loeqf.com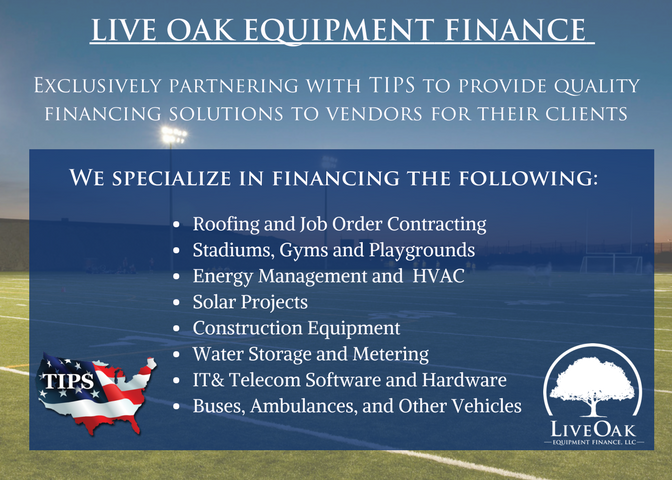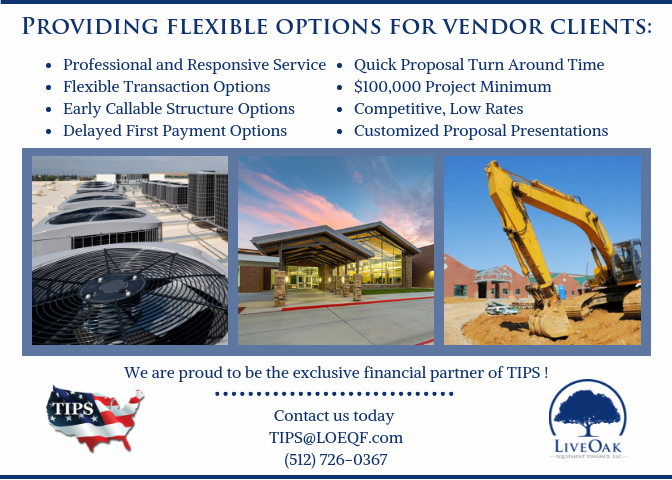 Get VCard for Primary Contact by Contract
Outdoor Aluminum Inc
Resellers listed below may also hold a current TIPS contract. PO's for quotes provided by a reseller that are also awarded in the same category will be processed and sent directly to that reseller.

Please check under "ALL VENDORS" before requesting a quote from any listed reseller.
Resellers
Address
Green Site Sales Contact: Ray Miner
Contact Phone:(410) 627-2080
Contact Email: ray@greensitessales.com
7828 Millers Corner Elkridge, Md.
Phone:
Fax:
Heartland Seating, Inc. Contact: Brad Peterson
Contact Phone:(913) 268-0069
Contact Email: brad@heartlandseating.com
12424 w- 62nd Terrace Shawnee, Ks.
Phone:
Fax:
Martin Victory Products Contact: Brad Martin
Contact Phone:(253) 859-8223
Contact Email: mvp@bmi.net
15717 SE 240th Street Kent, Wa.
Phone:
Fax:
Montana School Equipment Co. Contact: Aaron Johnson
Contact Phone:
Contact Email: aaron@mtschoolequipment.com
6100 3rd Ave South, Great Falls, MT 59405
Phone:(406) 454-0420
Fax:
Sightlines, inc. Contact: Dave G if fen
Contact Phone:(502) 243-1414
Contact Email: dave@sightlinesinc.com
7207 Kavanaugh Rd. Crestwood, Ky.
Phone:
Fax: