EMAIL PURCHASE ORDER TO: TIPSPO@TIPS-USA.COM
ATTACH PO AS A PDF - ONLY ONE PO PER EMAIL
PO MUST REFERENCE TIPS CONTRACT NUMBER
VENDOR

Interkal

WEBSITE

interkal.com

SERVICE/PRODUCTS DESCRIPTION

Interkal is a leading manufacturer of spectator seating. Our products include, telescopic bleachers, telescopic platforms with chairs, and fixed seating. Our nationwide, exclusive dealer network can see a project through from design to sign off.
CONTRACT: 170801 Auditorium, Stadium, Field Seating, Bleachers and Installation Services
Oct-26-2017 to Oct-29-2020
Interkal
CONTRACT: 170801 Auditorium, Stadium, Field Seating, Bleachers and Installation Services
Oct-26-2017 to Oct-29-2020
PRIMARY CONTACT

SECONDARY CONTACT

NAME

Matt LaLonde
Linda Pace

POSITION

Vice President of Sales
Estimating Manager

PHONE

(269) 978-2244
(269) 349-1521

FAX

(269) 349-6530
(269) 349-6530

MOBILE

(269) 760-0745
(269) 978-2259

EMAIL

mlalonde@interkal.com
lpace@interkal.com

WEBSITE

interkal.com
TIPS CONTACT

PAYMENT TO

NAME

Meredith Barton

ADDRESS:

5981 East Cork Street

POSITION

TIPS CONTACT

PHONE

(866)-839-8477

CITY:

Kalamazoo

FAX

(866)-839-8472

STATE:

MI

MOBILE

(903)-243-4789

ZIP:

49048

EMAIL

tips@tips-usa.com
| | |
| --- | --- |
| FEDERAL OR EDGAR COMPLIANCE DOCUMENTS FILED WITH CONTRACT: | Yes |
| DISADVANTAGED/MINORITY/WOMAN BUSINESS ENTERPRISE | NO |
| HISTORICALLY UNDERUTILIZED BUSINESS (HUB) | NO |
| | |
| --- | --- |
| | AL AK AZ AR CA CO CT DE DC FL GA HI ID IL IN IA KS KY LA ME MD MA MI MN MS MO MT NE NV NH NJ NM NY NC ND OH OK OR PA RI SC SD TN TX UT VT VA WA WV WI WY |
0

We are committed to provide a financing experience based on unwavering integrity, unmatched service and complete transparency. Our processes have been established with the client in mind, and we are dedicated to ensuring that you enjoy your experience working with our team. Our goal is for you to build a long-term relationship with Live Oak Equipment Finance, not only as your financial partner, but also a firm that can help you grow and excel as a professional in your industry.
Contact Information:
Phone: (512) 726-0367
Email: tips@loequipmentfinance.com
Website: www.loequipmentfinance.com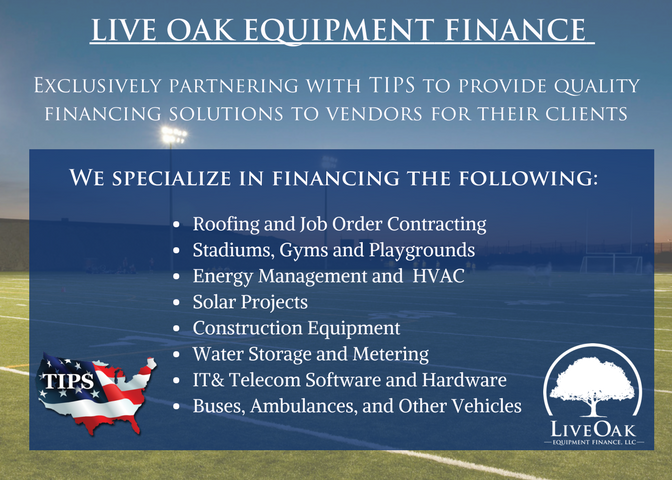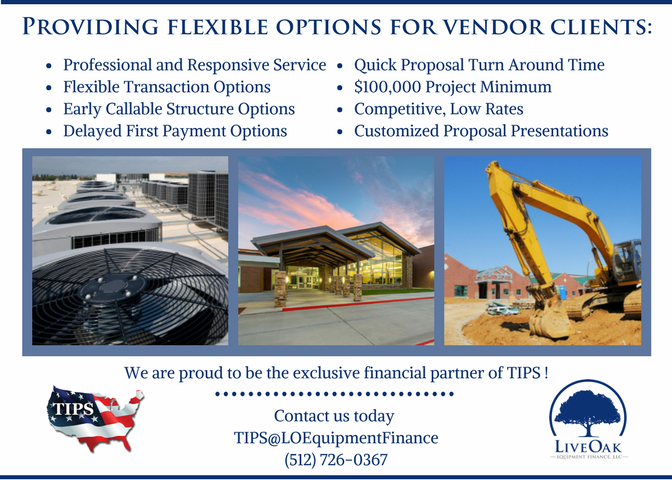 Resellers listed below may also hold a current TIPS contract. PO's for quotes provided by a reseller that are also awarded in the same category will be processed and sent directly to that reseller.
Please check under "ALL VENDORS" before requesting a quote from any listed reseller.
Resellers
Address
A K Sales & Consulting, Inc www.aksalesandconsulting.com
Contact:
Contact Phone:
Contact Email: aksalesnm@gmail.com
1202 E 19th St., Roswell, NM 88201
Phone:575-623-1488
Fax:575-623-0488
Academic Specialties www.astexas.com
Contact:
Contact Phone:
Contact Email: info@astexas.com
15344 Vantage Parkway E Suite 150, Houston, TX 77032
Phone:832-626-1067
Fax:713-937-7890
Bleachers Restorators of CO. www.brocllc.com
Contact:
Contact Phone:
Contact Email: rick@brocllc.com
5212 So. Xenophon Ct., Littleton, CO 80127
Phone:303-973-4517
Fax:303-972-3307
California Facility Specialties, Inc. www.cafacilityspec.com
Contact:
Contact Phone:
Contact Email: mkurnik@cafacilityspec.com
161 Mercury Circle , Pomona, CA 91768
Phone:909-599-1200
Fax:909-599-1255
CB Seating www.cbseating.net
Contact:
Contact Phone:
Contact Email: jcollins@cbseating.net
36 Canal Street, Somersworth, NH 3878
Phone:603-692-6600
Fax:603-692-5115
Covington Flooring Co. Inc www.covington.com
Contact:
Contact Phone:
Contact Email: info@covington.com
709 First Avenue North, Birmingham, AL 35203
Phone:205-328-2330
Fax:205-328-2496
D & A Associates www.daassociates.com
Contact:
Contact Phone:
Contact Email: info@daassociates.com
404 Scotchpine Drive, Mandeville, LA 70471
Phone:985-845-8079
Fax:985-845-1133
Davis Athletics, LLC www.davisathletics.net
Contact:
Contact Phone:
Contact Email: davisathletics@gmail.com
2330 Broad Street, Parkersburg, WV 26101
Phone:304-428-3000
Fax:304-428-3002
Degler-Whiting www.deglerwhiting.com
Contact:
Contact Phone:
Contact Email: sales@deglerwhiting.com
531 West Lancaster Avenue, Frazer, PA 19355
Phone:610-644-3157
Fax:610-644-6019
Educational Furniture www.edfurn.com
Contact:
Contact Phone:
Contact Email: matt@edfurn.com
620 East 18th Street, Muncie, IN 47302
Phone:765-286-9041
Fax:765-286-8553
Facilities Equipment www.fesny.com
Contact:
Contact Phone:
Contact Email: fes.inc@verizon.net
Box 235, Pittsford, NY 14534
Phone:585-586-5422
Fax:585-586-6642
First Service www.clubstuff.com
Contact:
Contact Phone:
Contact Email: dan@clubstuff.com
737 Southpoint Blvd.Suite D, Petaluma, CA 94954
Phone:707-781-1960
Fax:707-781-1970
Goodson Company Contact:
Contact Phone:
Contact Email: rbonfiglio@sbcglobal.net
P.O. Box 112179373 N Fairway Circle, Milwaukee, WI 53217
Phone:414-540-1330
Fax:414-540-1335
Haldeman Homme Southeast www.haldemanhomme.com
Contact:
Contact Phone:
Contact Email: bscott@haldemanhomme.com
1567 Old Ford Dr., Sumter, SC 29154
Phone:803-305-3001
Fax:
HE Hodge www.hehodge.com
Contact:
Contact Phone:
Contact Email: jhodge@hehodge.com
2393 Pendley RoadSuite 200, Cumming, GA 30041
Phone:770-205-8312
Fax:770-205-8318
Heartland Seating www.heartlandseating.com
Contact:
Contact Phone:
Contact Email: sales@heartlandseating.com
11222 Johnson Drive, Shawnee, KS 66203
Phone:913-268-0069
Fax:913-962-0803
Hufcor Desert West www.hufcordw.com
Contact:
Contact Phone:
Contact Email: lkirkpatrick@hufcordw.com
254 South MulberrySuite 111, Mesa, AZ 85202
Phone:480-464-4437
Fax:480-464-1232
Interkal Corporate Office www.interkal.com
Contact:
Contact Phone:
Contact Email: sales@interkal.com
5981 East Cork St., Kalamazoo, MI 49048
Phone:269-349-1521
Fax:269-349-6530
IPR-Hawaii www.ipr-hawaii.com
Contact:
Contact Phone:
Contact Email: ian@ipr-hawaii.com
1481 S. King St. Suite 226, Honolulu, HI 96814
Phone:808-845-7788
Fax:808-952-5501
Knight Athletics www.knightathletics.net
Contact:
Contact Phone:
Contact Email: tknight@knightathletics.net
300 Mt. Lebanon BlvdSuite 205D, Pittsburgh, PA 15234
Phone:412-343-8833
Fax:412-343-8832
Larson Equipment www.larsoncompany.com
Contact:
Contact Phone:
Contact Email: clutz@larsoncompany.com
1000 E . State ParkwayUnit F, Schaumburg, IL 60173
Phone:847-705-0460
Fax:847-705-0560
Modern Door www.moderndoor.com
Contact:
Contact Phone:
Contact Email: bdotson@moderndoor.com
4301 Charles Crossing DriveP.O. Box 727, White Plains, MD 20695
Phone:301-843-5255
Fax:301-843-7194
Montana School Equip www.mtschoolequipment.com
Contact:
Contact Phone:
Contact Email: aaron@mtschoolequipment.com
6100 3rd Avenue South, Great Falls, MT 59405
Phone:406-454-0420
Fax:406-454-0439
Northwest School Equip www.northwest-school-eq.com
Contact:
Contact Phone:
Contact Email: emailus@northwest-school-eq.com
25 82nd DriveSuite 200, Gladstone, OR 97027
Phone:503-650-8025
Fax:503-650-0535
Seating & Athletic Facility Enterprises, LLC Contact:
Contact Phone:
Contact Email: stadiumsteve@gmail.com
79554 - 325th Street, Ellendale, MN 56026
Phone:507-256-7604
Fax:507-256-7207
Sierra School Equipment Company www.ssecinc.com
Contact:
Contact Phone:
Contact Email: mikemcdermott@ssecinc.com
1911 Mineral Court, Bakersfield, CA 93308
Phone:661-399-2993
Fax:661-399-0218
Storagecraft www.storagecraft-fl.com
Contact:
Contact Phone:
Contact Email:
2823 West Orange Ave., Apopka, FL 32703
Phone:407-889-9888
Fax:
Toadvine Enterprises www.toadvine.com
Contact:
Contact Phone:
Contact Email: mike@toadvine.com
14803 Old Taylorsville RdP.O. Box 190, Fisherville, KY 40023
Phone:502-241-6010
Fax:502-241-2288
Young Equipment Sales, Inc. www.theyesexperience.com
Contact:
Contact Phone:
Contact Email: jamie@youngequipmentsales.com
325 Rabro Drive, Hauppauge, NY 11788
Phone:631-582-5900
Fax:631-582-9520