EMAIL PURCHASE ORDER TO: TIPSPO@TIPS-USA.COM
ATTACH PO AS A PDF - ONLY ONE PO PER EMAIL
PO MUST REFERENCE TIPS CONTRACT NUMBER
VENDOR

Bak USA

WEBSITE

www.bakusa.com

SERVICE/PRODUCTS DESCRIPTION

Bak USA (pronounced "Back USA") is a social enterprise that builds mobile computers in Buffalo, New York. A grassroots organization with a global reach, we are partnering with local agencies and industry leaders to build accessible technologies, empower local communities, and activate social prosperity. Our dream is to make high-quality technologies accessible to every human being on earth.
CONTRACT: 161202 Electronic Goods Appliances & Associated Goods & Svcs
Feb-23-2017 to Feb-27-2020
Bak USA
CONTRACT: 161202 Electronic Goods Appliances & Associated Goods & Svcs
Feb-23-2017 to Feb-27-2020
TIPS CONTACT

PAYMENT TO

NAME

Meredith Barton

ADDRESS:

425 Michigan Ave

POSITION

TIPS CONTACT

PHONE

(866)-839-8477

CITY:

Buffalo

FAX

(866)-839-8472

STATE:

NY

MOBILE

ZIP:

14203

EMAIL

tips@tips-usa.com
| | |
| --- | --- |
| FEDERAL OR EDGAR COMPLIANCE DOCUMENTS FILED WITH CONTRACT: | Yes |
| DISADVANTAGED/MINORITY/WOMAN BUSINESS ENTERPRISE | NO |
| HISTORICALLY UNDERUTILIZED BUSINESS (HUB) | NO |
| | |
| --- | --- |
| | AL AK AZ AR CA CO CT DE DC FL GA HI ID IL IN IA KS KY LA ME MD MA MI MN MS MO MT NE NV NH NJ NM NY NC ND OH OK OR PA RI SC SD TN TX UT VT VA WA WI WY |
0

We are committed to provide a financing experience based on unwavering integrity, unmatched service and complete transparency. Our processes have been established with the client in mind, and we are dedicated to ensuring that you enjoy your experience working with our team. Our goal is for you to build a long-term relationship with Live Oak Equipment Finance, not only as your financial partner, but also a firm that can help you grow and excel as a professional in your industry.
Contact Information:
Phone: (512) 726-0367
Email: tips@loequipmentfinance.com
Website: www.loequipmentfinance.com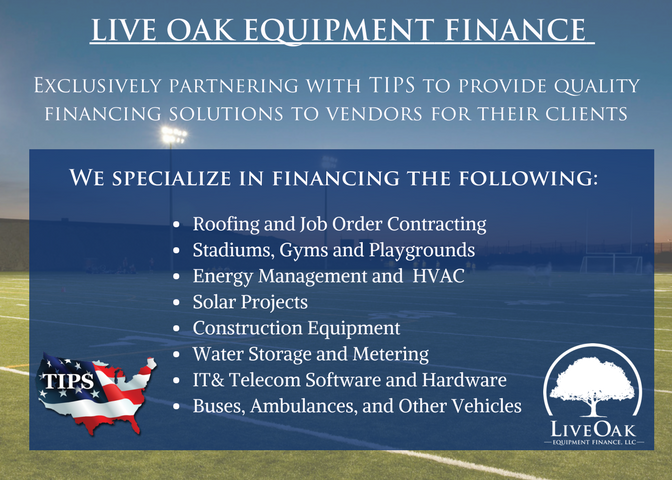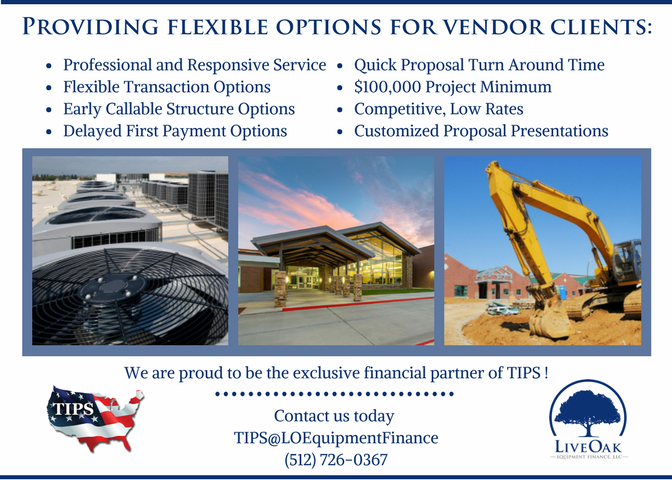 Resellers listed below may also hold a current TIPS contract. PO's for quotes provided by a reseller that are also awarded in the same category will be processed and sent directly to that reseller.

Please check under "ALL VENDORS" before requesting a quote from any listed reseller.
Resellers
Address
CD&E Tech Solutions, LLC www.cdetechsolutions.com
Contact: Carlos Figueroa
Contact Phone:(877) 426-9813 Ext. 702
Contact Email: cfigueroa@cdetechsolutions.com
1205 Texas Star Pkwy Suite 120, Euless, TX 76040
Phone:(877) 426-9813
Fax:
Microsoft Corporation www.microsoft.com
Contact: Chris Wood
Contact Phone:8552706581
Contact Email: Chwood@microsoft.com
2500 N Mayfair Rd, Wauwatosa, WI 53226
Phone:8552706581
Fax:
Microsoft Corporation www.microsoft.com
Contact: Samuel Ramos
Contact Phone:8552706581
Contact Email: Sam.Ramos@microsoft.com
2655 Richmond Ave, Staten Island, NY 10314
Phone:8552706581
Fax:
Microsoft Corporation www.microsoft.com
Contact: General
Contact Phone:8558609040
Contact Email: nick.miller@microsoft.com
The Shops at Columbus Circle, 10 Columbus Circle, New York, NY 10019
Phone:8558609040
Fax:
Microsoft Corporation www.microsoft.com
Contact: Jonathan Pasquaretta
Contact Phone:8605072660
Contact Email: jonpasq@microsoft.com
Westfarms Mall, 211 Westfarms Mall, Farmington, CT 06032
Phone:8605072660
Fax:
Microsoft Corporation www.microsoft.com
Contact: Sylvester Perry
Contact Phone:9045039870
Contact Email: syperry@microsoft.com
4719 River City Dr, Jacksonville, FL 32246
Phone:9045039870
Fax:
Microsoft Corporation www.microsoft.com
Contact: Alfred Silva
Contact Phone:9088097320
Contact Email: alfreds@microsoft.com
Bridgewater Commons #2690, 400 Commons Way, Bridgewater, NJ 08807
Phone:9088097320
Fax:
Microsoft Corporation www.microsoft.com
Contact: Amanda Trouba
Contact Phone:9136930901
Contact Email: amanda.trouba@microsoft.com
Oak Pary Mall #59, 11467 W 95th Street, Kansas City, KS 66214
Phone:9136930901
Fax:
Microsoft Corporation www.microsoft.com
Contact: Jason Alvarez
Contact Phone:9143232150
Contact Email: Jason.Alvarez@microsoft.com
The Westchester, 125 Westchester Ave, White Plains, NY 10601
Phone:9143232150
Fax:
Microsoft Corporation www.microsoft.com
Contact: Nick Miller
Contact Phone:9193613140
Contact Email: nick.miller@microsoft.com
The Streets at Southpoint #174, 6910 Fayetville Rd, Durham, NC 27713
Phone:9193613140
Fax:
Microsoft Corporation www.microsoft.com
Contact: Gail Oppermann
Contact Phone:9418931200
Contact Email: gaopperm@microsoft.com
140 University Town Center Dr, Sarasota, FL 34243
Phone:9418931200
Fax:
Microsoft Corporation www.microsoft.com
Contact: Ashlee Soucek
Contact Phone:9493256100
Contact Email: ashleej@microsoft.com
555 The Shops at Mission Viejo, Mission Viejo, CA 92691
Phone:9493256100
Fax:
Microsoft Corporation www.microsoft.com
Contact: Michael Meirovitz
Contact Phone:9524877372
Contact Email: michmei@microsoft.com
162 South Ave, Bloomington, MN 55425
Phone:9524877372
Fax:
Microsoft Corporation www.microsoft.com
Contact: Ryan Granville
Contact Phone:9729871870
Contact Email: ryan.granville@microsoft.com
2601 Preston Rd, Frisco, TX 75034
Phone:9729871870
Fax:
Microsoft Corporation www.microsoft.com
Contact: Nick Carnevale
Contact Phone:9737744510
Contact Email: nichcar@microsoft.com
1745 Willbrook Mall, Wayne, NJ 07470
Phone:9737744510
Fax:
Microsoft Corporation www.microsoft.com
Contact: Jennifer Hollingsworth
Contact Phone:9737744510
Contact Email: jholling@microsoft.com
1151 Galleria Blvd, Roseville, CA 95678
Phone:9737744510
Fax:
Microsoft Corporation www.microsoft.com
Contact: Jeff McCarthy
Contact Phone:4154139970
Contact Email: jemccart@microsoft.com
The Village at Corte Madera #D001, 1640 Redwood Highway, San Francisco, CA 94925
Phone:4154139970
Fax:
Microsoft Corporation www.microsoft.com
Contact: Gregg Carline
Contact Phone:2012217310
Contact Email: grcarlin@microsoft.com
Garden State Plaza #2030, Paramus, NJ 07652
Phone:2012217310
Fax:
Microsoft Corporation www.microsoft.com
Contact: Randy Scofield
Contact Phone:2035461510
Contact Email: rascofie@microsoft.com
Danbury Fair Mall #G205, 7 Backus Avenue, Danbury, CT 06810
Phone:2035461510
Fax:
Microsoft Corporation www.microsoft.com
Contact: Doug Garnes
Contact Phone:2068340680
Contact Email: dgar@microsoft.com
University Village, 2624 NE University Village St, Seattle, WA 98105
Phone:2068340680
Fax:
Microsoft Corporation www.microsoft.com
Contact: Margaret Mitchell
Contact Phone:2105076650
Contact Email: MaMitche@microsoft.com
The Shops at La Cantera #6560, 15900 La Cantera Parkway, San Antonio, TX 78256
Phone:2105076650
Fax:
Microsoft Corporation www.microsoft.com
Contact: Michael Callan
Contact Phone:2128243100
Contact Email: micallan@microsoft.com
677 5th Ave, New York, NY 10022
Phone:2128243100
Fax:
Microsoft Corporation www.microsoft.com
Contact: Sean Tobin
Contact Phone:2167551380
Contact Email: setobin@microsoft.com
Beachwood Place #1410, 26300 Cedar Road, Beachwood, OH 44122
Phone:2167551380
Fax:
Microsoft Corporation www.microsoft.com
Contact: Jennifer Draper
Contact Phone:2482055990
Contact Email: jedraper@microsoft.com
The Somerset Collection #U213, 2800 West Big Beaver Rd, Troy, MI 48084
Phone:2482055990
Fax:
Microsoft Corporation www.microsoft.com
Contact: Ryan Gamas
Contact Phone:2533706771
Contact Email: rgamas@microsoft.com
3000 184th Street SW, Lynnwood, WA 98037
Phone:2533706771
Fax:
Microsoft Corporation www.microsoft.com
Contact: Patrick Wolf
Contact Phone:2812046970
Contact Email: pwolf@microsoft.com
Baybrook Mall #1155, 500 Baybrook Mall, Friendswood, TX 77546
Phone:2812046970
Fax:
Microsoft Corporation www.microsoft.com
Contact: Desirea Daniels
Contact Phone:2816023990
Contact Email: Desirea.Daniels@microsoft.com
1201 Lake Woodlands Dr, Spring, TX 77380
Phone:2816023990
Fax:
Microsoft Corporation www.microsoft.com
Contact: Heather-Ashely Spagnola
Contact Phone:3017653080
Contact Email: ttraynum@microsoft.com
7101 Democracy Blvd, Bethesda, MD 20817
Phone:3017653080
Fax:
Microsoft Corporation www.microsoft.com
Contact: Eric Bentley
Contact Phone:3026690200
Contact Email: Eric.Bentley@microsoft.com
Christiana Mall, 137 Christiana Mall, Newark, NJ 19702
Phone:3026690200
Fax:
Microsoft Corporation www.microsoft.com
Contact: Rob Armour
Contact Phone:3038246772
Contact Email: Rob.Armour@microsoft.com
8505 S Park Meadows Center Dr, Lone Tree, CO 80124
Phone:3038246772
Fax:
Microsoft Corporation www.microsoft.com
Contact: Doug Hughs
Contact Phone:3059135430
Contact Email: dohughs@microsoft.com
Dadeland Mall #2416, 7535 N Kendall Drive, Miami, FL 33156
Phone:3059135430
Fax:
Microsoft Corporation www.microsoft.com
Contact: Norman Posada
Contact Phone:3059141840
Contact Email: nopo@microsoft.com
Aventura Mall #1565, 19575 Biscayne Blvd, Aventura, FL 33180
Phone:3059141840
Fax:
Microsoft Corporation www.microsoft.com
Contact: Trina Claggett
Contact Phone:3146552550
Contact Email: trina.claggett@microsoft.com
Saint Louis Galleria #2417, 1155 St Louis Galleria, St Louis, MO 63117
Phone:3146552550
Fax:
Microsoft Corporation www.microsoft.com
Contact: Bernard Vanterpool
Contact Phone:3152331080
Contact Email: bevanter@microsoft.com
Destiny USA #B-207, 10344 Destiny USA Dr, Syracuse, NY 13204
Phone:3152331080
Fax:
Microsoft Corporation www.microsoft.com
Contact: Mike McGraw
Contact Phone:3177080250
Contact Email: mimcgraw@microsoft.com
The Fashion Mall at Keystone #66, 8701 Keystone Crossing, Indianapolis, IN 46240
Phone:3177080250
Fax:
Microsoft Corporation www.microsoft.com
Contact: Carol Mahnken
Contact Phone:4049426170
Contact Email: camah@microsoft.com
Lennox Square Mall #3007A, 3393 Peachtree Road NE, Atlanta, GA 30326
Phone:4049426170
Fax:
Microsoft Corporation www.microsoft.com
Contact: Todd Leidner
Contact Phone:4058793550
Contact Email: toddleid@microsoft.com
Penn Square #1037A, 1901 NW Expressway, Oklahoma City, OK 73118
Phone:4058793550
Fax:
Microsoft Corporation www.microsoft.com
Contact: Jenny Mohess
Contact Phone:4075631610
Contact Email: jemohess@microsoft.com
The Florida Mall #1120-B, 8001 S Orange Blossom Trail, Orlando, FL 32809
Phone:4075631610
Fax:
Microsoft Corporation www.microsoft.com
Contact: Scott Rudowitz
Contact Phone:4075633850
Contact Email: Scott.Rudowitz@microsoft.com
Mall at Millenia #H-220, 4200 Conroy Rd, Orlando, FL 32839
Phone:4075633850
Fax:
Microsoft Corporation www.microsoft.com
Contact: Mary Zavisza
Contact Phone:4084545940
Contact Email: mazavisz@microsoft.com
Valley Fait #1135, 2855 Stevens Creek Blvd, Santa Clara, CA 95050
Phone:4084545940
Fax:
Microsoft Corporation www.microsoft.com
Contact: Zack Holtzman
Contact Phone:4123580229
Contact Email: zaholtzm@microsoft.com
1000 Ross Park Mall Dr, Pittsburgh, PA 15237
Phone:4123580229
Fax:
Microsoft Corporation www.microsoft.com
Contact: Irma Zelina
Contact Phone:4152297500
Contact Email: irzelina@microsoft.com
San Francisco Centre #257, 845 Market Street, San Francisco, CA 94103
Phone:4152297500
Fax:
Microsoft Corporation www.microsoft.com
Contact: Melanie Wood
Contact Phone:4255193580
Contact Email: melwood@microsoft.com
Bellevue Square Mall #116-118, 116 Bellevue Way, Bellevue, WA 98004
Phone:4255193580
Fax:
Microsoft Corporation www.microsoft.com
Contact: Meny Ventura
Contact Phone:4695873180
Contact Email: ventura@microsoft.com
NorthPark Center #1612, 8687 N Central Expressway, Dallas, TX 75225
Phone:4695873180
Fax:
Microsoft Corporation www.microsoft.com
Contact: Yuval Yisrael
Contact Phone:4803080800
Contact Email: Yuval.Yisrael@microsoft.com
Scottsdale Fashion Sq Mall #1288, 7014 E Camelback Rd, Scottsdale, AZ 85251
Phone:4803080800
Fax:
Microsoft Corporation www.microsoft.com
Contact: Walter DiBease
Contact Phone:4847547600
Contact Email: walter.dibease@microsoft.com
160 N Gulph Road, King of Prussia, PA 19406
Phone:4847547600
Fax:
Microsoft Corporation www.microsoft.com
Contact: Casey Clark
Contact Phone:5032651400
Contact Email: caclar@microsoft.com
Pioneer Place, 300 SW Yamhill St, Portland, OR 97204
Phone:5032651400
Fax:
Microsoft Corporation www.microsoft.com
Contact: Max Sanders
Contact Phone:5048415180
Contact Email: maxsande@microsoft.com
3301 Veterans Memorial Blvd, Metairie, LA 70002
Phone:5048415180
Fax:
Microsoft Corporation www.microsoft.com
Contact: Bryan Mohn
Contact Phone:5089034500
Contact Email: Bryan.Mohn@microsoft.com
Natick Mall #3072, 1245 Worcester Street, Natick, MA 01760
Phone:5089034500
Fax:
Microsoft Corporation www.microsoft.com
Contact: Paul Rodriguez
Contact Phone:5125826500
Contact Email: parodri@microsoft.com
The Domain #104, 3309 Esperenza Crossing, Austin, TX 78758
Phone:5125826500
Fax:
Microsoft Corporation www.microsoft.com
Contact: John Radenheimer
Contact Phone:5138269630
Contact Email: john.radenheimer@microsoft.com
Kenwood Towne Centre D Court, 7858 Montgomery Rd, Cincinnati, OH 45236
Phone:5138269630
Fax:
Microsoft Corporation www.microsoft.com
Contact: Thomas Ciccone
Contact Phone:5163680060
Contact Email: thomcic@microsoft.com
Roosevelt Field #1140A, 630 Old Country Road, Garden City, NY 11530
Phone:5163680060
Fax:
Microsoft Corporation www.microsoft.com
Contact: Lena Gonzalez
Contact Phone:5623564500
Contact Email: legon@microsoft.com
331 Los Cerritos Center #D13, Cerritos, CA 90703
Phone:5623564500
Fax:
Microsoft Corporation www.microsoft.com
Contact: Brandon Ramsey
Contact Phone:6028246090
Contact Email: brandon.ramsey@microsoft.com
Chandler Fashion Center #1060, 3111 W Chandler Blvd, Chandler, AZ 85226
Phone:6028246090
Fax:
Microsoft Corporation www.microsoft.com
Contact: Robert Hemmings
Contact Phone:6033283260
Contact Email: rhemmin@microsoft.com
The Mall at Rockingham Park, 99 Rockingham Park Blvd, Salem, NH 03079
Phone:6033283260
Fax:
Microsoft Corporation www.microsoft.com
Contact: Zachary Bell
Contact Phone:6149342460
Contact Email: zabell@microsoft.com
160 Easton Town Center, Columbus, OH 43219
Phone:6149342460
Fax:
Microsoft Corporation www.microsoft.com
Contact: Joe Dellolio
Contact Phone:6176924000
Contact Email: jodell@microsoft.com
The Shops at Prudential Center #027, 800 Boylston Street, Boston, MA 02199
Phone:6176924000
Fax:
Microsoft Corporation www.microsoft.com
Contact: Joel Koch
Contact Phone:6198495872
Contact Email: jkoch@microsoft.com
Fashion Valley Mall #324, 7007 Friars Road, San Diego, CA 92108
Phone:6198495872
Fax:
Microsoft Corporation www.microsoft.com
Contact: Denton Green
Contact Phone:6302883420
Contact Email: denton.green@microsoft.com
Oakbrook Center, 49 Oakbrook Center, Oakbrook, IL 60523
Phone:6302883420
Fax:
Microsoft Corporation www.microsoft.com
Contact: Dan Weis
Contact Phone:6317602340
Contact Email: danweis@microsoft.com
Walt Whitman Shops #1006B, 160 Walt Whitman Road, Huntington Station, NY 11746
Phone:6317602340
Fax:
Microsoft Corporation www.microsoft.com
Contact: Lucas Magalhaes
Contact Phone:6507982900
Contact Email: lumagalh@microsoft.com
Stanford Shopping Center #186A, 180 El Camino Real, Palo Alto, CA 94304
Phone:6507982900
Fax:
Microsoft Corporation www.microsoft.com
Contact: Justin Reynaldo
Contact Phone:6785344100
Contact Email: jureynal@microsoft.com
Perimeter Mall #1440, 4499 Ashford Dunwoody Rd, Atlanta, GA 30346
Phone:6785344100
Fax:
Microsoft Corporation www.microsoft.com
Contact: David Schmall
Contact Phone:7024152550
Contact Email: david.schmall@microsoft.com
Fashion Show Mall #1045, 3200 Las Vegas Blvd S, Las Vegas, NV 89109
Phone:7024152550
Fax:
Microsoft Corporation www.microsoft.com
Contact: Will Crawford
Contact Phone:7032369140
Contact Email: wicrawfo@microsoft.com
Fashion Center at Pentagon City #G04A, 1100 S Hayes St, Arlington, VA 22202
Phone:7032369140
Fax:
Microsoft Corporation www.microsoft.com
Contact: Simeon Hill
Contact Phone:7033368480
Contact Email: sihill@microsoft.com
7917 Tysons Corner Center, Tysons Corner, VA 22102
Phone:7033368480
Fax:
Microsoft Corporation www.microsoft.com
Contact: Joanne Yoo
Contact Phone:7049166610
Contact Email: joyoo@microsoft.com
Southpark #m11, 4400 Sharon Road, Charlotte, NC 28211
Phone:7049166610
Fax:
Microsoft Corporation www.microsoft.com
Contact: General
Contact Phone:7084484800
Contact Email: nick.miller@microsoft.com
8800 W 119th St, Palos Park, IL 60464
Phone:7084484800
Fax:
Microsoft Corporation www.microsoft.com
Contact: Leslie McDonald
Contact Phone:7138605790
Contact Email: lemcdona@microsoft.com
Houston Galleria #A2421, 5015 Westheimer Rd, Houston, TX 77056
Phone:7138605790
Fax:
Microsoft Corporation www.microsoft.com
Contact: Patrick Little
Contact Phone:7143382130
Contact Email: palitt@microsoft.com
3333 Bristol St #1249, Costa Mesa, CA 92626
Phone:7143382130
Fax:
Microsoft Corporation www.microsoft.com
Contact: Stacey Herod
Contact Phone:7167062280
Contact Email: stherod@microsoft.com
Walden Galleria #L108, One Walden Galleria, Buffalo, NY 14225
Phone:7167062280
Fax:
Microsoft Corporation www.microsoft.com
Contact: Mike Cutillo
Contact Phone:7323585180
Contact Email: mcutillo@microsoft.com
3710 US-9, Freehold, NJ 07728
Phone:7323585180
Fax:
Microsoft Corporation www.microsoft.com
Contact: Dondrae K. May
Contact Phone:7816851000
Contact Email: domay@microsoft.com
Burlington Mall #104A, 75 Middlesex Turnpike, Burlington, MA 01803
Phone:7816851000
Fax:
Microsoft Corporation www.microsoft.com
Contact: Jenn Regnier
Contact Phone:8018699770
Contact Email: Jennifer.Regnier@microsoft.com
51 S Main St, Salt Lake City, UT 84111
Phone:8018699770
Fax:
Microsoft Corporation www.microsoft.com
Contact: Adrian DiTucci
Contact Phone:8089543800
Contact Email: additu@microsoft.com
1450 Ala Moana Blvd, Honolulu, HI 96814
Phone:8089543800
Fax:
Microsoft Corporation www.microsoft.com
Contact: Tim Wersinger
Contact Phone:8136821360
Contact Email: tiwersin@microsoft.com
International Plaza, 2223 N West Shore Blvd Space #220, Tampa, FL 33607
Phone:8136821360
Fax:
Microsoft Corporation www.microsoft.com
Contact: Jeremy Allen
Contact Phone:8185774620
Contact Email: jeremy.allen@microsoft.com
Woodland Hills Mall #0123B, 7021 S Memorial Dr, Tulsa, OK 74133
Phone:8185774620
Fax:
Microsoft Corporation www.microsoft.com
Contact: Arman Mailian
Contact Phone:8185774620
Contact Email: armanm@microsoft.com
Topanga Plaza #2072, 6600 Topanga Canyon Blvd, Canoga Park, CA 91303
Phone:8185774620
Fax:
Microsoft Corporation www.microsoft.com
Contact: Scott Sheehy
Contact Phone:8474662830
Contact Email: scsheehy@microsoft.com
Woodfield Mall #J-106, Schaumburg, IL 60173
Phone:8474662830
Fax:
Microsoft Corporation www.microsoft.com
Contact: Sunshine Huh
Contact Phone:8552706581
Contact Email: sunshine.huh@microsoft.com
2140 Galleria Way, 145 S Central, Glendale, CA 91210
Phone:8552706581
Fax:
Microsoft Corporation www.microsoft.com
Contact: Jeremy Eason
Contact Phone:8552706581
Contact Email: jeason@microsoft.com
10250 Santa Monica Blvd, Los Angeles, CA 90067
Phone:8552706581
Fax:
Microsoft Corporation www.microsoft.com
Contact: General
Contact Phone:8552706581
Contact Email: nick.miller@microsoft.com
1065 Brea Mall, Brea, CA 92821
Phone:8552706581
Fax:
Microsoft Corporation www.microsoft.com
Contact: Drew Copper
Contact Phone:8552706581
Contact Email: drcooper@microsoft.com
3000 E 1st Ave, Denver, CO 80206
Phone:8552706581
Fax:
Microsoft Corporation www.microsoft.com
Contact: Matt Harrigan
Contact Phone:8552706581
Contact Email: matt.harrigan@microsoft.com
1 W Flatiron Crossing Dr, Broomfield, CO 80021
Phone:8552706581
Fax:
Microsoft Corporation www.microsoft.com
Contact: Alix Delgado
Contact Phone:8552706581
Contact Email: aldel@microsoft.com
Town Center at Boca Raton, 6000 Glades Road, Boca Raton, FL 33431
Phone:8552706581
Fax:
Microsoft Corporation www.microsoft.com
Contact: Terramce Gilespie
Contact Phone:8552706581
Contact Email: Terrance.Gilespie@microsoft.com
Shops at North Bridge #9005, 520 N Michigan Ave, Chicago, IL 60611
Phone:8552706581
Fax:
Microsoft Corporation www.microsoft.com
Contact: Steve Webb
Contact Phone:8552706581
Contact Email: stwe@microsoft.com
101 Jordan Creek Pkwy, West Des Moines, IA 50266
Phone:8552706581
Fax:
Microsoft Corporation www.microsoft.com
Contact: General
Contact Phone:8552706581
Contact Email: nick.miller@microsoft.com
Oxmoor Center #5626, 7900 Shelbyville Road, Louisville, KY 40222
Phone:8552706581
Fax:
Microsoft Corporation www.microsoft.com
Contact: Bill Mueller
Contact Phone:8552706581
Contact Email: wimuelle@microsoft.com
Fayette Mall, 3401 Nicholasville Road, Lexington, KY 40503
Phone:8552706581
Fax:
Microsoft Corporation www.microsoft.com
Contact: Dan Wigley
Contact Phone:8552706581
Contact Email: dawig@microsoft.com
364 Maine Mall Rd, South Portland, ME 04106
Phone:8552706581
Fax:
Microsoft Corporation www.microsoft.com
Contact: Jeff Shields
Contact Phone:8552706581
Contact Email: jeshield@microsoft.com
The Mall in Columbia #5533, 10300 Little Patuxent Parkway, Columbia, MD 21044
Phone:8552706581
Fax:
Microsoft Corporation www.microsoft.com
Contact: Neav Abramov
Contact Phone:8552706581
Contact Email: waballar@microsoft.com
825 Dulaney Valley Rd, Towson, MD 21204
Phone:8552706581
Fax:
Microsoft Corporation www.microsoft.com
Contact: Jason Jones
Contact Phone:8552706581
Contact Email: jjones@microsoft.com
27500 Novi Rd, Novi, MI 48377
Phone:8552706581
Fax:
Microsoft Corporation www.microsoft.com
Contact: Casey Clark
Contact Phone:8552706581
Contact Email: caclar@microsoft.com
Washington Square, 9585 SW Washington Square Rd, Portland, OR 97223
Phone:8552706581
Fax:
Microsoft Corporation www.microsoft.com
Contact: Shane Alves
Contact Phone:8552706581
Contact Email: shalves@microsoft.com
97 Providence Pl, Providence, RI 02903
Phone:8552706581
Fax:
Microsoft Corporation www.microsoft.com
Contact: Ryan Kline
Contact Phone:8552706581
Contact Email: rykline@microsoft.com
7600 Kingston Pike, Knoxville, TN 37919
Phone:8552706581
Fax:
Microsoft Corporation www.microsoft.com
Contact: Christianne Bautista
Contact Phone:8552706581
Contact Email: Christianne.Bautista@microsoft.com
7400 San Pedro Ave, San Antonio, TX 78216
Phone:8552706581
Fax:
Microsoft Corporation www.microsoft.com
Contact: Dawn Matthews
Contact Phone:8552706581
Contact Email: damatthe@microsoft.com
6191 S State St, Murray, UT 84107
Phone:8552706581
Fax:
Microsoft Corporation www.microsoft.com
Contact: Brian Gunnarson
Contact Phone:8552706581
Contact Email: briangu@microsoft.com
600 Pine St, Seattle, WA 98101
Phone:8552706581
Fax:
Microsoft Corporation www.microsoft.com
Contact: Monique Tolentino
Contact Phone:8552706581
Contact Email: monique.tolentino@microsoft.com
2800 Southcenter Mall, Seattle, WA 98188
Phone:8552706581
Fax: