EMAIL PO & VENDOR QUOTE TO: TIPSPO@TIPS-USA.COM
PO MUST REFERENCE VENDOR'S TIPS CONTRACT NUMBER
ATTACH PO AS A PDF - ONLY ONE PO (WITH QUOTE) PER ATTACHMENT

Print
VENDOR

Edbrix Inc

1320 Greenway Dr #460 Irving TX,75038

WEBSITE

www.edbrix.com

SERVICE/PRODUCTS DESCRIPTION

Edbrix is a private, multilevel, collaborative, education platform. Edbrix is an advanced interactive cloud based education portal exclusively developed to make E-Learning interactive and simple. Our single sign-on portal allows all users to communicate and exchange knowledge using Google/ Microsoft Apps. Edbrix provides a common platform to conduct the universe of learning activities within a single dashboard; teachers can broadcast live class sessions, upload pre-recorded lectures, publish courses and incorporate reference documents along with communicating with students and parents via live chat/hangout.At Edbrix, we believe in building collaborative and result oriented relationships with our clients. It's the secret ingredient that spices up our e-learning innovations to facilitate exchange of information. Along with K-12 teachers and students, the evolutionary Edbrix platform is ideal for institutions of higher learning, educational companies, and enterprises to share, archive, publish, evaluate, assess, and collaborate knowledge online. Edbrix has also extended its service to be used offline through Google/Microsoft Applications.The Edbrix platform has been developed with dedication for all participants in the scholastic and enterprise education field. The participation of students, teachers, parents, and administrators has been simplified through a user oriented dashboard. Within the enterprise arena, the professional Edbrix platform ensures a trained and educated workforce encompassing employees, instructors, HR, and managers.
Edbrix Inc
CONTRACT: 170202 Multi-Tiered Private Collaborative Network
Apr-27-2017 to Apr-23-2020
EDGAR COMPLIANCE : (Contact TIPS for Verification)
Edbrix Inc

Print
Multi-Tiered Private Collaborative Network(170202)
Exp.Date 04/23/2020 EDGAR: (Contact TIPS for Verification)
| | |
| --- | --- |
| | Primary |
| Contact | Ashutosh Parab |
| Title | VP Technical |
| Phone | (972) 756-1212 |
| Email | aparab@edbrix.com |
| | |
| --- | --- |
| DISADVANTAGED/MINORITY/WOMAN BUSINESS ENTERPRISE | No |
| HISTORICALLY UNDERUTILIZED BUSINESS (HUB) | No |
| | |
| --- | --- |
| | AL , AK , AZ , AR , CA , CO , CT , DE , DC , FL , GA , HI , ID , IL , IN , IA , KS , KY , LA , ME , MD , MA , MI , MN , MS , MO , MT , NE , NV , NH , NJ , NM , NY , NC , ND , OH , OK , OR , PA , RI , SC , SD , TN , TX , UT , VT , VA , WA , WI , WY |
Live Oak Equipment Finance is the exclusive financial parter of TIPS! Allow LOEF to help assist you in your financial needs today!

We are committed to provide a financing experience based on unwavering integrity, unmatched service and complete transparency. Our processes have been established with the client in mind, and we are dedicated to ensuring that you enjoy your experience working with our team. Our goal is for you to build a long-term relationship with Live Oak Equipment Finance, not only as your financial partner, but also a firm that can help you grow and excel as a professional in your industry.
Contact Information:
Phone: (512) 726-0367
Email: tips@loeqf.com
Website: www.loeqf.com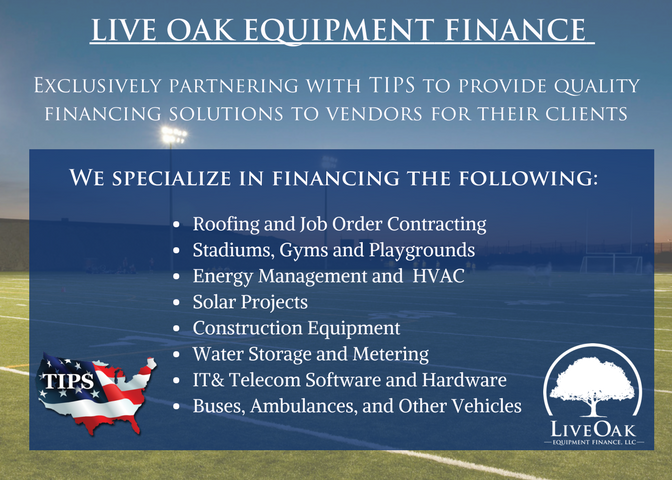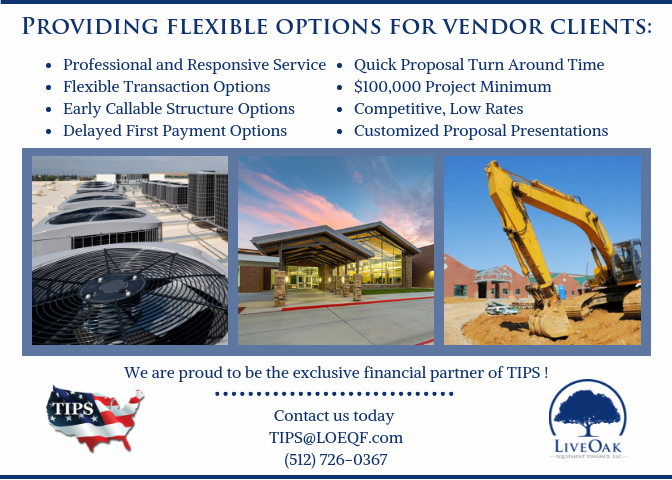 Get VCard for Primary Contact by Contract
Edbrix Inc
Resellers listed below may also hold a current TIPS contract. PO's for quotes provided by a reseller that are also awarded in the same category will be processed and sent directly to that reseller.

Please check under "ALL VENDORS" before requesting a quote from any listed reseller.
Resellers
Address
Educational Technology Learning Contact:
Contact Phone:
Contact Email:
532 Silicon Dr., Suite 101, Southlake, TX 76092
Phone:(817) 310-3900
Fax: