EMAIL PURCHASE ORDER TO: TIPSPO@TIPS-USA.COM
ATTACH PO AS A PDF - ONLY ONE PO PER EMAIL
PO MUST REFERENCE TIPS CONTRACT NUMBER
VENDOR

BCI Libraries

WEBSITE

www.bcilibraries.com

SERVICE/PRODUCTS DESCRIPTION

BCI is a world leader in modern library furniture, we offer many types of shelving, various designs of circulation and reference desks, a vast selection of display furniture, book browsers, as well as, children's furniture, lounge seating and tables. We work with school districts and public libraries, along with leading architects, designers and professionals in the development of functional and beautifully designed libraries. The library of today is not just a collection of books or a place to study – it is a place for multicultural communication, learning, social gathering, and more. Therefore, major demands are being made on both function and design of today's libraries, as well as on future libraries. BCI has the expertise, innovation, and practical product base to provide you with a modern library solution suited for your needs and budget.We have the ambition and passion for being ahead of the modern library, challenging what it can be and how it can be used.
CONTRACT: 170302 Furniture, Furnishings and Services
May-26-2017 to May-22-2020 EDGAR COMPLIANCE : N
BCI Libraries
CONTRACT: 170302 Furniture, Furnishings and Services
May-26-2017 to May-22-2020
EDGAR COMPLIANCE : N
TIPS CONTACT

PAYMENT TO

NAME

Meredith Barton

ADDRESS:

100 Hilltop Road

POSITION

TIPS CONTACT

PHONE

(866)-839-8477

CITY:

Ramsey

FAX

(866)-839-8472

STATE:

NJ

MOBILE

ZIP:

07446

EMAIL

tips@tips-usa.com
| | |
| --- | --- |
| DISADVANTAGED/MINORITY/WOMAN BUSINESS ENTERPRISE | NO |
| HISTORICALLY UNDERUTILIZED BUSINESS (HUB) | NO |
| | |
| --- | --- |
| | AL , AK , AZ , AR , CA , CO , CT , DE , DC , FL , GA , HI , ID , IL , IN , IA , KS , KY , LA , ME , MD , MA , MI , MN , MS , MO , MT , NE , NV , NH , NJ , NM , NY , NC , ND , OH , OK , OR , PA , RI , SC , SD , TN , TX , UT , VT , VA , WA , WI , WY |

We are committed to provide a financing experience based on unwavering integrity, unmatched service and complete transparency. Our processes have been established with the client in mind, and we are dedicated to ensuring that you enjoy your experience working with our team. Our goal is for you to build a long-term relationship with Live Oak Equipment Finance, not only as your financial partner, but also a firm that can help you grow and excel as a professional in your industry.
Contact Information:
Phone: (512) 726-0367
Email: tips@loequipmentfinance.com
Website: www.loequipmentfinance.com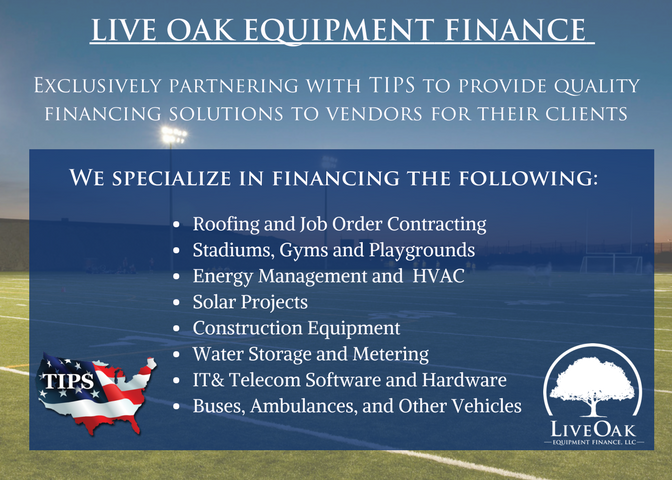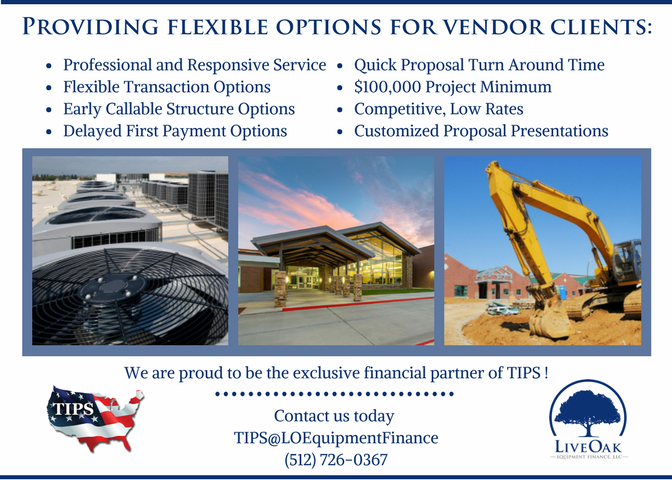 Resellers listed below may also hold a current TIPS contract. PO's for quotes provided by a reseller that are also awarded in the same category will be processed and sent directly to that reseller.

Please check under "ALL VENDORS" before requesting a quote from any listed reseller.
Resellers
Address
Arnold & Associates Interiors www.arnold-associates.net/
Contact: DeLisa Arnold
Contact Phone:(225) 343-2702
Contact Email: darnold@arnold-associates.net
3707 Government Street, Baton Rouge, Louisiana 70806
Phone:(225) 343-2702
Fax:
BC Office Interiors www.bcinteriors.com/
Contact: Mark Sapir
Contact Phone:(303) 443-3666
Contact Email: marks@bcinteriors.com
3550 Frontier Avenue, Suite C2, Boulder, Colorado 80301
Phone:(303) 443-3666
Fax:(303) 443-0406
Carolina Furnishings+Design www.cfplusd.com/
Contact: David Chriscoe
Contact Phone:(910) 673-1010
Contact Email: davidchriscoe@gmail.com
315 Grant Street, West End, North Carolina 27376
Phone:(910) 673-1010
Fax:(910) 673-0990
Corporate Interiors, Inc. www.the-cigroup.com/
Contact: Melony Fields
Contact Phone:(225) 963-9400
Contact Email: mfields@the-cigroup.com
447 N. Third Street, Suite D, Baton Rouge, Louisiana 70802
Phone:(225) 963-9400
Fax:
DES www.des.com
Contact: Mark Wyatt
Contact Phone:(540) 687-7060
Contact Email: mark.wyatt@des.com
205 East Washington Street , Middleburg, Virginia 20117
Phone:(540) 687-7060
Fax:
Duet Resource Group www.duetresourcegroup.com/
Contact: Kyle Elsemore
Contact Phone:(414) 273-3838
Contact Email: kyle.elsemore@duetresourcegroup.com
440 W. Vliet Street, Milwaukee, Wisconsin 53212
Phone:(414) 273-3838
Fax:(414) 272-1280
Educator's Depot Inc. www.educatorsdepot.com/
Contact: Alan Clarke
Contact Phone:(866) 736-2012
Contact Email: AClarke@educatorsdepot.com
17424 W. Grand Pkwy. S., Suite 206, Sugar Land, Texas 77479
Phone:(866) 736-2012
Fax:(866) 736-2014
Empire Office Inc. www.empireoffice.com/
Contact: Nicole Sison
Contact Phone:(813) 418-3300
Contact Email: nsison@empireoffice.com
5112 West Linebaugh Avenue, Tampa, Florida 33624
Phone:(813) 418-3300
Fax:
Evo Business Environments www.evoarkansas.com/
Contact: Zac Cerrato
Contact Phone:(501) 244-9696
Contact Email: Zac@evoarkansas.com
415 N. McKinley, Suite 1250, Little Rock, Arkansas 72205
Phone:(501) 244-9696
Fax:(501) 244-9620
Great Lakes Furniture Supply, Inc. www.greatlakesfurniture.com/
Contact: Ron Chrisman
Contact Phone:(586) 774-5970
Contact Email: rchrismanjr@gmail.com
P.O. Box 667, St. Clair Shores, Michigan 48080
Phone:(586) 774-5970
Fax:(586) 774-6509
Hanson's Installation www.hanson-install.com
Contact: Wayne Hanson
Contact Phone:(210) 651-5711
Contact Email: wayne@hanson-install.com
16726 Pawlin Drive, Selma, TX 78154
Phone:(210) 651-5711
Fax:
HNE Equipment Corp. www.HNEequipment.com
Contact: Kenneth Bogart
Contact Phone:(631) 563-6500
Contact Email: ken@hneequipment.com
1371 Church Street, Bohemia, New York 11716
Phone:(631) 563-6500
Fax:(631) 563-6502
Intereum www.intereum.com
Contact: Kimberly Kirkeide
Contact Phone:(612) 413-1478
Contact Email: kkirkeide@intereum.com
9800 8th Avenue North, Plymouth, MN 55441
Phone:(612) 413-1478
Fax:
Longo Associates www.longoschools.com/
Contact: Brian Sciortino
Contact Phone:(201) 825-1500
Contact Email: brian@longoinc.com
100 Hilltop Road, Ramsey, New Jersey 7446
Phone:(201) 825-1500
Fax:(201) 825-4784
Midwest Storage Solutions www.midweststoragesolutions.com/
Contact: Taylor Gilbreath
Contact Phone:(402) 935-0357
Contact Email: taylorg@mss-1.com
5845 S. 118th Circle, Omaha, Nebraska 68137
Phone:(402) 935-0357
Fax:
Office Basics Inc. www.businessinteriors.officebasics.com/
Contact: Mike Rowles
Contact Phone:(610) 471-1000
Contact Email: mrowles@officebasics.com
22 Creek Circle, Boothwyn, Pennsylvania 19061
Phone:(610) 471-1000
Fax:(610) 471-1100
Robert H. Lord www.rhlco.com
Contact: Rob Romay
Contact Phone:(860) 512-2126
Contact Email: robromay@rhlco.com
220 Chapel Road, Manchester, Connecticut 6042
Phone:(860) 512-2126
Fax:(860) 645-9100
Saxton Bradley (SBI) www.saxtonbradley.com/
Contact: Dennis Purcell
Contact Phone:(800) 654-3512
Contact Email: Dennis.Purcell@saxtonbradley.com
6718 South 216th Street, Kent, Washington 98032
Phone:(800) 654-3512
Fax:
Scott Rice Workspace Solutions www.scottriceok.com/
Contact: Sarah Clark
Contact Phone:(405) 848-2224
Contact Email: sarah.clark@scottriceok.com
6900 N. Bryant Avenue, Oklahoma City, Oklahoma 73121
Phone:(405) 848-2224
Fax:(405) 848-3999
SmithCFI www.smithcfi.com/
Contact: Cindy Cummings
Contact Phone:(503) 525-3407
Contact Email: cindyc@smithcfi.com
620 NE 19th Ave., Portland, Oregon 97232
Phone:(503) 525-3407
Fax:(503) 226-9233
Source Interiors www.sourceinteriors.net/
Contact: Mark Patterson
Contact Phone:(864) 354-5093
Contact Email: markp@sourceinteriors.net
114 Annas Place, Simpsonville, South Carolina 29681
Phone:(864) 354-5093
Fax:(864) 751-1699
Texas Wilson Office Furniture & Services www.texaswilson.com/
Contact: Tammy Poe
Contact Phone:(210) 647-2057
Contact Email: tpoe@texaswilson.com
6812 Fairgrounds Parkway, San Antonio, Texas 78238
Phone:(210) 647-2057
Fax:(210) 647-3110
The Mell Group, LLC www.themellgroup.com/
Contact: Mell Gage Smith
Contact Phone:(205) 877-3131
Contact Email: mell@themellgroupllc.com
100 Union Hill Drive, Suite 100, Birmingham, Alabama 35209
Phone:(205) 877-3131
Fax:(205) 877-3184
Workplace Furniture www.wpfurn.com
Contact: Jeff Ward
Contact Phone:(901) 729-6477
Contact Email: jward@wpfurn.com
6400 Shelby View Drive, Ste. 109, Memphis, Tennessee 38134
Phone:(901) 729-6477
Fax: