EMAIL PURCHASE ORDER TO: TIPSPO@TIPS-USA.COM
ATTACH PO AS A PDF - ONLY ONE PO PER EMAIL
PO MUST REFERENCE TIPS CONTRACT NUMBER
VENDOR

Hickory Contract

WEBSITE

www.hickorycontract.com

SERVICE/PRODUCTS DESCRIPTION

40 year manufacturer of soft seating, wood seating, executive seating, ergonomic seating and occassional tables. Hickory Contract is a vertically integrated company owning both our frame shop and upholstery shop. This allows us to ship product as acknowledged as well as offer customs and revisions to product.
CONTRACT: 170302 Furniture, Furnishings and Services
May-26-2017 to May-22-2020
Hickory Contract
CONTRACT: 170302 Furniture, Furnishings and Services
May-26-2017 to May-22-2020
TIPS CONTACT

PAYMENT TO

NAME

Meredith Barton

ADDRESS:

7514 West NC #10 Hwy

POSITION

TIPS CONTACT

PHONE

(866)-839-8477

CITY:

Vale

FAX

(866)-839-8472

STATE:

NC

MOBILE

ZIP:

28168

EMAIL

tips@tips-usa.com
| | |
| --- | --- |
| FEDERAL OR EDGAR COMPLIANCE DOCUMENTS FILED WITH CONTRACT: | Yes |
| DISADVANTAGED/MINORITY/WOMAN BUSINESS ENTERPRISE | NO |
| HISTORICALLY UNDERUTILIZED BUSINESS (HUB) | NO |
| | |
| --- | --- |
| | AL AK AZ AR CA CO CT DE DC FL GA HI ID IL IN IA KS KY LA ME MD MA MI MN MS MO MT NE NV NH NJ NM NY NC ND OH OK OR PA RI SC SD TN TX UT VT VA WA WI WY |
0

We are committed to provide a financing experience based on unwavering integrity, unmatched service and complete transparency. Our processes have been established with the client in mind, and we are dedicated to ensuring that you enjoy your experience working with our team. Our goal is for you to build a long-term relationship with Live Oak Equipment Finance, not only as your financial partner, but also a firm that can help you grow and excel as a professional in your industry.
Contact Information:
Phone: (512) 726-0367
Email: tips@loequipmentfinance.com
Website: www.loequipmentfinance.com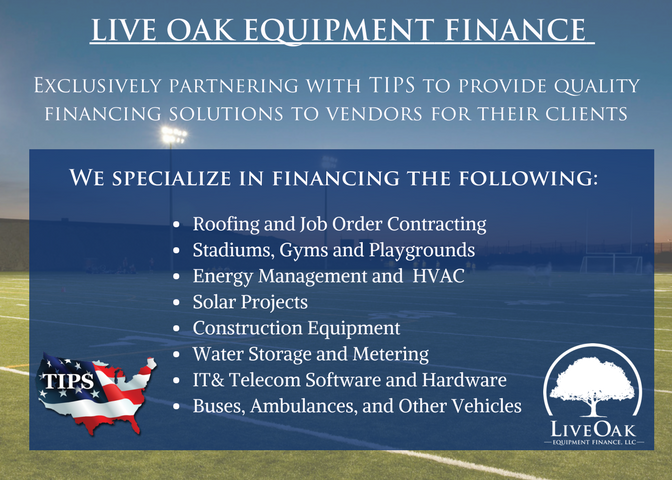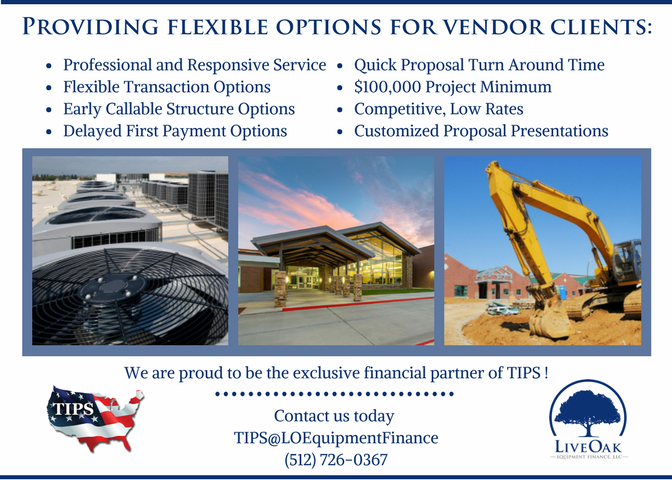 Resellers listed below may also hold a current TIPS contract. PO's for quotes provided by a reseller that are also awarded in the same category will be processed and sent directly to that reseller.
Please check under "ALL VENDORS" before requesting a quote from any listed reseller.
Resellers
Address
180 Office Solutions www.180office.com
Contact: Wyatt Russell
Contact Phone:(512) 517-9590
Contact Email: wyatt@180office.com
2011 Lamar Ste. B , Round Rock, TX 78664
Phone:(512) 517-9590
Fax:(512) 532-7711
1st Class Solutions www.1stclasssolutions.com
Contact: Calvin Sechrist
Contact Phone:
Contact Email: clavins@firstclasssolutions.com
5121 69th Ste. 709B, Lubbock, TX 79424
Phone:(806) 771-4888
Fax:(806) 771-4889
A&W Office Supply www.awoffice.com
Contact: Wes Wittner
Contact Phone:
Contact Email: wwitner@awoffice.com
222 S. Staples, Corpus Christi, TX 78401
Phone:(361) 883-6784
Fax:(361) 884-9013
Abilene Printing www.abileneprinting.com
Contact: Harlan Owen
Contact Phone:
Contact Email: howen@abileneprinting.com
1274 N. Second, Abilene, TX 79601
Phone:(325) 677-2673
Fax:(325) 675-6963
Ables Land Contact: Cody Ables
Contact Phone:(903) 593-8407
Contact Email: cody@ablesland.com
428 S Fannin, Tyler, TX 75711
Phone:(903) 593-8407
Fax:
Armstrong Office Concepts Contact: Julie Armstrong
Contact Phone:(469) 568-6648
Contact Email: juliea@armstrongofficeconcepts.com
1500 North I-35 Ste 114, Carrollton, TX 75006
Phone:(469) 568-6648
Fax:
Austin Business Furn. www.austinbusinessfurniture.com
Contact: Jay Femal
Contact Phone:(512) 617-4349
Contact Email: jfemal@abfurn.com
4030 W. Braker Lane, Austin, TX 78759
Phone:(512) 617-4349
Fax:(512) 832-6330
Barnett Furn. Solutions www.bfstx.com
Contact: Evan Barnett
Contact Phone:(210) 854-4277
Contact Email: evan@bfsitx.com
8546 Broadway, San Antonio, TX 78217
Phone:(210) 854-4277
Fax:(210) 832-0844
Bauhaus Contact: Ron Welch
Contact Phone:(214) 200-0222
Contact Email: rwelch@bauhausinteriors.com
1645 Stemmons Fwy Ste A, Dallas, TX 75207
Phone:(214) 200-0222
Fax:
Bishops Office Needs Contact: Steve Berdinis
Contact Phone:(281) 578-9177
Contact Email: steve@bishopsaves.com
16810 Barker Sprongs Rd, Houston, TX 77084
Phone:(281) 578-9177
Fax:
BPSI www.riograndebpsi.com
Contact: Dave Horsley
Contact Phone:
Contact Email: dhorsley@riograndebpsi.com
1616 Bassett Ave,, El Paso, TX 79901
Phone:(915) 544-8710
Fax:(915) 544-6720
Broussard Group www.broussardgroup.com
Contact: Brett Broussard
Contact Phone:
Contact Email: bbroussard@broussardgroup.com
3559 Belgium Lane, San Antonio, TX 78219
Phone:(210) 224-6220
Fax:(210) 224-6216
Built for Dreams wwwbuiltfordreams.com
Contact: Alisha Gregg
Contact Phone:
Contact Email: agregg@builtfordreams.com
3416 Joliet Ave., Lubbock, TX 79413
Phone:(806) 771-6806
Fax:(806) 687-9187
Business Interiors www.BusinessInteriors-EP.com
Contact: Ed Howell
Contact Phone:
Contact Email: ed@businessinteriors-ep.com
26 Concord Ste. C, El Paso, TX 79906
Phone:(915) 591-9393
Fax:(915) 591-6192
Business Interiors Contact: Sally Smith
Contact Phone:(817) 858-2000
Contact Email: ssmith@businessinteriors.com
1111 Valley View Ln, Irving, TX 75061
Phone:(817) 858-2000
Fax:
Carrolls Office Furniture Contact: Frank Carroll
Contact Phone:(713) 667-6668
Contact Email: fcarroll@carrolls.com
5615 S Rice, Houston, TX 77081
Phone:(713) 667-6668
Fax:
City Office Supply Contact: Mike McCain
Contact Phone:(713) 644-5371
Contact Email: mike@cityofficesupply.com
4202 Telephone Road, Houston, TX 77087
Phone:(713) 644-5371
Fax:
Coastal Office Products 1514 N. Ben Jordan Ste.B Victoria www.coastaltx.com
Contact: Linda Cooper
Contact Phone:(361) 578-5392
Contact Email: linda@coastaltx.com
1514 N. Ben Jordan Ste.B, Victoria, TX 77903
Phone:(361) 578-5392
Fax:(361) 578-0610
Contract Resource Group Contact: Jamie Ward
Contact Phone:(281) 787-8340
Contact Email: wardj@crgoffice.com
7108 Old Katy Road Ste 150, Houston, TX 77024
Phone:(281) 787-8340
Fax:
Creative Office Contact: Todd Amos
Contact Phone:(713) 237-9220
Contact Email: tamos@cofi.com
812 Live Oak, Houston, TX 77003
Phone:(713) 237-9220
Fax:
Dallas Desk Contact: Dennis Stein
Contact Phone:(972) 788-1802
Contact Email: Dennis@dallasdesk.com
15207 Midway Road, Addison, TX 75001
Phone:(972) 788-1802
Fax:
Dawn Henderson & Associates Contact: Dawn Hendesron
Contact Phone:(214) 923-8778
Contact Email: dhenderson2hendersoninteriors.com
1330 Tutle Creek Blvd, Dallas, TX 75207
Phone:(214) 923-8778
Fax:
DC Interiors www.dcioffice.com
Contact: Jessica Cevallos
Contact Phone:(210) 591-9900
Contact Email: jessica@dcioffice.com
6896A Alamo Downs, San Antonio, TX 78238
Phone:(210) 591-9900
Fax:(210) 496-9923
Eagle Office Products www.eagleop.com
Contact: Jay Hoffman
Contact Phone:(512) 388-1188
Contact Email: jay@eagleop.com
221 Texas Ave. Ste. B, Round Rock, TX 78664
Phone:(512) 388-1188
Fax:
Edge Office Products Contact: Shawn Peloquin
Contact Phone:(903) 758-0777
Contact Email: speloquin@edgeop.com
1909 Judson Road, Longview, TX 75605
Phone:(903) 758-0777
Fax:
Educators Depot Contact: Alan Clarke
Contact Phone:(866) 736-2012
Contact Email: aclarke@eddepotinc.com
17424 West Grand Pkwy Ste 206, Sugar Land , TX 77479
Phone:(866) 736-2012
Fax:
El Paso Office Products www.elpasoop.com
Contact: Lynette Brown
Contact Phone:(915) 593-9000
Contact Email: lbrown@elpasop.com
1550 Lionel, El Paso, TX 79936
Phone:(915) 593-9000
Fax:(915) 629-8999
Espacios www.espaciosonline.com
Contact: Esther Rodriguez
Contact Phone:
Contact Email: erodrigues@espacioson-line.com
7913 McPherson Rd., Laredo, TX 78041
Phone:(956) 791-7183
Fax:(956) 791-0884
Executive Office Supply www.executiveofficesupply.com
Contact: Jorge Gonzalez
Contact Phone:
Contact Email: jorge@executiveofficesupply.com
3312 Santa Ursula, Laredo, TX 78040
Phone:(956) 722-6791
Fax:(956) 722-0690
Firmins Office City Contact: Ronnie Firmin
Contact Phone:(903) 793-5566
Contact Email: ronnie@firmins.com
2217 State Line Ave, Texarkana, TX 75503
Phone:(903) 793-5566
Fax:
FMG Contact: Sean Corrington
Contact Phone:(214) 556-4700
Contact Email: sean@fmgi.com
6100 West Plano Pkwy Ste 1400, Plano, TX 75093
Phone:(214) 556-4700
Fax:
FRI-Texas www.fri-texas.com
Contact: Darren Ross
Contact Phone:(512) 371-1232
Contact Email: dross@fri-texas.com
11100 Metric Bldg 7 Ste 450, Austin, TX 78758
Phone:(512) 371-1232
Fax:(512) 371-9155
Front Desk Office Furniture Contact: Chelsea Crisford
Contact Phone:(214) 904-9045
Contact Email: cc@frontdeskdallas.com
10401 Harry Hines Blvd, Dallas, TX 75220
Phone:(214) 904-9045
Fax:
Furniture By William Webb Contact: William Webb
Contact Phone:(214) 483-3476
Contact Email: furniturebywilliam@gmail.com
2130 Kings Road, Carrollton, TX 75007
Phone:(214) 483-3476
Fax:
Furniture For Business www.furnitureforbusiness.com
Contact: Brad Wells
Contact Phone:
Contact Email: brad@furnitureforbusiness.com
4801 Friedrich Lane, Austin, TX 78744
Phone:(512) 833-9000
Fax:(512) 833-7000
Furniture Solutions Now Contact: Mike Monette
Contact Phone:(214) 879-0500
Contact Email: mmonette@tospartners.com
1505 Oak Lawn Ste 100, Dallas, TX 75207
Phone:(214) 879-0500
Fax:
G&S Office Designs www.g&sofficedesigns.com
Contact: Ron Levy
Contact Phone:
Contact Email: rjlevy1@swbell.net
6425 Polaris Ste. 7, Laredo, TX 78041
Phone:(956) 722-1772
Fax:(956) 722-7440
Gateway Printing www.gatewayp.com
Contact: Larry Talbert
Contact Phone:(956) 383-3861
Contact Email: larry@gatewayp.com
315 S. Closner, Edinburg, TX 78539
Phone:(956) 383-3861
Fax:(956) 383-5942
Gateway Printing www.gatewayp.com
Contact: John Okoniewski
Contact Phone:(361) 225-0772
Contact Email: okie@gatewayp.com
4934 Greenwood, Corpus Christi, TX 78416
Phone:(361) 225-0772
Fax:(361) 225-3055
Gateway Printing www.gatewayp.com
Contact: Lin Miller
Contact Phone:(210) 650-3995
Contact Email: lin@gatewayp.com
11889 Starcrest Dr., San Antonio, TX 78247
Phone:(210) 650-3995
Fax:(210) 650-5506
General Office Supply www.generaloffice-supply.com
Contact: Tim Cox
Contact Phone:
Contact Email: tcox@general-officesupply.com
1020 W. 8th, Amarillo, TX 79105
Phone:(806) 373-2877
Fax:(806) 374-0289
GL Seaman Co. Contact: Ashley Lowrance
Contact Phone:(214) 764-6400
Contact Email: alowarance@glsc.com
4201 International Pkwy, Carrollton, TX 75007
Phone:(214) 764-6400
Fax:
Graham Data Supplies www.grahamdata.com
Contact: Rayne Collingsworth
Contact Phone:
Contact Email: rcollingsworth@grahamdata.com
509 S. Johnson, Amarillo, TX 79101
Phone:(806) 324-4300
Fax:(806) 324-4301
Greenwood Office Outfitters Contact: George Wood
Contact Phone:(817) 926-0281
Contact Email: gwood@greenwoodoffice.com
2951 Suffolk Dr Ste 640, Ft Worth , TX 76133
Phone:(817) 926-0281
Fax:
Hallmark Office Products Contact: John Crawford
Contact Phone:(713) 688-1333
Contact Email: jcrawford@hallmarkoffice.com
5650 Guhn Road Ste 124, Houston, TX 77040
Phone:(713) 688-1333
Fax:
Heights Office Products www.heightsofficeproducts.com
Contact: Ed Zuzula
Contact Phone:
Contact Email: ed@heightsop.com
9901 Broadway #114, San Antonio, TX 78217
Phone:(210) 882-9671
Fax:(210) 822-1140
Hernandez Office Supply Contact: Christy Williams
Contact Phone:(409) 724-0135
Contact Email: christy@hernandezsupply.com
119 17th Street, Nederland, TX 77627
Phone:(409) 724-0135
Fax:
Hurricane Office Supply www.hurricaneprinting.net
Contact: Dean Trew
Contact Phone:(806) 749-3200
Contact Email: dtrew@nts-online.net
1407 E. FN 1585, Lubbock, TX 79423
Phone:(806) 749-3200
Fax:(806) 749-3205
Indeco Sales www.indecosales.com
Contact: Herb Youngblood
Contact Phone:
Contact Email: herb.youngblood@indecosales.com
3225 SE Loop 289, Lubbock, TX 79404
Phone:(800) 692-4256
Fax:(254) 939-5546
Indeco Sales www.indecosales.com
Contact: Kevin Goldston
Contact Phone:
Contact Email: kevin.goldston@indecosales.com
805 E. 4th Ave., Belton, TX 76513
Phone:(800) 692-4256
Fax:(254) 939-5546
Indoff www.indoff.com
Contact: Kim gregory
Contact Phone:
Contact Email: kim.gregory@indoff.com
3550 Lee Blvd., El Paso, TX 79936
Phone:(915) 355-0120
Fax:(888) 815-2776
Indoff www.indoff.com
Contact: Sheila Hoffman
Contact Phone:
Contact Email: sheila.hoffman@indoff.com
308 Laguna St., Victoria, TX 77904
Phone:(915) 355-0120
Fax:(361) 572-8663
Integrity Furniture Contact: Drew Coleman
Contact Phone:(888) 600-8639
Contact Email: dcoleman@integrityfurniture.com
1011 West Loop 281 Ste 4, Longview, TX 75604
Phone:(888) 600-8639
Fax:
Interior Resources Contact: Jeff Blue
Contact Phone:(972) 619-7400
Contact Email: jeff@interiorresourcedfw.com
1444 Oak Lawn Ave. Ste 301, Dallas, TX 75207
Phone:(972) 619-7400
Fax:
J. Tyler Furniture Contact: Gary Longbotham
Contact Phone:(713) 468-2166
Contact Email: longbothamg@jtyler.com
5920 Milwee, Houston, TX 77092
Phone:(713) 468-2166
Fax:
Ledwell Office Solutions Contact: Lauren Layne
Contact Phone:(903) 794-3113
Contact Email: llayne@osurce.net
3200 Court Street, Texarkana, TX 75501
Phone:(903) 794-3113
Fax:
Lone Star Furnishings Contact: Brad Jones
Contact Phone:(972) 446-9100
Contact Email: brad@lonestarfurnishings.com
4301 Reeder Road #100, Carrollton, TX 75010
Phone:(972) 446-9100
Fax:
Mannings Office Contact: Jim Mathison
Contact Phone:(809) 899-1122
Contact Email: jimm@manningsupply.com
1510 N 7th Street, Beaumont, TX 77703
Phone:(809) 899-1122
Fax:
Martins Office Suppy Contact: Bill/Cody Martin
Contact Phone:(817) 573-2694
Contact Email: bmartin@mosdirect.com
822 West Pearl, Grandbury, TX 76048
Phone:(817) 573-2694
Fax:
McCoy-Rockford www.mccoy-rockford.com
Contact: Elizabeth Frey
Contact Phone:
Contact Email: efrey@rockford-texas.com
211 E. Riverside Dr., Austin, TX 78704
Phone:(512) 442-0703
Fax:(512) 442-7367
McKinney Office Supply Contact: Richard Ruschhaupt
Contact Phone:(972) 424-8561
Contact Email: richardr@planoofficesupply.com
117 W Louisiana Street, McKinney, TX 75069
Phone:(972) 424-8561
Fax:
Midwest Office Supply Contact: Richard Finn
Contact Phone:(940) 761-3375
Contact Email: richard.finn@mofsupply.com
1801 Austin Street, Wichita Falls, TX 76301
Phone:(940) 761-3375
Fax:
Monarch Office Furniture Contact: Carla Cavallo
Contact Phone:(972) 314-9337
Contact Email: carla@monarchofficefurniture.com
2202 113th Street Ste 114, Grand Prairie, TX 75050
Phone:(972) 314-9337
Fax:
Moore Office Supplies www.getmooresupplies.com
Contact: Jimmy Moore
Contact Phone:
Contact Email: jbmoore@crcom.net
104 W. 24th St., Big Spring, TX 79720
Phone:(432) 714-4780
Fax:
Nelson Interiors www.nelsoninteriors.com
Contact: Emily Howard
Contact Phone:
Contact Email: emily@nelsoninteriors.com
1914 Grandstand Dr., San Antonio, TX 78238
Phone:(210) 684-2624
Fax:(210) 684-3214
Oak Cliff Office Products Contact: Ken Caldwell
Contact Phone:(214) 943-7421
Contact Email: ken@ocopexress.com
1876 Lonestar, Dallas, TX 75212
Phone:(214) 943-7421
Fax:
OFCO Office Furniture Contact: Larry Locke
Contact Phone:(817) 877-0708
Contact Email: ofco@sbcglobal.net
200 West Rosedale Street, Ft Worth , TX 76104
Phone:(817) 877-0708
Fax:
Office Equipment Center Contact: Connie Porterfield
Contact Phone:(903) 784-6604
Contact Email: connie@oeparis.com
1010 Lamar, Paris, TX 75460
Phone:(903) 784-6604
Fax:
Office Furniture Connection Contact: Susie Anderson
Contact Phone:(972) 245-4945
Contact Email: sandersonokc@msn.com
1910 Old Denton Drive, Carrollton, TX 75006
Phone:(972) 245-4945
Fax:
Office Furniture Express www.ofexpress.com
Contact: Don Norris
Contact Phone:
Contact Email: don@ofexpress.com
8715 Broadway, San Antonio, TX 78217
Phone:(210) 829-4300
Fax:(210) 829-4434
Office Furniture Interiors www.officefurnitureinteriors.com
Contact: Chris Magers
Contact Phone:
Contact Email: cmageers@office furnitureinteriors.com
1901 Shipman, San Antonio, TX 78219
Phone:(210) 444-1376
Fax:(210) 444-1377
Office Furniture Source Contact: Mark Zagurski
Contact Phone:(972) 242-1799
Contact Email: markz@officefurnituresource.biz
4545 Spring Valley, Farmers Branch, TX 75244
Phone:(972) 242-1799
Fax:
Office Pavillion Contact: Mollie Ellerkamp
Contact Phone:(713) 803-0000
Contact Email: mellerkamp@ophouston.com
10030 Bent Oak, Houston, TX 77040
Phone:(713) 803-0000
Fax:
Office Resource Center www.officeresourcecenter.com
Contact: Craig Veltri
Contact Phone:
Contact Email: www.officeresoucecenter.com
10751 Sentinel, San Antonio, TX 78217
Phone:(210) 650-5002
Fax:(210) 650-5016
Office Resource Group Contact: Ross Lowe
Contact Phone:(214) 832-3375
Contact Email: ross@orgdesk.com
1735 West Crosby Road Ste 100, Carrollton, TX 75006
Phone:(214) 832-3375
Fax:
Officemakers Contact: Thomas Akerman
Contact Phone:(713) 461-1277
Contact Email: thomas@officemakers.com
2005 Katyland Drive, Katy, TX 77493
Phone:(713) 461-1277
Fax:
Officewise Furniture www.officewiseco.com
Contact: Betty Ramos
Contact Phone:
Contact Email: bramos@officewiseco.com
735 S. Mesa Hills Dr., El Paso, TX 79912
Phone:(915) 544-6767
Fax:(915) 585-6996
Officewise Furniture www.officewiseco.com
Contact: Cathryn Dail
Contact Phone:
Contact Email: cdail@officewiseco.com
1200 S. Taylor, Amarillo, TX 79101
Phone:(915) 544-6767
Fax:(806) 374-2177
Officewise Furniture www.officewiseco.com
Contact: Andrea Wade
Contact Phone:
Contact Email: awade@officewiseco.com
1212 Avenue J, Lubbock, TX 79401
Phone:(915) 544-6767
Fax:(806) 766-8854
Officewise Furniture www.officewiseco.com
Contact: Larry Nelson
Contact Phone:
Contact Email: lnelson@officewiseco.com
2310 W. Michigan, Midland, TX 79701
Phone:(915) 544-6767
Fax:(432) 617-0136
Officewise Furniture www.officewiseco.com
Contact: Chelsea Stephenson
Contact Phone:
Contact Email: cstephenson@officewiseco.com
5229 Beverly Drive, San Angelo, TX 76904
Phone:(915) 544-6767
Fax:
Ofiice Furniture Team Contact: Brad Richardson
Contact Phone:(972) 503-8326
Contact Email: brichardson@oftoffice.com
4202 Lindbergh, Addison, TX 75001
Phone:(972) 503-8326
Fax:
OFUSA www.ofusargv.com
Contact: Dale Winter
Contact Phone:
Contact Email: dbwmasterofdelight@ofusargv.com
1008 A E. Pecan, McAllen, TX 78501
Phone:(956) 972-0791
Fax:(956) 972-1146
O'Kelley Office Supply www.okelleyos.com
Contact: Frank Reyna
Contact Phone:(325) 673-6422
Contact Email: ofusa@okelleys.com
290 Cypress Street, Abilene, TX 79601
Phone:(325) 673-6422
Fax:(325) 673-6179
Perry Office Plus www.perryop.com
Contact: Jessica Speer
Contact Phone:
Contact Email: jessica.speer@perryop.com
1401 N. Third St., Temple, TX 76501
Phone:(254) 778-4755
Fax:(254) 778-3535
Plano Office Supply Contact: Richard Ruschhaupt
Contact Phone:(972) 424-8561
Contact Email: richarr@planoos.com
705 Ave K, Plano, TX 75074
Phone:(972) 424-8561
Fax:
Preferred Business Solutions Contact: Brad Davis
Contact Phone:(214) 358-1200
Contact Email: bradd@popexpress.com
1701 West Walnut Hill Lane, Irving, TX 75038
Phone:(214) 358-1200
Fax:
Royer & Schutts Contact: Honor Rowe
Contact Phone:(817) 332-5424
Contact Email: honor@royer-furn.com
200 Bailey Ave Ste 300, Ft Worth , TX 76107
Phone:(817) 332-5424
Fax:
Schulenburg Printing www.schulenburgprinting.com
Contact: Chris Proske
Contact Phone:
Contact Email: chris@schulenburgprinting.com
705 Upton, Schulenburg, TX 78956
Phone:(979) 743-4511
Fax:(979) 743-4230
Shelton Keller Group www.skg.texas.com
Contact: Diana Keller
Contact Phone:
Contact Email: dkeller@skg.texas.com
6301 E. Stassney Lane, Austin, TX 78701
Phone:(512) 481-1500
Fax:(512) 481-1550
Smarketing Business Contact: Leroy Jones
Contact Phone:(713) 529-5898
Contact Email: leroy@smarketingtx.com
2525 West Belfort Ste 110, Houston, TX 77054
Phone:(713) 529-5898
Fax:
South Texas School Furniture www.texaslibrary.com
Contact: Alan Jirkovsky
Contact Phone:
Contact Email: alanj@texaslibrary.com
107 N. Main, Hallettsville, TX 77964
Phone:(800) 353-3685
Fax:(361) 798-4365
SPC Office Products www.spcop.com
Contact: Jeff Jamieson
Contact Phone:(580) 338-3418
Contact Email: jeffj@spcop.com
322 N. Main Street, Guymon, OK 73942
Phone:(580) 338-3418
Fax:(580) 468-3242
SPC Office Products www.spcop.com
Contact: Tina Saenz
Contact Phone:(806) 935-3225
Contact Email: tinas@spcop.com
515 Dumas Ave., Dumas, TX 79209
Phone:(806) 935-3225
Fax:(806) 935-3699
SPC Office Products www.spcop.com
Contact: Amanda Sundvahl
Contact Phone:(806) 244-2947
Contact Email: amandas@spcop.com
221 Denver, Dalhart, TX 79022
Phone:(806) 244-2947
Fax:(806) 244-2651
Tejas Office Products Contact: Lynette Read
Contact Phone:(713) 802-4553
Contact Email: lynetter@tejasoffice.com
1225 West 20th Street, Houston, TX 77008
Phone:(713) 802-4553
Fax:
Terrell OFC Products Contact: Kenneth Williams
Contact Phone:(972) 536-7661
Contact Email: kenneth.williams@terrelloffice.com
115 West Moore, Terrell, TX 75160
Phone:(972) 536-7661
Fax:
Texas Furniture Source Contact: Ron Parr
Contact Phone:(972) 490-0456
Contact Email: rptexasfurniture@sbcglobal.net
14560 Midway Road, Farmers Branch, TX 75244
Phone:(972) 490-0456
Fax:
The Office Center Contact: Ricky Ables
Contact Phone:(903) 984-4052
Contact Email: rables@theofficecenterkilgore.com
1610 Hwy 259N Ste A, Kilgore, TX 75662
Phone:(903) 984-4052
Fax:
The Spencer Company Contact: Jason Smith
Contact Phone:(214) 720-0345
Contact Email: jason@spencer-furniture.com
150 Turtle Creek Ste 250, Dallas, TX 75207
Phone:(214) 720-0345
Fax:
TLC Office Systems Contact: Michelle Kercho
Contact Phone:(713) 695-3900
Contact Email: mkercho@tlcofficesystems.com
8711 Fallbrook Drive, Houston, TX 77043
Phone:(713) 695-3900
Fax:
Topp Office Contact: John Durst
Contact Phone:(903) 753-2662
Contact Email: john@toppoffice.com
440 N Eastman Ste F, Lonview, TX 75601
Phone:(903) 753-2662
Fax:
Total Office Solutions www.totalofficesolutions.biz
Contact: Donna Wallace
Contact Phone:
Contact Email: donnac@totalofficesolution.biz
1601 N. Lee, Odessa, TX 79761
Phone:(432) 332-0807
Fax:(432) 366-1239
Total Office Solutions www.mytotaloffice.com
Contact: Bobby Sterling
Contact Phone:
Contact Email: total_office@grandecom.net
3721 Franklin Ave., Waco, TX 76710
Phone:(432) 332-0807
Fax:(254) 235-8226
Turnkey Project Services Contact: Chris Matthews
Contact Phone:(817) 633-3030
Contact Email: chris@turnkeyprojectservices.com
15000 Grand River Rd Ste 111, Ft Worth , TX 76115
Phone:(817) 633-3030
Fax:
Vanguard Environments Contact: Gayle Smith
Contact Phone:(713) 871-8686
Contact Email: gayle@vanguardenvironments.com
7026 Old Katy Rd Ste 260, Houston, TX 77024
Phone:(713) 871-8686
Fax:
West Office Interiors www.westofficeinteriors.com
Contact: JayWest
Contact Phone:(325) 656-9403
Contact Email: jay@westofficetx.com
2 So. Chadbourne, San Angelo, TX 76903
Phone:(325) 656-9403
Fax:(325) 655-5480
Wilson Office Interiors Contact: John Young
Contact Phone:(972) 488-4100
Contact Email: jyoung@wilsonoi.com
1445 Oak Lawn Ste 105, Dallas, TX 75207
Phone:(972) 488-4100
Fax:
Wittigs www.bitexas.com
Contact: Janet Maxwell
Contact Phone:
Contact Email: jmaxwell@bitexas.com
223 N. Chaparral St., Corpus Christi, TX 78401
Phone:(361) 882-3456
Fax:(361) 882-5666
Wittigs Office Interiors www.wittigs.com
Contact: Juan Mata
Contact Phone:
Contact Email: juan.mata@wittigs.com
2013 Broadway, San Antonio, TX 78215
Phone:(210) 270-0100
Fax:(210) 270-0118
Workplace Resource Group Contact: Kevin Moreno
Contact Phone:(972) 446-9100
Contact Email: kmarino@wrgtexas.com
2639 E Rosemeade Pkwy, Carrollton, TX 75007
Phone:(972) 446-9100
Fax:
Workplace Solutions Contact: Randy King
Contact Phone:(214) 741-9667
Contact Email: randyk@wpsolutions.com
251 N. Harwood Ste 300, Dallas, TX 75201
Phone:(214) 741-9667
Fax:
Workspace Solutions www.workspacesolutions.com
Contact: Mike Schiller
Contact Phone:
Contact Email: mike@txworkspacesolutions.com
3660 Thousand Oaks, San Antonio, TX 78247
Phone:(210) 366-4414
Fax:(210) 366-2470
Xpress Business Products Contact: Ray Farashah
Contact Phone:(281) 953-9230
Contact Email: rayexpressbp@yahoo.com
4540 S. Pinemont Dr, Houston, TX 77041
Phone:(281) 953-9230
Fax: