EMAIL PO & VENDOR QUOTE TO: TIPSPO@TIPS-USA.COM
PO MUST REFERENCE VENDOR'S TIPS CONTRACT NUMBER
ATTACH PO AS A PDF - ONLY ONE PO (WITH QUOTE) PER ATTACHMENT

Print
VENDOR

Indiana Furniture Manufacturer

1224 Mill Street PO Box 270 Jasper IN,47547

WEBSITE

www.indianafurniture.com

SERVICE/PRODUCTS DESCRIPTION

Indiana Furniture, headquartered in Jasper, Indiana since 1905, is committed to providing our customers with office furnishings of the highest standards in quality and craftsmanship. Through advanced information systems and state-of-the-art technology, we design and engineer office furniture casegoods, conference tables, reception and seating. Our company delivers a wide range of environmentally conscious products, styles, and sizes at competitive prices while continually introducing new product lines of office and commercial furniture.
Indiana Furniture Manufacturer
CONTRACT: 170302 Furniture, Furnishings and Services
May-26-2017 to May-31-2020
EDGAR COMPLIANCE : (Contact TIPS for Verification)
Indiana Furniture Manufacturer

Print
Furniture, Furnishings and Services(170302)
Exp.Date 05/31/2020 EDGAR: (Contact TIPS for Verification)
| | |
| --- | --- |
| DISADVANTAGED/MINORITY/WOMAN BUSINESS ENTERPRISE | No |
| HISTORICALLY UNDERUTILIZED BUSINESS (HUB) | No |
| | |
| --- | --- |
| | AL , AK , AZ , AR , CA , CO , CT , DE , DC , FL , GA , HI , ID , IL , IN , IA , KS , KY , LA , ME , MD , MA , MI , MN , MS , MO , MT , NE , NV , NH , NJ , NM , NY , NC , ND , OH , OK , OR , PA , RI , SC , SD , TN , TX , UT , VT , VA , WA , WI , WY |
Live Oak Equipment Finance is the exclusive financial parter of TIPS! Allow LOEF to help assist you in your financial needs today!

We are committed to provide a financing experience based on unwavering integrity, unmatched service and complete transparency. Our processes have been established with the client in mind, and we are dedicated to ensuring that you enjoy your experience working with our team. Our goal is for you to build a long-term relationship with Live Oak Equipment Finance, not only as your financial partner, but also a firm that can help you grow and excel as a professional in your industry.
Contact Information:
Phone: (512) 726-0367
Email: tips@loeqf.com
Website: www.loeqf.com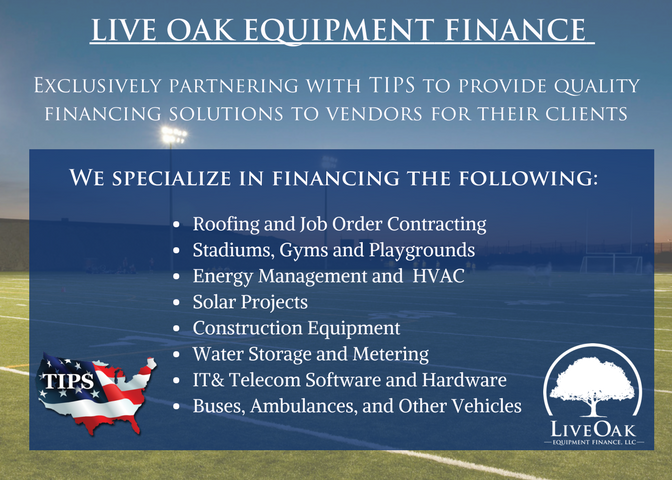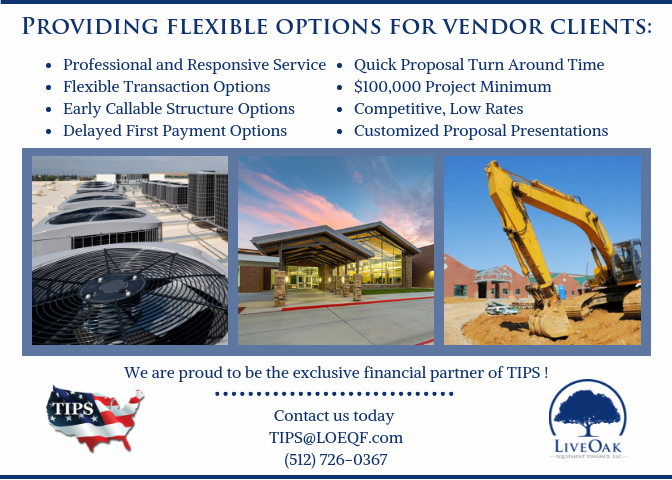 Get VCard for Primary Contact by Contract
Indiana Furniture Manufacturer
Resellers listed below may also hold a current TIPS contract. PO's for quotes provided by a reseller that are also awarded in the same category will be processed and sent directly to that reseller.

Please check under "ALL VENDORS" before requesting a quote from any listed reseller.
Resellers
Address
A. Bargas & Associates, LLC www.abargasco.com
Contact: Jay Wright
Contact Phone:
Contact Email: jwright@abargasco.com
10622 Gulfdale San Antonio, TX, 78216
Phone:210-344-2821
Fax:
Ables-Land www.ablesland.com
Contact: Cody Ables
Contact Phone:
Contact Email: cody@ablesland.com
428 S. Fannin Tyler, TX, 75702
Phone:903-593-8407
Fax:
Beck TOI www.becktoi.com
Contact: Greg King
Contact Phone:
Contact Email: Gking@BeckTOI.com
5300 Eagle Rock Ave NE Albuquerque, NM, 87113
Phone:505-883-6471
Fax:505-883-3116
BPSI www.riograndebpsi.com
Contact: Wayne Hilton
Contact Phone:
Contact Email: whilton@riograndebpsi.com
1616 Bassett Ave El Paso, TX, 79901
Phone:(915) 544-8710
Fax:
BPSI/Rio Grande www.riograndebpsi.com
Contact: David Horslety
Contact Phone:
Contact Email: dhorsley@riograndebpsi.com
2261 Main Street Las Cruces, NM, 88005
Phone:575-524-4202
Fax:575-527-8680
Brutzman's Office Solutions www.brutzmans.com
Contact: Ken Brutzman
Contact Phone:
Contact Email: ken@brutzmans.com
2501 N. Columbia Blvd Richland, WA, 99352
Phone:509-735-0300
Fax:509-735-0330
Built for Dreams www.builtfordreams.com
Contact: Crystal LeDoux
Contact Phone:
Contact Email: crystal@builtfordreams.com
3416 Joliet Ave. Lubbock, TX, 79413
Phone:(806) 771-6806
Fax:
Creative Interiors www.creative-interiors.info
Contact: Anna Lewis
Contact Phone:
Contact Email: anna@c-interiors.net
1030 Aqua Fria Street Santa Fe, NM, 87501
Phone:505-983-3384
Fax:
DC Interiors www.dcioffice.com
Contact: Jessica Cevallos
Contact Phone:
Contact Email: jessica@dcioffice.com
6896A Alamo Downs Pkwy, Suite 100 San Antonio, TX, 78238
Phone:210-521-9900
Fax:
Furniture Marketing Group www.fmgi.com
Contact: Sean Corrington
Contact Phone:
Contact Email: seanc@fmgi.com
6100 West Plano Parkway #1400 Plano, TX, 75093
Phone:214-556-4700
Fax:
Furniture Marketing Group - Austin www.fmgi.com
Contact: Kate Bahner-Lynn
Contact Phone:
Contact Email: kateb@fmgi.com
3500 N. I-35, Ste. 145 Austin, TX, 78705
Phone:512-908-4630
Fax:
Gateway www.gatewayp.com
Contact: Butch Shook
Contact Phone:
Contact Email: butch@gatewayp.com
11889 Starcrest San Antonio, TX, 78247
Phone:(210) 650-3995
Fax:
Gateway www.gatewayp.com
Contact: John Okie
Contact Phone:
Contact Email: okie@gatewayp.com
4934 Greenwood Drive Corpus Christi, TX, 78416
Phone:(361) 225-0772
Fax:
GL Seaman www.glsc.com
Contact: Ashley Lowrance
Contact Phone:
Contact Email: alowrance@glsc.com
4201 International Pkwy Carrollton, TX, 75007
Phone:214-764-6400
Fax:
Goodmans/NM www.goodmasns.info
Contact: Stuart Hamilton
Contact Phone:
Contact Email: shamilton@goodmans.info
4960 Pan American Frwy,NE Albuquerque, NM, 87109
Phone:505-999-5902
Fax:505-889-8698
Great Spaces www.greatspacesnw.com
Contact: Erika Carden
Contact Phone:
Contact Email: e.carden@greatspacesnw.com
5716 E. Sprague Spokane Valley, WA, 99212
Phone:509-747-2636
Fax:509-747-2655
Harris Office Interiors www.harrisoffice.com
Contact: Angie St. Martin
Contact Phone:
Contact Email: angie@fivek.com
605 N. 1st St. Yakima, WA, 98901
Phone:509-969-0473
Fax:
Henriksen Butler-Boise www.henriksenbutler.com
Contact: Laura Maudlin
Contact Phone:
Contact Email: lmaudlin@henriksenbutler.com
401 West Idaho Street Boise, ID, 83702
Phone:208-343-5257
Fax:866-419-7919
Indeco www.indecosales.com
Contact: Kevin Goldston
Contact Phone:
Contact Email: kevin.goldston@indecosales.com
805 E. 4th Ave. Belton, TX, 76513
Phone:800-692-4256
Fax:
KR Office Interiors www.krofficeinteriors.com
Contact: Jim Quinn
Contact Phone:
Contact Email: jimquinn@krofficeinteriors.com
1710 N. Montana Ave Helena, MT, 59601
Phone:406-513-1004
Fax:
KR Office Interiors www.krofficeinteriors.com
Contact: Megan Bittinger
Contact Phone:
Contact Email: megan@krofficeinteriors.com
119 North 7th Avenue Bozeman, MT, 59715
Phone:406-490-8468
Fax:
Nelson Interiors www.nelsoninteriors.com
Contact: Emily Howard
Contact Phone:
Contact Email: emily@nelsoninteriors.com
1914 Grandstand  San Antonio, TX, 78238
Phone:(210) 684-2624
Fax:
Office Environment Company www.oecworks.com
Contact: Jason Galloway
Contact Phone:
Contact Email: jgalloway@oecboise.com
623 S. Americana Blvd Boise, ID, 83702
Phone:208-385-0570
Fax:208-385-9392
Office Solutions & Services www.os2inc.com
Contact: Jim Huguet
Contact Phone:
Contact Email: jim@os2inc.com
1020 North Avenue West Missoula, MT, 59801
Phone:406-541-2020
Fax:406-541-2222
Open Square www.open-sq.com
Contact: Courtney Dohnal
Contact Phone:
Contact Email: cdohnal@open-sq.com
126 S. Sheridan Spokane , WA, 99202
Phone:509-483-1000
Fax:
OSI/IOS www.iosnm.com
Contact: Nick Chavez
Contact Phone:
Contact Email: nick@iosnm.com
2601 Karsten Ct, NE Albuquerque, NM, 87102
Phone:505-256-0986
Fax:505-268-1353
Peterson Quality Office www.petersonqualityoffice.com
Contact: Lynette Brandel
Contact Phone:
Contact Email: lynette@petersonqualityoffice.com
502 north 32nd Street Billings, MT, 59101
Phone:406-245-5151
Fax:406-245-7516
Rock Mountain Office Systems www.rmos.com
Contact: Maria Megan
Contact Phone:
Contact Email: pinkie@rmos.com
7814 Pan American Frwy, NE Unit B Albuquerque, NM, 87109
Phone:505-237-2700
Fax:
Royer & Schutts www.royer-schutts.com
Contact: Kelley Royer
Contact Phone:
Contact Email: kelley@royer-furn.com
200 Bailey Ave., #220 Fort Worth, TX, 76107
Phone:817-832-5424
Fax:
Scott Rice www.scottriceok.com
Contact: Sarah Clark
Contact Phone:
Contact Email: sarah.clark@scottriceok.com
6900 N. Bryant Ave. Oklahoma City, OK, 73121
Phone:405-848-2224
Fax:
Texas Wilson (Caprock) www.texaswilson.com
Contact: Tammy Poe
Contact Phone:
Contact Email: tpoe@texaswilson.com
6812 Fairgrounds Parkway San Antonio, TX, 78238
Phone:210-647-8800
Fax:
The Supply Room thesupplyroom.com
Contact: Tom Ward
Contact Phone:(804) 412-1200
Contact Email: tward@thesupplyroom.com
8006 W Broad Street, Richmond, VA 23294
Phone:
Fax:(804) 412-0100
Total Office Concepts www.totalofficeconcepts.com
Contact: Fred Bauer
Contact Phone:
Contact Email: fbauer@totalofficeconcepts.com
531 S. Wenatchee Wenatchee, WA, 98807
Phone:509-888-4862
Fax:509-888-0445
Total Office Concepts www.totalofficeconcepts.com
Contact: Mark Carlile
Contact Phone:
Contact Email: mcarlile@totalofficeconcepts.com
401 S. Ninth Avenue Walla Walla, WA, 99362
Phone:509-525-5600
Fax:509-529-0320
Wilson Office Interiors www.wilsonoi.com
Contact: John Young
Contact Phone:
Contact Email: jyoung@wilsonoi.com
1444 Oak Lawn Ave., #105 Dallas, TX, 75207
Phone:972-488-4100
Fax:
Wittig's Office Interiors www.wittigs.com
Contact: Juan Mata
Contact Phone:
Contact Email: juan.mata@wittigs.com
2013 Broadway San Antonio San Antonio, TX, 78215
Phone:210-270-0100
Fax:
Wittig's Office Interiors www.wittigs.com
Contact: Kevin Landrum
Contact Phone:
Contact Email: kevin.landrum@wittigs.com
401 William Street Corpus Christi, TX, 78401
Phone:(361) 882-3456
Fax:
Workplace Resource Group www.wrgtexas.com
Contact: Lori Bauer
Contact Phone:
Contact Email: lbauer@wrgtexas.com
2639 E. Rosemeade Carrollton, TX, 75007
Phone:972-446-9100
Fax:
Workspace Dynamics www.wsdnnm.com
Contact: Mary Jury
Contact Phone:
Contact Email: mjury@wsdnm.com
4711 Lomas Blvd, NE Albuquerque, NM, 87110
Phone:505-254-2000
Fax:505-273-7777
Workspace Solutions, Inc. www.officefurnituredealersanantonio.com
Contact: Mike Schiller
Contact Phone:(210) 366-4414
Contact Email: mike@txworkspacesolutions.com
3660 Thousand Oaks, Suite 220, San Antonio, TX 78247
Phone:
Fax:(210) 366-4140