EMAIL PURCHASE ORDER TO: TIPSPO@TIPS-USA.COM
ATTACH PO AS A PDF - ONLY ONE PO PER EMAIL
PO MUST REFERENCE TIPS CONTRACT NUMBER
VENDOR

Tenjam

WEBSITE

www.tenjam.com

SERVICE/PRODUCTS DESCRIPTION

Tenjam is a furniture manufacturer that makes furniture that is safe, durable, washable, and fun! Based in Minnesota with all USA based manufacturing. Tenjam is the first in the World to incorporate Recovered Coastal Plastic (RCP) into high-performance commercial grade furniture. Our DuraFLEX product line offers seamless and waterproof soft seating for indoor spaces. Our FIRM line of hard plastic products brings our fun and durable furniture to a lower price point and is perfect for both indoor and outdoor use. Look to Tenjam when you are ready to create a space that people love to spend time in. Education, Libraries, Healthcare, Behavioral Health, Museums, and other high traffic spaces.
CONTRACT: 170302 Furniture, Furnishings and Services
May-26-2017 to May-22-2020 EDGAR COMPLIANCE : N
Tenjam
CONTRACT: 170302 Furniture, Furnishings and Services
May-26-2017 to May-22-2020
EDGAR COMPLIANCE : N
PRIMARY CONTACT

SECONDARY CONTACT

NAME

Michael Collins
Jill Leonard

POSITION

President
Customer Care Manager

PHONE

(678) 777-0034
(218) 824-3170

FAX

(218) 829-8677
(218) 829-8677

MOBILE

(678) 777-0034

EMAIL

mikec@tenjam.com
customercare@tenjam.com

WEBSITE

www.tenjam.com
TIPS CONTACT

PAYMENT TO

NAME

Meredith Barton

ADDRESS:

7790 Hastings Road

POSITION

TIPS CONTACT

PHONE

(866)-839-8477

CITY:

Baxter

FAX

(866)-839-8472

STATE:

MN

MOBILE

ZIP:

56425

EMAIL

tips@tips-usa.com
| | |
| --- | --- |
| DISADVANTAGED/MINORITY/WOMAN BUSINESS ENTERPRISE | NO |
| HISTORICALLY UNDERUTILIZED BUSINESS (HUB) | NO |
| | |
| --- | --- |
| | AL , AK , AZ , AR , CA , CO , CT , DE , DC , FL , GA , HI , ID , IL , IN , IA , KS , KY , LA , ME , MD , MA , MI , MN , MS , MO , MT , NE , NV , NH , NJ , NM , NY , NC , ND , OH , OK , OR , PA , RI , SC , SD , TN , TX , UT , VT , VA , WA , WI , WY |

We are committed to provide a financing experience based on unwavering integrity, unmatched service and complete transparency. Our processes have been established with the client in mind, and we are dedicated to ensuring that you enjoy your experience working with our team. Our goal is for you to build a long-term relationship with Live Oak Equipment Finance, not only as your financial partner, but also a firm that can help you grow and excel as a professional in your industry.
Contact Information:
Phone: (512) 726-0367
Email: tips@loequipmentfinance.com
Website: www.loequipmentfinance.com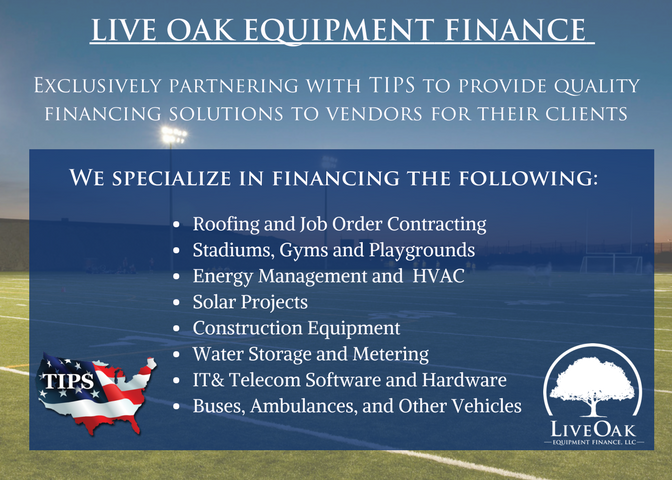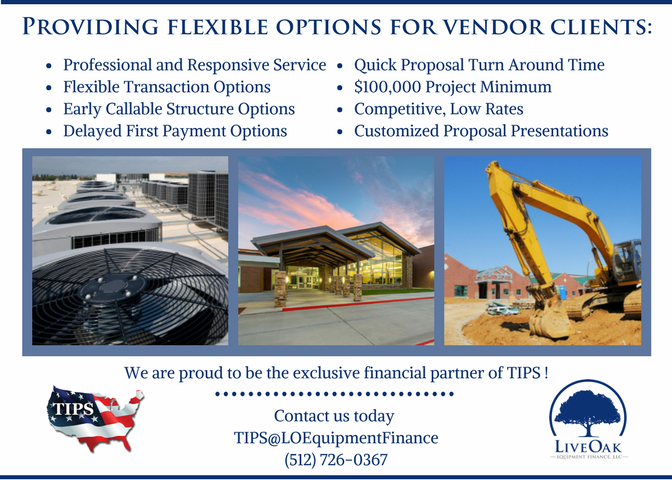 Resellers listed below may also hold a current TIPS contract. PO's for quotes provided by a reseller that are also awarded in the same category will be processed and sent directly to that reseller.

Please check under "ALL VENDORS" before requesting a quote from any listed reseller.
Resellers
Address
Advanced Office Environments advancedofficeenv.com
Contact: Frank Kuch
Contact Phone:(610) 993-3450
Contact Email: fkuch@advancedofficeenv.com
160 Quaker Lane, Malvern Business Park, Malvern, PA 19355
Phone:(610) 993-3450
Fax:(610) 993-3460
Advanced Office Environments advancedofficeenv.com
Contact: Frank Kuch
Contact Phone:(215) 561-8765
Contact Email: fkuch@advancedofficeenv.com
2133 Arch Street, Mulberry Atrium, Philadelphia, PA 19103
Phone:(215) 561-8765
Fax:(215) 561-8779
AFD Contract Furniture Inc. afd-inc.com
Contact: David Aarons
Contact Phone:(707) 559-5764
Contact Email: daarons@afd-inc.com
6 Petaluma Blvd N., Petaluma, CA 94952
Phone:(707) 559-5764
Fax:
AFD Contract Furniture Inc. afd-inc.com
Contact: David Aarons
Contact Phone:(212) 721-7100
Contact Email: daarons@afd-inc.com
810 7th Avenue, New York, NY 10019
Phone:(212) 721-7100
Fax:
Affordable Office Interiors (div of BOS) bos.com
Contact: George Pfeiffer
Contact Phone:(630) 784-7730
Contact Email: gp@bos.com
501 S. Gary Avenue, Roselle, IL 60172
Phone:(630) 784-7730
Fax:(630) 665-3063
Affordable Office Interiors (div of BOS) bos.com
Contact: George Pfeiffer
Contact Phone:(608) 442-0430
Contact Email: gp@bos.com
1954 South Stoughton Road, Madison, WI 53716
Phone:(608) 442-0430
Fax:(608) 442-0431
Affordable Office Interiors (div of BOS) bos.com
Contact: George Pfeiffer
Contact Phone:(262) 777-2000
Contact Email: gp@bos.com
1575 N. Barker Road, Brookfield, WI 53045
Phone:(262) 777-2000
Fax:(262) 777-2001
Affordable Office Interiors (div of BOS) bos.com
Contact: George Pfeiffer
Contact Phone:(815) 966-1020
Contact Email: gp@bos.com
328 South Jefferson Street, Chicago, IL 60661
Phone:(815) 966-1020
Fax:
Affordable Office Interiors (div of BOS) bos.com
Contact: George Pfeiffer
Contact Phone:(815) 966-1020
Contact Email: gp@bos.com
605 Fulton Avenue, Rockford, IL 61103
Phone:(815) 966-1020
Fax:
AIREA Inc. Contact: Vincent Johnson
Contact Phone:(248) 426-0100
Contact Email: vjohnson@aireainc.com
3000 Town Center, Southfield, MI 48075
Phone:(248) 426-0100
Fax:(248) 426-5500
AIREA Studio Contact: Vincent Johnson
Contact Phone:(313) 784-9406
Contact Email: vjohnson@aireainc.com
Compuware Bldg. 1048 Woodward Ave., Detroit, MI 48226
Phone:(313) 784-9406
Fax:
Alfred Williams & Company Contact: Blount Williams
Contact Phone:(919) 832-9570
Contact Email: bwilliams@alfredwilliams.com
410 S. Salisbury Street, Raleigh, NC 27601
Phone:(919) 832-9570
Fax:(919) 832-7626
Alfred Williams & Company Contact: Blount Williams
Contact Phone:(919) 493-6508
Contact Email: bwilliams@alfredwilliams.com
3109 University Drive,, Durham, NC 27707
Phone:(919) 493-6508
Fax:(919) 490-8455
Alfred Williams & Company Contact: Blount Williams
Contact Phone:(864) 241-0564
Contact Email: bwilliams@alfredwilliams.com
441 Congaree Road, Greenville, SC 29607
Phone:(864) 241-0564
Fax:(864) 241-9990
Alfred Williams & Company Contact: Blount Williams
Contact Phone:(843) 554-9440
Contact Email: bwilliams@alfredwilliams.com
537 Long Point Road, Mount Pleasant, SC 29464
Phone:(843) 554-9440
Fax:(843) 302-2101
Alfred Williams & Company Contact: Blount Williams
Contact Phone:(803) 767-4220
Contact Email: bwilliams@alfredwilliams.com
1835 Gervais , Columbia, SC 29201
Phone:(803) 767-4220
Fax:(803) 256-6690
Alfred Williams & Company Contact: Blount Williams
Contact Phone:(704) 338-9373
Contact Email: bwilliams@alfredwilliams.com
505 South Cedar Street, Charlotte, NC 28202
Phone:(704) 338-9373
Fax:(704) 332-5526
Alfred Williams & Company Contact: Blount Williams
Contact Phone:(615) 244-0081
Contact Email: bwilliams@alfredwilliams.com
716 Division Street, Nashville, TN 37203
Phone:(615) 244-0081
Fax:(615) 259-8181
Alfred Williams & Company Contact: Blount Williams
Contact Phone:(336) 665-0660
Contact Email: bwilliams@alfredwilliams.com
8007 National Service Road, Colfax, NC 27235
Phone:(336) 665-0660
Fax:(336) 665-0360
Alfred Williams & Company (Warehouse) Contact: Blount Williams
Contact Phone:(919) 828-6108
Contact Email: bwilliams@alfredwilliams.com
800 East E. Six Forks Road, Raleigh, NC 27609
Phone:(919) 828-6108
Fax:(919) 828-1542
Alternative Business Furniture, Inc. Contact: Mark Frommelt
Contact Phone:(952) 937-7688
Contact Email: markf@altbusfurn.com
6533 Flying Cloud Drive, Eden Prairie, MN 55344
Phone:(952) 937-7688
Fax:(952) 937-7691
American Interiors Contact: Steve Essig
Contact Phone:(419) 535-1808
Contact Email: steve@aminteriors.com
302 South Byrne Road, Toledo, OH 43615
Phone:(419) 535-1808
Fax:(419) 535-1899
American Interiors Contact: Steve Essig
Contact Phone:(248) 624-2255
Contact Email: steve@aminteriors.com
30553 S Wixom Road, Wixon, MI 48393
Phone:(248) 624-2255
Fax:(248) 624-7755
American Interiors Contact: Steve Essig
Contact Phone:(216) 912-1200
Contact Email: steve@aminteriors.com
1001 Lakeside Avenue E.,, Cleveland, OH 44114
Phone:(216) 912-1200
Fax:(216) 912-1201
American Office Contact: David Kuntz
Contact Phone:(804) 346-2267
Contact Email: dkuntz@americanoffice.com
4870 Sadler Road, Glen Allen, VA 23060
Phone:(804) 346-2267
Fax:(804) 270-2845
American Office Contact: David Kuntz
Contact Phone:(757) 419-3500
Contact Email: dkuntz@americanoffice.com
5701 Cleveland Street, Virginia Beach, VA 23462
Phone:(757) 419-3500
Fax:(757) 419-3501
American Office Contact: David Kuntz
Contact Phone:(703) 788-0800
Contact Email: dkuntz@americanoffice.com
14801 Willard Road, Chantilly, VA 20151
Phone:(703) 788-0800
Fax:(703) 788-0805
American Office Contact: David Kuntz
Contact Phone:(434) 327-1180
Contact Email: dkuntz@americanoffice.com
400 Preston Avenue, Charlottesville, VA 22903
Phone:(434) 327-1180
Fax:(434) 327-1181
American Office Contact: David Kuntz
Contact Phone:(410) 539-7529
Contact Email: dkuntz@americanoffice.com
309 N Calvert Street, Baltimore, MD 21202
Phone:(410) 539-7529
Fax:(410) 837-4952
American Office Contact: David Kuntz
Contact Phone:(301) 948-0820
Contact Email: dkuntz@americanoffice.com
1300 Piccard Street, Rockville, MD 20850
Phone:(301) 948-0820
Fax:(301) 948-4272
American Office Contact: David Kuntz
Contact Phone:(202) 737-3889
Contact Email: dkuntz@americanoffice.com
1401 New York Avenue NW, Washington, DC 20005
Phone:(202) 737-3889
Fax:(202) 737-2126
APG Office Furnishings Contact: Terry Goins
Contact Phone:(901) 363-9030
Contact Email: tgoins@apgof.com
100 South Main Street, Memphis, TN 38103-2909
Phone:(901) 363-9030
Fax:(901) 546-9821
APG Office Furnishings Contact: Terry Goins
Contact Phone:(513) 621-9111
Contact Email: tgoins@apgof.com
12075 Northwest Blvd., Cincinnati, OH 45246
Phone:(513) 621-9111
Fax:(513) 621-3721
APG Office Furnishings Contact: Terry Goins
Contact Phone:(513) 621-9111
Contact Email: tgoins@apgof.com
310 Culvert Street, Cincinnati, OH 45202
Phone:(513) 621-9111
Fax:(513) 621-3721
APG Office Furnishings Contact: Terry Goins
Contact Phone:(330) 996-4947
Contact Email: tgoins@apgof.com
313 S. High Street, Akron, OH 44308
Phone:(330) 996-4947
Fax:(330) 996-5348
APG Office Furnishings Contact: Terry Goins
Contact Phone:(2166) 214-6590
Contact Email: tgoins@apgof.com
3615 Superior Ave, Bldg 44, 7th Floor, Cleveland, OH 44114
Phone:(2166) 214-6590
Fax:(216) 621-4674
APG Office Furnishings Contact: Terry Goins
Contact Phone:(937) 222-9262
Contact Email: tgoins@apgof.com
14 Wayne Avenue, Dayton, OH 45402
Phone:(937) 222-9262
Fax:93-7222
Arbee Associates Contact: Nancy Berkowitz
Contact Phone:(732) 424-3900
Contact Email: nberkowitz@arbee.net
1531 South Washington Avenue, Piscataway, NJ 08854
Phone:(732) 424-3900
Fax:(732) 752-6034
Arbee Associates Contact: Nancy Berkowitz
Contact Phone:(301) 963-3900
Contact Email: nberkowitz@arbee.net
9300 Gaither Road, Gaithersburg, MD 20877
Phone:(301) 963-3900
Fax:
Arbee Associates Contact: Nancy Berkowitz
Contact Phone:(301) 937-9050
Contact Email: nberkowitz@arbee.net
6311 Ammendale Road (Warehouse), Beltsville, MD 20705
Phone:(301) 937-9050
Fax:
Arctic Office Products Contact: William A. Borchardt
Contact Phone:(907) 276-2322
Contact Email: bborchardt@arcticoffice.com
100 W. Fireweed Ln, Anchorage, AK 99503
Phone:(907) 276-2322
Fax:
Arctic Office Products Contact: William A. Borchardt
Contact Phone:
Contact Email: bborchardt@arcticoffice.com
125 S. Willow Street, Kenai, AK 99611
Phone:
Fax:
Arctic Office Products Contact: William A. Borchardt
Contact Phone:
Contact Email: bborchardt@arcticoffice.com
1611 University Ave. S., Fairbanks, AK 99709
Phone:
Fax:
Arenson Office Furnishings Contact: Carl Milianta
Contact Phone:(732) 603-1014
Contact Email: cmilianta@aof.com
90 Woodbridge Center Drive, Woodbridge, NJ 07095
Phone:(732) 603-1014
Fax:(732) 603-1014
Arenson Office Furnishings Contact: Carl Milianta
Contact Phone:(646) 395-3563
Contact Email: cmilianta@aof.com
1115 Broadway Avenue, New York, NY 10010
Phone:(646) 395-3563
Fax:(646) 395-3563
Arenson Office Furnishings Contact: Carl Milianta
Contact Phone:(203) 989-4915
Contact Email: cmilianta@aof.com
300 First Stamford Place, Stamford, CT 06902
Phone:(203) 989-4915
Fax:(203) 989-4915
Associated Office Systems Contact: Shelby Russ
Contact Phone:(504) 561-8400
Contact Email: s.russ@thinkaos.com
400 Poydras Street, New Orleans, LA 70130
Phone:(504) 561-8400
Fax:(504) 561-1155
Associates Purchasing Contact: Jonathan Felton
Contact Phone:(949) 955-3375
Contact Email: jfelton@associatespurchasing.com
611 Anton Blvd, Costa Mesa, CA 92626
Phone:(949) 955-3375
Fax:(949) 833-5584
Associates Purchasing Contact: Jonathan Felton
Contact Phone:(310) 286-1800
Contact Email: jfelton@associatespurchasing.com
523 West Sixth Street, Los Angeles, CA 90014
Phone:(310) 286-1800
Fax:(310) 286-1511
Atlantic Corporate Interiors Contact: Drew Andrews
Contact Phone:(804) 213-3800
Contact Email: dandrews@aciinc.com
2402 North Parham Road, Richmond, VA 23229
Phone:(804) 213-3800
Fax:(804) 213-0888
Atlantic Corporate Interiors Contact: Drew Andrews
Contact Phone:(301) 931-3600
Contact Email: dandrews@aciinc.com
7001 Muirkirk Meadows Drive, Beltsville, MD 20705
Phone:(301) 931-3600
Fax:(301) 931-3601
Barefield Workplace Solutions Contact: Paul Maczka
Contact Phone:(601) 354-4960
Contact Email: pmaczka@barefield-co.com
251 West South Street, Jackson, MS 39203
Phone:(601) 354-4960
Fax:(601) 353-6231
Barefield Workplace Solutions Contact: Paul Maczka
Contact Phone:(662) 534-0882
Contact Email: pmaczka@barefield-co.com
718 W. Bankhead Street, New Albany, MS 38652
Phone:(662) 534-0882
Fax:
Barefield Workplace Solutions Contact: Paul Maczka
Contact Phone:(662) 332-7711
Contact Email: pmaczka@barefield-co.com
601 Washington Avenue, Greenviile, MS 38701
Phone:(662) 332-7711
Fax:
Barefield Workplace Solutions Contact: Paul Maczka
Contact Phone:(601) 631-0011
Contact Email: pmaczka@barefield-co.com
Sales Office, Vicksburg, MS 39180
Phone:(601) 631-0011
Fax:
Barefield Workplace Solutions Contact: Paul Maczka
Contact Phone:(601) 484-7279
Contact Email: pmaczka@barefield-co.com
2207 5th Street, Meridian, MS 38652
Phone:(601) 484-7279
Fax:
Barefield Workplace Solutions Contact: Paul Maczka
Contact Phone:(601) 442-1494
Contact Email: pmaczka@barefield-co.com
520 Main Street, Natchez, MS 39120
Phone:(601) 442-1494
Fax:
Barefield Workplace Solutions Contact: Paul Maczka
Contact Phone:(504) 522-7070
Contact Email: pmaczka@barefield-co.com
300 Jeferson Hwy, New Orleans, LA 70121
Phone:(504) 522-7070
Fax:
Bauhaus Interiors Group Contact: Ron Welch
Contact Phone:(214) 744-5500
Contact Email: Rwelch@bauhausinteriors.com
1645 Stemmons Freeway,, Dallas, TX 75207
Phone:(214) 744-5500
Fax:(214) 744-5503
Beaux Arts Group Contact: Bill Everett
Contact Phone:(813) 880-8686
Contact Email: weverett@beauxartsgroup.com
8507-A Benjamin Road, Tampa, FL 33634
Phone:(813) 880-8686
Fax:(813) 889-8757
Beaux Arts Group Contact: Bill Everett
Contact Phone:(407) 302-0092
Contact Email: weverett@beauxartsgroup.com
4750 New Broad Street, Orlando , FL 32814
Phone:(407) 302-0092
Fax:(407) 302-3329
Beaux Arts Group Contact: Bill Everett
Contact Phone:(239) 280-1399
Contact Email: weverett@beauxartsgroup.com
13100 Westlinks Terrace, Fort Myers, FL 33913
Phone:(239) 280-1399
Fax:(239) 225-1430
bfi (Business Furniture Inc) Contact: Paul Gold
Contact Phone:(973) 503-0730
Contact Email: pgold@bfifurniture.com
10 Lanidex Plaza West, Parsippany, NJ 07054
Phone:(973) 503-0730
Fax:(973) 503-1565
bfi (Business Furniture Inc) Contact: Paul Gold
Contact Phone:(908) 355-3400
Contact Email: pgold@bfifurniture.com
133 Rahway Avenue, Elizabeth, NJ 07202
Phone:(908) 355-3400
Fax:(908) 355-8993
bfi (Business Furniture Inc) Contact: Paul Gold
Contact Phone:(212) 685-9344
Contact Email: pgold@bfifurniture.com
336 West 37th Street, New York, NY 10018
Phone:(212) 685-9344
Fax:(212) 679-2201
BKM Office Environments Contact: Pete Sloan
Contact Phone:(877) 256-1256
Contact Email: psloan@bkmoe.com
2111 Portola Road, Ventura, CA 93003
Phone:(877) 256-1256
Fax:(805) 339-9131
BKM OfficeWorks Contact: Bill Kuhnert
Contact Phone:(858) 569-4700
Contact Email: bkuhnert@bkmsd.com
4780 Eastgate Mall, San Diego, CA 92121
Phone:(858) 569-4700
Fax:(585) 277-8931
BKM OfficeWorks Contact: Bill Kuhnert
Contact Phone:(323) 726-2900
Contact Email: bkuhnert@bkmsd.com
6959 Bandini Boulevard, Commerce, CA 90040
Phone:(323) 726-2900
Fax:(323) 726-2999
BKM OfficeWorks Contact: Bill Kuhnert
Contact Phone:(760) 402-3392
Contact Email: bkuhnert@bkmsd.com
2121 Atlanta Avenue, Riverside, CA 92507
Phone:(760) 402-3392
Fax:
BKM OfficeWorks (Warehouse) Contact: Bill Kuhnert
Contact Phone:(858) 451-0139
Contact Email: bkuhnert@bkmsd.com
7770 Miramar Road, San Diego, CA 92126
Phone:(858) 451-0139
Fax:(858) 673-7561
Broussard Group Contact: Bret Broussard, Sr
Contact Phone:(210) 224-6220
Contact Email: bretsr@broussardgroup.com
3559 Belgium Lane, San Antonio, TX 78219
Phone:(210) 224-6220
Fax:(210) 224-6212
Business Environments Contact: Kirk Mitchell
Contact Phone:(812) 474-4260
Contact Email: kmitchell@busenvir.com
5611 E. Morgan Avenue, Evansville, IN 47715
Phone:(812) 474-4260
Fax:(812) 474-4259
Business Environments, LLC - BE-Furniture Contact: John Gardner
Contact Phone:(973) 335-7700
Contact Email: jgardner@be-furniture.com
7 Entin Road, Parsippany, NJ 07054
Phone:(973) 335-7700
Fax:(973) 335-7710
Business Furnishings Contact: Mark Macheca
Contact Phone:(574) 243-3255
Contact Email: Mmacheca@business-furnishings.net
4102 Meaghan Beeler Court, South Bend, IN 46628
Phone:(574) 243-3255
Fax:
Business Furniture, LLC Contact: Rebecca L. Dean
Contact Phone:(937) 293-1010
Contact Email: deanr@businessfurniture.net
8 North Main Street, Dayton, OH 45402
Phone:(937) 293-1010
Fax:(937) 293-7501
Business Furniture, LLC Contact: Rebecca L. Dean
Contact Phone:(317) 216-1600
Contact Email: deanr@businessfurniture.net
8421 Bearing Drive,, Indianapolis, IN 46268
Phone:(317) 216-1600
Fax:(317) 216-1602
Business Furniture, LLC Contact: Rebecca L. Dean
Contact Phone:(309) 264-5740
Contact Email: deanr@businessfurniture.net
305 SW Water Street, Peoria, IL 61602
Phone:(309) 264-5740
Fax:(309) 829-4180
Business Interiors AL Contact: Alan Pizzitola
Contact Phone:(850) 266-9266
Contact Email: apizzitola@businteriors.com
30 East Cedar Street, , Pensacola, FL 32502
Phone:(850) 266-9266
Fax:(850) 469-1981
Business Interiors AL Contact: Alan Pizzitola
Contact Phone:(334) 396-4404
Contact Email: apizzitola@businteriors.com
1141 Lagoon Business Loop, Montgomery, AL 36117
Phone:(334) 396-4404
Fax:(334) 396-4440
Business Interiors AL Contact: Alan Pizzitola
Contact Phone:(256) 551-0051
Contact Email: apizzitola@businteriors.com
799 James Record Road, Huntsville, AL 35824
Phone:(256) 551-0051
Fax:(256) 519-2466
Business Interiors AL Contact: Alan Pizzitola
Contact Phone:(251) 343-6778
Contact Email: apizzitola@businteriors.com
309 Congress Street, Mobile, AL 36602
Phone:(251) 343-6778
Fax:(251) 457-1686
Business Interiors AL Contact: Alan Pizzitola
Contact Phone:(205) 939-1008
Contact Email: apizzitola@businteriors.com
2309 5th Avenue South, Birmingham, AL 35233
Phone:(205) 939-1008
Fax:(205) 939-3349
Business Interiors MS Contact: David Houpt
Contact Phone:(601) 969-1000
Contact Email: davidhoupt@bijackson.com
146 Market Ridge Drive, Ridgeland, MS 39157
Phone:(601) 969-1000
Fax:(601) 969-5559
Business Interiors TX Contact: Kathy White
Contact Phone:(800) 568-9281
Contact Email: kwhite@businessinteriors.com
1111 Valley View Lane, Irving, TX 75061
Phone:(800) 568-9281
Fax:(817) 585-2020
Business Interiors TX - Miller Office Interiors Contact: Kathy White
Contact Phone:
Contact Email: kwhite@businessinteriors.com
1111 Valley View Lane, Irving, TX 75061
Phone:
Fax:
Business Interiors TX -BI Express Office Furniture Contact: Kathy White
Contact Phone:
Contact Email: kwhite@businessinteriors.com
1111 Valley View Lane, Irving, TX 75061
Phone:
Fax:
Business Office Outfitters Contact: Jerry Sinclair
Contact Phone:(858) 751-2744
Contact Email: jerry@boofurniture.com
4650 Overland Avenue, San Diego, CA 92123
Phone:(858) 751-2744
Fax:(858) 751-2746
Business Office Outfitters Contact: Jerry Sinclair
Contact Phone:(858) 271-9700
Contact Email: jerry@boofurniture.com
8840 Miramar Road, San Diego, CA 92126
Phone:(858) 271-9700
Fax:
Business Office Systems Contact: George Pfeiffer
Contact Phone:(630) 773-7777
Contact Email: gp@bos.com
365 East North Avenue, Carol Stream, IL 60188-2023
Phone:(630) 773-7777
Fax:
Business Office Systems Contact: George Pfeiffer
Contact Phone:(312) 670-8530
Contact Email: gp@bos.com
328 South Jefferson Street, Chicago, IL 60661
Phone:(312) 670-8530
Fax:
Campbell Keller http://www.campbellkeller.com/
Contact: Deborah Reinbolt
Contact Phone:(916) 231-9222
Contact Email: Accounts_Payable@CampbellKeller.com
3041 65th Street, Suite 3 | Sacramento, CA 95820
Phone:(916) 231-9222
Fax:
Capital Office Contact: Lewis Quinn
Contact Phone:(907) 777-1500
Contact Email: lquinn@capital-office.com
1120 E. 35th Avenue, Anchorage, AK 99508
Phone:(907) 777-1500
Fax:
Capital Office Contact: Lewis Quinn
Contact Phone:(907) 586-1700
Contact Email: lquinn@capital-office.com
124 Seward Street, Juneau, AK 99801
Phone:(907) 586-1700
Fax:
Capital Office Contact: Lewis Quinn
Contact Phone:(907) 456-3946
Contact Email: lquinn@capital-office.com
3201 Industrial Avenue, Fairbanks, AK 99701
Phone:(907) 456-3946
Fax:
Capitol Business Interiors Contact: Janet Joseph Clayman
Contact Phone:(800) 628-7880
Contact Email: jclayman@champion-industries.com
711 Indiana Avenue, Charleston, WV 25302
Phone:(800) 628-7880
Fax:(304) 528-2795
Capitol Business Interiors Contact: Janet Joseph Clayman
Contact Phone:(304) 284-0200
Contact Email: jclayman@champion-industries.com
951 Point Marion Road, Morgantown, WV 26508
Phone:(304) 284-0200
Fax:
CBI (Carolina Business Interiors) Contact: David Longo
Contact Phone:(919) 991-1077
Contact Email: david.longo@cbi-nc.com
625 Oberlin Road, Raleigh, NC 27605
Phone:(919) 991-1077
Fax:(919) 991-1066
CBI (Carolina Business Interiors) Contact: David Longo
Contact Phone:(864) 404-4200
Contact Email: david.longo@cbi-nc.com
205 E. Broad Street, Greenville, SC 29601
Phone:(864) 404-4200
Fax:(864) 478-1234
CBI (Carolina Business Interiors) Contact: David Longo
Contact Phone:(843) 853-8888
Contact Email: david.longo@cbi-nc.com
526-B King Street, Charleston, SC 29403
Phone:(843) 853-8888
Fax:(843) 853-3511
CBI (Carolina Business Interiors) Contact: David Longo
Contact Phone:(704) 525-7630
Contact Email: david.longo@cbi-nc.com
4020 Yancey Road, Charlotte, NC 28217
Phone:(704) 525-7630
Fax:(704) 527-9361
CBI (Carolina Business Interiors) Contact: David Longo
Contact Phone:(336) 724-5194
Contact Email: david.longo@cbi-nc.com
210 South Liberty Street, Winston-Salem, NC 27101
Phone:(336) 724-5194
Fax:(336) 727-1049
CBI (Carolina Business Interiors) Contact: David Longo
Contact Phone:(865) 321-4900
Contact Email: david.longo@cbi-nc.com
128 S. Gay Street, Knoxville, TN 37902
Phone:(865) 321-4900
Fax:
CBI Group Contact: Brent Warrilow
Contact Phone:(210) 655-3375
Contact Email: brent.warrilow@cbi-office.com
6111 Woodlake Center Drive, San Antonio, TX 78244
Phone:(210) 655-3375
Fax:
CBI of South Florida Inc. Contact: David Longo
Contact Phone:(954) 470-6591
Contact Email: david.longo@cbi-nc.com
337 E. Las Olas Blvd., Fort Lauderdale, FL 33301
Phone:(954) 470-6591
Fax:
CCG Contact: Carmelle Jensen
Contact Phone:(801) 359-6622
Contact Email: cjensen@ccghowells.com
358 South Rio Grande, Salt Lake City, UT 84101
Phone:(801) 359-6622
Fax:(801) 359-6636
CFI - Commercial Furniture Interiors Contact: Michael Blau
Contact Phone:(908) 518-1670
Contact Email: mblau@cfioffice.com
1154 State Route 22 West, Mountainside, NJ 07092
Phone:(908) 518-1670
Fax:(908) 654-8436
CI Select Contact: Claire Erker
Contact Phone:(314) 909-1990
Contact Email: cerker@ciselect.com
11840 Westline Industrial Drive, St. Louis, MO 63146
Phone:(314) 909-1990
Fax:
CJ & Associates Contact: Kim Hastings
Contact Phone:(262) 786-1772
Contact Email: khastings@cjassociatesinc.com
16915 West Victor Road, New Berlin, WI 53151
Phone:(262) 786-1772
Fax:(262) 786-7220
Commercial Design Services, Inc. Contact: Stewart Davis
Contact Phone:(850) 241-0800
Contact Email: sdavis@cdstampa.com
508 -C Capital Circle S.E., Tallahassee, FL 32301
Phone:(850) 241-0800
Fax:(850) 241-0801
Commercial Design Services, Inc. Contact: Stewart Davis
Contact Phone:(813) 886-0580
Contact Email: sdavis@cdstampa.com
5805 Barry Road, Tampa, FL 33634
Phone:(813) 886-0580
Fax:
Commercial Design Services, Inc. Contact: Stewart Davis
Contact Phone:(407) 774-4832
Contact Email: sdavis@cdstampa.com
640 Douglas Avenue, , Altamonte Springs, FL 32714
Phone:(407) 774-4832
Fax:
Common Sense Office Furniture Contact: Craig Caswell
Contact Phone:(407) 206-5040
Contact Email: ccaswell@commonsenseof.com
390 N. Orange Avenue , Orlando, FL 32801
Phone:(407) 206-5040
Fax:
Common Sense Office Furniture Contact:
Contact Phone:
Contact Email:
820 W. Washington Street, Orlando, FL 32805
Phone:
Fax:
Continental Office Environments Contact: Ira Sharfin
Contact Phone:(614) 262-5010
Contact Email: isharfin@continentaloffice.com
2601 Silver Drive, Columbus, OH 43211
Phone:(614) 262-5010
Fax:(614) 261-1231
Continental Office Environments Contact: Ira Sharfin
Contact Phone:(419) 242-7300
Contact Email: isharfin@continentaloffice.com
21 N. Erie Street, Toledo, OH 43604
Phone:(419) 242-7300
Fax:(419) 242-7373
Continental Office Environments Contact: Ira Sharfin
Contact Phone:(412) 464-2500
Contact Email: isharfin@continentaloffice.com
322 N. Shore Drive, Pittsburgh, PA 15212
Phone:(412) 464-2500
Fax:(412) 464-2525
Contract Associates Contact: Maria Griego-Raby
Contact Phone:(505) 881-8070
Contact Email: Maria@contractassociatesnm.com
800 20th Street NW, Albuquerque, NM 87104
Phone:(505) 881-8070
Fax:(505) 888-7536
Contract Furnishings Inc. Contact: Steven Stroade
Contact Phone:(816) 931-0900
Contact Email: stroades@contractfurnishings.com
3129 Main Street, Kansas City, MO 64111
Phone:(816) 931-0900
Fax:(816) 931-6818
Contract Furnishings Inc. Contact: Steven Stroade
Contact Phone:(720) 956-1515
Contact Email: stroades@contractfurnishings.com
3115 East 40th Avenue, Denver, CO 80205
Phone:(720) 956-1515
Fax:(720) 956-1414
Contract Furnishings Inc. Contact: Steven Stroade
Contact Phone:(316) 267-5763
Contact Email: stroades@contractfurnishings.com
114 N. St. Francis, Wichita, KS 67202
Phone:(316) 267-5763
Fax:(316) 267-8565
Contract Resource Group, LLC - CRG Contact: Chris Erdeljac
Contact Phone:(713) 803-0100
Contact Email: cerdeljac@crgoffice.com
7108 Old Katy Road, , Houston, TX 77024
Phone:(713) 803-0100
Fax:(713) 803-0138
CORE Business Interiors Contact: Tom Zimmerman
Contact Phone:(559) 297-6400
Contact Email: tomz@corebusinessinteriors.com
7910 North Ingram Avenue, Fresno, CA 93722
Phone:(559) 297-6400
Fax:(559) 297-6404
Corporate Concepts - IL Contact: Larry Zerante
Contact Phone:(630) 691-8800
Contact Email: lzerante@corpconc.com
500 Waters Edge, Oak Creek Center, Lombard, IL 60148
Phone:(630) 691-8800
Fax:(630) 691-8873
Corporate Concepts - IL Contact: Larry Zerante
Contact Phone:(630) 691-8800
Contact Email: lzerante@corpconc.com
205 W. Wacker Drive, Chicago, IL 60606
Phone:(630) 691-8800
Fax:
Corporate Concepts - SC Contact: R. Rutledge Davis
Contact Phone:(803) 758-2900
Contact Email: rdavies@corporateconceptsofsc.com
2412 Main Street, Columbia, SC 29201
Phone:(803) 758-2900
Fax:(803) 758-2904
Corporate Environments - PA Contact: Pat McMahon
Contact Phone:(610) 974-7990
Contact Email: pmcmahon@opoffice.com
605 East Broad Street, Bethlehem, PA 18018
Phone:(610) 974-7990
Fax:(610) 974-7994
Corporate Environments - PA Contact: Pat McMahon
Contact Phone:(570) 342-0737
Contact Email: pmcmahon@opoffice.com
101 Poplar Street, Scranton, PA 18509
Phone:(570) 342-0737
Fax:(570) 343-6361
Corporate Environments (of Georgia) Contact: Karen Hughes
Contact Phone:(404) 679-8999
Contact Email: khughes@corporateenvironments.com
1636 Northeast Expressway, Atlanta, GA 30329
Phone:(404) 679-8999
Fax:
Corporate Interior Systems Contact: Lisa Johnson
Contact Phone:(602) 304-0100
Contact Email: ljohnson@cisinphx.com
3311 East Broadway Road, Phoenix, AZ 85040
Phone:(602) 304-0100
Fax:(602) 304-1020
Corporate Interior Systems Contact: Lisa Johnson
Contact Phone:(520) 300-6811
Contact Email: ljohnson@cisinphx.com
2000 East Speedway Blvd., Tuscon, AZ 85719
Phone:(520) 300-6811
Fax:(520) 300-6815
Corporate Interiors & Sales Contact: Margaret Alice Teele
Contact Phone:(910) 483-7000
Contact Email: corporate.interiors@earthlink.net
1329 Morganton Road, Fayetteville, NC 28305
Phone:(910) 483-7000
Fax:
Corporate Interiors (of Delaware) Contact: Janice Leone
Contact Phone:(610) 631-5400
Contact Email: jleone@corporate-interiors.com
161 Washington Street, Conshohocken, PA 19428
Phone:(610) 631-5400
Fax:(610) 631-2720
Corporate Interiors (of Delaware) Contact: Janice Leone
Contact Phone:(610) 631-5400
Contact Email: jleone@corporate-interiors.com
2900 Potshop Lane, East Norriton, PA 19403
Phone:(610) 631-5400
Fax:(610) 631-2720
Corporate Interiors (of Delaware) Contact: Janice Leone
Contact Phone:(302) 323-9100
Contact Email: jleone@corporate-interiors.com
223 Lisa Drive, New Castle, DE 19720
Phone:(302) 323-9100
Fax:(302) 323-9251
Corporate Interiors, Inc. - The CI Group Contact: Manny Bhuller
Contact Phone:(727) 539-7544
Contact Email: mbhuller@the-cigroup.com
12115 28th Street North, St. Petersburg, FL 33716
Phone:(727) 539-7544
Fax:(727) 539-1262
Corporate Interiors, Inc. - The CI Group Contact: Manny Bhuller
Contact Phone:(954) 354-1711
Contact Email: mbhuller@the-cigroup.com
902 Clint Moore Road, Boca Raton, FL 33487
Phone:(954) 354-1711
Fax:
Corporate Interiors, Inc. - The CI Group Contact: Manny Bhuller
Contact Phone:(904) 365-4200
Contact Email: mbhuller@the-cigroup.com
1950 San Marco Blvd., Jacksonville, FL 32207
Phone:(904) 365-4200
Fax:
Corporate Interiors, Inc. - The CI Group Contact: Manny Bhuller
Contact Phone:(813) 341-3413
Contact Email: mbhuller@the-cigroup.com
511 N. Franklin Street, Tampa, FL 33602
Phone:(813) 341-3413
Fax:
Corporate Interiors, Inc. - The CI Group Contact: Manny Bhuller
Contact Phone:(803) 776-5002
Contact Email: mbhuller@the-cigroup.com
1051 Market Street, Columbia, SC 29201
Phone:(803) 776-5002
Fax:
Corporate Interiors, Inc. - The CI Group Contact: Manny Bhuller
Contact Phone:(225) 252-4035
Contact Email: mbhuller@the-cigroup.com
447 N. Third Street,, Baton Rouge, LA 70802
Phone:(225) 252-4035
Fax:
Cre8 Workplace Environments Contact: April Andre
Contact Phone:(916) 930-0365
Contact Email: aandre@cre8wkplace.com
1731 East Roseville Parkway, Roseville, CA 95661
Phone:(916) 930-0365
Fax:
Creative Business Interiors Contact: Stephanie Anderson
Contact Phone:(608) 249-0904
Contact Email: stephanie.anderson@creativebusinessinteriors.com
201 Moravian Valley Road, , Waunakee, WI 53597
Phone:(608) 249-0904
Fax:(608) 249-7350
Creative Business Interiors Contact: Stephanie Anderson
Contact Phone:(414) 545-8500
Contact Email: stephanie.anderson@creativebusinessinteriors.com
1535 South 101st Street, Milwaukee, WI 53214-4008
Phone:(414) 545-8500
Fax:(414) 545-8588
Creative Business Interiors, Ltd. Contact: David Davis
Contact Phone:(570) 714-4653
Contact Email: david.davis@cbiltd.com
145 Stewart Road, Wilkes-Barre, PA 18706
Phone:(570) 714-4653
Fax:(570) 970-5817
Creative Library Concepts creativelibraryconcepts.com
Contact: Brad Kingsburg
Contact Phone:(908) 276-9200
Contact Email: bradk@creativelibraryconcepts.com
PO Box 477, Colts Neck, NJ 7722
Phone:(908) 276-9200
Fax:(908) 276-9217
Creative Office Environments RI Contact: Ed Gillheeney
Contact Phone:(401) 435-4141
Contact Email: ed@coe-ri.com
41 Commercial Way, East Providence, RI 02914
Phone:(401) 435-4141
Fax:(401) 435-4167
Creative Office Environments VA Contact: Carl Hooper
Contact Phone:(804) 329-0400
Contact Email: chooper@creative-va.com
11798 North Lakeridge Parkway, Ashland, VA 23005
Phone:(804) 329-0400
Fax:(804) 321-3134
Creative Office Environments VA Contact: Carl Hooper
Contact Phone:(757) 549-4801
Contact Email: chooper@creative-va.com
500 Woodlake Circle, Chesapeake, VA 23320
Phone:(757) 549-4801
Fax:(575) 549-2795
Creative Office Environments VA Contact: Carl Hooper
Contact Phone:(434) 327-1898
Contact Email: chooper@creative-va.com
650 Peter Jefferson Parkway, Charlottesville, VA 22911
Phone:(434) 327-1898
Fax:(434) 327-1896
Custer Contact: Todd Custer
Contact Phone:(906) 226-1161
Contact Email: tcuster@custeronline.com
442 East Michigan , Marquette, MI 49855
Phone:(906) 226-1161
Fax:(906) 226-1164
Custer Contact: Todd Custer
Contact Phone:(616) 458-6322
Contact Email: tcuster@custeronline.com
217 Grandville Avenue SW, Grand Rapids, MI 49503
Phone:(616) 458-6322
Fax:(616) 458-1117
Custer Contact: Todd Custer
Contact Phone:(269) 926-8719
Contact Email: tcuster@custeronline.com
2435 Plaza Drive, Benton Harbor, MI 49022
Phone:(269) 926-8719
Fax:
Custer Contact: Todd Custer
Contact Phone:(269) 342-3919
Contact Email: tcuster@custeronline.com
161 E. Michigan Avenue, Kalamazoo, MI 49007
Phone:(269) 342-3919
Fax:
Custer Contact: Todd Custer
Contact Phone:(231) 645-8989
Contact Email: tcuster@custeronline.com
120 East Front Street, Traverse City, MI 49684
Phone:(231) 645-8989
Fax:
CWC, LLC Contact: Paul Conley
Contact Phone:(770) 493-8200
Contact Email: Paul.Conley@c-w-c.com
4343 Northeast Expressway, Atlanta, GA 30340
Phone:(770) 493-8200
Fax:(770) 491-6374
CWC, LLC Contact: Paul Conley
Contact Phone:(478) 405-5543
Contact Email: Paul.Conley@c-w-c.com
105 Gateway Drive, Macon, GA 31210
Phone:(478) 405-5543
Fax:(478) 405-8678
CWC, LLC Contact: Paul Conley
Contact Phone:(423) 385-1532
Contact Email: Paul.Conley@c-w-c.com
631 Broad Street, Chattanooga, TN 37402
Phone:(423) 385-1532
Fax:(423) 342-4428
DeKalb Office Contact: John Rasper
Contact Phone:(770) 360-0200
Contact Email: jrasper@dekalboffice.com
1320 Ridgeland Parkway, Alpharetta, GA 30004
Phone:(770) 360-0200
Fax:
DeKalb Office Contact: John Rasper
Contact Phone:(615) 376-1200
Contact Email: jrasper@dekalboffice.com
209 Powell Place, Brentwood, TN 37027
Phone:(615) 376-1200
Fax:
DeKalb Office Contact: John Rasper
Contact Phone:(205) 933-9100
Contact Email: jrasper@dekalboffice.com
2901 Second Avenue South, Birmingham, AL 35233
Phone:(205) 933-9100
Fax:
DeKalb Office (Warehouse) Contact: John Rasper
Contact Phone:(205) 933-9100
Contact Email: jrasper@dekalboffice.com
2700 Second Avenue South, Birmingham, AL 35233
Phone:(205) 933-9100
Fax:
Delve Interiors Contact: Ed Boiar
Contact Phone:(919) 829-1987
Contact Email: eboiar@delveinteriors.com
1111-200 Haynes Street, Raleigh, NC 27604
Phone:(919) 829-1987
Fax:(919) 821-0462
Delve Interiors Contact: Ed Boiar
Contact Phone:(919) 829-1987
Contact Email: eboiar@delveinteriors.com
1311 West Arlington Boulevard, Greenville, NC 27824
Phone:(919) 829-1987
Fax:(919) 821-0462
Delve Interiors Contact: Ed Boiar
Contact Phone:(704) 523-6220
Contact Email: eboiar@delveinteriors.com
800 West Hill Street, Charlotte, NC 28708
Phone:(704) 523-6220
Fax:(704) 940-0539
Delve Interiors Contact: Ed Boiar
Contact Phone:(336) 274-4661
Contact Email: eboiar@delveinteriors.com
7820 Thorndike Road, Greensboro, NC 27409
Phone:(336) 274-4661
Fax:(336) 274-0185
Delve Interiors (Distribution Center) Contact: Ed Boiar
Contact Phone:(336) 506-1005
Contact Email: eboiar@delveinteriors.com
2232 Eric Lane, Burlington, NC 27215
Phone:(336) 506-1005
Fax:(336) 506-1015
Demco demco.com
Contact: Rosalie Franz
Contact Phone:(608) 242-4528
Contact Email: rosalief@demco.com
PO Box 7488, Madison, WI 53707
Phone:(608) 242-4528
Fax:(608) 241-8550
Desert Business Interiors Contact: Jason Cason
Contact Phone:(760) 340-1112
Contact Email: jcason@desertbusinessinteriors.com
74210 Highway 111, Palm Desert, CA 92260
Phone:(760) 340-1112
Fax:(760) 340-1833
Easley & Rivers, Inc. Contact: Glenn Sieber
Contact Phone:(412) 795-4482
Contact Email: glenn.sieber@easleyandrivers.com
207 Townsend Drive, Monroeville, PA 15146
Phone:(412) 795-4482
Fax:(412) 795-4254
Easley & Rivers, Inc. Contact: Glenn Sieber
Contact Phone:(304) 291-6803
Contact Email: glenn.sieber@easleyandrivers.com
3800 Morgantown Industrial Park, Morgantown, WV 26501
Phone:(304) 291-6803
Fax:(304) 291-6879
Egyptian Business Furniture Contact: Kevin Baltz
Contact Phone:(618) 234-2323
Contact Email: kbaltz@ebfurn.com
107 West Main Street, Belleville, IL 62220
Phone:(618) 234-2323
Fax:(618) 236-3295
Egyptian Business Furniture Contact: Kevin Baltz
Contact Phone:(618) 234-2323
Contact Email: kbaltz@ebfurn.com
129 West Main Street, Belleville, IL 62220
Phone:(618) 234-2323
Fax:(618) 236-3295
Elements Contact: Traci Lounsbury
Contact Phone:(719) 313-6576
Contact Email: tlounsbury@workplaceelements.com
130 E. Kiowa Street, Colorado Springs, CO 80903
Phone:(719) 313-6576
Fax:(719) 362-4317
Elements Contact: Traci Lounsbury
Contact Phone:(303) 471-4334
Contact Email: tlounsbury@workplaceelements.com
2501 Blake Street, Denver, CO 80205
Phone:(303) 471-4334
Fax:(303) 471-4330
Elements (Workspace Innovations) Contact: Traci Lounsbury
Contact Phone:(970) 568-5210
Contact Email: tlounsbury@workplaceelements.com
4414 E. Harmony Road, , Fort Collins, CO 80528
Phone:(970) 568-5210
Fax:
Empire Office Inc - Florida Contact: Peter Gaslow
Contact Phone:(954) 707-6200
Contact Email: pgaslow@empireoffice.com
2 Oakwood Boulevard, Hollywood, FL 33020
Phone:(954) 707-6200
Fax:
Empire Office Inc - Florida Contact: Peter Gaslow
Contact Phone:(813) 418-3300
Contact Email: pgaslow@empireoffice.com
5112 West Linebaugh Avenue, Tampa, FL 33624
Phone:(813) 418-3300
Fax:
Empire Office Inc - Florida Contact: Peter Gaslow
Contact Phone:(407) 628-2400
Contact Email: pgaslow@empireoffice.com
100 Hillcrest Street, Orlando, FL 32801
Phone:(407) 628-2400
Fax:
Empire Office Inc - Florida (Office Elements) Contact: Peter Gaslow
Contact Phone:(561) 826-6868
Contact Email: pgaslow@empireoffice.com
951 Broken Sound Parkway, Boca Raton, FL 33487
Phone:(561) 826-6868
Fax:
Empire Office Inc - NY Contact: Peter Gaslow
Contact Phone:(212) 607-5500
Contact Email: pgaslow@empireoffice.com
105 Madison Avenue, New York, NY 10016
Phone:(212) 607-5500
Fax:
Environments at Work Contact: Ken Patrick
Contact Phone:(617) 830-5300
Contact Email: kenp@environmentsatwork.com
300 A Street, Boston, MA 02210
Phone:(617) 830-5300
Fax:(617) 830-5310
EvensonBest, LLC Contact: Robert Vogliano
Contact Phone:(908) 663-2700
Contact Email: rvogliano@evensonbest.com
400 Connell Drive, Berkeley Heights, NJ 07922
Phone:(908) 663-2700
Fax:(908) 663-2701
EvensonBest, LLC Contact: Robert Vogliano
Contact Phone:(212) 549-8000
Contact Email: rvogliano@evensonbest.com
641 Avenue of the Americas, New York, NY 10011
Phone:(212) 549-8000
Fax:(212) 549-8212
EvensonBest, LLC Contact: Robert Vogliano
Contact Phone:(202) 540-5700
Contact Email: rvogliano@evensonbest.com
1000 Vermont Avenue NW, Washington, DC 20005
Phone:(202) 540-5700
Fax:(202) 540-5701
Evologic LLC Contact: Trisha Allenbrand
Contact Phone:(913) 894-6273
Contact Email: tallenbrand@spacesinc.com
17501 West 98th Street, Lenexa, KS 66219
Phone:(913) 894-6273
Fax:(913) 894-8890
Exterus Business Furniture Contact: Tim Williams
Contact Phone:(802) 383-1770
Contact Email: tim@mesacontract.com
4750 Shelburne Road, Shelburne, VT 05482
Phone:(802) 383-1770
Fax:(802) 658-6917
Facility Interiors Contact: Charles Griggsby
Contact Phone:(972) 392-1852
Contact Email: cgriggsby@fiinc.com
1433 W. Frankford Road, Carrollton, TX 75007
Phone:(972) 392-1852
Fax:(972) 392-7660
Facility Interiors Contact: Charles Griggsby
Contact Phone:(713) 585-7825
Contact Email: cgriggsby@fiinc.com
1440 North Post Oak Road, Post Oak Bus Park, Houston, TX 77055
Phone:(713) 585-7825
Fax:(713) 585-7840
Facility Interiors Contact: Charles Griggsby
Contact Phone:(512) 908-4634
Contact Email: cgriggsby@fiinc.com
8701 Wall Street, Bldg 9, Austin, TX 78754
Phone:(512) 908-4634
Fax:(512) 908-4698
Facility Interiors Contact: Charles Griggsby
Contact Phone:(405) 831-9355
Contact Email: cgriggsby@fiinc.com
1001 Enterprise Avenue, Oklahoma City, OK 73128
Phone:(405) 831-9355
Fax:
Feigus Office Furniture Contact: Brad Feigus
Contact Phone:(732) 780-6665
Contact Email: brad@feigus.com
2604 Atlantic Avenue, Wall, NJ 07719
Phone:(732) 780-6665
Fax:(732) 528-7007
Florida Office Interiors Contact: Chris Scully
Contact Phone:(904) 731-0063
Contact Email: cscully@foiusa.com
8409 Baymeadows Road, Jacksonville, FL 32256
Phone:(904) 731-0063
Fax:(904) 731-4060
Fluid Interiors Contact: Berkeley Chaiborne
Contact Phone:(612) 746-8700
Contact Email: berk.claiborne@fluidinteriors.com
100 North 6th Street, Minneapolis, MN 55403
Phone:(612) 746-8700
Fax:(612) 746-8701
Fluid Interiors (Warehouse location) Contact: Berkeley Chaiborne
Contact Phone:(612) 746-8700
Contact Email: berk.claiborne@fluidinteriors.com
3800 50th Avenue N., Brooklyn Center, MN 55429
Phone:(612) 746-8700
Fax:
Forrer Business Interiors, Inc. Contact: Randy Howard
Contact Phone:(414) 906-3200
Contact Email: rhoward@forrerinteriors.com
555 W. Estabrook Blvd., Glendale, WI 53212
Phone:(414) 906-3200
Fax:
Forward Space Contact: Jenny Niemann
Contact Phone:(630) 589-5500
Contact Email: jniemann@forwardspace.com
1111 W. 22nd Street, Oak Brook , IL 60523
Phone:(630) 589-5500
Fax:(630) 589-5637
Forward Space Contact: Jenny Niemann
Contact Phone:(312) 942-1100
Contact Email: jniemann@forwardspace.com
1142 N. North Branch, Chicago, IL 60642
Phone:(312) 942-1100
Fax:(312) 942-9480
Forward Space Contact: Jenny Niemann
Contact Phone:(312) 942-1100
Contact Email: jniemann@forwardspace.com
13820 W. Business Center Drive, Lake Forest, IL 60045
Phone:(312) 942-1100
Fax:
Frost-Barber Inc. Contact: Larry Frost
Contact Phone:(225) 926-5000
Contact Email: lfrost@frost-barber.com
9322 Interline Avenue, Baton Rouge, LA 70809
Phone:(225) 926-5000
Fax:(225) 926-5011
Furniture Marketing Group Inc Contact: Greg Almond
Contact Phone:(405) 772-1730
Contact Email: GregA@fmgi.com
421 NW 10th Street, Oklahoma City, OK 73103
Phone:(405) 772-1730
Fax:(405) 606-6159
Furniture Marketing Group Inc Contact: Greg Almond
Contact Phone:(713) 963-0678
Contact Email: GregA@fmgi.com
6801 Portwest Drive,, Houston, TX 77024
Phone:(713) 963-0678
Fax:
Furniture Marketing Group Inc Contact: Greg Almond
Contact Phone:(512) 908-4600
Contact Email: GregA@fmgi.com
University Park, 3300 N. IH-35, Austin, TX 78705
Phone:(512) 908-4600
Fax:
Furniture Marketing Group Inc Contact: Greg Almond
Contact Phone:
Contact Email: GregA@fmgi.com
6100 West Plano Parkway, Plano, TX 75093
Phone:
Fax:
G B I - (RCF Group) Contact: Carl Satterwhite
Contact Phone:(513) 771-5550
Contact Email: csatterwhite@r-c-f.com
6454 Centre Park Drive, West Chester, OH 45069
Phone:(513) 771-5550
Fax:(513) 771-5533
G L Seaman & Company Contact: Rebecca Lutz
Contact Phone:(817) 336-5400
Contact Email: rlutz@glsc.com
100 N. Forest Park Blvd., Fort Worth , TX 76102
Phone:(817) 336-5400
Fax:(817) 336-5442
G L Seaman & Company Contact: Rebecca Lutz
Contact Phone:(214) 764-6400
Contact Email: rlutz@glsc.com
4201 International Parkway, Carrollton, TX 75007
Phone:(214) 764-6400
Fax:(214) 764-6420
GL Seaman & Company www.glsc.com
Contact: Michelle McCoy
Contact Phone:
Contact Email: mmccoy@glsc.com
100 N. Forest Park Blvd, Suite 100 Fort Worth, TX 76102
Phone:(817) 336-5400
Fax:
Grier Interiors (prev Gregory Grier Inc.) Contact: Chad Grier
Contact Phone:(704) 375-3375
Contact Email: chad@g7interiors.com
2326 Distibution Street, Charlotte, NC 28203
Phone:(704) 375-3375
Fax:(704) 375-1710
Hannaher's Contact: Paul Hannaher
Contact Phone:(701) 277-7222
Contact Email: phannaher@hannahers.com
3803 Main Avenue, Fargo, ND 58103-1141
Phone:(701) 277-7222
Fax:(701) 277-7097
Hannaher's Contact: Paul Hannaher
Contact Phone:(218) 844-4570
Contact Email: phannaher@hannahers.com
920 Washington Avenue, Detroit Lakes, MN 56501
Phone:(218) 844-4570
Fax:(218) 844-4571
Hannaher's (formerly Gaffaney's Office) Contact: Paul Hannaher
Contact Phone:(701) 746-6466
Contact Email: phannaher@hannahers.com
2902 Gateway Drive, Grand Forks, ND 58203
Phone:(701) 746-6466
Fax:(701) 746-0737
HBI Office Solutions Contact: Jim Hodges
Contact Phone:(979) 260-3001
Contact Email: jim@hbi-inc.com
210 West 24th Street, Bryan, TX 77803
Phone:(979) 260-3001
Fax:(888) 551-7780
HBI Office Solutions Contact: Jim Hodges
Contact Phone:(936) 295-5708
Contact Email: jim@hbi-inc.com
308 State Hwy 75 North, Huntsville, TX 77320-3181
Phone:(936) 295-5708
Fax:(888) 239-8517
Henricksen & Company Contact: Mike Assell
Contact Phone:(212) 897-9876
Contact Email: m.assell@henricksen.com
21 W 38th Street, New York, NY 10018-2199
Phone:(212) 897-9876
Fax:(646) 918-7041
Henricksen & Company Contact: Mike Assell
Contact Phone:(630) 250-9090
Contact Email: m.assell@henricksen.com
1101 West Thorndale Avenue, Itasca, IL 60143
Phone:(630) 250-9090
Fax:(630) 250-9112
Henricksen & Company Contact: Mike Assell
Contact Phone:(612) 455-2200
Contact Email: m.assell@henricksen.com
1101 West River Parkway, Minneapolis, MN 55415
Phone:(612) 455-2200
Fax:(612) 877-3300
Henricksen & Company Contact: Mike Assell
Contact Phone:(608) 244-1400
Contact Email: m.assell@henricksen.com
5202 Eastpark Boulevard, Madison, WI 53718
Phone:(608) 244-1400
Fax:(608) 244-3500
Henricksen & Company Contact: Mike Assell
Contact Phone:(312) 669-9090
Contact Email: m.assell@henricksen.com
328 South Jefferson Street, Chicago, IL 60661
Phone:(312) 669-9090
Fax:(312) 669-9240
Henricksen & Company Contact: Mike Assell
Contact Phone:(309) 636-0033
Contact Email: m.assell@henricksen.com
401 Southwest Water Street, Peoria, IL 61602
Phone:(309) 636-0033
Fax:(309) 636-0034
Henricksen & Company Contact: Mike Assell
Contact Phone:(262) 781-9090
Contact Email: m.assell@henricksen.com
3070 Gateway Road, Brookfield, WI 53045-5112
Phone:(262) 781-9090
Fax:(262) 781-4334
Holmes & Brakel Contact: Mark Holmes
Contact Phone:(904) 538-9883
Contact Email: mholmes@holmesbrakel.com
8933 Western Way, Jacksonville, FL 32256
Phone:(904) 538-9883
Fax:(904) 538-0578
Holmes & Brakel Contact: Mark Holmes
Contact Phone:(800) 883-6868
Contact Email: mholmes@holmesbrakel.com
3901 Coconut Palm Drive, Tampa, FL 33619
Phone:(800) 883-6868
Fax:(813) 229-2699
Hubble Mitchell Interiors Contact: Chris Hubble
Contact Phone:(501) 312-2700
Contact Email: chubble@hubblemitchell.com
8001 Assembly Court, Little Rock, AR 72209
Phone:(501) 312-2700
Fax:(501) 227-4301
ID&A Contact: Michael Morris
Contact Phone:(502) 562-9255
Contact Email: mmorris@id-a.com
1700 South 5th Street, Louisville, KY 40208
Phone:(502) 562-9255
Fax:(502) 562-9270
ID&A Contact: Michael Morris
Contact Phone:(859) 255-7595
Contact Email: mmorris@id-a.com
155 East Main Street, Lexington, KY 40507
Phone:(859) 255-7595
Fax:
ID&A Contact: Mark Eley
Contact Phone:(812) 422-7811
Contact Email: meley@id-a.com
1229 East Virginia Street, Evansville, IN 47711
Phone:(812) 422-7811
Fax:
ID&A Contact: Mark Eley
Contact Phone:(615) 695-9255
Contact Email: meley@id-a.com
212 Overlook Circle, Brentwood, TN 37027
Phone:(615) 695-9255
Fax:
Impact Office Interiors Contact: Benjamin Frank
Contact Phone:(770) 228-0706
Contact Email: bfrank@impactofficeinteriors.com
222 Meriwether Street, Griffin, GA 30224-3011
Phone:(770) 228-0706
Fax:(770) 233-9429
Innerplan Office Interiors Contact: Tim McMennamy
Contact Phone:(501) 371-0300
Contact Email: tim@innerplan.com
7001 Innerplan Drive, North Little Rock, AR 72113
Phone:(501) 371-0300
Fax:(501) 372-3838
Innerplan Office Interiors Contact: Tim McMennamy
Contact Phone:(479) 695-1326
Contact Email: tim@innerplan.com
100 W. Center Street, Fayetteville, AR 72701
Phone:(479) 695-1326
Fax:(479) 695-1327
Innerspaice Architectural Interiors Contact: Jim Vaughn
Contact Phone:(850) 664-1249
Contact Email: jvaughn@innerspaice.com
139 S.E. Elgin Parkway, Fort Walton Beach, FL 32548
Phone:(850) 664-1249
Fax:(850) 664-1259
Innerspaice Architectural Interiors Contact: Jim Vaughn
Contact Phone:(334) 272-0031
Contact Email: jvaughn@innerspaice.com
895 Lagoon Commercial Blvd., Montgomery, AL 36617
Phone:(334) 272-0031
Fax:(334) 272-0690
Innerspaice Architectural Interiors Contact: Jim Vaughn
Contact Phone:(256) 539-6292
Contact Email: jvaughn@innerspaice.com
313 Jefferson Street, Huntsville, AL 35801
Phone:(256) 539-6292
Fax:(256) 539-6774
Innerspaice Architectural Interiors Contact: Jim Vaughn
Contact Phone:(251) 433-2730
Contact Email: jvaughn@innerspaice.com
201A Saint Joseph Street, Mobile, AL 36602
Phone:(251) 433-2730
Fax:(251) 433-9477
Innerspaice Architectural Interiors Contact: Jim Vaughn
Contact Phone:(251) 433-2730
Contact Email: jvaughn@innerspaice.com
427 W. Garden Street, Pensacola, FL 32502
Phone:(251) 433-2730
Fax:(251) 433-9477
Innerspaice Architectural Interiors Contact: Jim Vaughn
Contact Phone:(205) 323-2491
Contact Email: jvaughn@innerspaice.com
2830 6th Avenue South, Birmingham, AL 35233
Phone:(205) 323-2491
Fax:(205) 323-2495
Innerspaice Architectural Interiors (warehouse) Contact: Jim Vaughn
Contact Phone:(251) 433-2730
Contact Email: jvaughn@innerspaice.com
1008 Oak Street, Mobile, AL 36604
Phone:(251) 433-2730
Fax:(251) 433-9477
Innovative Office Solutions (IOS) Contact: Greg Nietfeld
Contact Phone:(419) 925-5433
Contact Email: gnietfeld@ios-inc.com
8016 Industrial Drive, Maria Stein, OH 45860
Phone:(419) 925-5433
Fax:(419) 925-0311
Innovative Office Solutions (IOS) Contact: Greg Nietfeld
Contact Phone:(800) 253-3005
Contact Email: gnietfeld@ios-inc.com
5778 Jassamine Drive, Dayton, OH 45449
Phone:(800) 253-3005
Fax:
Inside Source Contact: Dave Denny
Contact Phone:(650) 508-9101
Contact Email: ddenny@insidesource.com
985 Industrial Road,, San Carlos, CA 94070
Phone:(650) 508-9101
Fax:
Inside Source Contact: Dave Denny
Contact Phone:(415) 399-5310
Contact Email: ddenny@insidesource.com
9 Maritime Plaza, San Francisco, CA 94111
Phone:(415) 399-5310
Fax:
Inside Source Contact: Dave Denny
Contact Phone:(408) 389-7341
Contact Email: ddenny@insidesource.com
300 Park Avenue, San Jose, CA 95110
Phone:(408) 389-7341
Fax:
Inside Source Contact: Dave Denny
Contact Phone:(347) 486-5924
Contact Email: ddenny@insidesource.com
54 West 21st Street, New York, NY 10010
Phone:(347) 486-5924
Fax:
Integrated Facilities Group (IFG) Contact: Marsha Geisert
Contact Phone:(316) 262-1417
Contact Email: marsha@ifgwichita.com
125 South Washington Street, Wichita, KS 67202
Phone:(316) 262-1417
Fax:(316) 262-1418
Intereum Contact: Matt Sveen
Contact Phone:(763) 417-3300
Contact Email: msveen@intereum.com
845 Berkshire Lane North, Plymouth, MN 55441
Phone:(763) 417-3300
Fax:(763) 417-3309
Interior Investments Contact: Don Shannon
Contact Phone:(847) 325-1000
Contact Email: dshannon@interiorinvestments.com
550 Bond Street, Lincolnshire, IL 60069
Phone:(847) 325-1000
Fax:(847) 325-1001
Interior Investments Contact: Don Shannon
Contact Phone:(715) 204-3030
Contact Email: dshannon@interiorinvestments.com
505 South 24th Avenue, Wausau, WI 54401
Phone:(715) 204-3030
Fax:(715) 204-3031
Interior Investments Contact: Don Shannon
Contact Phone:(630) 563-4700
Contact Email: dshannon@interiorinvestments.com
1250 East Diehl Road, Naperville, IL 60563
Phone:(630) 563-4700
Fax:(630) 563-4701
Interior Investments Contact: Don Shannon
Contact Phone:(608) 216-7900
Contact Email: dshannon@interiorinvestments.com
4001 Felland Road, Madison, WI 53718
Phone:(608) 216-7900
Fax:(608) 216-7901
Interior Investments Contact: Don Shannon
Contact Phone:(414) 287-0000
Contact Email: dshannon@interiorinvestments.com
756 North Milwaukee Street, Milwaukee, WI 53202
Phone:(414) 287-0000
Fax:(414) 287-0001
Interior Investments Contact: Don Shannon
Contact Phone:(314) 644-5060
Contact Email: dshannon@interiorinvestments.com
9 Sunnen Drive, St. Louis, MO 63143
Phone:(314) 644-5060
Fax:(314) 644-5007
Interior Investments Contact: Don Shannon
Contact Phone:(312) 212-5100
Contact Email: dshannon@interiorinvestments.com
205 West Wacker Drive, Chicago, IL 60606
Phone:(312) 212-5100
Fax:(312) 212-5101
Interior Landscapes, LLC Contact: Jim Turner
Contact Phone:(816) 842-2120
Contact Email: jturner@interscape.biz
2121 Central Street, Kansas City, MO 64108
Phone:(816) 842-2120
Fax:(816) 842-2129
Interior Office Solutions (IOS) Contact: Jesse Bagley
Contact Phone:(949) 724-9444
Contact Email: jbagley@iosinc.net
17800 Mitchell North, Irvine, CA 92614
Phone:(949) 724-9444
Fax:(949) 724-9449
Interior Office Solutions (IOS) Contact: Jesse Bagley
Contact Phone:(503) 205-2200
Contact Email: jbagley@iosinc.net
240 North Broadway, Portland, OR 97227
Phone:(503) 205-2200
Fax:(503) 534-0200
Interior Office Solutions (IOS) Contact: Jesse Bagley
Contact Phone:(310) 726-9067
Contact Email: jbagley@iosinc.net
444 S. Flower Street, Los Angeles, CA 90071
Phone:(310) 726-9067
Fax:(310) 726-9066
Interior Office Solutions (IOS) Contact: Jesse Bagley
Contact Phone:(206) 435-7700
Contact Email: jbagley@iosinc.net
705 5th Avenue South, Seattle, WA 98104
Phone:(206) 435-7700
Fax:
Interior Showplace, Ltd. Contact: Kimberly Quezada
Contact Phone:(808) 593-8420
Contact Email: kquezada@interior-showplace.com
956 Queen Street, Honolulu, HI 96814
Phone:(808) 593-8420
Fax:(808) 591-8324
Interior Solutions Contact: Jan Malof
Contact Phone:(716) 332-0372
Contact Email: jmalof@is-wny.com
472 Franklin Street, Buffalo, NY 14202
Phone:(716) 332-0372
Fax:
Interiors for Business, Inc. Contact: Peter J. Molenhouse
Contact Phone:(630) 761-1070
Contact Email: pmolenhouse@interiorsforbusiness.com
409 North River Street,, Batavia, IL 60510
Phone:(630) 761-1070
Fax:(630) 760-1065
J M J Workplace Interiors Contact: John Massad
Contact Phone:(804) 270-7400
Contact Email: john@jmjcorporation.com
315 William Street, Fredericksburg, VA 21401
Phone:(804) 270-7400
Fax:
J M J Workplace Interiors / JMJ Corporation Contact: John Massad
Contact Phone:(804) 270-7400
Contact Email: john@jmjcorporation.com
7910 W Broad Street, Henrico, VA 23294-6302
Phone:(804) 270-7400
Fax:
JC White Contact: Mark Feltingoff
Contact Phone:(954) 499-6677
Contact Email: mark.feltingoff@jcwhite.com
3501 Commerce Parkway, Miramar, FL 33025
Phone:(954) 499-6677
Fax:(954) 499-6678
JC White Contact: Mark Feltingoff
Contact Phone:(561) 848-4983
Contact Email: mark.feltingoff@jcwhite.com
2403 S. Dixie Highway, West Palm Beach, FL 33401
Phone:(561) 848-4983
Fax:(561) 651-1091
Kayhan International Limited Contact: Pat Turnbull
Contact Phone:(847) 843-5060
Contact Email: pat.turnbull@kayhan.com
1475 E. Woodfield Road,, Schaumburg, IL 60173
Phone:(847) 843-5060
Fax:(847) 843-5065
Kayhan International Limited Contact: Pat Turnbull
Contact Phone:
Contact Email: pat.turnbull@kayhan.com
4 East Ohio Street, Chicago, IL 60611
Phone:
Fax:
KBM Workspace Contact: Stan Vuckovich
Contact Phone:(408) 351-7100
Contact Email: stanv@kbmworkspace.com
160 West Santa Clara Street, San Jose, CA 95113
Phone:(408) 351-7100
Fax:(408) 938-0699
Kentwood Office Furniture Contact: Robert VanKaenel
Contact Phone:(630) 693-2263
Contact Email: bobvonkaenel@kentwoodoffice.com
330 W. Roosevelt Road, Lombard, IL 60148
Phone:(630) 693-2263
Fax:
Kentwood Office Furniture Contact: Robert VanKaenel
Contact Phone:(616) 947-2320
Contact Email: bobvonkaenel@kentwoodoffice.com
3063 Breton Road S.E., Grand Rapids, MI 49512
Phone:(616) 947-2320
Fax:
Kentwood Office Furniture Contact: Robert VanKaenel
Contact Phone:(517) 990-0362
Contact Email: bobvonkaenel@kentwoodoffice.com
2420 West Michigan Ave, Jackson, MI 49202
Phone:(517) 990-0362
Fax:
Kentwood Office Furniture Contact: Robert VanKaenel
Contact Phone:(517) 492-7000
Contact Email: bobvonkaenel@kentwoodoffice.com
2101 West Willow Street, Lansing, MI 48917
Phone:(517) 492-7000
Fax:
Kentwood Office Furniture Contact: Robert VanKaenel
Contact Phone:(317) 288-2678
Contact Email: bobvonkaenel@kentwoodoffice.com
7226 East 87th Street, Indianapolis, IN 46256
Phone:(317) 288-2678
Fax:
Kentwood Office Furniture Contact: Robert VanKaenel
Contact Phone:(248) 442-4888
Contact Email: bobvonkaenel@kentwoodoffice.com
40500 Grand River Ave., Novi, MI 48375
Phone:(248) 442-4888
Fax:
King Business Interiors, Inc. Contact: Darla King
Contact Phone:(614) 796-4018
Contact Email: darlaking@kbiinc.com
175 S. Third Street, Columbus, OH 43215
Phone:(614) 796-4018
Fax:
King Business Interiors, Inc. Contact: Darla King
Contact Phone:(614) 796-4018
Contact Email: darlaking@kbiinc.com
25 South St. Clair Street, Toledo, OH 43064
Phone:(614) 796-4018
Fax:
King Business Interiors, Inc. Contact: Darla King
Contact Phone:(614) 796-4018
Contact Email: darlaking@kbiinc.com
6155 Huntley Road, Columbus, OH 43229
Phone:(614) 796-4018
Fax:
King Business Interiors, Inc. (Warehouse) Contact: Darla King
Contact Phone:(614) 796-4018
Contact Email: darlaking@kbiinc.com
1001 Distribution Drive, Columbus, OH 43228
Phone:(614) 796-4018
Fax:
Kyser OfficeWorks, Inc. Contact: Chris Dunn
Contact Phone:(334) 834-9400
Contact Email: cdunn@kyser.com
2400 Spruce Street, Montgomery, AL 36107
Phone:(334) 834-9400
Fax:(334) 262-0701
L J Duffy Inc. Contact: Larry Duffy
Contact Phone:(212) 414-9800
Contact Email: lduffy@ljduffy.com
150 West 30th Street, New York, NY 10001
Phone:(212) 414-9800
Fax:(212) 414-1508
Lincoln Office Contact: Bill Pape
Contact Phone:(309) 427-2500
Contact Email: papeb@lincolnoffice.com
205 Eastgate Drive, Washington, IL 61571
Phone:(309) 427-2500
Fax:(309) 427-2600
Lincoln Office Contact: Bill Pape
Contact Phone:(219) 662-2777
Contact Email: papeb@lincolnoffice.com
1200 Arrowhead Court, Crown Point, IN 46307
Phone:(219) 662-2777
Fax:(219) 662-7770
Lincoln Office Contact: Bill Pape
Contact Phone:(563) 322-5660
Contact Email: papeb@lincolnoffice.com
1026 Mound Street, Davenport, IA 52803
Phone:(563) 322-5660
Fax:
Link Interiors Contact: Kimberly Duke
Contact Phone:(514) 514-9173
Contact Email: kimberly@linkinteriors.net
P.O. Box 506, Morgantown, PA 10649
Phone:(514) 514-9173
Fax:
Machabee Office Environments Contact: Scott Machabee
Contact Phone:(775) 329-3145
Contact Email: smachabee@machabee.com
50 E. Greg Street, Sparks, NV 89431
Phone:(775) 329-3145
Fax:(775) 786-5710
Machabee Office Environments Contact: Scott Machabee
Contact Phone:(702) 263-8800
Contact Email: smachabee@machabee.com
6435 Sunset Corporate Drive, Las Vegas, NV 89120
Phone:(702) 263-8800
Fax:(702) 263-8801
Marathon Building Environments Contact: Frank Sovich
Contact Phone:(573) 875-7115
Contact Email: fsovich@marathonbe.com
1715 Paris Road, Columbia, MO 65201
Phone:(573) 875-7115
Fax:(573) 875-7116
MarxModa Contact: Joe Marx
Contact Phone:(855) 242-9292
Contact Email: Joe.Marx@marxmoda.com
555 Friendly Street, Pontiac, MI 48341
Phone:(855) 242-9292
Fax:
MarxModa Contact: Joe Marx
Contact Phone:(855) 242-9292
Contact Email: Joe.Marx@marxmoda.com
13501 Ashurst Court (Distribution Center), Livonia, MI 48150
Phone:(855) 242-9292
Fax:
MarxModa Contact: Joe Marx
Contact Phone:(855) 242-9292
Contact Email: Joe.Marx@marxmoda.com
1555 Broadway, Detroit, MI 48226
Phone:(855) 242-9292
Fax:
MarxModa Contact: Joe Marx
Contact Phone:(855) 242-9292
Contact Email: Joe.Marx@marxmoda.com
259 East Michigan Avenue, Kalamazoo, MI 49007
Phone:(855) 242-9292
Fax:
MarxModa Contact: Joe Marx
Contact Phone:(855) 242-9292
Contact Email: Joe.Marx@marxmoda.com
1101 West Hammond Road, Traverse City, MI 49696
Phone:(855) 242-9292
Fax:
MarxModa Contact: Joe Marx
Contact Phone:(855) 242-9292
Contact Email: Joe.Marx@marxmoda.com
3135 Pine Tree Road,, Lansing, MI 48911
Phone:(855) 242-9292
Fax:
MarxModa Contact: Joe Marx
Contact Phone:(855) 242-9292
Contact Email: Joe.Marx@marxmoda.com
4633 Patterson S.E., Grand Rapids, MI 49512
Phone:(855) 242-9292
Fax:
Mason Inc. Contact: Joseph Conners
Contact Phone:(912) 232-4192
Contact Email: jlconners@mason-inc.com
2301-B Rowland Avenue, Savannah, GA 31404
Phone:(912) 232-4192
Fax:(912) 234-3654
MBI Seattle Contact: Jay Harmeyer
Contact Phone:(206) 343-5800
Contact Email: jayh@mbiseattle.com
600 Stewart Street, Seattle, WA 98101
Phone:(206) 343-5800
Fax:(206) 343-0231
McCoy-Rockford Inc. Contact: Stan Bunting
Contact Phone:(512) 442-0703
Contact Email: sbunting@mccoyinc.com
211 East Riverside Drive, Austin, TX 78704
Phone:(512) 442-0703
Fax:(512) 442-6555
McCoy-Rockford Inc. Contact: Ken Beaver
Contact Phone:(713) 862-4600
Contact Email: kbeaver@mccoyinc.com
6869 Old Katy Road, Houston, TX 77024
Phone:(713) 862-4600
Fax:
McWaters, Inc. Contact: Ned Little
Contact Phone:(912) 352-9000
Contact Email: nlittle@mcwaters.com
117 Prosperity Drive, Savannah, GA 31408
Phone:(912) 352-9000
Fax:(912) 352-2034
McWaters, Inc. Contact: Ned Little
Contact Phone:(843) 486-1823
Contact Email: nlittle@mcwaters.com
7555-A Palmetto Commerce Parkway, North Charleston, SC 29418
Phone:(843) 486-1823
Fax:(803) 252-5567
McWaters, Inc. Contact: Ned Little
Contact Phone:(803) 256-8303
Contact Email: nlittle@mcwaters.com
1104 Shop Road, Columbia, SC 29201
Phone:(803) 256-8303
Fax:(803) 252-5567
McWaters, Inc. Contact: Ned Little
Contact Phone:(706) 396-5400
Contact Email: nlittle@mcwaters.com
3708 Benchmark Drive, Augusta, GA 30909
Phone:(706) 396-5400
Fax:(706) 396-5401
Meadows Office Furniture Company Contact: Dana Justus
Contact Phone:(212) 741-0333
Contact Email: djustus@meadowsoffice.com
885 Third Avenue, 29th Floor, New York, NY 10022
Phone:(212) 741-0333
Fax:(212) 741-0334
Meadows Office Furniture Company Contact: Dana Justus
Contact Phone:(201) 797-7010
Contact Email: djustus@meadowsoffice.com
21-00 State Route 2085, Fair Lawn, NJ 07410
Phone:(201) 797-7010
Fax:(201) 797-7033
MeTEOR Education meteoreducation.com
Contact: Brent Jones
Contact Phone:
Contact Email: bjones@meteoreducation.com
690 NE 23rd Ave, Gainsville, FL 32609
Phone:
Fax:
Michael's Office Furnishings Contact: Bob Paget
Contact Phone:(530) 221-3310
Contact Email: bob@michaels-inc.com
5138 Caterpillar Road, Redding, CA 96003
Phone:(530) 221-3310
Fax:
Miles Treaster & Associates Contact: Therese Kingsbury
Contact Phone:(916) 373-1800
Contact Email: tkingsbury@mtaoffice.com
1810 13th Street, Sacramento, CA 95811
Phone:(916) 373-1800
Fax:(916) 373-1899
MOI Contact: David Noel
Contact Phone:(804) 343-0788
Contact Email: dnoel@moii.com
1051 East Cary Street, Richmond, VA 23219
Phone:(804) 343-0788
Fax:(804) 343-0789
MOI Contact: David Noel
Contact Phone:(757) 201-3547
Contact Email: dnoel@moii.com
Two Columbus Center, 4500 Main Street, Virginia Beach, VA 23462
Phone:(757) 201-3547
Fax:(757) 201-3511
MOI Contact: David Noel
Contact Phone:(410) 265-5600
Contact Email: dnoel@moii.com
2923 Lord Baltimore Drive, Baltimore, MD 21244
Phone:(410) 265-5600
Fax:(410) 265-5699
MOI Contact: David Noel
Contact Phone:(202) 469-7600
Contact Email: dnoel@moii.com
111 K Street N.E., Washington, DC 20002
Phone:(202) 469-7600
Fax:(202) 469-7699
Nashville Office Interiors Contact: Derrick Peppers
Contact Phone:(865) 671-1066
Contact Email: dpeppers@noi-tn.com
3 Emory Place, Knoxville, TN 37917
Phone:(865) 671-1066
Fax:(865) 675-4965
Nashville Office Interiors Contact: Derrick Peppers
Contact Phone:(615) 329-1811
Contact Email: dpeppers@noi-tn.com
1621 Church Street, Nashville, TN 37203
Phone:(615) 329-1811
Fax:(615) 329-1322
Nashville Office Interiors Contact: Derrick Peppers
Contact Phone:(423) 629-6100
Contact Email: dpeppers@noi-tn.com
4167 South Creek Road, Chattanooga, TN 37406
Phone:(423) 629-6100
Fax:(423) 629-6177
NFL Officeworks Contact: Rick Robillard
Contact Phone:(864) 295-1600
Contact Email: rickrobillard@nflinc.com
146 West Phillips Road,, Greer, SC 29650
Phone:(864) 295-1600
Fax:
NFL Officeworks Contact: Rick Robillard
Contact Phone:(404) 872-7280
Contact Email: rickrobillard@nflinc.com
2865 Log Cabin Drive, Atlanta, GA 30039
Phone:(404) 872-7280
Fax:
OEC - Office Environment Company Contact: Tim Lodge
Contact Phone:(208) 385-0507
Contact Email: tim@oecboise.com
623 S. Americana Blvd., Boise, ID 83702
Phone:(208) 385-0507
Fax:
Office Environments - AL Contact: Brian McMahon
Contact Phone:(850) 434-1165
Contact Email: bmcmahon@officenvironments.com
111 S. DeVilliers Street, Pensacola, FL 32502
Phone:(850) 434-1165
Fax:(850) 434-1170
Office Environments - AL Contact: Brian McMahon
Contact Phone:(850) 241-1750
Contact Email: bmcmahon@officenvironments.com
1801 Hermitage Blvd, Talahassee, FL 32308
Phone:(850) 241-1750
Fax:(850) 241-1748
Office Environments - AL Contact: Brian McMahon
Contact Phone:(352) 213-2423
Contact Email: bmcmahon@officenvironments.com
237 SW 7th Terrace, Gainsville, FL 32601
Phone:(352) 213-2423
Fax:(850) 241-1748
Office Environments - AL Contact: Brian McMahon
Contact Phone:(256) 704-5001
Contact Email: bmcmahon@officenvironments.com
200 West Side Square, Huntsville, AL 35801
Phone:(256) 704-5001
Fax:(256) 704-5006
Office Environments - AL Contact: Brian McMahon
Contact Phone:(205) 443-8300
Contact Email: bmcmahon@officenvironments.com
1827 First Avenue North, Birmingham, AL 35203
Phone:(205) 443-8300
Fax:(205) 930-0386
Office Environments & Services Contact: Zimmerman Boulos
Contact Phone:(904) 398-9761
Contact Email: zim@oesjax.com
1524 San Marco Boulevard, Jacksonville, FL 32207
Phone:(904) 398-9761
Fax:
Office Environments Inc. - VT Contact: Mark Kelley
Contact Phone:(802) 864-3000
Contact Email: mkelley912@aol.com
5 Green Tree Drive, South Burlington, VT 05403
Phone:(802) 864-3000
Fax:(802) 865-2590
Office Equipment Company of Mobile Contact: Tom Bramlett
Contact Phone:(251) 471-3368
Contact Email: tbramlett@oecbi.com
104 East I-65 Service Road North, Mobile, AL 36607
Phone:(251) 471-3368
Fax:(251) 471-0019
Office Equipment Company of Mobile Contact: Tom Bramlett
Contact Phone:(228) 539-9575
Contact Email: tbramlett@oecbi.com
12199 Highway 49, Gulfport, MS 39503
Phone:(228) 539-9575
Fax:(228) 539-9566
Office Furniture Expo Contact: Karl Altmann
Contact Phone:(770) 455-0440
Contact Email: karl@ofexpo.com
5385 Buford Highway, Doraville, GA 30340
Phone:(770) 455-0440
Fax:(770) 458-9541
Office Furniture Group, Inc. Contact: Scott Lazarus
Contact Phone:(949) 769-6400
Contact Email: slazarus@ofginc.com
18400 Von Karman, Irvine, CA 92612
Phone:(949) 769-6400
Fax:(949) 769-6401
Office Furniture Outfitters Contact: Jim Burns
Contact Phone:(865) 524-3003
Contact Email: jburns@ofoknox.com
1727 Grand Avenue, Knoxville, TN 37916
Phone:(865) 524-3003
Fax:
Office Furniture Partnership Contact: Ken Brennan
Contact Phone:(973) 267-6966
Contact Email: Ken@officefurniturepartnership.com
67 East Park Place, Morristown, NJ 07960
Phone:(973) 267-6966
Fax:(973) 267-5590
Office Furniture Solutions Contact: Larry Singer
Contact Phone:(314) 881-8130
Contact Email: lsinger@ofs-inc.com
11485 Page Service Drive, St. Louis, MO 63146
Phone:(314) 881-8130
Fax:
Office Oufitters & Planners Inc. Contact: Duncan Rowley
Contact Phone:(970) 245-6300
Contact Email: duncan@officeplanners.com
749 Main Street, Grand Junction, CO 81501
Phone:(970) 245-6300
Fax:(970) 245-6301
Office Pavilion - Contract Furnishers of Hawaii Contact: Wendy Shewalter
Contact Phone:(808) 599-2411
Contact Email: wendy@op-hawaii.com
50 South Beretania Street,, Honolulu, HI 96813
Phone:(808) 599-2411
Fax:(808) 599-2617
Office Pavilion - Houston Contact: Steve Marnoy
Contact Phone:(713) 803-0000
Contact Email: smarnoy@ophouston.com
10030 Bent Oak Drive, Houston, TX 77040
Phone:(713) 803-0000
Fax:(713) 803-0001
Office Resources Contact: Kevin Barbary
Contact Phone:(860) 218-2080
Contact Email: kevinbarbary@ori.com
100 Pearl Street, Hartford, CT 06103
Phone:(860) 218-2080
Fax:(860) 218-2081
Office Resources Contact: Kevin Barbary
Contact Phone:(617) 423-9100
Contact Email: kevinbarbary@ori.com
263 Summer Street, Boston, MA 02210
Phone:(617) 423-9100
Fax:(617) 423-5590
Office Resources Contact: Kevin Barbary
Contact Phone:(603) 645-9808
Contact Email: kevinbarbary@ori.com
1200 Elm Street, Manchester, NH 03101
Phone:(603) 645-9808
Fax:(603) 645-6798
Office Resources Contact: Kevin Barbary
Contact Phone:(508) 719-0219
Contact Email: kevinbarbary@ori.com
810 Boston Turnpike Road, Shrewsbury, MA 01545
Phone:(508) 719-0219
Fax:(508) 719-0220
Office Resources Contact: Kevin Barbary
Contact Phone:(207) 775-5344
Contact Email: kevinbarbary@ori.com
22 York Street, Portland, ME 04101
Phone:(207) 775-5344
Fax:(207) 775-6731
Office Resources Contact: Kevin Barbary
Contact Phone:(212) 704-9848
Contact Email: kevinbarbary@ori.com
76 Ninth Street, New York, NY 10011
Phone:(212) 704-9848
Fax:
Office Revolution Contact: Bernie Donaldson
Contact Phone:(847) 656-2250
Contact Email: bdonaldson@office-revolution.com
2610 Lake Cook Road (Corporate Office), Riverwoods, IL 60015
Phone:(847) 656-2250
Fax:(847) 656-2249
Office Revolution Contact: Bernie Donaldson
Contact Phone:(312) 222-1110
Contact Email: bdonaldson@office-revolution.com
130 East Randolph, Chicago, IL 60601
Phone:(312) 222-1110
Fax:(312) 222-1115
Office Revolution Contact: Bernie Donaldson
Contact Phone:
Contact Email: bdonaldson@office-revolution.com
905 S. Menard Avenue, Chicago, IL 60644
Phone:
Fax:
OfficeScapes Contact: Bob Diebel
Contact Phone:(970) 223-5959
Contact Email: bdiebel@officescapes.com
4950 S. College Avenue, Fort Collins, CO 80525
Phone:(970) 223-5959
Fax:(970) 223-5858
OfficeScapes Contact: Bob Diebel
Contact Phone:(719) 574-1113
Contact Email: bdiebel@officescapes.com
2506 Zeppelin Road, Colorado Springs, CO 80916
Phone:(719) 574-1113
Fax:(719) 574-1133
OfficeScapes Contact: Bob Diebel
Contact Phone:(303) 574-1115
Contact Email: bdiebel@officescapes.com
9900 E 51st Avenue, Denver, CO 80238
Phone:(303) 574-1115
Fax:(303) 574-1116
OfficeScapes Contact: Bob Diebel
Contact Phone:(303) 373-7085
Contact Email: bdiebel@officescapes.com
1445 Market Street, Denver, CO 80202
Phone:(303) 373-7085
Fax:
OfficeSource Ltd Contact: Dean Class
Contact Phone:(210) 212-7742
Contact Email:
1133 Broadway, San Antonio, Texas 78215
Phone:
Fax:
OfficeWorks Contact: Dan Morris
Contact Phone:(317) 577-3510
Contact Email: dmorris@officeworks.net
12000 Exit Five Parkway, Fishers, IN 46037
Phone:(317) 577-3510
Fax:(317) 577-3550
Offix Systems Contact: Juan C. Vidal
Contact Phone:(610) 231-2000
Contact Email: jcvidal@offixsystems.com
612 West Hamilton Street, Allentown, PA 18101
Phone:(610) 231-2000
Fax:(610) 231-2095
Offix Systems Contact: Juan C. Vidal
Contact Phone:(610) 231-2000
Contact Email: jcvidal@offixsystems.com
924 Marcon Boulevard, Allentown, PA 18109
Phone:(610) 231-2000
Fax:(610) 231-2095
OFI Contact: Richard Mills
Contact Phone:(860) 666-3357
Contact Email: rmills@myofi.com
28 Garfield Street, Newington, CT 06111
Phone:(860) 666-3357
Fax:(860) 594-4550
OFI Contact: Richard Mills
Contact Phone:(203) 324-7517
Contact Email: rmills@myofi.com
1281 East Main Street, Stamford, CT 06902
Phone:(203) 324-7517
Fax:
Ohio Desk Contact: David Humphries
Contact Phone:(330) 499-1030
Contact Email: Dhumphries@ohiodesk.com
34 Swartz Road, Akron, OH 44319
Phone:(330) 499-1030
Fax:(330) 786-1031
Ohio Desk Contact: David Humphries
Contact Phone:(330) 782-3331
Contact Email: Dhumphries@ohiodesk.com
5100 Market Street, Youngstown, OH 44512
Phone:(330) 782-3331
Fax:(330) 782-0951
Ohio Desk Contact: David Humphries
Contact Phone:(216) 623-0600
Contact Email: Dhumphries@ohiodesk.com
1122 Prospect Avenue, Cleveland, OH 44115
Phone:(216) 623-0600
Fax:(216) 623-0611
Ohio Desk - Warehouse Contact: David Humphries
Contact Phone:
Contact Email: Dhumphries@ohiodesk.com
4851 Van Epps, Brooklyn Heights, OH 44131
Phone:
Fax:
OpenSquare Contact: Jeff Rospond
Contact Phone:(509) 483-1000
Contact Email: jrospond@open-sq.com
126 South Sheridan Street, Spokane, WA 99202
Phone:(509) 483-1000
Fax:(509) 483-1011
OpenSquare Contact: Jeff Rospond
Contact Phone:(206) 768-8000
Contact Email: jrospond@open-sq.com
5601 6th Avenue South, Seattle, WA 98108
Phone:(206) 768-8000
Fax:(206) 768-0236
OpenSquare Contact: Jeff Rospond
Contact Phone:(206) 768-8000
Contact Email: jrospond@open-sq.com
6804 South 212th Street, Kent, WA 98032
Phone:(206) 768-8000
Fax:(206) 768-0236
OpenSquare - Seattle Customer Service Center Contact: Jeff Rospond
Contact Phone:(206) 768-8000
Contact Email: jrospond@open-sq.com
6000 East Marginal Way S., Seattle, WA 98018
Phone:(206) 768-8000
Fax:(206) 762-1945
OstermanCron Contact: Keith Cron
Contact Phone:(513) 771-3377
Contact Email: KeithC@ostermancron.com
10830 Millington Court, Cincinnati, OH 45242
Phone:(513) 771-3377
Fax:
Oswalt Office Interiors (W H Oswalt Co) Contact: John Dye
Contact Phone:(419) 529-3575
Contact Email: jdye@oswaltofficefurniture.com
557 North Home Road, Mansfield, OH 44906
Phone:(419) 529-3575
Fax:(419) 529-3575
Pear Workplace Solutions Contact: John Robbins
Contact Phone:(303) 824-2000
Contact Email: jrobbins@pearwork.com
1515 Arapahoe Street, Tower 1, Denver, CO 80202
Phone:(303) 824-2000
Fax:(303) 824-2001
Perdue, Inc. Contact: Vincent A. McCormack
Contact Phone:(904) 737-5858
Contact Email: vince.mccormack@perdueoffice.com
5 W. Forsyth Street, , Jacksonville, FL 32202
Phone:(904) 737-5858
Fax:
Perdue, Inc. Contact: Vincent A. McCormack
Contact Phone:(850) 383-4225
Contact Email: vince.mccormack@perdueoffice.com
313 N. Monroe Street, Tallahassee, FL 32301
Phone:(850) 383-4225
Fax:
Pivot Interiors (North) Contact: Ken Baugh
Contact Phone:(415) 392-6800
Contact Email: kbaugh@pivotinteriors.com
333 Bush Street, San Francisco, CA 94104
Phone:(415) 392-6800
Fax:
Pivot Interiors (North) Contact: Ken Baugh
Contact Phone:(408) 432-5600
Contact Email: kbaugh@pivotinteriors.com
3355 Scott Blvd., Santa Clara, CA 95054
Phone:(408) 432-5600
Fax:
Pivot Interiors (North) Contact: Ken Baugh
Contact Phone:(408) 432-5600
Contact Email: kbaugh@pivotinteriors.com
48888 Freemont Blvd, Freemont, CA 94538
Phone:(408) 432-5600
Fax:
Pivot Interiors (South) Contact: Ken Baugh
Contact Phone:(714) 739-5293
Contact Email: kbaugh@pivotinteriors.com
16651 Knott Avenue, La Mirada, CA 90638
Phone:(714) 739-5293
Fax:
Pivot Interiors (South) Contact: Ken Baugh
Contact Phone:(657) 232-9300
Contact Email: kbaugh@pivotinteriors.com
3200 Park Center Drive, Costa Mesa, CA 92626
Phone:(657) 232-9300
Fax:
Pivot Interiors (South) Contact: Ken Baugh
Contact Phone:(323) 801-2000
Contact Email: kbaugh@pivotinteriors.com
6420 Wilshire Boulevard, Los Angeles, CA 90048
Phone:(323) 801-2000
Fax:
PMC Commercial Interiors Contact: Harry Chalker
Contact Phone:(919) 325-0002
Contact Email: harry@pmccommercialinteriors.com
3000 Perimeter Park Drive, Morrisville, NC 27560
Phone:(919) 325-0002
Fax:(919) 829-0103
PMC Commercial Interiors Contact: Mike Todd
Contact Phone:(704) 343-9199
Contact Email: miket@pmccommercialinteriors.com
11435 Granite Street, Charlotte, NC 28273
Phone:(704) 343-9199
Fax:(704) 343-0199
PMC Commercial Interiors Contact: Kelsey Brown
Contact Phone:(336) 324-9396
Contact Email: kelsey@pmccommercialinteriors.com
111 W. Lewis Street,, Greensboro, NC 27406
Phone:(336) 324-9396
Fax:(336) 550-4991
Prentice Office (Warehouse location only) Contact: Jan Malof
Contact Phone:(716) 694-1950
Contact Email: jmalof@is-wyn.com
777 Young Street, Tonawanda, NY 14150
Phone:(716) 694-1950
Fax:(716) 694-1986
Prentice Office Environments Contact: Jan Malof
Contact Phone:(716) 884-8452
Contact Email: jmalof@is-wny.com
472 Franklin Street, Buffalo, NY 14202
Phone:(716) 884-8452
Fax:(716) 884-0894
Price Modern, LLC Contact: Robert Cooper
Contact Phone:(410) 366-5500
Contact Email: robert.cooper@pricemodern.com
2604 Sisson Street, Baltimore, MD 21211
Phone:(410) 366-5500
Fax:(410) 235-8382
Price Modern, LLC Contact: Robert Cooper
Contact Phone:(301) 459-8111
Contact Email: robert.cooper@pricemodern.com
440 Forbes Blvd.,, Lanham, MD 20706
Phone:(301) 459-8111
Fax:(301) 459-3715
Price Modern, LLC (Distribution Center) Contact: Robert Cooper
Contact Phone:(410) 366-5500
Contact Email: robert.cooper@pricemodern.com
1101 Desoto Road, Baltimore, MD 21223
Phone:(410) 366-5500
Fax:
R O I Office Interiors Contact: Robert Angelicola
Contact Phone:(518) 486-8180
Contact Email: rob@roiofficeinteriors.com
50 State Street, 2nd Floor, Albany, NY 12207
Phone:(518) 486-8180
Fax:(518) 486-8181
R O I Office Interiors Contact: Robert Angelicola
Contact Phone:(315) 410-7970
Contact Email: rob@roiofficeinteriors.com
100 Clinton Sq Bldg., 126 N. Salina Street, Syracuse, NY 13202
Phone:(315) 410-7970
Fax:(315) 410-7973
R O I Office Interiors Contact: Robert Angelicola
Contact Phone:(315) 334-1388
Contact Email: rob@roiofficeinteriors.com
144 Hangar Road, Rome, NY 13441
Phone:(315) 334-1388
Fax:(315) 334-4413
RCF Group Contact: Carl Satterwhite
Contact Phone:(216) 781-8200
Contact Email: carl@r-c-f.com
2425 W. 11th Street, Cleveland, OH 44113
Phone:(216) 781-8200
Fax:(216) 781-8206
RCF Group Contact: Carl Satterwhite
Contact Phone:(513) 612-7303
Contact Email: carl@r-c-f.com
6454 Centre Park Drive, West Chester, OH 45069
Phone:(513) 612-7303
Fax:(513) 612-7313
Red Thread - Warehouse Contact: Jeff Keener
Contact Phone:(203) 907-4687
Contact Email: jkeener@red-thread.com
297 State Street,, North Haven, CT 06473
Phone:(203) 907-4687
Fax:(203) 907-4690
Red Thread - Boston - Sales/Showroom Contact: Jeff Keener
Contact Phone:(617) 439-4900
Contact Email: jkeener@red-thread.com
101 Seaport Boulevard, Boston, MA 02210
Phone:(617) 439-4900
Fax:(617) 439-4131
Red Thread - Sales Office Contact: Jeff Keener
Contact Phone:(413) 736-1802
Contact Email: jkeener@red-thread.com
1350 Main Street, Springfield, MA 01103
Phone:(413) 736-1802
Fax:(413) 736-6145
Red Thread - Sales Office Contact: Jeff Keener
Contact Phone:(203) 874-7754
Contact Email: jkeener@red-thread.com
488 Wheelers Farms Road, Milford, CT 06461
Phone:(203) 874-7754
Fax:(203) 876-7915
Red Thread - Sales Office Contact: Jeff Keener
Contact Phone:(860) 489-0257
Contact Email: jkeener@red-thread.com
40 Main Street, Torrington, CT 06790
Phone:(860) 489-0257
Fax:
Red Thread - Sales/Showroom Contact: Jeff Keener
Contact Phone:(860) 528-9981
Contact Email: jkeener@red-thread.com
300 East River Drive, East Hartford, CT 06108
Phone:(860) 528-9981
Fax:(860) 528-1843
Red Thread - Sales/Showroom Contact: Jeff Keener
Contact Phone:(603) 668-6831
Contact Email: jkeener@red-thread.com
650 Elm Street, Manchester, NH 03101-1160
Phone:(603) 668-6831
Fax:(603) 668-6851
Red Thread - Sales/Showroom Contact: Jeff Keener
Contact Phone:(508) 449-6550
Contact Email: jkeener@red-thread.com
293 Boston Post Road West, Marlborough, MA 01752
Phone:(508) 449-6550
Fax:(508) 449-6570
Red Thread - Sales/Showroom Contact: Jeff Keener
Contact Phone:(203) 487-1850
Contact Email: jkeener@red-thread.com
700 Canal Street, Stamford, CT 06902
Phone:(203) 487-1850
Fax:(203) 487-1854
Red Thread -Sales/Showroom Contact: Jeff Keener
Contact Phone:(800) 635-4874
Contact Email: jkeener@red-thread.com
180 Battery Street, , Burlington, VT 05401
Phone:(800) 635-4874
Fax:(802) 862-0729
Red Thread - Warehouse Contact: Jeff Keener
Contact Phone:(978) 658-3900
Contact Email: jkeener@red-thread.com
100 Fordham Road, Wilmington, MA 01887
Phone:(978) 658-3900
Fax:(978) 694-4107
Red Thread - Warehouse Contact: Jeff Keener
Contact Phone:(800) 635-4874
Contact Email: jkeener@red-thread.com
301 Avenue D., Williston, VT 05495
Phone:(800) 635-4874
Fax:(802) 862-0729
Red Thread - Warehouse Contact: Jeff Keener
Contact Phone:(207) 774-4900
Contact Email: jkeener@red-thread.com
174 Cash Street, South Portland, ME 04106
Phone:(207) 774-4900
Fax:(207) 774-8155
Red Thread (formerly BI) Contact: Jeff Keener
Contact Phone:(207) 774-4900
Contact Email: jkeener@red-thread.com
One City Center ( 1 Free Street for GPS), Portland, ME 04101
Phone:(207) 774-4900
Fax:(207) 774-8155
Resource One Contact: Cindy Davis
Contact Phone:(217) 753-5742
Contact Email: cdavis@resourceoneoffice.com
321 East Adams, Springfield, IL 62701
Phone:(217) 753-5742
Fax:(217) 753-5748
RHTX LLC Contact: Heidi Busmail
Contact Phone:
Contact Email: sales@rhtxsa.com
4434 Centergate Street San Antonio, Texas 78217
Phone:(210) 287-3368
Fax:
RJE Business Interiors Contact: Amanda Ghourdjian
Contact Phone:(513) 641-3700
Contact Email: aghourdjian@rjefurn.com
623 Broadway Street, Cincinnati, OH 45202
Phone:(513) 641-3700
Fax:(513) 641-0744
RJE Business Interiors Contact: Amanda Ghourdjian
Contact Phone:(317) 293-4051
Contact Email: aghourdjian@rjefurn.com
621 East Ohio Street, Indianapolis, IN 46202
Phone:(317) 293-4051
Fax:(317) 297-8513
RJE Business Interiors Contact: Amanda Ghourdjian
Contact Phone:(260) 702-3030
Contact Email: aghourdjian@rjefurn.com
301 West Jefferson Blvd, Fort Wayne, IN 46802
Phone:(260) 702-3030
Fax:
Russell Ventures Contact: Brookie Keener
Contact Phone:(678) 574-9805
Contact Email: Brookie@russellventures.com
322 Northpoint Parkway, Suite D, Acworth, GA 30101
Phone:(678) 574-9805
Fax:(678) 574-9808
Saxton, Inc. Contact: Kim Augspurger
Contact Phone:(515) 244-6116
Contact Email: kim-augspurger@saxtoninc.com
108 Third Street, Des Moines, IA 50309
Phone:(515) 244-6116
Fax:(515) 244-6351
Saxton, Inc. Contact: Kim Augspurger
Contact Phone:(319) 365-6967
Contact Email: kim-augspurger@saxtoninc.com
600 3rd Street SE, Cedar Rapids, IA 52401-2010
Phone:(319) 365-6967
Fax:
School Specialty schoolspecialty.com
Contact: Desiree Davidson
Contact Phone:(800) 305-0174
Contact Email: desiree.davidson@schoolspecialty.com
100 Paragon Parkway, Mansfield, OH 44903
Phone:(800) 305-0174
Fax:(419) 520-4035
Scott Rice Contact: Steve Morrow
Contact Phone:(918) 362-4300
Contact Email: steve.morrow@scottriceok.com
2900 North Hemlock Circle, Broken Arrow, OK 74012
Phone:(918) 362-4300
Fax:(918) 362-4303
Scott Rice (This location is now closed) Contact: Steve Morrow
Contact Phone:(417) 623-7232
Contact Email: steve.morrow@scottriceok.com
100 E Spring Street, Neosho (Joplin), MO 64850
Phone:(417) 623-7232
Fax:(918) 362-4303
Sheppard's Business Interiors Contact: Dave Parker
Contact Phone:(402) 393-8888
Contact Email: dparker@sbi-omaha.com
725 South 72nd Street, Omaha, NE 68114
Phone:(402) 393-8888
Fax:(402) 393-0113
Smart Office Interiors Contact: Robert McInerney
Contact Phone:(805) 965-8585
Contact Email: rmcinerney@smartofficeinteriors.com
18 Anacapa Street, Santa Barbara, CA 93101
Phone:(805) 965-8585
Fax:(805) 965-5119
Smith and Butterfield Contact:
Contact Phone:(812) 422-3261
Contact Email:
2800 Lynch Road, Evansville, IN 47711
Phone:(812) 422-3261
Fax:(812) 429-0532
Smith CFI Contact: Jeff Iwasaki
Contact Phone:(541) 317-8777
Contact Email: jeffi@smithcfi.com
150 SW Scalehouse Loop, Bend, OR 97702
Phone:(541) 317-8777
Fax:(541) 317-2833
Smith CFI Contact: Jeff Iwasaki
Contact Phone:(503) 226-4151
Contact Email: jeffi@smithcfi.com
620 NE 19th Avenue, Portland, OR 97232
Phone:(503) 226-4151
Fax:(503) 226-9233
Smith CFI - Warehouse Contact: Jeff Iwasaki
Contact Phone:
Contact Email: jeffi@smithcfi.com
6032 N. Cutter Circle, , Portland, OR 97217
Phone:
Fax:(503) 735-9188
Spaces, Inc. Contact: Trisha Allenbrand
Contact Phone:(913) 894-8900
Contact Email: tallenbrand@spacesinc.com
14950 W. 86th Street, Lenexa, KS 66215
Phone:(913) 894-8900
Fax:(913) 894-8890
Spencer Company Contact: John Courson
Contact Phone:(214) 720-0345
Contact Email: john@spencer-furniture.com
150 Turtle Creek Blvd., Dallas, TX 75207
Phone:(214) 720-0345
Fax:(214) 720-7708
Stationers, Inc. Contact:
Contact Phone:(304) 528-2780
Contact Email:
100 Industrial Lane, Huntington, WV 25702
Phone:(304) 528-2780
Fax:(304) 528-2795
Suite Spaces Contact: Karen Kirt
Contact Phone:(218) 824-7878
Contact Email: karen@suitespaces.com
15229 Edgewood Drive, Baxter, MN 56425
Phone:(218) 824-7878
Fax:(218) 824-7879
Suite Spaces Contact: Karen Kirt
Contact Phone:(320) 443-6000
Contact Email: karen@suitespaces.com
50 14th Avenue East, Sartell, MN 56377
Phone:(320) 443-6000
Fax:
Synergy Business Environments Contact: Michael Moore
Contact Phone:(865) 637-3214
Contact Email: mmoore@synergybe.com
555 West Jackson Avenue, Knoxville, TN 37902
Phone:(865) 637-3214
Fax:(865) 637-4377
Synergy Business Environments Contact: Michael Moore
Contact Phone:(615) 383-6799
Contact Email: mmoore@synergybe.com
800 6th Avenue S, Nashville, TN 37203
Phone:(615) 383-6799
Fax:(615) 383-8106
Systems Furniture, Inc. Contact: Curt Beilke
Contact Phone:(920) 336-1510
Contact Email: Curt.Beilke@sysfurniture.com
125 S Broadway, De Pere, WI 54115
Phone:(920) 336-1510
Fax:(920) 336-4008
Systems Source, Inc Contact: Richard Driscoll
Contact Phone:(949) 852-0920
Contact Email: rdriscoll@systemsource.com
3161 Michelson Drive, Irvine, CA 92612
Phone:(949) 852-0920
Fax:(949) 852-0929
Systems Source, Inc Contact: Richard Driscoll
Contact Phone:(310) 234-9814
Contact Email: rdriscoll@systemsource.com
6701 Center Drive West, Los Angeles, CA 90045
Phone:(310) 234-9814
Fax:(310) 234-9434
Systems Source, Inc Contact: Richard Driscoll
Contact Phone:(619) 822-2453
Contact Email: rdriscoll@systemsource.com
530 "B" Street, San Diego, CA 92101
Phone:(619) 822-2453
Fax:
Systems Source, Inc Contact: Richard Driscoll
Contact Phone:(509) 720-0410
Contact Email: rdriscoll@systemsource.com
601 West 1st Avenue, Spokane, WA 99201
Phone:(509) 720-0410
Fax:
Systems Source, Inc Contact: Richard Driscoll
Contact Phone:(206) 285-2208
Contact Email: rdriscoll@systemsource.com
130 Andover Park East, Tukwila, WA 98188
Phone:(206) 285-2208
Fax:
Tangram Interiors Contact: Joe Lozowski
Contact Phone:(949) 955-6700
Contact Email: jlozoski@tangraminteriors.com
1375 Dove Street, Newport Beach, CA 92660
Phone:(949) 955-6700
Fax:(949) 955-6799
Tangram Interiors Contact: Joe Lozowski
Contact Phone:(562) 365-5000
Contact Email: jlozoski@tangraminteriors.com
527 West 7th Street, Los Angeles, CA 90017
Phone:(562) 365-5000
Fax:(562) 365-5399
Tangram Interiors Contact: Joe Lozowski
Contact Phone:(562) 365-5000
Contact Email: jlozoski@tangraminteriors.com
9200 Sorensen Avenue, Santa Fe Springs, CA 90670
Phone:(562) 365-5000
Fax:(562) 365-5399
Tangram Interiors Contact: Joe Lozowski
Contact Phone:(559) 275-7070
Contact Email: jlozoski@tangraminteriors.com
677 West Palmdon Drive, Fresno, CA 93704
Phone:(559) 275-7070
Fax:(559) 275-7080
Tangram Interiors Contact: Joe Lozowski
Contact Phone:(661) 397-5300
Contact Email: jlozoski@tangraminteriors.com
1830 Norris Road (warehouse), Bakersfield, CA 93308
Phone:(661) 397-5300
Fax:
Team Office Contact: Brad Justice
Contact Phone:(816) 221-9155
Contact Email: bjustice@teamoffice.us
10 S. Hill Street, Kansas City, MO 66103
Phone:(816) 221-9155
Fax:
Team Office Contact: Brad Justice
Contact Phone:(816) 221-9155
Contact Email: bjustice@teamoffice.us
316 Southwest Blvd, Kansas City, MO 64108
Phone:(816) 221-9155
Fax:
The Library Store thelibrarystore.com
Contact: Sara Jordan
Contact Phone:(800) 548-7204
Contact Email: saraj@thelibrarystore.com
PO Box 0964, Tremont, IL 61568-0964
Phone:(800) 548-7204
Fax:
Thomas Brothers Workspace Solutions Contact: Terry Thomas
Contact Phone:(417) 865-2876
Contact Email: terry@thomasbrothersoffice.com
320 West Walnut, Springfield, MO 65806
Phone:(417) 865-2876
Fax:(417) 865-0610
Thomas Interior Systems Contact: Thomas Klobucher
Contact Phone:(630) 980-4200
Contact Email: tklobucher@thomasinterior.com
476 Brighton Drive, Bloomingdale, IL 60108
Phone:(630) 980-4200
Fax:
Thomas Interior Systems Contact: Thomas Klobucher
Contact Phone:(312) 332-5800
Contact Email: tklobucher@thomasinterior.com
180 North Wacker Drive, Chicago, IL 60606
Phone:(312) 332-5800
Fax:
Trico Office Interiors Contact: Jon Rawitzer
Contact Phone:(360) 734-1470
Contact Email: JR@tricoofficeinteriors.com
1205 Commercial Street, Bellingham, WA 98225
Phone:(360) 734-1470
Fax:(360) 734-7372
Trico Office Interiors Contact: Jon Rawitzer
Contact Phone:(360) 734-1470
Contact Email: JR@tricoofficeinteriors.com
1215 Commercial Street, Bellingham, WA 98225
Phone:(360) 734-1470
Fax:(360) 734-7372
Unisource Solutions Contact: Jim Kastner
Contact Phone:(858) 755-1390
Contact Email: jkastner@unisourceit.com
5010 Shoreham Place, San Diego, CA 92122
Phone:(858) 755-1390
Fax:(858) 755-1498
Unisource Solutions Contact: Jim Kastner
Contact Phone:(818) 226-0642
Contact Email: jkastner@unisourceit.com
21820 Burbank Blvd., Woodland Hills, CA 91367
Phone:(818) 226-0642
Fax:(818) 226-0645
Unisource Solutions Contact: Jim Kastner
Contact Phone:(562) 949-1111
Contact Email: jkastner@unisourceit.com
8350 Rex Road, Pica Rivera, CA 90660
Phone:(562) 949-1111
Fax:(562) 949-7110
Unisource Solutions Contact: Jim Kastner
Contact Phone:(510) 475-2000
Contact Email: jkastner@unisourceit.com
31101 Wiegman Road, Hayward, CA 94545
Phone:(510) 475-2000
Fax:(510) 475-9922
Vangard Concept Offices Contact: Jeff Tuttle
Contact Phone:(925) 201-5950
Contact Email: jtuttle@vcoffices.com
6800 Koll Center Parkway, Pleasanton, CA 94566
Phone:(925) 201-5950
Fax:
Vangard Concept Offices Contact: Jeff Tuttle
Contact Phone:(612) 714-2529
Contact Email: jtuttle@vcoffices.com
350 South Mill Street, Tempe, AZ 85281
Phone:(612) 714-2529
Fax:
Vangard Concept Offices Contact: Jeff Tuttle
Contact Phone:(520) 591-3965
Contact Email: jtuttle@vcoffices.com
7850 North Silverbell Road, Tucson, AZ 85743
Phone:(520) 591-3965
Fax:
Vangard Concept Offices Contact: Jeff Tuttle
Contact Phone:(415) 644-5959
Contact Email: jtuttle@vcoffices.com
250 Sutter Street, San Francisco, CA 94108
Phone:(415) 644-5959
Fax:
Vangard Concept Offices Contact: Jeff Tuttle
Contact Phone:(408) 325-3200
Contact Email: jtuttle@vcoffices.com
2150 North First Street, San Jose, CA 95131
Phone:(408) 325-3200
Fax:
W.B. Mason wbmason.com
Contact: John Webb
Contact Phone:(800) 242-5892
Contact Email: john.webb@wbmason.com
59 Centre St, Brockton, MA 2303
Phone:(800) 242-5892
Fax:(800) 773-4488
WB Wood Contact: Richard Mines
Contact Phone:(908) 901-0001
Contact Email: rmines@wbwood.com
175 Morristown Road, Basking Ridge, NJ 07920
Phone:(908) 901-0001
Fax:(908) 901-0002
WB Wood Contact: Richard Mines
Contact Phone:(212) 206-9500
Contact Email: rmines@wbwood.com
225 Park Avenue South, New York, NY 10003
Phone:(212) 206-9500
Fax:(212) 206-9222
Wells & Kimich, Inc Contact: Michael Wells
Contact Phone:(713) 856-9900
Contact Email: mwells@wellskimich.com
5530 Brystone Drive, Houston, TX 77041
Phone:(713) 856-9900
Fax:(713) 856-9988
White Office Furniture Ltd. Contact: Jennifer Baxley
Contact Phone:(803) 328-1821
Contact Email: jbaxley@whiteofficefurniture.com
109 Hampton Street, Rock Hill, SC 29730
Phone:(803) 328-1821
Fax:
Wilson Office Interiors Contact: John Young
Contact Phone:(972) 488-4100
Contact Email: jyoung@wilsonoi.com
1444 Oak Lawn Avenue, Dallas, TX 75207
Phone:(972) 488-4100
Fax:(972) 488-8815
Wilson Office Interiors - Operations/Warehouse Contact: John Young
Contact Phone:(972) 488-4100
Contact Email: jyoung@wilsonoi.com
5051 Pulaski Street, Dallas, TX 75247
Phone:(972) 488-4100
Fax:(214) 905-7566
Working Spaces, Inc. Contact: Nancy Apel
Contact Phone:(816) 234-8778
Contact Email: napel@wspaces.com
104 West 9th Street, Kansas City, MO 64105
Phone:(816) 234-8778
Fax:(816) 234-8779
Working Spaces, Inc. Contact: Nancy Apel
Contact Phone:(314) 918-8778
Contact Email: napel@wspaces.com
11624 Page Service Drive, St. Louis, MO 63146
Phone:(314) 918-8778
Fax:(314) 918-8780
Working Spaces, Inc. Contact: Nancy Apel
Contact Phone:(314) 918-8778
Contact Email: napel@wspaces.com
2801 Woodard Drive, Columbia, MO 65202
Phone:(314) 918-8778
Fax:(314) 918-8780
Workplace Resource - Colorado Contact: Carla Dore
Contact Phone:(719) 632-1123
Contact Email: carla.dore@wrcolo.com
13 South Tejon Street, Colorado Springs, CO 80903
Phone:(719) 632-1123
Fax:(719) 632-9619
Workplace Resource - Colorado Contact: Carla Dore
Contact Phone:(303) 571-5211
Contact Email: carla.dore@wrcolo.com
1899 Wynkoop Street,, Denver, CO 80202
Phone:(303) 571-5211
Fax:(303) 571-4888
Workplace Resource - Colorado Contact: Carla Dore
Contact Phone:(303) 571-5211
Contact Email: carla.dore@wrcolo.com
9600 East 40th Avenue, Denver, CO 80238
Phone:(303) 571-5211
Fax:(303) 571-4888
Workscapes Inc. Contact: Dick Dvorak
Contact Phone:(904) 858-9918
Contact Email: ddvorak@workscapes.com
121 West Forsyth Street, Jacksonville, FL 32202
Phone:(904) 858-9918
Fax:(904) 858-9951
Workscapes Inc. Contact: Dick Dvorak
Contact Phone:(813) 620-0048
Contact Email: ddvorak@workscapes.com
501 E. Kennedy Blvd, Tampa, FL 33602
Phone:(813) 620-0048
Fax:(813) 620-1477
Workscapes Inc. Contact: Dick Dvorak
Contact Phone:(407) 599-6770
Contact Email: ddvorak@workscapes.com
1173 North Orange Avenue, Orlando, FL 32804
Phone:(407) 599-6770
Fax:(407) 599-6780
Workscapes Inc. Contact: Dick Dvorak
Contact Phone:(239) 278-5588
Contact Email: ddvorak@workscapes.com
8771 College Parkway, Fort Myers, FL 33919
Phone:(239) 278-5588
Fax:(239) 278-1627
Workscapes Inc. Contact: Dick Dvorak
Contact Phone:(954) 467-8349
Contact Email: ddvorak@workscapes.com
4740 N.W. 15th Avenue, Fort Lauderdale, FL 33309
Phone:(954) 467-8349
Fax:
Workscapes Inc. (Headquarters) Contact: Dick Dvorak
Contact Phone:(305) 400-8108
Contact Email: ddvorak@workscapes.com
1395 Coral Way (1395 SW 22nd Street), Miami, FL 33145
Phone:(305) 400-8108
Fax:
Workspace Interiors by Office Depot workspaceinteriorsod.com
Contact: Cristel Hutchinson
Contact Phone:(360) 481-1884
Contact Email: cristel.hutchinson@workspaceinteriorsod.com
6805 S. 217th Street, Kent, WA 98032
Phone:(360) 481-1884
Fax:
Young Office Environments Inc. Contact: Thomas Young
Contact Phone:(864) 574-2344
Contact Email: TRYoung@youngos.com
105 Southport Road, Spartanburg, SC 29306
Phone:(864) 574-2344
Fax:(864) 574-2753
Young Office Environments Inc. Contact: Thomas Young
Contact Phone:(864) 281-9500
Contact Email: TRYoung@youngos.com
1280 Ridge Road, Greenville, SC 29607
Phone:(864) 281-9500
Fax:(864) 281-9555
Young Office Environments Inc. Contact: Thomas Young
Contact Phone:(828) 552-3112
Contact Email: TRYoung@youngos.com
71 Thompson Street, Asheville, NC 28803
Phone:(828) 552-3112
Fax:(828) 505-1974