EMAIL PO & VENDOR QUOTE TO: TIPSPO@TIPS-USA.COM
PO MUST REFERENCE VENDOR'S TIPS CONTRACT NUMBER
ATTACH PO AS A PDF - ONLY ONE PO (WITH QUOTE) PER ATTACHMENT

Print
VENDOR

Generated Energy Solutions LLC

212 McClanahan Dr Bryant AR,72022

WEBSITE

www.ges-ar.com

SERVICE/PRODUCTS DESCRIPTION

As part of a company that has been in business for over 30 years, Generated Energy Solutions is proud to offer its service and experience in standby backup power equipment. Our service area covers the entire state of Arkansas, and we have a wide range of products that can suit the need of just about any setup– including homes, small businesses, larger commercial businesses and even industrial operations. Our installation sites range from the typical home to gas stations and restaurants, and we've also been asked to do some government work. Each of our generators comes with a factory warranty when installed by a certified technician, no matter your preference of fuel type, diesel, lp, natural gas, gasoline, or even dual fuel lp and natural gas, we can handle it. Make the choice today, for your peace of mind, so you can live confidently.
Generated Energy Solutions LLC
CONTRACT: 18020301 Renewable Energy and Solar Solutions and Services
Apr-26-2018 to Apr-26-2021
EDGAR COMPLIANCE : (Contact TIPS for Verification)
Generated Energy Solutions LLC

Print
Renewable Energy and Solar Solutions and Services(18020301)
Exp.Date 04/26/2021 EDGAR: (Contact TIPS for Verification)
| | |
| --- | --- |
| | Secondary |
| Contact | Libby Martinez |
| Title | customer relations |
| Phone | (501) 326-6400 |
| Email | lmartinez@fleminc.com |
| | |
| --- | --- |
| DISADVANTAGED/MINORITY/WOMAN BUSINESS ENTERPRISE | YES |
| HISTORICALLY UNDERUTILIZED BUSINESS (HUB) | No |
| | |
| --- | --- |
| | AR , MO , TX , OK , MS |
Live Oak Equipment Finance is the exclusive financial parter of TIPS! Allow LOEF to help assist you in your financial needs today!

We are committed to provide a financing experience based on unwavering integrity, unmatched service and complete transparency. Our processes have been established with the client in mind, and we are dedicated to ensuring that you enjoy your experience working with our team. Our goal is for you to build a long-term relationship with Live Oak Equipment Finance, not only as your financial partner, but also a firm that can help you grow and excel as a professional in your industry.
Contact Information:
Phone: (512) 726-0367
Email: tips@loeqf.com
Website: www.loeqf.com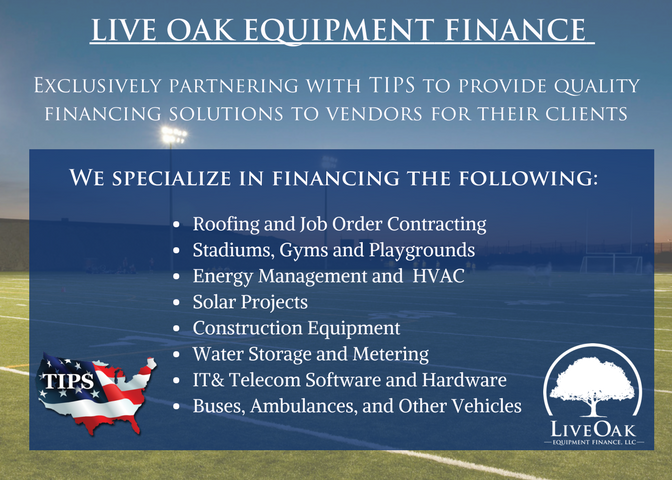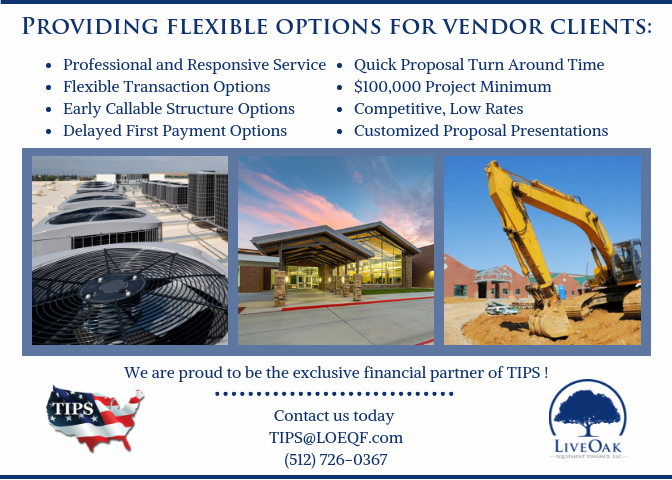 Get VCard for Primary Contact by Contract
Generated Energy Solutions LLC
Resellers listed below may also hold a current TIPS contract. PO's for quotes provided by a reseller that are also awarded in the same category will be processed and sent directly to that reseller.

Please check under "ALL VENDORS" before requesting a quote from any listed reseller.
Resellers
Address
Generac www.eenerac.com
Contact:
Contact Phone:(888) 436-3722
Contact Email:
Wisconsin 59 Waukesha, WI 53189
Phone:(262) 472-6505
Fax:(262) 472-6505
RP Power www.rp-corp.com
Contact:
Contact Phone:(501) 568-3000
Contact Email:
7777 North Shore Place, North Little Rock, AR
Phone:
Fax:
Wholesale Electric Supply www.netwes.com
Contact: Fred LaMaster
Contact Phone:(501) 372-5154
Contact Email: fred@netwes.com
1901 East 17th, Street, Little Rock, AR 72202
Phone:(903) 794-3400
Fax:(903) 794-3400