EMAIL PURCHASE ORDER TO: TIPSPO@TIPS-USA.COM
ATTACH PO AS A PDF - ONLY ONE PO PER EMAIL
PO MUST REFERENCE TIPS CONTRACT NUMBER
VENDOR

Toshiba America Business Solutions Inc

WEBSITE

www.business.toshiba.com

SERVICE/PRODUCTS DESCRIPTION

Toshiba is a leading provider of award-winning document imaging products and document management and workflow olutions throughout the US, Canada, Mexico, Latin America and the Caribbean. Toshiba's portfolio includes not only award-winning products and services but also professional services in the area of document security, document assessment, asset management and fleet optimization. Toshiba is marketing its MFDs and facsimiles to TIPS members through its authorized service providers. Please access our catalog, contract information and reseller information through the link provided.
Toshiba America Business Solutions Inc
CONTRACT DOCUMENTS

Documents currently are being reviewed ..
TIPS CONTACT

PAYMENT TO

NAME

Meredith Barton

ADDRESS:

9740 Irvine Blvd

POSITION

TIPS CONTACT

PHONE

(866)-839-8477

CITY:

Irvine

FAX

(866)-839-8472

STATE:

CA

MOBILE

ZIP:

92618

EMAIL

tips@tips-usa.com
| | |
| --- | --- |
| FEDERAL OR EDGAR COMPLIANCE DOCUMENTS FILED WITH CONTRACT: | NO |
| DISADVANTAGED/MINORITY/WOMAN BUSINESS ENTERPRISE | NO |
| HISTORICALLY UNDERUTILIZED BUSINESS (HUB) | NO |
| | |
| --- | --- |
| | AL AK AZ AR CA CO CT DE DC FL GA HI ID IL IN IA KS KY ME MD MA MI MN MS MO MT NE NV NH NJ NM NY NC ND OH OK OR PA RI SC SD TN TX UT VT VA WA WI WY |
0

We are committed to provide a financing experience based on unwavering integrity, unmatched service and complete transparency. Our processes have been established with the client in mind, and we are dedicated to ensuring that you enjoy your experience working with our team. Our goal is for you to build a long-term relationship with Live Oak Equipment Finance, not only as your financial partner, but also a firm that can help you grow and excel as a professional in your industry.
Contact Information:
Phone: (512) 726-0367
Email: tips@loequipmentfinance.com
Website: www.loequipmentfinance.com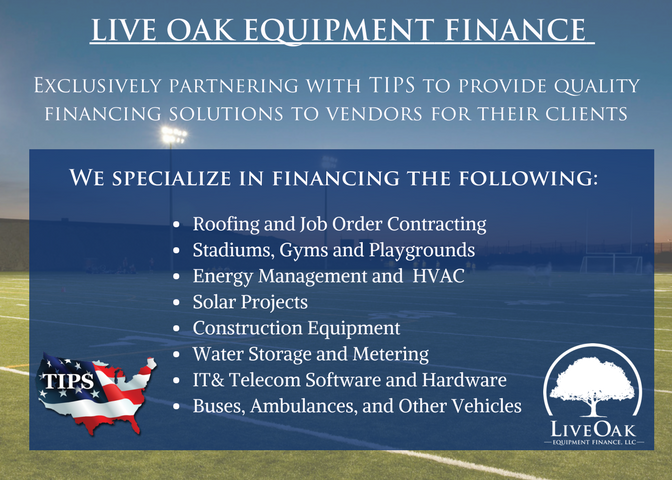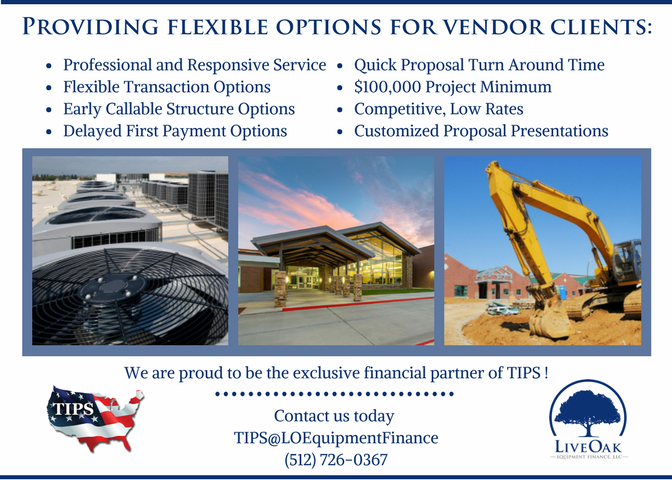 Resellers listed below may also hold a current TIPS contract. PO's for quotes provided by a reseller that are also awarded in the same category will be processed and sent directly to that reseller.
Please check under "ALL VENDORS" before requesting a quote from any listed reseller.
Resellers
Address
AA Office Equipment Co. www.aaoffice.com
Contact: Jim Dye
Contact Phone:(510) 782-6110
Contact Email: jdye@aaoffice.com
1278 West Winton Ave, Hayward, CA 94545
Phone:(510) 782-6110
Fax:
ABS Business Systems of Anniston www.absofficesystems.com
Contact: Brian Woodfin
Contact Phone:(256) 236-5536
Contact Email: brian@absofficesystems.com
260 Industrial Drive Extension, Oxford, AL 36203
Phone:(256) 236-5536
Fax:
ABS Business Systems of Mobile www.absofmobile.com
Contact: JT Ray
Contact Phone:(251) 661-7267
Contact Email: jraysr@aol.com
4950 Tufts Road, Mobile, AL 36619
Phone:(251) 661-7267
Fax:
ABS Business Systems of Montgomery www.absmgm.com
Contact: Eddie Cobb
Contact Phone:(334) 396-0809
Contact Email: ecobb@absmgm.com
868 Lagoon Commercial Blvd, Montgomery, AL 36117
Phone:(334) 396-0809
Fax:
Adams Remco Inc www.adamsremco.com
Contact: Wade Mickey
Contact Phone:(904) 996-8001
Contact Email: wadem@adamsremco.com
3611 St. Johns Bluff Road S, Suite 7, Jacksonville, FL 32257
Phone:(904) 996-8001
Fax:
Adams Remco Inc www.adamsremco.com
Contact: Jody Carlile
Contact Phone:(574) 288-2113
Contact Email: jodyc@adamsremco.com
2612 Foundation Dr, South Bend , IN 46628
Phone:(574) 288-2113
Fax:
Advanced Business Systems www.a-b-s.com
Contact: Brian Snow
Contact Phone:(850) 222-2308
Contact Email: bsnow@a-b-s.com
1236 North Monroe Street, Tallahassee, FL 32303
Phone:(850) 222-2308
Fax:
Advanced Image Systems LLC Contact: Rob Goth
Contact Phone:(573) 635-9503
Contact Email: rgoth@advancedimagesystems.com
1003 E McCarty Jefferson City MO 65101
Phone:(573) 635-4692
Fax:(573) 635-4692
Allied Business Solutions www.digitalallied.com
Contact: Tom Beeles
Contact Phone:(208) 344-3833
Contact Email: t.beeles@digitalallied.com
10394 Emerald Street, Boise, ID 83704
Phone:(208) 344-3833
Fax:
Allied Business Solutions www.digitalallied.com
Contact: Tom Beeles
Contact Phone:(541) 889-7697
Contact Email: t.beeles@digitalallied.com
1252 Southwest 4th Avenue, Ontario, OR 97914
Phone:(541) 889-7697
Fax:
American Business Systems www.absjacksonville.com
Contact: Dave Klusmeier
Contact Phone:(904) 880-2176
Contact Email: david.k@absjacksonville.com
9637 Hood Road, Jacksonville, FL 32257
Phone:(904) 880-2176
Fax:
Appalachia Business Communications of Kingsport www.appalachiabusiness.com
Contact: Jeff Eaves
Contact Phone:(423) 477-1300
Contact Email: jeff.eaves@earthlink.net
107 Tri-Cities Business Park Drive, Gray, TN 37615
Phone:(423) 477-1300
Fax:
Automated Business Machines www.abmcol.com
Contact: Mel Smith
Contact Phone:(706) 561-0075
Contact Email: mel@abmcol.com
1730 Boxwood Place, Columbus, GA 31906
Phone:(706) 561-0075
Fax:
Axion Business Technologies Inc. www.axionbusinesstechnologies.com
Contact: Bob Ferland
Contact Phone:(401) 438-6622
Contact Email: robertferland@axionbt.com
832 Dyer Ave, Cranston, RI 2920
Phone:(401) 438-6622
Fax:
Batesville Typewriter Inc Contact: Brad Mace
Contact Phone:(870) 793-5101
Contact Email: batesvilletypewriter@suddenlinkmail.com
2705 Harrison Batesville AR 72501
Phone:(870) 793-5101
Fax:(870) 793-5101
Berry Business Machines Inc. www.berrybusinessmachines.com
Contact: Tony Berry
Contact Phone:(704) 482-4006
Contact Email: tberry@berrybusinessmachines.com
410 South Post Road, Shelby, NC 28152
Phone:(704) 482-4006
Fax:
Burtronics Business Systems www.burtronics.com
Contact: Randy Hlebasko
Contact Phone:(909) 885-7576
Contact Email: rhlesbasko@burtronics.com
216 South Arrowhead Ave., San Bernardino, CA 92408
Phone:(909) 885-7576
Fax:
Business Copier Solutions www.bcccopy.com
Contact: Keith Justus
Contact Phone:(858) 668-0809
Contact Email: kjustus@bccopy.com
13750 Danielson Street, Poway, CA 92064
Phone:(858) 668-0809
Fax:
Business Solutions Intl Contact: Ellis Gerald
Contact Phone:(713) 787-1200
Contact Email: gwargo@digitalbsi.com
9203 Emmott Rd Houston TX 77040
Phone:(713) 918-5900
Fax:(713) 918-5900
Coast To Coast Equip & Supply Contact: Faye Birk
Contact Phone:(314) 892-0250
Contact Email: fbirk@ctcstl.com
10964 Lin-Valle Saint Louis MO 63123
Phone:(314) 892-0825
Fax:(314) 892-0825
Copy Concepts Inc. www.copyconceptsinc.com
Contact: Ron Hickox
Contact Phone:(239) 275-9101
Contact Email: cdargis@copyconceptsinc.com
11901 Metro Parkway, Fort Myers, FL 33912
Phone:(239) 275-9101
Fax:
Copy Products Inc Contact: Erik Crane
Contact Phone:(417) 889-5665
Contact Email: ecrane@copyproductsinc.net
2103 West Vista St Springfield MO 65807
Phone:(417) 889-7712
Fax:(417) 889-7712
Copy Products Inc Contact: Erik Crane
Contact Phone:(417) 624-9946
Contact Email: ecrane@copyprodcutsinc.net
809 Katherine St Joplin MO 64801
Phone:(417) 624-9968
Fax:(417) 624-9968
Copy Products Inc Contact: Erik Crane
Contact Phone:(870) 424-2999
Contact Email: ecrane@copyproductsinc.net
417 E 9th St Mountain Home AR 72653
Phone:(870) 424-6222
Fax:(870) 424-6222
Copy Products Inc. www.copyproductsinc.com
Contact: Erik Crane
Contact Phone:(417) 889-5665
Contact Email: ecrane@copyproductsinc.net
2103 West Vista Street, Springfield, MO 65807
Phone:(417) 889-5665
Fax:
Copyfax www.copyfaxva.com
Contact: Jay Serrao
Contact Phone:(757) 490-2444
Contact Email: jserrao@copyfaxva.com
333 Southport Circle, Virginia Beach, VA 23452
Phone:(757) 490-2444
Fax:
Corporate Computer Solutions Inc. www.corporatecomputersol.com
Contact: Ann Martino
Contact Phone:(914) 835-1105
Contact Email: amartino@CorporateComputer Sol.com
55 Halstead Avenue , Harrison, NY 10528
Phone:(914) 835-1105
Fax:
Crosby Mook Office Equipment www.crosbymook.com
Contact: Rocky Mitolo
Contact Phone:(330) 399-8926
Contact Email: rocky@crosbymook.com
558 High Street NE, Warren, OH 44483
Phone:(330) 399-8926
Fax:
Da-Com Corporation Contact: Scott Shanafelt
Contact Phone:(314) 442-2800
Contact Email: bthompson@da-com.com
5317 Knights of Columbus Dr St Louis MO 63119
Phone:(314) 442-2878
Fax:(314) 442-2878
Da-Com Corporation LLC Contact: Scott Shanafelt
Contact Phone:(573) 449-2663
Contact Email: etwenter@da-com.com
1406 Rangeline St, Columbia MO 65202
Phone:(573) 449-4462
Fax:(573) 449-4462
Da-Com Corporation LLC Contact: Scott Shanafelt
Contact Phone:(573) 449-2663
Contact Email: etwenter@da-com.com
1406 Rangeline St Columbia MO 65202
Phone:(573) 449-4462
Fax:(573) 449-4462
Deans Office Machines Inc Contact: Steve Cobb
Contact Phone:(336) 379-7062
Contact Email: Steve.cobb@deansom.com
1035 Winston St Greensboro NC 27405
Phone:(336) 379-7079
Fax:(336) 379-7079
DeWitt Poth & Son www.dewittpoth.com
Contact: Jacque Schumacher
Contact Phone:(361) 293-3791
Contact Email: jacque@dewittpoth.com
211 West May Street, Yoakum, TX 77995
Phone:(361) 293-3791
Fax:
DeWitt, Poth & Son Contact: Jacque Schumacher
Contact Phone:(361) 293-3791
Contact Email: jacque@dewittpoth.com
211 West May Street, Yoakum, TX 77995
Phone:(361) 293-7553
Fax:(361) 293-7553
Diamond Technologies Inc www.dimondit.pro
Contact: Matt Mayo
Contact Phone:(661) 833-5600
Contact Email: mmayo@diamondit.pro
8701 Swigert Ct, Bakersfield, CA 93311
Phone:(661) 833-5600
Fax:
Digital Business Machines Contact: Hector Buzuidenhout
Contact Phone:(615) 370-4211
Contact Email: hector@dbmusa.com
5217 Linbar Dr 306 Nashville TN 37211
Phone:(615) 370-4532
Fax:(615) 370-4532
Digital Printing Solutions Contact: Michael Gower
Contact Phone:(479) 636-0112
Contact Email: mgower@dpsone.com
2018 Town West Dr Rogers AR 72756
Phone:(479) 636-1502
Fax:(479) 636-1502
Digital Printing Solutions www.dpsone.com
Contact: David Hale
Contact Phone:(479) 636-0112
Contact Email: dhale@dpsone.com
2018 Town West Drive, Rogers, AR 72756
Phone:(479) 636-0112
Fax:
Document & Network Tech Inc Contact: Mike Golinvaux
Contact Phone:(314) 773-6000
Contact Email: jrolf@dntstl.com
2275 Cassens Court Ste 112 Fenton MO 63026
Phone:
Fax:
Document & Network Technologies www.dntstl.com
Contact: Chris Albert
Contact Phone:(314) 773-6000
Contact Email: calbert@dntstl.com
2217 Cassens Court Ste 112, Fenton, MO 63026
Phone:(314) 773-6000
Fax:
DocuQuest Inc www.docuquest.com
Contact: John Prussia
Contact Phone:(912) 525-3555
Contact Email: john@docuquest.com
110 Pipemaker Circle, Suite 101, Pooler , GA 31322
Phone:(912) 525-3555
Fax:
Donnellon McCarthy Enterprises www.donnellonmccarthy.com
Contact: Tony Donnellon
Contact Phone:(614) 224-2679
Contact Email: a.donnellon@donnellonmccarthy.com
10855 Medallion Drive, Cincinnati, OH 45241
Phone:(614) 224-2679
Fax:
Donnellon McCarthy Enterprises www.donnellonmccarthy.com
Contact: Tony Donnellon
Contact Phone:(614) 224-2679
Contact Email: a.donnellon@donnellonmccarthy.com
2268 Westbrooke Drive, Suite K, Columbus, OH 43228
Phone:(614) 224-2679
Fax:
E.O. Johnson Company Inc. www.eojohnson.com
Contact: Dave Johnson
Contact Phone:(715) 824-9999
Contact Email: djohnson@eojohnson.com
8400 West Stewart Ave, Wausau, WI 54401
Phone:(715) 824-9999
Fax:
Eagle Business Solutions Contact: Charlie Nichols
Contact Phone:(803) 732-4300
Contact Email: cnichols@ebsisolutions.com
Six Harbison Way Columbia SC 29212
Phone:(803) 781-0073
Fax:(803) 781-0073
GFI Digital Contact: Bruce Gibbs
Contact Phone:(314) 997-6300
Contact Email: mschuler@gfidigital.com
7 West St Joseph Perryville MO 63775
Phone:(314) 997-6064
Fax:(314) 997-6064
GFI Digital Contact: Bruce Gibbs
Contact Phone:(314) 997-6300
Contact Email: mschuler@gfidigital.com
3225 Emerald Lane Ste C Jefferson City MO 65109
Phone:(314) 997-6064
Fax:(314) 997-6064
Golden Gate Office Systems www.ggoffice.com
Contact: Mark LeBlanc
Contact Phone:(415) 621-2200
Contact Email: mark@ggoffice.com
927 Howard St, San Francisco, CA 94103
Phone:(415) 621-2200
Fax:
Hagan Business Machines www.haganerie.com
Contact: Mike Kneidinger
Contact Phone:(814) 456-7521
Contact Email: mikek@haganerie.com
1112 Peach Street, Erie, PA 16501
Phone:(814) 456-7521
Fax:
Hagan Business Machines - Meadville www.hagan1.com
Contact: Jay Verno
Contact Phone:(814) 724-4601
Contact Email: jay@hagan1.com
77 Mead Ave, Meadville, PA 16335
Phone:(814) 724-4601
Fax:
Higher Information Group LLC www.higherinfogroup.com
Contact: John Frisch
Contact Phone:(714) 652-3310
Contact Email: jfrish@higherinfogroup.com
400 N Blue Ribbon Ave, Harrisburg, PA 17112
Phone:(714) 652-3310
Fax:
Imagine Technology Group www.itgarizona.com
Contact: Chad Schwartz
Contact Phone:(602) 454-0720
Contact Email: cschwartz@itcarizona.com
420 N Roosevelt Ave, Chandler, AZ 85226
Phone:(602) 454-0720
Fax:
Integrated Office Technology www.iotecdigital.com
Contact: Bob Zieman
Contact Phone:(562) 236-9200
Contact Email: bobz@iotecdigital.com
12150 Mora Drive, Sante Fe Springs, CA 90670
Phone:(562) 236-9200
Fax:
Itsavvy www.Itsavvy.com
Contact: Rob Ince
Contact Phone:(630) 369-6300
Contact Email: rince@itsavvy.com
313 South Rohlwing Rd, Addison, IL 60101
Phone:(630) 369-6300
Fax:
J D Young Company Contact: Monte Sloan
Contact Phone:(918) 582-9955
Contact Email: msloan@jdyoung.com
116 W 3rd St Tulsa OK 74103
Phone:(918) 582-2085
Fax:(918) 582-2085
J.D. Young Company www.jdyoung.com
Contact: Robert Stuart Sr.
Contact Phone:(918) 582-9955
Contact Email: dstuart@jdyoung.com
116 West 3rd Street, Tulsa, OK 74103
Phone:(918) 582-9955
Fax:
James Imaging Systems Inc www.jamesimaging.com
Contact: Bill Coon
Contact Phone:(262) 781-7700
Contact Email: bcoon@jamesimaging.com
3375 Intertech Drive, Brookfield , WI 53045
Phone:(262) 781-7700
Fax:
Johnnies Office Systems Inc www.johnnies.com
Contact: Bill Gibson
Contact Phone:(254) 778-7608
Contact Email: bgibson@johnnies.com
1618 West Avenue M, Suite D, Temple, TX 76504
Phone:(254) 778-7608
Fax:
Kay Office Equipment Company Contact: Dan Stahl
Contact Phone:(580) 765-4436
Contact Email: dstahl@kaycopy.com
1401 N Seventh St Ponca City OK 74601
Phone:(580) 762-7610
Fax:(580) 762-7610
Kelley Imaging Systems Inc www.kelleyimaging.com
Contact: Aric Manion
Contact Phone:(800) 495-3175
Contact Email: aric.manion@kelleyimaging.com
22710 72nd Ave S, Kent, WA 98032
Phone:(800) 495-3175
Fax:
KKC Imagine Systems (A Division of Kopy Kat Copier, Inc.) http://kopykatcopier.com/
Contact: Brian or Cindy Olson
Contact Phone:(630) 851-9822
Contact Email: kkcmail@kopykatcopier.com
1550 N. Farnsworth Avenue, Aurora, IL 60505
Phone:(630) 851-9822
Fax:
KKC Imaging Systems www.kopykatcopier.com
Contact: Brian Olson
Contact Phone:(630) 851-9822
Contact Email: brian.olson@kopykatcopier.com
1550 N. Farnsworth Ave. Aurora, IL 60505
Phone:(630) 851-9822
Fax:
Kota Solutions www.kotasolutions.com
Contact: Vin Sullo
Contact Phone:(860) 862-6140
Contact Email: vsullo@kotasolutions.com
13 Crow Hill Rd, Uncasville, CT 6382
Phone:(860) 862-6140
Fax:
Landis Office Center Inc www.landisoffice.com
Contact: Dwight Perrin
Contact Phone:(301) 722-1900
Contact Email: dwight@landisoffice.com
151 N Center St, Cumberland, MD 21502
Phone:(301) 722-1900
Fax:
Laser Resources LLC www.LaserResources.com
Contact: Andy Lashier
Contact Phone:(515) 333-5838
Contact Email: andy@laserresources.com
4265 NW 109th St, Urbandale, IA 50322
Phone:(515) 333-5838
Fax:
Manning's Office Solutions www.manningsupply.com
Contact: Kenny Kraemer
Contact Phone:(409) 899-1122
Contact Email: kennyk@manningsupply.com
1510 North 7th St., Beaumont, TX 77703
Phone:(409) 899-1122
Fax:
Manning's Office System Contact: Kenny Kraemer
Contact Phone:(409) 899-1122
Contact Email: kennyk@manningsupply.com
1510 North 7th St, Beaumont, TX 77703
Phone:(409) 898-3210
Fax:(409) 898-3210
MBG Office Systems www.mbgos.com
Contact: Chad Griffin
Contact Phone:(478) 742-2588
Contact Email: cgriffin@mbgos.com
509 Hillcrest Industrial Blvd, Macon, GA 31204
Phone:(478) 742-2588
Fax:
Memphis Communications Corp www.memphiscommunications.net
Contact: Shane Berry
Contact Phone:(615) 370-4211
Contact Email: shaneb@memphiscommunications.net
5217 Linbar Drive Suite 306, Nashville, TN 37211
Phone:(615) 370-4211
Fax:
Memphis Communications Corp www.memphiscommunications.net
Contact: Shane Berry
Contact Phone:(901) 725-9271
Contact Email: shaneb@memphiscommunications.net
4771 Summer Ave, Memphis, TN 38122
Phone:(901) 725-9271
Fax:
Metroland Business Machines Inc www.metrobusma.com
Contact: ED Neary
Contact Phone:(518) 452-2600
Contact Email: eneary@metrobusma.com
25 Kraft Ave, Albany, NY 12205
Phone:(518) 452-2600
Fax:
Millennium Business Systems www.2millenium.com
Contact: Angela Neu Wichman
Contact Phone:(734) 591-3100
Contact Email: aneu@2millennium.com
33140 Industrial Rd, Livonia, MI 48150
Phone:(734) 591-3100
Fax:
Miller Office Equipment Inc Contact: Tal Light
Contact Phone:(580) 298-3321
Contact Email: tlight@milleroffice.com
900 E Wyandotte McAlester OK 74501
Phone:(580) 298-3335
Fax:(580) 298-3335
Premier Systems Inc Contact: Carl Telthorst
Contact Phone:(972) 889-2796
Contact Email: vnorth@gopremier.biz
885 E Collins Blvd Ste 103 Richardson TX 75081
Phone:(972) 234-0925
Fax:(972) 234-0925
Premier Systems Inc www.gopremier.biz
Contact: Carl Telthorst
Contact Phone:(972) 889-2796
Contact Email: ctelthorst@gopremier.biz
885 East Collins Blvd., Suite 103, Richardson, TX 75081
Phone:(972) 889-2796
Fax:
Prosource www.totalprosource.com
Contact: Sean Sullins
Contact Phone:(513) 769-0606
Contact Email: ssullins@totalprosource.com
1041 8th Avenue, Huntington, WV 25701
Phone:(513) 769-0606
Fax:
Prosource www.totalprosource.com
Contact: Sean Sullins
Contact Phone:(513) 769-0606
Contact Email: ssullins@totalprosource.com
2331 Fortune Dr. , Lexington, KY 40509
Phone:(513) 769-0606
Fax:
Prosource www.totalprosource.com
Contact: Sean Sullins
Contact Phone:(513) 769-0606
Contact Email: ssullins@totalprosource.com
11003 Blugrass Parkway, Louisville, KY 40299
Phone:(513) 769-0606
Fax:
Pro-Tech Company Inc Contact: Steve Tharp
Contact Phone:(660) 665-3171
Contact Email: tim@protechco.com
2411 E Illinois Kirksville MO 63501
Phone:(660) 665-3521
Fax:(660) 665-3521
Southeastern Business Machines www.sebmhsv.com
Contact: Alan Bean
Contact Phone:(256) 882-0190
Contact Email: alan.bean@sebmhsv.com
3413 South Memorial Parkway, Huntsville, AL 35801
Phone:(256) 882-0190
Fax:
Southwest Copy Systems Inc www.southwestcopy.com
Contact: Kevin Simpson
Contact Phone:(505) 344-8211
Contact Email: ksimpson@swcopy.com
4545 McLeod Road, NE, Albuquerque, NM 87109
Phone:(505) 344-8211
Fax:
Standard Business Systems Inc Contact: Steve Milam
Contact Phone:(501) 663-4414
Contact Email: stevem@standardbusiness.com
1300 Westpark Dr Ste 7 Little Rock AR 72204
Phone:(501) 663-4976
Fax:(501) 663-4976
Standard Business Systems Inc www.standardbusiness.com
Contact: Mr. David/Richard Gulley
Contact Phone:(501) 663-4414
Contact Email: richardg@standardbusiness.com
1300 Westpark Drive, Suite 7, Little Rock, AR 72204
Phone:(501) 663-4414
Fax:
Standley Systems LLC www.standleys.com
Contact: Mr. Tim Elliot
Contact Phone:(580) 765-4436
Contact Email: telliott@standleys.com
1401 North Seventh Street, Ponca City, OK 74601
Phone:(580) 765-4436
Fax:
Stargel Office Solutions www.stargel.com
Contact: T.J. DeBello
Contact Phone:(713) 461-5382
Contact Email: tj.debello@stargel.com
4700 Blalock Rd., Houston, TX 77041
Phone:(713) 461-5382
Fax:
Stargel Office Solutions Contact: David Redd
Contact Phone:(713) 461-5382
Contact Email: cdredd@stargel.com
4700 Blalock Rd HoustonTX 77041
Phone:(713) 461-6450
Fax:(713) 461-6450
Summit Business Systems Inc Contact: Cory Brown
Contact Phone:(405) 947-0707
Contact Email: coryb@summitokc.com
500 Enterprise Dr Edmond OK 73013
Phone:(405) 946-7187
Fax:(405) 946-7187
Summit Business Systems Inc www.summitokc.com
Contact: Cory Brown
Contact Phone:(405) 947-0707
Contact Email: coryb@summitokc.com
500 Enterprise Drive, Edmond, OK 73013
Phone:(405) 947-0707
Fax:
Tech Inc Contact:
Contact Phone:
Contact Email:
Fenton, MO 63026
Phone:(314) 771-6344
Fax:(314) 771-6344
Technocom Business Systems www.technocomusa.com
Contact: Al Jones
Contact Phone:(704) 847-5200
Contact Email: ajones@technocomusa.com
3330 Monroe Road, Charlotte, NC 28205
Phone:(704) 847-5200
Fax:
The Lioce Group www.liocegroup.com
Contact: Jason Pletsch
Contact Phone:(256) 650-1803
Contact Email: jpletsch@liocegroup.com
2950 Drake Avenue, Huntsville, AL 35805
Phone:(256) 650-1803
Fax:
Toshiba Business Solutions www.tbs.toshiba.com
Contact: Beth Joseph
Contact Phone:(888) 328-2144
Contact Email: beth.joseph@tbs.toshiba.com
11 North Water Street, Mobile , AL 36602
Phone:(888) 328-2144
Fax:
Toshiba Business Solutions www.tbs.toshiba.com
Contact: Beth Joseph
Contact Phone:(412) 374-7100
Contact Email: beth.joseph@tbs.toshiba.com
26 Nesbitt Road, New Castle, PA 16105
Phone:(412) 374-7100
Fax:
Toshiba Business Solutions www.tbs.toshiba.com
Contact: Beth Joseph
Contact Phone:(800) 220-1441
Contact Email: beth.joseph@tbs.toshiba.com
3620 Horizon Drive, King Of Prussia, PA 19406
Phone:(800) 220-1441
Fax:
Toshiba Business Solutions www.tbs.toshiba.com
Contact: Gene Turovsky
Contact Phone:(651) 994-7700
Contact Email: gene.turovsky@tbs.toshiba.com
960 Blue Gentian Road, St Paul, MN 55121
Phone:(651) 994-7700
Fax:
Toshiba Business Solutions www.tbs.toshiba.com
Contact: Beth Joseph
Contact Phone:(877) 827-6446
Contact Email: beth.joseph@tbs.toshiba.com
7850 Hub Parkway, Cleveland, OH 44125
Phone:(877) 827-6446
Fax:
Toshiba Business Solutions www.tbs.toshiba.com
Contact: Beth Joseph
Contact Phone:(800) 277-2030
Contact Email: beth.joseph@tbs.toshiba.com
One Town Square Blvd, Asheville, NC 28803
Phone:(800) 277-2030
Fax:
Toshiba Business Solutions www.tbs.toshiba.com
Contact: Beth Joseph
Contact Phone:(800) 277-2030
Contact Email: beth.joseph@tbs.toshiba.com
1226 19th Street Lane NW, Hickory, NC 28601
Phone:(800) 277-2030
Fax:
Toshiba Business Solutions www.tbs.toshiba.com
Contact: Mark Downing
Contact Phone:(602) 470-8888
Contact Email: mark.downing@tbs.toshiba.com
480 N 54TH Street , Suite 1 , Chandler, AZ 85226
Phone:(602) 470-8888
Fax:
Toshiba Business Solutions www.tbs.toshiba.com
Contact: Mark Downing
Contact Phone:(520) 294-2121
Contact Email: mark.downing@tbs.toshiba.com
3845 N Business Center Dr , Ste. 107 , Tucson, AZ 85705
Phone:(520) 294-2121
Fax:
Toshiba Business Solutions www.tbs.toshiba.com
Contact: John Applegate
Contact Phone:(502) 489-6700
Contact Email: john.applegate@tbs.toshiba.com
2600 Stanley Gault Parkway, Suite 400, Louisville, KY 40223
Phone:(502) 489-6700
Fax:
Toshiba Business Solutions www.tbs.toshiba.com
Contact: John Applegate
Contact Phone:(270) 842-7760
Contact Email: john.applegate@tbs.toshiba.com
2501 Crossing Boulevard, Suite 142, Bowling Green, KY 42104
Phone:(270) 842-7760
Fax:
Toshiba Business Solutions www.tbs.toshiba.com
Contact: John Applegate
Contact Phone:(859) 245-1087
Contact Email: john.applegate@tbs.toshiba.com
3901 Harrodsburg Road, Suite 110, Lexington, KY 40513
Phone:(859) 245-1087
Fax:
Toshiba Business Solutions www.tbs.toshiba.com
Contact: John Applegate
Contact Phone:(606) 678-4997
Contact Email: john.applegate@tbs.toshiba.com
402 Coomer Street, Suite 201, Somerset , KY 42501
Phone:(606) 678-4997
Fax:
Toshiba Business Solutions www.tbs.toshiba.com
Contact: Jim O'Connel
Contact Phone:(978) 570-1754
Contact Email: jim.oconnel@tbs.toshiba.com
200 Minuteman Road, Suite 101, Andover, MA O1810
Phone:(978) 570-1754
Fax:
Toshiba Business Solutions www.tbs.toshiba.com
Contact: Steve Nickerson
Contact Phone:(617) 439-8888
Contact Email: steve.nickerson@tbs.toshiba.com
1 Financial Center, Boston, MA O2111
Phone:(617) 439-8888
Fax:
Toshiba Business Solutions www.tbs.toshiba.com
Contact: Tom Perry
Contact Phone:(508) 329-6002
Contact Email: tom.perry@tbs.toshiba.com
1700 West Park Drive, Suite 100, Westborough, MA O1581
Phone:(508) 329-6002
Fax:
Toshiba Business Solutions www.tbs.toshiba.com
Contact: Greg Palumbo
Contact Phone:(508) 623-2505
Contact Email: greg.palumbo@tbs.toshiba.com
2 Hampshire Street, Foxboro, MA O2035
Phone:(508) 623-2505
Fax:
Toshiba Business Solutions www.tbs.toshiba.com
Contact: Ron Polak
Contact Phone:(248) 427-0773
Contact Email: ron.polak@tbs.toshiba.com
37987 Interchange Drive, Farmington Hills, MI 48335
Phone:(248) 427-0773
Fax:
Toshiba Business Solutions www.tbs.toshiba.com
Contact: Ron Polak
Contact Phone:(810) 603-2059
Contact Email: ron.polak@tbs.toshiba.com
6060 Torrey Road, Flint, MI 48507
Phone:(810) 603-2059
Fax:
Toshiba Business Solutions www.tbs.toshiba.com
Contact: Beth Joseph
Contact Phone:(800) 277-2030
Contact Email: beth.joseph@tbs.toshiba.com
9201 Southern Pine Blvd, Charlotte, NC 28273
Phone:(800) 277-2030
Fax:
Toshiba Business Solutions www.tbs.toshiba.com
Contact: Nick Prather
Contact Phone:(785) 842-4134
Contact Email: nick.prather@tbs.toshiba.com
1811 Wakarusa Drive, Suite 101, Lawrence, KS 66047
Phone:(785) 842-4134
Fax:
Toshiba Business Solutions www.tbs.toshiba.com
Contact: Beth Joseph
Contact Phone:(800) 220-1441
Contact Email: beth.joseph@tbs.toshiba.com
97 Masonc Drive, Elizabethtown, PA 17022
Phone:(800) 220-1441
Fax:
Toshiba Business Solutions www.tbs.toshiba.com
Contact: Martin Schopp
Contact Phone:(847) 637-2900
Contact Email: martin.schopp@tbs.toshiba.com
3930 North Ventura Drive, Arlington Heights, IL 60004
Phone:(847) 637-2900
Fax:
Toshiba Business Solutions www.tbs.toshiba.com
Contact: Kevin Medaris
Contact Phone:(317) 875-6000
Contact Email: kevin.medaris@tbs.toshiba.com
11800 Exit 5 Parkway, Suite 124, Fishers, IN 46037
Phone:(317) 875-6000
Fax:
Toshiba Business Solutions www.tbs.toshiba.com
Contact: Jim Williams
Contact Phone:(812) 336-9999
Contact Email: jim.williams@tbs.toshiba.com
649 South Landmark Avenue, Bloomington, IN 47403
Phone:(812) 336-9999
Fax:
Toshiba Business Solutions www.tbs.toshiba.com
Contact: John Jabbour
Contact Phone:(716) 362-6300
Contact Email: john.jabbour@tbs.toshiba.com
100 Colvin Woods Parkway, Suite 100, Tonawanda, NY 14150
Phone:(716) 362-6300
Fax:
Toshiba Business Solutions www.tbs.toshiba.com
Contact: John Jabbour
Contact Phone:(315) 414-1414
Contact Email: john.jabbour@tbs.toshiba.com
6800 Old Collamer Road, Suite 5, East Syracuse, NY 13057
Phone:(315) 414-1414
Fax:
Toshiba Business Solutions www.tbs.toshiba.com
Contact: John Jabbour
Contact Phone:(518) 250-5502
Contact Email: john.jabbour@tbs.toshiba.com
15 Cornell Road, Airport Park, Latham, NY 12110
Phone:(518) 250-5502
Fax:
Toshiba Business Solutions www.tbs.toshiba.com
Contact: John Jabbour
Contact Phone:(865) 562-2468
Contact Email: john.jabbour@tbs.toshiba.com
230 North Plank Road, Newburgh, NY 12550
Phone:(865) 562-2468
Fax:
Toshiba Business Solutions www.tbs.toshiba.com
Contact: Beth Joseph
Contact Phone:(212) 398-6500
Contact Email: beth.joseph@tbs.toshiba.com
114 Jericho Turnpike, Floral Park, NY 11101
Phone:(212) 398-6500
Fax:
Toshiba Business Solutions www.tbs.toshiba.com
Contact: Beth Joseph
Contact Phone:(212) 398-6500
Contact Email: beth.joseph@tbs.toshiba.com
1500 Broadway, New York, NY 10036
Phone:(212) 398-6500
Fax:
Toshiba Business Solutions www.tbs.toshiba.com
Contact: Beth Joseph
Contact Phone:(631) 567-9400
Contact Email: beth.joseph@tbs.toshiba.com
201 Old Country Road, Melville, NY 11747
Phone:(631) 567-9400
Fax:
Toshiba Business Solutions www.tbs.toshiba.com
Contact: Jim Magness
Contact Phone:(210) 357-2600
Contact Email: jim.magness@tbs.toshiba.com
14607 San Pedro Ave, Suite 120, San Antonio, TX 78232
Phone:(210) 357-2600
Fax:
Toshiba Business Solutions www.tbs.toshiba.com
Contact: Beth Joseph
Contact Phone:(800) 277-2030
Contact Email: beth.joseph@tbs.toshiba.com
7204 W. Friendly Ave, Greensboro, NC 27410
Phone:(800) 277-2030
Fax:
Toshiba Business Solutions www.tbs.toshiba.com
Contact: Beth Joseph
Contact Phone:(800) 277-2030
Contact Email: beth.joseph@tbs.toshiba.com
215 Southport Drive, Morrisville, NC 27560
Phone:(800) 277-2030
Fax:
Toshiba Business Solutions www.tbs.toshiba.com
Contact: Beth Joseph
Contact Phone:(800) 277-2030
Contact Email: beth.joseph@tbs.toshiba.com
688 E. Arlington Boulevard, Greenville, NC 27858
Phone:(800) 277-2030
Fax:
Toshiba Business Solutions www.tbs.toshiba.com
Contact: Beth Joseph
Contact Phone:(800) 768-4349
Contact Email: beth.joseph@tbs.toshiba.com
400 North Main Street, Mt Gilead, NC 27306
Phone:(800) 768-4349
Fax:
Toshiba Business Solutions www.tbs.toshiba.com
Contact: Beth Joseph
Contact Phone:(800) 768-4349
Contact Email: beth.joseph@tbs.toshiba.com
1846 Wake Forest Road, Raleigh, NC 27608
Phone:(800) 768-4349
Fax:
Toshiba Business Solutions www.tbs.toshiba.com
Contact: Jim Magness
Contact Phone:(800) 588-7383
Contact Email: jim.magness@tbs.toshiba.com
2650 Industrial Blvd., , Abilene, TX 79605
Phone:(800) 588-7383
Fax:
Toshiba Business Solutions www.tbs.toshiba.com
Contact: Jim Magness
Contact Phone:(512) 929-9096
Contact Email: jim.magness@tbs.toshiba.com
4150 Freidrich Lane, Suite D, Austin, TX 78744
Phone:(512) 929-9096
Fax:
Toshiba Business Solutions www.tbs.toshiba.com
Contact: Jim Magness
Contact Phone:(361) 814-1107
Contact Email: jim.magness@tbs.toshiba.com
4455 South Padre Island Dr, Suite. 33, Corpus Christi, TX 78411
Phone:(361) 814-1107
Fax:
Toshiba Business Solutions www.tbs.toshiba.com
Contact: Jim Magness
Contact Phone:(972) 386-1860
Contact Email: jim.magness@tbs.toshiba.com
8100 Jetstar Drive., Suite 100, Irving, TX 75063
Phone:(972) 386-1860
Fax:
Toshiba Business Solutions www.tbs.toshiba.com
Contact: Jim Magness
Contact Phone:(915) 533-4241
Contact Email: jim.magness@tbs.toshiba.com
10821 Gateway West, Suite. 201, El Paso, TX 79935
Phone:(915) 533-4241
Fax:
Toshiba Business Solutions www.tbs.toshiba.com
Contact: Jim Magness
Contact Phone:(956) 727-8316
Contact Email: jim.magness@tbs.toshiba.com
9803 Sterling Loop, Suite 140, Laredo, TX 78045
Phone:(956) 727-8316
Fax:
Toshiba Business Solutions www.tbs.toshiba.com
Contact: Jim Magness
Contact Phone:(956) 973-8100
Contact Email: jim.magness@tbs.toshiba.com
1200 East Hackberry, Suite F, McAllen, TX 78501
Phone:(956) 973-8100
Fax:
Toshiba Business Solutions www.tbs.toshiba.com
Contact: Tim O'Neil
Contact Phone:(585) 427-2222
Contact Email: tim.oneil@tbs.toshiba.com
180 Kenneth Drive, Suite 200, Rochester, NY 14623
Phone:(585) 427-2222
Fax:
Toshiba Business Solutions www.tbs.toshiba.com
Contact: Beth Joseph
Contact Phone:(800) 220-1441
Contact Email: beth.joseph@tbs.toshiba.com
7035 Schantz Road, Allentown, PA 18106
Phone:(800) 220-1441
Fax:
Toshiba Business Solutions www.tbs.toshiba.com
Contact: Beth Joseph
Contact Phone:(914) 220-2424
Contact Email: beth.joseph@tbs.toshiba.com
4 Research Drive, Shelton, CT 06484
Phone:(914) 220-2424
Fax:
Toshiba Business Solutions www.tbs.toshiba.com
Contact: Mark Downing
Contact Phone:(303) 262-5800
Contact Email: mark.downing@tbs.toshiba.com
1101 W. 48th Avenue, , Denver, CO 80221
Phone:(303) 262-5800
Fax:
Toshiba Business Solutions www.tbs.toshiba.com
Contact: Mark Downing
Contact Phone:(303) 262-5800
Contact Email: mark.downing@tbs.toshiba.com
524 E Pikes Peak Ave, , Colorado Springs, CO 80903
Phone:(303) 262-5800
Fax:
Toshiba Business Solutions www.tbs.toshiba.com
Contact: Beth Joseph
Contact Phone:(800) 526-7926
Contact Email: beth.joseph@tbs.toshiba.com
6401 Nob Hill Road, Tamarac, FL 33321
Phone:(800) 526-7926
Fax:
Toshiba Business Solutions www.tbs.toshiba.com
Contact: Beth Joseph
Contact Phone:(800) 526-7926
Contact Email: beth.joseph@tbs.toshiba.com
15050 NW 79th Court, Miami Lakes, FL 33016
Phone:(800) 526-7926
Fax:
Toshiba Business Solutions www.tbs.toshiba.com
Contact: Beth Joseph
Contact Phone:(561) 616-4334
Contact Email: beth.joseph@tbs.toshiba.com
2101 Centrepark West Drive, West Palm Beach, FL 33409
Phone:(561) 616-4334
Fax:
Toshiba Business Solutions www.tbs.toshiba.com
Contact: Beth Joseph
Contact Phone:(772) 878-5199
Contact Email: beth.joseph@tbs.toshiba.com
466 SW Port St Lucie Blvd, Port St Lucie, FL 34953
Phone:(772) 878-5199
Fax:
Toshiba Business Solutions www.tbs.toshiba.com
Contact: Beth Joseph
Contact Phone:(800) 526-7926
Contact Email: beth.joseph@tbs.toshiba.com
8401-C Benjamin Road, Tampa, FL 33634
Phone:(800) 526-7926
Fax:
Toshiba Business Solutions www.tbs.toshiba.com
Contact: Beth Joseph
Contact Phone:(407) 852-1110
Contact Email: beth.joseph@tbs.toshiba.com
2815 Directors Row, Orlando, FL 32809
Phone:(407) 852-1110
Fax:
Toshiba Business Solutions www.tbs.toshiba.com
Contact: Beth Joseph
Contact Phone:(800) 526-7926
Contact Email: beth.joseph@tbs.toshiba.com
1222 SE 47 th Street, Cape Coral, FL 33904
Phone:(800) 526-7926
Fax:
Toshiba Business Solutions www.tbs.toshiba.com
Contact: Beth Joseph
Contact Phone:(678) 638-2100
Contact Email: beth.joseph@tbs.toshiba.com
6025 The Corners Parkway, Norcross, GA 30092
Phone:(678) 638-2100
Fax:
Toshiba Business Solutions www.tbs.toshiba.com
Contact: Mark Downing
Contact Phone:(808) 834-3636
Contact Email: mark.downing@tbs.toshiba.com
590-A Paiea Street, , Honolulu, HI 96819
Phone:(808) 834-3636
Fax:
Toshiba Business Solutions www.tbs.toshiba.com
Contact: Mark Downing
Contact Phone:(808) 834-3636
Contact Email: mark.downing@tbs.toshiba.com
775 Lower Main St., Unit F, Wailuku, HI 96793
Phone:(808) 834-3636
Fax:
Toshiba Business Solutions www.tbs.toshiba.com
Contact: Mark Downing
Contact Phone:(808) 834-3636
Contact Email: mark.downing@tbs.toshiba.com
1266 Kamehameha Ave., #A3, Hilo, HI 96720
Phone:(808) 834-3636
Fax:
Toshiba Business Solutions www.tbs.toshiba.com
Contact: Beth Joseph
Contact Phone:(864) 288-3107
Contact Email: beth.joseph@tbs.toshiba.com
201C Pelham Davis Circle, Greenville, SC 29615
Phone:(864) 288-3107
Fax:
Toshiba Business Solutions www.tbs.toshiba.com
Contact: Mark Downing
Contact Phone:(888) 827-9378
Contact Email: mark.downing@tbs.toshiba.com
9740 Irvine Blvd., , Irvine, CA 92618
Phone:(888) 827-9378
Fax:
Toshiba Business Solutions www.tbs.toshiba.com
Contact: Mark Downing
Contact Phone:(888) 827-9378
Contact Email: mark.downing@tbs.toshiba.com
1411 W. 190th St., Ste. 300, Gardena, CA 90248
Phone:(888) 827-9378
Fax:
Toshiba Business Solutions www.tbs.toshiba.com
Contact: Mark Downing
Contact Phone:(888) 827-9378
Contact Email: mark.downing@tbs.toshiba.com
1889 N. Rice Ave., Ste. 101, Oxnard, CA 93030
Phone:(888) 827-9378
Fax:
Toshiba Business Solutions www.tbs.toshiba.com
Contact: Mark Downing
Contact Phone:(888) 827-9378
Contact Email: mark.downing@tbs.toshiba.com
4190 Green River Rd., Ste. 206, Corona, CA 92880
Phone:(888) 827-9378
Fax:
Toshiba Business Solutions www.tbs.toshiba.com
Contact: Mark Downing
Contact Phone:(888) 827-9378
Contact Email: mark.downing@tbs.toshiba.com
8555 Aero Dr., Ste. 350, San Diego, CA 92123
Phone:(888) 827-9378
Fax:
Toshiba Business Solutions www.tbs.toshiba.com
Contact: Mark Downing
Contact Phone:(888) 417-2000
Contact Email: mark.downing@tbs.toshiba.com
12677 Alcosta Blvd., Ste. 100, San Ramon, CA 94583
Phone:(888) 417-2000
Fax:
Toshiba Business Solutions www.tbs.toshiba.com
Contact: Mark Downing
Contact Phone:(888) 417-2000
Contact Email: mark.downing@tbs.toshiba.com
280 Utah Ave., , South San Francisco, CA 94080
Phone:(888) 417-2000
Fax:
Toshiba Business Solutions www.tbs.toshiba.com
Contact: Mark Downing
Contact Phone:(888) 417-2000
Contact Email: mark.downing@tbs.toshiba.com
765 Baywood Dr., , Petaluma, CA 94954
Phone:(888) 417-2000
Fax:
Toshiba Business Solutions www.tbs.toshiba.com
Contact: Mark Downing
Contact Phone:(888) 417-2000
Contact Email: mark.downing@tbs.toshiba.com
1170 W National Dr., Ste. 60, Sacramento, CA 95834
Phone:(888) 417-2000
Fax:
Toshiba Business Solutions www.tbs.toshiba.com
Contact: Beth Joseph
Contact Phone:(412) 374-7100
Contact Email: beth.joseph@tbs.toshiba.com
1501 Reedsdale Street, Pittsburgh, PA 15233
Phone:(412) 374-7100
Fax:
Toshiba Business Solutions www.tbs.toshiba.com
Contact: Gene Turovsky
Contact Phone:(218) 722-0333
Contact Email: gene.turovsky@tbs.toshiba.com
322 West Michigan Street, Duluth, MN 55802
Phone:(218) 722-0333
Fax:
Toshiba Business Solutions www.tbs.toshiba.com
Contact: Beth Joseph
Contact Phone:(800) 277-2030
Contact Email: beth.joseph@tbs.toshiba.com
5041 New Center Drive, Wilmington, NC 28403
Phone:(800) 277-2030
Fax:
Toshiba Business Solutions Contact: Steve McCluhan
Contact Phone:(816) 842-4931
Contact Email: sharkey@tbs.toshiba.com
2732 NE Independence Ave Lees Summitt MO 64064
Phone:(816) 842-0660
Fax:(816) 842-0660
Toshiba Business Solutions www.tbs.toshiba.com
Contact: David Wagner
Contact Phone:(816) 842-4931
Contact Email: david.wagner@tbs.toshiba.com
2732 NE Independence Avenue, Lee's Summit, MO 64064
Phone:(816) 842-4931
Fax:
Toshiba Business Solutions www.tbs.toshiba.com
Contact: Mark Downing
Contact Phone:(888) 827-9378
Contact Email: mark.downing@tbs.toshiba.com
6560 S. Tioga Way, Ste. 150, Las Vegas, NV 89113
Phone:(888) 827-9378
Fax:
Toshiba Business Solutions www.tbs.toshiba.com
Contact: Mark Downing
Contact Phone:(888) 827-9378
Contact Email: mark.downing@tbs.toshiba.com
1020 S. Rock Boulevard, Ste. A, Reno, NV 89502
Phone:(888) 827-9378
Fax:
Toshiba Business Solutions www.tbs.toshiba.com
Contact: Bob Ellis
Contact Phone:(603) 644-7676
Contact Email: bob.ellis@tbs.toshiba.com
3 Executive Park Drive #4, Bedford, NH O3110
Phone:(603) 644-7676
Fax:
Toshiba Business Solutions www.tbs.toshiba.com
Contact: Beth Joseph
Contact Phone:(800) 220-1441
Contact Email: beth.joseph@tbs.toshiba.com
520 Fellowship Rd , Mount Laurel, NJ 8054
Phone:(800) 220-1441
Fax:
Toshiba Business Solutions www.tbs.toshiba.com
Contact: Beth Joseph
Contact Phone:(201) 825-1100
Contact Email: beth.joseph@tbs.toshiba.com
40 Boroline Road, Allendale, NJ 07401
Phone:(201) 825-1100
Fax:
Toshiba Business Solutions www.tbs.toshiba.com
Contact: Beth Joseph
Contact Phone:(732) 634-0303
Contact Email: beth.joseph@tbs.toshiba.com
900 Route 9 North, Woodbridge , NJ 07095
Phone:(732) 634-0303
Fax:
Toshiba Business Solutions www.tbs.toshiba.com
Contact: Beth Joseph
Contact Phone:(888) 328-2144
Contact Email: beth.joseph@tbs.toshiba.com
1231 Highway 45 North, Columbus, MS 39703
Phone:(888) 328-2144
Fax:
Toshiba Business Solutions www.tbs.toshiba.com
Contact: Beth Joseph
Contact Phone:(866) 420-3511
Contact Email: beth.joseph@tbs.toshiba.com
371 Highland Colony Parkway, Ridgeland, MS 39157
Phone:(866) 420-3511
Fax:
Toshiba Business Solutions www.tbs.toshiba.com
Contact: Beth Joseph
Contact Phone:(888) 328-2144
Contact Email: beth.joseph@tbs.toshiba.com
510 West Park Avenue, Greenwood, MS 38930
Phone:(888) 328-2144
Fax:
Toshiba Business Solutions www.tbs.toshiba.com
Contact: Beth Joseph
Contact Phone:(888) 328-2144
Contact Email: beth.joseph@tbs.toshiba.com
2209 Old Highway 45 North, Meridian, MS 39302
Phone:(888) 328-2144
Fax:
Toshiba Business Solutions www.tbs.toshiba.com
Contact: Beth Joseph
Contact Phone:(800) 316-3196
Contact Email: beth.joseph@tbs.toshiba.com
1820 Highway 1 South, Greenville, MS 38701
Phone:(800) 316-3196
Fax:
Toshiba Business Solutions www.tbs.toshiba.com
Contact: Beth Joseph
Contact Phone:(888) 328-2144
Contact Email: beth.joseph@tbs.toshiba.com
990 North 16th Avenue, Laurel, MS 39440
Phone:(888) 328-2144
Fax:
Toshiba Business Solutions www.tbs.toshiba.com
Contact: Beth Joseph
Contact Phone:(888) 842-0255
Contact Email: beth.joseph@tbs.toshiba.com
1715 McCullough Boulevard, Tupelo, MS 38801
Phone:(888) 842-0255
Fax:
Toshiba Business Solutions www.tbs.toshiba.com
Contact: Beth Joseph
Contact Phone:(888) 328-2144
Contact Email: beth.joseph@tbs.toshiba.com
11460 Saracennia Road, Moss Point, MS 29562
Phone:(888) 328-2144
Fax:
Turk's Kern Copy Inc www.turkscopy.com
Contact: Louie Carmona
Contact Phone:(661) 324-3737
Contact Email: luis@turkscopy.com
1701 18th St, Bakersfield, CA 93301
Phone:(661) 324-3737
Fax:
United Imaging www.unitedimaging.com
Contact: Mike Cohen
Contact Phone:(800) 444-4588
Contact Email: mcohen@unitedimaging.com
21201 Oxnard St., Woodland Hills, CA 91367
Phone:(800) 444-4588
Fax:
Vanco Systems Inc Contact: Allen Clement
Contact Phone:(903) 794-1013
Contact Email: allen@vancosystems.com
2301 Texas Blvd Texarkana TX 75501
Phone:(930) 792-4176
Fax:(930) 792-4176
Vanco Systems Inc www.vancosystems.com
Contact: Mr. Allen Clement
Contact Phone:(903) 794-1013
Contact Email: allen@vancosystems.com
2301 Texas Blvd., Texarkana, TX 75501
Phone:(903) 794-1013
Fax:
Verity Group www.verity-group.com
Contact: Tony Osborne
Contact Phone:(972) 422-2228
Contact Email: tosborne@verity-group.com
885 East Collins Blvd., Suite 102, Richardson, TX 75081
Phone:(972) 422-2228
Fax:
Warrenburg Business Machines Contact: Dave Mudd
Contact Phone:(660) 747-6173
Contact Email: wbminc@embarqmail.com
315 N Holden ST POBox 2 Warrensburg MO 64093
Phone:(660) 747-2200
Fax:(660) 747-2200
Zoom Imaging Solutions Inc www.zoomcopiers.com
Contact: Ed Rowe
Contact Phone:(916) 369-6526
Contact Email: info@zoomcopiers.com
200 South Harding Boulevard, Roseville, CA 95678
Phone:(916) 369-6526
Fax:
Zoom Imaging Solutions Inc www.zoomcopiers.com
Contact: Ed Rowe
Contact Phone:(559) 275-7086
Contact Email: info@zoomcopiers.com
4603 West Jennifer Avenue, Fresno, CA 93722
Phone:(559) 275-7086
Fax:
Zoom Imaging Solutions Inc www.zoomcopiers.com
Contact: Ed Rowe
Contact Phone:(408) 200-2679
Contact Email: info@zoomcopiers.com
6920 Santa Teresa Boulevard, San Jose, CA 95119
Phone:(408) 200-2679
Fax:
Zoom Imaging Solutions Inc www.zoomcopiers.com
Contact: Ed Rowe
Contact Phone:(650) 423-2679
Contact Email: info@zoomcopiers.com
111 Anza Boulevard, Suite 430, Burlingame, CA 94010
Phone:(650) 423-2679
Fax:
Zoom Imaging Solutions Inc www.zoomcopiers.com
Contact: Ed Rowe
Contact Phone:(209) 545-1479
Contact Email: info@zoomcopiers.com
5341 Pirrone Road, Salida, CA 95368
Phone:(209) 545-1479
Fax:
Zoom Imaging Solutions Inc www.zoomcopiers.com
Contact: Ed Rowe
Contact Phone:(831) 424-2525
Contact Email: info@zoomcopiers.com
1611 Bunker Hill Way, Suite 140, Salinas, CA 93906
Phone:(831) 424-2525
Fax:
Zoom Imaging Solutions Inc www.zoomcopiers.com
Contact: Ed Rowe
Contact Phone:(925) 680-4944
Contact Email: info@zoomcopiers.com
1000 Burnett Avenue, Suite 100, Concord, CA 94520
Phone:(925) 680-4944
Fax:
Zoom Imaging Solutions Inc www.zoomcopiers.com
Contact: Ed Rowe
Contact Phone:(707) 421-2679
Contact Email: info@zoomcopiers.com
101 Golf Course Drive, Suite 201, Rohnert Park, CA 94928
Phone:(707) 421-2679
Fax:
Zoom Imaging Solutions Inc www.zoomcopiers.com
Contact: Ed Rowe
Contact Phone:(559) 738-1119
Contact Email: info@zoomcopiers.com
4930 West Kaweah Court, Suite 102, Visalia, CA 93277
Phone:(559) 738-1119
Fax:
Zoom Imaging Solutions Inc www.zoomcopiers.com
Contact: Ed Rowe
Contact Phone:(661) 392-4451
Contact Email: info@zoomcopiers.com
4900 California Avenue, Tower B-210, Bakersfield, CA 93309
Phone:(661) 392-4451
Fax:
Zoom Imaging Solutions Inc www.zoomcopiers.com
Contact: Ed Rowe
Contact Phone:(707) 421-2679
Contact Email: info@zoomcopiers.com
1111 Webster Street, Fairfield, CA 94533
Phone:(707) 421-2679
Fax:
Zoom Imaging Solutions Inc www.zoomcopiers.com
Contact: Ed Rowe
Contact Phone:(844) 754-9032
Contact Email: info@zoomcopiers.com
910 Ramona Avenue, Suite E, Grover Beach, CA 93433
Phone:(844) 754-9032
Fax: