EMAIL PURCHASE ORDER TO: TIPSPO@TIPS-USA.COM
ATTACH PO AS A PDF - ONLY ONE PO PER EMAIL
PO MUST REFERENCE TIPS CONTRACT NUMBER
VENDOR

mediatechnologies

WEBSITE

www.mediatechnologies.com

SERVICE/PRODUCTS DESCRIPTION

Silver Street, Inc., home of mediatechnologies® - manufacturers of innovative furniture for education, corporate, hospitality and healthcare markets. Since 1979, we have been committed to providing our customers with product solutions for their ever-changing markets. MAS Certified Green products – for a healthier indoor environment.
CONTRACT: 1102215 Furniture (Expires Oct 2018)
Oct-22-2015 to Oct-25-2018
mediatechnologies
CONTRACT: 1102215 Furniture (Expires Oct 2018)
Oct-22-2015 to Oct-25-2018
TIPS CONTACT

PAYMENT TO

NAME

Meredith Barton

ADDRESS:

Jake

POSITION

TIPS CONTACT

PHONE

(866)-839-8477

CITY:

Shelby

FAX

(866)-839-8472

STATE:

MI

MOBILE

ZIP:

49455

EMAIL

tips@tips-usa.com
| | |
| --- | --- |
| FEDERAL OR EDGAR COMPLIANCE DOCUMENTS FILED WITH CONTRACT: | Yes |
| DISADVANTAGED/MINORITY/WOMAN BUSINESS ENTERPRISE | NO |
| HISTORICALLY UNDERUTILIZED BUSINESS (HUB) | NO |
| | |
| --- | --- |
| | AL AK AZ AR CA CO CT DE DC FL GA HI ID IL IN IA KS KY LA ME MD MA MI MN MS MO MT NE NV NH NJ NM NY NC ND OH OK OR PA RI SC SD TN TX UT VT VA WA WI WY |
0

We are committed to provide a financing experience based on unwavering integrity, unmatched service and complete transparency. Our processes have been established with the client in mind, and we are dedicated to ensuring that you enjoy your experience working with our team. Our goal is for you to build a long-term relationship with Live Oak Equipment Finance, not only as your financial partner, but also a firm that can help you grow and excel as a professional in your industry.
Contact Information:
Phone: (512) 726-0367
Email: tips@loequipmentfinance.com
Website: www.loequipmentfinance.com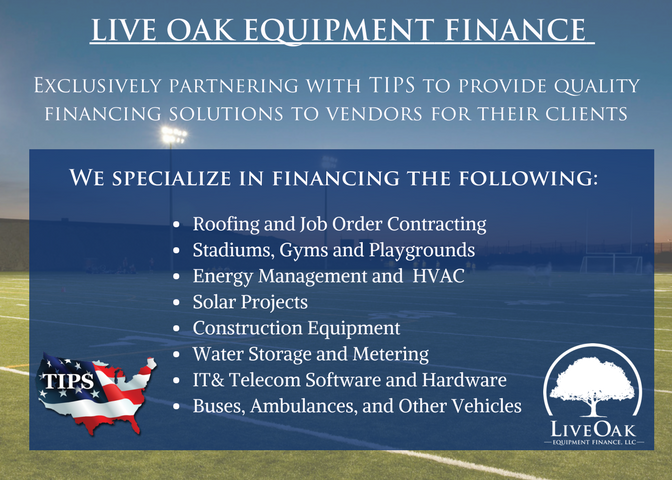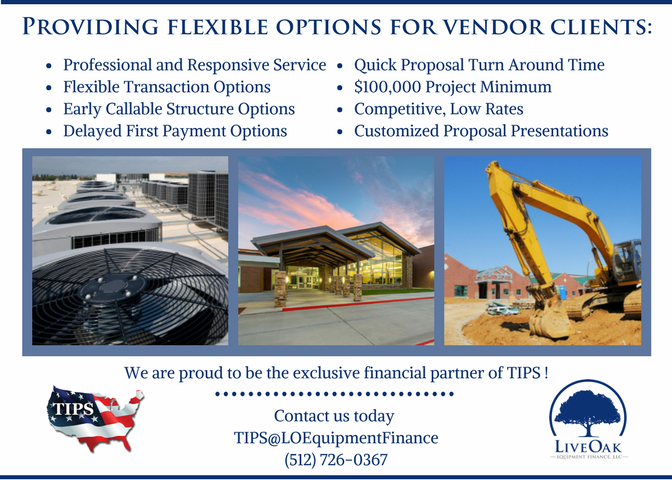 Resellers listed below may also hold a current TIPS contract. PO's for quotes provided by a reseller that are also awarded in the same category will be processed and sent directly to that reseller.
Please check under "ALL VENDORS" before requesting a quote from any listed reseller.
Resellers
Address
ATD American www.atdamerican.com
Contact: Yvonne Zaslow
Contact Phone:215-576-1827
Contact Email: yzaslow@atd.com
135 Greenwood Avenue, Wyncote, PA, 19095
Phone:866-283-9327
Fax:866-283-9327
BA Designs www.badesignsllc.com
Contact: Beth Anne Branden
Contact Phone:785- 266-8116
Contact Email: bbranden@badesignsllc.com
4119 SW Southgate Drive, Topeka , KS, 66609
Phone:785-267-8100
Fax:785-267-8100
Blankenship Associates www.blankenshipassociates.com
Contact: Caroline McCormac
Contact Phone:919-783-8874
Contact Email: cmccormac@blankenshipassociates.com
980 Trinity Rd., Raleigh, NC, 27607
Phone:919-787-1346
Fax:919-787-1346
Brown & Saenger www.brown-saenger.com
Contact: Clif Mauer
Contact Phone:605-332-0963
Contact Email: clif@brown-Saenger.com
621 West Russell Street, Sioux Falls, SD, 57104
Phone:605-336-1960
Fax:605-336-1960
CI Select www.ciselect.com
Contact: Stacey Wellen
Contact Phone:
Contact Email: swellen@ciselect.com
11840 Westline Industrial Dr., St. Louis, MS, 63146
Phone:314-909-1990
Fax:314-909-1990
Classroom Outfitters www.classroomoutfitters.com
Contact: Rick Brewer
Contact Phone:786-738-8399
Contact Email: rick@classroomoutfitters.com
19301 SW 106th Avenue, Miami, FL, 33157
Phone:786-735-1155
Fax:786-735-1155
Continental Office www.continentaloffice.com
Contact: Lisa Welch
Contact Phone:614-261-1231
Contact Email: lwelch@continentaloffice.com
2601 Silver Drive, Columbus, OH, 43229
Phone:614-262-5040
Fax:614-262-5040
Contrax Furnishings www.contrax.com
Contact: Bill Latham
Contact Phone:352-373-0622
Contact Email: blatham@contrax.com
690 NE 23rd Avenue, Gainesville, FL, 32609
Phone:800-699-7516
Fax:800-699-7516
Creative Library Concepts www.creativelibaryconcepts.com
Contact: David Kingsburg
Contact Phone:908-276-9217
Contact Email: davek@creativelibraryconcepts.com
490 Route 33 West, Millstone, NJ, 08535
Phone:908-276-9200
Fax:908-276-9200
Delta Graphic www.deltagraphic.com
Contact: Thomas Moody
Contact Phone:804-748-6448
Contact Email: tmoody@deltagraphic.com
12532 Branders Bridge Rd, Chester, VA, 23831
Phone:804-748-6448
Fax:804-748-6448
Demco, Inc. www.demco.com
Contact: LeAnn Dawson
Contact Phone:888-329-4728
Contact Email: leannd@demco.com
4810 Forest Run Road, Madison, WI, 53708-8123
Phone:800-462-8709
Fax:800-462-8709
Educational Furniture www.edfurn.com
Contact: Matt Simmons
Contact Phone:765-286-8553
Contact Email: matt@edfurn.com
620 E. 18th Street, Muncie , IN, 47302
Phone:765-286-9041
Fax:765-286-9041
Educator's Depot www.educatorsdepot.com
Contact: Alan Clarke
Contact Phone:866-736-2014
Contact Email: AClarke@educatorsdepot.com
17424 W Grand Pkwy South, Sugar Land, TX, 77479
Phone:866-736-2012
Fax:866-736-2012
Frank Cooney Company www.frankcooney.com
Contact: Gregory Cooney
Contact Phone:847-640-6575
Contact Email: gregory@frankcooney.com
1226 N. Michael Dr, Suite C, Wood Dale, IL, 60191
Phone:847-640-8800
Fax:847-640-8800
Hertz Furniture www.hertzfurniture.com
Contact: Mutty Leiser
Contact Phone:800-842-9290
Contact Email: mleiser@HertzFurniture.com
P.O. Box 803, Mahwah, NJ, 07430
Phone:800-526-4677
Fax:800-526-4677
Indoff, Inc. www.indoff.com
Contact: Adam Heck
Contact Phone:507-831-0141
Contact Email: adam.heck@indoff.com
11816 Lackland Road, St. Louis, MS, 63146
Phone:507-831-1401
Fax:507-831-1401
Interior Systems, Inc. www.interiorsystemsinc.com
Contact: Mark Goudy
Contact Phone:910-673-2646
Contact Email: mgoudy.isi@wildblue.ne
6667 NC Highway 211 E, West End, NC, 27376
Phone:910-673-0633
Fax:910-673-0633
JP Jay & Associates www.jpjay.com
Contact: Jay Malise
Contact Phone:610-435-9216
Contact Email: jpm@jpjay.com
1313 Roth Avenue, Allentown, PA, 18102
Phone:610-435-9666
Fax:610-435-9666
Lowery McDonnell Co. www.lowerymcdonnell.com
Contact: Randy Blackwell
Contact Phone:630-227-1100
Contact Email: rblackwell@lmcinc.net
255 Mittel Drive, Wood Dale, IL, 60191
Phone:888-656-9379
Fax:888-656-9379
OfficeScapes www.officescapes.com
Contact: Lee Stapp
Contact Phone:719-574-1133
Contact Email: lstapp@officescapes.com
2506 Zeppelin Rd., Colorado Springs, CO, 80916
Phone:719-574-1113
Fax:719-574-1113
Pemco Furniture www.pemcofurniture.com
Contact: Brian McGaughey
Contact Phone:412-831-7662
Contact Email: brian@pemcofurniture.com
5335 Progress Blvd, Bethel Park , PA, 15102
Phone:412-831-7601
Fax:412-831-7601
Ross Pritchard & Associates www.rpainc.info
Contact: Ross Pritchard
Contact Phone:
Contact Email: rpritchard@rpainc.biz
3703 5th Avenue , Birmingham, AL, 35222
Phone:205-324-5641
Fax:205-324-5641
School Equipment, Inc. www.seinm.com
Contact: Lorenzo Marino
Contact Phone:505-888-0821
Contact Email: support@seinm.com
7800 Phoenix NE, Suite A, Albuquerque, NM, 87110
Phone:505-888-5959
Fax:505-888-5959
School Furnishings, Inc. www.schoolfurnishings.com
Contact: Tracie Call
Contact Phone:603-882-9439
Contact Email: tracie@schoolfurnishings.com
33 Main Street, Suite 500, Nashua, NH, 03064
Phone:603-882-9418
Fax:603-882-9418
School Solutions, Inc. www.ssifurnishings.com
Contact: Mike Sigsbee
Contact Phone:816-792-2731
Contact Email: msigsbee@ssifurnishings.com
6624 Royal Street, Pleasant Valley, MO, 64068
Phone:866-758-8448
Fax:866-758-8448
School Specialty www.schoolspecialty.com
Contact: Jason DeWeerd
Contact Phone:419-520-4130
Contact Email: jason.deweerd@schoolspecialty.com
W6316 Design Drive, Mansfield, OH, 54942
Phone:616-608-2801
Fax:616-608-2801
Staples www.staples.com
Contact: Karen Volner
Contact Phone:786-738-8399
Contact Email: karen.volner@staples.com
500 Staples Drive, Farmington, MA, 01702
Phone:651-234-4050
Fax:651-234-4050
Warehouse Direct www.warehousedirect.com
Contact: Fern Pullman
Contact Phone:847-956-5869
Contact Email: fpullman@warehousedirect.com
1601 W. Algonquin Rd, Mt. Prospect, IL, 60056
Phone:841-952-1925
Fax:841-952-1925
WB Mason www.wbmason.com
Contact: John Kane
Contact Phone:508-436-1047
Contact Email: john.kane@wbmason.com
59 Center St, Brockton, MA, 02303
Phone:508-846-9133
Fax:508-846-9133