EMAIL PURCHASE ORDER TO: TIPSPO@TIPS-USA.COM
ATTACH PO AS A PDF - ONLY ONE PO PER EMAIL
PO MUST REFERENCE TIPS CONTRACT NUMBER
VENDOR

Z Floor Co

WEBSITE

www.zfloor.com

SERVICE/PRODUCTS DESCRIPTION

Z Floor Co is a family owned business with over 60 yrs of combined experience based in Lake Dallas, TX. The company specializes in total sports flooring needs and prides itself in being a leader in the installation, repairs and maintenance of athletic flooring. Z Floor Co., does installations and/or maintennace for basketball, volleyball, racquetball courts, exercise rooms, basically any type of multipurpose athletic flooring.
CONTRACT: 6111915 Gym Floors
Nov-19-2015 to Nov-22-2018 EDGAR COMPLIANCE : N
Z Floor Co
CONTRACT: 6111915 Gym Floors
Nov-19-2015 to Nov-22-2018
EDGAR COMPLIANCE : N
PRIMARY CONTACT

SECONDARY CONTACT

NAME

Kevin Zablosky
Bo Peacock

POSITION

Partner
Sales/Purchasing

PHONE

(940) 497-4994
(940) 497-4994

FAX

(940) 497-5044
(940) 497-5044

MOBILE

EMAIL

sales@zfloor.com
bo@zfloor.com

WEBSITE

www.zfloor.com
TIPS CONTACT

PAYMENT TO

NAME

Meredith Barton

ADDRESS:

350 Betchan Ave

POSITION

TIPS CONTACT

PHONE

(866)-839-8477

CITY:

Lake Dallas

FAX

(866)-839-8472

STATE:

TX

MOBILE

ZIP:

75065

EMAIL

tips@tips-usa.com
| | |
| --- | --- |
| DISADVANTAGED/MINORITY/WOMAN BUSINESS ENTERPRISE | NO |
| HISTORICALLY UNDERUTILIZED BUSINESS (HUB) | NO |
| | |
| --- | --- |
| | LA , OK , TX |

We are committed to provide a financing experience based on unwavering integrity, unmatched service and complete transparency. Our processes have been established with the client in mind, and we are dedicated to ensuring that you enjoy your experience working with our team. Our goal is for you to build a long-term relationship with Live Oak Equipment Finance, not only as your financial partner, but also a firm that can help you grow and excel as a professional in your industry.
Contact Information:
Phone: (512) 726-0367
Email: tips@loequipmentfinance.com
Website: www.loequipmentfinance.com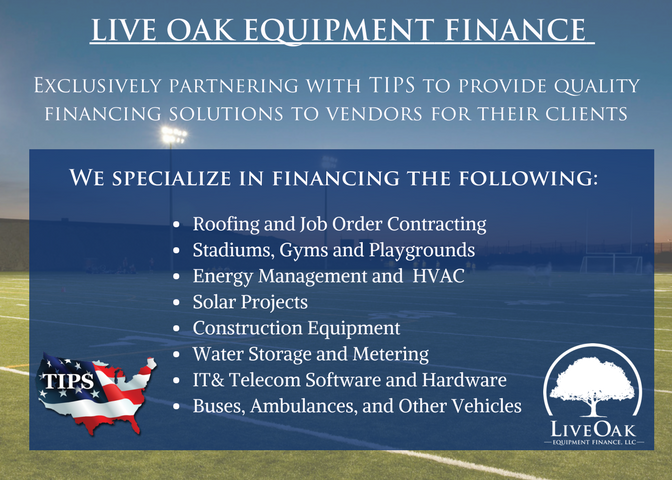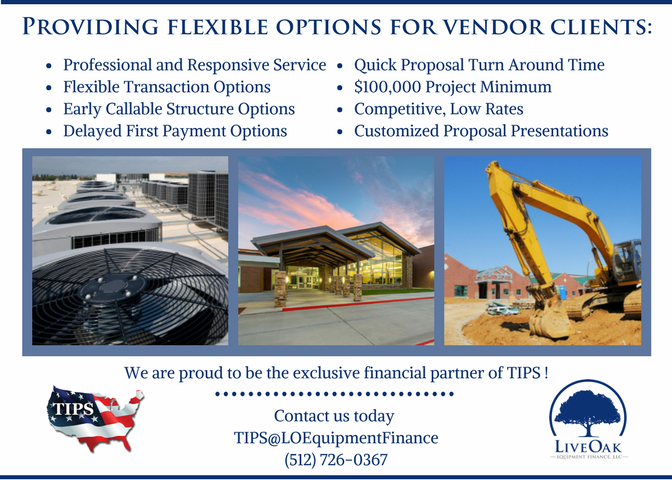 Resellers listed below may also hold a current TIPS contract. PO's for quotes provided by a reseller that are also awarded in the same category will be processed and sent directly to that reseller.

Please check under "ALL VENDORS" before requesting a quote from any listed reseller.
Resellers
Address
Connor Sport Flooring Contact: Brent Davidson
Contact Phone:(817) 944-0269
Contact Email: bdavidson@connorfloor.us
1160 Highland Oaks Dr Southlake TX 76092
Phone:
Fax:
Everlast Contact: Mary Steeples
Contact Phone:(281) 332-5000
Contact Email: msteeples@sportsflooring.com
2500 W Main Ste 68 League City TX 77573
Phone:(281) 332-5008
Fax:(281) 332-5008
Polo Piaz Contact: Wes Jordan
Contact Phone:(501) 985-1172
Contact Email: wesjo@poloplaz.com
Paradise Park Rd Jacksonville AR 72076
Phone:(501) 985-1359
Fax:(501) 985-1359
Tajima Contact: Thomas Powell
Contact Phone:(888) 652-2111
Contact Email: tanp@tajimaflooring.com
29549 Thunderbolt Cr Conifer CO 80433
Phone:(303) 379-5442
Fax:(303) 379-5442
U.S. Rubber Contact:
Contact Phone:(888) 473-8453
Contact Email:
1231 S Lincoln St Colton CA 92324
Phone:(909) 825-1288
Fax:(909) 825-1288