EMAIL PURCHASE ORDER TO: TIPSPO@TIPS-USA.COM
ATTACH PO AS A PDF - ONLY ONE PO PER EMAIL
PO MUST REFERENCE TIPS CONTRACT NUMBER
VENDOR

Alamo Group TX Inc

WEBSITE

www.alamo-industrial.com

SERVICE/PRODUCTS DESCRIPTION

Alamo Group (TX) Inc. is one of the world's largest manufacturers of tractor-mounted mowers, brush-cutters, and land-clearing equipment. Made for right-of-way clearing, roadside vegetation management and grounds maintenance, our line of mowing products and parts cuts the competition down to size! The Alamo Group (TX) Inc. line includes rotary, flail, and sickle bar mowers. Our boom mowers have been at the top of the industry for many years and are offered with many types of cutting heads including limb cutters. From highway mowing to land-clearing products, we have the solutions you need to conquer those tough vegetation control jobs!
CONTRACT: 5111915 Grounds Maintenance
Nov-19-2015 to Nov-22-2018 EDGAR COMPLIANCE : N
Alamo Group TX Inc
CONTRACT: 5111915 Grounds Maintenance
Nov-19-2015 to Nov-22-2018
EDGAR COMPLIANCE : N
TIPS CONTACT

PAYMENT TO

NAME

Meredith Barton

ADDRESS:

1502 East Walnut Street

POSITION

TIPS CONTACT

PHONE

(866)-839-8477

CITY:

Seguin

FAX

(866)-839-8472

STATE:

TX

MOBILE

ZIP:

78155

EMAIL

tips@tips-usa.com
| | |
| --- | --- |
| DISADVANTAGED/MINORITY/WOMAN BUSINESS ENTERPRISE | NO |
| HISTORICALLY UNDERUTILIZED BUSINESS (HUB) | NO |
| | |
| --- | --- |
| | AL , AK , AZ , AR , CA , CO , CT , DE , DC , FL , GA , HI , ID , IL , IN , IA , KS , KY , LA , ME , MD , MA , MI , MN , MS , MO , MT , NE , NV , NH , NJ , NM , NY , NC , ND , OH , OK , OR , PA , RI , SC , SD , TN , TX , UT , VT , VA , WA , WI , WY |

We are committed to provide a financing experience based on unwavering integrity, unmatched service and complete transparency. Our processes have been established with the client in mind, and we are dedicated to ensuring that you enjoy your experience working with our team. Our goal is for you to build a long-term relationship with Live Oak Equipment Finance, not only as your financial partner, but also a firm that can help you grow and excel as a professional in your industry.
Contact Information:
Phone: (512) 726-0367
Email: tips@loequipmentfinance.com
Website: www.loequipmentfinance.com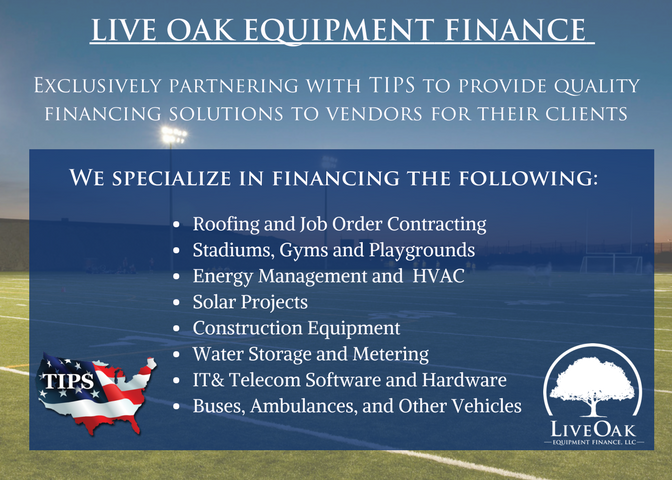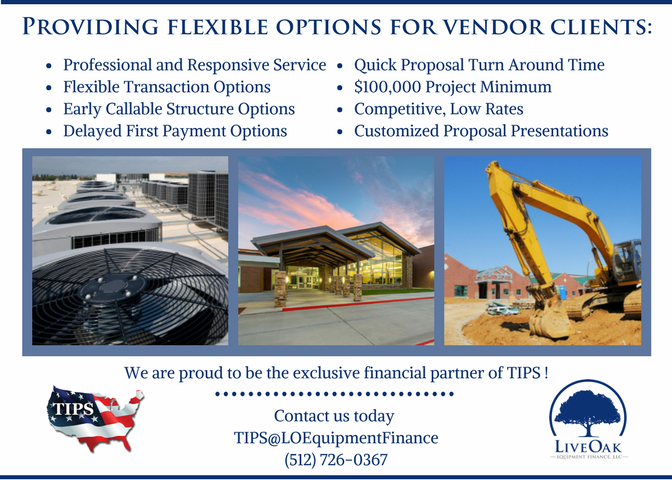 Resellers listed below may also hold a current TIPS contract. PO's for quotes provided by a reseller that are also awarded in the same category will be processed and sent directly to that reseller.

Please check under "ALL VENDORS" before requesting a quote from any listed reseller.
Resellers
Address
146 Supply, Inc. www.146supply.com
Contact: Sales Manager
Contact Phone:+1 (508) 865 3800
Contact Email: parts@146supply.com
Route 146, Millbury, MA, 61742
Phone:+1 (508) 865 3800
Fax:+1 (508) 865 3800
Ag-Con Equipment www.agconequipment.com
Contact: Sales Manager
Contact Phone:+1 (318) 388-4750
Contact Email: agconequip@comcast.net
2110 Center St., Monroe, LA, 71202-4502
Phone:+1 (318) 388-4750
Fax:+1 (318) 388-4750
Ag-Pro LLC - Athens www.agprocompanies.com
Contact: Sales Manager
Contact Phone:+1 (770) 725-8080
Contact Email:
2740 Atlanta Hwy, Athens, GA, 30606
Phone:+1 (770) 725-8080
Fax:+1 (770) 725-8080
Ag-Pro LLC - Cario www.agprocompanies.com
Contact: Sales Manager
Contact Phone:+1 (229) 377-3383
Contact Email: rbrock@agprocompanies.com
2025 US Hwy 84 East, Cairo, GA, 39828
Phone:+1 (229) 377-3383
Fax:+1 (229) 377-3383
Ag-Pro LLC - Carnesville www.agprocompanies.com
Contact: Sales Manager
Contact Phone:+1 (706) 384-5555
Contact Email: mbridges@agprocompanies.com
10963 GA Hwy 106, Carnesville, GA, 30521
Phone:+1 (706) 384-5555
Fax:+1 (706) 384-5555
Ag-Pro LLC - Chiefland www.agprocompanies.com
Contact: Sales Manager
Contact Phone:+1 (352) 493-4121
Contact Email: jeniferb@greensouth.com
107 SW 4th Ave, Chiefland, FL, 32644
Phone:+1 (352) 493-4121
Fax:+1 (352) 493-4121
Ag-Pro LLC - Dacula www.agprocompanies.com
Contact: Sales Manager
Contact Phone:+1 (678) 376-3240
Contact Email: sbaldwin@agprocompanies.com
2173 Winder Hwy, Dacula, GA, 30019
Phone:+1 (678) 376-3240
Fax:+1 (678) 376-3240
Ag-Pro LLC - Gainesville www.agprocompanies.com
Contact: Sales Manager
Contact Phone:+1 (352) 367-2632
Contact Email: andyc@greensouth.com
9120 NW 13 St, Gainesville, FL, 32653
Phone:+1 (352) 367-2632
Fax:+1 (352) 367-2632
Ag-Pro LLC - Hastings www.agprocompanies.com
Contact: Sales Manager
Contact Phone:+1 (904) 692-1538
Contact Email: cfortner@agprocompanies.com
100 South Darcy St., Hastings, FL, 32145
Phone:+1 (904) 692-1538
Fax:+1 (904) 692-1538
Ag-Pro LLC - Madison www.agprocompanies.com
Contact: Sales Manager
Contact Phone:+1 (706) 342-2332
Contact Email: dhenderson@agprocompanies.com
1350 Lion Club Rd Suite D, Madison, GA, 30650
Phone:+1 (706) 342-2332
Fax:+1 (706) 342-2332
Ag-Pro LLC - Middleburg www.agprocompanies.com
Contact: Sales Manager
Contact Phone:+1 (904) 272-2272
Contact Email: levonta72@gmail.com
2520 C.R. 220, Middleburg, FL, 32068
Phone:+1 (904) 272-2272
Fax:+1 (904) 272-2272
Ag-Pro LLC - Ocala www.agprocompanies.com
Contact: Sales Manager
Contact Phone:+1 (352) 351-2383
Contact Email: tcovington@agprocompanies.com
1695 NW 63rd St, Ocala, FL, 34475
Phone:+1 (352) 351-2383
Fax:+1 (352) 351-2383
Ag-Pro LLC - Tallahassee www.agprocompanies.com
Contact: Sales Manager
Contact Phone:+1 (850) 877-5522
Contact Email: demerson@agprocompanies.com
2890 Industrial Plaza Dr., Tallahassee, FL, 32301
Phone:+1 (850) 877-5522
Fax:+1 (850) 877-5522
Ag-Pro LLC - Thomasville www.agprocompanies.com
Contact: Sales Manager
Contact Phone:+1 (229) 226-4881
Contact Email: abaker@agprocompanies.com
12793 US Hwy 19 N, Thomasville, GA, 31792
Phone:+1 (229) 226-4881
Fax:+1 (229) 226-4881
Ag-Pro LLC - Williamston www.agprocompanies.com
Contact: Sales Manager
Contact Phone:+1 (864) 847-8400
Contact Email: jhughes@agprocompanies.com
5046 Hwy 29 N, Williamston, SC, 29697
Phone:+1 (864) 847-8400
Fax:+1 (864) 847-8400
Akron Tractor & Equipment Inc.- Akron, OH www.akrontractor.com
Contact: Sales Manager
Contact Phone:+1 (330) 836-0237
Contact Email: sales@akrontractor.com
1309 Collier Road, Akron, OH, 44320
Phone:+1 (330) 836-0237
Fax:+1 (330) 836-0237
Allied Machinery Corporation www.alliedmachinerycorp.com
Contact: Sales Manager
Contact Phone:+1 (808) 986-0691
Contact Email: kakiona@alliedmachinerycorp.com
240 Hookahi St, Wailuku, HI, 96793
Phone:+1 (808) 986-0691
Fax:+1 (808) 986-0691
Allied Machinery Corporation www.alliedmachinerycorp.com
Contact: Sales Manager
Contact Phone:+1 (808) 986-0691
Contact Email: kakiona@alliedmachinerycorp.com
94-168 Leoole Street, Waipahu, HI, 96797
Phone:+1 (808) 986-0691
Fax:+1 (808) 671-0541
Allied Machinery Corporation - Kauai www.alliedmachinerycorp.com
Contact: Sales Manager
Contact Phone:+1 (808) 245-8581
Contact Email: tparrott@alliedmachinerycorp.com
1840 Haleukana Street, Lihue, HI, 96766
Phone:+1 (808) 245-8581
Fax:+1 (808) 245-8581
Alma Tractor & Equipment www.almatractor.com
Contact: Sales Manager
Contact Phone:+1 (479) 632-6300
Contact Email: jalexander@almatractor.com
35 Hwy 71 North, Alma, AR, 72921
Phone:+1 (479) 632-6300
Fax:+1 (479) 632-6300
Altman Tractor - Conway www.altmantractor.com
Contact: Sales Manager
Contact Phone:+1 (843) 347-4664
Contact Email: ddennis@altmantractor.com
1151 Hwy 501 Business, Conway, SC, 29526
Phone:+1 (843) 347-4664
Fax:+1 (843) 347-4664
Altman Tractor Company - Florence www.altmantractor.com
Contact: Sales Manager
Contact Phone:+1 (843) 662-0151
Contact Email: saltman@altmantractor.com
1808 E. pamplico Hwy., Florence, SC, 29505
Phone:+1 (843) 662-0151
Fax:+1 (843) 662-0151
Antietam Ford Tractor Inc. www.antietamtractor.com
Contact: Sales Manager
Contact Phone:+1 (301) 791-1200
Contact Email:
20927 Leitersburg Pike, Hagerstown, MD, 21742
Phone:+1 (301) 791-1200
Fax:+1 (301) 791-1200
Aring Equipment Company, Inc. www.aringequipment.com
Contact: Sales Manager
Contact Phone:+1 (262) 781-3770
Contact Email: rmiller@aringequipment.com
13001 West Silver Spring Drive, Butler, WI, 53007
Phone:+1 (262) 781-3770
Fax:+1 (262) 781-3770
Atlantic Tractor - Cecilton www.atlantictractor.net
Contact: Sales Manager
Contact Phone:+1 (410) 275-2195
Contact Email:
364 Cecilton-Warwick Rd, Cecilton, MD, 21913
Phone:+1 (410) 275-2195
Fax:+1 (410) 275-2195
Atlantic Tractor - Chestertown www.atlantictractor.net
Contact: Sales Manager
Contact Phone:+1 (410) 778-3464
Contact Email:
621 Morgnec Rd, Chestertown, MD, 21620
Phone:+1 (410) 778-3464
Fax:+1 (410) 778-3464
Atlantic Tractor - Clayton www.atlantictractor.net
Contact: Sales Manager
Contact Phone:+1 (302) 653-8536
Contact Email: lknowles@atjd.net
300 East St, Clayton, DE, 19938
Phone:+1 (302) 653-8536
Fax:+1 (302) 653-8536
Atlantic Tractor - East New Market www.atlantictractor.net
Contact: Sales Manager
Contact Phone:+1 (410) 228-0922
Contact Email: donjones@atjd.net
5449 Cheateau Rd, East New Market, MD, 21631
Phone:+1 (410) 228-0922
Fax:+1 (410) 228-0922
Atlantic Tractor - Newark www.atlantictractor.net
Contact: Sales Manager
Contact Phone:+1 (302) 834-0114
Contact Email:
2688 Pulaski Hwy, Newark, DE, 19702
Phone:+1 (302) 834-0114
Fax:+1 (302) 834-0114
Atlantic Tractor - Oxford www.atlantictractor.net
Contact: Sales Manager
Contact Phone:+1 (610) 932-8858
Contact Email:
150 Whiteside Dr, Oxford, PA, 19363
Phone:+1 (610) 932-8858
Fax:+1 (610) 932-8858
Atlantic Tractor - Pocomoke www.atlantictractor.net
Contact: Sales Manager
Contact Phone:+1 (410) 957-2727
Contact Email:
7321 Ocean Highway, Pocomoke, MD, 21851
Phone:+1 (410) 957-2727
Fax:+1 (410) 957-2727
Atlantic Tractor - Queen Anne www.atlantictractor.net
Contact: Sales Manager
Contact Phone:+1 (410) 364-5723
Contact Email: mrodriguez@atjd.net
13736 Main St., Queen Anne, MD, 21657
Phone:+1 (410) 364-5723
Fax:+1 (410) 364-5723
Atlantic Tractor - Salisbury www.atlantictractor.net
Contact: Sales Manager
Contact Phone:+1 (410) 860-0676
Contact Email: pbyrd@atjd.net
31415 John Deere Drive, Salisbury, MD, 21804
Phone:+1 (410) 860-0676
Fax:+1 (410) 860-0676
Atlantic Tractor - Whiteford www.atlantictractor.net
Contact: Sales Manager
Contact Phone:+1 (410) 452-5252
Contact Email:
721 Wheeler School Rd, Whiteford, MD, 21160
Phone:+1 (410) 452-5252
Fax:+1 (410) 452-5252
Austin Turf & Tractor - Bernalillo www.austinturf.com
Contact: Sales Manager
Contact Phone:+1 (800) 528-3290
Contact Email:
1429 S. Camino del Pueblo, Bernalillo, NM, 87004
Phone:+1 (800) 528-3290
Fax:
Austin Turf & Tractor - Farmers Branch www.austinturf.com
Contact: Sales Manager
Contact Phone:+1 (214) 630-3300
Contact Email: clay.mccracken@austinturf.com
2098 Valley View Lane, Farmers Branch, TX, 78734
Phone:+1 (214) 630-3300
Fax:+1 (214) 630-3300
Austin Turf & Tractor - Marble Falls www.austinturf.com
Contact: Sales Manager
Contact Phone:+1 (830) 693-6477
Contact Email: mike.basquette@austinturf.com
809 Steve Hawkins Parkway, Marlble Falls, TX, 78654
Phone:+1 (830) 693-6477
Fax:+1 (830) 693-6477
Bacher Corporation www.bachercorporation.com
Contact: Sales Manager
Contact Phone:+1 (860) 627-5924
Contact Email: bacher3945@sbcglobal.net
7 Thompson Road, East Windosor, CT, 6088
Phone:+1 (860) 627-5924
Fax:+1 (860) 627-5924
Bacon Universal Co, Inc. - Honolulu www.baconuniversal.com
Contact: Sales Manager
Contact Phone:+1 (808) 839-7202
Contact Email: kkaneshi@baconuniversal.com
918 Ahua Street, Honolulu, HI, 96819
Phone:+1 (808) 839-7202
Fax:+1 (808) 839-7202
Baker Implement www.bakerimplement.com
Contact: Sales Manager
Contact Phone:+1 (573) 785-9628
Contact Email: mike.knodell@bakerimplement.com
1443 Highway B, Poplar Bluff, MO, 63901
Phone:+1 (573) 785-9628
Fax:+1 (573) 785-9628
Beard Equipment Exchange, LLC- Mobile AL www.beardequipment.com
Contact: Sales Manager
Contact Phone:+1 (251) 456-1993
Contact Email: modom@beardequipment.com
2480 E I-65 Service Rd. North, Mobile, AL, 36617
Phone:+1 (251) 456-1993
Fax:+1 (251) 456-1993
Beard Equipment Inc. (Freeport) www.beardequipment.com
Contact: Sales Manager
Contact Phone:+1 (850) 835-3337
Contact Email: csteele@beardequipment.com
33 Industrial Ct, Freeport, FL, 32439
Phone:+1 (850) 835-3337
Fax:+1 (850) 835-3337
Beard Equipment Inc. (Jacksonville) www.beardequipment.com
Contact: Sales Manager
Contact Phone:+1 (904) 296-5000
Contact Email: jgarrison@beardequipment.com
6870 Phillips Hwy, Jacksonville, FL, 32216
Phone:+1 (904) 296-5000
Fax:+1 (904) 296-5000
Beard Equipment Inc. (Lake City) www.beardequipment.com
Contact: Sales Manager
Contact Phone:+1 (386) 752-9544
Contact Email: scarter@beardequipment.com
2578 SE Baya Drive, Lake City, FL, 32025
Phone:+1 (386) 752-9544
Fax:+1 (386) 752-9544
Beard Equipment Inc. (Panama City) www.beardequipment.com
Contact: Sales Manager
Contact Phone:+1 (850) 769-4844
Contact Email: ccole@beardequipment.com
4625 Hwy 231 N, Panama City, FL, 32404
Phone:+1 (850) 769-4844
Fax:+1 (850) 769-4844
Beard Equipment Inc. (Pensacola) www.beardequipment.com
Contact: Sales Manager
Contact Phone:+1 (850) 476-0277
Contact Email: jbutalla@beardequipment.com
3195 W Nine Mile Road, Pensacola, FL, 32534
Phone:+1 (850) 476-0277
Fax:+1 (850) 476-0277
BelkorpAg - Calistoga www.belkorpag.com
Contact: Sales Manager
Contact Phone:+1 (707) 942-4566
Contact Email: RCoffin@BelkorpAg.com
1856 Lincoln Ave, Calistoga, CA, 94515
Phone:+1 (707) 942-4566
Fax:+1 (707) 942-4566
BelkorpAg - Merced www.belkorpag.com
Contact: Sales Manager
Contact Phone:+1 (209) 722-8031
Contact Email: sgoodwin@belkorpag.com
1486 S. Hwy 59, Merced, CA, 95340
Phone:+1 (209) 722-8031
Fax:+1 (209) 722-8031
BelkorpAg - Modesto www.belkorpag.com
Contact: Sales Manager
Contact Phone:+1 (209) 538-3831
Contact Email: blopez@belkorpag.com
2413 Crowslanding Road, Modesto, CA, 95363
Phone:+1 (209) 538-3831
Fax:+1 (209) 538-3831
BelkorpAg - Patterson www.belkorpag.com
Contact: Sales Manager
Contact Phone:+1 (209) 892-6103
Contact Email: sedh@belkorpag.com
1181 N. 2nd St., Patterson, CA, 95363
Phone:+1 (209) 892-6103
Fax:+1 (209) 892-6103
BelkorpAg - Santa Rosa www.belkorpag.com
Contact: Sales Manager
Contact Phone:+1 (707) 584-9111
Contact Email: mcarpenter@belkorpag.com
4101 S. Moorland Ave., Santa Rosa, CA, 95407
Phone:+1 (707) 584-9111
Fax:+1 (707) 584-9111
BelkorpAg - Stockton www.belkorpag.com
Contact: Sales Manager
Contact Phone:+1 (209) 944-5714
Contact Email: rkarl@belkorpag.com
1120 W. Charter Way, Stockton, CA, 95206
Phone:+1 (209) 944-5714
Fax:+1 (209) 944-5714
BelkorpAg - Ukiah www.belkorpag.com
Contact: Sales Manager
Contact Phone:+1 (707) 376-9670
Contact Email: crocha@belkorpag.com
247 E. Perkins St., Ukiah, CA, 95482
Phone:+1 (707) 376-9670
Fax:+1 (707) 376-9670
BelkorpAg - Walnut Grove www.belkorpag.com
Contact: Sales Manager
Contact Phone:+1 (916) 776-1735
Contact Email: smemory@belkorpag.com
14470 Walnut Grove Thornton Road, Walnut Grove, CA, 95690
Phone:+1 (916) 776-1735
Fax:+1 (916) 776-1735
Bevins Motor - Georgetown www.bevinsmotors.com
Contact: Sales Manager
Contact Phone:+1 (502) 863-2529
Contact Email: robyn.caudill@bevinsmotors.com
1797 Lexington Road, Georgetown, KY, 40324
Phone:+1 (502) 863-2529
Fax:+1 (502) 863-2529
Bevins of Mt. Sterling www.bevinsmotors.com
Contact: Sales Manager
Contact Phone:+1 (859) 497-4440
Contact Email: mtsterling@bevinsmotors.com
3365 Owingsville Road, Mt. Sterling, KY, 40353
Phone:+1 (859) 497-4440
Fax:+1 (859) 497-4440
Bevins of Paris www.bevinsmotors.com
Contact: Sales Manager
Contact Phone:+1 (859) 987-4864
Contact Email: paris@bevinsmotors.com
4 Legion Road, Paris, KY, 40261
Phone:+1 (859) 987-4864
Fax:+1 (859) 987-4864
Bevins of Richmond www.bevinsmotors.com
Contact: Sales Manager
Contact Phone:+1 (859) 624-4020
Contact Email: richmond@bevinsmotors.com
908 Commercial Drive, Richmond, KY, 40475
Phone:+1 (859) 624-4020
Fax:+1 (859) 624-4020
Bingham Equipment Company - Buckeye www.binghamequipment.com
Contact: Sales Manager
Contact Phone:+1 (623) 853-1000
Contact Email: charlie.caratachea@binghamequipment.com
710 N. 195th Ave., Buckeye, AZ, 85326
Phone:+1 (623) 853-1000
Fax:+1 (623) 853-1000
Bingham Equipment Company - Mesa www.binghamequipment.com
Contact: Sales Manager
Contact Phone:+1 (480) 969-5516
Contact Email: dave.towles@binghamequipment.com
1655 S. Country Club Dr, Mesa, AZ, 85210
Phone:+1 (480) 969-5516
Fax:+1 (480) 969-5516
Bingham Equipment Company - Tucson www.binghamequipment.com
Contact: Sales Manager
Contact Phone:+1 (520) 887-7799
Contact Email:
5225 N. Casa Grande Hwy, Tucson, AZ, 85743-9479
Phone:+1 (520) 887-7799
Fax:+1 (520) 887-7799
Bingham Ford New Holland - Yuma www.binghamequipment.com
Contact: Sales Manager
Contact Phone:+1 (928) 726-4701
Contact Email:
3214 E. Gila Ridge Rd. #1, Yuma, AZ, 85365-2512
Phone:+1 (928) 726-4701
Fax:+1 (928) 726-4701
Blaine Equipment Co. Inc.- Las Vegas, NV www.blaineequipment.com
Contact: Sales Manager
Contact Phone:+1 (702) 399-2700
Contact Email: parts@blaineequipment.com
3540 North 5th Street, Las Vegas, NV, 89114
Phone:+1 (702) 399-2700
Fax:+1 (702) 399-2700
Blanchard Equipment Co., Inc - SC www.blanchardequipment.com
Contact: Sales Manager
Contact Phone:+1 (803) 534-3141
Contact Email: fstoudenmire@blanchardequipment.com
1080 Five Chop Rd., Orangeburg, SC, 29115
Phone:+1 (803) 534-3141
Fax:+1 (803) 534-3141
Boehm Tractor Sales Inc. www.boehmtractor.com
Contact: Sales Manager
Contact Phone:+1 (361) 594-3123
Contact Email: boehmtractor@sbcglobal.net
201 E 16th Street, Shiner, TX, 77984
Phone:+1 (361) 594-3123
Fax:+1 (361) 594-3123
Boone Equipment Company Bedford www.boonetractor.com
Contact: Sales Manager
Contact Phone:+1 (540) 586-2134
Contact Email:
1111 E. Main Street, Bedford, VA, 24523
Phone:+1 (540) 586-2134
Fax:+1 (540) 586-2134
Boone Equipment Company Salem www.boonetractor.com
Contact: Sales Manager
Contact Phone:+1 (540) 387-4240
Contact Email: salem@boonetractor.com
5264 West Main St., Salem, VA, 24153
Phone:+1 (540) 387-4240
Fax:+1 (540) 387-4240
Booth Machinery Sales Inc. www.boothmachinery.com
Contact: Sales Manager
Contact Phone:+1 (765) 362-6273
Contact Email: boothmachinery@gmail.com
2645 US 136 East Hwy 136, Crawfordsville, IN, 47933
Phone:+1 (765) 362-6273
Fax:+1 (765) 362-6273
Bradco Supply Company www.bradcosupplycompany.com
Contact: Sales Manager
Contact Phone:+1 (570) 265-6167
Contact Email: bradco@epix.net
80 Old Mills Road, Towanda, PA, 18848
Phone:+1 (570) 265-6167
Fax:+1 (570) 265-6167
Brazos Valley Equipment www.brazosvalleyeq.com
Contact: Sales Manager
Contact Phone:+1 (254) 756-5467
Contact Email: bj@brazosvalleyeq.com
1601 Lasalle, Waco, TX, 76706
Phone:+1 (254) 756-5467
Fax:+1 (254) 756-5467
Brazos Valley Equipment - Hillsboro www.brazosvalleyeq.com
Contact: Sales Manager
Contact Phone:+1 (254) 582-2572
Contact Email: chris@brazosvalleyeq.com
7736 Central Park Dr, Woodway, TX, 76712
Phone:+1 (254) 582-2572
Fax:+1 (254) 582-2572
Brim Tractor - Eugene www.brimtractor.com
Contact: Sales Manager
Contact Phone:+1 (541) 485-0407
Contact Email: parts.eugene@brimtractor.com
90330 Hwy 99 N., Eguene, OR, 97402
Phone:+1 (541) 485-0407
Fax:+1 (541) 485-0407
Brim Tractor - Salem www.brimtractor.com
Contact: Sales Manager
Contact Phone:+1 (503) 364-2241
Contact Email:
4720 Ridge Drive NE, Salem, OR, 97303
Phone:+1 (503) 364-2241
Fax:+1 (503) 364-2241
Brown Company- Wyoming www.gobrownco.com
Contact: Sales Manager
Contact Phone:+1 (307) 322-2525
Contact Email: gobrowncom@gobrownco.com
705 16th Street, Wheatland, WY, 82201
Phone:+1 (307) 322-2525
Fax:+1 (307) 322-2525
Browning Equipment Inc. www.browningequipment.com
Contact: Sales Manager
Contact Phone:+1 (540) 338-7123
Contact Email: BROWNINGEQ@AOL.COM
800 East Main Street, Purcellville, VA, 20132
Phone:+1 (540) 338-7123
Fax:+1 (540) 338-7123
Buck Brothers Inc. www.buckbrosinc.com
Contact: Sales Manager
Contact Phone:+1 (847) 683-4440
Contact Email: info@buckbrosinc.com
14N 937 Highway 20, Hampshire, IL, 60140
Phone:+1 (847) 683-4440
Fax:+1 (847) 683-4440
Burnips Equipment Co. www.BURNIPS.COM
Contact: Sales Manager
Contact Phone:+1 (616) 896-9190
Contact Email: BRETT.WUSTMAN@BURNIPS.com
3260 142nd Ave, Dorrr, MI, 49323
Phone:+1 (616) 896-9190
Fax:+1 (616) 896-9190
Capital Tractor, Inc. www.capitaltractorinc.com
Contact: Sales Manager
Contact Phone:+1 (518) 692-9611
Contact Email: karmitage@capitaltractorinc.com
1135 State Rt. 29, Greenwich, NY, 12834
Phone:+1 (518) 692-9611
Fax:+1 (518) 692-9611
Cazenovia Equipment - Chittenango www.cazenoviaequipment.com
Contact: Sales Manager
Contact Phone:+1 (315) 687-3309
Contact Email: rbertella@cazequip.com
809 E. Genesee St., Chittenango, NY, 13037
Phone:+1 (315) 687-3309
Fax:+1 (315) 687-3309
Cazenovia Equipment - Clinton www.cazenoviaequipment.com
Contact: Sales Manager
Contact Phone:+1 (315) 734-9015
Contact Email: sbolan@cazequip.com
8186 Seneca Turnpike, Clinton, NY, 13323
Phone:+1 (315) 734-9015
Fax:+1 (315) 734-9015
Cazenovia Equipment - Cortland www.cazenoviaequipment.com
Contact: Sales Manager
Contact Phone:+1 (607) 756-5693
Contact Email: kdingman@cazequip.com
3892 US Rt. 115, Cortland, NY, 13045
Phone:+1 (607) 756-5693
Fax:+1 (607) 756-5693
Cazenovia Equipment - Lafayette www.cazenoviaequipment.com
Contact: Sales Manager
Contact Phone:+1 (315) 677-9328
Contact Email: adubeau@cazequip.com
2393 Rt. 11, Lafayette, NY, 13084
Phone:+1 (315) 677-9328
Fax:+1 (315) 677-9328
Cazenovia Equipment - Lowville www.cazenoviaequipment.com
Contact: Sales Manager
Contact Phone:+1 (315) 376-3581
Contact Email: dedick@cazequip.com
5570 Shady Ave, Lowville, NY, 13367
Phone:+1 (315) 376-3581
Fax:+1 (315) 376-3581
Cazenovia Equipment - Oneonta www.cazenoviaequipment.com
Contact: Sales Manager
Contact Phone:+1 (607) 433-0646
Contact Email: mburiello@cazequip.com
7443 St. Hwy 23, Oneonta, NY, 13820
Phone:+1 (607) 433-0646
Fax:+1 (607) 433-0646
Cazenovia Equipment - Sandy Creek www.cazenoviaequipment.com
Contact: Sales Manager
Contact Phone:+1 (315) 387-3412
Contact Email: ccrossett@cazequip.com
6224 US Rt. 11, Sandy Creek, NY, 13145
Phone:+1 (315) 387-3412
Fax:+1 (315) 387-3412
Cazenovia Equipment - Watertown www.cazenoviaequipment.com
Contact: Sales Manager
Contact Phone:+1 (315) 785-8153
Contact Email: aphelan@cazequip.com
25523 US Rt. 12 S., Watertown, NY, 13601
Phone:+1 (315) 785-8153
Fax:+1 (315) 785-8153
Cazenovia Equipment Co. Inc. www.cazenoviaequipment.com
Contact: Sales Manager
Contact Phone:+1 (315) 655-8620
Contact Email: ballen@cazequip.com
3200 Rt.20 East, Cazenovia, NY, 13035
Phone:+1 (315) 655-8620
Fax:+1 (315) 655-8620
Central New Holland www.centralnewholland.net
Contact: Sales Manager
Contact Phone:+1 (405) 341-7829
Contact Email: dbing@cnhokc.com
6700 North I-35, Edmond, OK, 73034
Phone:+1 (405) 341-7829
Fax:+1 (405) 341-7829
Central New Holland Inc.- Oklahoma City, OK www.centralnewholland.net
Contact: Sales Manager
Contact Phone:+1 (405) 495-6151
Contact Email: service@cnhokc.com
8408 West I-40, Oklahoma City, OK, 73128
Phone:+1 (405) 495-6151
Fax:+1 (405) 495-6151
Chambers Tractor Sales Inc. Contact: Sales Manager
Contact Phone:+1 (845) 457-3094
Contact Email: chamberstractorsales@hvc.rr.com
167 Ward St., Montgomery, NY, 12549
Phone:+1 (845) 457-3094
Fax:+1 (845) 457-3094
Chauvin Brothers Tractor Inc. www.chauvintractor.com
Contact: Sales Manager
Contact Phone:+1 (504) 394-1095
Contact Email: Info@ChauvinTractor.com
105 Engineers Road, Belle Chasse, LA, 70037
Phone:+1 (504) 394-1095
Fax:+1 (504) 394-1095
Cherry Valley Tractor www.cherryvalleytractor.com
Contact: Sales Manager
Contact Phone:+1 (856) 983-0111
Contact Email: info@cherryvalleytractor.com
35 W Route 70, Marlton, NJ, 8053
Phone:+1 (856) 983-0111
Fax:+1 (856) 983-0111
Cisco Equipment www.cisco-equipment.com
Contact: Sales Manager
Contact Phone:+1 (432) 550-9181
Contact Email: sales@ciscoford.com
520 S.E. Loop 338, Odessa, TX, 79762
Phone:+1 (432) 550-9181
Fax:+1 (432) 550-9181
Clinton Tractor & Implement Co. www.clintontractor.net
Contact: Sales Manager
Contact Phone:+1 (315) 853-6151
Contact Email: becky@clintontractor.net
31 Meadow St., Clinton, NY, 13333
Phone:+1 (315) 853-6151
Fax:+1 (315) 853-6151
CMI Equipment Sales Inc.- Nashville, TN www.cmiequip.com
Contact: Sales Manager
Contact Phone:+1 (615) 227-7800
Contact Email: cmiequip@bellsouth.net
2405 Dickerson Rd., Nashville, TN, 37207
Phone:+1 (615) 227-7800
Fax:+1 (615) 227-7800
CNY Farm Supply www.cnyfarmsupply.com
Contact: Sales Manager
Contact Phone:+1 (607) 218-0200
Contact Email: jay@cnyfarmsupply.com
3865 US Rt. 11, Cortland, NY, 13045
Phone:+1 (607) 218-0200
Fax:+1 (607) 218-0200
Cobb County Tractor Company Inc. www.cctractor.com
Contact: Sales Manager
Contact Phone:+1 (770) 427-1348
Contact Email: info@cctractor.com
1520 Cobb Parkway N, Marietta, GA, 30062
Phone:+1 (770) 427-1348
Fax:+1 (770) 427-1348
Coblentz Equipment & Parts Co. Inc. www.epspecialty.com
Contact: Sales Manager
Contact Phone:+1 (334) 286-9999
Contact Email: cacoblentz@epspecialty.com
10400 HWY 80 E., Montgomery, AL, 36117
Phone:+1 (334) 286-9999
Fax:+1 (334) 286-9999
Colorado Equipment Co. www.coloradoequipment.net
Contact: Sales Manager
Contact Phone:+1 (970) 356-3666
Contact Email: balbaugh@4riversequipment.com
240 5th Street, Greely, CO, 80631
Phone:+1 (970) 356-3666
Fax:+1 (970) 356-3666
Concordia Tractor Inc. - Clay Center www.ctiks.com
Contact: Sales Manager
Contact Phone:+1 (785) 632-3181
Contact Email: info@ctiks.com
642 W Crawford St., Clay Center, KS, 67432
Phone:+1 (785) 632-3181
Fax:+1 (785) 632-3181
Concordia Tractor Inc. - Concordia www.ctiks.com
Contact: Sales Manager
Contact Phone:+1 (785) 243-3381
Contact Email: aadams@ctiks.com
1825 E. 6th Street Tfwy, Concordia, KS, 66901
Phone:+1 (785) 243-3381
Fax:+1 (785) 243-3381
Concordia Tractor Inc. - Wamego www.ctiks.com
Contact: Sales Manager
Contact Phone:+1 (785) 458-5000
Contact Email: info@ctiks.com
1001 Southwind dr., Wamego, KS, 66547
Phone:+1 (785) 458-5000
Fax:+1 (785) 458-5000
Concordia Tractor Inc.- Abliene www.ctiks.com
Contact: Sales Manager
Contact Phone:+1 (785) 263-3051
Contact Email: hadams@ctiks.com
1300 S. Buckeye, Abilene, KS, 67410
Phone:+1 (785) 263-3051
Fax:+1 (785) 263-3051
Contour-Sierra Aebi LLC www.contoursierra.com
Contact: Sales Manager
Contact Phone:+1 (530) 357-3660
Contact Email: information@contoursierra.com
17317 Coyote Lane, Anderson, CA, 96007
Phone:+1 (530) 357-3660
Fax:+1 (530) 357-3660
Crawler Supply Company, LLC www.crawlersupply.com
Contact: Sales Manager
Contact Phone:+1 (225) 357-7515
Contact Email: info@crawlersupply.com
6413 AirLine Catalog Hwy., Baton Rouge, LA, 70805
Phone:+1 (225) 357-7515
Fax:+1 (225) 357-7515
Creel Tractor Company www.creeltractor.com
Contact: Sales Manager
Contact Phone:+1 (239) 694-2185
Contact Email: erik@creeltractor.com
3771 Palm Beach Blvd., Fort Myers, FL, 33916
Phone:+1 (239) 694-2185
Fax:+1 (239) 694-2185
Crockett Iron Works Contact: Sales Manager
Contact Phone:+1 (936) 544-7045
Contact Email: anneall@windstream.net
701 W. Goliad, Crockett, TX, 75835
Phone:+1 (936) 544-7045
Fax:+1 (936) 544-7045
Cullen Equipment Company www.cullenequipment.com
Contact: Sales Manager
Contact Phone:+1 (478) 272-7444
Contact Email: culleneq@dlcga.com
2069 Highway 441 South, Dublin, GA, 31021
Phone:+1 (478) 272-7444
Fax:+1 (478) 272-7444
D&G Equipment Inc. www.dgequipment.com
Contact: Sales Manager
Contact Phone:+1 (517) 655-4606
Contact Email: dgwilliamston@dgequipment.com
2525 E. Grand River, Williamston, MI, 48895
Phone:+1 (517) 655-4606
Fax:+1 (517) 655-4606
D&G Equipment, Inc. - Charlotte www.dgequipment.com
Contact: Sales Manager
Contact Phone:+1 (517) 543-2540
Contact Email:
110 South Lincoln Street, Charlotte, MI, 48813
Phone:+1 (517) 543-2540
Fax:+1 (517) 543-2540
D&G Equipment, Inc. - Corunna www.dgequipment.com
Contact: Sales Manager
Contact Phone:+1 (989) 743-8844
Contact Email:
1047 North Shiawassee Street, Corunna, MI, 48817
Phone:+1 (989) 743-8844
Fax:+1 (989) 743-8844
D&G Equipment, Inc. - Highland www.dgequipment.com
Contact: Sales Manager
Contact Phone:+1 (248) 887-2410
Contact Email:
1155 South Milford Road, Highland, MI, 48357
Phone:+1 (248) 887-2410
Fax:+1 (248) 887-2410
D&G Equipment, Inc. - Howell www.dgequipment.com
Contact: Sales Manager
Contact Phone:+1 (517) 540-6141
Contact Email:
3915 Tractor Drive, Howell, MI, 48855
Phone:+1 (517) 540-6141
Fax:+1 (517) 540-6141
D&G Equipment, Inc. - Mason www.dgequipment.com
Contact: Sales Manager
Contact Phone:+1 (517) 676-9588
Contact Email:
710 North Cedar Street, Mason, MI, 48854
Phone:+1 (517) 676-9588
Fax:+1 (517) 676-9588
D&G Equipment, Inc. - Rives Junction www.dgequipment.com
Contact: Sales Manager
Contact Phone:+1 (517) 569-2405
Contact Email:
290 North Railroad Street, Rives Junction, MI, 49277
Phone:+1 (517) 569-2405
Fax:+1 (517) 569-2405
Diesel Machinery Inc. (DMI) - Aberdeen, SD www.dieselmachinery.com
Contact: Sales Manager
Contact Phone:+1 (605) 725-4364
Contact Email: dmiab@dieselmachinery.com
39288 133rd St., Aberdeen, SD, 57401
Phone:+1 (605) 725-4364
Fax:+1 (605) 725-4364
Diesel Machinery Inc. (DMI) - Rapid City, SD www.dieselmachinery.com
Contact: Sales Manager
Contact Phone:+1 (605) 348-7438
Contact Email: mbarry@dieselmachinery.com
3801 N. Deadwood Ave., Rapid City, SD, 57709
Phone:+1 (605) 348-7438
Fax:+1 (605) 348-7438
Diesel Machinery Inc. (DMI)- Sioux Falls, SD www.dieselmachinery.com
Contact: Sales Manager
Contact Phone:+1 (605) 336-0411
Contact Email: dmirc@dieselmachinery.com
4301 N. Cliff Ave., Sioux Falls, SD, 57118
Phone:+1 (605) 336-0411
Fax:+1 (605) 336-0411
Dixie Lawn Service Inc. www.dixielawn.com
Contact: Sales Manager
Contact Phone:+1 (704) 866-8723
Contact Email: showell@dixielawn.com
126 Bessie Rd., Kings Mountain, NC, 28086
Phone:+1 (704) 866-8723
Fax:+1 (704) 866-8723
Dixon New Holland Inc. www.dixontractor.com
Contact: Sales Manager
Contact Phone:+1 (912) 449-5563
Contact Email: accounting@dixontractor.com
3294 Highway 84 West, Blackshear, GA, 31516
Phone:+1 (912) 449-5563
Fax:+1 (912) 449-5563
East Coast Equipment www.eastcoastequip.com
Contact: Sales Manager
Contact Phone:+1 (252) 355-4818
Contact Email: bcopeland@eastcoastequip.com
2112 Central Park Drive, Winterville, NC, 28590
Phone:+1 (252) 355-4818
Fax:+1 (252) 355-4818
East Coast Equipment - Chesapeake www.eastcoastequip.com
Contact: Sales Manager
Contact Phone:+1 (757) 547-9244
Contact Email: chesapeake@EastCoastEquip.com
1000 Great Bridge Blvd., Chesapeake, VA, 23320
Phone:+1 (757) 547-9244
Fax:+1 (757) 547-9244
East Coast Equipment - Edenton www.eastcoastequip.com
Contact: Sales Manager
Contact Phone:+1 (252) 482-7411
Contact Email:
506 E. Church St., Edenton, NC, 27932-9625
Phone:+1 (252) 482-7411
Fax:+1 (252) 482-7411
East Coast Equipment - Fairfield www.eastcoastequip.com
Contact: Sales Manager
Contact Phone:+1 (252) 926-4041
Contact Email:
9360 Piney Woods Rd., Fairfield, NC, 27826-0038
Phone:+1 (252) 926-4041
Fax:+1 (252) 926-4041
East Coast Equipment - Hertford www.eastcoastequip.com
Contact: Sales Manager
Contact Phone:+1 (252) 264-3333
Contact Email:
1591 Ocean Highway North, Hertford, NC, 27944
Phone:+1 (252) 264-3333
Fax:+1 (252) 264-3333
East Coast Equipment - Kinston www.eastcoastequip.com
Contact: Sales Manager
Contact Phone:+1 (252) 522-0311
Contact Email:
1291 Highway 258 North, Kinston, NC, 28502-0189
Phone:+1 (252) 522-0311
Fax:+1 (252) 522-0311
East Coast Equipment - New Bern www.eastcoastequip.com
Contact: Sales Manager
Contact Phone:+1 (252) 636-0100
Contact Email:
508 Highway 70 East, New Bern, NC, 28563-0667
Phone:+1 (252) 636-0100
Fax:+1 (252) 636-0100
East Coast Equipment - Scotland Neck www.eastcoastequip.com
Contact: Sales Manager
Contact Phone:+1 (252) 826-5521
Contact Email:
7232 Highway 258 South, Scotland Neck, NC, 27874-0369
Phone:+1 (252) 826-5521
Fax:+1 (252) 826-5521
East Coast Equipment - Smithfield www.eastcoastequip.com
Contact: Sales Manager
Contact Phone:+1 (919) 934-2701
Contact Email: beatmon@eastcoastequip.com
2783 US 70 Business East, Smithfield, NC, 27577-0659
Phone:+1 (919) 934-2701
Fax:+1 (919) 934-2701
East Coast Equipment - Washington www.eastcoastequip.com
Contact: Sales Manager
Contact Phone:+1 (252) 565-4284
Contact Email: jtetterton@eastcoastequip.com
7145 US HWY 17 North, Washington, NC, 27889
Phone:+1 (252) 565-4284
Fax:+1 (252) 565-4284
East Coast Equipment - Wilson www.eastcoastequip.com
Contact: Sales Manager
Contact Phone:+1 (252) 291-0110
Contact Email:
1718 Highway 301 South, Wilson, NC, 27893
Phone:+1 (252) 291-0110
Fax:+1 (252) 291-0110
Equipment Depot Inc. www.eqdepot.com
Contact: Sales Manager
Contact Phone:+1 (254) 662-4322
Contact Email: garyb@eqdepot.com
4100 South IH 35, Waco, TX, 76702
Phone:+1 (254) 662-4322
Fax:+1 (254) 662-4322
Everglades Farm Equipment - Clearwater www.evergladesfarmequipment.com
Contact: Sales Manager
Contact Phone:+1 (727) 828-8200
Contact Email: agonyou@evergladesfarmequipment.com
5090 Ulmerton Rd, Clearwater, FL, 33760
Phone:+1 (727) 828-8200
Fax:+1 (727) 828-8200
Everglades Farm Equipment - Fort Pierce www.evergladesfarmequipment.com
Contact: Sales Manager
Contact Phone:+1 (772) 461-5568
Contact Email: MMendenhall@evergladesfarmequipment.com
6150 Orange Ave., Fort Pierce, FL, 34947
Phone:+1 (772) 461-5568
Fax:+1 (772) 461-5568
Everglades Farm Equipment - Ft. Myers www.evergladesfarmequipment.com
Contact: Sales Manager
Contact Phone:+1 (239) 332-5045
Contact Email: jaldous21@yahoo.com
9501 State Road 82, Ft Myers, FL, 33905
Phone:+1 (239) 332-5045
Fax:+1 (239) 332-5045
Everglades Farm Equipment - Immokalee www.evergladesfarmequipment.com
Contact: Sales Manager
Contact Phone:+1 (239) 657-4413
Contact Email: mhenderson@evergladesfarmequipment.com
775 E. Main St, Immokalee, FL, 34142
Phone:+1 (239) 657-4413
Fax:+1 (239) 657-4413
Everglades Farm Equipment - Leesburg www.evergladesfarmequipment.com
Contact: Sales Manager
Contact Phone:+1 (352) 315-1016
Contact Email: rlara@evergladesfarmequipment.com
1800 US Highway 441, Leesburg, FL, 34748
Phone:+1 (352) 315-1016
Fax:+1 (352) 315-1016
Everglades Farm Equipment - Loxahatchee www.evergladesfarmequipment.com
Contact: Sales Manager
Contact Phone:+1 (561) 784-4000
Contact Email: BDavis@evergladesfarmequipment.com
13295 Southern Blvd., Loxahatchee, FL, 33470
Phone:+1 (561) 784-4000
Fax:+1 (561) 784-4000
Everglades Farm Equipment - New Port Richey www.evergladesfarmequipment.com
Contact: Sales Manager
Contact Phone:+1 (727) 842-8618
Contact Email: jcoffman@evergladesfarmequipment.com
2240 Success, Odessa, FL, 33556
Phone:+1 (727) 842-8618
Fax:+1 (727) 842-8618
Everglades Farm Equipment - Okeechobee www.evergladesfarmequipment.com
Contact: Sales Manager
Contact Phone:+1 (863) 763-1921
Contact Email: mboling@evergladesfarmequipment.com
820 US Hwy. 98, North, Okeechobee, FL, 34972-2005
Phone:+1 (863) 763-1921
Fax:+1 (863) 763-1921
Everglades Farm Equipment - Palmetto www.evergladesfarmequipment.com
Contact: Sales Manager
Contact Phone:+1 (941) 722-3281
Contact Email: palparts@evergladesfarmequipment.com
906 U.S. HWY 301, Palmetto, FL, 34221
Phone:+1 (941) 722-3281
Fax:+1 (941) 722-3281
Everglades Farm Equipment - Plant City www.evergladesfarmequipment.com
Contact: Sales Manager
Contact Phone:+1 (813) 737-1660
Contact Email: plcparts@evergladesfarmequipment.com
2805 State Rd 60 West, Plant City, FL, 33567
Phone:+1 (813) 737-1660
Fax:+1 (813) 737-1660
Everglades Farm Equipment Co., Inc. www.evergladesfarmequipment.com
Contact: Sales Manager
Contact Phone:+1 (561) 996-6531
Contact Email: dlively@evergladesfarmequipment.com
2017 NW 16th St, Belle Glade, FL, 33430
Phone:+1 (561) 996-6531
Fax:+1 (561) 996-6531
Everglades Farm Equipmwent-Naples www.evergladesfarmequipment.com
Contact: Sales Manager
Contact Phone:+1 (239) 260-8000
Contact Email:
1945 Pine Ridge Road, Naples, FL, 34109
Phone:+1 (239) 260-8000
Fax:+1 (239) 260-8000
Evolution Ag LLC www.evolutionagllc.com
Contact: Sales Manager
Contact Phone:+1 (800) 504-0444
Contact Email: mikeb@evolutionagllc.com
3943 Johnstown-Utica Rd NE, Utica, OH, 43080
Phone:+1 (800) 504-0444
Fax:+1 (800) 504-0444
Ewald Tractor www.ewaldtractor.com/EWI/Home
Contact: Sales Manager
Contact Phone:+1 (830) 379-4591
Contact Email: connie@ewaldtractor.com
1900 IH 10 W., Seguin, TX, 78156
Phone:+1 (830) 379-4591
Fax:+1 (830) 379-4591
F&S Supply Co. Inc. www.fssupplycompany.com
Contact: Sales Manager
Contact Phone:+1 (570) 489-3642
Contact Email: fssupply@aol.com
860 Enterprise Street, Dickson City, PA, 18519
Phone:+1 (570) 489-3642
Fax:+1 (570) 489-3642
F.B. McAfoos & Company www.fbmcafoos.com
Contact: Sales Manager
Contact Phone:+1 (618) 438-4721
Contact Email: sales@fbmcafoos.com
13998 Street Hwy 34 East, Benton, IL, 62812
Phone:+1 (618) 438-4721
Fax:+1 (618) 438-4721
Fallin Tractor Co., Inc. www.fallintractor.com
Contact: Sales Manager
Contact Phone:+1 (870) 234-4134
Contact Email: fallintractor@yahoo.com
53 Hwy 79 Bypass, Magnolia, AR, 71753
Phone:+1 (870) 234-4134
Fax:+1 (870) 234-4134
Federal Contract Corp. www.federalcontractscorp.com
Contact: Sales Manager
Contact Phone:+1 (813) 631-0000
Contact Email:
12918 N. Nebraska Avenue, Tampa, FL, 33612
Phone:+1 (813) 631-0000
Fax:+1 (813) 631-0000
Fernbridge Tractor & Equipment Co. www.fernbridgetractor.com
Contact: Sales Manager
Contact Phone:+1 (707) 725-5174
Contact Email: mike@fernbridgetractor.com
20 Depot Road, Fernbridge, CA, 95540
Phone:+1 (707) 725-5174
Fax:+1 (707) 725-5174
Fields Equipment www.fieldsequip.com
Contact: Sales Manager
Contact Phone:+1 (863) 967-0602
Contact Email: partswh@fieldsequip.com
3203 Havendale Blvd NW, Winter Haven, FL, 33881
Phone:+1 (863) 967-0602
Fax:+1 (863) 967-0602
Fields Equipment - Zolfo Springs www.fieldsequip.com
Contact: Sales Manager
Contact Phone:+1 (863) 735-1122
Contact Email:
3440 US Hwy 17 S., Zolfo Springs, FL, 33890
Phone:+1 (863) 735-1122
Fax:+1 (863) 735-1122
Flint Equipment Co dba Albany Tractor Co www.albanytractor.com
Contact: Sales Manager
Contact Phone:+1 (229) 432-7468
Contact Email: dbowman@albanytractor.com
1709 S. Slappey Blvd., Albany, GA, 31701
Phone:+1 (229) 432-7468
Fax:+1 (229) 432-7468
Flint Equipment Co dba Albany Tractor Co - Adairsville www.flintequipco.com
Contact: Sales Manager
Contact Phone:+1 (770) 773-9857
Contact Email: jbailey@flintequipco.com
6446 Joe Frank Harris Pkwy, Adairsville, GA, 30103
Phone:+1 (770) 773-9857
Fax:+1 (770) 773-9857
Flint Equipment Co dba Albany Tractor Co - Andrews www.flintequipco.com
Contact: Sales Manager
Contact Phone:+1 (843) 221-4940
Contact Email: gbuddin@flintequipco.com
178 Seaboard Road, Andrews, SC, 29510
Phone:+1 (843) 221-4940
Fax:+1 (843) 221-4940
Flint Equipment Co dba Albany Tractor Co - Atlanta www.flintequipco.com
Contact: Sales Manager
Contact Phone:+1 (404) 691-9445
Contact Email: mcampbell@flintequipco.com
4500 Wendell Drive SW, Atlanta, GA, 30336
Phone:+1 (404) 691-9445
Fax:+1 (404) 691-9445
Flint Equipment Co dba Albany Tractor Co - Aynor www.flintequipco.com
Contact: Sales Manager
Contact Phone:+1 (843) 358-5688
Contact Email: jhatley@flintequipco.com
4900 East Highway 501, Aynor, SC, 29511
Phone:+1 (843) 358-5688
Fax:+1 (843) 358-5688
Flint Equipment Co dba Albany Tractor Co - Braselton www.flintequipco.com
Contact: Sales Manager
Contact Phone:+1 (770) 965-1889
Contact Email: cboyd@flintequipco.com
5333 BBS Way, Braselton, GA, 30517
Phone:+1 (770) 965-1889
Fax:+1 (770) 965-1889
Flint Equipment Co dba Albany Tractor Co - Brunswick www.flintequipco.com
Contact: Sales Manager
Contact Phone:+1 (912) 264-6161
Contact Email: kbrown@flintequipco.com
251 Perry Lane Rd., Brunswick, GA, 31525
Phone:+1 (912) 264-6161
Fax:+1 (912) 264-6161
Flint Equipment Co dba Albany Tractor Co - Columbus www.flintequipco.com
Contact: Sales Manager
Contact Phone:+1 (706) 687-3344
Contact Email: rbarr@flintequipco.com
2400 Victory Dr., Columbus, GA, 31901
Phone:+1 (706) 687-3344
Fax:+1 (706) 687-3344
Flint Equipment Co dba Albany Tractor Co - Cuthbert www.flintequipco.com
Contact: Sales Manager
Contact Phone:+1 (229) 732-2631
Contact Email: dcoleman@albanytractor.com
179 Blakely, Cuthebert, GA, 39840
Phone:+1 (229) 732-2631
Fax:+1 (229) 732-2631
Flint Equipment Co dba Albany Tractor Co - Grovetown www.flintequipco.com
Contact: Sales Manager
Contact Phone:+1 (404) 691-9445
Contact Email: catkins@flintequipco.com
1900 William Few Pkwy, Grovetown, GA, 30813
Phone:+1 (404) 691-9445
Fax:+1 (404) 691-9445
Flint Equipment Co dba Albany Tractor Co - Ladson www.flintequipco.com
Contact: Sales Manager
Contact Phone:+1 (843) 572-0400
Contact Email: pcarnelli@flintequipco.com
136 Acres Drive, Ladson, SC, 29456
Phone:+1 (843) 572-0400
Fax:+1 (843) 572-0400
Flint Equipment Co dba Albany Tractor Co - Macon www.flintequipco.com
Contact: Sales Manager
Contact Phone:+1 (478) 788-1586
Contact Email: cgales@flintequipco.com
4600 Pio Nono Ave, Macon, GA, 31206
Phone:+1 (478) 788-1586
Fax:+1 (478) 788-1586
Flint Equipment Co dba Albany Tractor Co - Perry www.flintequipco.com
Contact: Sales Manager
Contact Phone:+1 (850) 584-9200
Contact Email: dtracy@flintequipco.com
3033 US HWY 27, Perry, FL, 32348
Phone:+1 (850) 584-9200
Fax:+1 (850) 584-9200
Flint Equipment Co dba Albany Tractor Co - Savannah www.flintequipco.com
Contact: Sales Manager
Contact Phone:+1 (912) 964-7370
Contact Email: jclark@flintequipco.com
50 Morgan Ind Blvd, Savannah, GA, 31408
Phone:+1 (912) 964-7370
Fax:+1 (912) 964-7370
Flint Equipment Co dba Albany Tractor Co - Simpsonville www.flintequipco.com
Contact: Sales Manager
Contact Phone:+1 (864) 963-5835
Contact Email: jholcombe@flintequipco.com
116 Corporate Drive, Simpsonville, SC, 29681
Phone:+1 (864) 963-5835
Fax:+1 (864) 963-5835
Flint Equipment Co dba Albany Tractor Co - Tallahassee www.albanytractor.com
Contact: Sales Manager
Contact Phone:+1 (850) 575-5600
Contact Email: rmartin@flintequipco.com
7566 W. Tennessee St., Tallahassee, FL, 32304
Phone:+1 (850) 575-5600
Fax:+1 (850) 575-5600
Flint Equipment Co dba Albany Tractor Co - Walterboro www.flintequipco.com
Contact: Sales Manager
Contact Phone:+1 (843) 539-1420
Contact Email: sbrush@flintequipco.com
4717 Jefferies Highway, Walterboro, SC, 29488
Phone:+1 (843) 539-1420
Fax:+1 (843) 539-1420
Flint Equipment Co dba Albany Tractor Co - West Columbia www.flintequipco.com
Contact: Sales Manager
Contact Phone:+1 (803) 794-9340
Contact Email: csanford@flintequipco.com
3464 Sunset Blvd, West Columbia, SC, 29169
Phone:+1 (803) 794-9340
Fax:+1 (803) 794-9340
Floyd A Boyd - Central Point www.floydaboyd.com
Contact: Sales Manager
Contact Phone:+1 (541) 826-2422
Contact Email:
5759 Crater Lake Hwy, Central Point, OR, 97502
Phone:+1 (541) 826-2422
Fax:+1 (541) 826-2422
Floyd A Boyd - Madras www.floydaboyd.com
Contact: Sales Manager
Contact Phone:+1 (541) 475-6116
Contact Email:
2347 S W Hwy 97, Madras, OR, 97741
Phone:+1 (541) 475-6116
Fax:+1 (541) 475-6116
Floyd A Boyd -Merrill - Corporate www.floydaboyd.com
Contact: Sales Manager
Contact Phone:+1 (541) 798-5660
Contact Email:
21600 Hwy 39, Merrill, OR, 97633
Phone:+1 (541) 798-5660
Fax:+1 (541) 798-5660
Frontier Ag & Turf - New Richmond www.frontieragturf.com
Contact: Sales Manager
Contact Phone:+1 (715) 246-6565
Contact Email: frontieragturf.com
730 Deere Drive, New Richmond, WI, 54017
Phone:+1 (715) 246-6565
Fax:+1 (715) 246-6565
Frontier Ag & Turf - Turtle Lake www.frontieragturf.com
Contact: Sales Manager
Contact Phone:+1 (715) 986-4403
Contact Email: brockg@frontieragturf.com
1305 10th St., Turtle Lake, WI, 54889
Phone:+1 (715) 986-4403
Fax:+1 (715) 986-4403
Fuller Tractor Co. www.fullertractor.com
Contact: Sales Manager
Contact Phone:+1 (361) 358-4084
Contact Email: fullertractorco@sbcglobal.net
1905 West Hwy. 59, Beeville, TX, 78104
Phone:+1 (361) 358-4084
Fax:+1 (361) 358-4084
Gaithersburg Equipment Co. Inc. www.gaithersburgequipment.com
Contact: Sales Manager
Contact Phone:+1 (301) 670-9300
Contact Email: rhedges@gaithersburgequipment.com
700 E. Diamond Ave., Gaithersburg, MD, 20877
Phone:+1 (301) 670-9300
Fax:+1 (301) 670-9300
Garton Tractor, Inc. www.gartontractor.com
Contact: Sales Manager
Contact Phone:+1 (707) 425-9545
Contact Email: carend@garton-tractor.com
4088 Russell Road, Fairfield, CA, 95381
Phone:+1 (707) 425-9545
Fax:+1 (707) 425-9545
German-Bliss Equipment www.germanbliss.com
Contact: Sales Manager
Contact Phone:+1 (309) 385-4316
Contact Email: jdwyer@germanbliss.com
629 W. Spring St., Princeville, IL, 61559
Phone:+1 (309) 385-4316
Fax:+1 (309) 385-4316
Glascock Equipment & Sales Inc.- Indiana www.gesales.com
Contact: Sales Manager
Contact Phone:+1 (765) 294-2256
Contact Email: parts@gesales.com
736 West St. Rd. 32, Veedersburg, IN, 47987
Phone:+1 (765) 294-2256
Fax:+1 (765) 294-2256
Gordon Tractor Company www.gordontractor.com
Contact: Sales Manager
Contact Phone:+1 (850) 973-2245
Contact Email: gordontractor@embarqmail.com
491 SW Range Ave., Madison, FL, 32340
Phone:+1 (850) 973-2245
Fax:+1 (850) 973-2245
Grand Equipment Co. LLC www.grandequipment.com
Contact: Sales Manager
Contact Phone:+1 (616) 896-7700
Contact Email: andy@grandequipment.com
3310 Hudson Trial Dr., Hudsonville, MI, 49426
Phone:+1 (616) 896-7700
Fax:+1 (616) 896-7700
GreenLine Catalog Service Corp. www.greenLine Catalogva.com
Contact: Sales Manager
Contact Phone:+1 (540) 373-7520
Contact Email: bettyelswick@greenLine Catalogva.com
11417 Tidewater Trail, Fredericksburg, VA, 22408
Phone:+1 (540) 373-7520
Fax:+1 (540) 373-7520
Greenway Equipment www.gogreenway.com
Contact: Sales Manager
Contact Phone:+1 (501) 753-4100
Contact Email: bobcrabtree@gogreenway.com
25315 I-30 South, Bryant, AR, 72022
Phone:+1 (501) 753-4100
Fax:+1 (501) 753-4100
Groff - Bellefonte www.grofftractor.com
Contact: Sales Manager
Contact Phone:+1 (814) 353-8400
Contact Email: mikeaument@grofftractor.com
210 Rolling Ridge Drive, Bellefonte, PA, 16823
Phone:+1 (814) 353-8400
Fax:+1 (814) 353-8400
Groff - Cranberry www.grofftractor.com
Contact: Sales Manager
Contact Phone:+1 (724) 898-1535
Contact Email: tonychick@grofftractor.com
100 Smith Drive, Cranberry Township, PA, 16066
Phone:+1 (724) 898-1535
Fax:+1 (724) 898-1535
Groff - Ebensburg www.grofftractor.com
Contact: Sales Manager
Contact Phone:+1 (814) 472-7300
Contact Email: jefffulton@grofftractor.com
4355 Admiral Peary Hwy, Ebensburg, PA, 15931
Phone:+1 (814) 472-7300
Fax:+1 (814) 472-7300
Groff - Ephrata www.grofftractor.com
Contact: Sales Manager
Contact Phone:+1 (717) 738-0220
Contact Email: keithgrimes@grofftractor.com
20 Stauffer Lane, Ephrata, PA, 17522
Phone:+1 (717) 738-0220
Fax:+1 (717) 738-0220
Groff - Mechanicsburg www.grofftractor.com
Contact: Sales Manager
Contact Phone:+1 (717) 766-7671
Contact Email: roncaruso@grofftractor.com
6779 Carlisle Pike, Mechanicsburg, PA, 17050
Phone:+1 (717) 766-7671
Fax:+1 (717) 766-7671
Groff - New Stanton www.grofftractor.com
Contact: Sales Manager
Contact Phone:+1 (724) 755-0124
Contact Email: jeffhood@grofftractor.com
963 South Center Avenue, New Stanton, PA, 15672
Phone:+1 (724) 755-0124
Fax:+1 (724) 755-0124
H&V Equipment - San Antonio www.hvequipment.com
Contact: Sales Manager
Contact Phone:+1 (210) 648-5885
Contact Email: jgarza@hvequipment.com
3307 SE Loop 410, San Antonio, TX, 78222
Phone:+1 (210) 648-5885
Fax:+1 (210) 648-5885
H&V Equipment Inc. - Corpus www.hvequipment.com
Contact: Sales Manager
Contact Phone:+1 (361) 241-1000
Contact Email: bharvey@hvequipment.com
4402 Hwy 77, Corpus Christi, TX, 78410
Phone:+1 (361) 241-1000
Fax:+1 (361) 241-1000
H&V Equipment Inc. - Progresso www.hvequipment.com
Contact: Sales Manager
Contact Phone:+1 (956) 565-3788
Contact Email: hvprogreso@aol.com
5627 Hwy 281 East, Progresso, TX, 78579-0909
Phone:+1 (956) 565-3788
Fax:+1 (956) 565-3788
Hammond Tractor- Auburn, ME www.hammondtractor.com
Contact: Sales Manager
Contact Phone:+1 (207) 783-2591
Contact Email: allan@hammondtractor.com
1110 Minot Avenue, Auburn, ME, 4210
Phone:+1 (207) 783-2591
Fax:+1 (207) 783-2591
Hammond Tractor- Union, ME www.hammondtractor.com
Contact: Sales Manager
Contact Phone:+1 (207) 785-4464
Contact Email: phil@hammondtractor.com
1987 Heald Highway, Union, ME, 4862
Phone:+1 (207) 785-4464
Fax:+1 (207) 785-4464
Hammond Tractor-Fairfield, ME www.hammondtractor.com
Contact: Sales Manager
Contact Phone:+1 (207) 453-7131
Contact Email: sales@hammondtractor.com
216 Center Road, Fairfield, ME, 4937
Phone:+1 (207) 453-7131
Fax:+1 (207) 453-7131
Hawthorne-Pacific Machinery www.hawthornecat.com
Contact: Sales Manager
Contact Phone:+1 (808) 877-6537
Contact Email: lkong@hawthornecat.com
94-025 Farrington Hwy, Waipahu, HI, 96797
Phone:+1 (808) 877-6537
Fax:+1 (808) 877-6537
Hendrix Machinery www.hendrixmachinery.com
Contact: Sales Manager
Contact Phone:+1 (912) 964-7790
Contact Email: sales@hendrixmachinery.com
1725 Old Dean Forest Rd., Pooler, GA, 31322
Phone:+1 (912) 964-7790
Fax:+1 (912) 964-7790
Holt CAT - San Antonio www.holtag.com
Contact: Sales Manager
Contact Phone:+1 (210) 648-1111
Contact Email: sabine.fritz@holtcat.com
3302 So. W. W. White Rd, San Antonio, TX, 78222
Phone:+1 (210) 648-1111
Fax:+1 (210) 648-1111
Honnen Equipment Co. CO www.honnen.com
Contact: Sales Manager
Contact Phone:+1 (303) 287-7506
Contact Email: ervgraham@honnen.com
5055 E. 72nd Avenue, Commerce City, CO, 80022
Phone:+1 (303) 287-7506
Fax:+1 (303) 287-7506
Huntsville Tractor & Eqp. Inc. www.huntsvilletractor.com
Contact: Sales Manager
Contact Phone:+1 (256) 837-6767
Contact Email: tammie@huntsvilletractor.com
4600 Research Park Blvd., Huntsville, AL, 35814
Phone:+1 (256) 837-6767
Fax:+1 (256) 837-6767
Hutson Inc. - Morganfield www.hutsoninc.com
Contact: Sales Manager
Contact Phone:+1 (270) 389-3668
Contact Email: morganfield@hutsoninc.com
1540 St. Rt. 130 S., Morganfield, KY, 42437
Phone:+1 (270) 389-3668
Fax:+1 (270) 389-3668
Hutson Inc. - Chandler (Evansville) www.hutsoninc.com
Contact: Sales Manager
Contact Phone:+1 (812) 424-5507
Contact Email: tjackson@hutsoninc.com
10300 Telephone Rd, Chandler, IN, 47610
Phone:+1 (812) 424-5507
Fax:+1 (812) 424-5507
Hutson Inc. - Clarksville www.hutsoninc.com
Contact: Sales Manager
Contact Phone:+1 (931) 647-0029
Contact Email: kbrummitte@hutsoninc.com
411 Alfred Thun Rd., Clarksville, TN, 37040
Phone:+1 (931) 647-0029
Fax:+1 (931) 647-0029
Hutson Inc. - Clinton www.hutsoninc.com
Contact: Sales Manager
Contact Phone:+1 (270) 653-4311
Contact Email: clinton@hutsoninc.com
188 US Hwy 51 South, Clinton, KY, 42031
Phone:+1 (270) 653-4311
Fax:+1 (270) 653-4311
Hutson Inc. - Cypress www.hutsoninc.com
Contact: Sales Manager
Contact Phone:+1 (618) 657-2342
Contact Email: cypress@hutsoninc.com
5485 State Rt.37 S., Cypress, IL, 62923
Phone:+1 (618) 657-2342
Fax:+1 (618) 657-2342
Hutson Inc. - Elnora www.hutsoninc.com
Contact: Sales Manager
Contact Phone:+1 (812) 659-2101
Contact Email: bbishop@hutsoninc.com
7362 S. State Rd. 57, Elnora, IN, 47529
Phone:+1 (812) 659-2101
Fax:+1 (812) 659-2101
Hutson Inc. - Hopkinsville www.hutsoninc.com
Contact: Sales Manager
Contact Phone:+1 (270) 886-3994
Contact Email: hopkinsville@hutsoninc.com
2804 Pembroke Road, Hopkinsville, KY, 42240
Phone:+1 (270) 886-3994
Fax:+1 (270) 886-3994
Hutson Inc. - Jasper www.hutsoninc.com
Contact: Sales Manager
Contact Phone:+1 (812) 634-1717
Contact Email: jasper@hutsoninc.com
2951 N 600W, Jasper, IN, 47546
Phone:+1 (812) 634-1717
Fax:+1 (812) 634-1717
Hutson Inc. - Mayfield www.hutsoninc.com
Contact: Sales Manager
Contact Phone:+1 (270) 247-4456
Contact Email: kbrummitte@hutsoninc.com
1201 Fulton Rd., Mayfield, KY, 42066
Phone:+1 (270) 247-4456
Fax:+1 (270) 247-4456
Hutson Inc. - Paducah www.hutsoninc.com
Contact: Sales Manager
Contact Phone:+1 (270) 408-1397
Contact Email: cmoore@hutsoninc.com
3690 James Sandus Blvd., Paducah, KY, 42001
Phone:+1 (270) 408-1397
Fax:+1 (270) 408-1397
Hutson Inc. - Princeton www.hutsoninc.com
Contact: Sales Manager
Contact Phone:+1 (270) 365-2053
Contact Email: kbrummitte@hutsoninc.com
1117 Hopkinsville Road, Princeton, KY, 42445
Phone:+1 (270) 365-2053
Fax:+1 (270) 365-2053
Hutson Inc. - Russellville www.hutsoninc.com
Contact: Sales Manager
Contact Phone:+1 (270) 726-7171
Contact Email: kbeard@hutsoninc.com
250 Shelton Ln., Russellville, KY, 42276
Phone:+1 (270) 726-7171
Fax:+1 (270) 726-7171
ICON AG Solutions www.iconag.net
Contact: Sales Manager
Contact Phone:+1 (712) 278-2351
Contact Email: andys@iconag.net
4511 Eagle Avenue, Ireton, IA, 51027
Phone:+1 (712) 278-2351
Fax:+1 (712) 278-2351
ICON AG Solutions - Doon www.iconag.net
Contact: Sales Manager
Contact Phone:+1 (712) 726-3261
Contact Email: jordanc@iconag.net
3087 250th Street, Doon, IA, 51235
Phone:+1 (712) 726-3261
Fax:+1 (712) 726-3261
ICON AG Solutions - Lawton www.iconag.net
Contact: Sales Manager
Contact Phone:+1 (712) 944-5168
Contact Email: lawtonservice@iconag.net
1849 Highway 20, Lawton, IA, 51030
Phone:+1 (712) 944-5168
Fax:+1 (712) 944-5168
ICON AG Solutions - LeMars www.iconag.net
Contact: Sales Manager
Contact Phone:+1 (712) 546-5168
Contact Email: MitchA@iconag.net
32948 170th Street, LeMars, IA, 51031
Phone:+1 (712) 546-5168
Fax:+1 (712) 546-5168
ICON AG Solutions - Paullina www.iconag.net
Contact: Sales Manager
Contact Phone:+1 (712) 448-3444
Contact Email: paullinaparts@iconag.net
130 West Broadway Street, Paullina, IA, 51046
Phone:+1 (712) 448-3444
Fax:+1 (712) 448-3444
International Mowers PTY LTD www.intmowers.com.au
Contact: Sales Manager
Contact Phone:+61 (61) 0397 999511
Contact Email: sales@intmower.com.au
22 Hydrive Close, Dandenong, VIC, 3175
Phone:+61 (61) 0397 999511
Fax:+61 (61) 0397 999511
James River Companies LLC - Asheboro www.jamesriverequipment.com
Contact: Sales Manager
Contact Phone:+1 (336) 625-2212
Contact Email: gfrick@jamesriverequipment.com
2421 US Hwy 64E, Asheboro, NC, 27203
Phone:+1 (336) 625-2212
Fax:+1 (336) 625-2212
James River Companies LLC - Ashland www.jamesriverequipment.com
Contact: Sales Manager
Contact Phone:+1 (804) 358-6776
Contact Email: jcanada@jamesriverequipment.com
11053 Leadbetter Road, Ashland, VA, 23005
Phone:+1 (804) 358-6776
Fax:+1 (804) 358-6776
James River Companies LLC - Burkeville www.jamesriverequipment.com
Contact: Sales Manager
Contact Phone:+1 (434) 767-5578
Contact Email: bbolling@jamesriverequipment.com
510 West Colnial Trail Highway, Burkeville, VA, 23922
Phone:+1 (434) 767-5578
Fax:+1 (434) 767-5578
James River Companies LLC - Chester www.jamesriverequipment.com
Contact: Sales Manager
Contact Phone:+1 (804) 748-9324
Contact Email: cwhite@jamesriverequipment.com
1711 East Hundred Road, Chester, VA, 23831
Phone:+1 (804) 748-9324
Fax:+1 (804) 748-9324
James River Companies LLC - Danville www.jamesriverequipment.com
Contact: Sales Manager
Contact Phone:+1 (434) 822-6110
Contact Email: radkins@jamesriverequipment.com
2055 South Boston Road, Danville, VA, 24541
Phone:+1 (434) 822-6110
Fax:+1 (434) 822-6110
James River Companies LLC - Edinburg www.jamesriverequipment.com
Contact: Sales Manager
Contact Phone:+1 (540) 984-3337
Contact Email: jbowman@jamesriverequipment.com
150 John Mansville Dr, Edinburg, VA, 22824
Phone:+1 (540) 984-3337
Fax:+1 (540) 984-3337
James River Companies LLC - Greensboro www.jamesriverequipment.com
Contact: Sales Manager
Contact Phone:+1 (336) 668-2762
Contact Email: pshoffner@jamesriverequipment.com
411 South Regional Road, Greensboro, NC, 27409
Phone:+1 (336) 668-2762
Fax:+1 (336) 668-2762
James River Companies LLC - Harrisonburg www.jamesriverequipment.com
Contact: Sales Manager
Contact Phone:+1 (540) 434-1707
Contact Email: mburkholder@jamesriverequipment.com
1332 Garber's Church Road, Harrisinburg, VA, 22801
Phone:+1 (540) 434-1707
Fax:+1 (540) 434-1707
James River Companies LLC - LaCrosse www.jamesriverequipment.com
Contact: Sales Manager
Contact Phone:+1 (434) 447-1325
Contact Email: rhinkle@jamesriverequipment.com
38431 Highway 58, LeCrosse, VA, 23922
Phone:+1 (434) 447-1325
Fax:+1 (434) 447-1325
James River Companies LLC - Matthews www.jamesriverequipment.com
Contact: Sales Manager
Contact Phone:+1 (704) 821-7399
Contact Email: tjohnson@jamesriverequipment.com
2725 Old Monroe Road, Matthews, NC, 28104
Phone:+1 (704) 821-7399
Fax:+1 (704) 821-7399
James River Companies LLC - Mt Airy www.jamesriverequipment.com
Contact: Sales Manager
Contact Phone:+1 (336) 352-2240
Contact Email: wbrannock@jamesriverequipment.com
4473 W. Pine Street, Mt Airy, NC, 27030
Phone:+1 (336) 352-2240
Fax:+1 (336) 352-2240
James River Companies LLC - Pfafftown www.jamesriverequipment.com
Contact: Sales Manager
Contact Phone:+1 (336) 922-1590
Contact Email: dbrown@jamesriverequipment.com
8106 Reynoida Road, Pfafftown, NC, 27040
Phone:+1 (336) 922-1590
Fax:+1 (336) 922-1590
James River Companies LLC - Salisbury www.jamesriverequipment.com
Contact: Sales Manager
Contact Phone:+1 (704) 636-2671
Contact Email: mboard@jamesriverequipment.com
805 Klumac Road, Salisbury, NC, 28144
Phone:+1 (704) 636-2671
Fax:+1 (704) 636-2671
James River Companies LLC - Shelby www.jamesriverequipment.com
Contact: Sales Manager
Contact Phone:+1 (704) 434-2226
Contact Email: cdaves@jamesriverequipment.com
703 North Post Road, Shelby, NC, 28150
Phone:+1 (704) 434-2226
Fax:+1 (704) 434-2226
James River Companies LLC - Statesville www.jamesriverequipment.com
Contact: Sales Manager
Contact Phone:+1 (704) 872-6411
Contact Email: hhall@jamesriverequipment.com
635 Mocksville Hwy, Statesville, NC, 28625
Phone:+1 (704) 872-6411
Fax:+1 (704) 872-6411
James River Companies LLC - Tappahannock www.jamesriverequipment.com
Contact: Sales Manager
Contact Phone:+1 (804) 443-4374
Contact Email: aheath@jamesriverequipment.com
646 Richmond Hwy, Tappahannock, VA, 22560
Phone:+1 (804) 443-4374
Fax:+1 (804) 443-4374
James River Companies LLC - Toano www.jamesriverequipment.com
Contact: Sales Manager
Contact Phone:+1 (757) 566-1750
Contact Email: mamos@jamesriverequipment.com
7761 Richmond Road, Toano, VA, 23168
Phone:+1 (757) 566-1750
Fax:+1 (757) 566-1750
James River Companies LLC - Wakefield www.jamesriverequipment.com
Contact: Sales Manager
Contact Phone:+1 (757) 566-1750
Contact Email: wbarnes@jamesriverequipment.com
10489 General Mahone Hwy, Wakefield, VA, 22560
Phone:+1 (757) 566-1750
Fax:+1 (757) 566-1750
James River Companies LLC - Wilksboro www.jamesriverequipment.com
Contact: Sales Manager
Contact Phone:+1 (336) 973-8201
Contact Email: jblackburn@jamesriverequipment.com
288 Westgate Drive, Wilkesboro, NC, 28697
Phone:+1 (336) 973-8201
Fax:+1 (336) 973-8201
JD Equipment Inc. - Lancaster, OH www.jdequipment.com
Contact: Sales Manager
Contact Phone:+1 (740) 653-6951
Contact Email: brianmiller@jdequipment.com
1200 Delmont Road, Lancaster, OH, 43130
Phone:+1 (740) 653-6951
Fax:+1 (740) 653-6951
JD Equipment Inc. - Marion, OH www.jdequipment.com
Contact: Sales Manager
Contact Phone:+1 (740) 389-5458
Contact Email: kennypurvis@jdequipment.com
219 Columbus-Sandusky Rd N, Marion, OH, 43302
Phone:+1 (740) 389-5458
Fax:+1 (740) 389-5458
JD Equipment Inc. - New Albany, OH www.jdequipment.com
Contact: Sales Manager
Contact Phone:+1 (614) 475-0707
Contact Email: rickdejong@jdequipment.com
5740 Zanley Street, New Albany, OH, 43054
Phone:+1 (614) 475-0707
Fax:+1 (614) 475-0707
JD Equipment Inc. - Washington Court House, OH www.jdequipment.com
Contact: Sales Manager
Contact Phone:+1 (740) 335-2071
Contact Email: jtjones@jdequipment.com
1662 US RT 62, Washington Court House, OH, 43160
Phone:+1 (740) 335-2071
Fax:+1 (740) 335-2071
JD Equipment Inc. - Wilmington, OH www.jdequipment.com
Contact: Sales Manager
Contact Phone:+1 (937) 486-5211
Contact Email: kentbeam@jdequipment.com
7550 US 68 N, Wilmington, OH, 45177
Phone:+1 (937) 486-5211
Fax:+1 (937) 486-5211
JD Equipment Inc.- Hilliard, OH www.jdequipment.com
Contact: Sales Manager
Contact Phone:+1 (614) 527-8800
Contact Email: jeremypackard@jdequipment.com
4079 Lyman Drive, Hilliard, OH, 43026
Phone:+1 (614) 527-8800
Fax:+1 (614) 527-8800
JD Equipment Inc.- London, OH www.jdequipment.com
Contact: Sales Manager
Contact Phone:+1 (614) 879-6620
Contact Email: stevebarney@jdequipment.com
1660 US 42 NE, London, OH, 43140
Phone:+1 (614) 879-6620
Fax:+1 (614) 879-6620
JD Equipment Inc.- Zanesville, OH www.jdequipment.com
Contact: Sales Manager
Contact Phone:+1 740-450-7446
Contact Email: kevinfinton@jdequipment.com
4394 Northpointe Drive, Zanesville, OH, 43701
Phone:+1 740-450-7446
Fax:+1 740-450-7446
Jenkins Tractor Co.Inc. DBA J&B www.jenkinstractor.com
Contact: Sales Manager
Contact Phone:+1 (706) 793-0134
Contact Email: jtractor1@comcast.net
3585 Mike Padgett Hwy, Augusta, GA, 30906
Phone:+1 (706) 793-0134
Fax:+1 (706) 793-0134
Jones Equipment Inc. www.lt-jones-jel.com
Contact: Sales Manager
Contact Phone:+1 (440) 352-0731
Contact Email: brenda@lt-jones-jel.com
431 Richmond Street, Painesville, OH, 44077
Phone:+1 (440) 352-0731
Fax:+1 (440) 352-0731
Judco Inc. www.judco-inc.com
Contact: Sales Manager
Contact Phone:+1 (440) 322-6604
Contact Email:
7501 W. River Road S., Elyria, OH, 44036
Phone:+1 (440) 322-6604
Fax:+1 (440) 322-6604
Kahn Tractor & Equipment Inc. www.kahntractor.com
Contact: Sales Manager
Contact Phone:+1 (860) 642-7596
Contact Email: info@kahntractor.com
Junction Routes 32 & 207, North Franklin, CT, 6254
Phone:+1 (860) 642-7596
Fax:+1 (860) 642-7596
Keil Equipment Co., Inc. www.keilequipment.com
Contact: Sales Manager
Contact Phone:+1 (518) 537-6221
Contact Email: brettd@keilequipment.com
2356 Route 9, Hudson, NY, 12534
Phone:+1 (518) 537-6221
Fax:+1 (518) 537-6221
Kelly Tractor & Equipment www.kellytractor.net
Contact: Sales Manager
Contact Phone:+1 (903) 757 6644
Contact Email: robin.alston@kellytractor.net
5039 W. Loop 281 South, Longview, TX, 75603
Phone:+1 (903) 757 6644
Fax:+1 (903) 757 6644
Kubota Center www.kubotacenter.com
Contact: Sales Manager
Contact Phone:+1 (918) 224-1565
Contact Email: ap@kubotacenter.com
7700 New Sapulpa Road, Tulsa, OK, 72766
Phone:+1 (918) 224-1565
Fax:+1 (918) 224-1565
Landmark Equipment - Ft. Worth www.landmarkeq.com
Contact: Sales Manager
Contact Phone:+1 (817) 834-8131
Contact Email: james.stone@landmarkeq.com
5000 Airport Freeway, Fort Worth, TX, 76117
Phone:+1 (817) 834-8131
Fax:+1 (817) 834-8131
Landmark Equipment - Irving www.landmarkeq.com
Contact: Sales Manager
Contact Phone:+1 (972) 579-9999
Contact Email: miguel.barajas@landmarkeq.com
1351 S. Loop 12, Irving, TX, 75060
Phone:+1 (972) 579-9999
Fax:+1 (972) 579-9999
Landmark Equipment - McKinney www.landmarkeq.com
Contact: Sales Manager
Contact Phone:+1 (972) 548-9590
Contact Email: todd.ewing@landmarkeq.com
3774 N. Central Expressway, McKinney, TX, 75071
Phone:+1 (972) 548-9590
Fax:+1 (972) 548-9590
Lansdowne Moody www.lansdowne-moody.com
Contact: Sales Manager
Contact Phone:+1 (713) 672-8366
Contact Email: tbratton@lmtractor.com
8445 East Freeway, Houston, TX, 77029
Phone:+1 (713) 672-8366
Fax:+1 (713) 672-8366
Larson Farm & Lawn Inc. MO www.larsonfarmandlawn.com
Contact: Sales Manager
Contact Phone:+1 (417) 881-2677
Contact Email: gtrail@larsonjd.com
4655 E Highway 60, Rogersville, MO, 65742
Phone:+1 (417) 881-2677
Fax:+1 (417) 881-2677
Lashley Tractor www.lashleytractorsales.com
Contact: Sales Manager
Contact Phone:+1 (770)808-5500
Contact Email: janagnost@lashleytractor.com
6953 Covington Hwy, Lithonia, GA, 30224
Phone:+1 (770)808-5500
Fax:+1 (770)808-5500
Lawn & Leisure www.lawnandleisure.com
Contact: Sales Manager
Contact Phone:+1 (816) 524-6695
Contact Email: kraftk@lawnandleisure.com
706 SE Blue Parkway, Lee's Summit, MO, 64063
Phone:+1 (816) 524-6695
Fax:+1 (816) 524-6695
Lee Tractor - Biloxi/Gulfport www.leetractor.net
Contact: Sales Manager
Contact Phone:+1 (228) 392-9922
Contact Email: kristi@leetractor.net
12306 N. Oaklawn Ln., Biloxi, MS, 39532
Phone:+1 (228) 392-9922
Fax:+1 (228) 392-9922
Lee Tractor - St. Rose/Kenner www.leetractor.net
Contact: Sales Manager
Contact Phone:+1 (504) 467-6794
Contact Email: leetractor@bellsouth.net
10203 AirLine Catalog Hwy, Kenner, LA, 70063
Phone:+1 (504) 467-6794
Fax:+1 (504) 467-6794
Limestone - Campbellsville www.limestoneflw.com
Contact: Sales Manager
Contact Phone:+1 (270) 465-5439
Contact Email: dcave@limestoneflw.com
1505 New Columbia Road, Campbellsville, KY, 42719
Phone:+1 (270) 465-5439
Fax:+1 (270) 465-5439
Limestone - Danville www.limestoneflw.com
Contact: Sales Manager
Contact Phone:+1 (859) 236-8500
Contact Email: bbentley@limestoneflw.com
1401 Minor Road, Danville, KY, 40422
Phone:+1 (859) 236-8500
Fax:+1 (859) 236-8500
Limestone - Elizabethtown www.limestoneflw.com
Contact: Sales Manager
Contact Phone:+1 (270) 769-2341
Contact Email: darnold@limestoneflw.com
801 New Glendale Road, Elizabethtown, KY, 42701
Phone:+1 (270) 769-2341
Fax:+1 (270) 769-2341
Limestone - Florence www.limestoneflw.com
Contact: Sales Manager
Contact Phone:+1 (859) 538-1600
Contact Email: acollins@limestoneflw.com
10011 Sam Neace Drive, Florence, KY, 41042
Phone:+1 (859) 538-1600
Fax:+1 (859) 538-1600
Limestone - Gardnersville www.limestoneflw.com
Contact: Sales Manager
Contact Phone:+1 (859) 472-2246
Contact Email: kbobb@limestoneflw.com
3375 Hwy 491, DeMossville, KY, 41033
Phone:+1 (859) 472-2246
Fax:+1 (859) 472-2246
Limestone - Louisville www.limestoneflw.com
Contact: Sales Manager
Contact Phone:+1 (502) 239-8484
Contact Email: bboggs@limestoneflw.com
9812 Vista Hill Blvd., Louisville, KY, 40291
Phone:+1 (502) 239-8484
Fax:+1 (502) 239-8484
Limestone - Shelbyville www.limestoneflw.com
Contact: Sales Manager
Contact Phone:+1 (502) 633-1515
Contact Email: jfox@limestoneflw.com
102 Taylorsville Road, Shellbyville, KY, 40065
Phone:+1 (502) 633-1515
Fax:+1 (502) 633-1515
Limestone - Somerset www.limestoneflw.com
Contact: Sales Manager
Contact Phone:+1 (606) 561-5326
Contact Email: dburton@limestoneflw.com
5670 South Hwy 27, Somerset, KY, 42501
Phone:+1 (606) 561-5326
Fax:+1 (606) 561-5326
Limestone - Springfield www.limestoneflw.com
Contact: Sales Manager
Contact Phone:+1 (859) 336-7100
Contact Email: fbishop@limestoneflw.com
2934 Highway 555 North, Springfield, KY, 40069
Phone:+1 (859) 336-7100
Fax:+1 (859) 336-7100
M & L Industries - Baton Rouge www.mlind.net
Contact: Sales Manager
Contact Phone:+1 (225) 355-7716
Contact Email: pmarmande@mlind.net
5810 AirLine Catalog Hwy, Baton Rouge, LA, 70805
Phone:+1 (225) 355-7716
Fax:+1 (225) 355-7716
M & L Industries - Broussard www.mlind.net
Contact: Sales Manager
Contact Phone:+1 (337) 837-2763
Contact Email: brichard@mlind.net
3811 Highway 90 East, Broussard, LA, 70518
Phone:+1 (337) 837-2763
Fax:+1 (337) 837-2763
M & L Industries Inc. Houma www.mlind.net
Contact: Sales Manager
Contact Phone:+1 (985) 876-2280
Contact Email: kalario@mlind.net
1210 St. Charles Street, Houma, LA, 70360
Phone:+1 (985) 876-2280
Fax:+1 (985) 876-2280
Malvese Equipment Company Inc. www.malveseequipment.com
Contact: Sales Manager
Contact Phone:+1 (516) 681-7600
Contact Email: Left
1 Henrietta Street, Hicksville, NY, 11801
Phone:+1 (516) 681-7600
Fax:+1 (516) 681-7600
Malvese Equipment Company Inc. - Riverhead www.malveseequipment.com
Contact: Sales Manager
Contact Phone:+1 (631) 369-1147
Contact Email: atorres@malveseequipment.com
232 East Old Country Road, Riverhead, NY, 11901
Phone:+1 (631) 369-1147
Fax:+1 (631) 369-1147
Martin Equipment - Springfield IL www.martinequipment.com
Contact: Sales Manager
Contact Phone:+1 (217) 528-4347
Contact Email: ltucker@meoi.com
2384 J. David Jones Parkway, Springfield, IL, 62707
Phone:+1 (217) 528-4347
Fax:+1 (217) 528-4347
Martin Equipment of IA - Cedar Rapids www.martinequipment.com
Contact: Sales Manager
Contact Phone:+1 (319) 365-0515
Contact Email:
2900, 6th Street S.W., Cedar Rapids, IA, 52404
Phone:+1 (319) 365-0515
Fax:+1 (319) 365-0515
Martin Equipment of IA - Dubuque www.martinequipment.com
Contact: Sales Manager
Contact Phone:+1 (563) 588-1950
Contact Email:
9173 E. Tamarack, Dubuque, IA, 52003
Phone:+1 (563) 588-1950
Fax:+1 (563) 588-1950
Martin Equipment of IL - Goodfield www.martinequipment.com
Contact: Sales Manager
Contact Phone:+1 (309) 965-2502
Contact Email: jimcoe@meoi.com
400 West Martin Dr., Goodfield, IL, 61742
Phone:+1 (309) 965-2502
Fax:+1 (309) 965-2502
Martin Equipment of IL - Peru www.martinequipment.com
Contact: Sales Manager
Contact Phone:+1 (815) 224-4711
Contact Email: danny@meoi.com
Terminal Road & Route 6, Peru, IL, 61354
Phone:+1 (815) 224-4711
Fax:+1 (815) 224-4711
Martin Equipment of IL - Rock Island www.martinequipment.com
Contact: Sales Manager
Contact Phone:+1 (309) 787-6108
Contact Email:
3720 85th Avenue West, Rock Island, IL, 61201
Phone:+1 (309) 787-6108
Fax:+1 (309) 787-6108
Martin Equipment of IL - Tolano www.martinequipment.com
Contact: Sales Manager
Contact Phone:+1 (217) 485-6755
Contact Email:
887 US Route 45, Tolano, IL, 61880
Phone:+1 (217) 485-6755
Fax:+1 (217) 485-6755
Martin Implement Sales Inc www.martinimplement.com
Contact: Sales Manager
Contact Phone:+1 (708) 349-8430
Contact Email: accounts@martinimplement.com
18405 115th Ave, Orland Park, IL, 60467
Phone:+1 (708) 349-8430
Fax:+1 (708) 349-8430
Mason Tractor & Equipment Co., Inc www.masontractor.com
Contact: Sales Manager
Contact Phone:+1 (706) 632-3777
Contact Email: parts@masontractorco.com
2510 Dahlonega Hwy, Cumming, GA, 30028
Phone:+1 (706) 632-3777
Fax:+1 (706) 632-3777
Meade Tractor www.meadetractor.com
Contact: Sales Manager
Contact Phone:+1 (276) 628-5126
Contact Email: sbralley@meadetractor.com
19209 Lee Highway, Abingdon, VA, 24210
Phone:+1 (276) 628-5126
Fax:+1 (276) 628-5126
Meadows of Dan Farm Service Inc. www.mdfarmservice.com
Contact: Sales Manager
Contact Phone:+1 (276) 952-2800
Contact Email:
2934 Jeb Stuart Hwy, Meadows of Dan, VA, 24120
Phone:+1 (276) 952-2800
Fax:+1 (276) 952-2800
Menzi U.S.A Sales www.menziusa.com
Contact: Sales Manager
Contact Phone:+1 (863) 603-7979
Contact Email: sales@menziusa.com
1850 Fairbanks Street, Lakeland, FL, 33805-2542
Phone:+1 (863) 603-7979
Fax:+1 (863) 603-7979
Messick - Abbottstown www.messicks.com
Contact: Sales Manager
Contact Phone:+1 (717) 259-6617
Contact Email: davec@messicks.com
7481 Lincoln Hwy East, Abbottstown, PA, 17301
Phone:+1 (717) 259-6617
Fax:+1 (717) 259-6617
Messick - Elizabethtown www.messicks.com
Contact: Sales Manager
Contact Phone:+1 (717) 367-1319
Contact Email: sales@lancatrac.com
187 Merts Drive, Elizabethtown, PA, 17022
Phone:+1 (717) 367-1319
Fax:+1 (717) 367-1319
Messick - Halifax www.messicks.com
Contact: Sales Manager
Contact Phone:+1 (800) 222-3373
Contact Email: matta@messicks.com
3882 Peters Mountain Road, Halifax, PA, 17032
Phone:+1 (800) 222-3373
Fax:
Middletown - Uniontown PA www.middletowntractor.com
Contact: Sales Manager
Contact Phone:+1 (724) 439-1234
Contact Email: cbranthoover@middletowntractor.com
655 Pittsburgh Road, Uniontown, PA, 15401
Phone:+1 (724) 439-1234
Fax:+1 (724) 439-1234
Middletown - Washington PA www.middletowntractor.com
Contact: Sales Manager
Contact Phone:+1 (724) 229-0191
Contact Email: betty@middletowntractor.com
910 Henderson Ave, Washington, PA, 15301
Phone:+1 (724) 229-0191
Fax:+1 (724) 229-0191
Middletown Tractor Sales www.middletowntractor.com
Contact: Sales Manager
Contact Phone:+1 (304) 366-4690
Contact Email: adam@middletowntractor.com
2050 Boyers Drive, Fairmont, WV, 26554
Phone:+1 (304) 366-4690
Fax:+1 (304) 366-4690
Mississippi Ag - Bolton www.agup.com
Contact: Sales Manager
Contact Phone:+1 (601) 866-2233
Contact Email:
324 Hwy 80 West, Bolton, MS, 39041
Phone:+1 (601) 866-2233
Fax:+1 (601) 866-2233
Mississippi Ag - Canton www.agup.com
Contact: Sales Manager
Contact Phone:+1 (601) 859-4136
Contact Email: PaulAlbritton@AgUp.com
906 West Peace St., Canton, MS, 39046
Phone:+1 (601) 859-4136
Fax:+1 (601) 859-4136
Mississippi Ag - Dumas (Arkansas Ag) www.agup.com
Contact: Sales Manager
Contact Phone:+1 (870) 382-4841
Contact Email: justinjohnson@agup.com
602 Hwy 65 North, Dumas, AR, 71639
Phone:+1 (870) 382-4841
Fax:+1 (870) 382-4841
Mississippi Ag - Hattiesburg www.agup.com
Contact: Sales Manager
Contact Phone:+1 (601) 544-6461
Contact Email: waverleyduncan@agup.com
1002 Bowie St., Hattiesburg, MS, 39401
Phone:+1 (601) 544-6461
Fax:+1 (601) 544-6461
Mississippi Ag - Lake Village (Arkansas Ag) www.agup.com
Contact: Sales Manager
Contact Phone:+1 (870) 265-5333
Contact Email:
243 Hwy 82 West, Lake Village, AR, 71653
Phone:+1 (870) 265-5333
Fax:+1 (870) 265-5333
Mississippi Ag - Lexington www.agup.com
Contact: Sales Manager
Contact Phone:+1 (662) 834-2826
Contact Email: mikehood@agup.com
20268 Hwy 12 West, Lexington, MS, 39095
Phone:+1 (662) 834-2826
Fax:+1 (662) 834-2826
Mississippi Ag - McGehee (Arkansas Ag) www.agup.com
Contact: Sales Manager
Contact Phone:+1 (870) 222-4671
Contact Email: joelawson@agup.com
6207 Hwy 65 North, McGehee, AR, 71653
Phone:+1 (870) 222-4671
Fax:+1 (870) 222-4671
Mississippi Ag - Mendenhall www.agup.com
Contact: Sales Manager
Contact Phone:+1 (601) 847-3844
Contact Email:
3304 Simpson Hwy 49, Mendenhall, MS, 39114
Phone:+1 (601) 847-3844
Fax:+1 (601) 847-3844
Mississippi Ag - Portland (Arkansas Ag) www.agup.com
Contact: Sales Manager
Contact Phone:+1 (870) 737-2211
Contact Email: donarensman@agup.com
Hwy 165 North, Portland, AR, 71663
Phone:+1 (870) 737-2211
Fax:+1 (870) 737-2211
Mississippi Ag - Rolling Fork www.agup.com
Contact: Sales Manager
Contact Phone:+1 (662) 873-4314
Contact Email: mikebarlow@agup.com
19934 Hwy 61 South, Rolling Fork, MS, 39194
Phone:+1 (662) 873-4314
Fax:+1 (662) 873-4314
Mississippi Ag - Summit www.agup.com
Contact: Sales Manager
Contact Phone:+1 (601) 276-7515
Contact Email: bblackwell@agup.com
104 Laurel St., Summit, MS, 39666
Phone:+1 (601) 276-7515
Fax:+1 (601) 276-7515
Mississippi Ag - Yazoo - (Corporate) www.agup.com
Contact: Sales Manager
Contact Phone:+1 (662) 746-6208
Contact Email: willdaniels@agup.com
441 Haley Barbour Parkway, Yazoo City, MS, 39194
Phone:+1 (662) 746-6208
Fax:+1 (662) 746-6208
Munn Tractor Sales www.munntractorsales.com
Contact: Sales Manager
Contact Phone:+1 (248) 373-5000
Contact Email: mtsservice@sbcglobal.net
3700 Lapeer Rd, Auburn Hills, MI, 48326
Phone:+1 (248) 373-5000
Fax:+1 (248) 373-5000
Nashville Tractor www.nashvilletractor.net/default.htm
Contact: Sales Manager
Contact Phone:+1 (229) 686-2071
Contact Email: nashvilletractor@bellsouth.net
8072 Tifton Rd, Nashville, GA, 31639
Phone:+1 (229) 686-2071
Fax:+1 (229) 686-2071
Nelson Enterprises (Nelson Tractor) www.nelsontractorco.com
Contact: Sales Manager
Contact Phone:+1 (706) 745-2148
Contact Email: nelsontractor@hotmail.com
2934 W. Hwy 515, Blairsville, GA, 30512
Phone:+1 (706) 745-2148
Fax:+1 (706) 745-2148
Neuhaus & Company www.neuhausco.com
Contact: Sales Manager
Contact Phone:+1 (956) 968-7502
Contact Email: Paul.franklin@neuhausco.com
2000 East Expressway 83, Weslaco, TX, 78596
Phone:+1 (956) 968-7502
Fax:+1 (956) 968-7502
Niagara Frontier Equipment Sales Inc. www.nfesales.com
Contact: Sales Manager
Contact Phone:+1 (716) 434-2000
Contact Email: lwaters@rochester.rr.com
4060 Lake Avenue (RT. 78), Lockport, NY, 14094
Phone:+1 (716) 434-2000
Fax:+1 (716) 434-2000
Norfolk Power Equipment, Inc. www.norfolkpower.com
Contact: Sales Manager
Contact Phone:+1 (508) 384-0011
Contact Email: info@norfolkpower.com
5 Cushing Drive Rt.1A, Wrentham, MA, 2093
Phone:+1 (508) 384-0011
Fax:+1 (508) 384-0011
Normont Equipment- Montana www.normontequipco.com
Contact: Sales Manager
Contact Phone:+1 (406) 453-4344
Contact Email: normont2@mcn.net
1157 Wire Mill Road, Black Eagle, MT, 59414
Phone:+1 (406) 453-4344
Fax:+1 (406) 453-4344
Northwestern Equipment Inc. www.constructionequipment.com
Contact: Sales Manager
Contact Phone:+1 (701) 235-7583
Contact Email: nwequip@aol.com
124 28th St., Fargo, ND, 58103
Phone:+1 (701) 235-7583
Fax:+1 (701) 235-7583
Otter Sales & Service Inc. www.ottersalesandservice.com
Contact: Sales Manager
Contact Phone:+1 (262) 763-3563
Contact Email: ottersales@sbcglobal.net
1197 Milwaukee Ave, Burlington, WI, 53105
Phone:+1 (262) 763-3563
Fax:+1 (262) 763-3563
Pacific Turf Machinery (Roofmaster) www.roofmaster.com
Contact: Sales Manager
Contact Phone:+1 (323) 261-5122
Contact Email:
750 Monterey Pass Rd, Monterey Park, CA, 91754
Phone:+1 (323) 261-5122
Fax:+1 (323) 261-5122
Padula Bros. Inc. www.padulabrothers.com
Contact: Sales Manager
Contact Phone:+1 (978) 537-3356
Contact Email: steveh@padbros.com
700 Fort Pond Road, Lancaster, MA, 1523
Phone:+1 (978) 537-3356
Fax:+1 (978) 537-3356
Pen Bay Tractor Supply www.penbaytractor.com
Contact: Sales Manager
Contact Phone:+1 (207) 426-8594
Contact Email: rogally@uninets.net
1707 Bangor Rd, Clinton, ME, 4927
Phone:+1 (207) 426-8594
Fax:+1 (207) 426-8594
Peterson Equipment www.petersonequipment.com
Contact: Sales Manager
Contact Phone:+1 (435) 752-5110
Contact Email: alb@petersonequipment.com
2686 North Main, Logan, UT, 84341
Phone:+1 (435) 752-5110
Fax:+1 (435) 752-5110
Phelps Implement Corporation www.phelpsimp.com
Contact: Sales Manager
Contact Phone:+1 (319) 824-5247
Contact Email: rphelps@phelpsimp.com
1502 G Ave, Grundy Center, IA, 50638
Phone:+1 (319) 824-5247
Fax:+1 (319) 824-5247
Pikeville Equipment Inc. www.pikevilleequipment.com
Contact: Sales Manager
Contact Phone:+1 (610) 987-6277
Contact Email: general@pikevilleequipment.com
521 Oysterdale Road, Oley, PA, 19547
Phone:+1 (610) 987-6277
Fax:+1 (610) 987-6277
Plasterer Equipment Co., Inc. - Bethlehem www.plasterer.com
Contact: Sales Manager
Contact Phone:+1 (610) 867-4657
Contact Email: bethlehem@plasterer.com
400 Stoke Park Road, Bethlehem, PA, 18017
Phone:+1 (610) 867-4657
Fax:+1 (610) 867-4657
Polen Implement, Inc.- Elyria, OH www.polenimplement.com
Contact: Sales Manager
Contact Phone:+1 (440) 322-8821
Contact Email: polenimp@polenimplement.com
42255 Oberlin Elyria Road, Elyria, OH, 44035
Phone:+1 (440) 322-8821
Fax:+1 (440) 322-8821
Potestio Brothers Equipment Inc. www.pbequip.com
Contact: Sales Manager
Contact Phone:+1 (303) 841-2299
Contact Email: janetteb@pbequip.com
19020 Longs Way, Parker, CO, 80134
Phone:+1 (303) 841-2299
Fax:+1 (303) 841-2299
Powerland Equipment www.powerlandequipment.com
Contact: Sales Manager
Contact Phone:+1 (760) 749-1271
Contact Email: andy@powerlandequipment.com
27943 Valley Center Road, Valley Center, CA, 92082
Phone:+1 (760) 749-1271
Fax:+1 (760) 749-1271
Progressive Tractor www.progressive-tractor.com
Contact: Sales Manager
Contact Phone:+1 (337) 942-5689
Contact Email: dianed@ptieq.com
5017 I-49 S. Service Rd., Opelousas, LA, 70570
Phone:+1 (337) 942-5689
Fax:+1 (337) 942-5689
Quality Implement www.qualityimplement.com
Contact: Sales Manager
Contact Phone:+1 (940) 422-4534
Contact Email: glenb.mun.parts@gmail.com
10576 Hwy 277 South, Munday, TX, 76371
Phone:+1 (940) 422-4534
Fax:+1 (940) 422-4534
R.N.O.W., Inc. www.rnow-inc.com
Contact: Sales Manager
Contact Phone:+1 (414) 541-5700
Contact Email: bill.crawley@rnow-inc.com
8636R West National Avenue, West Allis, WI, 53227
Phone:+1 (414) 541-5700
Fax:+1 (414) 541-5700
Rahn Equipment Co. www.rahnequipmentcompany.com
Contact: Sales Manager
Contact Phone:+1 (217) 431-1232
Contact Email: RAHNPARTS@GMAIL.COM
2400 Georgetown Road, Danville, IL, 61832
Phone:+1 (217) 431-1232
Fax:+1 (217) 431-1232
Rathell Farm Equipment Inc. www.rathellfarm.com
Contact: Sales Manager
Contact Phone:+1 (410) 822-1772
Contact Email: tomg@rathellfarm.com
12682 Old Skipton Road, Cordova, MD, 21625
Phone:+1 (410) 822-1772
Fax:+1 (410) 822-1772
RDO Equipment Company - Fargo www.rdoequipment.com
Contact: Sales Manager
Contact Phone:+1 (701) 282-5400
Contact Email:
3401 38th St S, Fargo, ND, 58104
Phone:+1 (701) 282-5400
Fax:+1 (701) 282-5400
RDO Equipment Company - Minot www.rdoequipment.com
Contact: Sales Manager
Contact Phone:+1 (701) 852-3962
Contact Email:
HWY 83 South, Minot, ND, 58702
Phone:+1 (701) 852-3962
Fax:+1 (701) 852-3962
RDO Equipment Company- Aberdeen, SD www.rdoequipment.com
Contact: Sales Manager
Contact Phone:+1 (605) 225-6772
Contact Email: TLacher@rdoequipment.com
4935 East 6th Avenue, Aberdeen, SD, 57402
Phone:+1 (605) 225-6772
Fax:+1 (605) 225-6772
RDO Equipment Company- Bismarck, SD www.rdoequipment.com
Contact: Sales Manager
Contact Phone:+1 (701) 223-5798
Contact Email: jhastings@rdoequipment.com
2000 Industrial Drive, Bismarck, ND, 58502
Phone:+1 (701) 223-5798
Fax:+1 (701) 223-5798
RDO Equipment Company- Rapid City, SD www.rdoequipment.com
Contact: Sales Manager
Contact Phone:+1 (605) 348-1566
Contact Email: tknepp@rdoequipment.com
1540 Deadwood Ave., Rapids City, SD, 57702
Phone:+1 (605) 348-1566
Fax:+1 (605) 348-1566
RDO Equipment MN www.rdoequipment.com
Contact: Sales Manager
Contact Phone:+1 (701) 526-2200
Contact Email:
2900 Main Ave SE, Moorhead, MN, 56560
Phone:+1 (701) 526-2200
Fax:+1 (701) 526-2200
Reynolds-Warren Equipment Co., Inc. www.reynoldswarren.com
Contact: Sales Manager
Contact Phone:+1 (404) 361-1593
Contact Email: johney@reynoldswarren.com
1945 Forest Parkway, Lake City, GA, 30260
Phone:+1 (404) 361-1593
Fax:+1 (404) 361-1593
Right of Way Equipment www.rightofwayequipment.net
Contact: Sales Manager
Contact Phone:+1 (919) 851-1750
Contact Email: dbowling@roweq.com
5500 Hillsborough St., Raleigh, NC, 27606
Phone:+1 (919) 851-1750
Fax:+1 (919) 851-1750
Robert E. Little, Inc. www.relittle.com
Contact: Sales Manager
Contact Phone:+1 (610) 287-9643
Contact Email: dlittle@relittle.com
Rt.29.& Little Rd, Zieglerville, PA, 19492
Phone:+1 (610) 287-9643
Fax:+1 (610) 287-9643
Robert E. Little, Inc. - Downingtown www.relittle.com
Contact: Sales Manager
Contact Phone:+1 (610) 873-2001
Contact Email: skritzman@relittle.com
106 Paper Mill Ave, Downingtown, PA, 19335
Phone:+1 (610) 873-2001
Fax:+1 (610) 873-2001
Robinson Equipment www.robinsonequip.com
Contact: Sales Manager
Contact Phone:+1 (321) 267-2023
Contact Email: robinsoneq@cfl.rr.com
3030 Cuyler Street, Mims, FL, 32754
Phone:+1 (321) 267-2023
Fax:+1 (321) 267-2023
Roehr's Machinery Inc. www.roehrsinc.com
Contact: Sales Manager
Contact Phone:+1 (402) 228-3319
Contact Email: roehrs@beatricene.com
1512 North 6th Street, Beatrice, NE, 68310
Phone:+1 (402) 228-3319
Fax:+1 (402) 228-3319
Roehr's Machinery Inc. - Hebron, NE www.roehrsinc.com
Contact: Sales Manager
Contact Phone:+1 (402) 768-7266
Contact Email: andy@roehrsinc.com
225 S 13th Street, Hebron, NE, 68370
Phone:+1 (402) 768-7266
Fax:+1 (402) 768-7266
Ruim Equipment Co, Inc. www.ruimequipment.com
Contact: Sales Manager
Contact Phone:+1 (219) 696-8820
Contact Email: tim@ruimequipment.com
17974 Wicker Blvd., Lowell, IN, 46356
Phone:+1 (219) 696-8820
Fax:+1 (219) 696-8820
Scruggs Farm, Lawn & Garden, LLC www.scruggsfarm.com
Contact: Sales Manager
Contact Phone:+1 (662) 620-6165
Contact Email: jdsales@scruggsfarm.com
3575 Tom Watson Dr., Saltillo, MS, 38866
Phone:+1 (662) 620-6165
Fax:+1 (662) 620-6165
Security Equipment Company, Inc. www.securityfnh.com
Contact: Sales Manager
Contact Phone:+1 (410) 247-9600
Contact Email: jcgodbey@securityfnh.com
3828 Washington Blvd., Baltimore, MD, 21227
Phone:+1 (410) 247-9600
Fax:+1 (410) 247-9600
Seigworth Road Supply www.seigworthroadsupply.com
Contact: Sales Manager
Contact Phone:+1 (814) 797-5146
Contact Email: Seigworthrs@usachoice.net
3146 Popetown Road, Knox, PA, 16232
Phone:+1 (814) 797-5146
Fax:+1 (814) 797-5146
Sloan Implement www.sloans.com
Contact: Sales Manager
Contact Phone:+1 (217) 226-4411
Contact Email: aphillips@sloans.com
120 N. Business St., Assumption, IL, 62510
Phone:+1 (217) 226-4411
Fax:+1 (217) 226-4411
Smith's Implements - Carlisle PA www.smithsimp.com
Contact: Sales Manager
Contact Phone:+1 (717) 249-2313
Contact Email: lbauman@smithsimp.com
1 Roadway Dr., Carlisle, PA, 17015
Phone:+1 (717) 249-2313
Fax:+1 (717) 249-2313
Smith's Implements - Chambersburg PA www.smithsimp.com
Contact: Sales Manager
Contact Phone:+1 (717) 263-4103
Contact Email: jfinafrock@smithsimp.com
3213 Black Gap Rd, Chambersburg, PA, 17202
Phone:+1 (717) 263-4103
Fax:+1 (717) 263-4103
Smith's Implements - Hagerstown MD www.smithsimp.com
Contact: Sales Manager
Contact Phone:+1 (301) 733-1873
Contact Email: lbard@smithsimp.com
13115 Cearfoss Pike, Hagerstown, MD, 21740
Phone:+1 (301) 733-1873
Fax:+1 (301) 733-1873
Smith's Implements - Mercersburg PA www.smithsimp.com
Contact: Sales Manager
Contact Phone:+1 (717) 328-2244
Contact Email: randerson@smithsimp.com
12258 Buchanan Trail West, Mercersburg, PA, 17236
Phone:+1 (717) 328-2244
Fax:+1 (717) 328-2244
South Florida New Holland dba Fortrac www.fortrac.com
Contact: Sales Manager
Contact Phone:+1 (305) 247-1321
Contact Email: parts@ritrac.com
1995 NE 8 St, Homestead, FL, 33033
Phone:+1 (305) 247-1321
Fax:+1 (305) 247-1321
South Texas Implement dba Tractor City www.stictx.com
Contact: Sales Manager
Contact Phone:+1 (361) 664-7338
Contact Email: grossmanj@stictx.com
4241 E Hwy 359, Alice, TX, 78333
Phone:+1 (361) 664-7338
Fax:+1 (361) 664-7338
Southeast Farm Equipment- Clio www.southeastfarmequipment.com
Contact: Sales Manager
Contact Phone:+1 (843) 586-2262
Contact Email:
Hwy 9 West, Clio, SC, 29525
Phone:+1 (843) 586-2262
Fax:+1 (843) 586-2262
Southeast Farm Equipment- Hopemills www.southeastfarmequipment.com
Contact: Sales Manager
Contact Phone:+1 (910) 323-0247
Contact Email:
3934 Legion Road, Hopemills, NC, 28348
Phone:+1 (910) 323-0247
Fax:+1 (910) 323-0247
Southeast Farm Equipment- Laurinburg www.southeastfarmequipment.com
Contact: Sales Manager
Contact Phone:+1 (910) 276-8396
Contact Email:
16220 Joy St, Laurinburg, NC, 28352
Phone:+1 (910) 276-8396
Fax:+1 (910) 276-8396
Southeast Farm Equipment- Lumberton www.southeastfarmequipment.com
Contact: Sales Manager
Contact Phone:+1 (910) 739-6012
Contact Email:
Hwy 211 South, Lumberton, NC, 28358
Phone:+1 (910) 739-6012
Fax:+1 (910) 739-6012
Southeast Farm Equipment- Whiteville www.southeastfarmequipment.com
Contact: Sales Manager
Contact Phone:+1 (910) 642-8181
Contact Email: dprince@southeastfarmequip.com
3897 James B White Hwy, Whiteville, NC, 28472
Phone:+1 (910) 642-8181
Fax:+1 (910) 642-8181
Southeast Farm Equipment-Loris www.southeastfarmequipment.com
Contact: Sales Manager
Contact Phone:+1 (843) 756-6021
Contact Email: ajohnson@southeastfarmequip.com
1424 Hwy. 9, Loris, SC, 29569-0455
Phone:+1 (843) 756-6021
Fax:+1 (843) 756-6021
Southeastern Equipment - Brilliant, OH www.southeasternequip.com
Contact: Sales Manager
Contact Phone:+1 (740) 598-3400
Contact Email: bhall@southeasternequip.com
1356 3rd Street, Brilliant, OH, 43913
Phone:+1 (740) 598-3400
Fax:+1 (740) 598-3400
Southeastern Equipment - Brunswick, OH www.southeasternequip.com
Contact: Sales Manager
Contact Phone:+1 (330) 225-6511
Contact Email: brunswickparts@southeasternequip.com
1500 Industrial Parkway, Brunswick, OH, 44212
Phone:+1 (330) 225-6511
Fax:+1 (330) 225-6511
Southeastern Equipment - Burlington, KY www.southeasternequip.com
Contact: Sales Manager
Contact Phone:+1 (859) 586-6133
Contact Email: burlingtonservice@southeasternequip.com
1982 Florence Pike, Burlington, KY, 41005
Phone:+1 (859) 586-6133
Fax:+1 (859) 586-6133
Southeastern Equipment - Cambridge OH www.southeasternequip.com
Contact: Sales Manager
Contact Phone:+1 (740) 432-6303
Contact Email: cambridgeparts@southeasternequip.com
10874 East Pike Rd., Cambridge, OH, 43725
Phone:+1 (740) 432-6303
Fax:+1 (740) 432-6303
Southeastern Equipment - Dublin, OH www.southeasternequip.com
Contact: Sales Manager
Contact Phone:+1 (614) 889-1073
Contact Email: dublinparts@southeasternequip.com
6390 Shier-Rings Rd., Dublin, OH, 43016
Phone:+1 (614) 889-1073
Fax:+1 (614) 889-1073
Southeastern Equipment - Evansville, IN www.southeasternequip.com
Contact: Sales Manager
Contact Phone:+1 (812) 476-7321
Contact Email: spoole@southeasternequip.com
7444 Enterprise Park Circle, Evansville, IN, 47715
Phone:+1 (812) 476-7321
Fax:+1 (812) 476-7321
Southeastern Equipment - Fort Wayne, IN www.southeasternequip.com
Contact: Sales Manager
Contact Phone:+1 (260) 483-8868
Contact Email: jkoch@southeasternequip.com
3333 W. Coliseum Blvd., Fort Wayne, IN, 46808
Phone:+1 (260) 483-8868
Fax:+1 (260) 483-8868
Southeastern Equipment - Gallipolis, OH www.southeasternequip.com
Contact: Sales Manager
Contact Phone:+1 (740) 446-3910
Contact Email: gallipolisparts@southeasternequip.com
228 SR Rt. 7 North, Gallipolis, OH, 45631
Phone:+1 (740) 446-3910
Fax:+1 (740) 446-3910
Southeastern Equipment - Heath, OH www.southeasternequip.com
Contact: Sales Manager
Contact Phone:+1 (740) 522-3500
Contact Email: warranty@southeasternequip.com
1505 Hebron Rd. (Rt. 79), Heath, OH, 43056
Phone:+1 (740) 522-3500
Fax:+1 (740) 522-3500
Southeastern Equipment - Indianapolis, IN www.southeasternequip.com
Contact: Sales Manager
Contact Phone:+1 (317) 872-4877
Contact Email: indianapolisparts@southeasternequip.com
4951 West 96th St., Indianapolis, IN, 46268
Phone:+1 (317) 872-4877
Fax:+1 (317) 872-4877
Southeastern Equipment - Mansfield, OH www.southeasternequip.com
Contact: Sales Manager
Contact Phone:+1 (419) 529-4848
Contact Email:
3875 West Fourth St., Mansfield, OH, 44903
Phone:+1 (419) 529-4848
Fax:+1 (419) 529-4848
Southeastern Equipment - Marietta, OH www.southeasternequip.com
Contact: Sales Manager
Contact Phone:+1 (740) 374-7479
Contact Email: mariettaservice@southeasternequip.com
26580 St. Rt. 7 Newport Pike, Marietta, OH, 45750
Phone:+1 (740) 374-7479
Fax:+1 (740) 374-7479
Southeastern Equipment - Mentor, OH www.southeasternequip.com
Contact: Sales Manager
Contact Phone:+1 (440) 255-6300
Contact Email: mgourley@southeasternequip.com
8757 Tyler Blvd., Mentor, OH, 44060
Phone:+1 (440) 255-6300
Fax:+1 (440) 255-6300
Southeastern Equipment - Monroe, OH www.southeasternequip.com
Contact: Sales Manager
Contact Phone:+1 (513) 539-9214
Contact Email: monroeservice@southeasternequip.com
404 Breaden Rd., Monroe, OH, 45050
Phone:+1 (513) 539-9214
Fax:+1 (513) 539-9214
Southeastern Equipment - North Canton, OH www.southeasternequip.com
Contact: Sales Manager
Contact Phone:+1 (330) 494-3950
Contact Email: northcantonparts@southeasternequip.com
6415 Promler Ave. NW, North Canton, OH, 44720
Phone:+1 (330) 494-3950
Fax:+1 (330) 494-3950
Southeastern Equipment - Perrysburg, OH www.southeasternequip.com
Contact: Sales Manager
Contact Phone:+1 (419) 874-0331
Contact Email: perrysburgparts@southeasternequip.com
27207 N. Dixie Highway, Perrysburg, OH, 43551
Phone:+1 (419) 874-0331
Fax:+1 (419) 874-0331
Southside Equipment Company www.southsideequip.com
Contact: Sales Manager
Contact Phone:+1 (478) 452-5523
Contact Email: rbrack@southsideequip.com
140 East Andrews Street, Milledgeville, GA, 31061
Phone:+1 (478) 452-5523
Fax:+1 (478) 452-5523
Steen Enterprises www.steenent.com
Contact: Sales Manager
Contact Phone:+1 (843) 889-2292
Contact Email: steenent@gmail.com
7634 Savannah Highway, Adams Run, SC, 29426
Phone:+1 (843) 889-2292
Fax:+1 (843) 889-2292
Storr Tractor Company www.storrtractor.com
Contact: Sales Manager
Contact Phone:+1 (908) 722-9830
Contact Email: dmills@storrtractor.com
3191 Route 22, Somerville, NJ, 8876
Phone:+1 (908) 722-9830
Fax:+1 (908) 722-9830
Stotz Equipment - El Cajon www.stotzequipment.com
Contact: Sales Manager
Contact Phone:+1 (619) 579-0484
Contact Email: sdelnero@stotzeq.com
411 N. Marshall, El Cajon, CA, 92020
Phone:+1 (619) 579-0484
Fax:+1 (619) 579-0484
Stotz Equipment - Escondido www.stotzequipment.com
Contact: Sales Manager
Contact Phone:+1 (760) 737-2400
Contact Email: salmader@stotzeq.com
1830 W. Mission, Escondido, CA, 92029
Phone:+1 (760) 737-2400
Fax:+1 (760) 737-2400
Stotz Equipment - Indio www.stotzequipment.com
Contact: Sales Manager
Contact Phone:+1 (760) 775-1344
Contact Email: jgarcia@stotzeq.com
45050 Golf Center Parkway, Indio, CA, 92201
Phone:+1 (760) 775-1344
Fax:+1 (760) 775-1344
Stotz Equipment - Montclair www.stotzequipment.com
Contact: Sales Manager
Contact Phone:+1 (909) 626-8586
Contact Email: sandrews@stotzeq.com
4811 Brooks Street, Montclair, CA, 91763
Phone:+1 (909) 626-8586
Fax:+1 (909) 626-8586
Streacker Tractor Sales Findlay www.streackertractor.com
Contact: Sales Manager
Contact Phone:+1 (419) 422-6973
Contact Email: roger@streackertractor.com
1218 Trenton Ave., Findlay, OH, 45840
Phone:+1 (419) 422-6973
Fax:+1 (419) 422-6973
Streacker Tractor Sales Inc. - Fremont www.streackertractor.com
Contact: Sales Manager
Contact Phone:+1 (419) 334-9775
Contact Email: service.findlay@streackertractor.com
1400 N. 5th Street, Freemont, OH, 43420
Phone:+1 (419) 334-9775
Fax:+1 (419) 334-9775
Stutheit Implement Company- Syracuse, NE www.stutheitimpl.com
Contact: Sales Manager
Contact Phone:+1 (402) 269-2241
Contact Email: stan@stutheitimpl.com
257 North 30th Road, Syracuse, NE, 68446
Phone:+1 (402) 269-2241
Fax:+1 (402) 269-2241
Sunshine Equipment - Covington www.sunequip.com
Contact: Sales Manager
Contact Phone:+1 (985) 871-5395
Contact Email: wendya@sunequip.com
74587 HWY 25, Covington, LA, 70435
Phone:+1 (985) 871-5395
Fax:+1 (985) 871-5395
Sunshine Equipment - Donaldsonville www.sunequip.com
Contact: Sales Manager
Contact Phone:+1 (225) 473-9861
Contact Email: wendya@equip.com
2300 HWY 70 East, Donaldsonville, LA, 70346
Phone:+1 (225) 473-9861
Fax:+1 (225) 473-9861
Sunshine Equipment - Franklinton www.sunequip.com
Contact: Sales Manager
Contact Phone:+1 (985) 839-3686
Contact Email: wendya@sunequip.com
1903 Washington St., Franklinton, LA, 70438
Phone:+1 (985) 839-3686
Fax:+1 (985) 839-3686
Sunshine Equipment - LaPlace www.sunequip.com
Contact: Sales Manager
Contact Phone:+1 (985) 651-2599
Contact Email: wendy@sunequip.com
100 Circle Dr., LaPlace, LA, 70068
Phone:+1 (985) 651-2599
Fax:+1 (985) 651-2599
Sunshine Equipment - New Iberia www.sunequip.com
Contact: Sales Manager
Contact Phone:+1 (337) 365-6667
Contact Email: Kgondron@sunequip.com
2407 Jane St., New Iberia, LA, 70563
Phone:+1 (337) 365-6667
Fax:+1 (337) 365-6667
Sunshine Equipment - Thibodaux www.sunequip.com
Contact: Sales Manager
Contact Phone:+1 (985) 446-5061
Contact Email: wendya@sunequip.com
1524 Ridgefield Rd., Thibodaux, LA, 70301
Phone:+1 (985) 446-5061
Fax:+1 (985) 446-5061
SunSouth, LLC www.sunsouth.com
Contact: Sales Manager
Contact Phone:+1 (706) 687-0752
Contact Email: clinton@sunsouth.com
30 Parkman Avenue, Columbus, GA, 31902
Phone:+1 (706) 687-0752
Fax:+1 (706) 687-0752
Sydenstricker Farm & Lawn www.sydenstrickers.com
Contact: Sales Manager
Contact Phone:+1 (573) 769-2112
Contact Email: jbeckley@sydenstrickers.com
Highways 61 & 24, Paylmyra, MO, 63461
Phone:+1 (573) 769-2112
Fax:+1 (573) 769-2112
Taylor Forbes Equipment Co.Inc. www.taylor-forbes.com
Contact: Sales Manager
Contact Phone:+1 (434) 392-4139
Contact Email: info@taylor-forbes.com
1102 East Third Street, Farmville, VA, 23901
Phone:+1 (434) 392-4139
Fax:+1 (434) 392-4139
Taylor Trucks & Equipment www.taylortruck.net
Contact: Sales Manager
Contact Phone:+1 (417) 924-2026
Contact Email: rickycole@taylortruck.net
2676 Highway 5, Mansfield, MO, 65704-8398
Phone:+1 (417) 924-2026
Fax:+1 (417) 924-2026
Team Eagle Ltd. - New Hampshire www.team-eagle.ca
Contact: Sales Manager
Contact Phone:+1 (603) 729-0046
Contact Email: leighb@team-eagle.ca
141 Sanborn Road, Tilton, NH, 3276
Phone:+1 (603) 729-0046
Fax:+1 (603) 729-0046
Team Eagle Ltd. - Washington www.team-eagle.ca
Contact: Sales Manager
Contact Phone:+1 (253) 826-6330
Contact Email: williamc@team-eagle.ca
828 Valentine Ave, Pacific, WA, 98047
Phone:+1 (253) 826-6330
Fax:+1 (253) 826-6330
Tenco Industries - Barre, VT www.tenconewengland.com
Contact: Sales Manager
Contact Phone:+1 (802) 476-3161
Contact Email: garyb@tenconewengland.com
450 N. Main Street, Barre, VT, 5641
Phone:+1 (802) 476-3161
Fax:+1 (802) 476-3161
Tennesee Tractor - Alamo www.tennesseetractor.com
Contact: Sales Manager
Contact Phone:+1 (731) 696-5596
Contact Email: jreasons@tennesseetractor.com
1571 Hwy 54 North, Alamo, TN, 38001
Phone:+1 (731) 696-5596
Fax:+1 (731) 696-5596
Tennesee Tractor - Brownsville www.tennesseetractor.com
Contact: Sales Manager
Contact Phone:+1 (731) 772-1200
Contact Email: bmaddux@tenneseetractor.com
1280 Anderson Ave, Brownsville, TN, 38012
Phone:+1 (731) 772-1200
Fax:+1 (731) 772-1200
Tennesee Tractor - Dyersburg www.tennesseetractor.com
Contact: Sales Manager
Contact Phone:+1 (731) 285-6662
Contact Email:
500 Community Park Road, Dyersburg, TN, 38024
Phone:+1 (731) 285-6662
Fax:+1 (731) 285-6662
Tennesee Tractor - Martin www.tennesseetractor.com
Contact: Sales Manager
Contact Phone:+1 (731) 587-3824
Contact Email:
8258 Hwy 45 East, Martin, TN, 38237
Phone:+1 (731) 587-3824
Fax:+1 (731) 587-3824
Tennesee Tractor - Paris www.tennesseetractor.com
Contact: Sales Manager
Contact Phone:+1 (731) 642-7080
Contact Email: lbrown@tennesseetractor.com
3675 Hwy 641 S., Paris, TN, 38242
Phone:+1 (731) 642-7080
Fax:+1 (731) 642-7080
Tennesee Tractor - Ripley www.tennesseetractor.com
Contact: Sales Manager
Contact Phone:+1 (731) 635-9771
Contact Email: jburlison@tennesseetractor.com
595 Hwy 51 North, Ripley, TN, 38063
Phone:+1 (731) 635-9771
Fax:+1 (731) 635-9771
Tennesee Tractor - Trenton www.tennesseetractor.com
Contact: Sales Manager
Contact Phone:+1 (731) 855-2123
Contact Email: aleitherland@tennesseetractor.com
2321 Hwy 45 Bypass South, Trenton, TN, 38382
Phone:+1 (731) 855-2123
Fax:+1 (731) 855-2123
Tennesee Tractor - Union City www.tennesseetractor.com
Contact: Sales Manager
Contact Phone:+1 (731) 885-0867
Contact Email:
1007 Mount Zion Road, Union City, TN, 38261
Phone:+1 (731) 885-0867
Fax:+1 (731) 885-0867
Tennessee Tractor - Somerville www.dandridgeequipment.com
Contact: Sales Manager
Contact Phone:+1 (901) 465-9811
Contact Email: johndeere@dandridgeequipment.com
11495 Hwy 64, Somerville, TN, 38068
Phone:+1 (901) 465-9811
Fax:+1 (901) 465-9811
Tennessee Tractor -Jackson www.tennesseetractor.com
Contact: Sales Manager
Contact Phone:+1 (731) 668-8792
Contact Email: balexander@tennesseetractor.com
3621 Highway 45 North, Jackson, TN, 38305
Phone:+1 (731) 668-8792
Fax:+1 (731) 668-8792
Titan Machinery - Albuquerque www.titanmachinery.com
Contact: Sales Manager
Contact Phone:+1 (505) 342-2566
Contact Email: Rick.Bell@titanmachinery.com
6613 Edith Blvd. NE, Albuquerque, NM, 87113
Phone:+1 (505) 342-2566
Fax:+1 (505) 342-2566
Titan Machinery - Duluth www.titanmachinery.com
Contact: Sales Manager
Contact Phone:+1 (218) 727-3038
Contact Email: gabriel.campbell@titanmachinery.com
4311 Haines Rd., Duluth, MN, 55811
Phone:+1 (218) 727-3038
Fax:+1 (218) 727-3038
Titan Machinery - La Crosse www.titanmachinery.com
Contact: Sales Manager
Contact Phone:+1 (608) 788-1025
Contact Email: chuck.schams@titanmachinery.com
N1626 Wuensch Road, La Crosse, WI, 54601
Phone:+1 (608) 788-1025
Fax:+1 (608) 788-1025
Titan Machinery - Shakopee www.titanmachinery.com
Contact: Sales Manager
Contact Phone:+1 (952) 445-5400
Contact Email: justin.carroll@titanmachinery.com
6340 Highway 101, Shakopee, MN, 55379
Phone:+1 (952) 445-5400
Fax:+1 (952) 445-5400
Totem Equipment & Supply, Inc. www.toteminc.com
Contact: Sales Manager
Contact Phone:+1 (907) 276-2858
Contact Email: sales@toteminc.com
2536 Commercial Drive, Anchorage, AK, 99501
Phone:+1 (907) 276-2858
Fax:+1 (907) 276-2858
TownLine Catalog Equipment Sales Inc. www.townLine Catalogequipment.com
Contact: Sales Manager
Contact Phone:+1 (603) 675-6347
Contact Email: townLine Catalogequip@netscape.net
1474 Route 12A, Plainfield, NH, 3781
Phone:+1 (603) 675-6347
Fax:+1 (603) 675-6347
Tracey Road - Albany www.traceyroad.com
Contact: Sales Manager
Contact Phone:+1 (518) 438-1100
Contact Email: tlakin@traceyroad.com
115 Railroad Ave., Albany, NY, 12205
Phone:+1 (518) 438-1100
Fax:+1 (518) 438-1100
Tracey Road - Syracuse www.traceyroad.com
Contact: Sales Manager
Contact Phone:+1 (315) 437-1471
Contact Email: jchesley@traceyroad.com
6803 Manlius Center Road, East Syracuse, NY, 13057
Phone:+1 (315) 437-1471
Fax:+1 (315) 437-1471
Tracey Road Equipment - Kirkwood www.traceyroad.com
Contact: Sales Manager
Contact Phone:+1 (607) 775-5010
Contact Email: tbush@traceyroad.com
1523 Rt. 11 North, Kirkwood, NY, 13795
Phone:+1 (607) 775-5010
Fax:+1 (607) 775-5010
Tracey Road Equipment - Rochester www.traceyroad.com
Contact: Sales Manager
Contact Phone:+1 (585) 334-5120
Contact Email: kfedison@traceyroad.com
300 Middle Road, Henrietta, NY, 14467
Phone:+1 (585) 334-5120
Fax:+1 (585) 334-5120
Tractor City - Seguin www.stictx.com
Contact: Sales Manager
Contact Phone:+1 (830) 379-5477
Contact Email: lenzc@stictx.com
3030 N. Austin, Seguin, TX, 78155
Phone:+1 (830) 379-5477
Fax:+1 (830) 379-5477
Tri Green Equipment www.trigreenequipment.com
Contact: Sales Manager
Contact Phone:+1 (256) 233-0339
Contact Email: adamhedden@trigreenequipment.com
1776 Trigreen Drive, Athens, AL, 35611
Phone:+1 (256) 233-0339
Fax:+1 (256) 233-0339
Tri-County Equipment (Bader & Co.) www.tricountyequipment.net
Contact: Sales Manager
Contact Phone:+1 (810) 648-2404
Contact Email: johnk2@frontieragturf.com
989 West Sanilac, Sandusky, MI, 48471
Phone:+1 (810) 648-2404
Fax:+1 (810) 648-2404
Tri-County Equipment (Bader & Co.) - Bad Axe www.tricountyequipment.net
Contact: Sales Manager
Contact Phone:+1 (989) 269-9249
Contact Email:
1314 Sand Beach Rd, Bad Axe, MI, 48413
Phone:+1 (989) 269-9249
Fax:+1 (989) 269-9249
Tri-County Equipment (Bader & Co.) - Caro www.tricountyequipment.net
Contact: Sales Manager
Contact Phone:+1 (989) 673-8400
Contact Email: caroparts@tricountyequipment.net
415 Biebel Rd (M 24 North), Caro, MI, 48723
Phone:+1 (989) 673-8400
Fax:+1 (989) 673-8400
Tri-County Equipment (Bader & Co.) - Lapeer www.tricountyequipment.net
Contact: Sales Manager
Contact Phone:+1 (810) 664-3798
Contact Email:
3120 N. Lapeer Rd., Lapeer, MI, 48446
Phone:+1 (810) 664-3798
Fax:+1 (810) 664-3798
Tri-County Equipment (Bader & Co.) - Marlette www.tricountyequipment.net
Contact: Sales Manager
Contact Phone:+1 (810) 346-2761
Contact Email:
7454 Vandyke Highway, Marlette, MI, 48453
Phone:+1 (810) 346-2761
Fax:+1 (810) 346-2761
Triple W Equipment www.triplewequipment.com
Contact: Sales Manager
Contact Phone:+1 (406) 549-4171
Contact Email: GlenR@tripleweq.com
8571 Running W Road, Missoula, MT, 59808
Phone:+1 (406) 549-4171
Fax:+1 (406) 549-4171
Triple W Equipment- Kalispell, MT www.triplewequipment.com
Contact: Sales Manager
Contact Phone:+1 (406) 752-2828
Contact Email: chaph@tripleweq.com
3145 Hwy 93 South, Kalispell, MT, 59901
Phone:+1 (406) 752-2828
Fax:+1 (406) 752-2828
Tri-State Construction Equipment Co. dba Martin Equipment www.meoi.com
Contact: Sales Manager
Contact Phone:+1 (573) 657-2154
Contact Email: kkrieg@meoi.com
106 Industrial Dr, Ashland, MO, 650104
Phone:+1 (573) 657-2154
Fax:+1 (573) 657-2154
Twin Falls Tractor & Implement Co. www.twinfallstractor-imp.com
Contact: Sales Manager
Contact Phone:+1 (208) 733-8687
Contact Email: office@twinfallstractor-imp.com
1935 Kimberly Road, Twin Falls, ID, 83301
Phone:+1 (208) 733-8687
Fax:+1 (208) 733-8687
Valley Ag & Turf Centre Hall www.valleyagturf.com
Contact: Sales Manager
Contact Phone:+1 (814) 364-1421
Contact Email: centrehallparts@valleyagturf.com
2818 Earlystown Road, Centre Hall, PA, 16828
Phone:+1 (814) 364-1421
Fax:+1 (814) 364-1421
Valley Ag & Turf Halifax www.valleyagturf.com
Contact: Sales Manager
Contact Phone:+1 (717) 362-3132
Contact Email: charliebechtel@valleyagturf.com
817 Tobias Road, Halifax, PA, 17032
Phone:+1 (717) 362-3132
Fax:+1 (717) 362-3132
Valley Ag & Turf Watsontown www.valleyagturf.com
Contact: Sales Manager
Contact Phone:+1 (570) 538-3557
Contact Email: ronbell@valleyagturf.com
141 Byers Lane, Watsontown, PA, 17777
Phone:+1 (570) 538-3557
Fax:+1 (570) 538-3557
Victoria Oliver Company, Inc. www.facebook.com/Victoria-Oliver-Company
Contact: Sales Manager
Contact Phone:+1 (361) 575-2562
Contact Email: krausek62@yahoo.com
2303 N Main Street, Victoria, TX, 77901-3822
Phone:+1 (361) 575-2562
Fax:+1 (361) 575-2562
Wade - Batesville www.wadeincorporated.com
Contact: Sales Manager
Contact Phone:+1 (662) 561-0046
Contact Email: wevans@wadeincorporated.com
12159 Hwy 6 W, Batesville, MS, 38606
Phone:+1 (662) 561-0046
Fax:+1 (662) 561-0046
Wade - Clarksdale www.wadeincorporated.com
Contact: Sales Manager
Contact Phone:+1 (662) 624-4336
Contact Email: pclegg@wadeinc.com
1001 State St, Clarksdale, MS, 38614
Phone:+1 (662) 624-4336
Fax:+1 (662) 624-4336
Wade - Cleveland/Boyle www.wadeincorporated.com
Contact: Sales Manager
Contact Phone:+1 (662) 843-5321
Contact Email: cfloyd@wadeincorporated.com
645 N. Gaines Way, Boyle, MS, 38732
Phone:+1 (662) 843-5321
Fax:+1 (662) 843-5321
Wade - Columbus www.wadeincorporated.com
Contact: Sales Manager
Contact Phone:+1 (662) 241-4318
Contact Email: bbeck@wadeinc.com
1875 S. Frontage Rd, Columbus, MS, 39701
Phone:+1 (662) 241-4318
Fax:+1 (662) 241-4318
Wade - Greenwood www.wadeincorporated.com
Contact: Sales Manager
Contact Phone:+1 (662) 453-6312
Contact Email: pbarrett@wadeinc.com
1505 Hwy 82 W, Greenwood, MS, 38930
Phone:+1 (662) 453-6312
Fax:+1 (662) 453-6312
Wade - Grenada www.wadeincorporated.com
Contact: Sales Manager
Contact Phone:+1 (662) 226-4521
Contact Email: dchilds@wadeinc.com
2690 Sunset Dr., Grenada, MS, 38901
Phone:+1 (662) 226-4521
Fax:+1 (662) 226-4521
Wade - Indianola www.wadeincorporated.com
Contact: Sales Manager
Contact Phone:+1 (662) 887-4751
Contact Email: jbraxton@wadeinc.com
709 Hwy 82 E, Indianola, MS, 38751
Phone:+1 (662) 887-4751
Fax:+1 (662) 887-4751
Wade - Leland/Greenville www.wadeincorporated.com
Contact: Sales Manager
Contact Phone:+1 (662) 332-8108
Contact Email: afava@wadeinc.com
3808 Hwy 82 W, Leland, MS, 38756
Phone:+1 (662) 332-8108
Fax:+1 (662) 332-8108
Wade - Pontotoc www.wadeincorporated.com
Contact: Sales Manager
Contact Phone:+1 (662) 489-1381
Contact Email: lchapman@wadeincorporated.com
2298 Hwy 15 N, Pontotoc, MS, 38863
Phone:+1 (662) 489-1381
Fax:+1 (662) 489-1381
Wade - Vardaman www.wadeincorporated.com
Contact: Sales Manager
Contact Phone:+1 (662) 682-9550
Contact Email: cclements@wadeincorporated.com
463 Hwy 8, Vardaman, MS, 38878
Phone:+1 (662) 682-9550
Fax:+1 (662) 682-9550
Wade - Webb www.wadeincorporated.com
Contact: Sales Manager
Contact Phone:+1 (662) 375-8121
Contact Email: jblalack@wadeinc.com
2 Webb Gin Road, Webb, MS, 38966
Phone:+1 (662) 375-8121
Fax:+1 (662) 375-8121
Wade Tractor and Equipment Inc. www.wadetractor.com
Contact: Sales Manager
Contact Phone:+1 (770) 227-2011
Contact Email: tammyj@wadetractor.com
1218 Enterprise way, Griffin, GA, 30224
Phone:+1 (770) 227-2011
Fax:+1 (770) 227-2011
Walker-Rhodes Tractor Co.Inc. www.walkerrhodestractor.com
Contact: Sales Manager
Contact Phone:+1 (478) 987-1173
Contact Email: wrtc@walkerrhodestractor.com
912 Jernigan Street, Perry, GA, 31069
Phone:+1 (478) 987-1173
Fax:+1 (478) 987-1173
Warner Tractor & Equipment Inc. www.warnertractor.com
Contact: Sales Manager
Contact Phone:+1 (570) 297-2141
Contact Email: salesinfo@warnertractor.com
9848 Route 6, Troy, PA, 16947
Phone:+1 (570) 297-2141
Fax:+1 (570) 297-2141
Washington Tractor - Chehalis www.washingtontractor.org
Contact: Sales Manager
Contact Phone:+1 (360) 748-9944
Contact Email: leonb@washingtontractor.org
127 N. Hamilton Road, Chehalis, WA, 98532
Phone:+1 (360) 748-9944
Fax:+1 (360) 748-9944
Washington Tractor - Ellensburg www.washingtontractor.org
Contact: Sales Manager
Contact Phone:+1 (509) 962-6801
Contact Email: dann@washingtontractor.org
1004 Canyon Road, Ellensburg, WA, 98926
Phone:+1 (509) 962-6801
Fax:+1 (509) 962-6801
Washington Tractor - Lynden www.washingtontractor.org
Contact: Sales Manager
Contact Phone:+1 (360) 354-2186
Contact Email: russella@washingtontractor.org
830 Evergreen Street, Lynden, WA, 98264
Phone:+1 (360) 354-2186
Fax:+1 (360) 354-2186
Washington Tractor - Olympia www.washingtontractor.org
Contact: Sales Manager
Contact Phone:+1 (360) 491-2503
Contact Email: davec@washingtontractor.org
412 Lily Road SE, Olympia, WA, 98501
Phone:+1 (360) 491-2503
Fax:+1 (360) 491-2503
Washington Tractor - Poulsbo www.washingtontractor.org
Contact: Sales Manager
Contact Phone:+1 (360) 930-0095
Contact Email: charlies@washingtontractor.org
20054 Viking Ave. NW, Poulsbo, WA, 98370
Phone:+1 (360) 930-0095
Fax:+1 (360) 930-0095
Washington Tractor - Quincy www.washingtontractor.org
Contact: Sales Manager
Contact Phone:+1 (509) 787-4553
Contact Email: davidd@washingtontractor.org
731 F Street SE, Quincy, WA, 98848
Phone:+1 (509) 787-4553
Fax:+1 (509) 787-4553
Washington Tractor-Sumner www.washingtontractor.com
Contact: Sales Manager
Contact Phone:+1 (253) 863-4436
Contact Email: jgabrielson@washingtontractor.com
603 Harrison Street, Sumner, WA, 98390
Phone:+1 (253) 863-4436
Fax:+1 (253) 863-4436
Waterman Farm Machinery Co. Inc.- www.watermanfarmmachinery.com
Contact: Sales Manager
Contact Phone:+1 (207) 375-6561
Contact Email: sales@watermanfarmmachinery.com
827 Sabattus Rd, Sabattus, ME, 4280
Phone:+1 (207) 375-6561
Fax:+1 (207) 375-6561
Westchester Tractor www.wtractor.com
Contact: Sales Manager
Contact Phone:+1 (845) 278-7766
Contact Email: equip@wtractor.com
60 International Blvd, Brewster, NY, 10509
Phone:+1 (845) 278-7766
Fax:+1 (845) 278-7766
Weyers Equipment Inc. www.weyersequip.com
Contact: Sales Manager
Contact Phone:+1 (920) 766-1861
Contact Email: since1923@weyersequip.com
N1957 East Frontage Road, Kaukauna, WI, 54130
Phone:+1 (920) 766-1861
Fax:+1 (920) 766-1861
Whayne Supply Co. - Ashland www.whayne.com
Contact: Sales Manager
Contact Phone:+1 (606) 928-3444
Contact Email:
12251 US 60, Ashland, KY, 41102
Phone:+1 (606) 928-3444
Fax:+1 (606) 928-3444
Whayne Supply Co. - Bowling Green www.whayne.com
Contact: Sales Manager
Contact Phone:+1 (270) 843-3275
Contact Email:
390 High Rail Way, Bowling Green, KY, 42101
Phone:+1 (270) 843-3275
Fax:+1 (270) 843-3275
Whayne Supply Co. - Corbin www.whayne.com
Contact: Sales Manager
Contact Phone:+1 (606) 528-3140
Contact Email:
2200 S Kentucky Avenue, Corbin, KY, 40701-2409
Phone:+1 (606) 528-3140
Fax:+1 (606) 528-3140
Whayne Supply Co. - Dry Ridge www.whayne.com
Contact: Sales Manager
Contact Phone:+1 (859) 823-1500
Contact Email:
215 Meeks Road, Dry Ridge, KY, 41035
Phone:+1 (859) 823-1500
Fax:+1 (859) 823-1500
Whayne Supply Co. - Elizabethtown www.whayne.com
Contact: Sales Manager
Contact Phone:+1 (270) 769-1300
Contact Email:
312 Peterson Drive, Elizabethtown, KY, 42702
Phone:+1 (270) 769-1300
Fax:+1 (270) 769-1300
Whayne Supply Co. - Evansville www.whayne.com
Contact: Sales Manager
Contact Phone:+1 (812) 425-4651
Contact Email:
2420 Lynch Road, Evansville, IN, 47711-2953
Phone:+1 (812) 425-4651
Fax:+1 (812) 425-4651
Whayne Supply Co. - Hazard www.whayne.com
Contact: Sales Manager
Contact Phone:+1 (606) 439-4040
Contact Email:
410 Roy Campbell Drive, Hazard, KY, 41702
Phone:+1 (606) 439-4040
Fax:+1 (606) 439-4040
Whayne Supply Co. - Hopkinsville www.whayne.com
Contact: Sales Manager
Contact Phone:+1 (800) 494-2963
Contact Email: blane_ezell@whayne.com
211 Commerce Court, Hopkinsville, KY, 42240
Phone:+1 (800) 494-2963
Fax:
Whayne Supply Co. - Jeffersonville www.whayne.com
Contact: Sales Manager
Contact Phone:+1 (812) 284-1217
Contact Email:
6109 Hamburg Pike, Jeffersonville, KY, 47130
Phone:+1 (812) 284-1217
Fax:+1 (812) 284-1217
Whayne Supply Co. - Lexington www.whayne.com
Contact: Sales Manager
Contact Phone:+1 (859) 254-2756
Contact Email: rob_cole@whayne.com
195 Lisle Industrial Avenue, Lexington, KY, 40511
Phone:+1 (859) 254-2756
Fax:+1 (859) 254-2756
Whayne Supply Co. - Middletown www.whayne.com
Contact: Sales Manager
Contact Phone:+1 (502) 244-5700
Contact Email:
610 N. English Station Rd, Middletown, KY, 40223
Phone:+1 (502) 244-5700
Fax:+1 (502) 244-5700
Whayne Supply Co. - Paducah www.whayne.com
Contact: Sales Manager
Contact Phone:+1 (270) 443-3631
Contact Email:
1600 North 8th Street, Paducah, KY, 42001
Phone:+1 (270) 443-3631
Fax:+1 (270) 443-3631
Whayne Supply Co. - Pikeville www.whayne.com
Contact: Sales Manager
Contact Phone:+1 (606) 437-6265
Contact Email:
359 S. Lanks Branch Road, Pikeville, KY, 41501
Phone:+1 (606) 437-6265
Fax:+1 (606) 437-6265
Whayne Supply Co. Louisville www.whayne.com
Contact: Sales Manager
Contact Phone:+1 (502) 774-4441
Contact Email: mary_arrow@whayne.com
1400 Cecil Ave., Louisville, KY, 40211
Phone:+1 (502) 774-4441
Fax:+1 (502) 774-4441
White-Acres Implement Inc. www.whiteacresimp.com
Contact: Sales Manager
Contact Phone:+1 (614) 876-7963
Contact Email:
5730 Hayden Run Road, Hilliard, OH, 43026
Phone:+1 (614) 876-7963
Fax:+1 (614) 876-7963
Wichita Tractor www.wichitatractor.com
Contact: Sales Manager
Contact Phone:+1 (316) 942-8118
Contact Email: wtc@wichitatractor.com
1750 S WEST STREET, Wichita, KS, 67213
Phone:+1 (316) 942-8118
Fax:+1 (316) 942-8118
William Nobbe & Company, Inc. - Jackson www.wmnobbe.com
Contact: Sales Manager
Contact Phone:+1 (573) 204-0876
Contact Email: jeftink@wmnobbe.com
2990 Old Orchard Lane, Jackson, MO, 63755
Phone:+1 (573) 204-0876
Fax:+1 (573) 204-0876
William Nobbe & Company, Inc. - Jerseyville www.wmnobbe.com
Contact: Sales Manager
Contact Phone:+1 (618) 498-5504
Contact Email: jerseyvilleparts@wmnobbe.com
26917 Crystal Lake Road, Jerseyville, IL, 62052
Phone:+1 (618) 498-5504
Fax:+1 (618) 498-5504
William Nobbe & Company, Inc. - Steelville www.wmnobbe.com
Contact: Sales Manager
Contact Phone:+1 (618) 965-3475
Contact Email: steelevilleservice@wmnobbe.com
5664 State Rt. 4, Steelville, IL, 62288
Phone:+1 (618) 965-3475
Fax:+1 (618) 965-3475
William Nobbe & Company, Inc. - Waterloo www.wmnobbe.com
Contact: Sales Manager
Contact Phone:+1 (618) 939-6717
Contact Email: dchrist@wmnobbe.com
6469 State Rt. 3, Waterloo, IL, 62298
Phone:+1 (618) 939-6717
Fax:+1 (618) 939-6717
Williams Ford Tractor Inc. www.williamstractor.com
Contact: Sales Manager
Contact Phone:+1 (479) 442-8284
Contact Email: tbailey@williamstractor.com
2501 N. Shiloh Dr, Fayetteville, AR, 72702
Phone:+1 (479) 442-8284
Fax:+1 (479) 442-8284
Wingate Equipment, Inc. Contact: Sales Manager
Contact Phone:+1 (806) 352-8206
Contact Email: bwingate@nts-onLine Catalog.net
4100 Business Park Dr., Amarillo, TX, 79114
Phone:+1 (806) 352-8206
Fax:+1 (806) 352-8206
Winona Tractor Co. www.winonatractor.com
Contact: Sales Manager
Contact Phone:+1 (662) 283-1128
Contact Email: dealer@winonatractor.com
220 N. Applegate, Winona, MS, 38967
Phone:+1 (662) 283-1128
Fax:+1 (662) 283-1128
Yukon Equipment - Fairbanks www.yukoneq.com
Contact: Sales Manager
Contact Phone:+1 (907) 457-1541
Contact Email: keithm@yukoneq.com
3511 International Street, Fairbanks, AK, 99701
Phone:+1 (907) 457-1541
Fax:+1 (907) 457-1541
Yukon Equipment, Inc. www.yukoneq.com
Contact: Sales Manager
Contact Phone:+1 (907) 277-1541
Contact Email: andyb@yukoneq.com
2020 E 3rd Ave., Anchorage, AK, 99501
Phone:+1 (907) 277-1541
Fax:+1 (907) 277-1541
Z & M Ag & Turf - Alexander www.zahmandmatson.com
Contact: Sales Manager
Contact Phone:+1 (585) 591-1670
Contact Email: gbell@zahmandmatson.com
3517 Railroad Ave, Alexander, NY, 14005
Phone:+1 (585) 591-1670
Fax:+1 (585) 591-1670
Z & M Ag & Turf - Falconer www.zahmandmatson.com
Contact: Sales Manager
Contact Phone:+1 (716) 665-3110
Contact Email: sbrown@zahmandmatson.com
1756 Lindquist Drive, Falconer, NY, 14733-9720
Phone:+1 (716) 665-3110
Fax:+1 (716) 665-3110
Z & M Ag & Turf - Oakfield www.zahmandmatson.com
Contact: Sales Manager
Contact Phone:+1 (585) 948-5261
Contact Email: dberghorn4@aol.com
7615 Lewiston Rd, Oakfield, NY, 14125
Phone:+1 (585) 948-5261
Fax:+1 (585) 948-5261
Z&M - Goodridge Farm - Edinboro www.zahmandmatson.com
Contact: Sales Manager
Contact Phone:+1 (814) 734-1552
Contact Email: pnewhard@zahmandmatson.com
13521 Lambridge Rd, Edinboro, PA, 16412
Phone:+1 (814) 734-1552
Fax:+1 (814) 734-1552
Z&M - Goodridge Farm - Springville www.zahmandmatson.com
Contact: Sales Manager
Contact Phone:+1 (716) 592-4058
Contact Email: partsedinboro@zahmandmatson.com
649 East Main St, Springville, NY, 14141
Phone:+1 (716) 592-4058
Fax:+1 (716) 592-4058
Zimmer Tractor-Aurora www.zimmertractor.com
Contact: Sales Manager
Contact Phone:+1 (812) 926-3999
Contact Email: kjansen@zimmertractor.com
7690 US HWY 50, Aurora, IN, 47001
Phone:+1 (812) 926-3999
Fax:+1 (812) 926-3999