EMAIL PURCHASE ORDER TO: TIPSPO@TIPS-USA.COM
ATTACH PO AS A PDF - ONLY ONE PO PER EMAIL
PO MUST REFERENCE TIPS CONTRACT NUMBER
VENDOR

Tandus Centiva

WEBSITE

www.tandus-centiva.com

SERVICE/PRODUCTS DESCRIPTION

Tandus Centiva, a Tarkett company, creates innovative floorcovering solutions through our unique product line of Powerbond®, Freeform®, modular, broadloom, woven and luxury vinyl tile (LVT) products. With industry-leading product design, unrivaled service and a commitment to environmental and social stewardship, Tandus Centiva provides the ultimate flooring experience.
CONTRACT: 171103 Floor Covering, Supplies and Services
Jan-25-2018 to Jan-26-2021
Tandus Centiva
CONTRACT: 171103 Floor Covering, Supplies and Services
Jan-25-2018 to Jan-26-2021
TIPS CONTACT

PAYMENT TO

NAME

Meredith Barton

ADDRESS:

POB 100756

POSITION

TIPS CONTACT

PHONE

(866)-839-8477

CITY:

Atlanta

FAX

(866)-839-8472

STATE:

GA

MOBILE

(903)-243-4789

ZIP:

30384-0756

EMAIL

tips@tips-usa.com
| | |
| --- | --- |
| FEDERAL OR EDGAR COMPLIANCE DOCUMENTS FILED WITH CONTRACT: | NO |
| DISADVANTAGED/MINORITY/WOMAN BUSINESS ENTERPRISE | NO |
| HISTORICALLY UNDERUTILIZED BUSINESS (HUB) | NO |
| | |
| --- | --- |
| | AL AK AZ AR CA CO CT DE DC FL GA HI ID IL IN IA KS KY ME MD MA MI MN MS MO MT NE NV NH NJ NM NY NC ND OH OK OR PA RI SC SD TN TX UT VT VA WA WV WI WY |
0

We are committed to provide a financing experience based on unwavering integrity, unmatched service and complete transparency. Our processes have been established with the client in mind, and we are dedicated to ensuring that you enjoy your experience working with our team. Our goal is for you to build a long-term relationship with Live Oak Equipment Finance, not only as your financial partner, but also a firm that can help you grow and excel as a professional in your industry.
Contact Information:
Phone: (512) 726-0367
Email: tips@loequipmentfinance.com
Website: www.loequipmentfinance.com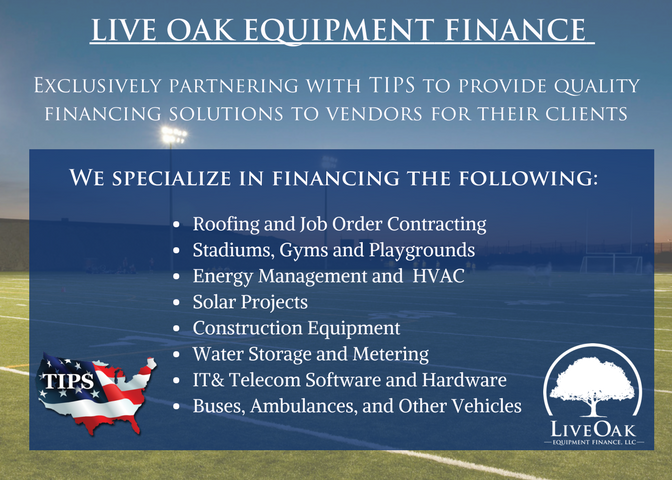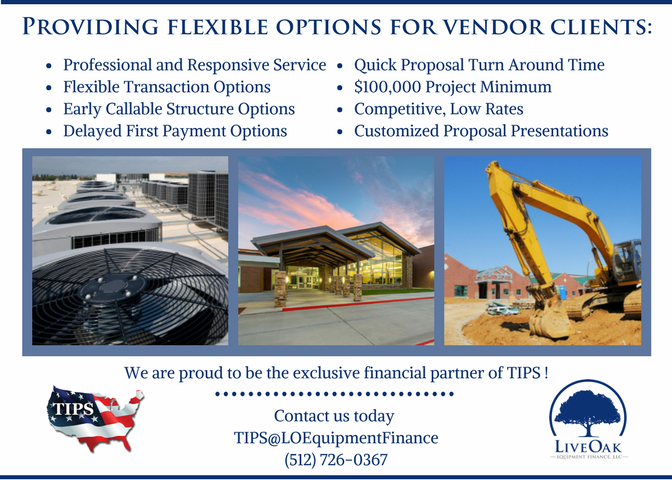 Resellers listed below may also hold a current TIPS contract. PO's for quotes provided by a reseller that are also awarded in the same category will be processed and sent directly to that reseller.
Please check under "ALL VENDORS" before requesting a quote from any listed reseller.
Resellers
Address
A-1 Floor Covering Inc Contact: Mark Chandler
Contact Phone:(806) 373-9622
Contact Email: mchandler@a-1floors.com
Amarillo
Phone:
Fax:
ACS Floooring Group Inc Contact: Kyle Appleby
Contact Phone:(713) 682-0202
Contact Email: kappleby@acsflooring.com
Houston
Phone:
Fax:
Aggieland Custom Carpets & Interiors Contact: Richard Thomas
Contact Phone:(979) 690-6766
Contact Email: rthomas@aggielandcarpetone.com
College Station
Phone:
Fax:
Architectural Floors Contact: Michael Kling
Contact Phone:(713) 203-6834
Contact Email:
Houston
Phone:
Fax:
Business Flooring Specialists Contact: Adrian DelRio
Contact Phone:(713) 934-9000
Contact Email: adriandelrio@bfaflooring.com
Houston
Phone:
Fax:
Custom Flooring of Texas Contact: Terry Herring
Contact Phone:(409) 769-0913
Contact Email: twherring@customflooringtexas.com
Vidor
Phone:
Fax:
Gomez Floor Covering Contact: Jeff Carter
Contact Phone:(214) 905-1901
Contact Email:
Dallas
Phone:
Fax:
Gowdy Flooring Contact: Gayle Gowdy
Contact Phone:(806) 353-6561
Contact Email:
Amarillo
Phone:
Fax:
Intex Flooring LLC Contact: Scott Beckham
Contact Phone:(281) 397-7760
Contact Email: scott@intexflooring.com
Houston
Phone:
Fax:
JGP Floorcovering Contact: Kevin Perry
Contact Phone:(501) 562-5568
Contact Email: kevin@jgpfloors.com
Little Rock
Phone:
Fax:
Kellen Commercial Interiors Inc Contact: Russ Kellen
Contact Phone:(979) 690-1234
Contact Email:
College Station
Phone:
Fax:
L & J Designs Contact: Joe or Lori Dawson
Contact Phone:(432) 570-0001
Contact Email:
Midland
Phone:
Fax:
McCoy Inc Contact: Laura Ali
Contact Phone:(713) 802-7173
Contact Email: lali@mccoyinc.com
Houston
Phone:
Fax:
MEK Interiors & Floors Inc Contact: Julie Dye
Contact Phone:(281) 598-6001
Contact Email: julie@mekfloors.com
Houston
Phone:
Fax:
Moflatt Carpet Inc Contact: Gene Able
Contact Phone:(432) 694-6644
Contact Email: moffaltcarpets@quiknt.com
Midland
Phone:
Fax:
Office Design Concepts LLC Contact: Mike Matthews
Contact Phone:(713) 484-7762
Contact Email: mike@odc-llc.com
Houston
Phone:
Fax:
One Source Commerical Flooring Inc Contact: Scott Spencer
Contact Phone:(972) 422-2438
Contact Email:
Plano
Phone:
Fax:
Paul Graham Company Contact: Linn Parrish
Contact Phone:(806) 765-6607
Contact Email:
Lubbock
Phone:
Fax:
PDL Contact: Tom Shriber
Contact Phone:(972) 733-3006
Contact Email:
Carrollton
Phone:
Fax:
RCS Flooring Services Inc Contact: Rob Schocke
Contact Phone:(617) 882-0503
Contact Email:
Fort Worth
Phone:
Fax:
Spectra Contract Flooring #212 Contact: Keenan Glueck
Contact Phone:(713) 934-7429
Contact Email: keenan.glueck@spectracf.com
Houston
Phone:
Fax:
Spectra Contract Floors #245 Contact: Michelle Harpole
Contact Phone:(972) 277-3200
Contact Email:
Carrollton
Phone:
Fax:
Spectrum Floors Inc Contact: Tony Khoury
Contact Phone:(915) 855-5110
Contact Email: spectrumfloors@hotmail.com
El Paso
Phone:
Fax:
Texan Floor Service LTD Contact: Robert Ericson
Contact Phone:(713) 956-9966
Contact Email: rericson@texanfloor.com
Houston
Phone:
Fax:
Twin Tile Co Contact: Rudy Gutierrez
Contact Phone:(210) 822-6080
Contact Email: twintile@texas.net
San Antonio
Phone:
Fax:
Ward Furniture Contact: David Ward
Contact Phone:(936) 295-2514
Contact Email: wardfurniture@abcglobal.net
Huntsville
Phone:
Fax: