EMAIL PURCHASE ORDER TO: TIPSPO@TIPS-USA.COM
ATTACH PO AS A PDF - ONLY ONE PO PER EMAIL
PO MUST REFERENCE TIPS CONTRACT NUMBER
VENDOR

Federal Signal Corporation

WEBSITE

www.federalsignal.com

SERVICE/PRODUCTS DESCRIPTION

For more than a hundred years, Federal Signal Corporation has been a leader in enhancing public safety, security and well-being. Federal signal's advanced technology includes automatic license plate recognition, interoperable communications and public safety software, is helping and the enviroment around the world every day. The Federal Signal SmartMsg citizen alerting system offers public, industrial and campus safety leaders a robust means to provide mass alert notification to citizens and employees anytime, anywhere and on any device. Proper warning and instructions enable citizens and employees to take action to better protect themselves during natural or man-made disasters. Citizens can also opt-in to receive timely alerts during non-emergency events.
CONTRACT: 4022516 Notification Systems
Feb-25-2016 to Feb-28-2019 EDGAR COMPLIANCE : N
Federal Signal Corporation
CONTRACT: 4022516 Notification Systems
Feb-25-2016 to Feb-28-2019
EDGAR COMPLIANCE : N
TIPS CONTACT

PAYMENT TO

NAME

Meredith Barton

ADDRESS:

2645 Federal Signal Drive

POSITION

TIPS CONTACT

PHONE

(866)-839-8477

CITY:

University Park

FAX

(866)-839-8472

STATE:

IL

MOBILE

ZIP:

60484

EMAIL

tips@tips-usa.com
| | |
| --- | --- |
| DISADVANTAGED/MINORITY/WOMAN BUSINESS ENTERPRISE | NO |
| HISTORICALLY UNDERUTILIZED BUSINESS (HUB) | NO |
| | |
| --- | --- |
| | AL , AK , AZ , AR , CA , CO , CT , DE , DC , FL , GA , HI , ID , IL , IN , IA , KS , KY , ME , MD , MA , MI , MN , MS , MO , MT , NE , NV , NH , NJ , NM , NY , NC , ND , OH , OK , OR , PA , RI , SC , SD , TN , TX , UT , VT , VA , WA , WI , WY |

We are committed to provide a financing experience based on unwavering integrity, unmatched service and complete transparency. Our processes have been established with the client in mind, and we are dedicated to ensuring that you enjoy your experience working with our team. Our goal is for you to build a long-term relationship with Live Oak Equipment Finance, not only as your financial partner, but also a firm that can help you grow and excel as a professional in your industry.
Contact Information:
Phone: (512) 726-0367
Email: tips@loequipmentfinance.com
Website: www.loequipmentfinance.com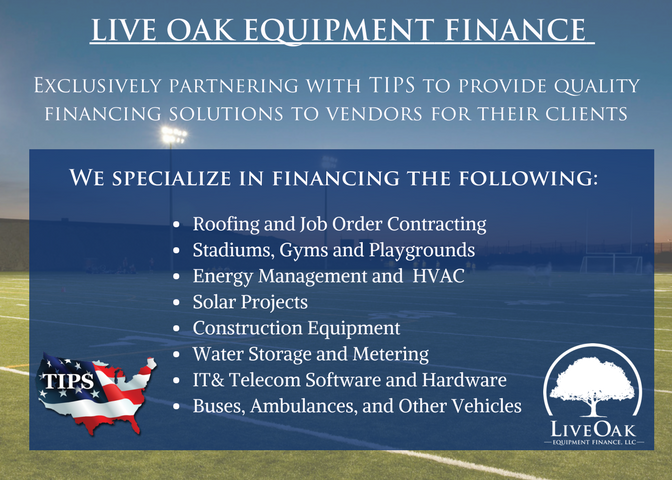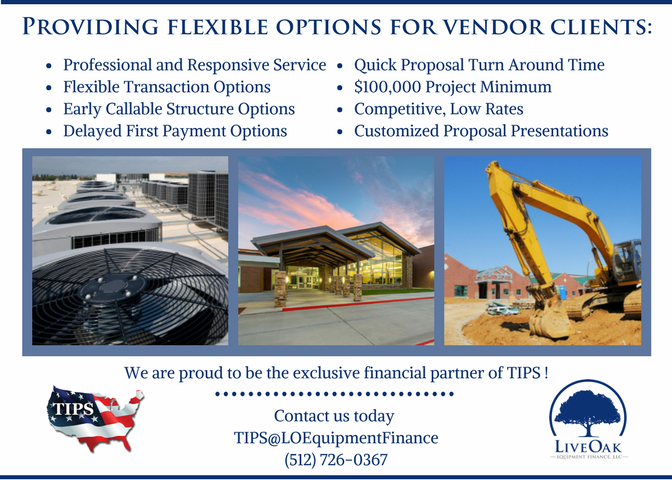 Resellers listed below may also hold a current TIPS contract. PO's for quotes provided by a reseller that are also awarded in the same category will be processed and sent directly to that reseller.

Please check under "ALL VENDORS" before requesting a quote from any listed reseller.
Resellers
Address
Alster Communications, AK, ID, MT, OR, WA Contact: Dan Merkouris
Contact Phone:(907) 344-9674
Contact Email: dan@alster.com
3062 North Circle, Anchorage, AK 99507
Phone:(907) 336-7912
Fax:(907) 336-7912
Blue Valley Public Safety-IL-south, KS, MO Contact: Dave Cates
Contact Phone:(816) 847-7513
Contact Email: dave@bvpsonline.com
509 E James Rollo Dr Grain Valley MO 64029
Phone:(816) 847-7513
Fax:(816) 847-7513
Blue Valley Public Services MO www.bluevalleypublicsafety.com
Contact: Brian Cates
Contact Phone:(816) 867-8070
Contact Email: brian@bvpsonline.com
509 James D Rollo Dr Grain Valley MO 64029
Phone:
Fax:
Braniff Communications- IL (North) Contact: Jef Ryba
Contact Phone:(708) 597-3200
Contact Email: jrba@braniffcommunications.com
4741 136th St Crestwood IL 60445
Phone:(708) 899-3307
Fax:(708) 899-3307
Capitol Electronics-IN,KY,OH,PA-WEST,W.VA Contact: Leslie Caulk
Contact Phone:(317) 839-2662
Contact Email: lcaulk@capitolinc.com
230 E Main St Plainfield IN 46168
Phone:(317) 839-2662
Fax:(317) 839-2662
Danko Emergency Equip, IA,SD,WY Contact: Butch Hoffman
Contact Phone:(402) 568-2200
Contact Email: butch@danko.net
302 E 4TH St Snyder NE 68664
Phone:(402) 568-2278
Fax:(402) 568-2278
DH Marketing, AR, LS, OK, TX Contact: Scott Hollingsworth
Contact Phone:(512) 267-7747 Ext. 706
Contact Email: shollingsworth70@gmail.com
7301A Bar K Ranch Rd, Largo Vista TX 78645
Phone:(512) 267-7760
Fax:(512) 267-7760
EDN Systems, Inc, AL, FL,GA,MS, TN Contact: Bill Plant
Contact Phone:(770) 924-1266
Contact Email: billplant@ednsystems.com
3029 Leesbourg Trail, Woodstock GA 30189
Phone:(770) 926-3877
Fax:(770) 926-3877
Fed Signal Corp -US Reg Mgrs, Direct Sales Contact: Joe Brady
Contact Phone:(919) 607-3131
Contact Email: jbrady@fedsig.com
2645 Fed Signal Dr, Univ Park, IL 60484
Phone:(708) 534-4874
Fax:(708) 534-4874
Federal Signal Corp - Critical Infrastructure Contact: Eric Lotz
Contact Phone:(708) 587-3258
Contact Email: elotz@fedsig.com
2645 Fed Signal Dr, Univ Park, IL 60484
Phone:(708) 534-4874
Fax:(708) 534-4874
Federal Signal Corp -US Reg Mgr, Direct Sales Contact: Chris Lopez
Contact Phone:(805) 509-5094
Contact Email: clopez@fedsig.com
2645 Fed Signal Dr, Univ Park, IL 60484
Phone:(708) 534-4874
Fax:(708) 534-4874
Federal Signal Corp-Fed Govt Contact: Tom Ringsrud
Contact Phone:(708) 587-3184
Contact Email: tringsrud@fedsig.com
2645 Fed Signal Dr, Univ Park, IL 60484
Phone:(708) 534-4874
Fax:(708) 534-4874
Federal Warning Systems, MN,ND Contact: Dan Gossman
Contact Phone:(507) 282-2113
Contact Email: danfws@aol.com
1708 3rd Ave SE Rochester MN 55094
Phone:(507) 282-4106
Fax:(507) 282-4106
Goddard Enterprises OK Contact: Andy Goddard
Contact Phone:(405) 830-9057
Contact Email: andygod4@netscape.net
11950 Thousand Oak Drive
Phone:
Fax:
Guy Miyashiro & Co - HI Contact: Guy Miyashiro
Contact Phone:(808) 676-0592
Contact Email: gmc002@hawaii.rr.com
94-340 Ukee St #7 Waipahu HI 96797
Phone:(808) 676-0287
Fax:(808) 676-0287
NEWCOM, CT,DE,ME,MA,MA,NH,NJ,NY,PA,RI,DC Contact: Joe Brady
Contact Phone:(919) 607-3131
Contact Email: jmbrady@federalsignal.com
PO Box 326 Massapequa NY 11758
Phone:
Fax:
Procomm Marketing Inc, CA-North, NV Contact: Ron Seitz
Contact Phone:(510) 383-9191
Contact Email: procommnca@cs.com
655 Lewelling Blvd #351 San Leandro CA 94579
Phone:(510) 383-9192
Fax:(510) 383-9192
Progress Marketing Group, AZ, CO, NM, UT Contact: Mark Sexon
Contact Phone:(303) 329-9903
Contact Email: mark@progressmarketing.net
9250 E Costilla Ave, Englewood, Co 80112
Phone:(720) 875-0222
Fax:(720) 875-0222
The Sales Group, Inc, CA-South Contact: Larry Weber
Contact Phone:(800) 801-7253
Contact Email: procommnca@cs.com
23942 Craftsman Rd Calabasas CA 91302
Phone:
Fax:
West Shore Services, Inc Contact: Jeff Dupika
Contact Phone:(616) 895-4347
Contact Email: jdupika@westshorefire.net
6620 Lake Michigan Dr Allendale, MI 49401
Phone:(616) 895-7158
Fax:(616) 895-7158