EMAIL PURCHASE ORDER TO: TIPSPO@TIPS-USA.COM
ATTACH PO AS A PDF - ONLY ONE PO PER EMAIL
PO MUST REFERENCE TIPS CONTRACT NUMBER
VENDOR

ShoreTel Inc

WEBSITE

www.shoretel.com

SERVICE/PRODUCTS DESCRIPTION

ShoreTel is a leading provider of cloud, premises-based, and hybrid business telephony and unified communications (UC) solutions. Our award-winning, brilliantly simple communications solutions for small and mid-market companies consistently outperform the competition in customer satisfaction, customer loyalty, value, and lowest total cost of ownership. Our innovative business phones, application integration, collaboration tools, mobility, and contact center applications are highly reliable and empower organizations and employees to access information faster, collaborate more easily, and connect from any place, at any time, and on any device. We believe your communications platform is the most critical application any company deploys. We believe technology should enhance communications, making them transparent and natural.
CONTRACT: 1071615 Networking Equipment, Software and Services
Jul-16-2015 to Jul-26-2018 EDGAR COMPLIANCE : N
ShoreTel Inc
CONTRACT: 1071615 Networking Equipment, Software and Services
Jul-16-2015 to Jul-26-2018
EDGAR COMPLIANCE : N
TIPS CONTACT

PAYMENT TO

NAME

Meredith Barton

ADDRESS:

6500 River Place Blvd, Bdg IV, Suite 200

POSITION

TIPS CONTACT

PHONE

(866)-839-8477

CITY:

Austin

FAX

(866)-839-8472

STATE:

TX

MOBILE

ZIP:

78730

EMAIL

tips@tips-usa.com
| | |
| --- | --- |
| DISADVANTAGED/MINORITY/WOMAN BUSINESS ENTERPRISE | NO |
| HISTORICALLY UNDERUTILIZED BUSINESS (HUB) | NO |
| | |
| --- | --- |
| | AL , AK , AZ , AR , CA , CO , CT , DE , DC , FL , GA , HI , ID , IL , IN , IA , KS , KY , LA , ME , MD , MA , MI , MN , MS , MO , MT , NE , NV , NH , NJ , NM , NY , NC , ND , OH , OK , OR , PA , RI , SC , SD , TN , TX , UT , VT , VA , WA , WI , WY |

We are committed to provide a financing experience based on unwavering integrity, unmatched service and complete transparency. Our processes have been established with the client in mind, and we are dedicated to ensuring that you enjoy your experience working with our team. Our goal is for you to build a long-term relationship with Live Oak Equipment Finance, not only as your financial partner, but also a firm that can help you grow and excel as a professional in your industry.
Contact Information:
Phone: (512) 726-0367
Email: tips@loequipmentfinance.com
Website: www.loequipmentfinance.com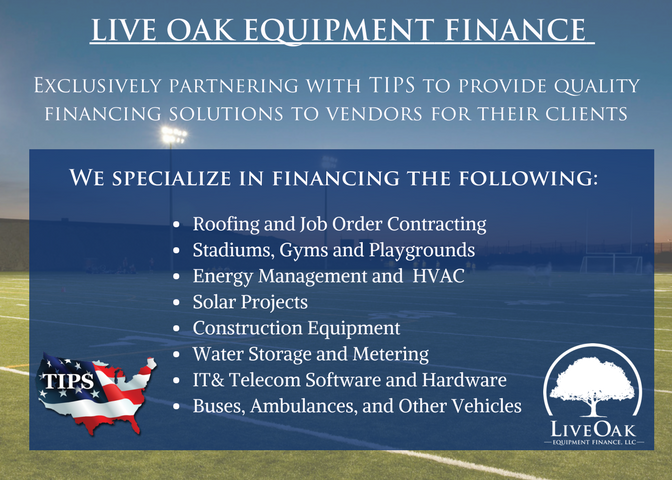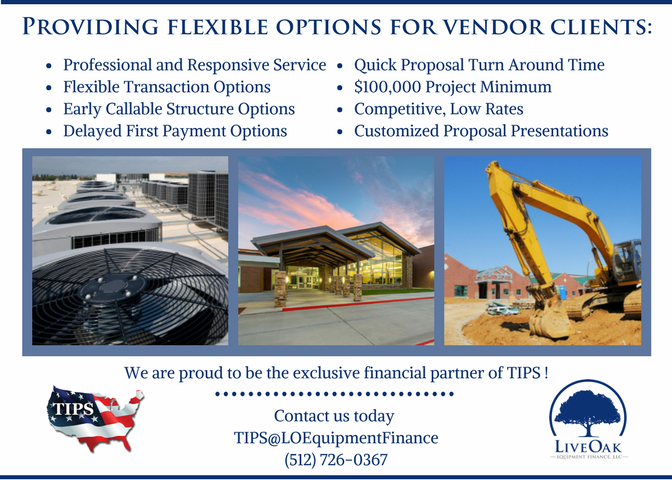 Resellers listed below may also hold a current TIPS contract. PO's for quotes provided by a reseller that are also awarded in the same category will be processed and sent directly to that reseller.

Please check under "ALL VENDORS" before requesting a quote from any listed reseller.
Resellers
Address
A&A Telecom Group Inc Contact: Phil Neely
Contact Phone:(512) 327-3277
Contact Email: pneely@aatg.net
3737 Executive Center Dr, #150, Austin TX
Phone:
Fax:
ABYX Business Systems Inc www.abyxusa.com
Contact: Efraim Palacios
Contact Phone:(210) 223-2299
Contact Email: efraim@abyxusa.com
609 East Dewey Place, San Antonio, TX 78212
Phone:
Fax:
Advanced Communications Inc www.aci-tn.com
Contact: Terry Fishburn
Contact Phone:(423) 586-8624
Contact Email: tfishburn@aci-tn.com
1103 W 1st North Street, Morristown TN 37814
Phone:
Fax:
Advanced Network Solutions Contact: Mark Carnes
Contact Phone:(615) 277-0500
Contact Email: mcarnes@ansolutions.com
820 Palmer Place, Nashville, TN 37203
Phone:
Fax:
Affiliated Communications Inc Contact: Jim Carter
Contact Phone:(972) 852-4000
Contact Email: jcarter@affiliatedcom.com
730 Ave F, Ste 210, Plano, TX 75074
Phone:
Fax:
Affiniti LLC Contact: Bob ODair
Contact Phone:(512) 334-4100
Contact Email: bob.odair@affiniti.com
9208 Waterford Centre Blvd, Ste 150, AustinTX
Phone:
Fax:
Affiniti LLC www.affiniti.com
Contact: Laura Kelly
Contact Phone:(512) 334-4104
Contact Email: laura.kelly@affiniti.com
9208 Waterford Center Blvd, Ste 150 Austin, TX 78758
Phone:
Fax:
AGC Networks Limited www.agcnetworks.com
Contact: Garrett Boccardi 
Contact Phone:(214) 490-0487
Contact Email: garrett.boccardi@agcnetworks.com
222 W Las Colinas Blvd, Ste 200 N Tower Irving, TX 75039
Phone:
Fax:
Alpha Telecommunications, Associates Inc Contact: Tim Martin
Contact Phone:(713) 622-8666
Contact Email: tim.martin@atsihou.com
8100 Westglen, Houston, TX 77063
Phone:
Fax:
AMA Techtel Communications www.amatechtel.com
Contact: Marc Bennett
Contact Phone:(806) 322-2222
Contact Email: mbennett@amatechtel.com
7201 I-40 West, Amarillo, TX 79106
Phone:
Fax:
Artcom Associates Inc www.artcomtx.com
Contact: Lori Flores
Contact Phone:(210) 684-8877
Contact Email: lori@artcomtx.com
7810 Furtune Drive, San Antonio, TX 78250
Phone:
Fax:
AT&T Ariba Contact: Sam McCormick
Contact Phone:(210) 821-4105
Contact Email: smccormick@att.com
175 E Houston St., San Antonio, TX 78299
Phone:
Fax:
ATC Telecom Inc. www.atc-telecom.net
Contact: Erik Morgan
Contact Phone:(337) 477-0009
Contact Email: erik@atc-telecom.net
3519 Patrick St., Ste 139, Lake Charles LA
Phone:
Fax:
Atelio www.atelio.fr
Contact: Silvano Trotta
Contact Phone:
Contact Email: silvano.trotta@atelio.fr
10 Rue des Cigognes, Entzheim France 67960
Phone:
Fax:
BCM Holding LLC (formerly SeTel) www.setelecom.com
Contact: Chris Baugher
Contact Phone:(615) 874-6000
Contact Email: cbaugher@seteluc.com
5121 Maryland Way, Ste 300, Brentwood, TN
Phone:
Fax:
Beasley Technology Inc www.beasleytech.net
Contact: Geoffrey Beasley
Contact Phone:(918) 225-6900
Contact Email: geoff@beasleytech.net
117 N Harrison, Cushing, OK 74023
Phone:
Fax:
Black Box BBNSACS-Texas dba ACS Dataline Contact: Crosby Smith
Contact Phone:(512) 837-4400
Contact Email: crosby.smith@blackbox-vs.com
2535 Brockton Dr, Ste 400, Austin TX 78758
Phone:
Fax:
Black Box BBNSNVTX-Arlington www.nuvt.com
Contact: Jeff Jamison
Contact Phone:(817) 303-3030
Contact Email: jeff.jamison@blackbox.com
2020 E. Randol Mill, Rd, Ste 302, Arlington TX
Phone:
Fax:
Black Box BBNSVSS-Murfreesboro Contact: Dominick Squeglia
Contact Phone:(615) 890-3575
Contact Email: dominick.squeglia@blackbox.com
1010 Haley Road, Murfreesboro, TN 37129
Phone:
Fax:
Black Box Network(formerly Converged Solutions) Contact: Stephanie Farmer
Contact Phone:(615) 315-8600
Contact Email: stephanie.farmer@blackbox.com
618 Grassmere Park Dr. Nashville TN 37211
Phone:
Fax:
Business Communication Specialists www.bcsip.com
Contact: David Kosakowski
Contact Phone:(330) 335-7276
Contact Email: davidk@bcsip.com
162 Main St., Wadsworth, OH 44281
Phone:
Fax:
Business Communication Specialists www.bcsip.com
Contact: Doug Demiter
Contact Phone:(330) 335-7276
Contact Email: dougd@bcsip.com
162 Main St., Wadsworth, OH 44281
Phone:
Fax:
CMS Solutions www.cmsc-solutions.com
Contact: Carlos Galan
Contact Phone:(281) 617-5724
Contact Email: cgalan@cmsc-solutions.com
Old Katy Road, Ste 234, Houston, TX 77079
Phone:
Fax:
Cohesive Connections www.cohesiveconnections.com
Contact: Brad Cohen
Contact Phone:(337) 231-5161
Contact Email: brad@crmcpa.net
210 Magnate Dr., Lafayette LA 70508
Phone:
Fax:
Comm3 www.comm3.net
Contact: Troy Cryer
Contact Phone:(214) 389-2625
Contact Email: troy.cryer@comm3.net
1771 International Pkwy, Suite 107 Richardson, TX 75081
Phone:
Fax:
CommTech Industries www.commtech.com
Contact: Darryl d'Aquin
Contact Phone:(504) 200-1300
Contact Email: ddaquin@commtech.com
3240 SI-10 Service Rd, Metarie LA 70001
Phone:
Fax:
Communications Resources Inc (CRI) www.yourcri.com
Contact: Alan Burdine
Contact Phone:(423) 899-9350
Contact Email: aburdine@yourcri.com
6026 Shallowford Rd, Chattanooga TN 37421
Phone:
Fax:
Converged Technology Professionals Inc. www.voipswami.com
Contact: Joe Rittenhouse
Contact Phone:(312) 447-8901
Contact Email: rittenhousej@voipswami.com
190 Liberty Rd Crystal Lake, IL 60014
Phone:(312) 447-8901
Fax:
Creative Switching Designs Inc www.csdusa.com
Contact: Lee Slocum
Contact Phone:(281) 579-1600
Contact Email: lslocum@csdusa.com
5140 Franz Road, Katy, TX 77493-1762
Phone:
Fax:
Cynergy Technology (Formerly Computerland) www.computerlandeasttexas.com
Contact: Dave Pickens
Contact Phone:(903) 581-7000
Contact Email: davep@cynergytech.com
3903 Timms St., Tyler, TX 75701
Phone:
Fax:
DataVox www.datavox.net
Contact: Neil Ferguson
Contact Phone:(713) 881-7107
Contact Email: neil@datavox.net
6650 W. Sam Houston Parkway South, Houston, TX 77072
Phone:(713) 881-7107
Fax:
Decision Tree Technologies www.dtreetech.com
Contact: Richard Brent Lawson
Contact Phone:(915) 584-3419
Contact Email: blawson@dtreetech.com
306 Thunderbird Dr., El Paso, TX 79912
Phone:
Fax:
Delcom Group L.P. www.delcomgroup.com
Contact: Sean Delph
Contact Phone:(214) 389-5500
Contact Email: sdelph@delcomgroup.com
2525B E. State Hwy 121 Suite 400 Lewisville, TX 75056
Phone:(214) 389-5500
Fax:
Delta Network Services www.delta-ns.com
Contact: Michael McGregor
Contact Phone:(248) 409-0077
Contact Email: mike.mcgregor@delta-ns.com
420 Enterprise, Bloomfield Township, MI 48302
Phone:
Fax:
Discovery Information Technologies Inc www.discoveryit.com
Contact: Adam Fadhli
Contact Phone:(409) 727-7080
Contact Email: adamf@discoveryit.com
904 Hwy 69, Nederland, TX 77627
Phone:
Fax:
East Texas Advanced Communications Srv Inc Contact: Randy Gann
Contact Phone:(903) 877-3002
Contact Email: rgann@acstyler.com
15390 County Rd 343, Tyler, TX 75708
Phone:
Fax:
Electrical Sales Corporation www.electricalsales.com
Contact: Allan Bissinger
Contact Phone:(504) 833-3646
Contact Email: abiss@electricalsales.com
2500 L & A Rd, Metairie, LA 70001
Phone:
Fax:
Enterprise Systems Corporation www.enter-sys.com
Contact: John Prater
Contact Phone:(713) 343-1212
Contact Email: jprater@enter-sys.com
10910 W Sam Houston Pkwy N, Ste 100, Houston, TX
Phone:
Fax:
Frontera Consulting Contact: Drew Lentz
Contact Phone:(956) 433-3739
Contact Email: drew@gofrontera.com
7017 N. 10th, St, Ste 302, McAllen, TX 78504
Phone:
Fax:
General Informatics www.geninf.com
Contact: Mohit Vij
Contact Phone:(225) 578-7870
Contact Email: mo@geninf.com
PO Box 83335, Baton Rouge, LA 70884
Phone:
Fax:
Genesis Business Communications Systems Contact: Debra Schindler Boulinghouse
Contact Phone:(713) 868-5415
Contact Email: debra@genesisbcs.com
1225 North Loop W, Ste 705, Houston TX 77008
Phone:
Fax:
High Touch Inc www.hightouchinc.com
Contact: Kevin Colborn
Contact Phone:(316) 832-1611
Contact Email: kevinc@hightouchinc.com
110 S Main, Ste 600, Wichita, KS 76202
Phone:
Fax:
Highpoint Technology Group www.highpoint-technology.net
Contact: Chuck Waddell
Contact Phone:(713) 515-8275
Contact Email: chuck.waddell@highpoint-technology.net
1331 Gemini St, Ste 103, Houston, TX 77058
Phone:
Fax:
HisCall Enterprises www.hiscall.com
Contact: Debbie Street
Contact Phone:(866) 740-7771
Contact Email: dstreet@hiscall.com
1001 Gentry Circle, Dickson, TN 37055
Phone:
Fax:
HumaniTV Inc www.humani.tv
Contact: Matt Tankersley
Contact Phone:(512) 573-2856
Contact Email: tank@humani.tv
7301 Burnet, Rd, #102-201, Austin TX 78757
Phone:
Fax:
IDEACOM Networks www.ideacom-networks.com
Contact: Tim Meehan
Contact Phone:(615) 248-5717
Contact Email: tmeehan@ideacom-networks.com
220 Great Cirlce Rd, Suite 110 Nashville, TN 37228
Phone:(615) 248-5717
Fax:
IK Electric www.ikelectric.com
Contact: Mike Seitz
Contact Phone:(501) 376-2081
Contact Email: mseitz@ikelectric.com
214 MLK Drive, Little Rock, AR 72201
Phone:
Fax:
Inflow Communications www.inflowcomm.com
Contact: Bryant Bloedorn
Contact Phone:(469) 247-6430
Contact Email: bbloedorn@inflowcommunications.com
9330 Lyndon B Johnson Freeway #900, Dallas TX 75243
Phone:
Fax:
IQ Business Solutions www.solutionsbyiq.com
Contact: Eric Boykin
Contact Phone:(318) 841-3434
Contact Email: eboykin@solutionsbyiqu.com
6840 W 70th St., Ste 103, Shreveport LA 71129
Phone:
Fax:
JMA Information Technology (US) www.jma-it.com
Contact: Joseph Melookaran
Contact Phone:(913) 722-3252
Contact Email: jmelook1@jma-it.com
10551 Barkley St, Ste 400, Overland Park, KS
Phone:
Fax:
JTW Enterprises Inc dba Wood Networks www.woodnetworks.com
Contact: Jeffrey Wood
Contact Phone:(903) 581-0922
Contact Email: jeff@woodnetworks.com
10260 Robinson Dr., Tyler, TX 75703
Phone:
Fax:
Kidwell www.kidwell.us.com
Contact: Jeff Tracy
Contact Phone:(402) 473-7763
Contact Email: jtracy@kidwell.us.com
3333 Folkways Circle, Lincoln, NE 68504
Phone:
Fax:
LANAIR Group LLC www.lanairgroup.com
Contact: Robert Ingrum
Contact Phone:(323) 785-2071
Contact Email: ringrum@lanairgroup.com
620 N. Brand Boulevard, 6th Floor, Glendale, CA 9120.
Phone:
Fax:
LANAIR Group LLC www.lanairgroup.com
Contact: Stephen Ingrum
Contact Phone:(214) 321-7666
Contact Email: singrum@lanairgroup.com
9324 Waterview Road, Dallas, TX 75218
Phone:
Fax:
LANAIR Group LLC Contact: Karen Shaw
Contact Phone:(323) 512-7363
Contact Email: kshaw@lanairgroup.com
620 N. Brand Boulevard, 6th Floor, Glendale, CA 9120
Phone:
Fax:
Layer 3 Communications www.layer3com.com
Contact: Manuel Elizalde
Contact Phone:
Contact Email: melizalde@layer3com.com
6650 W Sam Houston Pkwy N. Ste 450 Houston, TX 77041
Phone:
Fax:
Mandry Technology Solutions Contact: Thomas Mandry
Contact Phone:(806) 791-3661
Contact Email: tmandry@mandrytechnology.com
4521 98th St., Lubbock, TX 79424
Phone:
Fax:
Mercury Communication Services Inc www.mercurycom.com
Contact: Gregory Osler
Contact Phone:(214) 242-1725
Contact Email: gosler@mercurycom.com
3333 Earhart Dr., Ste 250, Carrollton, TX 75006
Phone:
Fax:
Millennia Technologies www.mtvoip.com
Contact: Spencer Vereecken
Contact Phone:(616) 301-6370
Contact Email: spencerv@mtvoip.com
3145 Prairie St SW, Ste 103, Grandville, MI
Phone:
Fax:
Millennium Communications www.mc2sw.com
Contact: Kurt Skaggs
Contact Phone:(505) 860-3200
Contact Email: kskaggs@mc2sw.com
6201 Hanover NW, Albuquerque, NM 87121
Phone:
Fax:
NetVersant Solutions LLC www.netversant.com
Contact: Julie Smith
Contact Phone:(713) 403-3800
Contact Email: jsmith@netversant.com
9750 W Sam Houston Pkwy N, Ste100, Houston
Phone:
Fax:
Network Computing Solutions Contact: Brad DeLong
Contact Phone:(785) 267-7977
Contact Email: bdelong@ncs-grp.com
108 SE 29th St, Topeka, KS 66605
Phone:
Fax:
NORLEM Technology Consutlting Inc www.norlemtc.com
Contact: Bryan Norman
Contact Phone:(918) 392-1996
Contact Email: bnorman@norlemtc.com
10830 E 45th St, Ste 302, Tulsa, OK 74146
Phone:
Fax:
North Atlantic Telecom Inc aka NATI www.natii.com
Contact: Leonard Jones
Contact Phone:(901) 371-9071
Contact Email: lenny@natii.com
715 Chaney Cv, Ste 101, Collierville, TN 38017
Phone:
Fax:
Parallel Technologies, Inc. www.paralleltech.com
Contact: Martin Jacobs
Contact Phone:(614) 718-5102
Contact Email: mjacobs@paralleltech.com
4868 Blazer Parkway Dublin, OH 43017
Phone:(614) 718-5102
Fax:
Pathwayz Communications Inc www.pathwayz.net
Contact: Paul Chapman
Contact Phone:(817) 289-2650
Contact Email: pchapman@pathwayz.net
4176 Canyon Drive, Amarillo, TX 79109
Phone:
Fax:
Peak Up Time www.peakuptime.com
Contact: Gordon Martin
Contact Phone:(918) 585-8488
Contact Email: gordon.martin@peakuptime.com
823 S Detroit Ave., Ste 200, Tulsa, OK 74120
Phone:
Fax:
Plan B Network Inc Contact: Roy Lambert
Contact Phone:(915) 774-0207
Contact Email: rlambert@planbnet.com
11395 James Watt, El Paso, TX 79936
Phone:
Fax:
ProTech Systems Group Inc www.psgi.net
Contact: Dan Weddle
Contact Phone:(901) 767-7550
Contact Email: dweddle@psgi.net
3350 Players Club Pkwy, Ste 120, Memphis TN
Phone:
Fax:
Resilient Intelligent Networks LLC www.resilientiq.com
Contact: Bruce Mitchell
Contact Phone:(940) 368-8171
Contact Email: bruce@resilientiq.com
PO Box 1285, Argyle, TX 76226
Phone:
Fax:
Richline Technical Services LLC Contact: Tommy King
Contact Phone:(361) 882-6297
Contact Email: tking@richline.cc
114 Mesquite St., Corpus Christi TX 78401
Phone:
Fax:
Sacramento Technology Group LLC www.sactech.com
Contact: Sam Fadala
Contact Phone:(512) 231-2204
Contact Email: sfadala@sactechgroup.com
9600 Great Hills Trail, Ste 150W, Austin TX
Phone:
Fax:
Sequel Data Systems Inc www.sequeldata.com
Contact: Chris Case
Contact Phone:(512) 918-8841
Contact Email: chris.case@sequeldata.com
11824 Jolllyville Rd, Ste 400, Austin TX 78759
Phone:
Fax:
Solid IT Networks Inc Contact: Oliver Newman III
Contact Phone:(972) 567-8235
Contact Email: nnewman@solidit.com
16507 Hedgecroft Dr, Ste 100, Houston TX
Phone:
Fax:
SoluVista www.soluvista.com
Contact: Steve Stainback
Contact Phone:(225) 753-7878
Contact Email: steve@soluvista.com
14141 Airline Hwy Bldg 3, Ste F,G, Baton Rouge LA
Phone:
Fax:
SOS Computers LC dba Technology Express www.techxpress.com
Contact: Sallie Burns
Contact Phone:(931) 455-1006
Contact Email: sallie@techxpress.com
1700 Oak Hills Drive, Kingston, TN 37763
Phone:
Fax:
Technology Resource Center of America TRCA www.trca.com
Contact: Michael Harding
Contact Phone:(940) 565-5000
Contact Email: mike.harding@trca.com
2600 Virginia Circle, Denton TX 76209
Phone:
Fax:
Telecomp Computer Services Contact: Gino Capito
Contact Phone:(479) 271-2200
Contact Email: gino@telecomp.com
207 S Main St., Bentonville, AR 72712
Phone:
Fax:
Tele-Optics Inc www.tele-optics.com
Contact: Jeff Hostetler
Contact Phone:(423) 246-5704
Contact Email: jhostetler@tele-optics.com
1041 Tidewater Court, Kingsport TN 37660
Phone:
Fax:
Telepro Communications Contact: Jorge Rodriguez
Contact Phone:(956) 618-2360
Contact Email: jorge@teleprocommunications.com
3315 N Ware Rd, McAllen, TX 78501
Phone:
Fax:
Tele-Pro Communications www.teleprorgv.com
Contact: Jorge Rodriguez
Contact Phone:(956) 655-5721
Contact Email: jrodriguez@teleprocommunications.com
3315 N Ware Rd, McAllen, Texas 78501
Phone:
Fax:
Teletronics Inc (TTXInc) www.ttx-inc.com
Contact: Brandon Kenney
Contact Phone:(216) 739-2838
Contact Email: bkenney@teletronics-inc.com
1650 Indian Wood Circle, Maumee, OH 43537
Phone:
Fax:
Total Technologies www.total-tec.com
Contact: Amy Murphy
Contact Phone:(281) 448-7676
Contact Email: amurphy@total-tec.com
440 Benmar Dr, Ste 2300 Houston, TX 77060
Phone:
Fax:
TTX Teletronics www.ttx-inc.com
Contact: Brandon Kenney
Contact Phone:(216) 739-2838
Contact Email: bkenney@ttx-inc.com
22550 Ascoa Ct., Strongsville, OH 44149
Phone:
Fax:
United Systems Inc www.unitedsystemsok.com
Contact: Alvin Myers
Contact Phone:(405) 778-8305
Contact Email: amyers@unitedsystemsok.com
4335 N. Classen Blvd, Okla City, OK 73118
Phone:
Fax:
VIP Technologies Inc Contact: Steven Carroll
Contact Phone:(903) 297-5583
Contact Email: stevec@viptechnologies.net
104 Rothrock Dr, Ste B, Longview TX 75602
Phone:
Fax:
Windstream Supply LLC www.windstream.com
Contact: Michael Janssen
Contact Phone:(877) 551-8025
Contact Email: michael.a.janssen@windstream.com
4001 N. Rodney Parham Rd, Little Rock AR
Phone:
Fax: