EMAIL PO & VENDOR QUOTE TO: TIPSPO@TIPS-USA.COM
PO MUST REFERENCE VENDOR'S TIPS CONTRACT NUMBER
ATTACH PO AS A PDF - ONLY ONE PO (WITH QUOTE) PER ATTACHMENT

Print
VENDOR

Regional Sound and Communications Inc

101A Industrial Blvd Nash TX,75569

WEBSITE

www.regionalsystems.net

SERVICE/PRODUCTS DESCRIPTION

Regional Systems is a full service integrations company licensed in Central and Northwest Texas, Arkansas, Louisiana and Oklahoma. We also provide HVAC services for repair or complete replacement. Our fields of expertise include: Life Safety systems, Fire alarm, clock, security and surveillance systems, CCTV and CATV Systems, Video and paging systems with many other fields.
Regional Sound and Communications Inc
CONTRACT: 170203 Security Systems Products and Services
Apr-27-2017 to Apr-23-2020
EDGAR COMPLIANCE : (Contact TIPS for Verification)
Regional Sound and Communications Inc

Print
Security Systems Products and Services(170203)
Exp.Date 04/23/2020 EDGAR: (Contact TIPS for Verification)
| | |
| --- | --- |
| DISADVANTAGED/MINORITY/WOMAN BUSINESS ENTERPRISE | No |
| HISTORICALLY UNDERUTILIZED BUSINESS (HUB) | No |
| | |
| --- | --- |
| | AL , AK , AZ , AR , CA , CO , CT , DE , DC , FL , GA , HI , ID , IL , IN , IA , KS , KY , LA , ME , MD , MA , MI , MN , MS , MO , MT , NE , NV , NH , NJ , NM , NY , NC , ND , OH , OK , OR , PA , RI , SC , SD , TN , TX , UT , VT , VA , WA , WI , WY |
Live Oak Equipment Finance is the exclusive financial parter of TIPS! Allow LOEF to help assist you in your financial needs today!

We are committed to provide a financing experience based on unwavering integrity, unmatched service and complete transparency. Our processes have been established with the client in mind, and we are dedicated to ensuring that you enjoy your experience working with our team. Our goal is for you to build a long-term relationship with Live Oak Equipment Finance, not only as your financial partner, but also a firm that can help you grow and excel as a professional in your industry.
Contact Information:
Phone: (512) 726-0367
Email: tips@loeqf.com
Website: www.loeqf.com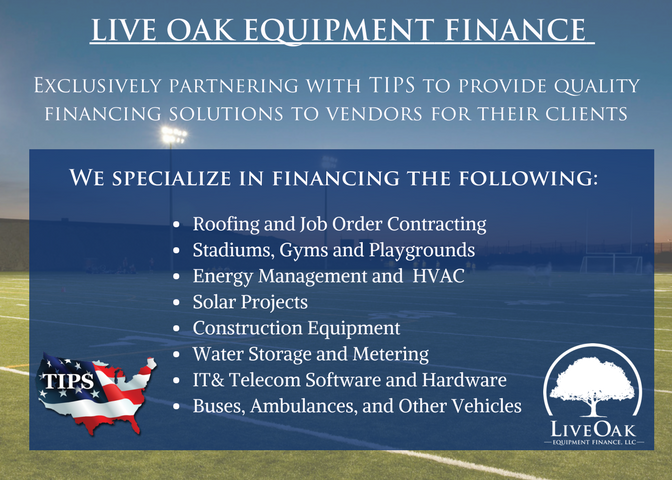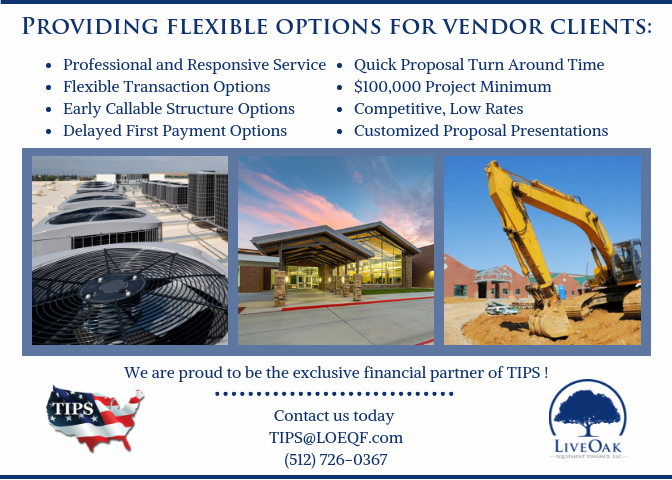 Get VCard for Primary Contact by Contract
Regional Sound and Communications Inc
Resellers listed below may also hold a current TIPS contract. PO's for quotes provided by a reseller that are also awarded in the same category will be processed and sent directly to that reseller.

Please check under "ALL VENDORS" before requesting a quote from any listed reseller.
Resellers
Address
Regional Sound of Arkansas Inc. http://regionalsystems.net/
Contact: Roger Roberts
Contact Phone:(903) 838-7896
Contact Email: roger@regionalsystems.net
101 Industrial Blvd., Nash, TX 75569
Phone:
Fax:
Regional Systems http://regionalsystems.net/
Contact: Roger Roberts
Contact Phone:(903) 868-7896
Contact Email: roger@regionalsystems.net
101 Industrial Blvd., Nash, TX 75569
Phone:
Fax:
Superior Safety, Inc. http://regionalsystems.net/
Contact: Roger Roberts
Contact Phone:(903) 838-7896
Contact Email: roger@regionalsystems.net
101 Industrial Blvd., Nash, TX 75569
Phone:
Fax: