EMAIL PO & VENDOR QUOTE TO: TIPSPO@TIPS-USA.COM
PO MUST REFERENCE VENDOR'S TIPS CONTRACT NUMBER
ATTACH PO AS A PDF - ONLY ONE PO (WITH QUOTE) PER ATTACHMENT

Print
VENDOR

ImageNet Consulting

3223 Commander Drive Carrolton TX,75006

WEBSITE

www.imagenetconsulting.com

SERVICE/PRODUCTS DESCRIPTION

ImageNet Consulting is a 56 year old Oklahoma based company with locations in Oklahoma City, Tulsa, Dallas, Austin, Houston, Miami and the Four Corners. For over 56 years we have been providing our clients with document technologies. Beginning as Southwest Typewriter Company in 1956 in the garage of our founder, we have evolved into a true document solutions provider impacting our clients businesses in positive ways. With over 6,000 clients and more than 300 employees in Texas and Oklahoma, ImageNet Consulting can provide the scale and resources required to deliver on high touch, high availability solutions, at the same time, being nimble and flexible to customize those solutions to our unique client environments. ImageNet Consulting is a national leader in imaging and printing solutions for large organizations.
ImageNet Consulting
CONTRACT: 180103 Copiers, Fax and Multifunction Machines and Services
Mar-22-2018 to Mar-26-2020
EDGAR COMPLIANCE : (Contact TIPS for Verification)
ImageNet Consulting

Print
Copiers, Fax and Multifunction Machines and Services(180103)
Exp.Date 03/26/2020 EDGAR: (Contact TIPS for Verification)
| | |
| --- | --- |
| DISADVANTAGED/MINORITY/WOMAN BUSINESS ENTERPRISE | No |
| HISTORICALLY UNDERUTILIZED BUSINESS (HUB) | No |
| | |
| --- | --- |
| | AL , AK , AZ , AR , CA , CO , CT , DE , DC , FL , GA , HI , ID , IL , IN , IA , KS , KY , ME , MD , MA , MI , MN , MS , MO , MT , NE , NV , NH , NJ , NM , NY , NC , ND , OH , OK , OR , PA , RI , SC , SD , TN , TX , UT , VT , VA , WA , WI , WY |
Live Oak Equipment Finance is the exclusive financial parter of TIPS! Allow LOEF to help assist you in your financial needs today!

We are committed to provide a financing experience based on unwavering integrity, unmatched service and complete transparency. Our processes have been established with the client in mind, and we are dedicated to ensuring that you enjoy your experience working with our team. Our goal is for you to build a long-term relationship with Live Oak Equipment Finance, not only as your financial partner, but also a firm that can help you grow and excel as a professional in your industry.
Contact Information:
Phone: (512) 726-0367
Email: tips@loeqf.com
Website: www.loeqf.com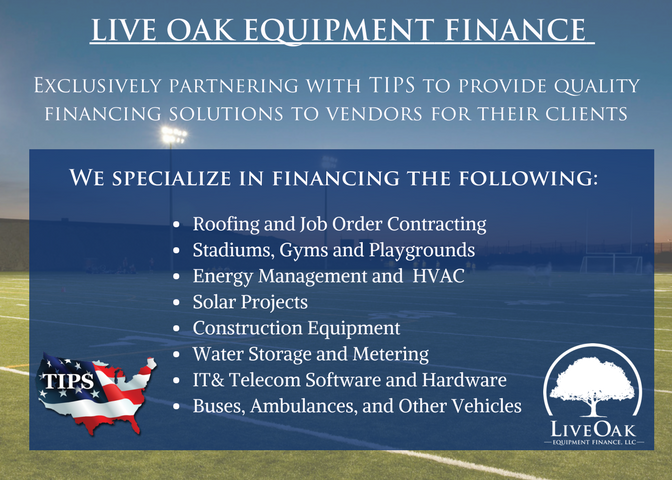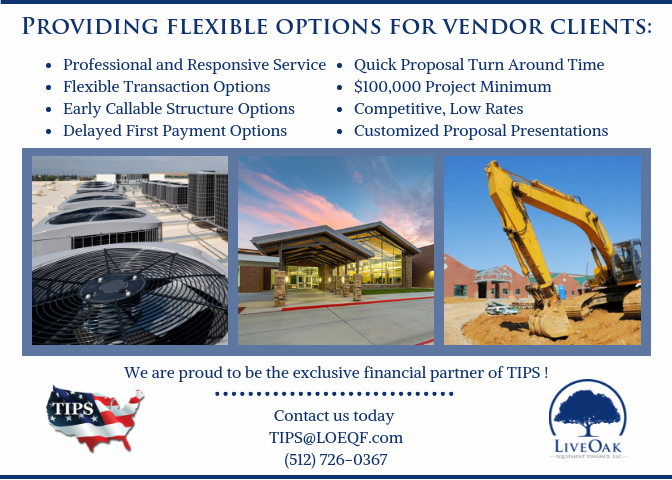 Get VCard for Primary Contact by Contract
ImageNet Consulting
Resellers listed below may also hold a current TIPS contract. PO's for quotes provided by a reseller that are also awarded in the same category will be processed and sent directly to that reseller.

Please check under "ALL VENDORS" before requesting a quote from any listed reseller.
Resellers
Address
Dimmit Office Supply Contact: Mickey Bishop
Contact Phone:(806) 364-1090
Contact Email: mbishop@amaonline.com
200 E Bedford St, Dimmitt, TX 79027
Phone:
Fax:
East Texas Copy Contact: Greg Walker
Contact Phone:(903) 939-2255
Contact Email: walker@etcopy.com
4545 Old Jacksonville Hwy., Tyler, TX 75703
Phone:
Fax:
Fortress Business Systems Contact: Amber Keyser
Contact Phone:
Contact Email:
1289 North Innovation Way Post Falls, ID 83854
Phone:
Fax:
Gill Digital Services Contact: Barbara Gill
Contact Phone:(214) 808-3950
Contact Email: bgill@gilldigital.com
3223 Commander Drive, Carrollton, TX 75006
Phone:
Fax:
LyncVerse Technologies Contact: Shearrard Thomas
Contact Phone:(281) 542-3473
Contact Email: sthomas@lyncverse.com
8203 Willow Chase Dr #270, Houston, TX 77070
Phone:
Fax:
NaveTech Solutions http://navetech.us/
Contact: Aaron Merriweather
Contact Phone:
Contact Email: aaronm@navetechsolutions.com
13601 Preston Road Suite E114 Dallas, Texas 75240
Phone:(831) 320-2787
Fax:
Texas Copier & Office Contact: Ronny Terrell
Contact Phone:(210) 497-0747
Contact Email: rterrell@tco-sa.com
827 At A & T Center Pkwy, San Antonio,TX 78219
Phone:
Fax:
West Texas Office Equipment-Midland Contact: Ron Chauncey
Contact Phone:(432) 683-8774
Contact Email: WTOE@NTS-online.com
1403 N Big Spring St, Midland, TX 79701
Phone:
Fax:
Wight Office Machines Co - Fort Smith Contact: Michael Wight
Contact Phone:(479) 782-8256
Contact Email:
122 Towson Avenue Fort Smith, AR 72902
Phone:
Fax:
Wight Office Machines Co - Russellville Contact: Darrell Lowder
Contact Phone:(479) 967-0381
Contact Email:
1304 S. Arkansas Russellville, AR 72801
Phone:
Fax: