EMAIL PURCHASE ORDER TO: TIPSPO@TIPS-USA.COM
ATTACH PO AS A PDF - ONLY ONE PO PER EMAIL
PO MUST REFERENCE TIPS CONTRACT NUMBER
VENDOR

Vortex Companies Vortex Infrastructure Holdings LLC

WEBSITE

www.vortexcompanies.com

SERVICE/PRODUCTS DESCRIPTION

Offers advanced trenchless technologies and turnkey services to cost effectively renew water, sewer and industrial infrastructure.
CONTRACT: 171105 Pipe Bursting
Jan-25-2018 to Jan-26-2021
Vortex Companies Vortex Infrastructure Holdings LLC
CONTRACT: 171105 Pipe Bursting
Jan-25-2018 to Jan-26-2021
TIPS CONTACT

PAYMENT TO

NAME

Meredith Barton

ADDRESS:

18150 Imperial Valley Drive

POSITION

TIPS CONTACT

PHONE

(866)-839-8477

CITY:

Houston

FAX

(866)-839-8472

STATE:

Texas

MOBILE

(903)-243-4789

ZIP:

77060

EMAIL

tips@tips-usa.com
| | |
| --- | --- |
| FEDERAL OR EDGAR COMPLIANCE DOCUMENTS FILED WITH CONTRACT: | Yes |
| DISADVANTAGED/MINORITY/WOMAN BUSINESS ENTERPRISE | NO |
| HISTORICALLY UNDERUTILIZED BUSINESS (HUB) | NO |
| | |
| --- | --- |
| | AL AK AZ AR CA CO CT DE DC FL GA HI ID IL IN IA KS KY LA ME MD MA MI MN MS MO MT NE NV NH NJ NM NY NC ND OH OK OR PA RI SC SD TN TX UT VT VA WA WI WY |
0

We are committed to provide a financing experience based on unwavering integrity, unmatched service and complete transparency. Our processes have been established with the client in mind, and we are dedicated to ensuring that you enjoy your experience working with our team. Our goal is for you to build a long-term relationship with Live Oak Equipment Finance, not only as your financial partner, but also a firm that can help you grow and excel as a professional in your industry.
Contact Information:
Phone: (512) 726-0367
Email: tips@loequipmentfinance.com
Website: www.loequipmentfinance.com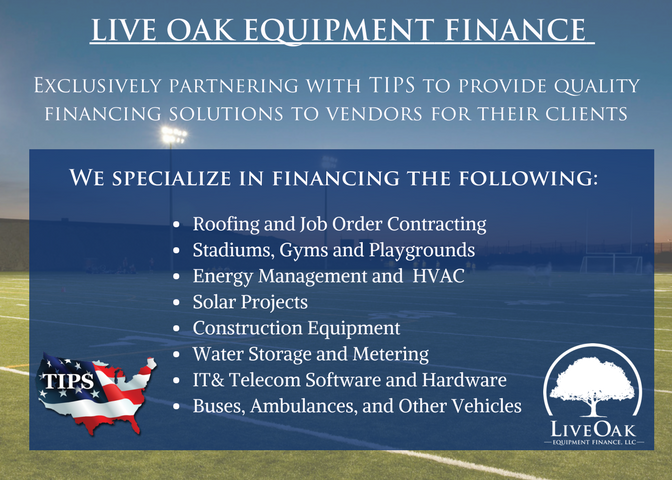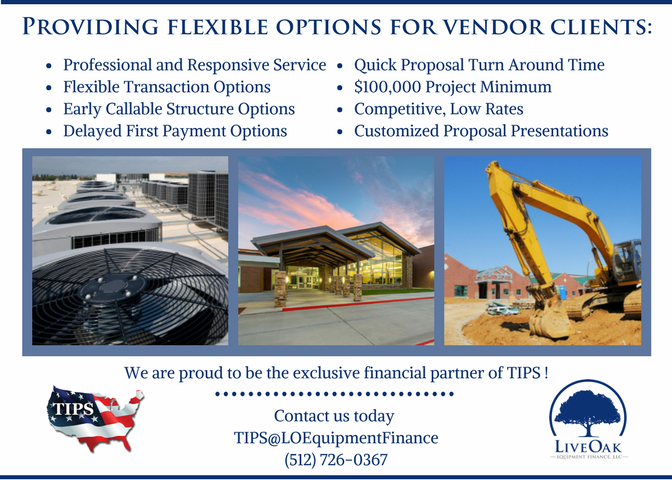 Resellers listed below may also hold a current TIPS contract. PO's for quotes provided by a reseller that are also awarded in the same category will be processed and sent directly to that reseller.
Please check under "ALL VENDORS" before requesting a quote from any listed reseller.
Resellers
Address
Quadex Lining Systems, LLC www.vortexcompanies.com
Contact: Nick Banchetti
Contact Phone:(713) 750-9081
Contact Email: nbanchetti@vortexcompanies.com
18150 Imperial Valley Drive Houston, TX 7760
Phone:(713) 750-9081
Fax:
Quadex, LLC www.vortexcompanies.com
Contact: Nick Banchetti
Contact Phone:(713) 750-9081
Contact Email: nbanchetti@vortexcompanies.com
18150 Imperial Valley Drive Houston, TX 7760
Phone:(713) 750-9081
Fax:
Ricor Services, LLC www.vortexcompanies.com
Contact: Nick Banchetti
Contact Phone:(713) 750-9081
Contact Email: nbanchetti@vortexcompanies.com
6255 W 52nd Ave Arvada, CO 80002
Phone:(713) 750-9081
Fax:
Schwalm USA, LLC www.vortexcompanies.com
Contact: Nick Banchetti
Contact Phone:(713) 750-9081
Contact Email: nbanchetti@vortexcompanies.com
1200 Woodruff Road, Unit B-7 Greenville, SC 29607
Phone:(713) 750-9081
Fax:
VacVision Environmental, LLC www.vortexcompanies.com
Contact: Nick Banchetti
Contact Phone:(713) 750-9082
Contact Email: nbanchetti@vortexcompanies.com
10200 U.S. Highway 92 East Tampa, FL 33610
Phone:(713) 750-9082
Fax:
Vaught Services, LLC www.vortexcompanies.com
Contact: Nick Banchetti
Contact Phone:(713) 750-9081
Contact Email: nbanchetti@vortexcompanies.com
18150 Imperial Valley Drive Houston, TX 7760
Phone:(713) 750-9081
Fax:
Vortex Industrial Solutions, LLC www.vortexcompanies.com
Contact: Nick Banchetti
Contact Phone:(713) 750-9081
Contact Email: nbanchetti@vortexcompanies.com
18150 Imperial Valley Drive Houston, TX 7760
Phone:(713) 750-9081
Fax:
Vortex Infrastructure Services, LLC www.vortexcompanies.com
Contact: Nick Banchetti
Contact Phone:(713) 750-9081
Contact Email: nbanchetti@vortexcompanies.com
18150 Imperial Valley Drive Houston, TX 7760
Phone:(713) 750-9081
Fax:
Vortex Turnkey Solutions, LLC www.vortexcompanies.com
Contact: Nick Banchetti
Contact Phone:(713) 750-9081
Contact Email: nbanchetti@vortexcompanies.com
18150 Imperial Valley Drive Houston, TX 7760
Phone:(713) 750-9081
Fax:
Vortex West, LLC www.vortexcompanies.com
Contact: Nick Banchetti
Contact Phone:(713) 750-9081
Contact Email: nbanchetti@vortexcompanies.com
625 W 52nd Ave Arvada, CO 80002
Phone:(713) 750-9081
Fax: