EMAIL PURCHASE ORDER TO: TIPSPO@TIPS-USA.COM
ATTACH PO AS A PDF - ONLY ONE PO PER EMAIL
PO MUST REFERENCE TIPS CONTRACT NUMBER
VENDOR

Bad Boy Inc

WEBSITE

www.badboymowers.com

SERVICE/PRODUCTS DESCRIPTION

Like a lot of classic American success stories, this one started with two men and a garage that saw things a little different than everyone else. In fact, in Bad Boy Mower's earliest days, competitors would freely offer the advice that we couldn't keep 'over-building mowers' like that and sell them 'for that low of a price.' We just didn't think there was anything wrong with building a zero turn mower that out-lasted everything else out there. And our customers sure didn't seern to mind saving a bit of money along the way. Our initial success moved us into 36,000 square feet of building and office space in 2002, and we began ramping up our commercial quality mower lines in earnest. Fast forward to the more than 850,000 square feet of manufacturing muscle and an ever growing workforce right in the heart of this country in the Ozark Mountains, and you'll find that classic American manufacturing and the classic American success story lives on—stronger than ever.
CONTRACT: 161102 Heavy Duty Equipment
Feb-22-2017 to Feb-27-2020 EDGAR COMPLIANCE : N
Bad Boy Inc
CONTRACT: 161102 Heavy Duty Equipment
Feb-22-2017 to Feb-27-2020
EDGAR COMPLIANCE : N
TIPS CONTACT

PAYMENT TO

NAME

Meredith Barton

ADDRESS:

102 Industrial Dr

POSITION

TIPS CONTACT

PHONE

(866)-839-8477

CITY:

Batesville

FAX

(866)-839-8472

STATE:

AR

MOBILE

ZIP:

72501

EMAIL

tips@tips-usa.com
| | |
| --- | --- |
| DISADVANTAGED/MINORITY/WOMAN BUSINESS ENTERPRISE | NO |
| HISTORICALLY UNDERUTILIZED BUSINESS (HUB) | NO |
| | |
| --- | --- |
| | AL , AK , AZ , AR , CA , CO , CT , DE , DC , FL , GA , HI , ID , IL , IN , IA , KS , KY , LA , ME , MD , MA , MI , MN , MS , MO , MT , NE , NV , NH , NJ , NM , NY , NC , ND , OH , OK , OR , PA , RI , SC , SD , TN , TX , UT , VT , VA , WA , WI , WY |

We are committed to provide a financing experience based on unwavering integrity, unmatched service and complete transparency. Our processes have been established with the client in mind, and we are dedicated to ensuring that you enjoy your experience working with our team. Our goal is for you to build a long-term relationship with Live Oak Equipment Finance, not only as your financial partner, but also a firm that can help you grow and excel as a professional in your industry.
Contact Information:
Phone: (512) 726-0367
Email: tips@loequipmentfinance.com
Website: www.loequipmentfinance.com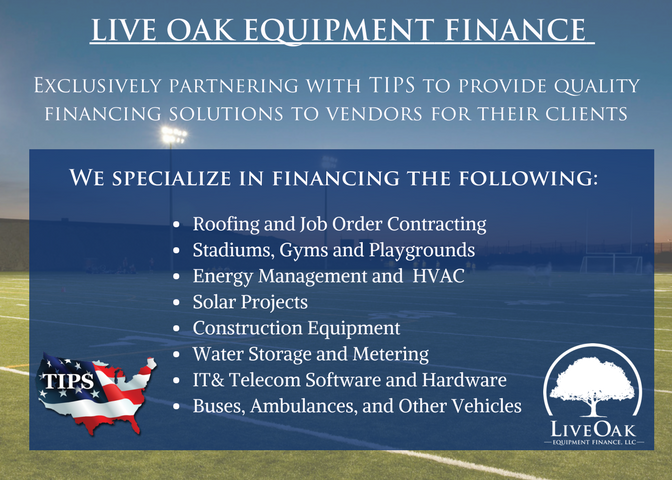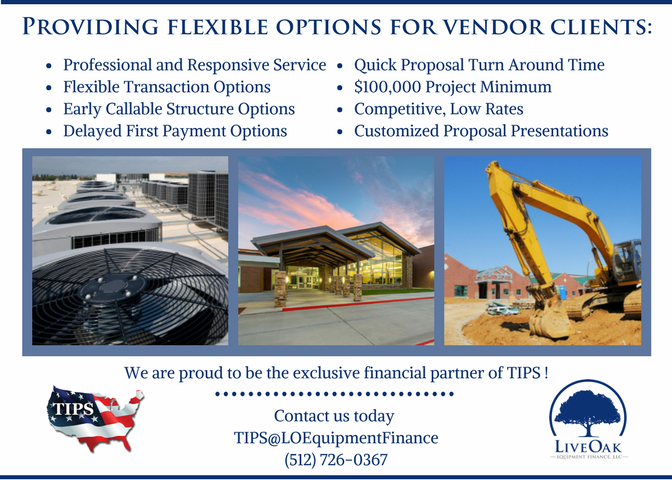 Resellers listed below may also hold a current TIPS contract. PO's for quotes provided by a reseller that are also awarded in the same category will be processed and sent directly to that reseller.

Please check under "ALL VENDORS" before requesting a quote from any listed reseller.
Resellers
Address
96 Lawn & Garden Contact:
Contact Phone:
Contact Email:
Burns TN
Phone:
Fax:
A & W Sales Contact:
Contact Phone:
Contact Email:
Pinetown NC
Phone:
Fax:
Abby Farm Supply Contact:
Contact Phone:
Contact Email:
Millington TN
Phone:
Fax:
Abby Farm Supply Saltillo Contact:
Contact Phone:
Contact Email:
Saltillo MS
Phone:
Fax:
Abingdon Equipment Contact:
Contact Phone:
Contact Email:
Abingdon VA
Phone:
Fax:
Ace Hardware Contact:
Contact Phone:
Contact Email:
Stuarts Draft VA
Phone:
Fax:
Ace Lawnmower Service Inc Contact:
Contact Phone:
Contact Email:
Miami FL
Phone:
Fax:
ACT Automotive Contact:
Contact Phone:
Contact Email:
Flora IL
Phone:
Fax:
Active Tractor Contact:
Contact Phone:
Contact Email:
Jemison AL
Phone:
Fax:
Adair Argo Sales Contact:
Contact Phone:
Contact Email:
Adair IA
Phone:
Fax:
Adkins & Son Contact:
Contact Phone:
Contact Email:
Laurel DE
Phone:
Fax:
Agee Equipment Contact:
Contact Phone:
Contact Email:
Paul's Valley OK
Phone:
Fax:
Alabama Powersports Contact:
Contact Phone:
Contact Email:
Selma AL
Phone:
Fax:
Alachua Tractor Contact:
Contact Phone:
Contact Email:
Alachua FL
Phone:
Fax:
All Season Power Equipment Contact:
Contact Phone:
Contact Email:
Jefferson OH
Phone:
Fax:
All Seasons Landscaping Co Inc Contact:
Contact Phone:
Contact Email:
Belleville MI
Phone:
Fax:
Alliance Equipment Contact:
Contact Phone:
Contact Email:
Forrest City AR
Phone:
Fax:
Alma Tractor & Equipment Contact:
Contact Phone:
Contact Email:
Alma AR
Phone:
Fax:
Alpha D.C. Motors Contact:
Contact Phone:
Contact Email:
Syracuse NY
Phone:
Fax:
American Rental & Power Contact:
Contact Phone:
Contact Email:
Saraland AL
Phone:
Fax:
American Rental & Power Contact:
Contact Phone:
Contact Email:
Mobile AL
Phone:
Fax:
Anderson Equipment Contact:
Contact Phone:
Contact Email:
Clay Center KS
Phone:
Fax:
Anderson Feed & Supply Contact:
Contact Phone:
Contact Email:
Dohloega GA
Phone:
Fax:
Andy's Sales and Service Contact:
Contact Phone:
Contact Email:
Morganfield KY
Phone:
Fax:
Apple Farm Services Contact:
Contact Phone:
Contact Email:
Bodkins OH
Phone:
Fax:
Apple Farm Services Contact:
Contact Phone:
Contact Email:
Covington OH
Phone:
Fax:
Apple Farm Services Contact:
Contact Phone:
Contact Email:
W. College Corner IN
Phone:
Fax:
Artec Tractor Contact:
Contact Phone:
Contact Email:
Navuoo AL
Phone:
Fax:
Athens Lawn & Garden Contact:
Contact Phone:
Contact Email:
Athens TN
Phone:
Fax:
Athens Tractor & Equipment Contact:
Contact Phone:
Contact Email:
Athens TX
Phone:
Fax:
Atlantic & Southern Equipment Contact:
Contact Phone:
Contact Email:
Dothan AL
Phone:
Fax:
B & C Mower Contact:
Contact Phone:
Contact Email:
St Cloud FL
Phone:
Fax:
B&B Industries Contact:
Contact Phone:
Contact Email:
Orient OH
Phone:
Fax:
BAD BOY MOWER STORE Contact:
Contact Phone:
Contact Email:
Warren AR
Phone:
Fax:
Bad Boy Mowers of Central Florida Contact:
Contact Phone:
Contact Email:
Ovledo FL
Phone:
Fax:
Bad Boy Mowers of Harrah Contact:
Contact Phone:
Contact Email:
Harrah OK
Phone:
Fax:
Bad Boy of Calera Contact:
Contact Phone:
Contact Email:
Calera OK
Phone:
Fax:
Bakken Repair Contact:
Contact Phone:
Contact Email:
Ormsby MN
Phone:
Fax:
Baldwin Unlimited Contact:
Contact Phone:
Contact Email:
Pennington NJ
Phone:
Fax:
Bardstown Mills Farm & Outdoor Contact:
Contact Phone:
Contact Email:
Bardstown KY
Phone:
Fax:
Barton Tractor Contact:
Contact Phone:
Contact Email:
Karns City PA
Phone:
Fax:
Bartonville Equipment Rentals Contact:
Contact Phone:
Contact Email:
Bartonville IL
Phone:
Fax:
Bastrop Ag & Trailer Contact:
Contact Phone:
Contact Email:
Bastrop TX
Phone:
Fax:
Batchelder Sales ME Contact:
Contact Phone:
Contact Email:
Lebanon ME
Phone:
Fax:
Batchelder Sales NH Contact:
Contact Phone:
Contact Email:
North Hampton NH
Phone:
Fax:
Bay River Outfitters Contact:
Contact Phone:
Contact Email:
Alliance NC
Phone:
Fax:
Beards Outdoor Power Equipment Contact:
Contact Phone:
Contact Email:
Crestwood KY
Phone:
Fax:
Beasley Power Equipment Contact:
Contact Phone:
Contact Email:
Taylorsville NC
Phone:
Fax:
Belmont Farm & Home Center Contact:
Contact Phone:
Contact Email:
Rolling Fork MS
Phone:
Fax:
Bendle Lawn Equipment Contact:
Contact Phone:
Contact Email:
North Anderson IN
Phone:
Fax:
Bendle Lawn Equipment Contact:
Contact Phone:
Contact Email:
Pendleton IN
Phone:
Fax:
Berryville Equipment Contact:
Contact Phone:
Contact Email:
Berryville AR
Phone:
Fax:
Bertels Sales & Service Contact:
Contact Phone:
Contact Email:
Dorsey IL
Phone:
Fax:
Big B Sales Contact:
Contact Phone:
Contact Email:
Sicily Island LA
Phone:
Fax:
Big Dog Rentals & Sales Contact:
Contact Phone:
Contact Email:
Rensselaer IN
Phone:
Fax:
Big K Lp Gas Contact:
Contact Phone:
Contact Email:
Rockingham NC
Phone:
Fax:
Big M Equipment Contact:
Contact Phone:
Contact Email:
Bridgeton NC
Phone:
Fax:
Big Oak Equipment Contact:
Contact Phone:
Contact Email:
Hazlehurst GA
Phone:
Fax:
Big Reds Contact:
Contact Phone:
Contact Email:
Granbury TX
Phone:
Fax:
Bill Mower & Tractor Repair Contact:
Contact Phone:
Contact Email:
Anthony FL
Phone:
Fax:
Bob Bike Shop Contact:
Contact Phone:
Contact Email:
Le Mars IA
Phone:
Fax:
Bobcat of Lafayette, IN Contact:
Contact Phone:
Contact Email:
2616 South Beck Lane Lafayette, IN 47909
Phone:
Fax:
Bobcat of Martinsburg Contact:
Contact Phone:
Contact Email:
Martinsburg PA
Phone:
Fax:
Bowersox Equipment Contact:
Contact Phone:
Contact Email:
Newark DE
Phone:
Fax:
Bowie County Equipment Contact:
Contact Phone:
Contact Email:
DeKalb TX
Phone:
Fax:
Boyd's Contact:
Contact Phone:
Contact Email:
Orangeville OH
Phone:
Fax:
Boyle Lumber Contact:
Contact Phone:
Contact Email:
Boyle MS
Phone:
Fax:
Brickhouse Services Contact:
Contact Phone:
Contact Email:
Laceyville PA
Phone:
Fax:
Brinkleys Hardware Contact:
Contact Phone:
Contact Email:
North Gates NC
Phone:
Fax:
Bryant Equipment Company Contact:
Contact Phone:
Contact Email:
Clarksville TN
Phone:
Fax:
C & C Custom Traialers Contact:
Contact Phone:
Contact Email:
Chuckey TN
Phone:
Fax:
C & C Equipment Rental Contact:
Contact Phone:
Contact Email:
Three Way TN
Phone:
Fax:
C & C Rental Contact:
Contact Phone:
Contact Email:
Fort Payne AL
Phone:
Fax:
C & C Sales & Service Contact:
Contact Phone:
Contact Email:
Oberlin OH
Phone:
Fax:
Carolina Outdoors and Equipment Contact: Rick Alvarado
Contact Phone:(803) 642-5200
Contact Email: rick@gocarolinaoutdoors.com
Aiken sC
Phone:(803) 642-5200
Fax:(803) 641-6673
Carroll Implement Contact:
Contact Phone:
Contact Email:
Luverne IA
Phone:
Fax:
Case Construction Ag. Supply Contact:
Contact Phone:
Contact Email:
Wichita Falls TX
Phone:
Fax:
Causeway Mowers Contact:
Contact Phone:
Contact Email:
Indian Harbour Beach FL
Phone:
Fax:
Central Iowa Lawn & Home Contact:
Contact Phone:
Contact Email:
Maes IA
Phone:
Fax:
Central New Holland Contact:
Contact Phone:
Contact Email:
Edmond, OK
Phone:
Fax:
Central New Holland Contact:
Contact Phone:
Contact Email:
Oklahoma City OK
Phone:
Fax:
Central Texas Bad Boy Mowers Contact:
Contact Phone:
Contact Email:
Belton TX
Phone:
Fax:
Charles Motor Service LLC Contact:
Contact Phone:
Contact Email:
Houma LA
Phone:
Fax:
Chauvin Bros Contact:
Contact Phone:
Contact Email:
Belle Chasse LA
Phone:
Fax:
Chickasha New Holland Inc Contact:
Contact Phone:
Contact Email:
Chickasha OK
Phone:
Fax:
Cicil's Tractors Contact:
Contact Phone:
Contact Email:
Warrenton VA
Phone:
Fax:
Clapp Brothers Tractor & Implement Contact:
Contact Phone:
Contact Email:
Asheboro NC
Phone:
Fax:
Clapp Brothers Tractor & Implement Contact:
Contact Phone:
Contact Email:
Silver City NC
Phone:
Fax:
Cliff's Inc Contact:
Contact Phone:
Contact Email:
Friesland WV
Phone:
Fax:
Cobb County Tractor Contact:
Contact Phone:
Contact Email:
Marietta GA
Phone:
Fax:
Cobb County Tractor Contact:
Contact Phone:
Contact Email:
Marietta GA
Phone:
Fax:
Coblentz Equipment Contact:
Contact Phone:
Contact Email:
Montgomery AL
Phone:
Fax:
Cole's Tractor Contact:
Contact Phone:
Contact Email:
Farmington MO
Phone:
Fax:
Collin Auto & Equipment Contact:
Contact Phone:
Contact Email:
Gunterville AL
Phone:
Fax:
Columbia Outdoor Power Contact:
Contact Phone:
Contact Email:
Columbia TN
Phone:
Fax:
Commercial Turf Equipment Contact:
Contact Phone:
Contact Email:
Osseo MN
Phone:
Fax:
Complete Outdoor Equipment Contact:
Contact Phone:
Contact Email:
Terre Haute IN
Phone:
Fax:
Construction Ag. Supply Contact:
Contact Phone:
Contact Email:
Lawton OK
Phone:
Fax:
Cooks Power Equipment Contact:
Contact Phone:
Contact Email:
Groton CT
Phone:
Fax:
County KK Lawn & Sport Contact:
Contact Phone:
Contact Email:
Janesville WI
Phone:
Fax:
County KK Tire Service Contact:
Contact Phone:
Contact Email:
Monroe WI
Phone:
Fax:
County Truck Teste Station Contact:
Contact Phone:
Contact Email:
Lewiston IL
Phone:
Fax:
Cox Ag Services Contact:
Contact Phone:
Contact Email:
McCroy AR
Phone:
Fax:
Cox Implement Contact:
Contact Phone:
Contact Email:
Hoxie AR
Phone:
Fax:
Crain Tractor Contact:
Contact Phone:
Contact Email:
Columbia MS
Phone:
Fax:
Creeds Hardware Contact:
Contact Phone:
Contact Email:
Virginia Beach VA
Phone:
Fax:
Creeltractor Contact:
Contact Phone:
Contact Email:
Ft Myers FL
Phone:
Fax:
Cullens Equipment Contact:
Contact Phone:
Contact Email:
Dublin GA
Phone:
Fax:
Cullens Equipment Contact:
Contact Phone:
Contact Email:
Sandersville GA
Phone:
Fax:
Cutters Contact:
Contact Phone:
Contact Email:
Lake Charles LA
Phone:
Fax:
D & A Distributing Contact:
Contact Phone:
Contact Email:
Lebanon MO
Phone:
Fax:
D & J Equipment & Rental Contact:
Contact Phone:
Contact Email:
Nashville AR
Phone:
Fax:
D & W Lawn Equipment Contact: Dick Osborn
Contact Phone:(409) 938-0271
Contact Email: dwlawn@sbcglobal.net
Lamarque TX
Phone:
Fax:
David's Trading Yard Contact:
Contact Phone:
Contact Email:
Kiowa OK
Phone:
Fax:
Davis Farm Jackson Contact:
Contact Phone:
Contact Email:
Jackson MO
Phone:
Fax:
Davis Farm Perryville Contact:
Contact Phone:
Contact Email:
Perryville MO
Phone:
Fax:
Dennis Equipment Contact:
Contact Phone:
Contact Email:
New Castle IN
Phone:
Fax:
Diamond B Trailers Contact:
Contact Phone:
Contact Email:
Robstown TX
Phone:
Fax:
Dickerson Professional Lawn Contact:
Contact Phone:
Contact Email:
Franklin TN
Phone:
Fax:
Dixon New Holland Contact:
Contact Phone:
Contact Email:
Blackshear GA
Phone:
Fax:
Doc's L&G Contact:
Contact Phone:
Contact Email:
Massillon OH
Phone:
Fax:
DPC Rentals Contact:
Contact Phone:
Contact Email:
Orlando FL
Phone:
Fax:
Duffy Sales Inc Contact:
Contact Phone:
Contact Email:
Barron WI
Phone:
Fax:
Duncan Outdoors Contact:
Contact Phone:
Contact Email:
Conway AR
Phone:
Fax:
E.A. Nelson Company Contact:
Contact Phone:
Contact Email:
Florence AL
Phone:
Fax:
Eastern Kansas Equipment Contact:
Contact Phone:
Contact Email:
Greely KS
Phone:
Fax:
Eastern Truck Contact:
Contact Phone:
Contact Email:
Boonesboro MD
Phone:
Fax:
Easy Wheels Contact:
Contact Phone:
Contact Email:
Hernando FL
Phone:
Fax:
Edgewood Saw & Supply Contact:
Contact Phone:
Contact Email:
Edgewood IA
Phone:
Fax:
Electric Cart Company Contact:
Contact Phone:
Contact Email:
Santa Rosa Beach FL
Phone:
Fax:
Eshelmans Equipment Contact:
Contact Phone:
Contact Email:
Mentor OH
Phone:
Fax:
Eubank's Equipment Contact:
Contact Phone:
Contact Email:
Welch OK
Phone:
Fax:
Extreme Engine Service Contact:
Contact Phone:
Contact Email:
West Monroe LA
Phone:
Fax:
Extreme Outdoors Contact:
Contact Phone:
Contact Email:
Ripley MS
Phone:
Fax:
Fallin Tractor Contact:
Contact Phone:
Contact Email:
Magnolia AR
Phone:
Fax:
Feldmans Farm Blue Springs Contact:
Contact Phone:
Contact Email:
Blue Springs MO
Phone:
Fax:
Feldmans Farm Bonner Springs Contact:
Contact Phone:
Contact Email:
Bonner Springs MO
Phone:
Fax:
Feldmans Farm Liberty Contact:
Contact Phone:
Contact Email:
Liberty MO
Phone:
Fax:
First Choice Dyersburg Contact:
Contact Phone:
Contact Email:
Dyerburg TN
Phone:
Fax:
First Choice Union City Contact:
Contact Phone:
Contact Email:
Union City TN
Phone:
Fax:
Fogle True Value Contact:
Contact Phone:
Contact Email:
Centerville IA
Phone:
Fax:
Fredricks Equipment Contact:
Contact Phone:
Contact Email:
Hartselle AL
Phone:
Fax:
Gary's Outdoor Products Contact:
Contact Phone:
Contact Email:
Odin IL
Phone:
Fax:
Gillis Small Engine Contact:
Contact Phone:
Contact Email:
Savannah TN
Phone:
Fax:
Glade & Grove Supply Co Contact:
Contact Phone:
Contact Email:
Immokalee FL
Phone:
Fax:
Glade & Grove Supply Co Contact:
Contact Phone:
Contact Email:
Belle Glade FL
Phone:
Fax:
Glade & Grove Supply Co Contact:
Contact Phone:
Contact Email:
Avon Park FL
Phone:
Fax:
Glenwood Farm Equipment Contact:
Contact Phone:
Contact Email:
Glenwood IA
Phone:
Fax:
Glenwood Farm Equipment Contact:
Contact Phone:
Contact Email:
Glenwood IA
Phone:
Fax:
Golden Valley Tractor Clinton Contact:
Contact Phone:
Contact Email:
Clinton MO
Phone:
Fax:
Golden Valley Tractor Harrisonville Contact:
Contact Phone:
Contact Email:
Harrisonville MO
Phone:
Fax:
Gonzales Hardware Inc Contact:
Contact Phone:
Contact Email:
Gonzales LA
Phone:
Fax:
Gore Just Ask Rentals Contact:
Contact Phone:
Contact Email:
Gore OK
Phone:
Fax:
Graham Tractor Co Contact:
Contact Phone:
Contact Email:
Graham NC
Phone:
Fax:
Grand Lake Kubota Contact:
Contact Phone:
Contact Email:
Grove AR
Phone:
Fax:
Green Repair Contact:
Contact Phone:
Contact Email:
Ossain IA
Phone:
Fax:
Greenskeepers Contact:
Contact Phone:
Contact Email:
Medina OH
Phone:
Fax:
Grove Equipment Service Contact:
Contact Phone:
Contact Email:
Plant City FL
Phone:
Fax:
Grove Equipment Service Contact:
Contact Phone:
Contact Email:
Bartow FL
Phone:
Fax:
Growers Equipment Co Contact:
Contact Phone:
Contact Email:
Davie FL
Phone:
Fax:
Gulf Coast Lawn Machines Contact:
Contact Phone:
Contact Email:
Alvin TX
Phone:
Fax:
Gusta's Outdoor Power Contact:
Contact Phone:
Contact Email:
North Charleston SC
Phone:
Fax:
H & H Small Engine Contact:
Contact Phone:
Contact Email:
Luka MS
Phone:
Fax:
H&H Sport Shop Contact:
Contact Phone:
Contact Email:
Sycamore SC
Phone:
Fax:
Hackett's LLC Contact:
Contact Phone:
Contact Email:
Appomattox VA
Phone:
Fax:
Hagan's outdoor Equipment Contact:
Contact Phone:
Contact Email:
Philpot KY
Phone:
Fax:
Halls Small engine Contact:
Contact Phone:
Contact Email:
Louiseville MS
Phone:
Fax:
Hare Tractor Contact:
Contact Phone:
Contact Email:
Cullman AL
Phone:
Fax:
Harold Implement Contact:
Contact Phone:
Contact Email:
Corning AR
Phone:
Fax:
Harringtons Lawn & Power Contact:
Contact Phone:
Contact Email:
Dimondale MI
Phone:
Fax:
Hayes Equipment Contact:
Contact Phone:
Contact Email:
Ponca City OK
Phone:
Fax:
Hearatland Energy Contact:
Contact Phone:
Contact Email:
Stryker OH
Phone:
Fax:
Heartland Auto & ATV Contact:
Contact Phone:
Contact Email:
Kennett MO
Phone:
Fax:
Heinold & Feller Lawn Equipment Contact:
Contact Phone:
Contact Email:
Valparaiso IN
Phone:
Fax:
hernando Small Engines Contact:
Contact Phone:
Contact Email:
Hernando MS
Phone:
Fax:
Hess Inc Contact:
Contact Phone:
Contact Email:
Mt Pleasant Tx
Phone:
Fax:
Highland Rim Tractor Contact:
Contact Phone:
Contact Email:
Goodlettsville TN
Phone:
Fax:
Hillside Outdoors Contact:
Contact Phone:
Contact Email:
Gatesville TX
Phone:
Fax:
Hi-Plains Farm Equipment Contact:
Contact Phone:
Contact Email:
Dodge City KS
Phone:
Fax:
Hirsch Feed & Farm Thayer Contact:
Contact Phone:
Contact Email:
Thayer MO
Phone:
Fax:
Hirsch Feed & Farm West Plains Contact:
Contact Phone:
Contact Email:
West Plains MO
Phone:
Fax:
Histand's Equipment Contact:
Contact Phone:
Contact Email:
Doylestown PA
Phone:
Fax:
Hobbs Equipment Contact:
Contact Phone:
Contact Email:
Paris TN
Phone:
Fax:
Hobdy Dye and Read Contact:
Contact Phone:
Contact Email:
Hardinsburg KY
Phone:
Fax:
Hobdy Dye and Read Contact:
Contact Phone:
Contact Email:
Columbia KY
Phone:
Fax:
Hobdy, Dye & Read Contact:
Contact Phone:
Contact Email:
Leitchfield KY
Phone:
Fax:
Hobdy, Dye and Read Contact:
Contact Phone:
Contact Email:
Bowling Green KY
Phone:
Fax:
Hobdy, Dye and Read Contact:
Contact Phone:
Contact Email:
Scottsville KY
Phone:
Fax:
Hoffpauir Inc Contact:
Contact Phone:
Contact Email:
Lampasas TX
Phone:
Fax:
Hoffpauir Outdoor Superstore Contact:
Contact Phone:
Contact Email:
San Saba TX
Phone:
Fax:
Hoffpauir Outdoor Superstore Contact:
Contact Phone:
Contact Email:
Burnet TX
Phone:
Fax:
Holland Equipment Contact:
Contact Phone:
Contact Email:
Oglesby IL
Phone:
Fax:
Holt Ag Contact:
Contact Phone:
Contact Email:
Sikeston MO
Phone:
Fax:
Hoosier RV & Equipment Sales Contact:
Contact Phone:
Contact Email:
Connersville IN
Phone:
Fax:
Hurst Equipment Contact:
Contact Phone:
Contact Email:
Norman Park GA
Phone:
Fax:
Ikerd Power Sports Contact:
Contact Phone:
Contact Email:
Warrensburg MO
Phone:
Fax:
Independence County Off Road Contact:
Contact Phone:
Contact Email:
Batesville AR
Phone:
Fax:
Irwin Equipment Contact:
Contact Phone:
Contact Email:
Batavia IA
Phone:
Fax:
Jack's Lawn Repair Contact:
Contact Phone:
Contact Email:
Arcadia FL
Phone:
Fax:
Jamies Small Engine Contact:
Contact Phone:
Contact Email:
Lovettsville VA
Phone:
Fax:
John & LeRoy Tomlinson Contact:
Contact Phone:
Contact Email:
Marlette Mi
Phone:
Fax:
Johns Sales Contact:
Contact Phone:
Contact Email:
Willmar MN
Phone:
Fax:
Johns Tractor Contact:
Contact Phone:
Contact Email:
Lincoln NE
Phone:
Fax:
Johnson Farm Service Contact:
Contact Phone:
Contact Email:
Sims NC
Phone:
Fax:
Johnsons Sales and Service Contact:
Contact Phone:
Contact Email:
Mortons Gap KY
Phone:
Fax:
Jonesboro Tractor Contact:
Contact Phone:
Contact Email:
Jonesboro AR
Phone:
Fax:
K&G Mowers & Equipment Contact:
Contact Phone:
Contact Email:
Paris TX
Phone:
Fax:
Karns Performance Contact:
Contact Phone:
Contact Email:
Mechanicsburg PA
Phone:
Fax:
Kelly Tractor Contact:
Contact Phone:
Contact Email:
Longview TX
Phone:
Fax:
Kenansville Equipment Co Contact:
Contact Phone:
Contact Email:
Kenansville NC
Phone:
Fax:
Kenjabruch Contact:
Contact Phone:
Contact Email:
Elton LA
Phone:
Fax:
Killduff Supply Contact:
Contact Phone:
Contact Email:
Sully IA
Phone:
Fax:
Kinstree Power Equipment Contact:
Contact Phone:
Contact Email:
Kinstree SC
Phone:
Fax:
Kirby's Super Sports Contact:
Contact Phone:
Contact Email:
Chanute KS
Phone:
Fax:
Kleins Saw Shop Contact:
Contact Phone:
Contact Email:
Sedalia MO
Phone:
Fax:
Krueger Parts & Repair Contact:
Contact Phone:
Contact Email:
Somonauk IL
Phone:
Fax:
Kubota of NW AR Contact:
Contact Phone:
Contact Email:
Springdale AR
Phone:
Fax:
Kubota of Warsaw Contact:
Contact Phone:
Contact Email:
Warsaw IN
Phone:
Fax:
Kubota Tractor of the Tri-State Contact:
Contact Phone:
Contact Email:
Florance KY
Phone:
Fax:
Lacaze Outdoor Power Contact:
Contact Phone:
Contact Email:
Pineville LA
Phone:
Fax:
Landmakr Equipment Contact:
Contact Phone:
Contact Email:
McKinney TX
Phone:
Fax:
Landmark Equipment Contact:
Contact Phone:
Contact Email:
Waxahatchie TX
Phone:
Fax:
Landmark Equipment Contact:
Contact Phone:
Contact Email:
Irving TX
Phone:
Fax:
Landmark Equipment Contact:
Contact Phone:
Contact Email:
Fort Worth TX
Phone:
Fax:
Lawn Care Eequipment St Louis Contact:
Contact Phone:
Contact Email:
Brentwood MO
Phone:
Fax:
Lawn Care Equipment Desoto Contact:
Contact Phone:
Contact Email:
DeSoto MO
Phone:
Fax:
Lawson's of New Market Contact:
Contact Phone:
Contact Email:
New Market MD
Phone:
Fax:
Lawsons Tractor and Implement Contact:
Contact Phone:
Contact Email:
Lebanon KY
Phone:
Fax:
Lawsons Tractor and Implement Contact:
Contact Phone:
Contact Email:
Stanford KY
Phone:
Fax:
le True Value Contact:
Contact Phone:
Contact Email:
Centerville IA
Phone:
Fax:
Lee Highway Nursery Contact:
Contact Phone:
Contact Email:
Warrenton VA
Phone:
Fax:
Lee-HI Lawn Care Equipment Contact:
Contact Phone:
Contact Email:
Lenoir City TN
Phone:
Fax:
Lee's Lawn Care Contact:
Contact Phone:
Contact Email:
Moberly MO
Phone:
Fax:
LESS of Tampa Contact:
Contact Phone:
Contact Email:
12855 49th St. Clearwater, FL 33762
Phone:(727) 873-6929
Fax:
Little Tractor & Equipment Contact:
Contact Phone:
Contact Email:
Metropolis IL
Phone:
Fax:
Louis Yazoo Sales & Service Contact:
Contact Phone:
Contact Email:
Beaumount TX
Phone:
Fax:
Louisiana Farmers Warehouse Contact:
Contact Phone:
Contact Email:
Morganza LA
Phone:
Fax:
LowCoSmall Engine Contact:
Contact Phone:
Contact Email:
Clare MI
Phone:
Fax:
MacClenny Mower & Saw Contact:
Contact Phone:
Contact Email:
MacClenny FL
Phone:
Fax:
MacDaddy Repair Service Center Contact:
Contact Phone:
Contact Email:
Land O Lakes, FL
Phone:
Fax:
Maple Lawn Equipment Contact:
Contact Phone:
Contact Email:
Elkhart Lake WI
Phone:
Fax:
Maple River Repair Contact:
Contact Phone:
Contact Email:
Danbury IA
Phone:
Fax:
Maple River Repair Contact:
Contact Phone:
Contact Email:
Danbury IA
Phone:
Fax:
Markleys Contact:
Contact Phone:
Contact Email:
Dennis KS
Phone:
Fax:
Mauldin Tractor Contact:
Contact Phone:
Contact Email:
Hattiesburg MS
Phone:
Fax:
Maxx Powersport Contact:
Contact Phone:
Contact Email:
Winchester VA
Phone:
Fax:
Mayfield Lawn and Garden Contact:
Contact Phone:
Contact Email:
Mayfield KY
Phone:
Fax:
McGyver's Lawnmowers Contact:
Contact Phone:
Contact Email:
Rayne LA
Phone:
Fax:
McMaster New Holland Contact:
Contact Phone:
Contact Email:
Decatur TX
Phone:
Fax:
Minnesota Valley Small Engine Contact:
Contact Phone:
Contact Email:
Granite Falls MN
Phone:
Fax:
Molders Outdoor Power Contact:
Contact Phone:
Contact Email:
Shelbyville TN
Phone:
Fax:
Montgomery Tractor Sales Contact:
Contact Phone:
Contact Email:
Mt Sterling KY
Phone:
Fax:
Moore Equipment Inc Contact:
Contact Phone:
Contact Email:
Carthage MS
Phone:
Fax:
Moore's Repair Service Contact:
Contact Phone:
Contact Email:
McConnells SC
Phone:
Fax:
More Farm Store Contact:
Contact Phone:
Contact Email:
Columbia City IN
Phone:
Fax:
More's Kubota of Ft Wayne Contact:
Contact Phone:
Contact Email:
Ft Wayne IN
Phone:
Fax:
Moreys Small Engine Contact:
Contact Phone:
Contact Email:
Tracy MN
Phone:
Fax:
Morton & Sherman Implement Co Contact:
Contact Phone:
Contact Email:
Oxford NC
Phone:
Fax:
Mortons Power Equipment Contact:
Contact Phone:
Contact Email:
Fredricksburg VA
Phone:
Fax:
Mountain Extreme Contact:
Contact Phone:
Contact Email:
Rockton PA
Phone:
Fax:
Mountaineer Power Equipment Contact:
Contact Phone:
Contact Email:
Grafton WV
Phone:
Fax:
Mr. Wrenchs Trading Post Contact:
Contact Phone:
Contact Email:
Bevier MO
Phone:
Fax:
Muddy River Contact:
Contact Phone:
Contact Email:
Oak Grove LA
Phone:
Fax:
NAPA AUTO PARTS Contact:
Contact Phone:
Contact Email:
PONTOTOC MS
Phone:
Fax:
Nashville Tractor Contact:
Contact Phone:
Contact Email:
Nashville GA
Phone:
Fax:
Nashville Tractor Contact:
Contact Phone:
Contact Email:
Valdosta GA
Phone:
Fax:
National Truck Equipment Contact:
Contact Phone:
Contact Email:
Crittenden KY
Phone:
Fax:
NCI Power Equipment Contact:
Contact Phone:
Contact Email:
Newark OH
Phone:
Fax:
NCI Power Equipment Contact:
Contact Phone:
Contact Email:
Lewis Center OH
Phone:
Fax:
NCI Power Equipment Contact:
Contact Phone:
Contact Email:
Bellville OH
Phone:
Fax:
Niemeyer Repair Service Inc Contact:
Contact Phone:
Contact Email:
Humboldt IL
Phone:
Fax:
Nor-Tex Tractor Contact:
Contact Phone:
Contact Email:
Sulphur s
Phone:
Fax:
Nor-Tex Tractor Contact:
Contact Phone:
Contact Email:
Sulphur Springs TX
Phone:
Fax:
Northside Equipment Contact:
Contact Phone:
Contact Email:
Richmond KY
Phone:
Fax:
Novia Industries Contact:
Contact Phone:
Contact Email:
Ocala FL
Phone:
Fax:
O.C. Rice Tractors & Equipment Contact:
Contact Phone:
Contact Email:
Biglerville PA
Phone:
Fax:
O'hair Automotive Contact:
Contact Phone:
Contact Email:
Van Wert IA
Phone:
Fax:
Olatha Tractor Contact:
Contact Phone:
Contact Email:
Olatha KS
Phone:
Fax:
Outdoor Power Contact:
Contact Phone:
Contact Email:
Woodsville MS
Phone:
Fax:
Outdoor Power of Crestview Contact:
Contact Phone:
Contact Email:
Crestview FL
Phone:
Fax:
Outdoor Specialties Contact:
Contact Phone:
Contact Email:
Eastland TX
Phone:
Fax:
Palmetto Equipment Sales Inc. Contact: Ralph Woodson
Contact Phone:(864) 847-1400
Contact Email:
1105 Anderson Drive Williamston, SC 29697
Phone:(864) 847-1400
Fax:
Parallel Power Contact:
Contact Phone:
Contact Email:
Sandston VA
Phone:
Fax:
PBR Equipment Contact:
Contact Phone:
Contact Email:
Tishomingo oK
Phone:
Fax:
Pearl River Outdoor Equipment Contact:
Contact Phone:
Contact Email:
Philadelphia MS
Phone:
Fax:
Perimeter Takeuchi Contact:
Contact Phone:
Contact Email:
Buford GA
Phone:
Fax:
Perkins Ace Hardware Contact:
Contact Phone:
Contact Email:
Brookhaven MS
Phone:
Fax:
Pitts Rental & Sales Inc Contact:
Contact Phone:
Contact Email:
Meadville PA
Phone:
Fax:
Plum Creek Motors Contact:
Contact Phone:
Contact Email:
Lexington NE
Phone:
Fax:
Pocono Power Center Contact:
Contact Phone:
Contact Email:
Swiftwater PA
Phone:
Fax:
Polk County Tractor Contact:
Contact Phone:
Contact Email:
Mena AR
Phone:
Fax:
Ponder Power Equipment Contact:
Contact Phone:
Contact Email:
Bossier City LA
Phone:
Fax:
Poplar Bluff Farm Equipment Contact:
Contact Phone:
Contact Email:
Poplar Bluff MO
Phone:
Fax:
Power Mower Sales Contact:
Contact Phone:
Contact Email:
Miami FL
Phone:
Fax:
Powerhouse Equipment Contact:
Contact Phone:
Contact Email:
Smithfield VA
Phone:
Fax:
Prattville Power Sports Contact:
Contact Phone:
Contact Email:
Prattville AL
Phone:
Fax:
Priester's Outdoor Store Contact:
Contact Phone:
Contact Email:
Barnwell SC
Phone:
Fax:
ProPower Contact:
Contact Phone:
Contact Email:
Baton Rouge LA
Phone:
Fax:
Pugh Services Contact:
Contact Phone:
Contact Email:
Dover DE
Phone:
Fax:
R & R Equipment Contact:
Contact Phone:
Contact Email:
Fort Scott KS
Phone:
Fax:
R & R Equipment Contact:
Contact Phone:
Contact Email:
Fort Scott KS
Phone:
Fax:
Radke Implement Contact:
Contact Phone:
Contact Email:
Russell KS
Phone:
Fax:
Radke Implement Contact:
Contact Phone:
Contact Email:
Hays KS
Phone:
Fax:
Ranchland Tractor and ATV Contact:
Contact Phone:
Contact Email:
Saucier MS
Phone:
Fax:
Redwood Sales & Service Contact:
Contact Phone:
Contact Email:
Kankakee IL
Phone:
Fax:
RF Enterprises Contact:
Contact Phone:
Contact Email:
Lexington NC
Phone:
Fax:
RH McCrary's Hardware Contact:
Contact Phone:
Contact Email:
Winnsborro TX
Phone:
Fax:
Richlands Great Outdoors Contact:
Contact Phone:
Contact Email:
Richlans NC
Phone:
Fax:
River Valley Equipment Contact:
Contact Phone:
Contact Email:
Russellville AR
Phone:
Fax:
RJs Power Equipment Contact:
Contact Phone:
Contact Email:
Vineland NJ
Phone:
Fax:
ROANOKE GOLF CARS Contact:
Contact Phone:
Contact Email:
Roanoke VA
Phone:
Fax:
Robin Rents Contact:
Contact Phone:
Contact Email:
Huntsville AL
Phone:
Fax:
Robin Rents Contact:
Contact Phone:
Contact Email:
Madison AL
Phone:
Fax:
Rodgers & Sons Inc Contact:
Contact Phone:
Contact Email:
Cherry Creek NY
Phone:
Fax:
Roger Auto & Truck Contact:
Contact Phone:
Contact Email:
Fayette AL
Phone:
Fax:
Roorks Farm Supply Contact:
Contact Phone:
Contact Email:
Elmer NJ
Phone:
Fax:
Rother Bros Inc Contact:
Contact Phone:
Contact Email:
Fairview OK
Phone:
Fax:
Rother Bros. Inc Contact:
Contact Phone:
Contact Email:
Clinton OK
Phone:
Fax:
S & H Farm Supply Joplin Contact:
Contact Phone:
Contact Email:
Joplin MO
Phone:
Fax:
S & H Farm Supply Lockwood Contact:
Contact Phone:
Contact Email:
Lockwood MO
Phone:
Fax:
S & H Farm Supply Mountain Grove Contact:
Contact Phone:
Contact Email:
Mountain Grove MO
Phone:
Fax:
S & H Farm Supply Rogersville Contact:
Contact Phone:
Contact Email:
Rogersville MO
Phone:
Fax:
S & K Sales & Service Contact:
Contact Phone:
Contact Email:
Garrettsville OH
Phone:
Fax:
S & S Small Engine Repair Contact:
Contact Phone:
Contact Email:
Rosenberg TX
Phone:
Fax:
S.T.O.P. EQUIPMENT Contact:
Contact Phone:
Contact Email:
Conroe TX
Phone:
Fax:
S-1 Tractor Contact:
Contact Phone:
Contact Email:
Shawnee OK
Phone:
Fax:
S-1 Tractor Contact:
Contact Phone:
Contact Email:
Seminole OK
Phone:
Fax:
Safeway Mahindra Contact:
Contact Phone:
Contact Email:
Burgaw NC
Phone:
Fax:
Sam's Material & More Inc Contact:
Contact Phone:
Contact Email:
Pinkneyville IL
Phone:
Fax:
Samson Repair & Sales Contact:
Contact Phone:
Contact Email:
Troy AL
Phone:
Fax:
Sarasota Fun Machines Contact:
Contact Phone:
Contact Email:
Sarasota FL
Phone:
Fax:
Sauer Implement Contact:
Contact Phone:
Contact Email:
Flemingsburg KY
Phone:
Fax:
Schlitz Truck Sales Contact:
Contact Phone:
Contact Email:
Lamar MO
Phone:
Fax:
Schuellers Sales Contact:
Contact Phone:
Contact Email:
Redwood Falls MN
Phone:
Fax:
Scott Equipment Contact:
Contact Phone:
Contact Email:
Biggsville IL
Phone:
Fax:
Seneca Rental & Sales Contact:
Contact Phone:
Contact Email:
Logan OH
Phone:
Fax:
Sharp's Mower Contact:
Contact Phone:
Contact Email:
Bartlesville oK
Phone:
Fax:
Sherrod Sales Contact:
Contact Phone:
Contact Email:
Lake City FL
Phone:
Fax:
Sherwood Tractor Contact:
Contact Phone:
Contact Email:
Rose Bud AR
Phone:
Fax:
Shoreline Mower Contact:
Contact Phone:
Contact Email:
Edgewater FL
Phone:
Fax:
Siler Implement Contact:
Contact Phone:
Contact Email:
Corbin KY
Phone:
Fax:
Skyline Lawn & Garden Contact:
Contact Phone:
Contact Email:
Rossville GA
Phone:
Fax:
Small Engine Repair Contact:
Contact Phone:
Contact Email:
Bradenton FL
Phone:
Fax:
Smithco Contact:
Contact Phone:
Contact Email:
Pataskala OH
Phone:
Fax:
Southcoast Power Equipment Contact:
Contact Phone:
Contact Email:
Westport MA
Phone:
Fax:
Southeast Auto Plex Contact: Dave Weatherford
Contact Phone:(580) 286-7561
Contact Email:
1312 S.E. Washington St. Idabel, OK 74745
Phone:
Fax:
Southern Landscape Supply Contact:
Contact Phone:
Contact Email:
Cookeville TN
Phone:
Fax:
Southern Powerworks Contact:
Contact Phone:
Contact Email:
Defunlak Springs FL
Phone:
Fax:
Southside Deridder Contact:
Contact Phone:
Contact Email:
Deridder LA
Phone:
Fax:
Sparks Trailers Contact:
Contact Phone:
Contact Email:
Battle Lake MN
Phone:
Fax:
St Joseph Tractor Contact:
Contact Phone:
Contact Email:
St Joseph MO
Phone:
Fax:
Stan's Auto Sales Contact:
Contact Phone:
Contact Email:
York PA
Phone:
Fax:
Stans Yard & Sport Contact:
Contact Phone:
Contact Email:
Gobles MI
Phone:
Fax:
STEC Equipment Contact:
Contact Phone:
Contact Email:
Anderson SC
Phone:
Fax:
Stelton Power Contact:
Contact Phone:
Contact Email:
Piscatawy NJ
Phone:
Fax:
Stone's Farm Service Contact:
Contact Phone:
Contact Email:
Greensburg IN
Phone:
Fax:
Superior Equipment Contact:
Contact Phone:
Contact Email:
Memphis TN
Phone:
Fax:
Sutton Tractor Contact:
Contact Phone:
Contact Email:
Tulsa OK
Phone:
Fax:
Swain Equipment Contact:
Contact Phone:
Contact Email:
Albany GA
Phone:
Fax:
T&T Service Center Contact:
Contact Phone:
Contact Email:
Grove City OH
Phone:
Fax:
T.H.E. Company Contact:
Contact Phone:
Contact Email:
Mount Pleasant IA
Phone:
Fax:
T.H.E. Company Contact:
Contact Phone:
Contact Email:
Mount Pleasant IA
Phone:
Fax:
Target Tool Rental & Sales Contact:
Contact Phone:
Contact Email:
Dayton OH
Phone:
Fax:
Taul Equipment Contact:
Contact Phone:
Contact Email:
Cecilia KY
Phone:
Fax:
Tavener Lawnmower Inc Contact:
Contact Phone:
Contact Email:
Tavener FL
Phone:
Fax:
Taylor Rental Contact:
Contact Phone:
Contact Email:
Okeechobee FL
Phone:
Fax:
TECH PRO Contact:
Contact Phone:
Contact Email:
Crossett AR
Phone:
Fax:
Terrebonne Lawn & Service Contact:
Contact Phone:
Contact Email:
Galliano LA
Phone:
Fax:
Texarkana New Holland Contact:
Contact Phone:
Contact Email:
Texarkana TX
Phone:
Fax:
Texas Tractor Country Contact:
Contact Phone:
Contact Email:
New Braunfels TX
Phone:
Fax:
TFG Manufacturing Contact:
Contact Phone:
Contact Email:
Chillicothe MO
Phone:
Fax:
The Power Shop Contact:
Contact Phone:
Contact Email:
West Lafayette OH
Phone:
Fax:
The Tractor Place Contact:
Contact Phone:
Contact Email:
Centre AL
Phone:
Fax:
The Tractor Store Contact:
Contact Phone:
Contact Email:
Richland MS
Phone:
Fax:
The Tractor Store #2 Contact:
Contact Phone:
Contact Email:
Forest MS
Phone:
Fax:
Thompson Nursery Contact:
Contact Phone:
Contact Email:
Rocky Mount NC
Phone:
Fax:
Thompson Tractor Co Contact:
Contact Phone:
Contact Email:
Ft Pierce FL
Phone:
Fax:
Timberline Truck Contact:
Contact Phone:
Contact Email:
Glenwood AR
Phone:
Fax:
Timberline Truck Contact:
Contact Phone:
Contact Email:
Hot Springs AR
Phone:
Fax:
TN Valley Tractor Contact:
Contact Phone:
Contact Email:
McMinnville TN
Phone:
Fax:
Tony Brown Chevrolet Contact:
Contact Phone:
Contact Email:
Brandenburg KY
Phone:
Fax:
Total Customs Power Sport Contact:
Contact Phone:
Contact Email:
Columbus MS
Phone:
Fax:
Total Golf Cart Contact:
Contact Phone:
Contact Email:
Vero Beach FL
Phone:
Fax:
Town & Country Mart Contact:
Contact Phone:
Contact Email:
Menomonee Falls WI
Phone:
Fax:
TPC Power Center Contact:
Contact Phone:
Contact Email:
Bloomsburg PA
Phone:
Fax:
Tractor Bob's Contact:
Contact Phone:
Contact Email:
Oklahoma City OK
Phone:
Fax:
Tractor Yard Contact:
Contact Phone:
Contact Email:
Coweta OK
Phone:
Fax:
Tri County Equipment Contact:
Contact Phone:
Contact Email:
Jefferson City TN
Phone:
Fax:
Tri State Lawn Equipment Contact:
Contact Phone:
Contact Email:
Cincinnati OH
Phone:
Fax:
Trinity Valley Tractor Contact:
Contact Phone:
Contact Email:
Dayton TX
Phone:
Fax:
Trover's Equipment Contact:
Contact Phone:
Contact Email:
Vienna IL
Phone:
Fax:
Twin City Tractor & Equipment Contact:
Contact Phone:
Contact Email:
Sherwood AR
Phone:
Fax:
Twin City Tractor & Equipment Alexander AR Contact:
Contact Phone:
Contact Email:

Phone:
Fax:
Twin Lakes Farm & Lawn Contact:
Contact Phone:
Contact Email:
Mountain Home AR
Phone:
Fax:
University ACE Hardware Contact:
Contact Phone:
Contact Email:
Auburn AL
Phone:
Fax:
urner Tractor Contact:
Contact Phone:
Contact Email:
Evans City PA
Phone:
Fax:
Venture Equipment Contact:
Contact Phone:
Contact Email:
Searcy AR
Phone:
Fax:
Waco Landscape Supply Contact:
Contact Phone:
Contact Email:
Waco TX
Phone:
Fax:
Wade Tractor Contact:
Contact Phone:
Contact Email:
Griffin GA
Phone:
Fax:
Wades Service Center Contact:
Contact Phone:
Contact Email:
Valley City ND
Phone:
Fax:
Wallace Tractor Contact:
Contact Phone:
Contact Email:
Jeff Township PA
Phone:
Fax:
Warranty Plus Contact:
Contact Phone:
Contact Email:
Elizabithton TN
Phone:
Fax:
Washington County Outdoor Contact:
Contact Phone:
Contact Email:
Brenham TX
Phone:
Fax:
Washington County Tractor Contact:
Contact Phone:
Contact Email:
Bryan TX
Phone:
Fax:
Washington County Tractor Contact:
Contact Phone:
Contact Email:
Navasota TX
Phone:
Fax:
Washington County Tractor Contact:
Contact Phone:
Contact Email:
Sealy TX
Phone:
Fax:
Watson Dillard Contact:
Contact Phone:
Contact Email:
Ash Flat AR
Phone:
Fax:
Wayne Wicker Inc Contact:
Contact Phone:
Contact Email:
Leesburg FL
Phone:
Fax:
Weaver Repair Contact:
Contact Phone:
Contact Email:
Geneva NE
Phone:
Fax:
Weeks Tractor and Supply Contact:
Contact Phone:
Contact Email:
Natchitoches LA
Phone:
Fax:
Wells Tractor Contact:
Contact Phone:
Contact Email:
Dothan AL
Phone:
Fax:
Western Lawn Equipment Contact:
Contact Phone:
Contact Email:
O'Fallon MO
Phone:
Fax:
Westview Tractors Contact:
Contact Phone:
Contact Email:
Canterbury CT
Phone:
Fax:
White Barn Contact:
Contact Phone:
Contact Email:
Hamilton OH
Phone:
Fax:
White River Powersports Contact:
Contact Phone:
Contact Email:
Stuttgart AR
Phone:
Fax:
Wichita Tractor Contact:
Contact Phone:
Contact Email:
Wichita KS
Phone:
Fax:
Wichita Tractor-Hutch Contact:
Contact Phone:
Contact Email:
Hutchinson KS
Phone:
Fax:
Wildung Implement Contact:
Contact Phone:
Contact Email:
Nassau MN
Phone:
Fax:
Wilson Tractor Contact:
Contact Phone:
Contact Email:
Newberry SC
Phone:
Fax:
Womack Ag. Services Contact:
Contact Phone:
Contact Email:
Nacona TX
Phone:
Fax:
WorkForce Outdoor Power Contact:
Contact Phone:
Contact Email:
Middletown OH
Phone:
Fax:
Worthington Sports Center Contact:
Contact Phone:
Contact Email:
Worthington MN
Phone:
Fax:
Wynn Enterprises Contact:
Contact Phone:
Contact Email:
Laurens SC
Phone:
Fax:
Yamaha Motorsports Contact:
Contact Phone:
Contact Email:
Hutchinson MN
Phone:
Fax:
Yard Stop Contact:
Contact Phone:
Contact Email:
Ocala FL
Phone:
Fax:
Yearwood Equipment Co Contact:
Contact Phone:
Contact Email:
Fayetteville TN
Phone:
Fax: