EMAIL PO & VENDOR QUOTE TO: TIPSPO@TIPS-USA.COM
PO MUST REFERENCE VENDOR'S TIPS CONTRACT NUMBER
ATTACH PO AS A PDF - ONLY ONE PO (WITH QUOTE) PER ATTACHMENT

Print
VENDOR

Workrite Ergonomics Canada

2277 Pine View Way, Suite 100 Petaluma CA,94954

WEBSITE

www.workriteergo.com

SERVICE/PRODUCTS DESCRIPTION

Workrite Ergonomics is an internationally recognized leader in the design, manufacture and distribution of innovative ergonomic products for the workplace. For more than 20 years, Workrite has set the standard for ergonomic office products including adjustable height workcenters, keyboard platform systems and flat panel monitor support systems.Workrite's designers and engineers incorporate modern design techniques, the latest technologies, and the highest quality specifications in the industry to create products that are sure to complement even the most sophisticated office decor. Times change and so do office environments. Workrite products can be easily adapted to meet the needs of virtually anyone, in any office environment, making them the smart investment for today's most demanding and dynamic organizations.At Workrite, we understand that companies invest in ergonomics programs because they know that happy, healthy workers are more productive. That's why our products are designed to provide a more comfortable work experience, engaging people to use them and providing you with a greater return on investment. Every Workrite product is designed with the direct input of the ergonomics community, ensuring that they not only perform complex functions to enhance user comfort and productivity but are also intuitively simple to use.
Workrite Ergonomics Canada
CONTRACT: 180305 Furniture, Furnishings and Services (2)
May-25-2018 to May-31-2020
EDGAR COMPLIANCE : Yes
Workrite Ergonomics Canada

Print
Furniture, Furnishings and Services (2) (180305)
Exp.Date 05/31/2020 EDGAR: Yes
| | |
| --- | --- |
| | Primary |
| Contact | Donna Bobalek |
| Title | National Government Contract Specialist |
| Phone | (571) 565-5077 |
| Email | dbobalek@workriteergo.com |
| | |
| --- | --- |
| DISADVANTAGED/MINORITY/WOMAN BUSINESS ENTERPRISE | No |
| HISTORICALLY UNDERUTILIZED BUSINESS (HUB) | No |
| | |
| --- | --- |
| | AL , AK , AZ , AR , CA , CO , CT , DE , DC , FL , GA , HI , ID , IL , IN , IA , KS , KY , LA , ME , MD , MA , MI , MN , MS , MO , MT , NE , NV , NH , NJ , NM , NY , NC , ND , OH , OK , OR , PA , RI , SC , SD , TN , TX , UT , VT , VA , WA , WI , WY |
Live Oak Equipment Finance is the exclusive financial parter of TIPS! Allow LOEF to help assist you in your financial needs today!

We are committed to provide a financing experience based on unwavering integrity, unmatched service and complete transparency. Our processes have been established with the client in mind, and we are dedicated to ensuring that you enjoy your experience working with our team. Our goal is for you to build a long-term relationship with Live Oak Equipment Finance, not only as your financial partner, but also a firm that can help you grow and excel as a professional in your industry.
Contact Information:
Phone: (512) 726-0367
Email: tips@loeqf.com
Website: www.loeqf.com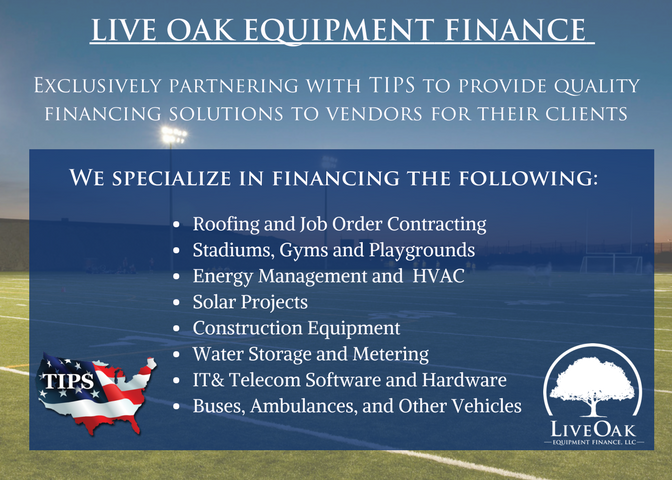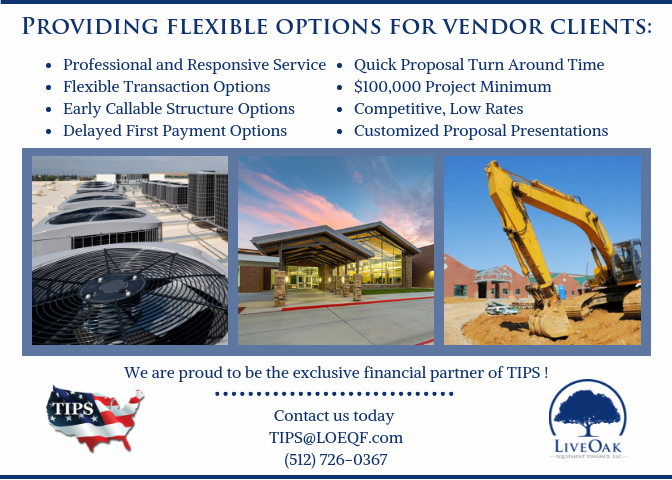 Get VCard for Primary Contact by Contract
Workrite Ergonomics Canada
Resellers listed below may also hold a current TIPS contract. PO's for quotes provided by a reseller that are also awarded in the same category will be processed and sent directly to that reseller.

Please check under "ALL VENDORS" before requesting a quote from any listed reseller.
Resellers
Address
360 OFFICE SOLUTIONS http://360-os.com/
Contact:
Contact Phone:
Contact Email: info@360-OS.com
3676 PIERCE PARKWAY, BILLINGS, MT, 59106
Phone:
Fax:
ABACUS COMPUTERS INC http://www.abacustx.com/
Contact:
Contact Phone:
Contact Email: purchasing@abacustx.com
6 DESTA DR, MIDLAND, TX, 79705-5512
Phone:
Fax:
Ables-Land, Inc http://supplies.ablesland.com/
Contact:
Contact Phone:
Contact Email: jodi@ablesland.com
PO Box 7933, Tyler, TX, 75711
Phone:
Fax:
ACCENT COMMERCIAL FURNITURE http://accentny.com/
Contact:
Contact Phone:518-482-0528
Contact Email:
132 RAILROAD AVENUE EXT, ALBANY, NY, 12205
Phone:
Fax:
ACCESS ERGONOMICS - SAN JOSE http://accessergonomics.com/
Contact:
Contact Phone:408-291-0995
Contact Email: accessergo@yahoo.com
1702-L MERIDIAN #149, SAN JOSE, CA, 95125
Phone:
Fax:
ADAPTIVE LIVING http://www.adaptivelivingstore.com/
Contact:
Contact Phone:
Contact Email: vanetten@adaptiveliving.com
4981 S.E. STERLING CIRCLE, STUART, FL, 34997
Phone:
Fax:
ADVANCED ERGONOMIC CONC. http://www.advan-ergo.com/
Contact:
Contact Phone:314-994-0504
Contact Email: orders@advan-ergo.com
11766 WESTLINE INDUSTRIAL DR, ST LOUIS, MO, 63146
Phone:
Fax:
ADVANCED OFFICE ENVIROMENTS http://www.advancedofficeenv.com/
Contact:
Contact Phone:
Contact Email: orders@advancedofficeenv.com
160 QUAKER LANE, MALVERN, PA, 19355
Phone:
Fax:
ADVANTAGE OFFICE SOLUTIONS http://advantageofficeinc.com/
Contact:
Contact Phone:
Contact Email: jan@usadvantage.net
65 LEGGETT DR, VILLA RICA, GA, 30180
Phone:
Fax:
AECOM http://www.aecom.com/
Contact:
Contact Phone:
Contact Email: AECOMPS.AP@AECOM.COM
PO BOX 6124, FALLS CHURCH, VA, 22040-6124
Phone:
Fax:
Affordable Office Interiors http://affordableoffice.com/
Contact:
Contact Phone:630-665-3063
Contact Email:
365 E. NORTH AVENUE, CAROL STREAM, IL, 60188
Phone:
Fax:
AIR TECHNOLOGIES CORPORATION http://www.airtech.net/
Contact:
Contact Phone:949-661-2454
Contact Email: ken@airtech.net
25641 WHITE SANDS STREET, DANA POINT, CA, 92629
Phone:
Fax:
AK BUSINESS INTERIORS Contact:
Contact Phone:
Contact Email: akbusinessinteriors@gmail.com
700 HOLLYWOOD DRIVE, ANCHORAGE, AK, 99501
Phone:
Fax:
ALEXANDER PATTERSON GROUP INC. http://www.apgof.com/
Contact:
Contact Phone:
Contact Email: ap@apgof.com
12075 N.W. BLVD., SPRINGDALE, OH, 45246
Phone:
Fax:
ALFRED WILLIAMS - GREENSBORO http://www.alfredwilliams.com/
Contact:
Contact Phone:336-665-0960
Contact Email:
8007 NATIONAL SERVICE RD., GREENSBORO, NC, 27235
Phone:
Fax:
ALFRED WILLIAMS-RALEIGH/DURHAM http://www.alfredwilliams.com/
Contact:
Contact Phone:919-832-7626
Contact Email:
800 EAST SIX FORTS ROAD, RALEIGH, NC, 27609
Phone:
Fax:
ALIMED INC. http://www.alimed.com/
Contact:
Contact Phone:781-329-2771
Contact Email: purchasing@alimed.com; KStrang@alimed.com
297 HIGH STREET, DEDHAM, MA, 02026
Phone:
Fax:
ALL MAKES OFFICE EQUIPMENT CO http://www.allmakes.com/
Contact:
Contact Phone:402-977-3007
Contact Email:
209 SOUTH 25TH AVENUE, OMAHA, NE, 68131
Phone:
Fax:
ALTERNATIVE BUSINESS FURN. http://www.altbusfurn.com/
Contact:
Contact Phone:952937-7691
Contact Email: terir@altbusfurn.com
6533 FLYING CLOUD DRIVE, EDEN PRAIRIE, MN, 55344
Phone:
Fax:
ALTERNATIVE OFFICE SOLUTIONS http://www.alt-office.com/
Contact:
Contact Phone:408-767-2663
Contact Email:
381 E. 9TH STREET, GILROY, CA, 95020
Phone:
Fax:
AMERICAN INTERIORS http://www.aminteriors.com/
Contact:
Contact Phone:
Contact Email: John@aminteriors.com; sherry@aminteriors.com
302 South Byrne Rd, TOLEDO, OH, 43615
Phone:
Fax:
AMERICAN OFFICE http://www.americanoffice.com/
Contact:
Contact Phone:410-837-4952
Contact Email:
309 N CALVERT ST, BALTIMORE, MD, 21202
Phone:
Fax:
AMERICAN OFFICE PRODUCTS INC. http://www.aopdirect.com/
Contact:
Contact Phone:
Contact Email: purchasing@aopdirect.com
7900 ALABAMA AVENUE, CANOGA PARK, CA, 91304
Phone:
Fax:
ANDY STERN'S OFFICE FURNITURE, INC http://andysterns.com/
Contact:
Contact Phone:
Contact Email: astern@andysterns.com
5000 SUNNYSIDE AVE, BELTSVILLE, MD, 20705
Phone:
Fax:
ANTON GROUP, LLC http://www.antongroup.com/
Contact:
Contact Phone:612 376 7880
Contact Email: sarah@antongroup.com
226 COLFAX AVE NORTH, MINNAPOLIS, MN, 55405
Phone:
Fax:
AOI - OMAHA http://www.aoicorp.com/
Contact:
Contact Phone:
Contact Email: dreese@aoicorp.com
8801 S 137TH CIRCLE, OMAHA, NE, 68138-3455
Phone:
Fax:
APEX FACILITY RESOURCES INC-WPFU http://www.apexfacility.com/
Contact:
Contact Phone:
Contact Email: accountspayable@apexfacility.com
4435 COLORADO AVENUE SOUTH, SEATTLE, WA, 98134
Phone:
Fax:
APG OFFICE FURNISHINGS http://www.apgof.com/
Contact:
Contact Phone:330-996-5348
Contact Email: PURCHASING@APGOF.COM
12075 NORTHWEST BLVD, CINCINNATI, OH, 45246
Phone:
Fax:
APPLIED ERGONOMICS http://www.appliedergonomics.com/
Contact:
Contact Phone:847-933-0018
Contact Email: jmeltzer@appliedergonomics.com
7366 N LINCOLN AVE STE 403, LINCOLNWOOD, IL, 60712
Phone:
Fax:
ARENSON OFFICE FURNISHINGS http://www.aof.com/
Contact:
Contact Phone:
Contact Email: BScelta@aof.com
1115 Broadway, New York, NY, 10010
Phone:
Fax:
ARRANGED4COMFORT http://www.arranged4comfort.com/
Contact:
Contact Phone:
Contact Email: susan@arranged4comfort.com
790 LAUREL STREET #10, SAN CARLOS, CA, 94070
Phone:
Fax:
ARTHUR P. O'HARA, INC. http://www.arthurpohara.com/
Contact:
Contact Phone:630-786-5454
Contact Email:
2501 GRANT STREET, BELLWOOD, IL, 60104
Phone:
Fax:
ASSEMBLED PRODUCT SPECIALISTS http://www.assembledproduct.com/
Contact:
Contact Phone:619-563-4644
Contact Email:
4606 47TH STREET, SAN DIEGO, CA, 92115
Phone:
Fax:
ATD-AMERICAN CO http://www.atdamerican.com/atd/Shop?
Contact:
Contact Phone:215 690 3520
Contact Email: arivera@atd.com
135 GREENWOOD AVE, WYNCOTE, PA, 19095
Phone:
Fax:
ATLANTA OFFICE FURNITURE http://www.atlofficefurniture.com
Contact:
Contact Phone:
Contact Email: BILL.CRAVEN3@ATLOFFICEFURNITURE.COM
6695 JIMMY CARTER BLVD, NORCROSS, GA, 30071
Phone:
Fax:
ATLAS DESK & OFFICE EQUIPMENT CORP. http://www.atlasdesk.com/
Contact:
Contact Phone:
Contact Email: mcaraballo@atlasdesk.com
50LAFAYETTE ST., NEWARK, NJ, 07102-3604
Phone:
Fax:
ATTRONICA COMPUTERS, INC http://www.attronica.com/Main.asp
Contact:
Contact Phone:240-454-6496
Contact Email: JOHNL@ATTRONICA.COM
15867 GAITHER DR, GAITHERSBURG, MD, 20877
Phone:
Fax:
AUSTIN BUS FURNITURE http://www.austinbusinessfurniture.com/
Contact:
Contact Phone:512 832 6330
Contact Email: KFUERTSCH@ABFURN.COM
9300 UNITED DR, AUSTIN, TX, 78758
Phone:
Fax:
Austin Business Furniture Contact: Jay Femal
Contact Phone:(512) 832-6400
Contact Email: jfemal@abfurn.com
4030 W Braker Ln, Bldg 1, Suite #100, Austin, TX 78759
Phone:(512) 832-6400
Fax:
AWE CORPORATE INTERIOR http://www.awecorporateinteriors.com/
Contact:
Contact Phone:602-841-7139
Contact Email:
46 E. MONTEREY WAY, PHOENIX, AZ, 85012
Phone:
Fax:
BAKER STREET OFFICE FURNISHINGS CORP http://www.bakerstreetof.com/
Contact:
Contact Phone:
Contact Email: molly@bakerstreetof.com
P.O. BOX 10042, FORT WAYNE, IN, 46850-0042
Phone:
Fax:
BAREFIELD WORKPLACE SOLUTIONS http://www.barefieldandcompany.com/
Contact:
Contact Phone:
Contact Email: BBROWN@BAREFIELD-CO.COM
251 WEST SOUTH STREET, JACKSON, MS, 39202-3636
Phone:
Fax:
BBE OFFICE INTERIORS http://www.bbeoffice.com/
Contact:
Contact Phone:
Contact Email: quentin@bbeoffice.com
122 NORTH ST, PITTSFIELD, MA, 01201
Phone:
Fax:
BEEHIVE, LLC http://beehivesc.com/
Contact:
Contact Phone:
Contact Email: maureen@beehivesc.com
2002 NEEDLEGRASS LN, CHARLESTON, SC, 29412
Phone:
Fax:
BELLIA OFFICE FURNITURE INC http://www.bellia.net/
Contact:
Contact Phone:856-845-3392
Contact Email:
1047 NORTH BROAD ST, WOODBURY, NJ, 08096
Phone:
Fax:
BENHAR OFFICE INTERIORS http://www.benharoffice.com/
Contact:
Contact Phone:
Contact Email: jmayfield@benharoffice.com; mpduke@optonline.net
148 WEST 37TH ST, 12 FL, NEW YORK, NY, 10018
Phone:
Fax:
BETTER BACK�STORE http://www.thebetterbackstore.net/
Contact:
Contact Phone:787 758 2941
Contact Email: mrobetterback@yahoo.com
260 Piñero Avenue, University Gardens, San Juan, PR, 00927
Phone:
Fax:
B-I-L OFFICE FURNITURE http://www.bilofficefurniture.com/
Contact:
Contact Phone:718-497-4830
Contact Email:
61-65 METROPOLITAN AVE., MIDDLE VILLAGE, NY, 11379
Phone:
Fax:
BKM OFFICE WORKS http://www.bkmofficeworks.com/
Contact:
Contact Phone:858 277 8931
Contact Email: smiller@bkmsd.com
9201 SPECTRUM CENTER BLVD, SAN DIEGO, CA, 92123
Phone:
Fax:
BKM TOTAL OFFICE OF TEXAS http://www.bkmtexas.com/
Contact:
Contact Phone:214-902-7201
Contact Email:
9755 CLIFFORD DR, DALLAS, TX, 75220
Phone:
Fax:
BLACKBURN OFFICE EQUIPMENT http://www.blkbrn.com/blackburn/Blackburn_Office_Equipment.html
Contact:
Contact Phone:360-676-0935
Contact Email: grunhurdm@blkbrn.com
203 WEST CHESTNUT ST, BELLINGHAM, WA, 98225-4305
Phone:
Fax:
BLAISDELL'S http://blaisdells.com/
Contact:
Contact Phone:510-483-0959
Contact Email:
474 ROLAND WAY, OAKLAND, CA, 94621
Phone:
Fax:
BLUEFIN DESIGN GROUP http://www.bluefinoffice.com/
Contact:
Contact Phone:
Contact Email: info@bluefinofficce.com
780 NORTH 1200 WEST, OREM, UT, 84057
Phone:
Fax:
BRENNAN'S OFFICE INTERIORS http://www.brennansoi.com/
Contact:
Contact Phone:
Contact Email: bbrennan@brennansoi.com
650 CENTERPOINT BLVD, NEW CASTLE, DE, 19720
Phone:
Fax:
BRENNAN'S OFFICE INTERIORS http://www.brennansoi.com/
Contact:
Contact Phone:
Contact Email: bbrennan@brennansoi.com
967 EAST SWEDESFORD RD., #501, EXTON, PA, 19341-2332
Phone:
Fax:
BRONTMAN'S CORPORATE DIMENSIONS http://www.brontmans.com/
Contact:
Contact Phone:585-359-3048
Contact Email: larry@brontmans.com
3495 WINTON PLACE, ROCHESTER, NY, 14623
Phone:
Fax:
BROUSSARD GROUP http://www.broussardgroup.com/
Contact:
Contact Phone:210-224-6212
Contact Email:
1107 AT&T CENTER PARKWAY, SAN ANTONIO, TX, 78219
Phone:
Fax:
BURGESS AND COMPANY Contact:
Contact Phone:205-731-2113
Contact Email: customerservice@burgessinteriors.com
2401 2ND AVE NORTH, BIRMINGHAM, AL, 35203
Phone:
Fax:
BUSINESS ENVIRONMENT BY RAS http://bebyras.com/
Contact:
Contact Phone:518-272-1552
Contact Email:
106 DESPATCH DR., STE.2, EAST ROCHESTER, NY, 14445
Phone:
Fax:
BUSINESS ENVIRONMENTS http://www.businessenvironments.com/
Contact:
Contact Phone:
Contact Email: sherria@busenvir.com
5611 E Morgan Ave., Evansville, TN, 47715
Phone:
Fax:
BUSINESS ENVIRONMENTS http://www.businessenvironments.com/
Contact:
Contact Phone:7706670922
Contact Email:
3424 Peachtree Rd., Atlanta, GA, 30326
Phone:
Fax:
BUSINESS FURNITURE SERVICES http://www.bfsga.com/
Contact:
Contact Phone:
Contact Email: info@bfsga.com
2993 SANDY PLAINS RD NE, MARIETTA, GA, 30066
Phone:
Fax:
BUSINESS INTERIORS http://www.businteriors.com/
Contact:
Contact Phone:334-396-4440
Contact Email:
2101 Highland Ave., Ste. 300, BIRMINGHAM, AL, 35222
Phone:
Fax:
BUSINESS INTERIORS & SUPPLIES - Delaware http://www.businessinteriors.us/
Contact:
Contact Phone:302 777 4781
Contact Email:
PO BOX 1677, HOCKESSIN, DE, 19707
Phone:
Fax:
BUSINESS INTERIORS NORTHWEST INC http://www.binw.com/
Contact:
Contact Phone:253-592-6001
Contact Email: orders@binw.com
1707 DOCK STREET, TACOMA, WA, 98402
Phone:
Fax:
BUSINESS INTERIORS, INC http://www.businteriors.com/
Contact:
Contact Phone:601 969 5559
Contact Email: LAINEDURR@BIJACKSON.COM
146 MARKET RIDGE DR, RIDGELAND, MS, 39157
Phone:
Fax:
BUSINESS OFFICE OUTFITTERS http://boofurniture.com/
Contact:
Contact Phone:858-751-2746
Contact Email:
4650 OVERLAND AVE, SAN DIEGO, CA, 92123
Phone:
Fax:
CADDO SOLUTIONS http://www.caddosolutions.com/P1661/CaddoSolutions
Contact:
Contact Phone:
Contact Email: dkelin@caddosolutions.com
2760 W. 5TH AVE, DENVER, CO, 80205
Phone:
Fax:
CAITLIN OFFICE INTERIORS & DESIGN INC http://www.caitlinoffice.net/
Contact:
Contact Phone:
Contact Email: awunder@catlinoffice.com
515 NO. MAIN STREET, NEWARK, NY, 14513
Phone:
Fax:
CALIFORNIA OFFICE FURNITURE http://www.caloffice.com/
Contact:
Contact Phone:916-442-3480
Contact Email:
1724 10TH STREET, SACRAMENTO, CA, 95811-6407
Phone:
Fax:
Carolina Business Interiors http://www.cbi-nc.com/
Contact:
Contact Phone:
Contact Email: dhssales@aol.com; gbrown@ise-group.com
4020 Yancey Rd, Charlotte, NC, 28217
Phone:
Fax:
CAROLINA FURNISHING + DESIGN http://www.cfplusd.com/
Contact:
Contact Phone:910-673-0990
Contact Email: mbrewer@cfplusd.com; CFPLUSD@GMAIL.COM
PO BOX 348, WEST END, NC, 27376
Phone:
Fax:
CARROLLTON OFFICE EQUIP. CO INC http://www.coec.com/
Contact:
Contact Phone:
Contact Email: janet.ward@coec.com
104 PINEKNOLL DR, CARROLLTON, GA, 30117
Phone:
Fax:
CAZADOR, LLC http://www.cazador.biz/
Contact:
Contact Phone:
Contact Email: CLanahan@ACIINC.COM
13873 PARK CENTER DR STE 400N, HERNDON, VA, 20171
Phone:
Fax:
CBI-CORNER STONE BUSINESS INTERIORS http://www.cbi-office.com/
Contact:
Contact Phone:
Contact Email: inspire@cbi-office.com
6111 WOODLAKE CENTRE DR, SAN ANTONIO, TX, 78244
Phone:
Fax:
CESSI : ERGONOMICS https://cessi.com/
Contact:
Contact Phone:770-455-0449
Contact Email: brook@cessi.com
1962 GRAMERCY CIRCLE, ATLANTA, GA, 30341
Phone:
Fax:
CHARLES RITTER COMPANY http://www.charlesritter.com/
Contact:
Contact Phone:419-522-7799
Contact Email: bmcbride@charlesritter.com
35 WEST SIXTH STREET, MANSFIELD, OH, 44902
Phone:
Fax:
CHARLIE'S OFFICE FURNITURE INC http://www.charliesofficefurniture.com/
Contact:
Contact Phone:518 793 2529
Contact Email: jwerksmanmarketing@yahoo.com
5 HIGHLAND AVE, QUEENSBURY, NY, 12804
Phone:
Fax:
CHRISTIANSON'S BUS.FURN. http://www.cbfplus.com/
Contact:
Contact Phone:701-293-3626
Contact Email: kaela@cbfplus.com
2828 13TH AVENUE SOUTH, FARGO, ND, 58103
Phone:
Fax:
CITRON WORKSPACES http://www.citronworkspaces.com/
Contact:
Contact Phone:
Contact Email: SARAYANCY@CITRONWORKSPACES.COM
197 S 104TH ST, LOUISVILLE, CO, 80027
Phone:
Fax:
CLASS COMMERCIAL FURNISHINGS AND INTERIORS http://classcfi.com/
Contact:
Contact Phone:520-572-3679
Contact Email: info@classcfi.com
4237 WEST INA RD, STE 111, TUCSON, AZ, 85741
Phone:
Fax:
COMMERCIAL DESIGN SERVICES, INC http://www.cdsorlando.com/
Contact:
Contact Phone:
Contact Email: aedwards@cdstampa.com
640 DOUGLAS AVE, ALTAMONTE SPRIN, FL, 32714
Phone:
Fax:
COMMERCIAL FURNITURE INTERIORS http://cfioffice.com/
Contact:
Contact Phone:908-654-8436
Contact Email: csr@cfioffice.com
1154 route 22, MOUNTAINSIDE, NJ, 07092
Phone:
Fax:
COMMERCIAL FURNITURE SERVICES http://www.cfsmn.com/
Contact:
Contact Phone:
Contact Email: Maryann.Lynes@cfsmn.com
4301 HWY.7, ST. LOUIS, MN, 55416
Phone:
Fax:
COMMERCIAL OFFICE ENVIRONMENTS http://www.coeindy.com/
Contact:
Contact Phone:317 871 5572
Contact Email: SMOON@COEINDY.COM
7301 Zionsville Rd, Indianapolis, IN, 46268
Phone:
Fax:
COMPASS OFFICE SOLUTIONS http://www.compass-office.com/
Contact:
Contact Phone:954-430-4591
Contact Email:
3320 ENTERPRISE WAY, MIRAMAR, FL, 33025
Phone:
Fax:
COMPLETE OFFICE SUPPLY http://www.completeos.com/
Contact:
Contact Phone:317 845 4186
Contact Email: tonyb@completeos.com
7209 EAST 86TH STREET, INDIANAPOLIS, IN, 46250
Phone:
Fax:
CONSULTANTS & BUILDERS, INC http://www.consultantsandbuilders.com/
Contact:
Contact Phone:770-416-9619
Contact Email:
3850 PEACHTREE INDUSTRIAL BLVD, DULUTH, GA, 30096
Phone:
Fax:
CONTEMPORARY BUSINESS INTERIORS, LLC http://www.cbillc.com/
Contact:
Contact Phone:410-272-5535
Contact Email: lauryn@cbillc.com
1369 D BRASS MILL RD, BELCAMP, MD, 21017
Phone:
Fax:
CONTEMPORARY GALLERIES http://www.contemporarygalleries.com/
Contact:
Contact Phone:
Contact Email: ORDERS@CGWV.COM
1615 6TH AVE, CHARLESTON, WV, 25312-2423
Phone:
Fax:
CONTINENTAL OFFICE ENVIRONMENTS http://www.continentaloffice.com/
Contact:
Contact Phone:419-242-7373
Contact Email:
21 N ERIE ST, TOLEDO, OH, 43604
Phone:
Fax:
CONTINENTAL OFFICE ENVIRONMENTS http://www.continentaloffice.com/
Contact:
Contact Phone:
Contact Email: info@continentaloffice.com
700 E WATERFRONT STE 107, HOMESTEAD, PA, 15120
Phone:
Fax:
CONTRACT DESIGN ASSOCIATES http://cdainteriors.com/
Contact:
Contact Phone:262 547 2294
Contact Email: SUPPORT@CDAMAIN.COM
N8 W22520-J JOHNSON DR, WAUKESHA, WI, 53186
Phone:
Fax:
CONTRACT DESIGN ASSOCIATES http://cdainteriors.com/
Contact:
Contact Phone:509-623-1777
Contact Email: cda@cdainteriors.com
402 EAST SPRAGUE AVE, SPOKANE, WA, 99202
Phone:
Fax:
CONTRACT ENVIRONMENTS INC Contact:
Contact Phone:425-402-9356
Contact Email:
8820 NE 160TH PLACE, KENMORE, WA, 98028
Phone:
Fax:
CONTRACT FURNISHINGS INC. Contact:
Contact Phone:819 931 6818
Contact Email: cameronm@contractfurnishings.com
3129 MAIN ST, KANSAS CITY, MO, 64111
Phone:
Fax:
CONTRACT FURNITURE INC Contact:
Contact Phone:
Contact Email: INFO@CONTRACTFURNITUREFL.COM
4526 TRANSPORT DR, TAMPA, FL, 33605
Phone:
Fax:
CONTRACT MERCHANDISING SPECIALISTS, INC. Contact:
Contact Phone:913-492-9231
Contact Email: contractmds@aol.com
12760 WEST 87TH STREET, LENEXA, KS, 66215
Phone:
Fax:
CONTRACT OFFICE GROUP Contact:
Contact Phone:408-392-0933
Contact Email: jennyh@cog.com
1731 TECHOLOGY DR. STE 100, SAN JOSE, CA, 95110
Phone:
Fax:
CONTRACT SOURCE INTERIORS Contact:
Contact Phone:
Contact Email: thecsi@q.com
3392 FOOTS CREEK, GOLD HILL, OR, 97522
Phone:
Fax:
COOPER'S OFFICE FURNITURE Contact:
Contact Phone:908-561-5864
Contact Email:
327 WEST FRONT STREET, PLAINFIELD, NJ, 07060
Phone:
Fax:
COPI RITE DBA THE RITE GROUP Contact:
Contact Phone:
Contact Email: BDODSON@THERITEGROUP.COM; gillers@theritegroup.com
5303 OLD CAPE RD EAST, JACKSON, MO, 63755
Phone:
Fax:
CORPORATE BUSINESS INTERIORS Contact:
Contact Phone:
Contact Email: invoices@cbimail.com
3510 JAMBOREE RD, #400, NEWPORT BEACH, CA, 92660
Phone:
Fax:
CORPORATE CONCEPTS, INC. Contact:
Contact Phone:630-691-8873
Contact Email: ack@corpconc.com
500 WATERS EDGE, STE 200, LOMBARD, IL, 60148-7000
Phone:
Fax:
CORPORATE DESIGN INTERIORS Contact:
Contact Phone:262-521-1276
Contact Email: sschmidt@corporatedesigninteriors.com
1522 PEARL ST., WAUKESHA, WI, 53186
Phone:
Fax:
CORPORATE ENVIRONMENT - GEORGIA Contact:
Contact Phone:
Contact Email: info@corporateenvironments.com
1636 NORTHEAST EXPRESSWAY, ATLANTA, GA, 30329
Phone:
Fax:
CORPORATE EXPRESS - Florida Contact:
Contact Phone:866-387-9868
Contact Email: furniturevendorcommunication@staples.com
9201F KING PALM, TAMPA, FL, 32837
Phone:
Fax:
CORPORATE EXPRESS - HOUSTON Contact:
Contact Phone:
Contact Email:
6400 HOLLISTER, HOUSTON, TX, 77040
Phone:
Fax:
CORPORATE EXPRESS - Minnisota Contact:
Contact Phone:
Contact Email: FurnitureVendorCommunication@staples.com
575 OLD HWY 8, NEW BRIGHTON, MN, 55112
Phone:
Fax:
CORPORATE FACILITIES OF NEW JERSEY, INC Contact:
Contact Phone:
Contact Email: llong@cfi-knoll.com
9155 RIVER RD, PENNSAUKEN, NJ, 8110
Phone:
Fax:
CORPORATE INSTALLATIONS INC Contact:
Contact Phone:
Contact Email: casey@corpinstall.com
11220 E 53RD AVE, DENVER, CO, 80239
Phone:
Fax:
CORPORATE INTERIOR SYSTEMS Contact:
Contact Phone:602-304-1020
Contact Email:
3311 EAST BROADWAY, STE A, PHOENIX, AZ, 85040
Phone:
Fax:
CORPORATE INTERIORS & SALES, INC Contact:
Contact Phone:910 483 7006
Contact Email:
PO BOX 35106, FAYETTEVILLE, NC, 28303
Phone:
Fax:
CORPORATE INTERIORS CONCPETS, LLC Contact:
Contact Phone:614 291 7882
Contact Email: lhamner@cic-group.com
1200 CHAMBERS RD, COLUMBUS, OH, 43212
Phone:
Fax:
CORPORATE INTERIORS OF DELAWARE INC. Contact:
Contact Phone:
Contact Email: accountspayable@corporate-interiors.com
223 LISA DRIVE, NEW CASTLE, DE, 19720-4193
Phone:
Fax:
CORPORATE OFFICE INTERIORS Contact:
Contact Phone:517-277-0660
Contact Email:
240 S BRIDGE STREET, STE.320, DEWITT, MI, 48820
Phone:
Fax:
CORPORATE OFFICE INTERIORS Contact:
Contact Phone:714-966-9767
Contact Email: Sunny@coioffice.com
1432 EDINGER AVE, SUITE 2201, TUSTIN, CA, 92780
Phone:
Fax:
Corporate Source Contact:
Contact Phone:
Contact Email: val@corpinc.com
3111 RT 38 #11-139, MT LAUREL, NJ, 08054
Phone:
Fax:
CORPORATE TECHNOLOGY GROUP Contact:
Contact Phone:806-355-9063
Contact Email:
PO BOX 2907, AMARILLO, TX, 79102
Phone:
Fax:
COVIDIEN Contact:
Contact Phone:203-492-8232
Contact Email: James.Street@covidien.com
60 MIDDLETOWN AVE, NORTH HAVEN, CT, 6437
Phone:
Fax:
CRAINS OFFICE SUPPLY Contact:
Contact Phone:360-754-1057
Contact Email: greg@crainsofficesupply.com
1006 E 4TH AVE, OLYMPIA, WA, 98506
Phone:
Fax:
CRAWFORD & CO DBA BMEA ENTERPRISES INC Contact:
Contact Phone:858-513-6530
Contact Email: customerservice@crawford-co.com
13370 KIRKHAM WAY, POWAY, CA, 92064
Phone:
Fax:
CREATIVE BUSINESS INTERIORS Contact:
Contact Phone:414-545-8588
Contact Email:
11217 W. BECHER STREET, WEST ALLIS, WI, 53227
Phone:
Fax:
CREATIVE BUSINESS INTERIORS INC Contact:
Contact Phone:
Contact Email: joewilcox@creativebusinessinteriors.com
1810 WRIGHT ST, MADISON, MN, 53704
Phone:
Fax:
CREATIVE BUSINESS INTERIORS, LTD Contact:
Contact Phone:570-970-5817
Contact Email:
145 STEWART RD, WIKES-BARRE, PA, 18706
Phone:
Fax:
CREATIVE OFFICE - California Contact:
Contact Phone:
Contact Email: sduffy@creativeoffice.com
P.O. BOX 6406, CONCORD, CA, 94524
Phone:
Fax:
CREATIVE OFFICE ENVIRONMENTS Contact:
Contact Phone:401-435-4167
Contact Email:
41 COMMERCIAL WAY, EAST PROVIDENCE, RI, 2914
Phone:
Fax:
CREATIVE OFFICE ENVIRONMENTS, LLC Contact:
Contact Phone:804-321-3134
Contact Email:
11798 N LAKERIDGE PARKWAY, ASHLAND, VA, 23005
Phone:
Fax:
CREATIVE OFFICE PAVILION Contact:
Contact Phone:
Contact Email: web-newyork@cop-inc.com
180 MADISON AVE, NEW YORK, NY, 10016
Phone:
Fax:
CREATIVE OFFICE SYSTEMS Contact:
Contact Phone:518-348-0236
Contact Email: creativeoffsys@cs.com
1520 CRESCENT RD STE 300, CLIFTON PARK, NY, 12065
Phone:
Fax:
CREATIVE SUPPORTS INC Contact:
Contact Phone:925-837-5103
Contact Email: office@creativesupports.com
2500 OLD CROW CANYON ROAD, SAN RAMON, CA, 94583
Phone:
Fax:
CREST OFFICE FURNITURE Contact:
Contact Phone:818-333-3171
Contact Email:
2840 N. LIMA STREET, UNIT 110, BURBANK, CA, 91504
Phone:
Fax:
CRI COORDINATED RESOURCES - San Francisco Contact:
Contact Phone:
Contact Email: LOYEN@CRI-SF.COM
130 SUTTER STREET, 3RD FLOOR, SAN FRANCISCO, CA, 94104
Phone:
Fax:
CROMWELL VALLEY BUS Contact:
Contact Phone:
Contact Email: KCASS@CVBIONLINE.COM
936 CROMWELL BRIDGE RD, TOWSON, MD, 21286
Phone:
Fax:
CSI ERGONOMICS Contact:
Contact Phone:
Contact Email: CMacDonald@csiergonomics.com
5900 CLEARWATER DR.#300, MINNETONKA, MN, 55343
Phone:
Fax:
CUBE SOLUTIONS Contact:
Contact Phone:925-888-8490
Contact Email: kurt@cubesolutions.net
3062 BOWLING GREEN DRIVE, WALNUT CREEK, CA, 94598
Phone:
Fax:
CUSTER OFFICE ENV Contact:
Contact Phone:616-458-1117
Contact Email: acknowledgements@custeroffice.com
217 GRANDVILLE AVE., STE.100, GRAND RAPIDS, MI, 49503
Phone:
Fax:
CWC SERVICE Contact:
Contact Phone:770-491-6374
Contact Email: nick.whirley@c-w-c.com
4343 NORTHEAST EXPRESSWAY, ATLANTA, GA, 30340
Phone:
Fax:
D&B COMPANY Contact:
Contact Phone:
Contact Email: jeffrey@dandbgroup.com
5100 SE HARNEY #13, PORTLAND, OR, 97206
Phone:
Fax:
D2 OFFICE FURNITURE Contact:
Contact Phone:212 288 8898
Contact Email: KEN@D2NYC.COM; Hugh@D2nyc.com
150 EAST 39TH ST, NEW YORK, NY, 10016
Phone:
Fax:
DALLAS DESK, INC. Contact:
Contact Phone:
Contact Email: purchasing@dallasdesk.com
15207 MIDWAY ROAD, DALLAS, TX, 75001
Phone:
Fax:
DANCKER, SELLEW & DOUGLAS, INC. Contact:
Contact Phone:
Contact Email: sthony@dancKer.com
291 EVANS WAY, SOMERVILLE, NJ, 8876
Phone:
Fax:
DECOR FURNISHINGS Contact:
Contact Phone:
Contact Email: lauren@decorfurnishings.biz
169 AINSLEY DR, SYRACUSE, NY, 13210
Phone:
Fax:
DEKALB OFFICE ENVIRONMENT Contact:
Contact Phone:
Contact Email: ABRIGGS@IDS-TN.COM
1320 RIDGELAND PARKWAY, ALPHARETTA, GA, 30004
Phone:
Fax:
DELVE INTERIORS Contact:
Contact Phone:
Contact Email: delve-supportteam@delveinteriors.com
7820 Thorndike Rd, GREENSBORO, NC, 27409
Phone:
Fax:
DESIGN MANAGEMENT ASSOC., INC. Contact:
Contact Phone:
Contact Email: ufroelich@design-management.com
6445 POWERS FERRY RD. SUITE 250, ATLANTA, GA, 30339
Phone:
Fax:
DETAILS Contact:
Contact Phone:
Contact Email: jillian@details-design.com
3540 HYACINTH WAY, CUMMING, GA, 30041
Phone:
Fax:
DFS BUSINESS INTERIORS, LLC Contact:
Contact Phone:
Contact Email: dfschutt@frontiernet.net
W4690 SWAN ACRE LANE, CECIL, WI, 54111
Phone:
Fax:
DISCOUNT OFFICE FURNITURE Contact:
Contact Phone:413-737-8130
Contact Email: awytas@comcast.net
2131 RIVERDALE STREET, W. SPRINGFIELD, MA, 1089
Phone:
Fax:
DOC DOLAN SPECIALTY PRODUCTS Contact:
Contact Phone:
Contact Email: DOCDOLAN01@GMAIL.COM
1440 RANDOLP AVE., STE.311, ST PAUL, MN, 55105
Phone:
Fax:
DOCUMATION INC Contact:
Contact Phone:512-491-0828
Contact Email:
104 NORTHWEST 132ND ST, OKLAHOMA CITY, OK, 73114-2308
Phone:
Fax:
DONAHUE & ASSOCIATES INC Contact:
Contact Phone:
Contact Email: MELANIE@DONAHUE-ASSOC.COM
460 TOTTEN POND RD, WALTHAM, MA, 02451
Phone:
Fax:
DOURON INC. Contact:
Contact Phone:
Contact Email: ddillon@douron.com
10 PAINTERS MILL ROAD, OWINGS MILLS, MD, 21117
Phone:
Fax:
DRB BUSINESS INTERIORS INC Contact:
Contact Phone:
Contact Email: TEaly@drbbusinessinteriors.com
165 HIGH ROCK AVE, SARATOGA SPRING, NY, 12866
Phone:
Fax:
EAGLE FURNITURE CO Contact:
Contact Phone:
Contact Email: BILL@SEIBOLDBAKER.COM
122 W FRONT ST, PERRYSBURG, OH, 43551
Phone:
Fax:
EAKES OFFICE PLUS Contact:
Contact Phone:308-382-7401
Contact Email:
617 WEST 3RD STREET, GRAND ISLAND, NE, 68802
Phone:
Fax:
EASY OFFICE FURNITURE & SERVICES Contact:
Contact Phone:
Contact Email: easyofficedennis@gmail.com
4690 CALLE QUETZAL, CAMARILLO, CA, 93012
Phone:
Fax:
EAU CLAIRE BUSINESS INTERIORS Contact:
Contact Phone:715-833-2180
Contact Email: acctg@ecbi.cc
2224 MERCANTILE DR., EAU CLAIRE, WI, 54703
Phone:
Fax:
ECI-ERGONOMIC CONSULTANTS OF INDIANA, INC Contact:
Contact Phone:317-705-1994
Contact Email: mchampman@eci-in.com
11595 N MERIDIEN ST, CARMEL, IN, 46032
Phone:
Fax:
EDGE OFFICE, LLC Contact:
Contact Phone:
Contact Email: rfloyd@edgeoffice.com
4801 GLENWOOD AVE, RALEIGH, NC, 27612
Phone:
Fax:
EG-OFFICE, INC Contact:
Contact Phone:
Contact Email: EGRONLUND1@COMCAST.NET
1604 LIBERTY COURT, NORTH WALES, PA, 19454
Phone:
Fax:
ELECTRONIC OFFICE ENV. Contact:
Contact Phone:651-224-0258
Contact Email: eoe@qwestoffice.net
490 VILLAUME AVE, SOUTH ST. PAUL, MN, 55075
Phone:
Fax:
ELLIOTT INTERIORS Contact:
Contact Phone:
Contact Email: elliottinteriors@yahoo.com
13 DUGGAN LANE, GOSHEN, NY, 10924
Phone:
Fax:
ENVIRONMENTS AT WORK Contact:
Contact Phone:
Contact Email: ACCOUNTING@ENVIRONMENTSATWORK.COM
300 A STREET, BOSTON, MA, 2210
Phone:
Fax:
ENVIRONMENTS 4 BUSINESS, LLC Contact:
Contact Phone:330 294 1390
Contact Email: EBAKER@THINKE4B.COM
3421 RIDGEWOOD RD, AKRON, OH, 44333
Phone:
Fax:
ENVIRONMENTS THAT WORK Contact:
Contact Phone:
Contact Email: nfunk@hauserwork.com
100 ILLINOIS ST, ST CHARLES, IL,
Phone:
Fax:
EQUIPMENT DIRECT Contact:
Contact Phone:800-842-2412
Contact Email:
2861 SATURN STREET, BREA, CA, 92621
Phone:
Fax:
ERGO ANYWHERE Contact:
Contact Phone:510-868-0871
Contact Email: heather@ergoanywhere.com
1350 HAYES ST, STE A-35, BENICIA, CA, 94510
Phone:
Fax:
ERGODIRECT Contact:
Contact Phone:877 374 6347
Contact Email: MRICHARDS@ERGOEXPERTS.COM
236 KETTLES LANE, MEDFORD, NY, 10989
Phone:
Fax:
ERGODIRECT.INC Contact:
Contact Phone:877-866-2142
Contact Email: customerservice@ergodirect.com
1601 OLD COUNTY ROAD, SAN CARLOS, CA, 94070
Phone:
Fax:
ERGOMART CORPORATION Contact:
Contact Phone:214-742-3746
Contact Email: stephanie@ergomart.com
5200 EAST GRAND AVENUE, DALLAS, TX, 75223
Phone:
Fax:
ERGONETICS, LLC Contact:
Contact Phone:1-301-495-7790
Contact Email:
10400 CONNECTICUT AVE, KENSINGTON, MD, 20895
Phone:
Fax:
ERGONOMIC EVOLUTION LLC Contact:
Contact Phone:
Contact Email: info@ergonomicevolution.com
925 EICHHORN DRIVE, ERIE, CO, 80516
Phone:
Fax:
ERGONOMIC OFFICE PRODUCTS Contact:
Contact Phone:
Contact Email: susanc@ergoware.com
26577 CORTE EMPRESA, TEMECULA, CA, 92590
Phone:
Fax:
ERGONOMIC SEATING & PROD. INC. Contact:
Contact Phone:
Contact Email: ted.chow@ergoproducts.com
P.O. BOX 2043, DANVILLE, CA, 94526
Phone:
Fax:
ERGONOMICALLY CORRECT INC Contact:
Contact Phone:
Contact Email: dtirsch@ecergo.com
5737 KANAN RD., AGOURA HILLS, CA, 91301
Phone:
Fax:
ERGONOMIX ASSOCIATES LLC Contact:
Contact Phone:
Contact Email: chuck.masi@ergonomixusa.com
29 BIBLE ST, COS COB, CT, 6807
Phone:
Fax:
ERGOSOURCE-A DIVISION OF ERGOCENTER INC Contact:
Contact Phone:
Contact Email: diana@ergocenter.com
11450 GREY FRIAR WAY, CHARDON, OH, 44024
Phone:
Fax:
ERGOWORKS Contact:
Contact Phone:
Contact Email: aew2@askergoworks.com
420 OLIVE AVENUE, PALO ALTO, CA, 94306-2225
Phone:
Fax:
ERIC SITZESTATTER III Contact:
Contact Phone:
Contact Email: eric@sitz.net
17333 OLD RANCH ROAD, LOS GATOS, CA, 95033
Phone:
Fax:
EVENSONBEST LLC - GSA ACCOUNT Contact:
Contact Phone:212-549-8212
Contact Email:
641 AVE OF THE AMERICAS, NEW YORK, NY, 10011
Phone:
Fax:
EVERYTHING DIVISION 12, INC Contact:
Contact Phone:312-262-6390
Contact Email:
1643 WEST CARROLL AVE, CHICAGO, IL, 60612
Phone:
Fax:
F3 CONCEPTS Contact:
Contact Phone:
Contact Email: DAWN@F3CONCEPTSLLC.COM
PO BOX 2793, IRMO, SC, 29063
Phone:
Fax:
Facilities Resource, Inc. Contact: Jeannie Rodgers
Contact Phone:(512) 371-1232
Contact Email: jrodgers@fri-texas.com
11100 Metric Blvd., Suite 450, Austin, TX 78758
Phone:(512) 371-1232
Fax:
FACILITY INTERIORS, INC. Contact:
Contact Phone:972-392-7660
Contact Email:
6200 TENNYSON PKWY, STE 150, PLANO, TX, 75024
Phone:
Fax:
FACILITY MANAGEMENT SOLUTIONS Contact:
Contact Phone:408-235-8886
Contact Email: janie@fms-sv.com
400 REED ST. #110, SANTA CLARA, CA, 95050
Phone:
Fax:
FACILITY MATRIX GROUP Contact:
Contact Phone:248 334 1707
Contact Email: acknowledgements@facilitymatrix.com
555 Friendly Dr., Pontiac, MI, 48341
Phone:
Fax:
FINELINE FURNITURE Contact:
Contact Phone:
Contact Email: FINELINEFURN@HOTMAIL.COM
7868 ZIONSVILLE ROAD, INDIANAPOLIS, IN, 45268
Phone:
Fax:
FLUID INTERIORS Contact:
Contact Phone:612-746-8701
Contact Email: ack@fluidinteriors.com
100 NORTH 6TH ST. STE 100A, MINNEAPOLIS, MN, 55403
Phone:
Fax:
FOLEY & LARDNER Contact:
Contact Phone:608-258-4258
Contact Email:
150 E. GILMAN, MADISON, WI, 53703
Phone:
Fax:
FORMS AND SUPPLY INC. Contact:
Contact Phone:704-921-6218
Contact Email:
6410 ORR ROAD, CHARLOTTE, NC, 28213
Phone:
Fax:
FORWARD SPACE, LLC Contact:
Contact Phone:
Contact Email: SHurtenbach@forwardspace.com
1142 N NORTH BRANCH, CHICAGO, IL, 60642
Phone:
Fax:
FRANK COONEY COMPANY, INC Contact:
Contact Phone:630-694-8804
Contact Email: LISA@FRANKCOONEY.COM
1226 N MICHAEL DR, WOOD DALE, IL, 60191
Phone:
Fax:
FROMARK, INC Contact:
Contact Phone:
Contact Email: ACCOUNTING@FROMARK.COM
580 FIFTH AVE, NEW YORK, NY, 10036
Phone:
Fax:
FURNITURE ENVIRONMENTS Contact:
Contact Phone:858-452-7880
Contact Email: sage@furnitureenvironments.com
6196 SUNSET CREST WAY, SAN DIEGO, CA, 92121
Phone:
Fax:
FURNITURE RENTAL ASSOCIATES Contact:
Contact Phone:
Contact Email: andrades@frarents.com
149 MADISON AVE, NEW YORK, NY, 10016
Phone:
Fax:
G/M BUSINESS INTERIORS Contact:
Contact Phone:
Contact Email: acknowledgements@gmbi.net
1099 W. LA CADENA, RIVERSIDE, CA, 92501
Phone:
Fax:
G-3 SUPPLY AND SERVICES Contact:
Contact Phone:
Contact Email: LEON.P.FUNCHES.CIV@MAIL.MIL
14010 MSCOE LOOP STE 0617, FORT LEONARD WO, MO, 65473
Phone:
Fax:
GENSLER - California Contact:
Contact Phone:1-213-327-3601
Contact Email:
500 S. FIGUEROA ST., LOS ANGELES, CA, 90071
Phone:
Fax:
GET TO WORK, LLC Contact:
Contact Phone:
Contact Email: GWYN@GWYNSTRASSLE.COM
3508 JFK, STE 2, N LITTLE ROCK, AR, 72116
Phone:
Fax:
GL SEAMAN & COMPANY Contact:
Contact Phone:817 336 5442
Contact Email: dshuford@glsc.com
4201 INTERNATIONAL PARKWAY, CARROLLTON, TX, 75007
Phone:
Fax:
GLOBAL OFFICE SOLUTIONS Contact:
Contact Phone:800-627-8991
Contact Email:
22759 HESLIP DRIVE, NOVI, MI, 48375
Phone:
Fax:
GO STUDIO, LP Contact:
Contact Phone:
Contact Email: BRETTAM@GOSTUDIO.COM
208 N MARKET ST, DALLAS, TX, 75202
Phone:
Fax:
GOBIN'S INC Contact:
Contact Phone:
Contact Email: LISAM@GOBINS.COM
108 SOUTH 5TH STREET, LAMAR, CO, 81052
Phone:
Fax:
GOODMANS INC. Contact:
Contact Phone:
Contact Email: adamgoodman@goodmans.info
4860 PAN AMERICAN FWY NE., ALBUQUERQUE, NM, 87109
Phone:
Fax:
GOODMANS INC. Contact:
Contact Phone:
Contact Email: AP@GOODMANS.INFO
3925 N BUSINESS CENTER DR., TUCSON, AZ, 85705
Phone:
Fax:
GRASSROOTS CONTRACT INTERIORS Contact:
Contact Phone:716-875-2500
Contact Email: katherine@gcibuffalo.com
PO BOX 43, BUFFALO, NY, 14207
Phone:
Fax:
GRAYBAR ELECTRIC CO IN Contact:
Contact Phone:
Contact Email: KRYSTAL.ALLEN@GRAYBAR.COM
PO BOX 78099, ST LOUIS, MO, 63178
Phone:
Fax:
GREENWOOD OFFICE OUTFITTERS Contact:
Contact Phone:
Contact Email: KROFF@GREENWOODOFFICE.COM
2951 SUFFOLK DR #640, FORT WORTH, TX, 76133
Phone:
Fax:
GT BROTHERS Contact:
Contact Phone:
Contact Email: CWHITE@GTBROTHERS.COM
1301 TECH CT, WESTMINSTER, MD, 21157
Phone:
Fax:
GUERNSEY OFFICE PRODUCTS Contact:
Contact Phone:
Contact Email: jnichol@buyguernsey.com
45070 OLD OX RD, DULLES, VA, 20166
Phone:
Fax:
GULF COAST OFFICE PRODUCTS Contact:
Contact Phone:
Contact Email: markw@gcop.com; kimberly@gcop.com
826 CREIGHTON RD, PENSACOLA, FL, 32504-7097
Phone:
Fax:
GWS ASSOCIATES Contact:
Contact Phone:
Contact Email: GSMITH@ISE-GROUP.COM
7575 GOSLING RD #123, THE WOODLANDS, TX, 77382
Phone:
Fax:
H.I.S. Contact:
Contact Phone:
Contact Email: HISLLC@AOL.COM
9125 WHISKEY BOTTOM RD, LAUREL, MD, 20723
Phone:
Fax:
H2 OFFICE DESIGNS Contact:
Contact Phone:425-250-0771
Contact Email:
571 STRANDER BLVD, TUKWILA, WA, 98188
Phone:
Fax:
HAMILTON BUSINESS INTERIORS Contact:
Contact Phone:410-357-8492
Contact Email: molliejhamilton@comcast.net
1470 BLUE MOUNT RD, MONKTON, MD, 21111
Phone:
Fax:
HANNAHER'S (FORMERLY GAFFNEY'S OFC SOLUTION) Contact:
Contact Phone:701-277-7097
Contact Email:
1809 13TH AVENUE NORTH, GRAND FORKS, ND, 58203-2323
Phone:
Fax:
HARRIS OFFICE FURNITURE CO. INC. Contact:
Contact Phone:540-342-9521
Contact Email: mthompson@harrisofficefurniture.com
520 KIMBALL AVE NE, ROANOKE, VA, 24016
Phone:
Fax:
HARVEY'S OFFICE PLUS Contact:
Contact Phone:
Contact Email: perry@harveysofficeplus.com
1860 KIMBERLY ROAD, TWIN FALLS, ID, 83301
Phone:
Fax:
HASBROUCK ASSOCIATES LLC Contact:
Contact Phone:
Contact Email: JUDY.HASBROUCK@YAHOO.COM
1836 METZEROTT RD, ADELPHI, MD, 20783
Phone:
Fax:
HENRICKSEN & CO INC Contact:
Contact Phone:30-467-2468
Contact Email: acknowledgements@henricksen.com
1101 West Thorndale Ave, Itasca, IL, 60143-1304
Phone:
Fax:
HENRIKSEN/BUTLER DESIGN Contact:
Contact Phone:
Contact Email: HCHATELAIN@HBDG.COM
SALT LAKE CITY, SALT LAKE CITY, UT, 84111
Phone:
Fax:
HOLMES & BRAKEL INTERNATIONAL Contact:
Contact Phone:813-229-2699
Contact Email:
3901 COCONUT PALM DRIVE, TAMPA, FL, 33619
Phone:
Fax:
HUDSON OFFICE SOLUTIONS Contact:
Contact Phone:812 254 0590
Contact Email: ron@hudsonofficesolutions.com
PO BOX 482, WASHINGTON, IN, 47501
Phone:
Fax:
HUDSON VALLEY OFFICE FURNITURE Contact:
Contact Phone:
Contact Email: schickery@aol.com
375-379 MAIN MALL, POUGHKEEPSIE, NY, 12601
Phone:
Fax:
HUGHES-RANKIN, INC Contact:
Contact Phone:
Contact Email: JANET@HRIFURNITURE.COM
PO BOX 1628, HIGH POINT, NC, 27261
Phone:
Fax:
HUMMEL'S OFFICE PLUS Contact:
Contact Phone:
Contact Email: ACCOUNTINGOFFICE@HUMMELSOP.COM
PO BOX 351, HERKIMER, NY, 13350
Phone:
Fax:
HWM OFFICE ENVIRONMENTS Contact:
Contact Phone:919 821 4629
Contact Email: PURCHAS.ORDER@HMWOFFICE.COM
3915 BERYL RD, RALEIGH, NC, 27607
Phone:
Fax:
I:SPACE FURNITURE Contact:
Contact Phone:
Contact Email: CUSTOMERSERVICE@ISPACEFURNITURE.COM
811 GLENWOOD AVE, MINNETONKA, MN, 55405
Phone:
Fax:
IBEXPRESS FURNITURE Contact:
Contact Phone:
Contact Email: alisa.nielsen@ibexp.com
445 S CURTIS ROAD, WEST ALLIS, WI, 53214
Phone:
Fax:
ID&A INC Contact:
Contact Phone:502 562 9270
Contact Email: jerickson@id-a.com
1700 SOUTH FIFTH ST, LOUISVILLE, KY, 40208
Phone:
Fax:
IF THE CHAIR FITS Contact:
Contact Phone:650-386-6515
Contact Email:
P.O. BOX 4383, MOUNTAIN VIEW, CA, 94040
Phone:
Fax:
IMA CORPORATE INTERIORS Contact:
Contact Phone:678-393-1297
Contact Email:
>>SPIFF ONLY WILP>>, ALPHARETTA, GA, 30022
Phone:
Fax:
IMPACT OFFICE PRODUCTS Contact:
Contact Phone:
Contact Email: customerservice@impactoffice.com
5640-J SUNNYSIDE AVE, BELTSVILLE, MD, 20705-2213
Phone:
Fax:
INDOFF, INCORPORATED Contact:
Contact Phone:888-499-8628
Contact Email:
2430 BROADWAY, STE 200, BOULDER, CO, 80304
Phone:
Fax:
INDOFF, INCORPORATED Contact:
Contact Phone:
Contact Email: michele.martin@indoff.com
3011 THOMPSON ROAD, COWICHE, WA, 98923
Phone:
Fax:
INNERSPACE ARCHITECTURAL INTERIORS Contact:
Contact Phone:205-323-2495
Contact Email:
PO BOX 1911, BIRMINGHAM, AL, 35201
Phone:
Fax:
INNERSPACE SYSTEMS INC. Contact:
Contact Phone:
Contact Email: mlehman@isifurniture.com
24307 MAGIC MOUNTAIN PKWY, VALENCIA, CA, 91355-1292
Phone:
Fax:
INNOVATIVE COMMERCIAL INTERIORS Contact:
Contact Phone:
Contact Email: alice@iciflooring.com
806 SILVIA ST, WEST TRENTON, NJ, 8628
Phone:
Fax:
INNOVATIVE LABORATORY SYSTEMS,INC Contact:
Contact Phone:402-944-211
Contact Email:
105 SOUTH 14TH STREET, ASHLAND, NE, 68003
Phone:
Fax:
INNOVATIVE OFFICE SOLUTIONS Contact:
Contact Phone:419-925-0311
Contact Email:
8016 INDUSTRIAL DRIVE, MARIA STEIN, OH, 45860
Phone:
Fax:
INNOVATIVE OFFICE SOLUTIONS LL Contact:
Contact Phone:
Contact Email: BHOWELL@INNOVATIVESOS.COM
151 EAST CLIFF RD, BURNSVILLE, MN, 55337
Phone:
Fax:
INSALCO CORP. Contact:
Contact Phone:203-265-9378
Contact Email: randi-insalco@snet.net
7 CAPTIAL DR, WALLINGFORD, CT, 6492
Phone:
Fax:
INSIDE SOURCE YOUNG Contact:
Contact Phone:650-508-9102
Contact Email: PROCUREMENT@INSIDESOURCE.COM
985 INDUSTRIAL ROAD, SUITE 101, SAN CARLOS, CA, 94070
Phone:
Fax:
INSTALL NET Contact:
Contact Phone:
Contact Email: FINANCE@INSTALLNET.COM
2127 ESPEY COURT, CROFTON, MD, 21114-2422
Phone:
Fax:
INSTITUTIONAL INTERIORS Contact:
Contact Phone:
Contact Email: sales@institutionalinteriors.com;
2851 VAN HUTTON DR, RALEIGH, NC, 27615
Phone:
Fax:
INTEGRATED DESIGN SOLUTIONS, INC Contact:
Contact Phone:787-706-0227
Contact Email: hlopez@er-go.com; jjimenez@ids-pr.com
90 CARR. 165, STE 405, GUAYNABO, PR, 00968
Phone:
Fax:
INTELLIGENT COMMERCIAL ENVIRONMENTS Contact:
Contact Phone:
Contact Email: brittany@ice3d.com
7730 E. BELLEVIEW AVE., GREENWOOD VILLAGE, CO, 80111
Phone:
Fax:
INTELLIGENT INTERIORS INC Contact:
Contact Phone:972 980 1661
Contact Email: IIORDERS@INTELLIGENTINTERIORS.NET
16837 ADDISON RD, ADDISON, TX, 75001
Phone:
Fax:
INTER OFC WORKSPACE FURNITURE Contact:
Contact Phone:
Contact Email: info@interofficefargo.com
505 NORTH BROADWAY, FARGO, ND, 58102
Phone:
Fax:
INTEREUM, INC Contact:
Contact Phone:763-417-3309
Contact Email: fjanecek@intereum.com
845 BERKSHIRE LANE NORTH, PLYMOUTH, MN, 55441
Phone:
Fax:
INTERFORM Contact:
Contact Phone:925-867-2728
Contact Email: stephanie.bregante@officedepot.com
3000 EXECUTIVE PARKWAY, SAN RAMON, CA, 94583
Phone:
Fax:
INTERIOR CONTRACT SERVICES Contact:
Contact Phone:407-294-1477
Contact Email:
3939 N JOHN YOUNG PARKWAY, ORLANDO, FL, 32804
Phone:
Fax:
INTERIOR ENVIRONMENTS, LLC. Contact:
Contact Phone:
Contact Email: Acks@IEOffices.com
48700 GRAND RIVER AVE, NOVI, MI, 48374-1228
Phone:
Fax:
INTERIOR OFFICE SOLUTIONS Contact:
Contact Phone:
Contact Email: kolson@iosinc.net
909 NORTH SEPULVEDA BLVD., EL SEGUNDA, CA, 90245
Phone:
Fax:
INTERIOR PLANNING ASSOCIATES, INC Contact:
Contact Phone:314-645-4731
Contact Email: b_watson@nolanofficeinteriors.com
12955 GRAVOIS RD, ST. LOUIS, MO, 63127
Phone:
Fax:
INTERIOR RESOURCE GROUP INC Contact:
Contact Phone:410-654-3613
Contact Email:
11095 HIDDEN TRAIL DR, OWINGS MILLS, MD, 21117
Phone:
Fax:
INTERIOR SHOWPLACE LTD.-STLC Contact:
Contact Phone:
Contact Email: isl@interior-showplace.com
956 QUEEN ST., HONOLULU, HI, 96814
Phone:
Fax:
INTERIOR SOLUTIONS Contact:
Contact Phone:
Contact Email: awallace@interiorsolutions.net
4645 S. 35TH STREET, PHOENIX, AZ, 85040
Phone:
Fax:
INTERIOR SOLUTIONS Contact:
Contact Phone:801-531-7545
Contact Email:
522 S. 400 WEST, SALT LAKE CITY, UT, 84101
Phone:
Fax:
INTERIOR SYSTEMS, INC. Contact:
Contact Phone:
Contact Email: DHALE.ISI@WILDBLUE.NET
HIGHWAY 211 WEST, WEST END, NC, 27376
Phone:
Fax:
INTERIORS FOR BUSINESS Contact:
Contact Phone:918-747-6890
Contact Email: kolten@ifbtulsa.com
3168 S 108TH E AVE, TULSA, OK, 74146
Phone:
Fax:
INTERIORS UNLIMITED LLC Contact:
Contact Phone:
Contact Email: info@interiorsunlimited.com
46 ABBETT AVE, MORRISTOWN, NJ, 07960
Phone:
Fax:
INTERSTATE OFFICE INTERIORS Contact:
Contact Phone:
Contact Email: CHERYL@IOINTERIORS.COM
5116 SPRINKLE RD, PORTAGE, MI, 49002
Phone:
Fax:
INT'L IMPORT DESIGNS, INC Contact:
Contact Phone:410-381-5259
Contact Email:
8895-A MCGAW RD, COLUMBIA, MD, 21045
Phone:
Fax:
ISCG - INTERIOR SYSTEMS CONTRACT Contact:
Contact Phone:
Contact Email: anolff@iscginc.com
612 NORTH MAIN ST, ROYAL OAK, MI, 48067
Phone:
Fax:
J. THAYER COMPANY Contact:
Contact Phone:
Contact Email: jims@jthayer.com
15802 SW UPPER BOONES FY, LAKE OSWEGO, OR, 97035
Phone:
Fax:
JEFFERSON GROUP, LLC Contact:
Contact Phone:
Contact Email: dianee@jeffersonbi.com
85 RESEARCH DRIVE, STAMFORD, CT, 6906
Phone:
Fax:
JOHN A. MARSHALL CO. Contact:
Contact Phone:
Contact Email: christie.morgan@jamarshall.com
1402 S PEORIA AVE, TULSA, OK, 74120
Phone:
Fax:
JOHN R WALD COMPANY, INC Contact:
Contact Phone:814-643-5300
Contact Email: JHall@johnrwald.com; GBROWN@ISE-GROUP.COM
10576 FAIRGROUNDS ROAD, Washington, DC, 16652
Phone:
Fax:
JUST THE RIGHT STUFF Contact:
Contact Phone:315-463-7118
Contact Email:
103 TWIN OAKS DRIVE, SYRACUSE, NY, 13206
Phone:
Fax:
KARE PRODUCTS, INC. Contact:
Contact Phone:
Contact Email: kburke@kareproducts.com
1644 CONESTOGA ST, STE# 2, BOULDER, CO, 80301
Phone:
Fax:
KB BUSINESS ENTERPRISES, INC DBA FLORIDA BUSINESS INTERIORS-TAMPA BAY Contact:
Contact Phone:813-247-1305
Contact Email: acknowledgements@fbitampa.com
1600 EAST 8TH AVE STE C-201, TAMPA, FL, 33605
Phone:
Fax:
KDI DESIGN, INC. Contact:
Contact Phone:
Contact Email: Kaela@kdidesign.com
427 North Kirk Rd, Geneva, IL, 60134
Phone:
Fax:
KEENEY'S OFFICE PLUS Contact:
Contact Phone:425-556-1742
Contact Email: fawnd@keeneys.com
15020 NE 95TH ST, REDMOND, WA, 98052
Phone:
Fax:
KELLER GROUP Contact:
Contact Phone:916-737-3305
Contact Email:
3041 65T STREET, STE 3, SACRAMENTO, CA, 95820
Phone:
Fax:
KEY INTERIORS Contact:
Contact Phone:847 455 0950
Contact Email: PURCHASING@KEYINTERIORS.US
1072 N GARFIELD ST, LOMBARD, IL, 60148
Phone:
Fax:
KEY OFFICE INTERIORS Contact:
Contact Phone:617-439-0322
Contact Email:
1 DESIGN CENTER STE 712, BOSTON, MA, 02210
Phone:
Fax:
KING OFFICE EQUIPMENT INC Contact:
Contact Phone:541-926-5895
Contact Email: office1@kingoffice.biz
465 PACIFIC BLVD SW, ALBANY, OR, 97321
Phone:
Fax:
KOR, INC Contact:
Contact Phone:
Contact Email: msegriff@korllc.com
808 3RD AVE SE, CEDAR RAPIDS, IA, 52403
Phone:
Fax:
KRONE CONTRACT FURNITURE DIV-FIXED Contact:
Contact Phone:
Contact Email: DVELEZ@KRONECONTRACT.COM
1237 FD ROOSEVELT AVE, SAN JUAN, PR, 00920
Phone:
Fax:
LANE OFFICE FURNITURE INC Contact:
Contact Phone:212-693-2124
Contact Email: catherine@laneoffice.com; carol@laneoffice.com
205 LEXINGTON AVE, NEW YORK, NY, 10016
Phone:
Fax:
LEXINGTON GROUP INC. Contact:
Contact Phone:413-788-0789
Contact Email:
380 UNION ST., W.SPRINGFIELD, MA, 01089-4123
Phone:
Fax:
LIFESTYLE2, LLC Contact:
Contact Phone:
Contact Email: SCODER2@GMAIL.COM
2120 SKYLANE DR, MUSCATINE, IA, 52761
Phone:
Fax:
LINCOLN OFFICE Contact:
Contact Phone:309-427-2600
Contact Email: ORDERENTRY@LINCOLNOFFICE.COM
205 EASTGATE DR, WASHINGTON, IL, 61571
Phone:
Fax:
LINCOLN OFFICE ENVIRONMENTS Contact:
Contact Phone:309-427-2600
Contact Email:
7707 NORTH KNOXVILLE, PEORIA, IL, 61614
Phone:
Fax:
LINCOLN OFFICE LLC Contact:
Contact Phone:309-427-2600
Contact Email:
205 EASTGATE DRIVE, WASHINGTON, IL, 61571
Phone:
Fax:
LJ DUFFY Contact:
Contact Phone:212-414-1508
Contact Email:
150 W 30th St., New York, NY, 10001
Phone:
Fax:
LORICK OFFICE PRODUCTS Contact:
Contact Phone:803-252-9914
Contact Email:
910 WASHINGHTON ST., COLUMBIA, SC, 29201
Phone:
Fax:
LOTH MBI Contact:
Contact Phone:513-554-8700
Contact Email:
3574 EAST KEMPER RD, CINCINNATI, OH, 45241-2009
Phone:
Fax:
M & M OFFICE INTERIORS CORP Contact:
Contact Phone:262-783-5070
Contact Email: KKOCONIS@MMOFFICE.COM
W233 N2833 ROUNDY CIRCLE W. STE 100, PEWAUKEE, WI, 53072
Phone:
Fax:
M3 INC. Contact:
Contact Phone:626-441-0355
Contact Email: CHRIS@M3OFFICE.COM
1414 FAIR OAKS AVE. STE 3, SOUTH PASADINA, CA, 91030
Phone:
Fax:
MAC HAIK FORD Contact:
Contact Phone:
Contact Email: DShelton@machaikford.com
10333 KATY FREEWAY, HOUSTON, TX, 77024
Phone:
Fax:
MAHLA OFFICE FURNITURE Contact:
Contact Phone:
Contact Email: MAHLA@VERIZON.NET
713 PENN AVE, PITTSBURGH, PA, 15222
Phone:
Fax:
MARGOLIS STATIONERY CO., INC Contact:
Contact Phone:
Contact Email: larryosky@gmail.com
140 3 NOEL CT, N MERRICK, NY, 11566
Phone:
Fax:
MARK DOWNS 2.0, INC Contact:
Contact Phone:410-771-6815
Contact Email:
10912 YORK RD, COCKEYSVILLE, MD, 21030
Phone:
Fax:
MARSHA JURASIN & ASSOCIATES Contact:
Contact Phone:
Contact Email: mja6@sbcglobal.net
405 PRIMROSE ROAD, STE.209, BURLINGAME, CA, 94010
Phone:
Fax:
MARYLAND OFFICE INTERIORS Contact:
Contact Phone:410-265-5699
Contact Email:
2923 LORD BALTIMORE DRIVE, BALTIMORE, MD, 21244
Phone:
Fax:
MATTEL GLOBAL SHARED Contact:
Contact Phone:716 687 3333
Contact Email: Jackie.Joyce@Fisher-Price.com
PO BOX 1109, EAST AURORA, NY, 13202
Phone:
Fax:
MB CONTRACT FURNITURE INC. Contact:
Contact Phone:925-849-8918
Contact Email: mhunt@mbcf.com
1001 GALAXY WAY, STE.100, CONCORD, CA, 94520
Phone:
Fax:
MBI SYSTEMS Contact:
Contact Phone:253-736-0232
Contact Email: ElishiaL@MBISeattle.com
600 STEWART ST., STE.1350, SEATTLE, WA, 98101
Phone:
Fax:
MCALEERS OFFICE FURNITURE Contact:
Contact Phone:850-479-0739
Contact Email:
4625 NORTH DAVIS HWY, PENSACOLA, FL, 32503
Phone:
Fax:
MCCOY WORKPLACE SOLUTIONS Contact:
Contact Phone:512-442-1386
Contact Email:
565 WEST 38TH STREET, HOUSTON, TX, 77018
Phone:
Fax:
MCM CONSULTANTS Contact:
Contact Phone:484-427-7262
Contact Email:
402 HEMPSTEAD CIRCLE, NEWTOWN SQUARE, PA, 19073
Phone:
Fax:
MCNERNEY & SON, INC Contact:
Contact Phone:
Contact Email: TCOCHRAN@MCNERNEYSON.COM
6966 MCNERNEY RD, NORTHWOOD, OH, 43619
Phone:
Fax:
MCWATERS INC. Contact:
Contact Phone:803-22-5567
Contact Email:
1104 SHOP RD, COLUMBIA, SC, 29201
Phone:
Fax:
MEADOWS Contact:
Contact Phone:212 741 0334
Contact Email: MOF_PO@meadowsoffice.com
885 THIRD AVE, NEW YORK, NY, 10022
Phone:
Fax:
MEADOWS OFFICE FURNITURE Contact:
Contact Phone:212-741-0334
Contact Email: kmullen@meadowsoffice.com
71 WEST 23RD STREET, NEW YORK, NY, 10010
Phone:
Fax:
MERCATUS INTERNATIONAL Contact:
Contact Phone:760-431-7556
Contact Email:
3900 E. CAMELBACK RD #110, PHOENIX, AZ, 85018
Phone:
Fax:
MERKEL DONOHUE Contact:
Contact Phone:
Contact Email: NMountain@merkel.com
1 WOODBURY BLVD, ROCHESTER, NY, 14604
Phone:
Fax:
METALLICS INTERNATIONAL CORP Contact:
Contact Phone:
Contact Email: PAGUERO@METALLICSINDUSTRIAL.COM
2300 GEORGE DIETER DR, EL PASO, TX, 79936
Phone:
Fax:
MICHAELS OFFICE FURNISHINGS, INC. Contact:
Contact Phone:
Contact Email: holly@michaels-inc.com
8544 AIRPORT RD., STE# A, REDDING, CA, 96002
Phone:
Fax:
MICHIGAN OFFICE ENVIRONMENTS Contact:
Contact Phone:269-343-0930
Contact Email:
177 Portage Rd, Kalamazoo, MI, 49007
Phone:
Fax:
MID-CITY OFFICE EQPT INC Contact:
Contact Phone:
Contact Email: David@midcityoffice.com
2495 MAIN STREET, BUFFALO, NY, 14214
Phone:
Fax:
MIDWEST COMMERCIAL Contact:
Contact Phone:801-359-2713
Contact Email:
987 SOUTH WEST TEMPLE, SALT LAKE CITY, UT, 84101
Phone:
Fax:
MIDWEST OFFICE SUPPLY Contact:
Contact Phone:866-753-1417
Contact Email: jflorent@midwestoffice.com
3700 WEST WABASH AVE, SPRINGFIELD, IL, 62711
Phone:
Fax:
MILES TREASTER & ASSOCIATES Contact:
Contact Phone:
Contact Email: slamotta@mtaoffice.com
3480 INDUSTRIAL BLVD. #100, WEST SACRAMENTO, CA, 95691
Phone:
Fax:
MILLERS OF COLUMBIA, INC Contact:
Contact Phone:803-254-4452
Contact Email: gayle.culbreth@millersinc.com
2905 TWO NOTCH RD., COLUMBIA, SC, 29204
Phone:
Fax:
MILLINGTON LOCKWOOD INC. Contact:
Contact Phone:716-633-5641
Contact Email: achristian@millingtonlockwood.com
3901 GENESEE STREET, BUFFALO, NY, 14225
Phone:
Fax:
MILTON TERRY ASSOC. INC. Contact:
Contact Phone:973 697 5217
Contact Email: denise@miltonterry.com
95 CHAMBERLAIN RD., OAK RIDGE, NJ, 07438
Phone:
Fax:
MISSOULA'S OFFICE CITY Contact:
Contact Phone:406-543-4254
Contact Email: brianh@mocmt.com
115 W BROADWAY, MISSOULA, MT, 59802
Phone:
Fax:
MODERN BUSINESS INTERIORS - MO Contact:
Contact Phone:636-946-2252
Contact Email:
1023 PORTWEST DRIVE, ST. CHARLES, MO, 63303
Phone:
Fax:
MODERN BUSINESS SYSTEMS INC Contact:
Contact Phone:706-724-4654
Contact Email:
1445 GREENE ST, AUGUSTA, GA, 30901-1033
Phone:
Fax:
MODERN ENVIRONMENTS Contact:
Contact Phone:757-490-7561
Contact Email:
745 BLUE CRABL ROAD, NEWPORT NEWS, VA, 23462
Phone:
Fax:
MODERN OFFICE INTERIORS Contact:
Contact Phone:
Contact Email: quote@modernofficeinteriors.com
1354 WEST RANDALL, COOPERSVILLE, MI, 49404
Phone:
Fax:
MODULAR SYSTEMS NETWORK Contact:
Contact Phone:619-440-3333
Contact Email:
13706 HWY 8 BUSINESS, STE B, EL CAJON, CA, 92021
Phone:
Fax:
MODULAR SYSTEMS SPECIALISTS, INC Contact:
Contact Phone:605-644-9786
Contact Email:
1631 WALTER STREET, VENTURA, CA, 93003
Phone:
Fax:
Monarch Office Furniture www.monarchofficefurniture.com
Contact: Kisa Greiner
Contact Phone:(972) 314-9333
Contact Email: lisa@monarchofficefurniture.com
2202 113th Street, Suite 114 Grand Prairie TX 75050
Phone:(972) 314-9333
Fax:(972) 314-9337
MONROE 2-ORLEANS BOCES Contact:
Contact Phone:
Contact Email: rbrennan@monroe2boces.org
3599 BIG RIDGE RD, SPENCERPORT, NY, 13202
Phone:
Fax:
MOUNTAIN PASS SERVICES INC. Contact:
Contact Phone:915-845-1190
Contact Email:
130 MONTOYA LN, EL PASO, NM, 87506
Phone:
Fax:
MSC INDUSTRIAL SUPPLY CO Contact:
Contact Phone:
Contact Email: BRANCHMIL@MSCDIRECT.COM
130 OLD GATE LANE, MILFORD, CT, 6460
Phone:
Fax:
MY OFFICE ETC Contact:
Contact Phone:
Contact Email: customerservice@myofficeetc.com
671 ACADEMY CT. UNIT C, WINDSOR, CO, 80550
Phone:
Fax:
MYOFFICE PRODUCTS Contact:
Contact Phone:
Contact Email: customerservice@myofficeproducts.com
111 WESTWOOD PLACE, BRENTWOOD, TN, 37027
Phone:
Fax:
NATIONAL OFFICE SERVICES, INC. Contact:
Contact Phone:
Contact Email: PAYABLES@NATOFFICE.COM; DGUTTU@NATOFFICE.COM
15655 BROOKPARK RD., BROOKPARK, OH, 44142
Phone:
Fax:
NATIONAL PREMIER PARTNERS, INC Contact:
Contact Phone:
Contact Email: SCIOFFI@NPP-CORP.COM
44 MECHANIC ST #105, NEWTON, MA, 2464
Phone:
Fax:
NATURAL OFFICE SOLUTIONS Contact:
Contact Phone:724-339-1794
Contact Email: bmarzka@naturaloffice.net
100 W. MAIN STREET, CARNEGIE, PA, 15206
Phone:
Fax:
NAVIGATOR INVESTMENTS, LLC Contact:
Contact Phone:401 455 1221
Contact Email: lsheeley@navigatorinvestments.com
100 Westminster St., Providence, RI, 02903
Phone:
Fax:
NBI Contact:
Contact Phone:
Contact Email: jim@nbifurniture.com
4141 COSTERO RISCO, SAN CLEMENTE, CA, 92673
Phone:
Fax:
NBS-NAVIGATING BUSINESS SPACE Contact:
Contact Phone:248-823-5401
Contact Email: lgreenwood@yournbs.com
2595 BELLINGHAM, TROY, MI, 48083
Phone:
Fax:
NELCO INTERIORS CORP Contact:
Contact Phone:847-934-9439
Contact Email: nelcoint@aol.com
675 N NORTH CT, PALATINE, IL, 60067
Phone:
Fax:
NEVERS INDUSTRIES Contact:
Contact Phone:763-553-1770
Contact Email:
14125 21ST AVE N, MINNEAPOLIS, MN, 55447
Phone:
Fax:
NEWPORT BUSINESS INTERIORS Contact:
Contact Phone:
Contact Email: jim@nbifurniture.com
4141 COSTERO RISCO, SAN CLEMENTE, CA, 92673
Phone:
Fax:
NORBY'S WORK PERKS Contact:
Contact Phone:701-746-5850
Contact Email: stevew@norbys.com
1804 GATEWAY DR, HWY 2, GRAND FORKS, ND, 58203
Phone:
Fax:
NORDON BUSINESS ENVIRONMENTS Contact:
Contact Phone:920-739-0322
Contact Email: Becky.Bechtel@nordon.com
3300 EAST WINSLOW AVE, APPLETON, WI, 54911-8301
Phone:
Fax:
NORTH BAY OFFICE FURNITURE, LLC Contact:
Contact Phone:
Contact Email: robert@northbayofficefurniture.com
205 5TH STREET, SUITE 5, SANTA ROSA, CA, 95401
Phone:
Fax:
NORTHERN BUSINESS PRODUCTS Contact:
Contact Phone:
Contact Email: CJACOBSON@NBPOFFICE.COM
2326 WEST SUPERIOR ST, DULUTH, MN, 55806
Phone:
Fax:
NUSPACE CORPORATE INT. Contact:
Contact Phone:
Contact Email: ly@nuspaceci.com
1608 W. CAMPBELL AVE., CAMPBELL, CA, 95008
Phone:
Fax:
OCI OFFICE CONCEPTS, INC Contact:
Contact Phone:
Contact Email: rick@ocioffice.com
100 CUMMINGS CENTER, BEVERLY, MA, 01915
Phone:
Fax:
OEC BUSINESS INTERIORS INC. Contact:
Contact Phone:352-333-2891
Contact Email:
1601 NW 80th Boulevard, Gainesville, FL, 32606
Phone:
Fax:
Office & Ergonomic Solutions Contact:
Contact Phone:
Contact Email: penny@oesofficefurniture.com
8480 UTICA AVE, RANCHO CUCAMONGA, CA, 91730
Phone:
Fax:
OFFICE CONCEPTS GROUP, INC Contact:
Contact Phone:
Contact Email: MHERRMANN@THEOFFICECONCEPTSGROUP.COM
301 GREENWOOD AVE, MIDLAND PARK, NJ, 7432
Phone:
Fax:
OFFICE CO-ORDINATOR INC. Contact:
Contact Phone:423-756-4761
Contact Email:
326 E. MAIN STREET, CHATANOOGA, TN, 37408
Phone:
Fax:
OFFICE CREATIONS, INC Contact:
Contact Phone:
Contact Email: katherine@officecreations.net
305 SHAWNEE NORTH DR, SUWANEE, GA, 30024
Phone:
Fax:
OFFICE DEPOT Contact:
Contact Phone:877-969-1629
Contact Email:
4600 HAVANA STREET, DENVER, CO, 33431-0816
Phone:
Fax:
OFFICE DEPOT INC. - Washington Contact:
Contact Phone:
Contact Email: Ingrid.Amirault@officedepot.com
1415 WESTERN AVENUE, SEATTLE, WA, 98101
Phone:
Fax:
OFFICE DEPOT- Oregon Contact:
Contact Phone:
Contact Email: office.depot@acs-inc.com
6960 SW SANDBURG ST, DIST 23J, TIGARD, OR, 97223-8039
Phone:
Fax:
OFFICE DESIGN & INTERIORS INC. Contact:
Contact Phone:650-485-9305
Contact Email: andrea@odi-inc.com
505 SEAPORT COURT, STE 103, REDWOOD CITY, CA, 94063
Phone:
Fax:
OFFICE DESIGN CONCEPTS Contact:
Contact Phone:
Contact Email: info@officedesignconcepts.com
279 WANAQUE AVE., POMPTON LAKES, NJ, 07442
Phone:
Fax:
OFFICE DIMENSIONS, INC. Contact:
Contact Phone:401-433-3300
Contact Email:
1980 PAWTUCKET AVE., EAST PROVIDENCE, RI, 02914
Phone:
Fax:
OFFICE ELEMENTS INC Contact:
Contact Phone:
Contact Email: maureen@oefurniture.com; gbrown@ise-group.com
2810 CENTER PORT CIRCLE, POMPANO BEACH, FL, 33064
Phone:
Fax:
OFFICE ENVIRONMENT, INC. Contact:
Contact Phone:
Contact Email: barbara@officeenvironmentsinc.com
2810 OLD LEE HIGHWAY, FAIRFAX, VA, 22031-4376
Phone:
Fax:
OFFICE ENVIRONMENTS Contact:
Contact Phone:
Contact Email: kkelley@oei-vt.com
PO BOX 729, WILLISTON, VT, 05495
Phone:
Fax:
OFFICE ENVIRONMENTS Contact:
Contact Phone:704 714 7400
Contact Email: lstamp@Office-Environments.com
11407 GRANITE ST, CHARLOTTE, NC, 28241
Phone:
Fax:
OFFICE ENVIRONMENTS - ALABAMA Contact:
Contact Phone:205-930-0386
Contact Email:
P.O. BOX 19986, BIRMINGHAM, AL, 35219
Phone:
Fax:
OFFICE ENVIRONMENTS AND SERVICES Contact:
Contact Phone:904-398-5095
Contact Email: ymckenzie@oesjax.com
1524 SAN MARCO BLVD, JACKSONVILLE, FL, 32207-2923
Phone:
Fax:
OFFICE ENVIRONMENTS - North Carolina Contact:
Contact Phone:
Contact Email: sandyc@oeasheville.com
1070 TUNNEL ROAD, ASHEVILLE, NC, 28805
Phone:
Fax:
OFFICE ENVIRONMENTS INTL-GSA ACCONT Contact:
Contact Phone:703-578-0023
Contact Email:
2700 SOUTH QUINCY ST., STE.320, ARLINGTON, VA, 22206
Phone:
Fax:
OFFICE ENVIRONMENTS, INC. Contact:
Contact Phone:
Contact Email: amyers@oeonline.net
1500 GRUNDYS LANE, BRISTOL, PA, 19007
Phone:
Fax:
Office Express Contact:
Contact Phone:877-792-8110
Contact Email:
1280 E. Big Beaver, Troy, MI, 48083
Phone:
Fax:
OFFICE FURNITURE CENTER Contact:
Contact Phone:716-694-1986
Contact Email: ecichon@prentice.us
777 YOUNG ST., TONAWANDA, NY, 14150
Phone:
Fax:
OFFICE FURNITURE CONCEPTS, INC Contact:
Contact Phone:
Contact Email: RONNIE_OFC@COMCAST.NET
1222 OLD FANNIN RD, BRANDON, MS, 39047
Phone:
Fax:
OFFICE FURNITURE OUTFITT Contact:
Contact Phone:865-524-9008
Contact Email:
1727 Grand Ave, KNOXVILLE, TN, 37916
Phone:
Fax:
OFFICE FURNITURE SOURCE LLC Contact:
Contact Phone:
Contact Email: sales@officefurnituresource.biz
12620 E. NORTHWEST HWY, DALLAS, TX, 75220
Phone:
Fax:
OFFICE GALLERY INTERNATIONAL Contact:
Contact Phone:781-762-3484
Contact Email: jordana@officegallery.net
68 VANDERBILT AVE, NORWOOD, MA, 02062
Phone:
Fax:
OFFICE IMAGES Contact:
Contact Phone:770-641-2565
Contact Email:
1515 HOLCOMB WOODS PARKWAY, ROSWELL, GA, 30076
Phone:
Fax:
OFFICE IMAGES Contact:
Contact Phone:
Contact Email: barmstrong@office-images.com
7650 Standish Place, Rockville, MD, 20855
Phone:
Fax:
OFFICE INSIGHT Contact:
Contact Phone:636-227-6304
Contact Email: LAURA@ACCENTSANDDESIGN.COM
15009-264 MANCHESTER ROAD, BALLWIN, MO, 63011
Phone:
Fax:
OFFICE INTERIORS AND DESIGN Contact:
Contact Phone:
Contact Email: lynn.thelen@oidinc.com; vicky.kuhn@oidinc.com
121 CHERRY HILL BLVD, LINCOLN, NE, 68510
Phone:
Fax:
OFFICE INTERIORS INC. Contact:
Contact Phone:
Contact Email: info@oiplaces.com
1415 UNIVERSITY DR COURT, GRANGER, IN, 46530-1249
Phone:
Fax:
OFFICE INTERIORS-FURNITURE & SYSTEMS Contact:
Contact Phone:
Contact Email: accounting@oiatlanta.com
375 NORTHRIDGE ROAD SUITE 120, ATLANTA, GA, 30350
Phone:
Fax:
OFFICE MASTER INC Contact:
Contact Phone:909-392-4567 
Contact Email:
1110 SOUTH MILDRED AVE, ONTARIO, CA, 91760
Phone:
Fax:
OFFICE MAX Contact:
Contact Phone:
Contact Email: OMWACKDALLAS@OMWORKSPACE.COM
1590 1ST AVE, , MA, 01453
Phone:
Fax:
OFFICE ONE FURNITURE & SERVICES INC Contact:
Contact Phone:
Contact Email: pam@officeonefurniture.com
7525 GRANGER RD. STE 101, VALLEY VIEW, OH, 44125
Phone:
Fax:
OFFICE OUTFITTERS Contact:
Contact Phone:506-658-1830
Contact Email:
212 MCALLISTER DRIVE, SAINT JOHN, NB, E2J 2S5
Phone:
Fax:
OFFICE PRODUCTS NATIONWIDE Contact:
Contact Phone:503-546-4141
Contact Email:
112600 SW 68TH AVE, PORTLAND, OR, 97223
Phone:
Fax:
OFFICE PROJECT PARTNERS Contact:
Contact Phone:972 980 3745
Contact Email: FNEVILLE@OFFICEPROJECTPARTNERS.COM
4200 LINDBERGH DR, ADDISON, TX, 75001
Phone:
Fax:
OFFICE RELIEF Contact:
Contact Phone:
Contact Email: PURCHASING@OFFICERELIEF.COM
516 MCCORMICK STREET, SAN LEANDRO, CA, 94577-1106
Phone:
Fax:
OFFICE REPLACEMENT PARTS Contact:
Contact Phone:
Contact Email: orporders@gmail.com
81-84 LEFFERTS BLVD, KEW GARDENS, NY, 11415
Phone:
Fax:
OFFICE RESOURCES Contact:
Contact Phone:603-645-6798
Contact Email: SUSIESERRANO@ORI.COM; PeterRoberts@ori.com
1200 ELM ST, MANCHESTER, NH, 3101
Phone:
Fax:
OFFICE RESOURCES-WPF Contact:
Contact Phone:617-423-5590
Contact Email: info@ori.com
374 CONGRESS ST, BOSTON, MA, 02210-2611
Phone:
Fax:
OFFICE SCAPES Contact:
Contact Phone:
Contact Email: ckern@officescapes.com; dnolan@officescapes.com
2506 ZEPPELIN RD, DENVER, CO, 80916
Phone:
Fax:
OFFICE SCAPES Contact:
Contact Phone:
Contact Email: broach@officescapes.com
4950 S. COLLEGE AVE, STE A, FORT COLLINS, CO, 80525
Phone:
Fax:
OFFICE SEKKEI AMERICA, INC Contact:
Contact Phone:
Contact Email: MIDORI_KUSAKABE@OFFICESEKKEI.COM
2775 ALGONQUIN RD #260, ROLLING MEADOWS, IL, 60008
Phone:
Fax:
OFFICE SOURCE Contact:
Contact Phone:903 794 4143
Contact Email: BBECK@OSOURCE.NET
PO BOX 1106, TEXARKANA, TX, 75504-1106
Phone:
Fax:
OFFICES LTD INC Contact:
Contact Phone:212944-8264
Contact Email:
76 NINTH AVE, STE.313, NEW YORK, NY, 10011
Phone:
Fax:
OFI CONTRACT INTERIORS Contact:
Contact Phone:
Contact Email: PAYMENTS@MYOFI.COM
28 GARFIELD ST, NEWINGTON, CT, 06111
Phone:
Fax:
OHIO DESK COMPANY Contact:
Contact Phone:216-623-0611
Contact Email: acknowledgements@ohiodesk.com
1122 PROSPECT AVENUE, CLEVELAND, OH, 44115-1292
Phone:
Fax:
OMNIFICS - GSA ORDERS Contact:
Contact Phone:
Contact Email: info@omnifics.com
5845 RICHMOND HIGHWAY, ALEXANDRIA, VA, 20170
Phone:
Fax:
ONE WORKPLACE L.FERRARI Contact:
Contact Phone:669-800-2501
Contact Email: pdominguez@oneworkplace.com
2500 DE LA CRUZ BLVD, SANTA CLARA, CA, 95050
Phone:
Fax:
OneCBI, LLC http://cbi-tn.com/
Contact: Dean Vance
Contact Phone:(865) 223-2777
Contact Email: dean.vance@cbi-tn.com
4020 Yancey Rd Charlotte, NC 28217
Phone:
Fax:
ONESOURCE OFFICE INTERIORS Contact:
Contact Phone:503-227-3149
Contact Email:
2950 NW YEON AVE, PORTLAND, OR, 97210
Phone:
Fax:
PADOVA TECHNOLOGIES INC Contact:
Contact Phone:
Contact Email: info@padovatech.com
PO BOX 5002, SEVERNA PARK, MD, 21146
Phone:
Fax:
PALACE ART & OFFICE INTERIORS Contact:
Contact Phone:
Contact Email: orders@gopalace.com
2606 CHANTICLEER AVE, SANTA CRUZ, CA, 95065
Phone:
Fax:
PANEL SYSTEMS UNLIMITED Contact:
Contact Phone:770 908 9520
Contact Email: tony@panelsystemsunlimited.com
4789 HAMMERMILL RD, TUCKER, GA, 30084
Phone:
Fax:
PARAMETERS LTD Contact:
Contact Phone:
Contact Email: info@parameters.com
1600 UTICA AVENUE SOUTH, MINNEAPOLIS, MN, 55416
Phone:
Fax:
PATHWAY COMMUNICATIONS, LTD Contact:
Contact Phone:972 436 0421
Contact Email: JUDYO@PCOMUS.COM; amandaj@pcomus.com
720 VALLEY RIDGE CRICLE STE 13, LEWISVILLE, TX, 75057
Phone:
Fax:
PBI, INC Contact:
Contact Phone:410-280-3974
Contact Email: purchasing@pbi-inc.com
115 WEST ST, ANNAPOLIS, MD, 21401
Phone:
Fax:
PEAK OFFICE FURNITURE Contact:
Contact Phone:
Contact Email: linda@peakoffice.com
2500 W. 8TH AVE., DENVER, CO, 80204
Phone:
Fax:
PEAR COMMERCIAL INTERIORS Contact:
Contact Phone:
Contact Email: orders@pearwork.com
1515 Arapahoe St., Denver, CO, 80202
Phone:
Fax:
PENCARE SPECIALTY INTERIORS Contact:
Contact Phone:
Contact Email: orders@pencarellc.com 
PO BOX 245, WARRENSVILLE, NC, 28693
Phone:
Fax:
PHASELOCK SYSTEMS INTERNATIONAL INC. Contact:
Contact Phone:613-742-7073
Contact Email:
2445 ST. LAURENT BLVD. STE B-242, OTTAWA, ON, K1G 6C3
Phone:
Fax:
PIEDMONT FACILITIES SERVICES Contact:
Contact Phone:
Contact Email: laura@pfsnc.com
1325 IVY AVE, WINSTON-SALEM, NC, 27105
Phone:
Fax:
PINNACLE OFFICE SOLUTIONS Contact:
Contact Phone:
Contact Email: NCRANDALL@PINNACLEOFFICESOL.COM
100 CONIFER HILL DR, DANVERS, MA, 01923
Phone:
Fax:
PIVOT (WORKLACE RESOURCE) Contact:
Contact Phone:
Contact Email: losete@pivotinteriors.comIVOTINTERIORS.COM
3200 PARK CENTER DR #100, COSTA MESA, CA, 92626
Phone:
Fax:
PIVOT INTERIORS INC Contact:
Contact Phone:949-432-5601
Contact Email: tparker@pivotinteriors.com
3355 SCOTT BLVD, SANTA CLARA, CA, 95054
Phone:
Fax:
Pivot Interiors Inc. http://www.pivotinteriors.com/
Contact: Bob Madley
Contact Phone:(408) 432-5655
Contact Email: bmadey@pivotinteriors.com
3355 Scott Blvd. Suite 110 Santa Clara, CA 95054
Phone:(408) 432-5655
Fax:
PMC COMMERCIAL INTERIORS Contact:
Contact Phone:
Contact Email: ack@pmccommercialinteriors.com
3000 PERIMETER PARK DR, MORRISVILLE, NC, 27560
Phone:
Fax:
PRADERE OFFICE PRODUCTS Contact:
Contact Phone:
Contact Email:  info@pradereoffice.com
7655 WEST 20TH AVE, HIALEAH, FL, 33014
Phone:
Fax:
PREMIER ERGONOMIC SERVICES Contact:
Contact Phone:
Contact Email: cs@premierergoservices.com
1647 WILLOW PASS ROAD #187, CONCORD, CA, 94520
Phone:
Fax:
PREMIER STATIONERS, INC Contact:
Contact Phone:212 947 1992
Contact Email: jsorrin@premiersupplies.com; mpduke@optonline.net
110 ASIA PLACE, CARLSTADT, NJ, 07072
Phone:
Fax:
PREVOLV Contact:
Contact Phone:
Contact Email: Asickmann@prevolv.com
2635 UNIVERSITY AVE W, SAINT PAUL, MN, 55114
Phone:
Fax:
PRICE MODERN INC - BALTIMORE Contact:
Contact Phone:410-235-8382
Contact Email:
2604 SISSON STREET, BALTIMORE, MD, 21211-3189
Phone:
Fax:
PRICE-MODERN Contact:
Contact Phone:
Contact Email: accounts.payable@pricemodern.com
9700A MARTIN LUTHER KING JR. HWY, LANHAM, MD, 20706
Phone:
Fax:
PRIMARY SOURCE OFFICE FURNISHINGS Contact:
Contact Phone:
Contact Email: primarysourceinc@att.net
902 RIVERA DRIVE, SANTA ANA, CA, 92706
Phone:
Fax:
PRODUCT BUSINESS INTERIORS Contact:
Contact Phone:260 422 6965
Contact Email: PPAGE@PBIFTWANYE.COM
126 WEST COLUMBIA ST, FORT WAYNE, IN, 46802
Phone:
Fax:
PROJECT ERGONOMICS Contact:
Contact Phone:408-423-8808
Contact Email: mark@projectergonomics.com
700 S MONROE ST., SAN JOSE, CA, 95128
Phone:
Fax:
QUALITY OFFICE ENVIRONMENTS Contact:
Contact Phone:
Contact Email: marcia.podhorecki@ki.com
127 MAIN ST, GENESEO, NY, 13202
Phone:
Fax:
QUALITY OFFICE FURNISHINGS Contact:
Contact Phone:
Contact Email: sales@qualityofficefurn.com
23825 VIA DEL RIO, YORBA LINDA, CA, 92887
Phone:
Fax:
R.J.E. BUSINESS INTERIORS Contact:
Contact Phone:317-297-8513
Contact Email:
621 EAST OHIO ST, INDIANAPOLIS, IN, 46202
Phone:
Fax:
RANDALL BUSINESS INTERIORS Contact:
Contact Phone:703-750-3176
Contact Email: randall2@starpower.net
PO BOX 853, ALEXANDRIA, VA, 22003-0853
Phone:
Fax:
RAY HESS BUSINESS INTERIORS INC Contact:
Contact Phone:
Contact Email: ray@rayhess.com
347 5TH AVE, NEW YORK, NY, 10016
Phone:
Fax:
RBA FURNITURE SOLUTIONS Contact:
Contact Phone:206-623-0883
Contact Email: rodneyb@rbadesign.com
94 UNION STREET, SEATTLE, WA, 98101
Phone:
Fax:
RC PRECISION INSTALLATIONS Contact:
Contact Phone:
Contact Email: sales@rcinstallation.com
5764 LAMAR, ARVADA, CO, 80002
Phone:
Fax:
RCF GROUP Contact:
Contact Phone:513 612 7313
Contact Email: heather.bradley@thercfgroup.com; ap@thercfgroup.co
6454 CENTRE PARK DR, WEST CHESTER, OH, 45069
Phone:
Fax:
RED THREAD Contact:
Contact Phone:617-261-1399
Contact Email: ack@red-thread.com
47 LEGGETT ST, E. HARTFORD, CT, 6108
Phone:
Fax:
RED THREAD Contact:
Contact Phone:
Contact Email: APINVOICES@OENE.COM
2 CITY CENTER, PORTLAND, ME, 04101-4010
Phone:
Fax:
RESOURCE MANAGEMENT, COMM ACCTS Contact:
Contact Phone:
Contact Email: INVOICES@JDI.SOCOM.MIL
P.O. BOX 70239, FORT BRAGG, NC, 26307-5000
Phone:
Fax:
RESOURCES OF KANSAS CITY Contact:
Contact Phone:816-471-0969
Contact Email: raynor@resourceskc.com
706 BROADWAY, KANSAS CITY, MO, 64105
Phone:
Fax:
RIO GRANDE CONTRACT FURNISHINGS-BPSI Contact:
Contact Phone:915-544-6720
Contact Email:
909 TEXAS AVE, EL PASO, TX, 79901
Phone:
Fax:
RIVIERA LLC Contact:
Contact Phone:
Contact Email: Nmacdhubhain@riviera-usa.com
641 LEXINGTON, , TX,
Phone:
Fax:
ROCKFORD BUSINESS INTERIORS Contact:
Contact Phone:512-442-6555
Contact Email: acknowledgements@mccoyinc.com
211 EAST RIVERSIDE DRIVE, AUSTIN, TX, 70704
Phone:
Fax:
ROGARDS OFFICE PLUS Contact:
Contact Phone:217-356-1050
Contact Email:
214 SOUTH WALNUT STREET, CHAMPAIGN, IL, 61820
Phone:
Fax:
ROLLIE MARCOVITCH Contact:
Contact Phone:
Contact Email: rolliepm@comcast.net
7319 BUSH LAKE DR, BLOOMINGTON, MN, 55438
Phone:
Fax:
RUSSWOOD LIBRARY FURN Contact:
Contact Phone:919 779 7403
Contact Email: sbryan@russwood.net
2009 Carr-Pur Drive, Raleigh, NC, 27603
Phone:
Fax:
S & T OFFICE PRODUCTS Contact:
Contact Phone:
Contact Email: CSREast@ise-group.com
1000 KRISTEN COURT, ST. PAUL, MN, 55110
Phone:
Fax:
SAFEGUARD BUSINESS SYSTEMS, INC Contact:
Contact Phone:
Contact Email: STEVE COX
2417 WESTGATE DR, ALBANY, GA, 31707
Phone:
Fax:
SAN DIEGO OFFICE SUPPLY Contact:
Contact Phone:858-679-4105
Contact Email: purchasingdept@sdos.com
12556 KIRKHAM ST #1, POWAY, CA, 92064
Phone:
Fax:
SANDY'S OFFICE SUPPLY, INC. Contact:
Contact Phone:970-925-6239
Contact Email:
630 E. HYMAN AVE., ASPEN, CO, 81611
Phone:
Fax:
SBD COMMERCIAL INTERIORS Contact:
Contact Phone:517 789 3065
Contact Email: LINDAM@SBDCI.NET
3005 Francis St., Jackson, MI, 49203
Phone:
Fax:
SC41 FURNITURE Contact:
Contact Phone:
Contact Email: sidney@sc41.com
2647 41ST AVENUE, SOQUEL, CA, 95073-2136
Phone:
Fax:
SCHMIDT GOODMAN Contact:
Contact Phone:507-282-7355
Contact Email:
1920 NORTH BROADWAY, ROCHESTER, MN, 55906
Phone:
Fax:
SCOTT RICE COMPANY Contact:
Contact Phone:405-848-3999
Contact Email:
7501 NORTH BROADWAY, OKLAHOMA CITY, OK, 73116
Phone:
Fax:
SEATS AND STATIONS Contact:
Contact Phone:916-783-8006
Contact Email: Dennie@SeatsAndStations.com
10016 FOOTHILLS BLVD. SUITE 100, ROSEVILLE, CA, 95747
Phone:
Fax:
SEDGWICK BUSINESS INTERIORS Contact:
Contact Phone:
Contact Email: dbenedict@sedgwickbusiness.com
100 W COURT ST, SYRACUSE, NY, 13206
Phone:
Fax:
SEWCO, INC.,DBA OFFICEWISE Contact:
Contact Phone:806-374-2177
Contact Email: mjohnson@officewiseco.com
HWY 60E & FM 2373, AMARILLO, TX, 79120
Phone:
Fax:
SHEFFIELD OFFICE PRODUCTS INC Contact:
Contact Phone:
Contact Email: JASON@SHEFFIELDOP.COM
3400 CORPORATE WAY STE B, DULUTH, GA, 30096
Phone:
Fax:
SHEPPARD'S BUSINESS INTERIORS INC.-STLC Contact:
Contact Phone:
Contact Email: info@sbi-omaha.com
725 SOUTH 72ND STREET, OMAHA, NE, 68114-4665
Phone:
Fax:
SHEPPARD'S BUSINESS INTERIORS INC.-STLC Contact:
Contact Phone:
Contact Email: INVOICES@SBI-OMAHA.COM
4817 N. 56 ST. BAY 26, LINCOLN, NE, 68508-1333
Phone:
Fax:
SIDEMARK CORPORATE FURNITURE Contact:
Contact Phone:408-490-3355
Contact Email:
3312 WOODWARD AVE, SANTA CLARA, CA, 95054
Phone:
Fax:
SIERRA FURNITURE & DESIGN Contact:
Contact Phone:
Contact Email: jeanette@sierrabg.com
9950 HORN RD. #5, SACRAMENTS, CA, 95827
Phone:
Fax:
SIERRA SCHOOL EQUIPMENT COMPANY Contact:
Contact Phone:
Contact Email: sales@sseinc.com
1911 MINERAL COURT, BAKERSFIELD, CA, 93308
Phone:
Fax:
SIMMONS OFFICE INTERIORS Contact:
Contact Phone:336-292-5098
Contact Email: bill@sitsmart.com
301-D Pomona Drive, GREENSBORO, NC, 27407
Phone:
Fax:
SIMON FOX & COMPANY Contact:
Contact Phone:
Contact Email: richarddsimon@aol.com
1000 GERMANTOWN PIKE, PLYMOUTHMEETING, PA, 19462
Phone:
Fax:
SIXTY CAPITAL ADVISORS, LLC Contact:
Contact Phone:
Contact Email: JSBRONFMAN@GMAIL.COM
595 MADISON AVE, NEW YORK, NY,
Phone:
Fax:
SMART BUSINESS PRODUCTS Contact:
Contact Phone:573-474-3838
Contact Email: andy@smartbusinessproducts.com
1901 VANDIVER DRIVE, COLUMBIA, MO, 65205
Phone:
Fax:
SMART OFFICE SERVICES Contact:
Contact Phone:410 787 2535
Contact Email: jkidwell@2bsmarter.com
810 -H CROMWELL PARK DR, GLEN BURNIE, MD, 21061
Phone:
Fax:
SOURCE ERGONOMIC, INC. Contact:
Contact Phone:
Contact Email: ethel@source-ergo.com
416 HILLSIDE RD, KING OF PRUSSIA, PA, 19406
Phone:
Fax:
SOURCE OFFICE PRODUCTS Contact:
Contact Phone:303-964-8010
Contact Email: Nate.Whitehill@sourceot.com
13350 WEST 43RD DRIVE, GOLDEN, CO, 80403
Phone:
Fax:
SOURCE PRODUCTS LTD Contact:
Contact Phone:330- 744-2878
Contact Email:
561 ANDREWS AVE, YOUNGSTOWN, OH, 44501-6883
Phone:
Fax:
SOUTHERN TIER CONTRACT Contact:
Contact Phone:607 737 3680
Contact Email: dan@southerntiercontract.com
805 HATCH STREET, ELMIRA, NY, 14901
Phone:
Fax:
SOUTHWEST OFFICE SUPPLY & INTERIORS Contact:
Contact Phone:602-277-9512
Contact Email:
3205 NW YEON, PORTLAND, OR, 97210
Phone:
Fax:
SOUTHWEST PARTITIONS Contact:
Contact Phone:602-277-9512
Contact Email: bj@e-zoffice.com; brittney@e-zoffice.com
4600 N. 7TH AVE., PHOENIX, AZ, 85013
Phone:
Fax:
SPACES INCORPORATED Contact:
Contact Phone:913-894-8890
Contact Email:
14950 W. 86TH STREET, LENEXA, KS, 66215
Phone:
Fax:
SPACESAVER SYSTEMS, INC Contact:
Contact Phone:
Contact Email: TOMM@WORKSPACEDESIGN.COM
10800 CONNECTICUT AVE, KENSINGTON, MD, 20895
Phone:
Fax:
SPARKS RETAIL Contact:
Contact Phone:
Contact Email: mamberg@sparksretail.com
, PHILADELPHIA, PA, 19154
Phone:
Fax:
SPECTRUM Contact:
Contact Phone:610-354-0370
Contact Email: spectrum_accounting@spectrumworkplace.com
1003 W. 9TH AVENUE, KING OF PRUSSIA, PA, 19406
Phone:
Fax:
SPENCER-VIRNOCHE INC Contact:
Contact Phone:
Contact Email: tspencer@sandvlabs.com
7900 DAVIS RD NORTH, CLAY, NY, 13041
Phone:
Fax:
Standard Commerical Interiors Contact:
Contact Phone:518 433 0315
Contact Email:
107 Champlain St, Albany, NY, 12204
Phone:
Fax:
STAPLES - Oregon Contact:
Contact Phone:866-387-8973
Contact Email: furniturevendorcommunication@staples.com
, , OR,
Phone:
Fax:
STEPHENS OFFICE SUPPLY Contact:
Contact Phone:
Contact Email: bmjernigan@theofficestore.com
372-C WYTHE CREEK RD, POQUOSON, VA, 23662
Phone:
Fax:
STEVENS OFFICE INTERIORS Contact:
Contact Phone:315-428-1668
Contact Email: cclifford@stevensinteriors.com
6804 MANLIUS CENTER RD, SYRACUSE, NY, 13210
Phone:
Fax:
STOREY KENWORTHY Contact:
Contact Phone:
Contact Email:
1333 OHIO STREET, DES MOINES, IA, 50314
Phone:
Fax:
STORR OFFICE ENVIRONMENTS Contact:
Contact Phone:919-313-3701
Contact Email:
10800 WORLD TRADE BLVD., MORRISVILLE, NC, 27617
Phone:
Fax:
STUDIO HIVE Contact:
Contact Phone:
Contact Email: sbjork@studiohive.com
901 ORTH 3RD ST, MINNEAPOLIS, MN, 55401
Phone:
Fax:
SUN OFFICE PRODUCTS Contact:
Contact Phone:
Contact Email:
7347 S REVERE PARKWAY, CENTENNIAL, CO, 80112
Phone:
Fax:
SUPERIOR BUSINESS PRODUCTS Contact:
Contact Phone:518-356-1910
Contact Email: cprosser@superiorbponline.com
3108 CARMAN RD, SCHENECTADY, NY, 12303
Phone:
Fax:
SUPERIOR OFFICE INTERIORS Contact:
Contact Phone:315-422-0620
Contact Email: colleen@superiorofficeinteriors.com
225 WILKINSON ST, SYRACUSE, NY, 13204
Phone:
Fax:
SYMMETRY OFFICE Contact:
Contact Phone:480 393 4000
Contact Email: PURCHASING@SYMMETRYOFFICE.COM;
, , IA,
Phone:
Fax:
Synergy Business Env. Contact:
Contact Phone:
Contact Email: sgarrison@synergybe.com
111 10TH AVENUE SOUTH, NASHVILLE, TN, 37203
Phone:
Fax:
SYRACUSE OFFICE ENVIRONMENTS Contact:
Contact Phone:
Contact Email: JECKER@SOESYR.COM; sschmitz@soesyr.com
375 ERIE BLVD. WEST, SYRACUSE, NY, 13202
Phone:
Fax:
SYSTEMS FURNITURE Contact:
Contact Phone:
Contact Email: Barbara.vandenbusch@sysfurniture.com
125 SOUTH BROADWAY, DE PERE, WI, 54115
Phone:
Fax:
SYSTEMS FURNITURE GALLERY Contact:
Contact Phone:
Contact Email: info@systemsfurniture.com
4425 BROOKFIELD CORP DR, CHANTILLY, VA, 20151-4019
Phone:
Fax:
SYSTEMS SOURCE Contact:
Contact Phone:
Contact Email: accountspayable@systemsource.com
2999 OVERLAND AVE. STE.#210, LOS ANGELES, CA, 90064
Phone:
Fax:
SYSTEMS SOURCE, INC. Contact:
Contact Phone:949-852-0929
Contact Email:
3161 MICHELSON DR., STE.110, IRVINE, CA, 92612
Phone:
Fax:
TACTICAL OFFICE SOLUTIONS Contact:
Contact Phone:
Contact Email: sdennehy@fensassociates.com
PO BOX 7, GROVELAND, MA, 1834
Phone:
Fax:
TALL GRASS BUSINESS RESOURCES Contact:
Contact Phone:
Contact Email: npollock@tallgrassbiz.com
218 2ND ST, CORALVILLE, IA, 52241
Phone:
Fax:
TANGRAM INTERIORS Contact:
Contact Phone:562-365-5399
Contact Email: jroether@tangraminteriors.com
9200 SORENSEN AVE, SANTA FE SPRINGS, CA, 90670
Phone:
Fax:
TAP OFFICE FURNITURE CO. INC. Contact:
Contact Phone:
Contact Email: TAPOFFICEINC@AOL.COM
140 WILLINGHAM DRIVE, BOLING BROKE, GA, 31004
Phone:
Fax:
TARGET COMMERCIAL INTERIORS Contact:
Contact Phone:612-232-5733
Contact Email: tci.vnotif@targetinteriors.com
81 S 9TH STREET, STE.250, MINNEAPOLIS, MN, 55402
Phone:
Fax:
TECHLINE MINNEAPOLIS Contact:
Contact Phone:952 927 7660
Contact Email: scottl@techlinetwincities.com
4412 EXCELSIOR BOULEVARD, ST LOUIS PARK, MN, 55416
Phone:
Fax:
TEK BENCHES Contact:
Contact Phone:
Contact Email: RUDY@TEKBENCHES.COM
775 MATHEW ST, SANTA CLARA, CA, 95050
Phone:
Fax:
TEXAS WILSON OFFICE FURNITURE Contact:
Contact Phone:210-647-3110
Contact Email:
6812 FAIRGROUNDS PKWY, SAN ANTONIO, TX, 78238
Phone:
Fax:
THE CREATIVE OFFICE Contact:
Contact Phone:360-754-8774
Contact Email: cberger@creativeof.com
721 LEGIONWAY S.E., OLYMPIA, WA, 98501
Phone:
Fax:
THE ERGONOMIC STORE Contact:
Contact Phone:
Contact Email: customerservice@theergonomicstore.com
270F N. EL CAMINO REAL, SUITE #337, ENCINITAS, CA, 92024
Phone:
Fax:
THE FURNITURE SOURCE Contact:
Contact Phone:952 829 9777
Contact Email: MICHELLE@THEFSI.COM
6813 SHADY OAK RD, EDEN PRAIRIE, MN, 55344
Phone:
Fax:
THE HUMAN SOLUTION Contact:
Contact Phone:
Contact Email: jeff@thehumansolution.com
2139 WEST ANDERSON LANE, AUSTIN, TX, 78757-1221
Phone:
Fax:
THE IT SOURCE Contact:
Contact Phone:
Contact Email: jrtuggle@the-itsource.com
PO BOX 5053, KNOXVILLE, TN, 37928
Phone:
Fax:
THE OFFICE CITY Contact:
Contact Phone:877 764 3900
Contact Email:
3167 CORPORATE PLACE, HAYWARD, CA, 94545
Phone:
Fax:
THE OFIS Contact:
Contact Phone:713-629-0436
Contact Email:
7110 OLD KATY ROAD, SUITE 200, HOUSTON, TX, 77024
Phone:
Fax:
THE SHERIDAN GROUP Contact:
Contact Phone:310-575-0681
Contact Email:
2045 PONTIUS AVE., LOS ANGELES, CA, 90025
Phone:
Fax:
THOMAS BUSINESS CENTER Contact:
Contact Phone:765 289 2519
Contact Email: b.good@thomasbusinesscenter.com
333 N FRANKLIN, MUNCIE, IN, 47305
Phone:
Fax:
THOMAS INTERIOR SYSTEMS, INC. Contact:
Contact Phone:
Contact Email: donnas@thomasinterior.com
476 BRIGHTON COURT, BLOOMINGDALE, IL, 60108
Phone:
Fax:
THW DESIGN Contact:
Contact Phone:770 916 2299
Contact Email: cindytuemmler@thw.com
2100 RIVEREDGE PKWY, ATLANTA, GA, 30328
Phone:
Fax:
TODAY'S OFFICE INC Contact:
Contact Phone:501 375 1350
Contact Email: MKHOLLEY@TODAYSOFFICEINC.COM
717 WEST 7TH ST, LITTLE ROCK, AR, 72201
Phone:
Fax:
TOTAL CORPORATE SOLUTIONS Contact:
Contact Phone:3104-36-1594
Contact Email:
20335 S WESTERN AVE, TORRANCE, CA, 90501
Phone:
Fax:
TOTAL OFFICE INTERIORS Contact:
Contact Phone:201-651-0701
Contact Email:
567 COMMERCE ST, FRANKLIN LANES, NJ, 7417
Phone:
Fax:
TOTAL OFFICE SOLUTIONS Contact:
Contact Phone:719-327-5889
Contact Email:
931 S. TEJON STREET, COLORADO SPRING, CO, 80903
Phone:
Fax:
TRENDWAY CORPORATION Contact:
Contact Phone:616-399-0668
Contact Email:
PO BOX 9016, HOLLAND, MI, 49422-9016
Phone:
Fax:
TRIPLETT OFFICE ESSENTIALS Contact:
Contact Phone:
Contact Email: ap@tripletts.com; KCOX@TRIPLETTS.COM
3553 109TH STREET, URBANDALE, IA, 503223720
Phone:
Fax:
TURNERBOONE CONTRACT Contact:
Contact Phone:404-733-1030
Contact Email: accounting@turnerboone.com
957 W MARIETTA ST NW, ATLANTA, GA, 30318
Phone:
Fax:
TURTLE AND HUGHES Contact:
Contact Phone:
Contact Email: hlopez@er-go.com
1900 LOWER RD, LINDEN, PR, 07036
Phone:
Fax:
U.S. BUSINESS INTERIORS,INC Contact:
Contact Phone:301 350 9393
Contact Email: MARYM@USBIONLINE.COM
8800 LOTTSFORD RD, LARGO, MD, 20774-4761
Phone:
Fax:
UNION OFFICE INTERIORS Contact:
Contact Phone:781-628-1020
Contact Email: MBLACKLER@UNIONOFFICE.COM
226 ANDOVER STREET, WILMINGTON, MA, 01887
Phone:
Fax:
UNISOURCE OFFICE FURNITURE PARTS, INC Contact:
Contact Phone:616 455 9404
Contact Email: VHEALY@UNISOURCEPARTS.COM
2882 NORTHRIDGE DR, WALKER, MI, 49544
Phone:
Fax:
UNISOURCE OFFICE SERVICES INC. Contact:
Contact Phone:562-949-7110
Contact Email:
8350 REX ROAD, PICO RIVERA, , 90660
Phone:
Fax:
UNISOURCE SOLUTIONS Contact:
Contact Phone:562-949-7110
Contact Email:
8350 REX ROAD, PICO RIVERA, CA, 90660
Phone:
Fax:
UNISPACE Contact:
Contact Phone:
Contact Email: tim@meagroup.net; seth.kenimer@unispace.com
1301 RESEARCH RD, COLUMBUS, OH, 43230
Phone:
Fax:
UNISPACE Contact:
Contact Phone:952 808 7900
Contact Email: joyce.chellberg@unispace.com
14520 JUDICIAL RD, BURNSVILLE, MN, 55306
Phone:
Fax:
UPSTATE OFFICE FURNITURE Contact:
Contact Phone:607-722-3148
Contact Email:
718 AZON RD, JOHNSON CITY, NY, 13790
Phone:
Fax:
URBAN OFFICE DESIGN Contact:
Contact Phone:
Contact Email: sales@officedesigns.com
10833 LOSTWOOD DRIVE, SANDY, UT, 84092-4925
Phone:
Fax:
US OFFICE FURNITURE Contact:
Contact Phone:
Contact Email: tkb@us-officefurniture.com
842 INDUSTRIAL PARK DR SE, LONSDALE, MN, 55046
Phone:
Fax:
VANGARD CONCEPT OFFICES Contact:
Contact Phone:408-325-3227
Contact Email: scharles@vcoffices.com
2150 NORTH FIRST STREET, SUITE 100, SAN JOSE, CA, 95131
Phone:
Fax:
VANGUARD ENVIRONMENTS Contact:
Contact Phone:
Contact Email: gayle@vanguardenvironments.com
7026 OLD KATY ROAD, STE 260, HOUSTON, TX, 77024
Phone:
Fax:
VIKING OFFICE SUPPLY Contact:
Contact Phone:
Contact Email: CHRISB@MYVIKINGOFFICE.COM
2921 HIGHWAY 29 SOUTH, ALEXANDRIA, MN, 56308
Phone:
Fax:
VITECH FURNITURE SOLUTIONS Contact:
Contact Phone:
Contact Email: vitechfurniture@gmail.com
1226 LEAFY HOLLOW CIRCLE, MOUNT AIRY, MD, 21771
Phone:
Fax:
WALDNERS-WPF Contact:
Contact Phone:631-694-3503
Contact Email: ORDERCONTROL@WALDNERS.COM
125 ROUTE 110, FARMINGDALE, NY, 11735
Phone:
Fax:
WAREHOUSE DIRECT Contact:
Contact Phone:
Contact Email: dfeszter@warehousedirect.com
1601 W. ALGONQUIN ROAD, MOUNT PROSPECT, IL, 60056
Phone:
Fax:
WARREN'S OFFICE SUPPLIES Contact:
Contact Phone:207-324-2167
Contact Email: melissa@warrensofficesupplies.com
329 JAGGER MILL ROAD, SANFORD, ME, 4073
Phone:
Fax:
WASHINGTON GROUP SOLUTIONS Contact:
Contact Phone:703-237-9442
Contact Email: LHAMILL@WGSOFFICE.COM
101 WEST BROAD ST STE 300, FALLS CHURCH, VA, 22046
Phone:
Fax:
WB WOOD Contact:
Contact Phone:212-282-1509
Contact Email: csreast@ise-group.com
225 PARK AVE S, NEW YORK, NY, 10003
Phone:
Fax:
WB WOOD Contact:
Contact Phone:908 901 0002
Contact Email: mmiczak@wbwood.com
175 Morristown Rd, Basking Ridge, NJ, 07920
Phone:
Fax:
WEEKS LERMAN Contact:
Contact Phone:
Contact Email: jferrufino@weekslerman.com
58-38 PAGE PLACE, MASPETH, NY, 11378
Phone:
Fax:
WEINBERGER'S BUSINESS INTERIOR Contact:
Contact Phone:
Contact Email: admin@weinbergersfurniture.com
PO BOX 212089, AUGUSTA, GA, 30917
Phone:
Fax:
WEST MICHIGAN OFFICE INTERIORS Contact:
Contact Phone:616 396 9903
Contact Email:
300 EAST 40TH ST, HOLLAND, MI, 49423
Phone:
Fax:
WESTERN CONTRACT FURNISHERS Contact:
Contact Phone:916-638-2698
Contact Email:
11455 FOLSOM BLVD., RANCHO CORDOVA, CA, 95742-6297
Phone:
Fax:
WESTERN INTERIOR SERVICES Contact:
Contact Phone:
Contact Email: chad@westerninterior.com
160 WEST 2100 SOUTH, SALT LAKE CITY, UT, 84115
Phone:
Fax:
WESTERN OFFICE INTERIORS - California Contact:
Contact Phone:323-271-1801
Contact Email:
5809 E. TELEGRAPH ROAD, COMMERCE, CA, 90040
Phone:
Fax:
WESTERN OFFICE INTERIORS - Washington Contact:
Contact Phone:
Contact Email: ebullock@westernoffice.com
500 CITADEL DRIVE, SEATTLE, WA, 90040
Phone:
Fax:
WIDMER INTERIORS Contact:
Contact Phone:309-693-9353
Contact Email:
PO BOX 3320, PEORIA, IL, 61612-3320
Phone:
Fax:
WILEY OFFICE FURNITURE Contact:
Contact Phone:217-544-8756
Contact Email: lori.calloway@wileyoffice.com
301 EAST OAK ST, SPRINGFIELD, IL, 62703
Phone:
Fax:
WILLAIMETTE VALLEY OFFICE EQUIPMENT Contact:
Contact Phone:
Contact Email: stevewilcox01@comcast.net
5945 PORT STEWART CT. SE, SALEM, OR, 97306
Phone:
Fax:
WILSON OFFICE INTERIORS Contact:
Contact Phone:
Contact Email: tweryavah@wilsonoi.com
1444 OAK LAWN AVE, DALLAS, TX, 75207
Phone:
Fax:
Wilson Project Management www.wilsonoi.com
Contact: Lucy Smithey
Contact Phone:
Contact Email: Smitheyl@wilson-pm.com
1144 oak Lawn Avenue, Dallas, TX 75207
Phone:(817) 771-9306
Fax:
WORK WHILE WALKING (THERMOGENISIS) Contact:
Contact Phone:
Contact Email: accounting@workwhilewalking.com
13256 NE. 20TH ST. SUITE 2, BELLEVUE, WA, 98005
Phone:
Fax:
WORKING ENVIRONMENTS INC. Contact:
Contact Phone:404-845-0009
Contact Email:
325 BENITA TRACE N.W., ATLANTA, GA, 30306-3129
Phone:
Fax:
WORKPLACE ELEMENTS LLC. Contact:
Contact Phone:303-471-4330
Contact Email:
2501 BLAKE STREET, DENVER, CO, 80205
Phone:
Fax:
WORKPLACE ENVIRONMENTS 2000 Contact:
Contact Phone:
Contact Email: lisraelite@we-2000.com
37 E GERMANTOWN PIKE, PLYMOUTH MEETIN, PA, 19462
Phone:
Fax:
WORKPLACE INTERIORS Contact:
Contact Phone:
Contact Email: jvassallo@workplaceint.com; lkiefer@workplaceint.c
400 Packetts Landing, FAIRPORT, NY, 13202
Phone:
Fax:
WORKPLACE PURCHASING ASSOC. Contact:
Contact Phone:
Contact Email: mikew@designworkplace.com
15981 YARNELL ST. #217, SYLMAR, CA, 91352
Phone:
Fax:
WORKPLACE RESOURCE OF TULSA Contact:
Contact Phone:972-446-1209
Contact Email:
1320 EAST 15TH STREET, TULSA, OK, 74120
Phone:
Fax:
WORKPLACE RESOURCE, LLC. Contact:
Contact Phone:512-472-7888
Contact Email: CSREast@ise-group.com
1717 W. 6TH STREET, AUSTIN, TX, 78703
Phone:
Fax:
WORKSAFE TECHNOLOGIES Contact:
Contact Phone:888-858-1410
Contact Email: shop@worksafetech.net
920 SOUTH MCGLINCY, CAMPBELL, CA, 95008
Phone:
Fax:
WORKSCAPES INC Contact:
Contact Phone:407-599-6780
Contact Email:
1173 NORTH ORANGE AVE, ORLANDO, FL, 32804
Phone:
Fax:
WORKSPACE DYNAMICS, INC. Contact:
Contact Phone:505-255-8210
Contact Email:
4711 LOMAS BLVD. NE, ALBUQUERQUE, NM, 87110
Phone:
Fax:
WORKSPACE INC. Contact:
Contact Phone:515-288-0250
Contact Email: FURNQUOTE@STOREYKENWORTHY.COM
309 LOCUST STREET, DES MOINES, IA, 50309
Phone:
Fax:
WORKSPACE SOLUTIONS Contact:
Contact Phone:260-422-6815
Contact Email:
2208 PRODUCTION ROAD, FORT WAYNE, IN, 46808
Phone:
Fax:
WORKSPACE SOLUTIONS, INC. Contact:
Contact Phone:210-366-2470
Contact Email:
3660 Thousand Oaks, Suite 220, San Antonio, TX, 78247
Phone:
Fax:
WORKSPACE2 Contact:
Contact Phone:
Contact Email: ALLAN@WORKSPACE2.COM
1874 Lago Vista Blvd., Palm Harbor, FL, 34685
Phone:
Fax:
WYCLIFFE ENTERPRISES INC Contact:
Contact Phone:240-629-8671
Contact Email:
47 E SOUTH ST, FREDERICK, MD, 21701-5617
Phone:
Fax:
XOTIVE FACILITY SOLUTIONS INC Contact:
Contact Phone:484-841-6179
Contact Email: xotive@comcast.net
3211 ALBERMARLE AVE, DREXEL HILL, PA, 19026
Phone:
Fax:
YOUNG OFFICE ENVIORNMENTS Contact:
Contact Phone:
Contact Email: JTOWE@YOUNGOS.COM
1280 RIDGE RD, GREENVILLE, SC, 29607
Phone:
Fax: