EMAIL PO & VENDOR QUOTE TO: TIPSPO@TIPS-USA.COM
PO MUST REFERENCE VENDOR'S TIPS CONTRACT NUMBER
ATTACH PO AS A PDF - ONLY ONE PO (WITH QUOTE) PER ATTACHMENT

Print
VENDOR

Discover Video LLC

101 N. Plains Industrial Road Wallingford CT,06492

WEBSITE

discovervideo.com

SERVICE/PRODUCTS DESCRIPTION

Founded in 2009, Discover Video, LLC provides powerful and affordable video streaming and digital media solutions to organizations of all sizes in three ways: Products, Services andExpertise. PRODUCTS Discover Video is a manufacturer of video streaming and digital media solutions that bring professional quality and features within the affordable reach of any organization. Discover Video is also a true Value-Added Reseller for market-leading, third-party vendors. We specialize in being able to combine these solutions in customizable approaches to solve the specific needs of our customers. SERVICES We also provide a wide range of professional services from webcast production and distribution to complete system integration and installation. We recognize that the customer relationship only begins with the product sale and help our customers to get the most out of their digital media strategies and investment. EXPERTISE Discover Video is comprised of some of the most experienced professionals in the video communications and digital media industries and they know what customers need in both equipment and knowledge to be able to accomplish their communication goals. They also provide practical expertise such as producing live webcasts for clients such as the Emmy Awards, the National Association of Broadcasters and the White House.
Discover Video LLC
CONTRACT: 180701 Distance Learning Services and Hardware
Sep-27-2018 to Sep-30-2021
EDGAR COMPLIANCE : Yes
CONTRACT: 180306 Technology Solutions Products and Services (2)
May-26-2018 to May-26-2020
EDGAR COMPLIANCE : Yes
Discover Video LLC

Print
Distance Learning Services and Hardware(180701)
Exp.Date 09/30/2021 EDGAR: Yes
Technology Solutions Products and Services (2) (180306)
Exp.Date 05/26/2020 EDGAR: Yes
| | |
| --- | --- |
| DISADVANTAGED/MINORITY/WOMAN BUSINESS ENTERPRISE | No |
| HISTORICALLY UNDERUTILIZED BUSINESS (HUB) | No |
| | |
| --- | --- |
| | AL , AK , AZ , AR , CA , CO , CT , DE , DC , FL , GA , HI , ID , IL , IN , IA , KS , KY , LA , ME , MD , MA , MI , MN , MS , MO , MT , NE , NV , NH , NJ , NM , NY , NC , ND , OH , OK , OR , PA , RI , SC , SD , TN , TX , UT , VT , VA , WA , WI , WY |
Live Oak Equipment Finance is the exclusive financial parter of TIPS! Allow LOEF to help assist you in your financial needs today!

We are committed to provide a financing experience based on unwavering integrity, unmatched service and complete transparency. Our processes have been established with the client in mind, and we are dedicated to ensuring that you enjoy your experience working with our team. Our goal is for you to build a long-term relationship with Live Oak Equipment Finance, not only as your financial partner, but also a firm that can help you grow and excel as a professional in your industry.
Contact Information:
Phone: (512) 726-0367
Email: tips@loeqf.com
Website: www.loeqf.com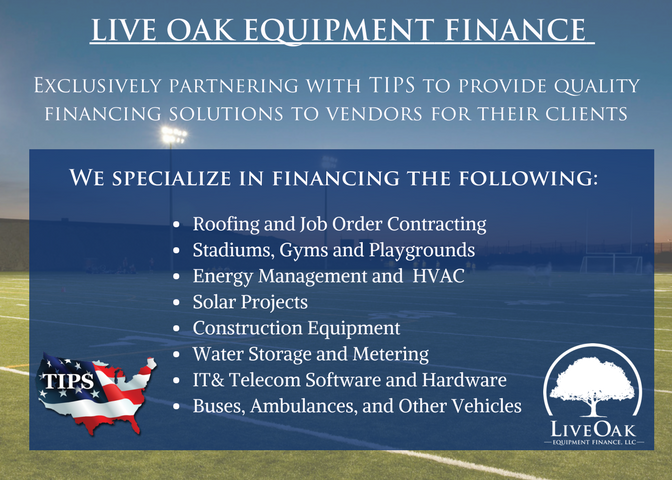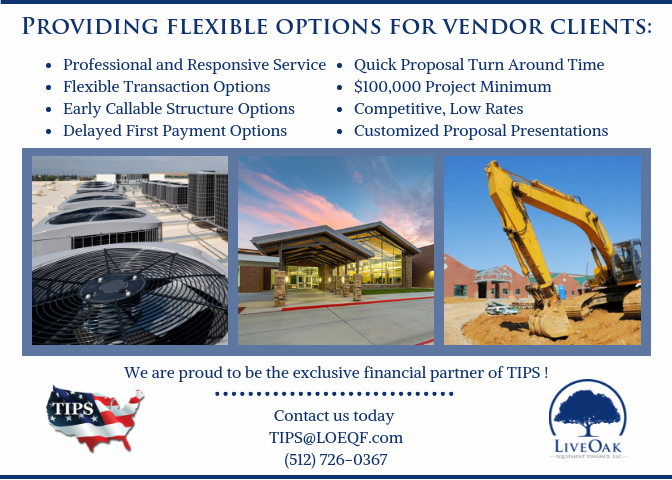 Get VCard for Primary Contact by Contract
Discover Video LLC
Resellers listed below may also hold a current TIPS contract. PO's for quotes provided by a reseller that are also awarded in the same category will be processed and sent directly to that reseller.

Please check under "ALL VENDORS" before requesting a quote from any listed reseller.
Resellers
Address
AVI-SPL https://avispl.com/
Contact: Tracie Bryant-Cravens
Contact Phone:(972) 679-9922
Contact Email: tracie.bryant-cravens@avispl.com
"6301 Benjamin Road, Suite 101 Tampa, FL 33634"
Phone:(866) 708-5034
Fax:
Encore Broadcast http://www.encorebroadcast.com
Contact: Susan Masotti
Contact Phone:(423) 595-3522
Contact Email: smasotti@encorebroadcast.com
"2104 W. Kennedy Blvd. Tampa, Florida 33606"
Phone:(813) 253-2774
Fax:
ETCVideo LLC www.etcvideo.com
Contact: Pasquale Cassella
Contact Phone:(386) 236-8595
Contact Email: patc@etcvideo.com
1453 N. US Hwy 1, Ormond Beach, FL 32176
Phone:(386) 236-8595
Fax:
Howard Technology Solutions https://www.howardcomputers.com/
Contact: David Perkins
Contact Phone:(601) 399-5077
Contact Email: dperkins@howardcomputers.com
"32 Howard Dr Ellisville, Mississippi 39437"
Phone:(888) 912-3151
Fax:
Troxell Communications https://www.troxellsolutions.com/
Contact: Austin Hermes
Contact Phone:(602) 750-6979
Contact Email: austin.hermes@trox.com
"52 Tuscan Way Suite 202-545 St. Augustine, Florida 32092"
Phone:(904) 300-1040
Fax: