EMAIL PURCHASE ORDER TO: TIPSPO@TIPS-USA.COM
ATTACH PO AS A PDF - ONLY ONE PO PER EMAIL
PO MUST REFERENCE TIPS CONTRACT NUMBER
VENDOR

Solutionz Conferencing Inc

WEBSITE

www.solutionzinc.com

SERVICE/PRODUCTS DESCRIPTION

Turn to Solutionz Conferencing for all of your video conferencing needs. Solutionz Inc. is leading the way in designing and deploying pervasive video conferencing and UC solutions for commercial, education, healthcare and government markets. At Solutionz Conferencing we offer a comprehensive service portfolio of audio and video integration. Our services include Cisco, Tandberg and Polycom video conferencing equipment and services, Cloud services, grant advocacy, around the clock support, and managed services. Our industry leading video conferencing solutions and superior customer service provide an unparalleled user experience. Plus, we offer the lowest total cost of video conference system ownership. At Solutionz Conferencing we are committed to delivering the most reliable, comprehensive, and best-in-class solutions that propel collaboration and transform the way that you do business. We pride ourselves on providing an unparalleled user experience with the lowest total cost of ownership to customers from all industries and all levels of experience. As a Polycom Platinum Partner and a Cisco Authorized Technology Provider (ATP) Master Partner we serve the needs of national, federal, local and government agencies at home and worldwide with voice, video, and web collaboration solutions, including Polycom Video Conferencing as well as Cisco Video Conference services. Our in-house service department is available for video and audio conferencing support as well as for our 19 other different service offerings, including Tandberg conferencing. Additionally, our Grant Program Services (GPS) department is committed to helping your organization succeed and will help you find, apply and win grant funding for your conferencing needs. Contact us today to find out more information about our industry-leading audio and video solutions.
CONTRACT: 1092415 Distance Learning
Sep-24-2015 to Sep-27-2018 EDGAR COMPLIANCE : N
Solutionz Conferencing Inc
CONTRACT: 1092415 Distance Learning
Sep-24-2015 to Sep-27-2018
EDGAR COMPLIANCE : N
TIPS CONTACT

PAYMENT TO

NAME

Meredith Barton

ADDRESS:

901 Bringham Ave

POSITION

TIPS CONTACT

PHONE

(866)-839-8477

CITY:

Los Angeles

FAX

(866)-839-8472

STATE:

CA

MOBILE

ZIP:

90049

EMAIL

tips@tips-usa.com
| | |
| --- | --- |
| DISADVANTAGED/MINORITY/WOMAN BUSINESS ENTERPRISE | YES |
| HISTORICALLY UNDERUTILIZED BUSINESS (HUB) | NO |
| | |
| --- | --- |
| | AL , AK , AZ , AR , CA , CO , CT , DE , DC , FL , GA , HI , ID , IL , IN , IA , KS , KY , LA , ME , MD , MA , MI , MN , MS , MO , MT , NE , NV , NH , NJ , NM , NY , NC , ND , OH , OK , OR , PA , RI , SC , SD , TN , TX , UT , VT , VA , WA , WI , WY |

We are committed to provide a financing experience based on unwavering integrity, unmatched service and complete transparency. Our processes have been established with the client in mind, and we are dedicated to ensuring that you enjoy your experience working with our team. Our goal is for you to build a long-term relationship with Live Oak Equipment Finance, not only as your financial partner, but also a firm that can help you grow and excel as a professional in your industry.
Contact Information:
Phone: (512) 726-0367
Email: tips@loequipmentfinance.com
Website: www.loequipmentfinance.com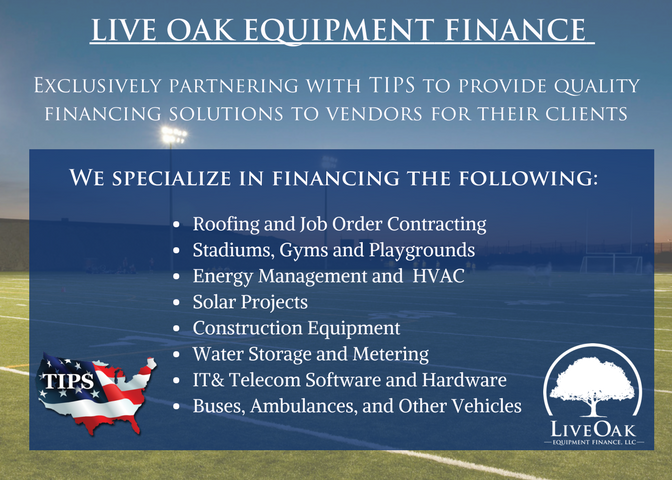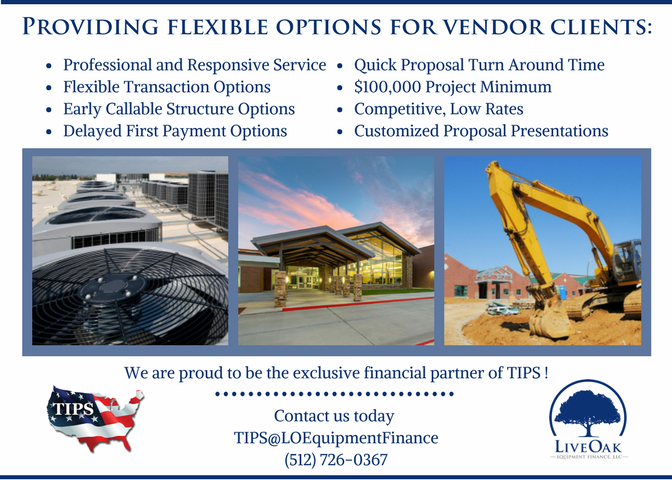 Resellers listed below may also hold a current TIPS contract. PO's for quotes provided by a reseller that are also awarded in the same category will be processed and sent directly to that reseller.

Please check under "ALL VENDORS" before requesting a quote from any listed reseller.
Resellers
Address
AVTEQ http://avteq.net/
Contact: Aaron Rubner
Contact Phone:(214) 905-9001
Contact Email: arubner@avteqinc.com
1151 Empire Central Dr Dallas TX 75247
Phone:
Fax:
Crestron www.crestron.com
Contact: Mark Furlong
Contact Phone:(201) 767-3400 Ext. 10208
Contact Email: mfurlong@crestron.com
15 Volvo Drive, Rockleigh, NJ 07647
Phone:(201) 767-3400 Ext. 10208
Fax:
KBZ (Cisco) http://www.cisco.com/
Contact: Mark Jones
Contact Phone:(214) 348-9481 Ext. 1179
Contact Email: Mark.Jones@kbz.com
2003 South Easton Road Doylestoen PA 18901
Phone:
Fax:
NEC Display Solutions of America, Inc. www.necdisplay.com
Contact: Cathy Hussar
Contact Phone:(630) 467-4725
Contact Email: chussar@necdisplay.com
500 Park Blvd, Suite 1100, Itasca, IL 60143
Phone:(630) 467-4725
Fax:
Polycom http://www.polycom.com/
Contact: Michele Trapani
Contact Phone:(720) 250-7791
Contact Email: Michele.Trapani@Polycom.com
6001 America Center Dr San Jose CA 95002
Phone:
Fax:
StarLeaf www.starleaf.com
Contact: Phil Daniele
Contact Phone:(603) 392-7220
Contact Email: phil.daniele@starleaf.com
333 W El Camino Real, STE 250, Sunnyvale, CA 94087
Phone:(603) 392-7220
Fax: