EMAIL PURCHASE ORDER TO: TIPSPO@TIPS-USA.COM
ATTACH PO AS A PDF-ONLY ONE PO PER EMAIL
PO MUST REFERENCE TIPS CONTRACT NUMBER
VENDOR

Hytera America Inc

WEBSITE

www.hytera.us

SERVICE/PRODUCTS DESCRIPTION

Manufacturer of Communications equipment including: Base stations and repeaters, Analogue and Digital, DMR Trunking products, Mobiles, Portables and Accessories.
CONTRACT: 3032615 Emergency Responder Supplies and Equipment
Mar-26-2015 to Mar-26-2018
Hytera America Inc
CONTRACT: 3032615 Emergency Responder Supplies and Equipment
Mar-26-2015 to Mar-26-2018
PRIMARY CONTACT

SECONDARY CONTACT

NAME

Eduardo Salazar
Marketing Manager

POSITION

Business Development Manager
Marketing Manager

PHONE

(954) 670-5433
(954) 846-1011

FAX

(954) 846-1672
(954) 846-1672

MOBILE

(954) 662-5801

EMAIL

eduardo.salazar@hytera.us
marketing@hytera.us

WEBSITE

www.hytera.us
TIPS CONTACT

PAYMENT TO

NAME

Meredith Barton

ADDRESS:

3315 Commerce Parkway

POSITION

TIPS CONTACT

PHONE

(866)-839-8477

CITY:

Miramar

FAX

(866)-839-8472

STATE:

FL

MOBILE

ZIP:

33025

EMAIL

tips@tips-usa.com
| | |
| --- | --- |
| FEDERAL OR EDGAR COMPLIANCE DOCUMENTS FILED WITH CONTRACT: | NO |
| DISADVANTAGED/MINORITY/WOMAN BUSINESS ENTERPRISE | NO |
| HISTORICALLY UNDERUTILIZED BUSINESS (HUB) | NO |
| | |
| --- | --- |
| | AL AK AZ AR CA CO CT DE DC FL GA HI ID IL IN IA KS KY LA ME MD MA MI MN MS MO MT NE NV NH NJ NM NY NC ND OH OK OR PA RI SC SD TN TX UT VT VA WA WI WY |
0

We are committed to provide a financing experience based on unwavering integrity, unmatched service and complete transparency. Our processes have been established with the client in mind, and we are dedicated to ensuring that you enjoy your experience working with our team. Our goal is for you to build a long-term relationship with Live Oak Equipment Finance, not only as your financial partner, but also a firm that can help you grow and excel as a professional in your industry.
Contact Information:
Phone: (512) 726-0367
Email: tips@loequipmentfinance.com
Website: www.loequipmentfinance.com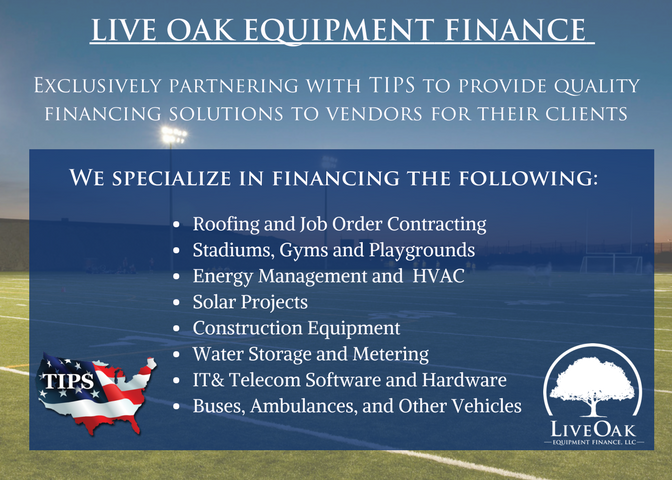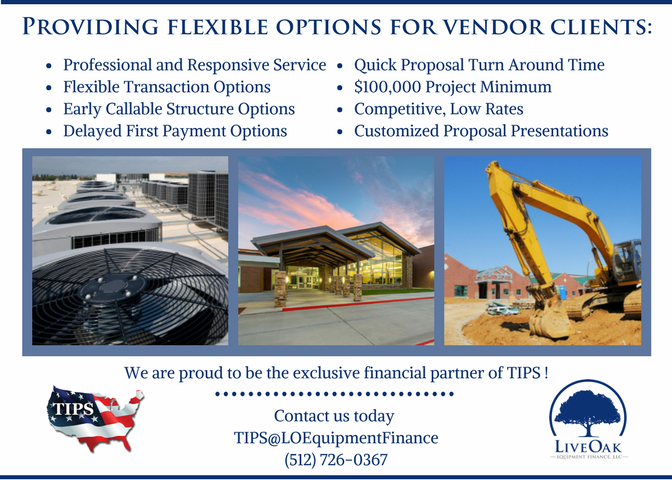 Resellers listed below may also hold a current TIPS contract. PO's for quotes provided by a reseller that are also awarded in the same category will be processed and sent directly to that reseller.
Please check under "ALL VENDORS" before requesting a quote from any listed reseller.
Resellers
Address
Aerowave Technologies Contact: Gina Gardenhire
Contact Phone:(214) 222-2376
Contact Email: cecilliam@aerowavetech.com
PO Box 294123, Lewisville, TX 75029
Phone:(214) 220-2010
Fax:(214) 220-2010
Airwave Radio Inc. Contact: Fred Hurst
Contact Phone:(210) 732-5221
Contact Email: fhurst@texradio.com
1138 Basse Road, San Antonio, TX 78212
Phone:(210) 732-9063
Fax:(210) 732-9063
Break Through Communications Contact: Brian Perry
Contact Phone:(817) 732-7791
Contact Email: brian@pagetexas.com
3620 Byers Avenue, Fort Worth, TX 76107
Phone:(817) 731-8335
Fax:(817) 731-8335
Browns Communications Co Contact: Richard Brown
Contact Phone:(903) 657-9751
Contact Email: rushbrown@juno.com
3160 State Hwy 323 W, Henderson, TX 75652
Phone:(903) 657-2939
Fax:(903) 657-2939
Circle B Radio Service Contact: Bobby Baker
Contact Phone:(254) 580-1287
Contact Email: cheif_1911@yahoo.com
521 HCR 2316, Hillsboro, TX 76645
Phone:
Fax:
Communication Professionals Contact: Lonnie Danchik
Contact Phone:(214) 884-2707
Contact Email: account@dallasmobilec.com
PO Box 550836, Dallas, TX 75355
Phone:(214) 349-9491
Fax:(214) 349-9491
Communication Specialists Inc Contact: Tomi Rowland
Contact Phone:(870) 773-0189
Contact Email: tomi@comspectxk.com
800 Kings Way, Wake Village, TX 75501
Phone:(870) 773-1688
Fax:(870) 773-1688
Communications & Emergency Products Contact: Ron Smith
Contact Phone:(281) 499-7681
Contact Email: ron.smith@cepisystems.com
10404 Cash Road, Bldg E Ste 100, Stafford TX
Phone:(281) 499-7684
Fax:(281) 499-7684
Continental Wireless Contact: Julia McEwen
Contact Phone:(972) 926-8443
Contact Email: gary.weber@cntlwire.com
10455 Vista Park Road, Dallas, TX 75238
Phone:(972) 926-0624
Fax:(972) 926-0624
Digital Tehcnology Group LLC Contact: Nick Rodarte
Contact Phone:(915) 974-3900
Contact Email: contact@godtg.com
6633 N Mesa Ste 505, El Paso, TX 79912
Phone:
Fax:
HDC Video & Communications Contact: Hector Del Castillo
Contact Phone:(956) 631-6591
Contact Email: eelara88@yahoo.com
409-A S. Main St. Suite 1 McAllen,TX 78501
Phone:(956) 664-8181
Fax:(956) 664-8181
Keller Communictions/Clear Call Contact: Keller McCrary
Contact Phone:(972) 243-7160
Contact Email: keller@clearcall.com
4020 McEwen, Suite No. 165, Dallas, TX 75244
Phone:(972) 243-1841
Fax:(972) 243-1841
Link MCS LLC Contact: Cindy Viana
Contact Phone:(972) 938-1980
Contact Email: gary@linkam.com
3002 Century Drive, Rowlett, TX 75088
Phone:(972) 938-9247
Fax:(972) 938-9247
Megahertz Technology Inc. Contact: Jim Hopper
Contact Phone:(214) 365-0933
Contact Email: jimh@mhztech.com
5622 East University Blvd, Dallas, TX 75206
Phone:(214) 365-0324
Fax:(214) 365-0324
Morris Communications Contact: Jack Morris
Contact Phone:(864) 234-7309
Contact Email: mmeter@movosnetworks.com
1720 Lakepointe Drive, Ste 100, Lewisville, TX
Phone:(864) 234-3258
Fax:(864) 234-3258
National Radio Contact: Dan Long
Contact Phone:(281) 443-1999
Contact Email: dan@natrad.com
419 Century Plaza, Suite 210, Houston, TX 77073
Phone:(281) 443-1888
Fax:(281) 443-1888
Petty's Electronics Contact: Ron Petty
Contact Phone:(361) 400-7026
Contact Email: ron@pettyselectronics.com
7010 A South Padre Island Dr, Corpus Christi
Phone:(361) 400-5858
Fax:(361) 400-5858
SAT Radio Comm dba Industrial Comm Contact: Kayla LaCombe
Contact Phone:(210) 226-3682
Contact Email: customerservice@indcom.net
1019 E Euclid Ave, San Antonio, TX 78212
Phone:(210) 226-3997
Fax:(210) 226-3997
Self Radio Inc Contact: John Self
Contact Phone:(940) 894-2181
Contact Email: jselfradio@aol.com
PO Box 76, Montague, TX 76251
Phone:(940) 894-2191
Fax:(940) 894-2191
Texas 2 Way Contact: Tasha Campos
Contact Phone:(713) 790-1955
Contact Email:
1330 Sherwood Forest St, Houston TX 77043
Phone:
Fax:
Warner Radio & Communications Inc Contact: Debbie Males
Contact Phone:(940) 627-1442
Contact Email: debbiemales@warner-radio.com
488 County Road 4228, Decatur, TX 76234
Phone:(817) 887-4952
Fax:(817) 887-4952
Warren Amplifiers Contact: David Harden
Contact Phone:(325) 315-0959
Contact Email:
322 N Main Street, San Angelo, TX 76903
Phone:(325) 617-7845
Fax:(325) 617-7845