AUTOMATED VENDOR (DO NOT SEND PO TO TIPS)
EMAIL PURCHASE ORDER TO: dpiEdSalesTeam@dataprojections.com
PO MUST REFERENCE TIPS CONTRACT NUMBER
VENDOR

Data Projections Inc

WEBSITE

www.dataprojections.com

SERVICE/PRODUCTS DESCRIPTION

Established in 1987, Data Projections, Inc. began as a technical communications marketer for Texas-based schools but quickly expanded and enhanced its service offerings to become a leading audio visual systems designer and integrator providing advanced collaborative technology solutions and support services for a wide range of clients across the educational, governmental and corporate environments. For companies looking to connect with customers, employees and key stakeholders, Data Projections provides intelligently designed communications environments for control rooms, corporate board rooms, training sites, classrooms and other multi-media environments. Our market knowledge combined with a dedication to simplicity help us provide the most reliable audio visual communications systems for our customers. Our support and training services, industry partnerships and engineering expertise enable us to provide products and services that keep you simply connected.
CONTRACT: 171001 Audio Visual Equipment, Supplies and Services
Dec-15-2017 to Dec-18-2020
Data Projections Inc
CONTRACT: 171001 Audio Visual Equipment, Supplies and Services
Dec-15-2017 to Dec-18-2020
TIPS CONTACT

PAYMENT TO

NAME

Meredith Barton

ADDRESS:

3700 W Sam Houston Pky S, Ste 525

POSITION

TIPS CONTACT

PHONE

(866)-839-8477

CITY:

Houston

FAX

(866)-839-8472

STATE:

TX

MOBILE

(903)-243-4789

ZIP:

77042

EMAIL

tips@tips-usa.com
| | |
| --- | --- |
| FEDERAL OR EDGAR COMPLIANCE DOCUMENTS FILED WITH CONTRACT: | NO |
| DISADVANTAGED/MINORITY/WOMAN BUSINESS ENTERPRISE | NO |
| HISTORICALLY UNDERUTILIZED BUSINESS (HUB) | YES |
| | |
| --- | --- |
| | AL AK AZ AR CA CO CT DE DC FL GA HI ID IL IN IA KS KY ME MD MA MI MN MS MO MT NE NH NJ NM NY NC ND OH OK OR PA RI SC SD TN TX UT VT VA WA WI WY |
0

We are committed to provide a financing experience based on unwavering integrity, unmatched service and complete transparency. Our processes have been established with the client in mind, and we are dedicated to ensuring that you enjoy your experience working with our team. Our goal is for you to build a long-term relationship with Live Oak Equipment Finance, not only as your financial partner, but also a firm that can help you grow and excel as a professional in your industry.
Contact Information:
Phone: (512) 726-0367
Email: tips@loequipmentfinance.com
Website: www.loequipmentfinance.com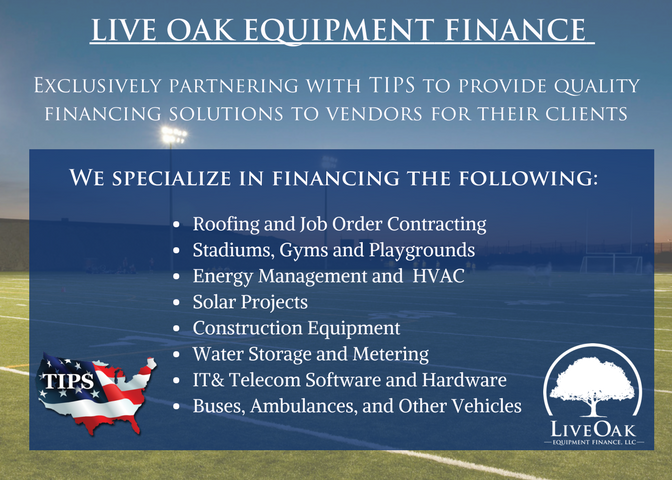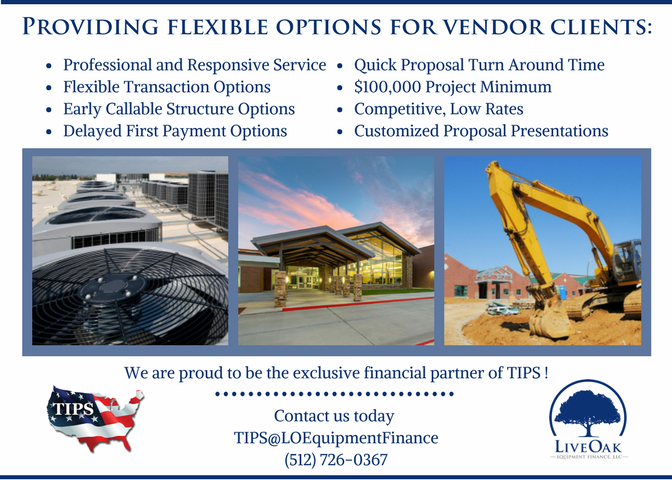 Resellers listed below may also hold a current TIPS contract. PO's for quotes provided by a reseller that are also awarded in the same category will be processed and sent directly to that reseller.
Please check under "ALL VENDORS" before requesting a quote from any listed reseller.
Resellers
Address
Discover Video http://www.discovervideo.com/
Contact: Tony Spearink
Contact Phone:(281) 577-8143
Contact Email: tonys@discovervideo.com
101 North Plains Industrial Rd Wallingford CT 06429
Phone:
Fax:
LifeSize http://www.lifesize.com/
Contact: Brian Posey
Contact Phone:(512) 623-4239
Contact Email: bposey@lifesize.com
1601 S. MoPac Expy, Suite 100 Austin TX 78746
Phone:
Fax:
NewTek http://www.newtek.com/
Contact: John Costa
Contact Phone:(817) 277-7105
Contact Email: johnc@jbanda.com
5131 Beckwith Blvd. San Antonio TX 78249
Phone:
Fax:
Polycom http://www.polycom.com/
Contact: Geoff Astill
Contact Phone:(512) 626-1180
Contact Email: geoff.astill@polycom.com
7700 W. Parmer Ln, Bldg C, Suite 100 Austin TX 78729
Phone:
Fax:
V-Brick www.vbrick.com
Contact: John Copeland
Contact Phone:(866) 252-3760
Contact Email: johnc@vbrick.com
12 Beaumont Road, Wallingford, CT 06492
Phone:(866) 252-3760
Fax:(866) 252-3760