| | |
| --- | --- |
| | EMAIL PURCHASE ORDER TO: TIPSPO@TIPS-USA.COM ATTACH PO AS A PDF - ONLY ONE PO PER EMAIL PO MUST REFERENCE TIPS CONTRACT NUMBER. |
VENDOR

Afflink LLC

WEBSITE

www.AFFLINK.com

SERVICE/PRODUCTS DESCRIPTION

AFFLINK a leading sales and marketing organization - connecting more than 250 Servicing Distributors and 200 Preferred Suppliers of Facility Maintenance, Packaging, Foodservice, Healthcare, Safety, Industrial, and Office products to thousands of customers, everyday. By truly understanding its customers' businesses from the top down, AFFLINK, and its network of distributors, are able to reduce acquisition and possession costs, provide continuous improvement practices, and achieve synergies and economies of scale. AFFLINK has been a difference maker in the supply chain for more than 37 years, ensuring that its customers get a partner that positively impacts their company image, operations and, most importantly, their bottom line
CONTRACT: 170104 Janitorial and Sanitation Supplies and Services
Mar-23-2017 to Mar-26-2020
CONTRACT: 170401 Food Service Equipment, Chemicals, Supplies & Service
Jun-22-2017 to Jun-25-2020
Afflink LLC
CONTRACT: 170104 Janitorial and Sanitation Supplies and Services
Mar-23-2017 to Mar-26-2020
Afflink LLC
CONTRACT: 170401 Food Service Equipment, Chemicals, Supplies & Service
Jun-22-2017 to Jun-25-2020
Consider the following before using this RFP for purchasing with Federal Child Nutrition fund 240 in Texas public schools. Click here to read more.
TIPS CONTACT

PAYMENT TO

NAME

Meredith Barton

ADDRESS:

PO Box 930751

POSITION

TIPS CONTACT

PHONE

(866)-839-8477

CITY:

Atlanta

FAX

(866)-839-8472

STATE:

GA

MOBILE

(903)-243-4789

ZIP:

31193-0751

EMAIL

tips@tips-usa.com
| | |
| --- | --- |
| FEDERAL OR EDGAR COMPLIANCE DOCUMENTS FILED WITH CONTRACT: | Yes |
| DISADVANTAGED/MINORITY/WOMAN BUSINESS ENTERPRISE | NO |
| HISTORICALLY UNDERUTILIZED BUSINESS (HUB) | NO |
| | |
| --- | --- |
| | AL AK AZ AR CA CO CT DE DC FL GA HI ID IL IN IA KS KY LA ME MD MA MI MN MS MO MT NE NV NH NJ NM NY NC ND OH OK OR PA RI SC SD TN TX UT VT VA WA WV WI WY |
0

We are committed to provide a financing experience based on unwavering integrity, unmatched service and complete transparency. Our processes have been established with the client in mind, and we are dedicated to ensuring that you enjoy your experience working with our team. Our goal is for you to build a long-term relationship with Live Oak Equipment Finance, not only as your financial partner, but also a firm that can help you grow and excel as a professional in your industry.
Contact Information:
Phone: (512) 726-0367
Email: tips@loequipmentfinance.com
Website: www.loequipmentfinance.com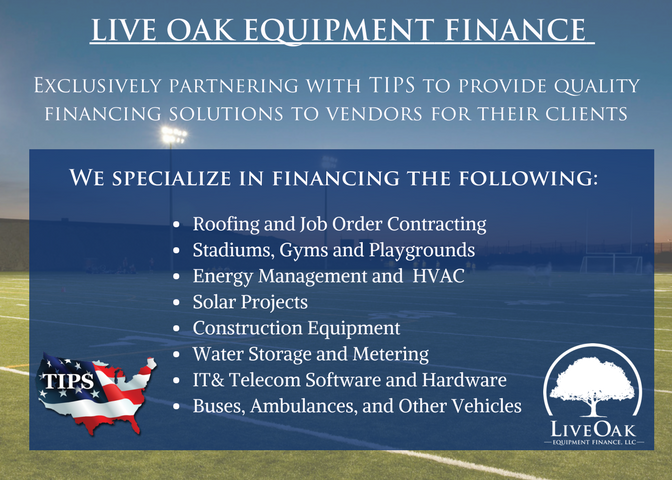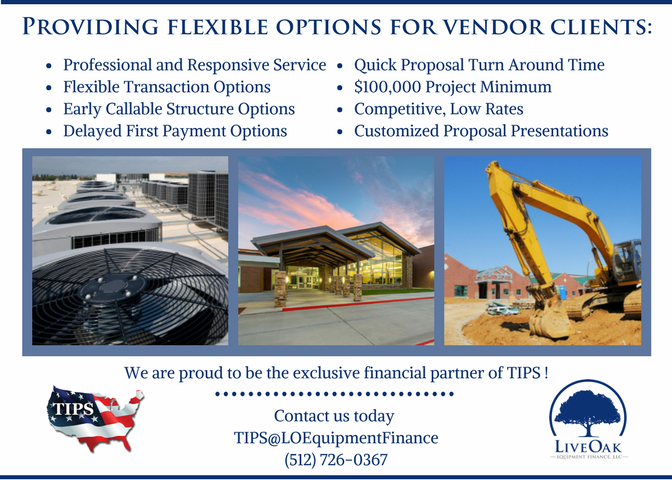 Resellers listed below may also hold a current TIPS contract. PO's for quotes provided by a reseller that are also awarded in the same category will be processed and sent directly to that reseller.

Please check under "ALL VENDORS" before requesting a quote from any listed reseller.
Resellers
Address
1SOURCE http://mempchemical.com
Contact: Laurita Jackson
Contact Phone:
Contact Email:
1835 Nonconnah Blvd Suite 169, Memphis,TN 38132
Phone:(901) 521-1612
Fax:(901) 888-4455
360 OFFICE SOLUTIONS, INC. Contact:
Contact Phone:
Contact Email:
3676 Pierce Parkway, Billings,MT 59106
Phone:(406) 248-7881
Fax:(406) 248-2108
360 OFFICE SOLUTIONS, INC.-HELENA Contact:
Contact Phone:
Contact Email:
802 Front Street, Helena,MT 59601
Phone:(406) 248-7881
Fax:
360 OFFICE SOLUTIONS, INC.-POWELL Contact:
Contact Phone:
Contact Email:
265 N. Bent Street, Powell,WY 82435
Phone:(307) 754-4154
Fax:
A & L SALES, INC. http://www.alsales.net/
Contact:
Contact Phone:
Contact Email:
111 Dr. Bowen Street, Belle Chasse,LA 70037
Phone:(504) 394-3840
Fax:(504) 394-3606
A&W SUPPLY INC http://www.awos.com/
Contact: Rick Shankles
Contact Phone:
Contact Email:
10653 Dutchtown Road, Knoxville,TN 37932
Phone:(865) 966-1133
Fax:(865) 671-1126
A-1 CHEMICAL PRODUCTS http://www.a1chemical.com
Contact: Kyle Goethals
Contact Phone:
Contact Email:
1634 N. Parkway, Jackson,TN 38301
Phone:(731) 424-1717
Fax:(731) 424-6826
AAA BUSINESS SUPPLIES & INTERIORS Contact: Steve Danziger
Contact Phone:
Contact Email:
325 Mendell St, San Francisco,CA 94124
Phone:(415) 821-4430
Fax:(415) 821-2601
ABALINE SUPPLY, INC. http://www.abalinesupply.com
Contact:
Contact Phone:
Contact Email:
59 Hook Road, Bayonne,NJ 07002
Phone:(732) 582-0200
Fax:(732) 582-0241
ABLE PAPER & JANITORIAL SUPPLIES INC. http://WWW.APJSUPPLY.COM
Contact: Chad Sams
Contact Phone:
Contact Email:
8200 Utah St., Merrillville,IN 46410
Phone:(219) 947-0999
Fax:(219) 947-9333
ACE PAPER COMPANY http://www.acepaper.com
Contact: Jeff Kaplowitz
Contact Phone:
Contact Email:
2835 E. Washington, Los Angeles,CA 90023
Phone:(323) 268-1900
Fax:(323) 262-5144
ADMIRAL EXPRESS Contact:
Contact Phone:
Contact Email:
1823 N. Yellowood Ave, Broken Arrow,OK 74012
Phone:(918) 249-4038
Fax:
ADVANCED SUPPLY COMPANY INC http://advancedsupplyco.net/
Contact: Sara Lumley-Leitch
Contact Phone:
Contact Email:
3045 Union Road, White House,TN 37188
Phone:(615) 386-0404
Fax:(615) 386-0477
ALLIED PAPER COMPANY http://www.alliedpapercompany.com
Contact: Irel Sears
Contact Phone:
Contact Email:
5700 Plauche Court, New Orleans,LA 70123
Phone:(504) 733-5700
Fax:(504) 733-4949
AMERICAN PACKAGING CO. http://www.amerpkg.com
Contact: Kaye Leedham
Contact Phone:
Contact Email:
1515 Alvarado Street, San Leandro,CA 94577
Phone:(510) 877-9000
Fax:(510) 877-9500
AMERICAN PAPER & PACKAGING http://www.americanpaper.com
Contact: Bill Sarles
Contact Phone:
Contact Email:
N112 W18810 Mequon Rd., Germantown,WI 53022
Phone:(414) 462-8560
Fax:(414) 462-4025
AMERICAN SUPPLY COMPANY Contact: Dave Molinari
Contact Phone:
Contact Email:
P.O. Box 2026, Salinas,CA 93902
Phone:(831) 424-1928
Fax:(831) 424-5251
AMERISOURCE INDUSTRIAL SUPPLY CO, INC. Contact:
Contact Phone:
Contact Email:
1600 E Grand Blvd. Suite 300, Detroit,MI 48211
Phone:(313) 924-0696
Fax:(313) 924-0697
AMERISOURCE INDUSTRIAL SUPPLY CO, INC.-IL Contact:
Contact Phone:
Contact Email:
217 E 171St Street, Harvey,IL 60426
Phone:
Fax:
AMERISOURCE INDUSTRIAL SUPPLY CO, INC.-MI Contact:
Contact Phone:
Contact Email:
9145 Vincent St., Detroit,MI 48211
Phone:
Fax:
AMERISOURCE INDUSTRIAL SUPPLY CO, INC.-TN Contact:
Contact Phone:
Contact Email:
3090-3094 Fleetbrook Drive, Memphis,TN 38116
Phone:
Fax:
AMERISOURCE INDUSTRIAL SUPPLY CO, INC.-WI Contact:
Contact Phone:
Contact Email:
N936 Craftsmen Drive, Greenville,WI 54942
Phone:
Fax:
AMW PACKAGING Contact: Chuck Farguson
Contact Phone:
Contact Email:
5640 S. 32Nd Street, Phoenix,AZ 85040
Phone:
Fax:
ANCHOR PAPER CO Contact: Adam Bjerke
Contact Phone:
Contact Email:
480 Broadway, Saint Paul,MN 55101
Phone:(651) 298-1311
Fax:(651) 298-0060
APAC PAPER & PACKAGING CORPORATION http://www.apacpaper.com
Contact: Keith Maurice
Contact Phone:
Contact Email:
P.O. Box 640, Allen Park,MI 48101
Phone:(313) 982-6400
Fax:(313) 982-9900
AREA DISTRIBUTORS http://www.areadistributing.com
Contact: Kelly Ryan
Contact Phone:
Contact Email:
P. O. Box 8589, San Jose,CA 95155
Phone:(408) 975-7733
Fax:(408) 975-7739
AREA DISTRIBUTORS NORTHWEST http://www.areadistributing.com
Contact: Kevin Ryan
Contact Phone:
Contact Email:
6719 East Marigold Way S, Seattle,WA 98108
Phone:(408) 975-7740
Fax:(408) 287-8761
AREA DISTRIBUTORS, INC (QUINCY, IL) http://WWW.AREADISTRIBUTORS.COM
Contact:
Contact Phone:
Contact Email:
218 Vermont St., Quincy,IL 62306
Phone:(217) 223-3600
Fax:(217) 223-2833
AREA DISTRIBUTORS-CENTRAL CASH & CARRY Contact: Kevin Ryan
Contact Phone:
Contact Email:
P.O. Box 8108, San Jose,CA 95155
Phone:(408) 975-2485
Fax:(408) 975-7661
ARMCHEM INTERNATIONAL Contact: Andy Brahms
Contact Phone:
Contact Email:
3563 NW 53Rd Court, Fort Lauderdale,FL 33309
Phone:(888) 276-2436
Fax:
ARNOLD'S FACTORY SUPPLIES Contact: Mick Arnold
Contact Phone:
Contact Email:
3101 Washington Boulevard, Baltimore,MD 21230
Phone:(410) 646-3200
Fax:(410) 646-0905
ASSOCIATED PACKAGING (GEORGIA) http://www.associatedpackaging.com
Contact: Kevin Walton
Contact Phone:
Contact Email:
4365 Industrial Access, Douglasville,GA 30134
Phone:(770) 577-1115
Fax:(770) 577-6745
ASSOCIATED PACKAGING (LOUISVILLE) Contact:
Contact Phone:
Contact Email:
3795 New Burg Rd, Louisville,KY 40218
Phone:(502) 413-0751
Fax:
ASSOCIATED PACKAGING (MEMPHIS) http://www.associatedpackaging.com
Contact:
Contact Phone:
Contact Email:
4800 Southridge Blvd Suite 17, Memphis,TN 38141
Phone:(901) 365-1897
Fax:(901) 365-6907
ASSOCIATED PACKAGING (N. CAROLINA) http://www.associatedpackaging.com
Contact: Beth Fox
Contact Phone:
Contact Email:
2049 Old Mtn. Rd., Statesville,NC 28677
Phone:(704) 872-2491
Fax:(704) 872-2491
ASSOCIATED PACKAGING (NO.CALIFORNIA) http://www.associatedpackaging.com
Contact:
Contact Phone:
Contact Email:
2540 Station Dr. , Suite D, Stockton,CA 95215
Phone:(209) 944-7278
Fax:(209) 944-7284
ASSOCIATED PACKAGING (ROANOKE) http://www.associatedpackaging.com
Contact: Beth Fox
Contact Phone:
Contact Email:
5330 Peters Creek Road, Roanoke,VA 24019
Phone:(540) 265-0078
Fax:(540) 265-0978
ASSOCIATED PACKAGING (SALT LAKE) http://www.associatedpackaging.com
Contact:
Contact Phone:
Contact Email:
4980 West Amelia Earhart Dr. Ste D, Salt Lake City,UT 84116
Phone:(801) 355-0511
Fax:(801) 355-1467
ASSOCIATED PACKAGING (SOUTHERN CA) http://www.associatedpackaging.com
Contact:
Contact Phone:
Contact Email:
12453 E. Florence Ave., Santa Fe Springs,CA 90670
Phone:(562) 944-4144
Fax:(562) 944-6277
ASSOCIATED PACKAGING (TAMPA) http://www.associatedpackaging.com
Contact:
Contact Phone:
Contact Email:
5250 Eagle Trail Drive Suite B, Tampa,FL 33634
Phone:(813) 889-9435
Fax:(813) 877-3487
ASSOCIATED PACKAGING (TENNESSEE) http://www.associatedpackaging.com
Contact: Kevin Walton
Contact Phone:
Contact Email:
435 Calvert Drive (Headquarters), Gallatin,TN 37066
Phone:(615) 452-2131
Fax:(615) 452-7890
ASSOCIATED PACKAGING (TEXAS) http://www.associatedpackaging.com
Contact:
Contact Phone:
Contact Email:
2901 Executive Drive, Mesquite,TX 75149
Phone:(972) 285-2424
Fax:(972) 285-7406
ATLANTIC CORP PKG & SUP CHARLESTON http://www.atlanticpkg.com
Contact:
Contact Phone:
Contact Email:
101 Spaniel Lane, Summerville,SC 29483
Phone:(888) 888-6280
Fax:
ATLANTIC CORP PKG & SUP- GREENSBORO http://www.atlanticpkg.com
Contact:
Contact Phone:
Contact Email:
4229 Beechwood Drive, Greensboro,NC 27410
Phone:(336) 668-0081
Fax:(336) 605-9366
ATLANTIC CORP PKG & SUP- HICKORY http://www.atlanticpkg.com
Contact: Mike Clapp
Contact Phone:
Contact Email:
P.O. Box 2303, Hickory,NC 28603
Phone:(828) 328-1886
Fax:(828) 327-2410
ATLANTIC CORP PKG & SUP TABOR CITY http://www.atlanticpkg.com
Contact: Eric Farmer
Contact Phone:
Contact Email:
1202 East 5Th Street, Tabor City,NC 28463
Phone:(800) 672-1022
Fax:
ATLANTIC CORP PKG & SUP- WILMINGTON http://www.atlanticpkg.com
Contact:
Contact Phone:
Contact Email:
806 North 23Rd Street, Wilmington,NC 28405
Phone:(910) 343-0624
Fax:(910) 763-5421
ATLANTIC CORP PKG & SUP-GREENVILLE http://www.atlanticpkg.com
Contact: Stewart Whitmire
Contact Phone:
Contact Email:
P.O. Box 1010, Duncan,SC 29334
Phone:(864) 439-8189
Fax:(864) 439-3463
ATLANTIC CORP PKG & SUPPLY - BURGAW http://www.atlanticpkg.com
Contact:
Contact Phone:
Contact Email:
151 Industrial Drive, Burgaw,NC 28425
Phone:(800) 969-4449
Fax:
ATLANTIC CORP PKG & SUPPLY - HAZLETON, PA Contact:
Contact Phone:
Contact Email:
434 S Poplar St, Hazleton,PA 18201
Phone:
Fax:
ATLANTIC CORP PKG & SUPPLY - STURGIS MI Contact:
Contact Phone:
Contact Email:
500 International Way, Sturgis,MI 49091
Phone:
Fax:
ATLANTIC CORP PKG & SUPPLY ATLANTA http://www.atlanticpkg.com
Contact:
Contact Phone:
Contact Email:
3045-100 Chastain Meadows Parkway, Marietta,GA 30066
Phone:(888) 880-9633
Fax:
ATLANTIC CORP PKG & SUPPLY RALEIGH http://www.atlanticpkg.com
Contact:
Contact Phone:
Contact Email:
165 Weathers Street, Youngsville,NC 27596
Phone:(888) 843-9539
Fax:
ATLANTIC CORPORATION http://www.atlanticpkg.com
Contact: Stewart Whitmire
Contact Phone:
Contact Email:
P. O. Box 60002, Charlotte,NC 28260
Phone:(704) 588-1400
Fax:(704) 588-9916
ATLANTIC DOMINION - CAROLINAS DIVISION Contact:
Contact Phone:
Contact Email:
3641 Legion Rd, Hope Mills,NC 28348
Phone:
Fax:
ATLANTIC DOMINION DISTRIBUTORS Contact: Kevin Barney
Contact Phone:
Contact Email:
5400 Virginia Beach Blvd, Virginia Beach,VA 23462
Phone:(757) 497-1001
Fax:(757) 499-0984
ATLANTIC PRINTING http://www.atlanticpkg.com
Contact: Linda Jacobs
Contact Phone:
Contact Email:
1108 E. 5Th Street, Tabor City,NC 28463
Phone:(910) 653-3153
Fax:(910) 653-3536
ATLANTIC PUBLISHING AND PAPER http://www.atlanticpkg.com
Contact: Bill Balkcum
Contact Phone:
Contact Email:
1108 E.5Th Street, Tabor City,NC 28463
Phone:(910) 653-3153
Fax:(910) 653-9440
AVM ENTERPRISES, INC. http://www.goavm.com
Contact:
Contact Phone:
Contact Email:
8923 Transport Lane, Ooltewah,TN 37363
Phone:(423) 847-4700
Fax:(423) 847-4701
A-Z JANITORIAL SUPPLY Contact: Ed Agnew
Contact Phone:
Contact Email:
40 Berry Road, Washington,PA 15301
Phone:(724) 222-1710
Fax:(724) 222-2096
A-Z OFFICE RESOURCE, INC. http://www.azorinc.com
Contact:
Contact Phone:
Contact Email:
P.O. Box 1317, Columbia,TN 38402
Phone:(931) 388-1536
Fax:(931) 388-2008
BARRETT FISHER CO Contact: Tim Bertram
Contact Phone:
Contact Email:
800 Jr Miller Blvd, Owensboro,KY 42303
Phone:(270) 683-6126
Fax:(270) 683-2672
BEACH CHEMICAL http://www.beachchemical.com
Contact: John Parker
Contact Phone:
Contact Email:
1356 London Bridge Road, Virginia Beach,VA 23453
Phone:(757) 427-2002
Fax:(757) 430-1663
BLACK HILLS CHEMICAL & JANITORIAL http://www.blackhillschemical.com
Contact: Mike Voigt
Contact Phone:
Contact Email:
1741 E Anamosa St, Rapid City,SD 57703
Phone:(605) 342-0788
Fax:(605) 342-0830
BLUE RIBBON SUPPLY Contact: John Dilena
Contact Phone:
Contact Email:
451 E. Jamie Ct., South San Francisco,CA 94080
Phone:(650) 873-3500
Fax:(650) 588-7061
BRAWNER PAPER COMPANY, INC. http://www.brawnerpaper.com
Contact:
Contact Phone:
Contact Email:
P.O. Box 15272, Houston,TX 77220
Phone:(713) 675-6584
Fax:(713) 673-6923
BROWARD PAPER & PACKAGING, INC. http://www.browardpaper.com
Contact:
Contact Phone:
Contact Email:
P.O. Box 5447, Fort Lauderdale,FL 33310
Phone:(954) 776-6272
Fax:(954) 489-6400
BUFFALO PAPER AND TWINE CO. (BRANCH OF CHUDY PAPER) Contact:
Contact Phone:
Contact Email:
2615 Walden Ave, Cheektowaga,NY 14225
Phone:(716) 825-7236
Fax:(716) 825-0319
BUTLER BROS. http://www.butlerbros.com
Contact: Patrick Butler
Contact Phone:
Contact Email:
P.O. Box 1375, Lewiston,ME 04243
Phone:(207) 784-6875
Fax:(207) 786-8820
BUTLER-DEARDEN PAPER SERVICE, INC. http://www.butlerdearden.com
Contact:
Contact Phone:
Contact Email:
P.O. Box 1069, Boylston,MA 01505
Phone:(508) 869-9000
Fax:(508) 869-0211
C & S CLEANING SUPPLY, LLC http://www.cscleaningsupply.com
Contact:
Contact Phone:
Contact Email:
3321 Moore Road, Jonesboro,AR 72401
Phone:(870) 932-5560
Fax:(870) 932-2548
C&C JANITORIAL SUPPLIES, INC. http://www.ccsupplies.com
Contact:
Contact Phone:
Contact Email:
665 New Britain Avenue, Newington,CT 06111
Phone:(860) 594-4200
Fax:(860) 594-4250
CAPITAL SUPPLY CO. Contact: Steven Falco
Contact Phone:
Contact Email:
115 Castle Road, Secaucus,NJ 07094
Phone:(212) 307-6600
Fax:(212) 307-4040
CARDINAL OFFICE PRODUCTS, INC. Contact:
Contact Phone:
Contact Email:
576 East Main Street, Frankfort,KY 40601
Phone:(502) 875-3300
Fax:(800) 539-4325
CARDINAL OFFICE PRODUCTS, INC.-BOWLING GREEN Contact:
Contact Phone:
Contact Email:
500 Corvette Way, Bowling Green,KY 42101
Phone:
Fax:
CARDINAL OFFICE PRODUCTS, INC.-INDIANA Contact:
Contact Phone:
Contact Email:
409 Walnut Street, Lawrenceburg,IN 47025
Phone:
Fax:
CARPENTER PAPER COMPANY http://www.carpenterpaper.com
Contact: Randy Nash
Contact Phone:
Contact Email:
4436 Dahlman Ave., Omaha,NE 68107
Phone:(402) 731-2222
Fax:(402) 731-2156
CARTER PAPER & PACKAGING http://www.carterpaper.com
Contact: Kenneth Bachelor
Contact Phone:
Contact Email:
P.O. Box 1349, Peoria,IL 61654
Phone:(309) 637-7711
Fax:(309) 637-7748
CENTRAL SUPPLY COMPANY OF SOUTHWEST ALABAMA, INC. http://www.central-web.com
Contact:
Contact Phone:
Contact Email:
154 Ivey Street, Monroeville,AL 36460
Phone:(251) 575-4858
Fax:(251) 575-2403
CHUDY PAPER COMPANY, INC. http://www.chudypaper.com
Contact:
Contact Phone:
Contact Email:
2615 Walden Ave., Cheektowaga,NY 14225
Phone:(716) 825-1935
Fax:(716) 825-0319
CIRCLE JANITORIAL http://www.circlejanitorial.com
Contact: Daniel Quiles
Contact Phone:
Contact Email:
5 East 12Th Street, Paterson,NJ 07524
Phone:(973) 345-1212
Fax:(973) 345-1975
CLEAN SWEEP SUPPLY CO. Contact: Sina Salamat
Contact Phone:
Contact Email:
7171 Telegraph Road, Montebello,CA 90640
Phone:(323) 887-7777
Fax:(323) 887-6677
CLEANING IDEAS http://www.cleaningideas.com
Contact: Randall Davis
Contact Phone:
Contact Email:
P. O. Box 7269, San Antonio,TX 78207
Phone:(210) 227-9161
Fax:(210) 224-2169
CLEARFIELD WHOLESALE PAPER CO., INC http://www.cwp-online.com
Contact:
Contact Phone:
Contact Email:
P.O. Box 166, Clearfield,PA 16830
Phone:(814) 765-7839
Fax:(814) 765-8919
COAST BROTHERS http://www.coastbrothers.com
Contact: Patrick Collins
Contact Phone:
Contact Email:
6511 43Rd Street North, Unit 1807, Pinellas Park,FL 33781
Phone:(727) 525-3866
Fax:(727) 528-9659
COLEMAN TAPE SPECIALTIES Contact: Deanna Bissett
Contact Phone:
Contact Email:
1195 Columbia Blvd., Longview,WA 98632
Phone:(360) 577-7757
Fax:(360) 577-8311
COLMAN-WOLF SANITARY SUPPLY COMPANY http://www.theprofgroup.com
Contact: Doug Sherry
Contact Phone:
Contact Email:
719 Griswold St #2100, Detroit,MI 48226
Phone:(586) 779-5500
Fax:(586) 779-5505
COLONY PAPERS, INC. http://www.colonypapers.com
Contact:
Contact Phone:
Contact Email:
P. O. Box 2243, York,PA 17405
Phone:(717) 764-5088
Fax:(717) 764-5567
COLUMBUS PAPER & CHEMICAL INC. Contact: Karyn Sanders
Contact Phone:
Contact Email:
P.O. Box 8367, Columbus,MS 39705
Phone:(662) 328-6730
Fax:(662) 328-4606
COMPLETE OFFICE OF CALIFORNIA, INC. Contact:
Contact Phone:
Contact Email:
12724 Moore St, Cerritos,CA 90703
Phone:(714) 880-1222
Fax:
COMPLETE OFFICE OF WASHINGTON LLC Contact:
Contact Phone:
Contact Email:
11521 E. Marginal Way S Ste 100, Tukwila,WA 98168
Phone:(206) 628-0059
Fax:(206) 628-8366
COMPLETE OFFICE OF WISCONSIN, INC. Contact:
Contact Phone:
Contact Email:
N115 Wi8500 Edison Drive, Germantown,WI 53022
Phone:(262) 255-5500
Fax:(262) 255-4695
COMPLETE SUPPLY Contact: David Bahcall
Contact Phone:
Contact Email:
P.O. Box 561523, Dallas,TX 75356
Phone:
Fax:
CONRAD ENTERPRISES, INC. http://www.cehawaii.com
Contact:
Contact Phone:
Contact Email:
301 Sand Island Acc Rd., Honolulu,HI 96819
Phone:
Fax:
CONSOLIDATED PAPER GROUP http://www.conpaper.com
Contact: Tim Bertram
Contact Phone:
Contact Email:
P.O. Box 51866, Bowling Green,KY 42102
Phone:(270) 842-6502
Fax:(270) 842-5774
CONSUMERS INTERSTATE CORP. http://www.SuperSupplies.com
Contact: John Twomey
Contact Phone:
Contact Email:
2 Consumers Ave., Norwich,CT 06360
Phone:(860) 889-8481
Fax:(860) 886-6537
CONTAINER CONSULTING SERVICE INC. http://CCS-PACKAGING.COM
Contact: William Trefts
Contact Phone:
Contact Email:
455 Mayock Rd, Gilroy,CA 95020
Phone:(408) 842-1919
Fax:(408) 842-5339
CONTRACT CLEANERS SUPPLY, INC. http://www.contractcleanerssupply.com
Contact:
Contact Phone:
Contact Email:
15 Portland Road, Conshohocken,PA 19428
Phone:(610) 825-1060
Fax:(610) 825-2117
COPACO - BENMAR http://www.copacoinc.com
Contact: Richard Kennedy
Contact Phone:
Contact Email:
3325 Aronov Ave, Montgomery,AL 36108
Phone:(706) 689-2672
Fax:(706) 689-1452
COPACO - COLUMBUS http://www.copacoinc.com
Contact: Jeff Price
Contact Phone:
Contact Email:
P. O. Box 6369, Columbus,GA 31917
Phone:(706) 689-1361
Fax:(706) 689-1452
COPACO - MID-STATE http://www.copacoinc.com
Contact: Stephen Greenblatt
Contact Phone:
Contact Email:
PO Box 6369, Columbus,GA 31917
Phone:(800) 763-0173
Fax:(478) 781-4777
CROWN PRODUCTS COMPANY http://www.CrownProducts.com
Contact: Peter Mollo
Contact Phone:
Contact Email:
450 Nepperhan Avenue, Yonkers,NY 10701
Phone:(914) 968-2222
Fax:(914) 968-0029
D & G SALES Contact: Eileen Passanise
Contact Phone:
Contact Email:
1020 North Bloomington, Lowell,AR 72745
Phone:(479) 659-0299
Fax:(479) 659-0541
DAY-PAK, INC. http://www.daypak.com
Contact:
Contact Phone:
Contact Email:
P. O. Box 363, Dayton,OH 45409
Phone:(937) 294-7311
Fax:(937) 294-5314
DESANTIS JANITOR SUPPLY http://www.desantissolutions.com
Contact: Shannon DeSantis
Contact Phone:
Contact Email:
100 Mead Ave., Meadville,PA 16335
Phone:(814) 724-2508
Fax:(814) 337-0551
DUMOUCHEL PAPER CO., THE http://www.dumo.com
Contact:
Contact Phone:
Contact Email:
P. O. Box 1185, Waterbury,CT 06721
Phone:(203) 756-7261
Fax:(203) 591-5031
EAGLE PAPER COMPANY, INC. http://www.eaglepaper.com
Contact:
Contact Phone:
Contact Email:
1031 Lexington Road, Louisville,KY 40204
Phone:(502) 585-4026
Fax:(502) 585-2645
EAKES OFFICE SOLUTIONS Contact: Paul McKinney
Contact Phone:
Contact Email:
3636 W Stolley Park Rd Ste. C, Grand Island,NE 68803
Phone:(308) 382-8026
Fax:(308) 382-7401
EAKES OFFICE SOLUTIONS - BEATRICE Contact:
Contact Phone:
Contact Email:
1803 N 6Th St, Beatrice,NE 68310
Phone:(402) 228-7202
Fax:(402) 228-0262
EAKES OFFICE SOLUTIONS - COLUMBUS Contact:
Contact Phone:
Contact Email:
2911 13Th St, Columbus,NE 68601
Phone:(402) 564-2679
Fax:(402) 564-0295
EAKES OFFICE SOLUTIONS - FREMONT Contact:
Contact Phone:
Contact Email:
2630 N Yager Rd., #501, Fremont,NE 68025
Phone:(402) 941-5001
Fax:(402) 941-5002
EAKES OFFICE SOLUTIONS - GRAND ISLAND Contact:
Contact Phone:
Contact Email:
617 W. 3Rd St, Grand Island,NE 68801
Phone:(308) 382-8026
Fax:(308) 382-7401
EAKES OFFICE SOLUTIONS - HASTINGS Contact:
Contact Phone:
Contact Email:
839 W 2Nd St, Hastings,NE 68901
Phone:(402) 463-6780
Fax:(402) 463-6802
EAKES OFFICE SOLUTIONS - KEARNEY Contact:
Contact Phone:
Contact Email:
2401 Avenue A, Kearney,NE 68847
Phone:(308) 234-2538
Fax:(308) 234-2540
EAKES OFFICE SOLUTIONS - LINCOLN Contact:
Contact Phone:
Contact Email:
110 N 35Th St, Lincoln,NE 68503
Phone:(402) 438-6700
Fax:(402) 438-6701
EAKES OFFICE SOLUTIONS - MCCOOK Contact:
Contact Phone:
Contact Email:
120 Norris Ave, Mc Cook,NE 69001
Phone:(308) 345-5447
Fax:(308) 345-5237
EAKES OFFICE SOLUTIONS - NORFOLK Contact:
Contact Phone:
Contact Email:
201 South 1St Street, Norfolk,NE 68701
Phone:(402) 371-4181
Fax:(402) 371-5039
EAKES OFFICE SOLUTIONS - NORTH PLATTE Contact:
Contact Phone:
Contact Email:
520 N. Vine, North Platte,NE 69101
Phone:(308) 534-7800
Fax:(308) 534-3936
EAKES OFFICE SOLUTIONS - OMAHA Contact:
Contact Phone:
Contact Email:
8402 S 117Th Street Ste 200, La Vista,NE 68128
Phone:(402) 898-3017
Fax:(402) 898-3265
EAKES OFFICE SOLUTIONS - YORK Contact:
Contact Phone:
Contact Email:
710 North Lincoln Avenue, York,NE 68467
Phone:(402) 362-5442
Fax:(402) 362-7530
EATON OFFICE SUPPLY COMPANY, INC. http://www.eatonofficesupply.com
Contact:
Contact Phone:
Contact Email:
180 John Glenn Dr, Buffalo,NY 14228
Phone:
Fax:
ECONOMY PRODUCTS & SOLUTIONS http://www.economypaper.com
Contact: Tim Wesley
Contact Phone:
Contact Email:
1175 East Main Street, Rochester,NY 14609
Phone:(585) 482-5340
Fax:(585) 482-2089
ELGIN PAPER COMPANY http://www.elginpaper.com
Contact: Patrick Funk
Contact Phone:
Contact Email:
1025 North Mclean Boulevard, Elgin,IL 60123
Phone:(847) 741-0137
Fax:(847) 741-0293
EMPACS, LLC http://empacsgroup.com
Contact:
Contact Phone:
Contact Email:
401 Laredo St., Unit F, Aurora,CO 80011
Phone:(303) 877-5791
Fax:(303) 877-4902
EMPIRE CLEANING SUPPLY http://www.empirecleaningsupply.com
Contact: Robert Cronyn
Contact Phone:
Contact Email:
7733 Telegraph Road, Montebello,CA 90640
Phone:(323) 248-7770
Fax:(323) 248-7760
EMPIRE CLEANING SUPPLY - SANTA BARBARA http://www.empirecleaningsupply.com
Contact:
Contact Phone:
Contact Email:
132 Garden Street, Santa Barbara,CA 93101
Phone:(310) 715-6500
Fax:
EMPIRE PAPER - AMARILLO http://www.empirepaper.com
Contact: Jason Estes
Contact Phone:
Contact Email:
112 SW 8Th Ave Suite 440, Amarillo,TX 79101
Phone:(806) 331-3168
Fax:(806) 331-3167
EMPIRE PAPER - DFW http://www.empirepaper.com
Contact: Jason Estes
Contact Phone:
Contact Email:
3505 NW Loop 820, Fort Worth,TX 76106
Phone:(817) 485-4223
Fax:(866) 966-3867
EMPIRE PAPER COMPANY - LUBBOCK http://www.empirepaper.com
Contact: Jason Estes
Contact Phone:
Contact Email:
3002 E Municipal Drive, Lubbock,TX 79403
Phone:(806) 687-0146
Fax:(806) 687-0176
EMPIRE PAPER-WICHITA FALLS CORPORAT http://www.empirepaper.com
Contact: Jason Estes
Contact Phone:
Contact Email:
2708 Central Freeway East, Wichita Falls,TX 76301
Phone:(940) 766-3216
Fax:(940) 766-3867
ERIE COTTON/SANITARY WIPING http://www.eriecotton.com
Contact: Greg Rubin
Contact Phone:
Contact Email:
1112 Bacon Street, Erie,PA 16511
Phone:(814) 459-6644
Fax:(814) 453-7816
ERNEST PACKAGING SOLUTIONS - BOISE Contact:
Contact Phone:
Contact Email:
12060 W. Executive Dr., Boise,ID 83713
Phone:1(208) 839-7000
Fax:1(208) 839-7020
ERNEST PACKAGING SOLUTIONS- RENO Contact: Nikki Thackaberry
Contact Phone:
Contact Email:
360 Lillard Dr., Sparks,NV 89434
Phone:(775) 829-9700
Fax:(775) 829-9709
ERNEST PACKAGING SOLUTIONS-FRESNO http://www.ernestpackaging.com
Contact: Nancy Weaver
Contact Phone:
Contact Email:
2825 S. Elm Ave., Suite #103, Fresno,CA 93706
Phone:(559) 265-7020
Fax:(559) 265-7030
ERNEST PACKAGING SOLUTIONS-HOUSTON http://www.bayoupackaging.com
Contact:
Contact Phone:
Contact Email:
6387 Windfern Road, Houston,TX 77040
Phone:(800) 210-2199
Fax:(832) 209-1920
ERNEST PACKAGING SOLUTIONS-LAS VEGAS Contact: Bill Evans
Contact Phone:
Contact Email:
7440 Dean Martin Dr., Suite 204, Las Vegas,NV 89139
Phone:(702) 795-7455
Fax:(702) 739-1509
ERNEST PACKAGING SOLUTIONS-LOS ANGELES CORPORATE http://www.ernestpackaging.com
Contact: LA Division: Kenny Briggs
Contact Phone:
Contact Email:
5777 Smithway Street, Commerce,CA 90040
Phone:(323) 923-3000
Fax:(323) 923-3020
ERNEST PACKAGING SOLUTIONS-PHOENIX Contact:
Contact Phone:
Contact Email:
5 S 84Th Ave, Tolleson,AZ 85353
Phone:1(602) 416-4200
Fax:1(602) 416-4220
ERNEST PACKAGING SOLUTIONS-PORTLAND http://www.ernestpackaging.com
Contact: Travis Smith
Contact Phone:
Contact Email:
9255 NE Alderwood Road, Portland,OR 97220
Phone:(503) 261-4000
Fax:(503) 261-4020
ERNEST PACKAGING SOLUTIONS-RALEIGH-DURHAM Contact:
Contact Phone:
Contact Email:
501 Innovation Ave., Morrisville,NC 27560
Phone:(919) 234-1400
Fax:(919) 234-1420
ERNEST PACKAGING SOLUTIONS-SACRAMENTO http://www.ernestpackaging.com
Contact:
Contact Phone:
Contact Email:
7728 Wilbur Way, Sacramento,CA 95828
Phone:(916) 681-4800
Fax:(916) 681-4830
ERNEST PACKAGING SOLUTIONS-SALT LAKE CITY Contact: Brekkin Lund
Contact Phone:
Contact Email:
2850A South 900 West, Salt Lake City,UT 84119
Phone:(801) 844-2800
Fax:(801) 844-2820
ERNEST PACKAGING SOLUTIONS-SAN DIEGO http://www.ernestpackaging.com
Contact: Mary Smiles
Contact Phone:
Contact Email:
1345 Sycamore Ave., Vista,CA 92081
Phone:(760) 477-8000
Fax:(760) 477-8020
EXPRESS SAFETY INC. Contact: Jerry Nunez
Contact Phone:
Contact Email:
1315 Burton, Salinas,CA 93901
Phone:(831) 751-0885
Fax:(831) 751-0830
FISHMAN SUPPLY http://www.fishmansupply.com
Contact: Leland Fishman
Contact Phone:
Contact Email:
P. O. Box 750279, Petaluma,CA 94975
Phone:(707) 763-8161
Fax:(707) 763-7352
FLEX-PAC DAYTON http://www.scottissue.com
Contact: Steve Ford
Contact Phone:
Contact Email:
2349 Dryden Road, Dayton,OH 45439
Phone:(937) 293-2139
Fax:(937) 293-9188
FLEX-PAC FT. WAYNE Contact:
Contact Phone:
Contact Email:
3009 Cannongate Drive, Fort Wayne,IN 46808
Phone:(260) 471-0506
Fax:
FLEX-PAC ROCK ISLAND http://www.flexp.com
Contact: Mitch Maynard
Contact Phone:
Contact Email:
8101 42Nd Street West, Rock Island,IL 61201
Phone:(309) 794-9544
Fax:(309) 794-1699
FLEX-PAC, INC. http://www.flexp.com
Contact:
Contact Phone:
Contact Email:
6075 Lakeside Blvd, Indianapolis,IN 46278
Phone:(317) 872-0097
Fax:(317) 872-7872
FLEX-PAC, INC. ELKHART http://www.flexp.com
Contact:
Contact Phone:
Contact Email:
3310 Middlebury Street, Elkhart,IN 46516
Phone:(574) 293-3435
Fax:(574) 293-3531
FPC HOLDINGS, INC. http://www.fpcdistribution.com
Contact:
Contact Phone:
Contact Email:
6630 Amberton Drive, Elkridge,MD 21075
Phone:(410) 579-1000
Fax:(410) 540-4148
FRIENDS OFFICE http://www.friendsoffice.com
Contact: Dale Alt
Contact Phone:
Contact Email:
2300 Bright Road, Findlay,OH 45840
Phone:(419) 427-1704
Fax:
G & L SUPPLY http://www.jantoncompany.com
Contact: Dave Logan
Contact Phone:
Contact Email:
P.O. Box 1059, Mansfield,OH 44901
Phone:(419) 524-5112
Fax:(419) 524-1520
GALE SUPPLY http://www.galesolutions.com
Contact: John Acampora
Contact Phone:
Contact Email:
1631 Washington Blvd., Montebello,CA 90640
Phone:(310) 477-6591
Fax:(310) 207-1991
GARVEY'S OFFICE PRODUCTS Contact: Benard Garvey
Contact Phone:
Contact Email:
7500 N Caldwell Ave, Niles,IL 60714
Phone:(847) 588-1690
Fax:(847) 588-1695
GATEWAY PRINTING AND OFFICE SUPPLY, INC. Contact:
Contact Phone:
Contact Email:
11889 Starcrest Dr., San Antonio,TX 78247
Phone:(210) 650-3995
Fax:(210) 650-5506
GATEWAY PRINTING AND OFFICE SUPPLY, INC.-BROWNSVILLE Contact:
Contact Phone:
Contact Email:
1460 N. Expressway 77, Brownsville,TX 78520
Phone:(956) 546-0632
Fax:(956) 546-0641
GATEWAY PRINTING AND OFFICE SUPPLY, INC.-CORPUS CHRISTI Contact:
Contact Phone:
Contact Email:
4934 Greenwood Dr., Corpus Christi,TX 78416
Phone:(361) 225-0772
Fax:(361) 225-3055
GATEWAY PRINTING AND OFFICE SUPPLY, INC.-EDINBURG Contact:
Contact Phone:
Contact Email:
315 S. Closner, Edinburg,TX 78539
Phone:(956) 383-3861
Fax:(956) 383-4674
GATEWAY PRINTING AND OFFICE SUPPLY, INC.-STAFFORD Contact:
Contact Phone:
Contact Email:
13003 Southwest Freeway, Suite 170, Stafford,TX 77477
Phone:(281) 277-6500
Fax:(281) 277-6503
GENERAL O.S. (ACADIANA OP) Contact:
Contact Phone:
Contact Email:
1003 Jefferson Street, Lafayette,LA 70501
Phone:(337) 237-2567
Fax:
GENERAL PACKAGING, INC.- JACKSON http://www.genpac.net
Contact:
Contact Phone:
Contact Email:
P. O. Box 3842, Jackson,TN 38303
Phone:(731) 424-1463
Fax:(731) 424-1490
GENERAL PACKAGING, INC.- TUPELO http://www.genpac.net
Contact:
Contact Phone:
Contact Email:
P. O. Box 2444, Tupelo,MS 38803
Phone:(662) 840-7201
Fax:(662) 840-5869
GENERAL PAPER COMPANY http://www.generalpapercompany.com
Contact: Ann Gerald
Contact Phone:
Contact Email:
11091 Airline Highway, Baton Rouge,LA 70816
Phone:(225) 291-7827
Fax:(225) 291-7883
GENERAL PAPER GOODS COMPANY, INC. http://www.generalpapergoods.com
Contact:
Contact Phone:
Contact Email:
3601 Southside Industrial Pkwy, Atlanta,GA 30354
Phone:(404) 361-5500
Fax:(404) 362-9920
GILLIS & LANE, INC. http://www.gillislane.com
Contact:
Contact Phone:
Contact Email:
2821 Faber St P.O. Box 248, Union City,CA 94587
Phone:(510) 324-5500
Fax:(510) 324-5515
GLASBY MAINTENANCE SUPPLY http://www.glasbymaintenance.com
Contact: Pat Glasby
Contact Phone:
Contact Email:
116 East Orangethorpe Ave., Anaheim,CA 92801
Phone:(714) 738-5121
Fax:(714) 447-8854
GREENVILLE OFFICE SUPPLY CO., INC. http://gos1.com
Contact:
Contact Phone:
Contact Email:
310 E Frontage Rd, Greer,SC 29651
Phone:(864) 233-5346
Fax:(864) 242-1370
GROUP O http://www.groupo.com
Contact: Eric Salisbury
Contact Phone:
Contact Email:
4905 77Th Ave. E, Milan,IL 61264
Phone:(309) 736-8500
Fax:(309) 736-8501
GROUP O - ATLANTA, GA Contact:
Contact Phone:
Contact Email:
5300 Kennedy Rd, Forest Park,GA 30297
Phone:
Fax:
GROUP O - DALLAS, TX Contact:
Contact Phone:
Contact Email:
3113 Glenfield Ave., Dallas,TX 75233
Phone:
Fax:
GROUP O - DETROIT, MI Contact:
Contact Phone:
Contact Email:
400 Maple Park Blvd Suite 401, Saint Clair Shores,MI 48081
Phone:
Fax:
GROUP O - INDIANAPOLIS, IN Contact:
Contact Phone:
Contact Email:
7900 Rockville Road, Indianapolis,IN 46214
Phone:
Fax:
GROUP O - MECHANICSBURG, PA Contact:
Contact Phone:
Contact Email:
6385 Mahopac Drive, Bethlehem,PA 18017
Phone:
Fax:
GROUP O - MENDOTA HEIGHTS, MN Contact:
Contact Phone:
Contact Email:
2360 Pilot Knob Road Suite C, Mendota Heights,MN 55120
Phone:
Fax:
GROUP O - POCAHONTAS, IA Contact:
Contact Phone:
Contact Email:
1101 4Th Ave NW, Pocahontas,IA 50574
Phone:
Fax:
GROUP O - SAN DIEGO, CA Contact:
Contact Phone:
Contact Email:
969 Mimosa Ave, Vista,CA 92081
Phone:
Fax:
GTI INDUSTRIES, INC. http://www.gtiindustries.com
Contact:
Contact Phone:
Contact Email:
3303 NW 112 Street, Miami,FL 33167
Phone:(305) 681-5000
Fax:(305) 688-3204
GUERNSEY INC. - MIDDLETON PA Contact:
Contact Phone:
Contact Email:
501 Fulling Mill Rd, Middletown,PA 17057
Phone:(717) 948-5238
Fax:(717) 948-5297
GUERNSEY OFFICE PRODUCTS INC. http://www.guernseyop.com
Contact: David Guernsey
Contact Phone:
Contact Email:
45070 Old Ox Rd., Sterling,VA 20166
Phone:(703) 968-8200
Fax:
HAMPTON ROADS PAPER SUPPLY http://www.hrpsupply.com
Contact: Jeff Morgan
Contact Phone:
Contact Email:
3796 Progress Rd, Norfolk,VA 23502
Phone:(757) 399-2471
Fax:(757) 398-0945
HARDER CORP http://www.hardercorp.com
Contact: Ed Tutas
Contact Phone:
Contact Email:
7029 Raywood Road, Monona,WI 53713
Phone:(608) 271-5127
Fax:(608) 271-4677
HARTMAN INDEPENDENT COMPANY http://www.hartmannails.com
Contact: Andrew Hartman
Contact Phone:
Contact Email:
P. O. Box 618, Lawrence,PA 15055
Phone:(724) 745-6566
Fax:(724) 745-3313
HAWAII PAPER PRODUCTS, INC. http://hawaiipaperproducts.com
Contact:
Contact Phone:
Contact Email:
500 Kalanianaole Ave Bldg 4, Hilo,HI 96720
Phone:(808) 935-9796
Fax:(808) 969-2084
HEARN PAPER CO., INC. http://www.hearnpaper.com
Contact:
Contact Phone:
Contact Email:
556 North Meridian Road, Youngstown,OH 44509
Phone:(330) 792-6533
Fax:(330) 792-4762
HELGET SAFETY SUPPLY, INC. Contact:
Contact Phone:
Contact Email:
4144 S. 87Th Street, Omaha,NE 68127
Phone:(402) 339-1066
Fax:(402) 339-1736
HILLMAN SUPPLY COMPANY, INC. http://www.hillmansupply.com
Contact:
Contact Phone:
Contact Email:
13935 Us Highway 441, Alachua,FL 32615
Phone:(386) 418-8898
Fax:(386) 418-3594
HOUSE OF CLEAN - BOZEMAN http://www.house-of-clean.com
Contact: Conrad Kradolfer
Contact Phone:
Contact Email:
P.O. Box 1203, Bozeman,MT 59771
Phone:(406) 586-1577
Fax:(406) 586-9210
HUGO'S INDUSTRIAL SUPPLY http://www.thehugos.com
Contact: Corey Hugo
Contact Phone:
Contact Email:
2700 W. Main St, Independence,KS 67301
Phone:(620) 331-6050
Fax:(620) 331-6051
HUMMEL'S OFFICE EQUIPMENT CO INC http://www.hummelsop.com
Contact: Harrison Hummel III
Contact Phone:
Contact Email:
25 Canal St., Mohawk,NY 13407
Phone:(315) 866-3860
Fax:
HY-KO ENVIRO MAINTENANCE PROD.-UT (HQTS) http://www.hyko.com
Contact: Ron Starr
Contact Phone:
Contact Email:
P.O. Box 26116, Salt Lake City,UT 84126
Phone:(801) 973-6099
Fax:(801) 973-9746
I. HALPER PAPER & SUPPLIES http://www.ihalper.com
Contact: Irwin Halper
Contact Phone:
Contact Email:
51 Hook Road, Bayonne,NJ 07002
Phone:(973) 675-6633
Fax:(973) 675-6686
IDEAL LINEN SUPPLY, INC. Contact:
Contact Phone:
Contact Email:
506 S. Beltline, Scottsbluff,NE 69361
Phone:(308) 632-7197
Fax:(308) 632-4834
INLANDER BROTHERS, INC. Contact:
Contact Phone:
Contact Email:
7701 South Claremont Ave., Chicago,IL 60620
Phone:(773) 778-1600
Fax:(773) 778-8019
INNOVATIVE OFFICE SOLUTIONS Contact: Brooks Smith
Contact Phone:
Contact Email:
151 East Cliff Road, Burnsville,MN 55337
Phone:(952) 808-9900
Fax:(952) 894-7153
INTEGRITY BUSINESS SOLUTIONS Contact: Scott Knoll
Contact Phone:
Contact Email:
4740 Talon Court SE - Suite 8, Grand Rapids,MI 49512
Phone:(616) 656-6010
Fax:
INTERMOUNTAIN PAPER Contact: Mark Radford
Contact Phone:
Contact Email:
4365 Commerce Circle, Idaho Falls,ID 83402
Phone:
Fax:
JAD CORPORATION OF AMERICA http://www.jad.com
Contact: Joseph Dee
Contact Phone:
Contact Email:
20-48 119Th Street, College Point,NY 11356
Phone:(718) 762-8900
Fax:(718) 461-1025
JCL SOLUTIONS (SIOUX FALLS) Contact:
Contact Phone:
Contact Email:
724 East 8Th St, Sioux Falls,SD 57103
Phone:
Fax:
JCL SOLUTIONS (SPENCER) http://www.janclo.com
Contact: Larry Wigen
Contact Phone:
Contact Email:
502 Southmoor Dr S.W., Spencer,IA 51301
Phone:(712) 262-8300
Fax:
JOHNPAC, INC. http://www.johnpac.com
Contact:
Contact Phone:
Contact Email:
P.O. Box 1566, Crowley,LA 70527
Phone:(337) 783-5466
Fax:(337) 783-2247
JOHNSTOWN CHEMICAL COMPANY Contact: Jim Sharer
Contact Phone:
Contact Email:
80 Messenger Street, Johnstown,PA 15902
Phone:(814) 536-1535
Fax:(814) 536-2311
JONAS SERVICE & SUPPLY, INC. http://www.jonasservice.com
Contact:
Contact Phone:
Contact Email:
700 Coronis Circle, Green Bay,WI 54304
Phone:(920) 336-2400
Fax:(920) 336-5366
KAMO MANUFACTURING CO. INC. http://www.kamo.com
Contact: Harris Weinstein
Contact Phone:
Contact Email:
1326 Reynolds Street, Augusta,GA 30901
Phone:(706) 724-1488
Fax:(770) 722-1606
KATZSON BROTHERS, INC. http://www.katzson.com
Contact:
Contact Phone:
Contact Email:
960 Vallejo Street, Denver,CO 80204
Phone:(303) 893-3535
Fax:(303) 893-2287
KYANA PACKAGING SOLUTIONS http://www.kyanaind.com
Contact: David White
Contact Phone:
Contact Email:
2501 Ampere Drive, Louisville,KY 40299
Phone:(502) 992-3333
Fax:(502) 992-3342
L & M FOOD SERVICE, INC. http://www.lmfoodservice.com
Contact:
Contact Phone:
Contact Email:
Pmb 2356 -1650 South Casino Drive, Laughlin,NV 89029
Phone:(928) 754-3241
Fax:(928) 754-2241
LAMERS ENTERPRISE INC Contact: Wesley Nakamura
Contact Phone:
Contact Email:
251 Puuhale Road, Honolulu,HI 96819
Phone:(808) 845-9365
Fax:(808) 845-5592
LANN CHEMICAL & SUPPLY COMPANY http://www.lannchemical.com
Contact: Steve Gaskin
Contact Phone:
Contact Email:
Fob - Customer Pick-Up, Aberdeen,MS 39730
Phone:(800) 733-5266
Fax:
LAWRENCE ENVIRONMENTAL GROUP http://www.lawrence-environmental.com
Contact: Roy Jorstad
Contact Phone:
Contact Email:
P.O. Box 38670, Richmond,VA 23231
Phone:(804) 236-0090
Fax:(804) 236-0038
LELAND PAPER COMPANY, INC. http://www.lelandpaper.com
Contact:
Contact Phone:
Contact Email:
10 Leland Drive, Glens Falls,NY 12801
Phone:(518) 792-0949
Fax:
LEWIS INDUSTRIAL (FORMER GEN.PKG) http://www.lewisindustrialsupply.com
Contact: Steve Rubin
Contact Phone:
Contact Email:
P.O. Box 5750, Harrisburg,PA 17110
Phone:(570) 823-1194
Fax:(570) 822-6065
LEWIS INDUSTRIAL SUPPLY-HARRISBURG http://www.lewisindustrialsupply.com
Contact:
Contact Phone:
Contact Email:
PO Box 5750, Harrisburg,PA 17110
Phone:(717) 234-2409 EXT. 113
Fax:(717) 233-4380
LEWIS INDUSTRIAL SUPPLY-NEW BRIGHTO http://www.lewisindustrialsupply.com
Contact:
Contact Phone:
Contact Email:
1415 5Th Avenue, New Brighton,PA 15066
Phone:(724) 846-4492
Fax:(724) 846-7611
LEWISTOWN PAPER CO Contact: Mark Elsesser
Contact Phone:
Contact Email:
335 West Freedom Ave, Burnham,PA 17009
Phone:(717) 248-7273
Fax:
LITIN PAPER COMPANY http://litin.com
Contact: John Hanson
Contact Phone:
Contact Email:
3003 North Pacific Street, Minneapolis,MN 55411
Phone:(612) 607-5700
Fax:(612) 607-5711
LUSCO PAPER COMPANY, INC. Contact:
Contact Phone:
Contact Email:
1401 Fifth Avenue, Troy,NY 12180
Phone:(518) 274-4061
Fax:(518) 274-0014
M. J. EARL, INC. http://mjearl.com
Contact:
Contact Phone:
Contact Email:
4408 Pottsville Pike Suite B, Reading,PA 19605
Phone:(610) 375-8455
Fax:(610) 375-8579
M.D. STETSON CO., INC. http://mdstetson.com
Contact:
Contact Phone:
Contact Email:
92 York Avenue, Randolph,MA 02368
Phone:(781) 986-6161
Fax:(781) 961-1764
MAINTENANCE MART http://www.maintenancemart.com
Contact: Shelley Riley
Contact Phone:
Contact Email:
2325 W. Cypress Street, Phoenix,AZ 85009
Phone:(602) 252-9402
Fax:(602) 252-9086
MALOLO BEVERAGES & SUPPLIES, LTD. Contact:
Contact Phone:
Contact Email:
120 Sand Island Access Road, Honolulu,HI 96819
Phone:(808) 845-4830
Fax:(808) 845-4835
MASSCO - WICHITA DIVISION http://www.massco.com
Contact: Mike Watson
Contact Phone:
Contact Email:
1831 S. Meridian, Wichita,KS 67213
Phone:(316) 942-9494
Fax:(316) 942-2335
MASSCO, INC. CORPORATE - WICHITA http://www.massco.com
Contact:
Contact Phone:
Contact Email:
1837 S. Meridian, Wichita,KS 67213
Phone:(316) 264-7929
Fax:(316) 264-4105
MASSCO, INC.- N. KANSAS CITY http://www.massco.com
Contact:
Contact Phone:
Contact Email:
1200 Erie Street, Kansas City,MO 64116
Phone:(816) 472-8899
Fax:(816) 472-7004
MASSCO, INC.- OKLAHOMA CITY http://www.massco.com
Contact:
Contact Phone:
Contact Email:
4118 Will Rogers Parkway, Ste. 100, Oklahoma City,OK 73108
Phone:(405) 947-6006
Fax:(405) 942-3318
MASSCO, INC.- TULSA Contact:
Contact Phone:
Contact Email:
7601 E 46Th Street, Tulsa,OK 74145
Phone:(888) 963-6588
Fax:(918) 281-8821
MATERIALS RESOURCES http://emrsinc.com
Contact: Dennis Truhn
Contact Phone:
Contact Email:
815 Lester Ave., Saint Joseph,MI 49085
Phone:(269) 983-6361
Fax:(269) 983-2973
MCCALLA COMPANY http://www.mccallacompany.com
Contact: Ken Phillippe
Contact Phone:
Contact Email:
6856 Van Nuys Blvd., Van Nuys,CA 91405
Phone:(818) 786-2125
Fax:(818) 782-6731
MENACO CORPORATION http://menaco.com
Contact: Jorge Padial
Contact Phone:
Contact Email:
P.O. Box 70183, San Juan,PR 00936
Phone:(787) 787-4408
Fax:(787) 740-7574
MENDES SUPPLY COMPANY http://mendessupply.com
Contact: Jeff Meyer
Contact Phone:
Contact Email:
1030 West Del Norte Street, Eureka,CA 95501
Phone:(707) 443-0849
Fax:(707) 443-1055
MERCHANTS PAPER COMPANY-PORTLAND http://merchantspaper.com
Contact: Tony Nicola
Contact Phone:
Contact Email:
4625 SE 24Th Street, Portland,OR 97202
Phone:(503) 235-2171
Fax:(503) 234-7142
MICHAEL LEWIS COMPANY http://mlco.com
Contact: Frank Sedlacek
Contact Phone:
Contact Email:
8900 West 50Th Street, Mccook,IL 60525
Phone:(708) 688-2200
Fax:(708) 688-2880
MICHELSEN OF CALIFORNIA-FRESNO http://www.mpchome.com
Contact:
Contact Phone:
Contact Email:
P.O. Box 10109, Fresno,CA 93745
Phone:(559) 237-3819
Fax:(559) 237-7924
MICHELSEN PACKAGING CO. (HQRTS) Contact: John Kupanoff
Contact Phone:
Contact Email:
P.O. Box 89, Yakima,WA 98902
Phone:(509) 248-6270
Fax:(509) 457-8062
MICHELSEN PACKAGING CO.-AUBURN Contact: Jay Doan
Contact Phone:
Contact Email:
P.O. Box 731590, Puyallup,WA 98373
Phone:(253) 804-0887
Fax:(253) 804-9720
MICHELSEN PACKAGING-WENATCHEE Contact:
Contact Phone:
Contact Email:
P.O. Box 2932, Wenatchee,WA 98807
Phone:(509) 662-2157
Fax:(509) 663-8320
MIDLAND PAPER COMPANY http://midpaco.com
Contact: David Hazen
Contact Phone:
Contact Email:
3900 James Savage Road, Midland,MI 48642
Phone:(989) 496-3360
Fax:(989) 496-3440
MID-VALLEY PACKAGING & SUPPLY CO. Contact: Carrie Gahvejian
Contact Phone:
Contact Email:
P.O. Box 96, Fowler,CA 93625
Phone:(559) 834-5956
Fax:(559) 834-1922
MILHENCH SUPPLY COMPANY http://www.milhench.com
Contact: Heike Milhench
Contact Phone:
Contact Email:
121 Duchaine Blvd., New Bedford,MA 02745
Phone:(508) 995-8331
Fax:(508) 995-4187
MODERN SAFETY SUPPLY SDN DISTRIBUTION INC. http://www.modernsafety.com/
Contact:
Contact Phone:
Contact Email:
1601 W Collins Ave., Orange,CA 92867
Phone:(714) 771-4677
Fax:(714) 771-7725
MONAHAN PAPER CO. Contact: Jim Croft
Contact Phone:
Contact Email:
175 Second Street, Oakland,CA 94607
Phone:(510) 835-4670
Fax:(510) 835-4612
MON-D-AID & CLEANIT http://www.mondaid.com
Contact: Herbert Snider
Contact Phone:
Contact Email:
143 Mercer St., Butler,PA 16001
Phone:(724) 282-8422
Fax:(724) 282-9291
MONTANA BROOM & BRUSH COMPANY http://mtbroom.com
Contact: Greg Hareland
Contact Phone:
Contact Email:
1245 Harrison Avenue, Butte,MT 59701
Phone:(406) 723-5650
Fax:(406) 723-4104
MULTIFAB INC.(SPOKANE) http://multifab-inc.com
Contact: Al Boschma
Contact Phone:
Contact Email:
3808 N. Sullivan Rd, Sip Bldg. #6, Spokane,WA 99216
Phone:(509) 924-6631
Fax:(509) 928-2832
MULTIFAB, INC.(IDAHO) http://multifab-inc.com
Contact:
Contact Phone:
Contact Email:
3689 S Tk Ave, Boise,ID 83705
Phone:(208) 888-0678
Fax:(208) 888-0673
MURPHY SUPPLY COMPANY http://www.murphy-supply.com
Contact: Jeanne Murphy
Contact Phone:
Contact Email:
4911 Mulhauser Road, Hamilton,OH 45011
Phone:(513) 874-7171
Fax:(513) 874-0018
MY OFFICE PRODUCTS Contact: John Frisk
Contact Phone:
Contact Email:
22 Century Blvd. Suite 420, Nashville,TN 37214
Phone:(615) 507-3900
Fax:(615) 507-3600
MY OFFICE PRODUCTS - LAVERGNE Contact:
Contact Phone:
Contact Email:
1501 Corporate Place, Suite 400, La Vergne,TN 37086
Phone:(615) 727-5603
Fax:
MY OFFICE PRODUCTS - SAVAGE Contact:
Contact Phone:
Contact Email:
8750 Larkin Road Ste 102, Savage,MD 20763
Phone:(615) 727-5603
Fax:
MY OFFICE PRODUCTS - TAMPA Contact:
Contact Phone:
Contact Email:
121 Kelsey Lane Ste F, Tampa,FL 33619
Phone:(615) 727-5603
Fax:
MYERS SUPPLY INC. - HQ http://www.myerssupply.com/
Contact: Ryan Myers
Contact Phone:
Contact Email:
831 Third St, Hot Springs National Park,AR 71913
Phone:(501) 623-7742
Fax:(501) 623-7727
MYERS SUPPLY INC. - LITTLE ROCK Contact:
Contact Phone:
Contact Email:
900 Arch St., Little Rock,AR 72202
Phone:(501) 372-6677
Fax:(501) 371-9080
MYERS-COX COMPANY Contact: Chris Dempsey
Contact Phone:
Contact Email:
8797 Kapp Dr., Peosta,IA 52068
Phone:(800) 234-8200
Fax:(563) 583-4011
NEELD PAPER AND SUPPLY http://www.neeldpaper.com/
Contact: Chuck Neeld
Contact Phone:
Contact Email:
1134 53Rd Ct N, West Palm Beach,FL 33407
Phone:(561) 964-5757
Fax:(561) 582-6277
NORTHERN CHEMICAL COMPANY Contact: Clyde Hayes
Contact Phone:
Contact Email:
6110 NW Grand Avenue, Glendale,AZ 85301
Phone:(623) 937-1668
Fax:(623) 435-8574
OFFICE BASICS, INC. Contact:
Contact Phone:
Contact Email:
22 Creek Circle, Botthwyn,PA 19061
Phone:(800) 541-5855
Fax:
OFFICE ESSENTIALS Contact: Jim Porter
Contact Phone:
Contact Email:
1834 Walton Road, Saint Louis,MO 63114
Phone:(314) 432-4666
Fax:(314) 432-4691
OFFICE ESSENTIALS - NO KANSAS CITY Contact:
Contact Phone:
Contact Email:
1548 Erie Street, Kansas City,MO 64119
Phone:(816) 285-0955
Fax:(816) 285-0959
OFFICE SOLUTIONS BUSINESS PRODUCTS & SERVICES LLC. Contact: John Acampora
Contact Phone:
Contact Email:
23303 La Palma Ave, Yorba Linda,CA 92887
Phone:(714) 692-7412
Fax:
OFFICE THREE SIXTY, INC. Contact:
Contact Phone:
Contact Email:
7301 Woodland Drive, Indianapolis,IN 46278
Phone:(317) 632-1360
Fax:(317) 632-9360
OFFICE THREE SIXTY, INC. - SOUTH BEND Contact:
Contact Phone:
Contact Email:
58785 Executive Dr, Mishawaka,IN 46544
Phone:(574) 282-1830
Fax:
OFFICEWISE Contact: Ron Watts
Contact Phone:
Contact Email:
1200 South Taylor Street, Amarillo,TX 79101
Phone:(800) 333-1185
Fax:
ONESOURCE DISTRIBUTORS, LLC Contact:
Contact Phone:
Contact Email:
3951 Oceanic Drive, Oceanside,CA 92056
Phone:
Fax:
OSCEOLA SUPPLY INC http://osceolasupply.com
Contact: Jeff Hittinger Jr.
Contact Phone:
Contact Email:
915 Commerce Blvd, Midway,FL 32343
Phone:
Fax:
PACKAGE PRODUCTS COMPANY Contact: Jere Shelton
Contact Phone:
Contact Email:
3721 Vulcan Drive, Nashville,TN 37211
Phone:(615) 832-6321
Fax:(615) 832-0987
PAK WEST (BOISE) http://pakwest.com
Contact: Margaret Han-Lammy
Contact Phone:
Contact Email:
569 N. Cloverdale Road, Boise,ID 83713
Phone:(208) 898-9853
Fax:(208) 898-9854
PAK WEST PAPER & PACKAGING http://pakwest.com
Contact: Blower Dempsay
Contact Phone:
Contact Email:
6550 Goodyear Road, Benicia,CA 94510
Phone:(707) 745-8558
Fax:(707) 751-5820
PAK WEST PAPER AND PACKAGING (HQ) http://pakwest.com
Contact: Jim Blower
Contact Phone:
Contact Email:
4042 West Garry Ave., Santa Ana,CA 92704
Phone:(714) 481-3800
Fax:(714) 557-9469
PALACE BUSINESS SOLUTIONS Contact: Gary Trowbridge
Contact Phone:
Contact Email:
2606 Chanticleer Ave, Santa Cruz,CA 95065
Phone:(831) 476-3815
Fax:
PARKER WHOLESALE PAPER, CO. Contact:
Contact Phone:
Contact Email:
P.O. Box 751, Bastrop,LA 71221
Phone:(318) 281-4293
Fax:(318) 281-4301
PAYLESS OFFICE PRODUCTS, INC. Contact:
Contact Phone:
Contact Email:
13467 Chandler Road, Omaha,NE 68138
Phone:(402) 891-6210
Fax:(402) 891-6221
PAYLESS OFFICE PRODUCTS, INC.-LENEXA Contact:
Contact Phone:
Contact Email:
8381 Melvore Dr, Overland Park,KS 66214
Phone:(913) 888-6778
Fax:(913) 888-6832
PAYLESS OFFICE PRODUCTS, INC.-W DES MOINES Contact:
Contact Phone:
Contact Email:
800 South 19Th Street, West Des Moines,IA 50265
Phone:(515) 225-2025
Fax:(515) 225-1910
PCA INDUSTRIAL & PAPER SUPPLIES INC http://www.pleasecallagain.net
Contact: Gary Rubin
Contact Phone:
Contact Email:
2425 Maryland Road, Willow Grove,PA 19090
Phone:(215) 659-9150
Fax:(215) 659-9158
PETERS SUPPLY INC. http://WWW.PETERSSUPPLY.COM
Contact: Brian Peters
Contact Phone:
Contact Email:
1120 Magee St., Elmira,NY 14901
Phone:(607) 733-3005
Fax:(607) 733-0563
PETTER PACKAGING http://www.petterpackaging.com
Contact:
Contact Phone:
Contact Email:
P.O. Box 997, Paducah,KY 42002
Phone:(618) 286-9660
Fax:(618) 286-9661
PETTER SUPPLY COMPANY http://www.pettersupply.com
Contact: Robert Petter Jr.
Contact Phone:
Contact Email:
P.O. Box 2350, Paducah,KY 42002
Phone:(270) 575-5095
Fax:(270) 575-5036
PIEDMONT NATIONAL CORP - ALBANY, GA Contact:
Contact Phone:
Contact Email:
1205 Greenvale Road, Albany,GA 31707
Phone:(229) 878-2529
Fax:(229) 878-2532
PIEDMONT NATIONAL CORP - CHATTANOOGA, TN Contact:
Contact Phone:
Contact Email:
1320 Appling Street Unit A, Chattanooga,TN 37406
Phone:(423) 629-2224
Fax:(423) 698-2791
PIEDMONT NATIONAL CORP - DECATUR, AL Contact:
Contact Phone:
Contact Email:
1427 Southfield Drive, SE, Decatur,AL 35603
Phone:(256) 308-1122
Fax:(256) 308-1050
PIEDMONT NATIONAL CORP - DOTHAN, AL Contact:
Contact Phone:
Contact Email:
301 Bic Road, Dothan,AL 36303
Phone:(334) 794-8451
Fax:(334) 794-8465
PIEDMONT NATIONAL CORP - FLORIDA Contact:
Contact Phone:
Contact Email:
5501 A Airport Blvd., Tampa,FL 33634
Phone:(813) 888-6061
Fax:(813) 888-6065
PIEDMONT NATIONAL CORP - GEORGIA http://www.pncorp.com
Contact: Gary Marx
Contact Phone:
Contact Email:
1561 Southland Circle, Atlanta,GA 30318
Phone:(404) 351-6130
Fax:(404) 350-8383
PIEDMONT NATIONAL CORP - HOMEWOOD, AL Contact:
Contact Phone:
Contact Email:
174 Distribution Drive, Homewood,AL 35209
Phone:(205) 942-2001
Fax:(205) 945-0087
PIEDMONT NATIONAL CORP - KNOXVILLE, TN Contact:
Contact Phone:
Contact Email:
4151 Appalachian Way, Knoxville,TN 37918
Phone:
Fax:
PIEDMONT NATIONAL CORP - MEMPHIS, TN Contact:
Contact Phone:
Contact Email:
3872 Delp Street, Memphis,TN 38118
Phone:(901) 360-9911
Fax:(901) 360-9917
PIEDMONT NATIONAL CORP - MONTGOMERY, AL http://www.pncorp.com
Contact:
Contact Phone:
Contact Email:
1570 Jean Street, Montgomery,AL 36107
Phone:(334) 265-8888
Fax:(334) 834-3299
PIEDMONT NATIONAL CORP - N.CAROLINA http://www.pncorp.com
Contact:
Contact Phone:
Contact Email:
11445-B Granite Street, Charlotte,NC 28273
Phone:(704) 588-2028
Fax:(704) 588-8195
PIEDMONT NATIONAL CORP - S.CAROLINA Contact:
Contact Phone:
Contact Email:
3998 Pelham Court, Greer,SC 29650
Phone:
Fax:
PREFERRED BUSINESS SOLUTIONS Contact: Gus Kamis
Contact Phone:
Contact Email:
1701 W. Walnut Hill Lane, Irving,TX 75038
Phone:(214) 358-1200
Fax:
PREMIER PAPER AND PKG. INC. http://www.premierpaper.com
Contact: Ed Stansberry
Contact Phone:
Contact Email:
1550 Boone Industrial Drive, Columbia,MO 65202
Phone:(573) 442-1363
Fax:(573) 442-5189
PROGRESSIVE PLASTICS AND PACKAGING Contact: Greg Pinkwater
Contact Phone:
Contact Email:
180 Manor Rd, East Rutherford,NJ 07073
Phone:
Fax:
PRO-PACK, INC. Contact:
Contact Phone:
Contact Email:
6727 Guion Road, Indianapolis,IN 46268
Phone:(317) 290-8002
Fax:(317) 290-8030
PRUDENTIAL OVERALL SUPPLY Contact: Samuel Ross
Contact Phone:
Contact Email:
1661 N. Alton Parkway, Irvine,CA 92606
Phone:
Fax:
R.V. EVANS COMPANY http://rvevans.com
Contact:
Contact Phone:
Contact Email:
P. O. Box 494, Decatur,IL 62525
Phone:(217) 423-3631
Fax:(217) 423-5987
ROCKET INDUSTRIAL - APPLETON Contact:
Contact Phone:
Contact Email:
3900 North Providence Avenue, Appleton,WI 54913
Phone:(920) 380-0777
Fax:(920) 380-0878
ROCKET INDUSTRIAL - STRATEGIC WAREHOUSING Contact:
Contact Phone:
Contact Email:
2945 Commers Drive, Eagan,MN 55121
Phone:
Fax:
ROCKET INDUSTRIAL - WAUSAU (HQRTS) Contact: Matt Hahn
Contact Phone:
Contact Email:
8101 International Drive, Wausau,WI 54401
Phone:(715) 845-7211
Fax:(715) 842-9654
ROCKET INDUSTRIAL- BELVIDERE Contact: Valerie Kotajarvi
Contact Phone:
Contact Email:
730 Landmark Drive, Belvidere,IL 61008
Phone:(815) 544-3789
Fax:(815) 874-9775
RONSTAN PAPER CO., INC. http://ronstanpaper.com
Contact:
Contact Phone:
Contact Email:
72 James Way, Eatontown,NJ 07724
Phone:(732) 389-1040
Fax:(732) 389-9271
ROSS MAINTENANCE PRODUCTS, CO. http://rossmaintenance.net
Contact:
Contact Phone:
Contact Email:
1620 Homestead Road, Verona,PA 15147
Phone:(412) 795-5200
Fax:(412) 795-2877
ROYAL PAPERS Contact: Eileen Passanise
Contact Phone:
Contact Email:
2701 Hereford Street, Saint Louis,MO 63139
Phone:(314) 664-3900
Fax:(314) 664-1266
RUTHERFORD SUPPLY Contact: Paul Rutherford
Contact Phone:
Contact Email:
1101 E. Laburnum Ave, Richmond,VA 23222
Phone:(804) 353-0445
Fax:(804) 353-1544
S & S INCORPORATED http://www.sspackaging.com
Contact: Paul Nared
Contact Phone:
Contact Email:
21300 St. Clair Ave., Cleveland,OH 44117
Phone:(216) 383-1880
Fax:(216) 383-9597
SAC VAL JANITORIAL SUPPLY (HQTRS) http://sacval.com
Contact: Tom Mekeel
Contact Phone:
Contact Email:
2421 Del Monte, West Sacramento,CA 95691
Phone:(916) 231-0584
Fax:(916) 231-0598
SAC VAL JANITORIAL SUPPLY CO. http://sacval.com
Contact:
Contact Phone:
Contact Email:
981 Airway Ct. #D, Santa Rosa,CA 95403
Phone:(707) 522-6840
Fax:(707) 522-6845
SAMUEL DISTRIBUTION LONGVIEW DIVISION Contact: Robert Gosschalk
Contact Phone:
Contact Email:
623 Fisher Road, Longview,TX 75604
Phone:(903) 759-2761
Fax:(903) 759-2308
SAN LUIS PAPER COMPANY http://slpaper.com
Contact: Douglas Hoffman
Contact Phone:
Contact Email:
P.O. Box 1859, San Luis Obispo,CA 93406
Phone:(805) 544-5656
Fax:(805) 544-5680
SAN-A-CARE, INC. http://san-a-care.com
Contact:
Contact Phone:
Contact Email:
P. O. Box 4250, Waukesha,WI 53187
Phone:(262) 521-9500
Fax:(262) 521-9592
SCHWARZ PAPER CO. http://schwarzpaper.com
Contact: Knox Jones
Contact Phone:
Contact Email:
1110 Aries Drive, Lincoln,NE 68512
Phone:(402) 477-1202
Fax:(402) 477-1204
SCOTT-NAAKE PAPER CO., INC. http://www.scottnaake.com
Contact:
Contact Phone:
Contact Email:
333 N. 7Th St., Sacramento,CA 95814
Phone:(916) 443-6611
Fax:(916) 443-7416
SHIPPERS SUPPLY COMPANY, INC. (KY) http://www.shipperssupplyco.com
Contact:
Contact Phone:
Contact Email:
1735 W Burnett Ave, Louisville,KY 40210
Phone:(502) 634-2800
Fax:(502) 635-7935
SHIPPERS SUPPLY COMPANY, INC. (SC) http://shipperssupplyinc.com
Contact:
Contact Phone:
Contact Email:
735 Spring Street, Spartanburg,SC 29301
Phone:(864) 574-3713
Fax:(864) 676-0683
SIERRA OFFICE SYSTEMS & PRODUCTS INC. Contact: Michael Kipp
Contact Phone:
Contact Email:
9950 Horn Road, Sacramento,CA 95827
Phone:(916) 369-0491
Fax:
SIERRA OFFICE SYSTEMS & PRODUCTS INC. - AUBURN Contact:
Contact Phone:
Contact Email:
1945 Industrial Drive, Auburn,CA 95603
Phone:
Fax:
SIERRA OFFICE SYSTEMS & PRODUCTS INC. - CONCORD Contact:
Contact Phone:
Contact Email:
115 Mason Circle Suite F, Concord,CA 94520
Phone:
Fax:
SIERRA OFFICE SYSTEMS & PRODUCTS INC. - PLACERVILLE Contact:
Contact Phone:
Contact Email:
289 Placerville Drive, Placerville,CA 95667
Phone:
Fax:
SIERRA OFFICE SYSTEMS & PRODUCTS INC. - ROHNERT PARK Contact:
Contact Phone:
Contact Email:
6640 Redwood Drive Suite 206, Rohnert Park,CA 95928
Phone:
Fax:
SIERRA OFFICE SYSTEMS & PRODUCTS INC. - SANTA CLARA Contact:
Contact Phone:
Contact Email:
951 George Street, Santa Clara,CA 95054
Phone:
Fax:
SIMS MANUFACTURING COMPANY http://simsmfg.com
Contact: Mike Pepper
Contact Phone:
Contact Email:
134 N. 1St Avenue, Yakima,WA 98902
Phone:(509) 453-7690
Fax:(509) 457-8606
SINGLE SOURCE SUPPLY - SCOTT http://www.singlesourcesupply.biz
Contact: Keith Galloway
Contact Phone:
Contact Email:
P. O. Box 503, Scott,LA 70583
Phone:(337) 593-9441
Fax:(337) 593-0977
SINK PAPER & PACKAGING http://sinkpaper.com
Contact: Barb Sink-Krusenstjerna
Contact Phone:
Contact Email:
12044 Ridgemont Drive, Urbandale,IA 50323
Phone:(515) 331-9000
Fax:(515) 331-9009
SOUTHWEST SCHOOL & OFFICE SUPPLY Contact: Aja Stickler
Contact Phone:
Contact Email:
3790 De Forest Circle, Jurupa Valley,CA 91752
Phone:(909) 980-7777
Fax:(909) 980-7159
SOUTHWEST SCHOOL & OFFICE SUPPLY-TRACY Contact:
Contact Phone:
Contact Email:
1915 N. Macarthur Dr. Suite 400, Tracy,CA 95376
Phone:
Fax:
SOUTHWESTERN MILL DISTRIBUTORS, INC http://swmill.net
Contact:
Contact Phone:
Contact Email:
310 S Dallas Street, El Paso,TX 79901
Phone:(915) 532-4693
Fax:(915) 532-4120
SPECTRUM PAPER CO. http://www.spectrumpaper.com
Contact: Jim Brown
Contact Phone:
Contact Email:
27 Concord, El Paso,TX 79906
Phone:(915) 595-0020
Fax:(915) 595-3435
SPRINGFIELD JANITOR SUPPLY http://springfieldjanitorsupply.com
Contact: Bob Hawn
Contact Phone:
Contact Email:
2255 N. Burton Avenue, Springfield,MO 65803
Phone:(417) 866-4221
Fax:(417) 866-4264
SPRINGFIELD JANITOR SUPPLY - PINE BLUFF Contact:
Contact Phone:
Contact Email:
224 S Mulberry, Pine Bluff,AR 71601
Phone:
Fax:
STANDARD COMPANIES (MEMPHIS) http://www.thestandardcompanies.com
Contact: Michelle Ruvola
Contact Phone:
Contact Email:
3147 Fleet Brook, Memphis,TN 38116
Phone:(901) 332-7869
Fax:(901) 332-7879
STANDARD COMPANIES, THE http://www.thestandardcompanies.com
Contact:
Contact Phone:
Contact Email:
2601 S. Archer Ave., Chicago,IL 60608
Phone:(312) 225-2777
Fax:(312) 225-2964
STARLINE SUPPLY-DIV FISHMAN SUPPLY http://www.starlinesupply.com
Contact: Julie Fishman
Contact Phone:
Contact Email:
2401 Peralta Street, Oakland,CA 94607
Phone:(510) 893-7572
Fax:(510) 893-7612
STERLING PAPER CO. - COLUMBUS http://www.sterling-paper.com
Contact: Rob Rosenfeld
Contact Phone:
Contact Email:
1845 Progress Ave., Columbus,OH 43207
Phone:(614) 443-0303
Fax:(614) 443-7125
STERLING PAPER CO-PITTSBURGH http://www.sterling-paper.com
Contact:
Contact Phone:
Contact Email:
R.J.Casey Indust'l Pk Columbus Ave, Pittsburgh,PA 15233
Phone:(412) 322-0200
Fax:(412) 322-0240
STRICKLAND PAPER COMPANY, INC. http://www.stricklandpaper.com
Contact:
Contact Phone:
Contact Email:
481 Republic Circle, Birmingham,AL 35214
Phone:(205) 798-3000
Fax:(205) 798-3472
SUMMER'S INDUSTRIAL http://WWW.SUMMERSINDUSTRIAL.COM
Contact: Craig Shaw
Contact Phone:
Contact Email:
400 Buffalo St., Johnson City,TN 37605
Phone:(423) 461-4700
Fax:(423) 926-5120
SUN INDUSTRIAL SUPPLY (LEWIS IND.) http://www.sunindustrialsupply.com
Contact:
Contact Phone:
Contact Email:
700 Savage Road, Northampton,PA 18067
Phone:(610) 502-0747
Fax:(610) 502-0745
SUNBELT PACKAGING, LLC http://www.sunbeltpackagingllc.com
Contact:
Contact Phone:
Contact Email:
7826 Park Place Road, York,SC 29745
Phone:(803) 684-2286
Fax:(803) 684-1185
SUPERIOR PAPER & PLASTICS, INC. http://www.superiorpaper.com
Contact:
Contact Phone:
Contact Email:
1930 East 65Th Street, Los Angeles,CA 90001
Phone:(323) 581-5555
Fax:(323) 581-7777
SUPPLYDEN http://SUPPLYDEN.COM
Contact: Oliver Denoff
Contact Phone:
Contact Email:
1837 Enterprise Dr, Rochester,MI 48309
Phone:(248) 299-9400
Fax:
SUPPLYONE EXACT PACKAGING Contact:
Contact Phone:
Contact Email:
1000 Deerfield Road, Pontiac,IL 61764
Phone:
Fax:
SUPPLYONE FRESNO C/O INLAND STAR DIST Contact:
Contact Phone:
Contact Email:
3146 S. Chestnut Ave, Fresno,CA 93725
Phone:
Fax:
SUPPLYONE (HEADQUARTERS) http://www.supplyone.com
Contact: Bob Barna
Contact Phone:
Contact Email:
11 Campus Blvd., Suite 150, Newtown Square,PA 19073
Phone:(484) 582-1004
Fax:(484) 582-0351
SUPPLYONE ALBUQUERQUE http://www.supplyone.com
Contact: Richard Guerrero
Contact Phone:
Contact Email:
8330 Jefferson N.E., Albuquerque,NM 87113
Phone:(505) 821-7225
Fax:(505) 821-1863
SUPPLYONE BIRMINGHAM C/O SHAW Contact:
Contact Phone:
Contact Email:
3315 Mount Olive Road, Mount Olive,AL 35117
Phone:
Fax:
SUPPLYONE CHESAPEAKE http://www.supplyone.com
Contact: Mike Myers
Contact Phone:
Contact Email:
3813 Cook Blvd., Chesapeake,VA 23323
Phone:(757) 485-3570
Fax:
SUPPLYONE CLEVELAND http://www.supplyone.com
Contact: Bob Barna
Contact Phone:
Contact Email:
26801 Fargo Avenue, Bedford Heights,OH 44146
Phone:(216) 514-7000
Fax:(216) 514-7050
SUPPLYONE COLUMBUS http://www.supplyone.com
Contact: Dave Whitney
Contact Phone:
Contact Email:
5339 Fisher Road, Columbus,OH 43228
Phone:(614) 853-4884
Fax:(614) 853-4887
SUPPLYONE DALLAS http://www.supplyone.com
Contact:
Contact Phone:
Contact Email:
1608 Plantation Rd, Dallas,TX 75235
Phone:
Fax:
SUPPLYONE DOMETIC CORPORATION Contact:
Contact Phone:
Contact Email:
13128 St. Rt. 226, Big Prairie,OH 44611
Phone:
Fax:
SUPPLYONE EL PASO http://www.supplyone.com
Contact: Ryan LaBarbera
Contact Phone:
Contact Email:
12135 Esther Lama Drive E-1, El Paso,TX 79936
Phone:(915) 860-9911
Fax:(915) 860-2555
SUPPLYONE FORT WORTH http://www.supplyone.com
Contact: James Bowie
Contact Phone:
Contact Email:
1608 Plantation Rd., Dallas,TX 75235
Phone:(214) 941-4141
Fax:
SUPPLYONE NEW YORK http://www.supplyone.com
Contact:
Contact Phone:
Contact Email:
143 Getty Ave., Paterson,NJ 07503
Phone:(718) 392-7400
Fax:(718) 361-2733
SUPPLYONE OKLAHOMA CITY http://www.supplyone.com
Contact: Steve Maness
Contact Phone:
Contact Email:
3801 N. W. 3Rd Street, Oklahoma City,OK 73107
Phone:(405) 947-7373
Fax:(405) 947-0625
SUPPLYONE PHILADELPHIA http://www.supplyone.com
Contact:
Contact Phone:
Contact Email:
1090 Thomas Busch Memorial Highway, Pennsauken,NJ 08110
Phone:(856) 727-1010
Fax:(856) 727-1020
SUPPLYONE PLASTICS http://www.supplyone.com
Contact: David Morris
Contact Phone:
Contact Email:
1157 Arnold Rd Suite A, Reading,PA 19605
Phone:(610) 236-9235
Fax:(610) 582-3226
SUPPLYONE ROCKWELL http://www.supplyone.com
Contact:
Contact Phone:
Contact Email:
P. O. Box 1469, Rockwell,NC 28138
Phone:(704) 279-5650
Fax:(704) 279-9103
SUPPLYONE SPARTANBURG Contact:
Contact Phone:
Contact Email:
1360 Old Georgia Road, Roebuck,SC 29376
Phone:
Fax:
SUPPLYONE SUFFOLK-CLOSED DO NOT USE http://www.supplyone.com
Contact:
Contact Phone:
Contact Email:
1394 Progress Road, Suffolk,VA 23434
Phone:(757) 538-8004
Fax:(757) 538-8006
SUPPLYONE TAMPA Contact:
Contact Phone:
Contact Email:
13200 40Th Street North, Clearwater,FL 33762
Phone:
Fax:
SUPPLYONE TUCSON, INC. http://www.supplyone.com
Contact:
Contact Phone:
Contact Email:
6874 S. Palo Verde, Tucson,AZ 85756
Phone:(520) 573-7080
Fax:(520) 745-8831
SUPPLYONE TULSA http://www.supplyone.com
Contact: Dave Jones
Contact Phone:
Contact Email:
11401 E. 27Th St. North Suite D, Tulsa,OK 74116
Phone:(918) 446-4428
Fax:(918) 445-7448
SUPPLYONE WEYERS CAVE http://www.supplyone.com
Contact: Andy East
Contact Phone:
Contact Email:
P. O. Box 126, Weyers Cave,VA 24486
Phone:(540) 234-9292
Fax:(540) 234-9299
SUPPLYONE WISCONSIN http://www.supplyone.com
Contact: Matt Niemuth
Contact Phone:
Contact Email:
W209 N17450 Industrial Drive, Jackson,WI 53037
Phone:(262) 677-8655
Fax:
SUPPLYONE WRAP-N-PACK Contact:
Contact Phone:
Contact Email:
21 Executive Boulevard, Farmingdale,NY 11735
Phone:
Fax:
T. FRANK MCCALL'S, INC. http://www.tfrankmccalls.com
Contact:
Contact Phone:
Contact Email:
601 Madison Street, Chester,PA 19013
Phone:(610) 876-9245
Fax:(610) 876-9189
TEPE SANITARY SUPPLY, INC. http://www.tepesanitary.com
Contact:
Contact Phone:
Contact Email:
52878 Frederic Drive, Elkhart,IN 46514
Phone:(574) 293-7591
Fax:(574) 293-9342
THE BOXMAKER - BELLINGHAM Contact:
Contact Phone:
Contact Email:
3999 Hammer Drive, Bellingham,WA 98226
Phone:(360) 671-1743
Fax:(360) 671-5520
THE BOXMAKER - EUGENE http://www.boxmaker.com
Contact: Toni Lyerla
Contact Phone:
Contact Email:
3285 West 1St Avenue Suite A, Eugene,OR 97402
Phone:(541) 484-7233
Fax:(541) 484-7268
THE BOXMAKER - KENT (HQTRS) http://www.boxmaker.com
Contact: Richard Brown
Contact Phone:
Contact Email:
6412 S. 190Th Street, Kent,WA 98032
Phone:(425) 251-5428
Fax:(425) 251-1484
THE BOXMAKER - LABEL Contact:
Contact Phone:
Contact Email:
6206 S 190Th St, Kent,WA 98032
Phone:
Fax:
THE BOXMAKER - MEDFORD Contact:
Contact Phone:
Contact Email:
323 Ehrman Circle, Medford,OR 97501
Phone:(800) 452-8991
Fax:(541) 484-7268
THE BOXMAKER - PORTLAND http://www.boxmaker.com
Contact:
Contact Phone:
Contact Email:
2524 NE Riverside Way, Portland,OR 97211
Phone:(503) 445-1983
Fax:(503) 445-1989
THE BOXMAKER - SPOKANE Contact: Laura Hard
Contact Phone:
Contact Email:
3808 N. Sullivan Rd. Bld#10 Suite 1, Spokane,WA 99216
Phone:(800) 443-5431
Fax:(509) 893-5255
THE BOXMAKER - WAREHOUSE Contact:
Contact Phone:
Contact Email:
6230 S 190Th St, Kent,WA 98032
Phone:
Fax:
THE I SUPPLY COMPANY http://www.isupplyco.com
Contact: Gene Shepard
Contact Phone:
Contact Email:
1255 Spangler Road, Fairborn,OH 45324
Phone:(937) 878-5240
Fax:(937) 878-9236
THE JANITORS SUPPLY CO., INC. http://www.janitorssupplyco.com
Contact:
Contact Phone:
Contact Email:
5005 Speedway Drive, Fort Wayne,IN 46825
Phone:(260) 482-8615
Fax:(260) 483-5598
THE JANTON COMPANY http://jantoncompany.com
Contact:
Contact Phone:
Contact Email:
3636 Lacon Rd, Hilliard,OH 43026
Phone:(614) 299-2151
Fax:(614) 299-4569
THE KALISON GROUP, INC. Contact:
Contact Phone:
Contact Email:
731 Prairie Dupont Drive, Dupo,IL 62239
Phone:(618) 286-6666
Fax:(618) 286-6669
THE PAINT AND SAFETY STORE, INC. http://www.thepassonline.com
Contact:
Contact Phone:
Contact Email:
201 S. Benton Street, Big Spring,TX 79720
Phone:(432) 263-8491
Fax:(432) 263-0393
THE POWELL COMPANY TOLEDO http://www.powellcompanyltd.com
Contact:
Contact Phone:
Contact Email:
825 Ford Street, Suite F, Maumee,OH 43537
Phone:(419) 482-6750
Fax:(419) 482-6759
THE POWELL COMPANY, LTD. http://www.thepowellcompanyltd.com
Contact:
Contact Phone:
Contact Email:
3255 St. Johns Road, Lima,OH 45804
Phone:(888) 776-9355
Fax:(419) 222-8984
THE WEEKS LERMAN GROUP LLC http://WWW.WEEKSLERMAN.COM
Contact: Sidney Lerman
Contact Phone:
Contact Email:
58 - 38 Page Place, Maspeth,NY 11378
Phone:(718) 803-4800
Fax:
THORNTON BROTHERS, INC. http://www.thornton-brothers.com
Contact:
Contact Phone:
Contact Email:
P. O. Box 80366, Athens,GA 30608
Phone:(706) 543-5204
Fax:(706) 543-0935
TRIPACK, INC. Contact:
Contact Phone:
Contact Email:
1358 Charlestown Industrial Drive, Saint Charles,MO 63303
Phone:(636) 724-1744
Fax:(636) 724-1801
TRUECHOICEPACK CORP. Contact:
Contact Phone:
Contact Email:
1285 Lyonsroad, Bldg. H, Dayton,OH 45458
Phone:(937) 630-3832
Fax:(800) 307-0681
UNITED CHEMICAL & SUPPLY CO. INC. Contact: Will Curlee
Contact Phone:
Contact Email:
201 Fairforest Way, Greenville,SC 29607
Phone:(864) 234-5922
Fax:(864) 234-5937
UNITED INDUSTRIES http://www.unitedindustries.net
Contact: Sharon Nakatani
Contact Phone:
Contact Email:
133 East Grove, Orange,CA 92865
Phone:(714) 282-9410
Fax:(714) 282-9486
UNITED PACKAGING SUPPLY COMPANY http://www.unitedpkg.com
Contact: Robert Santora
Contact Phone:
Contact Email:
102 Wharton Road, Bristol,PA 19007
Phone:(215) 633-0700
Fax:(215) 633-9337
VAN PAPER CO., INC. http://www.vanpaper.com
Contact:
Contact Phone:
Contact Email:
2107 Stewart Avenue, Saint Paul,MN 55116
Phone:(651) 690-1751
Fax:(651) 690-1758
VENTURES ASSOCIATES, INC. http://www.ventureskauai.com
Contact:
Contact Phone:
Contact Email:
3097 Oihana, Lihue,HI 96766
Phone:(808) 246-4886
Fax:(808) 246-4895
VILLAGE OFFICE SUPPLY Contact: Robert Mallin
Contact Phone:
Contact Email:
600 Apgar Drive, Somerset,NJ 08873
Phone:(732) 564-1700
Fax:
WAREHOUSE DIRECT - METRO http://metroprof.com
Contact: Patrick Kenny
Contact Phone:
Contact Email:
2001 S Mount Prospect Rd, Des Plaines,IL 60018
Phone:(630) 909-5980
Fax:(630) 909-5999
WAREHOUSE DIRECT - RUNGE http://rungepaper.com
Contact: Richard Benhart
Contact Phone:
Contact Email:
2001 South Mount Prospect Rd, Des Plaines,IL 60018
Phone:(847) 593-1788
Fax:(847) 227-0490
WAREHOUSE DIRECT INC http://www.warehousedirect.com
Contact: John Moyer
Contact Phone:
Contact Email:
2001 South Mount Prospect Road, Des Plaines,IL 60018
Phone:
Fax:
WASHINGTON PAPER & CHEMICAL INC. http://WASHINGTONPAPERONLINE.COM
Contact:
Contact Phone:
Contact Email:
5123 Lawrence Place, Hyattsville,MD 20781
Phone:(301) 699-5959
Fax:(301) 699-0815
WEBB CHEMICAL & PAPER CO., INC. http://www.webbchemicalandpaper.com
Contact: #N/A
Contact Phone:
Contact Email:
P.O. Box 2000, Shelby,NC 28150
Phone:(704) 482-4331
Fax:(704) 482-7359
WEINSTEIN WHOLESALE SOLUTIONS http://weinsteinbeverage.com/weinstein-wholesale-solutions/
Contact: Andy Weinstein
Contact Phone:
Contact Email:
410 Peters Street East, Wenatchee,WA 98801
Phone:(509) 662-9631
Fax:
WEISS BROS. PAPER http://www.weissbros.com
Contact: Richard Weiss
Contact Phone:
Contact Email:
18038 Oak Ridge Drive, Hagerstown,MD 21740
Phone:(800) 878-9347
Fax:(301) 739-3157
WEST FLORIDA SUPPLY COMPANY (HQRTS) Contact: David Chandler
Contact Phone:
Contact Email:
1184 North Washington Blvd., Sarasota,FL 34236
Phone:(941) 365-2838
Fax:(941) 366-7976
WEST FLORIDA SUPPLY FORT MYERS Contact: Joan Barnett
Contact Phone:
Contact Email:
1585 Seaboard Street, Fort Myers,FL 33916
Phone:(239) 332-2828
Fax:(239) 332-8907
WESTERN FACILITIES SUPPLY http://www.westfacsup.com
Contact: Peter Knehr
Contact Phone:
Contact Email:
P. O. Box 928, Everett,WA 98206
Phone:(425) 252-2105
Fax:(425) 259-5130
WILDMAN FACILITY SERVICES http://www.wildmanbg.com/
Contact:
Contact Phone:
Contact Email:
800 S. Buffalo Street, Warsaw,IN 46580
Phone:(574) 269-1552
Fax:(574) 269-3783