EMAIL PURCHASE ORDER TO: TIPSPO@TIPS-USA.COM
ATTACH PO AS A PDF - ONLY ONE PO PER EMAIL
PO MUST REFERENCE TIPS CONTRACT NUMBER
VENDOR

Ruckus Wireless Inc

WEBSITE

www.ruckuswireless.com

SERVICE/PRODUCTS DESCRIPTION

Ruckus Wireless is a pioneer in the wireless infrastructure market, enabling carriers and enterprises to keep up with the exploding demand for high-bandwidth applications and services. Ruckus' proprietary "Smart Wi-Fi" technology redefines what's possible in wireless network performance with flexibility, reliability, and affordability.
CONTRACT: 1071615 Networking Equipment, Software and Services
Jul-16-2015 to Jul-26-2018
Ruckus Wireless Inc
CONTRACT: 1071615 Networking Equipment, Software and Services
Jul-16-2015 to Jul-26-2018
TIPS CONTACT

PAYMENT TO

NAME

Meredith Barton

ADDRESS:

350 W. Java Drive

POSITION

TIPS CONTACT

PHONE

(866)-839-8477

CITY:

Sunnyvale

FAX

(866)-839-8472

STATE:

CA

MOBILE

ZIP:

94089

EMAIL

tips@tips-usa.com
| | |
| --- | --- |
| FEDERAL OR EDGAR COMPLIANCE DOCUMENTS FILED WITH CONTRACT: | NO |
| DISADVANTAGED/MINORITY/WOMAN BUSINESS ENTERPRISE | NO |
| HISTORICALLY UNDERUTILIZED BUSINESS (HUB) | NO |
| | |
| --- | --- |
| | AL AK AZ AR CA CO CT DE DC FL GA HI ID IL IN IA KS KY LA ME MD MA MI MN MS MO MT NE NV NH NJ NM NY NC ND OH OK OR PA RI SC SD TN TX UT VT VA WA WI WY |
0

We are committed to provide a financing experience based on unwavering integrity, unmatched service and complete transparency. Our processes have been established with the client in mind, and we are dedicated to ensuring that you enjoy your experience working with our team. Our goal is for you to build a long-term relationship with Live Oak Equipment Finance, not only as your financial partner, but also a firm that can help you grow and excel as a professional in your industry.
Contact Information:
Phone: (512) 726-0367
Email: tips@loequipmentfinance.com
Website: www.loequipmentfinance.com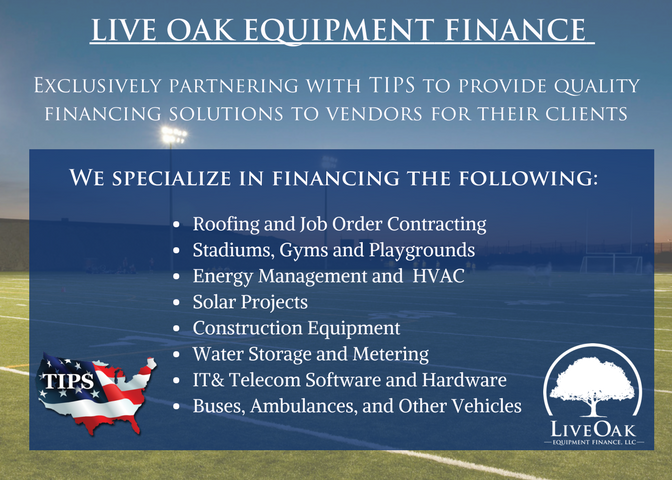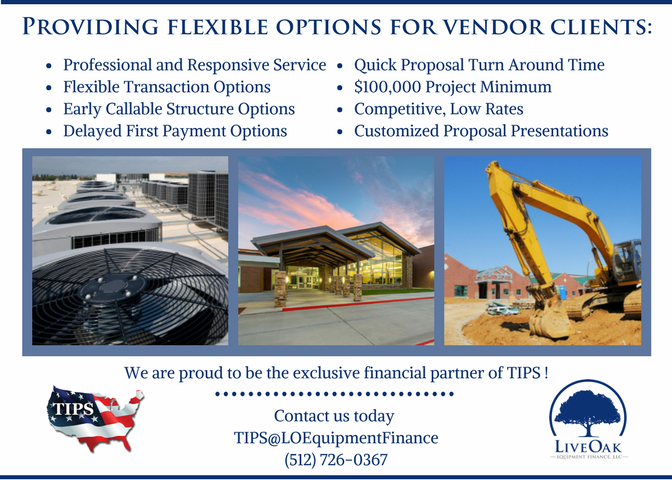 Resellers listed below may also hold a current TIPS contract. PO's for quotes provided by a reseller that are also awarded in the same category will be processed and sent directly to that reseller.

Please check under "ALL VENDORS" before requesting a quote from any listed reseller.
Resellers
Address
Affiniti Contact: Steve Craft
Contact Phone:(512) 334-4073
Contact Email: steve.craft@affiniti.com
9208 Waterford Centre Blvd Ste 150 Austin, TX 78758
Phone:
Fax:
Austin Ribbon & Computer Supplies, Inc www.arc-is.com
Contact: Susan Hawk
Contact Phone:(512) 452-0651
Contact Email: susan.hawk@arc-is.com
9211 Waterford Centre Blvd, Suite 202, Austin, TX 78758
Phone:(512) 452-0691
Fax:
CDW Government www.cdw.com
Contact: Chris Fuchs
Contact Phone:(800) 508-2394
Contact Email: chris.fuchs@cdwg.com
230 North Milwaukee Avenue, Vernon Hills, IL 60061
Phone:(847) 465-6800
Fax:
CMC Network Solutions www.cmcns.com
Contact: Scott Broekemeier
Contact Phone:(972) 203-3400
Contact Email: scott@cmcns.com
2700 Research Drive, Suite 100, Plano, TX 75074
Phone:(972) 590-6964
Fax:
DETEL Computers Solutions Contact: Cindy Normand
Contact Phone:
Contact Email: cindy@detel.com
7845 Hwy. 1 Mansura, LA 71350
Phone:(225) 952-9430 Ext. 1055
Fax:
Genesis Telecom, Inc. www.genesisbcs.com
Contact: Deb Schindler Boultinghouse
Contact Phone:(713) 865-7634
Contact Email: debra@genesisbcs.com
1225 N Loop W, Suite 705, Houston, TX 77008
Phone:(713) 868-6128
Fax:
Insource Technology Corporation www.insource.com
Contact: Julie Black
Contact Phone:(281) 774-4100
Contact Email: julie.black@insource.com
Two Chasewood, 20405 SH 249, Suite 300, Houston, TX 77070
Phone:(281) 774-4040
Fax:
Lantana Communications Corp. www.lantanacom.com
Contact: Ed Koehler
Contact Phone:(214) 734-6816
Contact Email: ekoehler@lantanacom.com
1700 Tech Centre Pkwy. Suite 100, Arlington, TX 76014
Phone:(817) 606-3383
Fax:
Precision Task Group www.ptg.com
Contact: Vanessa Ozuna
Contact Phone:(713) 787-1102
Contact Email: sales@ptg.com
9801 Westheimer, Suite 803, Houston, TX 77042
Phone:(713) 781-7481
Fax:
Responsive Services International Corporation http://www.rsi-support.com/
Contact: Chris Allen
Contact Phone:(800) 658-2086 Ext. 120
Contact Email: chris@responsive-services.com
6401 Indiana Avenue, Ste. B Lubbock, TX 79413
Phone:(800) 658-2086 Ext. 120
Fax:
Solid IT Networks www.solidit.com
Contact: Mark Fenter
Contact Phone:(512) 508-9667
Contact Email: mfenter@solidit.com
Georgetown, TX 78633
Phone:
Fax:
Teksys, Inc. www.teksys.com
Contact: David Madrigal
Contact Phone:(678) 938-9868
Contact Email: david.madrigal@teksys.com
1623 Mcdonald, Houston, TX 77092
Phone:(832) 408-7560
Fax:
The Fulcrum Group, Inc www.fulcrumgroup.net
Contact: David Johnson
Contact Phone:(817) 337-0300
Contact Email: david@fulcrumgroup.net
5600 Egg Farm Rd, Suite 452, Keller, TX 76248
Phone:(817) 898-1277
Fax:
Westron Communications, Inc. www.westron.com
Contact: Dave Casey
Contact Phone:(972) 546-1450
Contact Email: Dave.Casey@peakuptime.com
2611 Internet Blvd, Suite 115, Frisco, TX 75034
Phone:(972) 546-1449
Fax:
Windstream Corporation, DBA Windstream Communications windstreambusiness.com
Contact: Rowland McKinney
Contact Phone:(479) 236-4221
Contact Email: rowland.mckinney@windstream.com
4001 N Rodney Parham Rd, Little Rock, AR 72212
Phone:(479) 845-5630
Fax:
Zones, Inc www.zones.com
Contact: Sammi Nguyen
Contact Phone:(253) 205-3000
Contact Email: sammi.nguyen@zones.com
1102 15th Street SW Suite 254, Auburn, WA 98001
Phone:(800) 417-1993
Fax: