EMAIL PURCHASE ORDER TO: TIPSPO@TIPS-USA.COM
ATTACH PO AS A PDF - ONLY ONE PO PER EMAIL
PO MUST REFERENCE TIPS CONTRACT NUMBER
VENDOR

DARRAN Furniture

WEBSITE

www.darran.com

SERVICE/PRODUCTS DESCRIPTION

DARRAN is a woman-owned, small business that has a 40 year history as family-owned and operated with a solid reputation for building high quality office furniture in High Point, NC. DARRAN's success over the last 40 years can be contributed to our dedication to service, product performance, and innovation; all of which are critical to maintaining customer loyalty. The proposed DARRAN Furniture products offer a superior finish that is Indoor Air Quality tested to the ANSI/BIFMA x7.1 chamber test. The furniture also features exclusive anti-microbial protection and a limited lifetime warranty ensuring quality products that will last for years to come.
CONTRACT: 170302 Furniture, Furnishings and Services
May-26-2017 to May-22-2020
DARRAN Furniture
CONTRACT: 170302 Furniture, Furnishings and Services
May-26-2017 to May-22-2020
PRIMARY CONTACT

SECONDARY CONTACT

NAME

Cami Bond
Jeff Hollingsworth

POSITION

Inside Sales Manager
Vice President of Sales

PHONE

(336) 861-2428
(336) 861-2527

FAX

(336) 861-6485
(336) 861-6485

MOBILE

(336) 259-2477
(336) 491-9700

EMAIL

cbond@darran.com
jhollingsworth@darran.com

WEBSITE

www.darran.com
TIPS CONTACT

PAYMENT TO

NAME

Meredith Barton

ADDRESS:

2402 Shore Street

POSITION

TIPS CONTACT

PHONE

(866)-839-8477

CITY:

High Point

FAX

(866)-839-8472

STATE:

NC

MOBILE

ZIP:

27263

EMAIL

tips@tips-usa.com
| | |
| --- | --- |
| FEDERAL OR EDGAR COMPLIANCE DOCUMENTS FILED WITH CONTRACT: | Yes |
| DISADVANTAGED/MINORITY/WOMAN BUSINESS ENTERPRISE | YES |
| HISTORICALLY UNDERUTILIZED BUSINESS (HUB) | NO |
| | |
| --- | --- |
| | AL AK AZ AR CA CO CT DE DC FL GA HI ID IL IN IA KS KY LA ME MD MA MI MN MS MO MT NE NV NH NJ NM NY NC ND OH OK OR PA RI SC SD TN TX UT VT VA WA WI WY |
0

We are committed to provide a financing experience based on unwavering integrity, unmatched service and complete transparency. Our processes have been established with the client in mind, and we are dedicated to ensuring that you enjoy your experience working with our team. Our goal is for you to build a long-term relationship with Live Oak Equipment Finance, not only as your financial partner, but also a firm that can help you grow and excel as a professional in your industry.
Contact Information:
Phone: (512) 726-0367
Email: tips@loequipmentfinance.com
Website: www.loequipmentfinance.com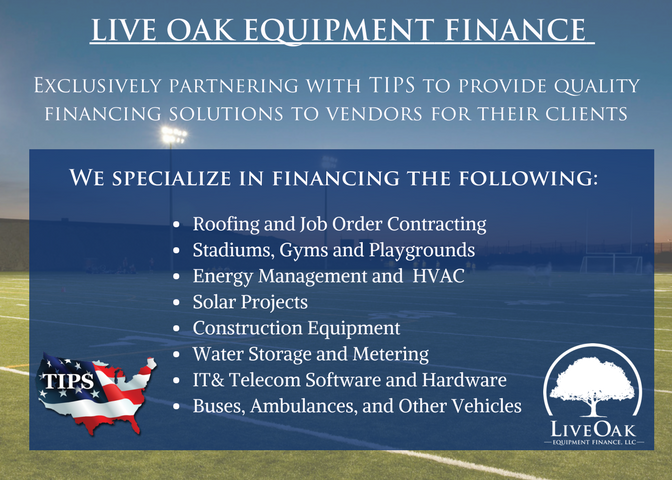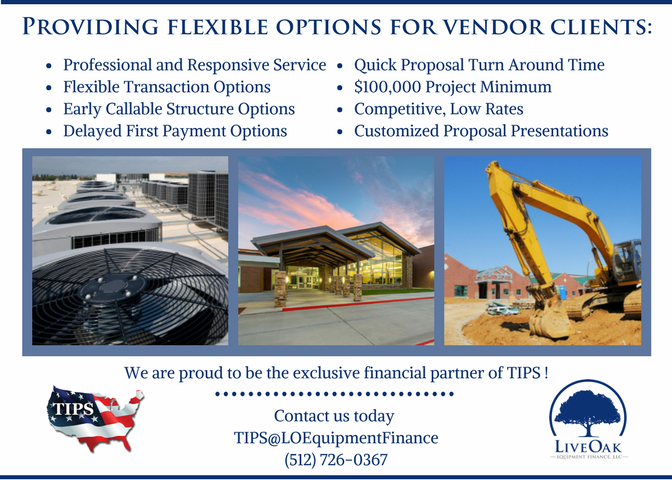 Resellers listed below may also hold a current TIPS contract. PO's for quotes provided by a reseller that are also awarded in the same category will be processed and sent directly to that reseller.

Please check under "ALL VENDORS" before requesting a quote from any listed reseller.
Resellers
Address
Anderson Schoel www.andersonschoel.com
Contact: Randy Schoel
Contact Phone:(254) 698-1483
Contact Email: randy@andersonschoel.com
400 Lookout Ridge, Harker Heights, TX 76548
Phone:(254) 698-1483
Fax:(254) 393-0475
Austin Business Furniture www.abfurn.com
Contact: Ken Fuertsch
Contact Phone:(512) 617-4349
Contact Email: kfuertsch@abfurn.com
9300 United Dr. Bldg 3 Suite #140, Austin, TX 78758
Phone:(512) 617-4349
Fax:(512) 832-6330
Beck Total Office Interiors www.becktoi.com
Contact: Lori Addison
Contact Phone:
Contact Email: laddison@becktoi.com
5300 Eagle Rock Avenue N.E. Albuquerque, NM 87113
Phone:(505) 883-6471
Fax:
Built For Dreams www.builtfordreams.com
Contact: Rita Stevens
Contact Phone:(806) 771-6806
Contact Email: rstevens@builtfordreams.com
3416 Joliet, Lubbock, TX 79413
Phone:(806) 771-6806
Fax:(806) 687-9187
Business Interiors of Texas www.bitexas.com
Contact: Janet Maxwell
Contact Phone:(361) 882-3456
Contact Email: jmaxwell@bitexas.com
223 N. Chaparral Street, Corpus Christi, TX 78401
Phone:(361) 882-3456
Fax:(361) 882-5666
DC Interiors www.dcioffice.com
Contact: Jessica Cevallos
Contact Phone:(210) 521-9900
Contact Email: jessica@dcioffice.com
6896-A Alamo Downs Parkway #100, San Anotnio, TX 78238
Phone:(210) 521-9900
Fax:(210) 521-9910
Dick Office Supply Contact: Pete Lipscomb
Contact Phone:(956) 972-0791
Contact Email: pete@ofusargv.com
1008-A East Pecan Blvd., Mcallen, TX 78501
Phone:(956) 972-0791
Fax:(956) 972-1146
Facilities Resource, Inc. www.facilitiesresourceinc.com
Contact: Darren Ross
Contact Phone:(512) 371-1232
Contact Email: Dross@FacilitiesResourceInc.com
9737 Great Hills Trail Suite #305, Austin, TX 78759
Phone:(512) 371-1232
Fax:(512) 371-9155
Facility Interiors, Inc. www.facilityinteriors.com
Contact: Sean Corrington
Contact Phone:(214) 556-4764
Contact Email: séance@fmgi.com
6100 W. Plano Parkway, Plano, TX 75093
Phone:(214) 556-4764
Fax:(214) 556-4800
Furniture Marketing Group www.fmgi.com
Contact: Sean Corrington
Contact Phone:(214) 556-4700
Contact Email: séance@fmgi.com
6100 W. Plano Parkway Suite 1400, Plano, TX 75093
Phone:(214) 556-4700
Fax:(214) 556-4800
G.L. Seaman & Co. www.glsc.com
Contact: Ashley Lowrance
Contact Phone:(214) 764-6400
Contact Email: alowrance@glsc.com
4201 International Parkway, Carrollton, TX 75007
Phone:(214) 764-6400
Fax:(214) 764-6420
Insalco Corporation www.insalco.com
Contact: Harry Gruss, Jr.
Contact Phone:(203) 269-1238
Contact Email: harry-insalco@snet.net
7 Capital Drive, Wallingford, CT 06492
Phone:
Fax:
J. Tyler Services Inc. www.jtyler.com
Contact: Jennifer Longbotham
Contact Phone:(713) 468-2166
Contact Email: longbothamj@jtyler.com
5920 Milwee Street, Houston, TX 77092
Phone:(713) 468-2166
Fax:(713) 468-2480
Martin's Office Supply Inc. www.mosdirect.com
Contact: Bill Martin
Contact Phone:(817) 573-2694
Contact Email: bmartin@mosdirect.com
822 W. Pearl Street, Granbury, TX 76048
Phone:(817) 573-2694
Fax:(866) 579-0213
Navajo Office Products Contact: Tommy Sansom
Contact Phone:(806) 766-8888
Contact Email: tsansom@officewise.com
1200 S. Taylor Street, Amarillo, TX 79101
Phone:(806) 766-8888
Fax:(806) 766-8854
Nelson Interiors www.nelsoninteriors.com
Contact: Emily Howard
Contact Phone:(210) 684-2624
Contact Email: Emily@nelsoninteriors.com
5417 Bandera Rd. Suite 601, San Anotnio, TX 78238
Phone:(210) 684-2624
Fax:(210) 684-3214
Officewise Contact: Tommy Sansom
Contact Phone:(806) 372-2236
Contact Email: tsansom@officewise.com
PO Box 2688, Amarillo, TX 79105
Phone:(806) 372-2236
Fax:(806) 374-2177
Perry Office Plus www.perryop.com
Contact: Lea Goates
Contact Phone:(254) 778-4755
Contact Email: lea.goates@perryop.com
1401 North Third Street, Temple, TX 76501
Phone:(254) 778-4755
Fax:(254) 778-3535
Royer & Schutts Contact: Honor Rowe
Contact Phone:(817) 332-5424
Contact Email: Honor@Royer-furn.com
200 Bailey Ave. Suite 220, Fort Worth, TX 76107
Phone:(817) 332-5424
Fax:(817) 332-5420
Shelton-Keller Group, Inc Contact: Diana Keller
Contact Phone:(512) 481-1500
Contact Email: dkeller@sheltonkeller.com
6301-9 East Stassney Lane Suite 100, Austin, TX 78744
Phone:(512) 481-1500
Fax:(512) 481-1550
The OFIS Contact: Rachel Kennedy
Contact Phone:(713) 629-5599
Contact Email: rkennedy@theofis.com
7110 Old Katy Rd. Suite 200, Houston, TX 77024
Phone:(713) 629-5599
Fax:(713) 629-4600
The Spencer Company www.spencerco.com
Contact: Jason Smith
Contact Phone:(214) 720-0345
Contact Email: jason@spencer-furniture.com
150 Turtle Creek Blvd. #205, Dallas, TX 75207
Phone:(214) 720-0345
Fax:(214) 720-7708
Workplace Resource Group Contact: Virginia Visser
Contact Phone:(512) 472-7300
Contact Email: Virginia.visser@wrstx.com
1717 W. 6th Street Suite 190, Austin, TX 78703
Phone:(512) 472-7300
Fax:(512) 472-7888
Workplace Resource Group Contact: Virginia Visser
Contact Phone:(210) 226-5141
Contact Email: Virginia.visser@wrstx.com
4400 NE Loop 410 Suite 130, San Anotnio, TX 78218
Phone:(210) 226-5141
Fax:(210) 226-4218
Workspace Interiors / Office Depot Contact: Carie Kohlstedt
Contact Phone:(817) 684-4436
Contact Email: carie.kohlstedt@workspaceinteriors.com
14600 Trinity Blvd #300, Fort Worth, TX 76155
Phone:(817) 684-4436
Fax:
Workspace Solutions Contact: Susan Schiller
Contact Phone:(210) 366-4414
Contact Email: susan@txworkspacesolutions.com
3660 Thousand Oaks Dr Suite 220, San Anotnio, TX 78247
Phone:(210) 366-4414
Fax:(210) 366-2470