EMAIL PURCHASE ORDER TO: TIPSPO@TIPS-USA.COM
ATTACH PO AS A PDF - ONLY ONE PO PER EMAIL
PO MUST REFERENCE TIPS CONTRACT NUMBER
VENDOR

RELM Wireless Corporation

WEBSITE

www.relm.com

SERVICE/PRODUCTS DESCRIPTION

Two Way manufacturer and re-seller. product consisiting of Portables, Mobiles, Repeaters,Base Stations and Accessories.
CONTRACT: 5012116 Two Way Radios
Jan-21-2016 to Jan-24-2019
RELM Wireless Corporation
CONTRACT: 5012116 Two Way Radios
Jan-21-2016 to Jan-24-2019
PRIMARY CONTACT

SECONDARY CONTACT

NAME

Shari Sharp
Susana Brown

POSITION

Director of Business Ops
Order Entry Supervisor

PHONE

(321) 953-7952
(800) 821-2900

FAX

(321) 676-4403
(800) 704-3177

MOBILE

EMAIL

ssharp@relm.com
sbrown@relm.com

WEBSITE

www.relm.com
TIPS CONTACT

PAYMENT TO

NAME

Meredith Barton

ADDRESS:

7100 Technology Dr

POSITION

TIPS CONTACT

PHONE

(866)-839-8477

CITY:

West Melbourne

FAX

(866)-839-8472

STATE:

FL

MOBILE

ZIP:

32904

EMAIL

tips@tips-usa.com
| | |
| --- | --- |
| FEDERAL OR EDGAR COMPLIANCE DOCUMENTS FILED WITH CONTRACT: | Yes |
| DISADVANTAGED/MINORITY/WOMAN BUSINESS ENTERPRISE | NO |
| HISTORICALLY UNDERUTILIZED BUSINESS (HUB) | NO |
| | |
| --- | --- |
| | AL AK AZ AR CA CO CT DE DC FL GA HI ID IL IN IA KS KY LA ME MD MA MI MN MS MO MT NE NV NH NJ NM NY NC ND OH OK OR PA RI SC SD TN TX UT VT VA WA WI WY |
0

We are committed to provide a financing experience based on unwavering integrity, unmatched service and complete transparency. Our processes have been established with the client in mind, and we are dedicated to ensuring that you enjoy your experience working with our team. Our goal is for you to build a long-term relationship with Live Oak Equipment Finance, not only as your financial partner, but also a firm that can help you grow and excel as a professional in your industry.
Contact Information:
Phone: (512) 726-0367
Email: tips@loequipmentfinance.com
Website: www.loequipmentfinance.com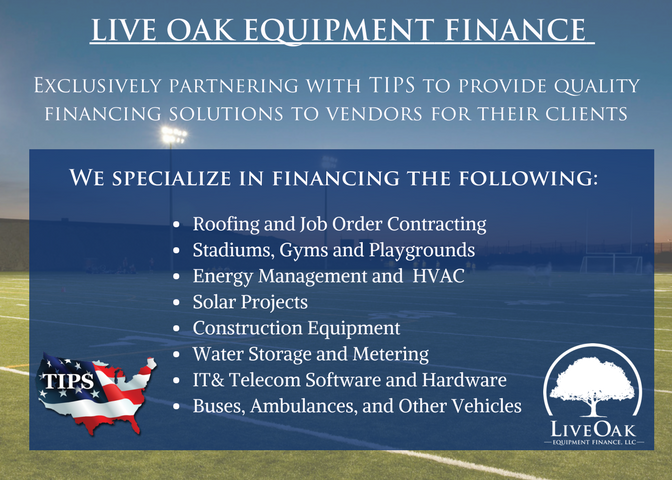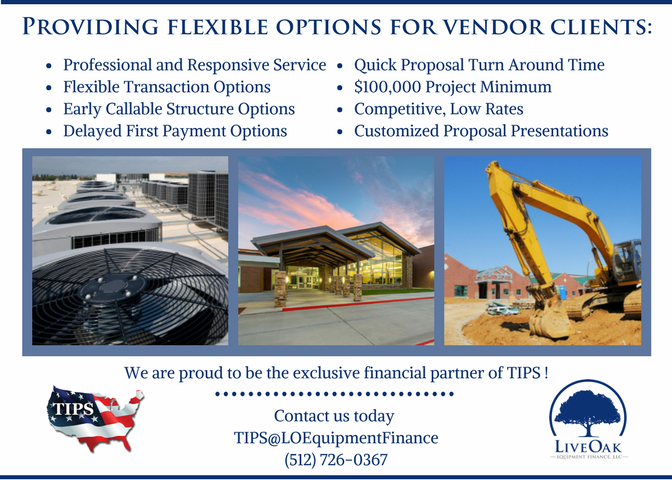 Resellers listed below may also hold a current TIPS contract. PO's for quotes provided by a reseller that are also awarded in the same category will be processed and sent directly to that reseller.

Please check under "ALL VENDORS" before requesting a quote from any listed reseller.
Resellers
Address
49 ER Communications Contact: Holley Masch
Contact Phone:530-477-2590
Contact Email:
Nevada City, CA
Phone:
Fax:
49ers Communication Contact: Holley Masch
Contact Phone:(530) 478-9188
Contact Email: holley@49er.com
PO Box 2538 Nevada City CA 95959
Phone:
Fax:
A-1 Two Way Radio Contact: Donnie Skelton
Contact Phone:205-345-2929
Contact Email:
Tuscaloosa, AL
Phone:
Fax:
Acorn Technologies Contact: Sean Hogan
Contact Phone:406-652-1515
Contact Email:
Billings, MT
Phone:
Fax:
Action Communications Contact: BRIAN BAXTER
Contact Phone:520-792-0326
Contact Email:
Tucson, AZ
Phone:
Fax:
Action Communications Contact: Gary
Contact Phone:425-348-9121
Contact Email:
Everett, WA
Phone:
Fax:
Advanced Comm. & Elect. Contact: CHRISTY LUJAN
Contact Phone:505-244-3321
Contact Email:
Albuquerque, NM
Phone:
Fax:
Advanced Communications Contact: Vicky Adkins
Contact Phone:760-781-3131
Contact Email:
Escondido, CA
Phone:
Fax:
Advanced Paging & Comm Contact: Del Blaine
Contact Phone:509-456-5102
Contact Email:
Spokane, WA
Phone:
Fax:
All Wireless Communications LLC Contact: Mike Butler
Contact Phone:208-878-3537
Contact Email:
Burley, ID
Phone:
Fax:
Anderson Communication Contact: Ottis Anderson
Contact Phone:662-234-0218
Contact Email:
Oxford, MS
Phone:
Fax:
Applied Technology Group Contact: RAY MORAIN
Contact Phone:661-322-8650
Contact Email:
Bakersfield, CA
Phone:
Fax:
Arizona Wireless & Radio Contact: ED RAABE
Contact Phone:928-526-6000
Contact Email:
Flagstaff, AZ
Phone:
Fax:
Atlantic Communications Contact: Chuck Blout
Contact Phone:757-380-8498
Contact Email:
Newport News, VA
Phone:
Fax:
AVIATION PLUS INC Contact: Barbie Corvina
Contact Phone:305-256-1626
Contact Email:
MIAMI, FL
Phone:
Fax:
Av-Tech Electronics, Inc Contact: Scott Ridings
Contact Phone:303-288-0313
Contact Email:
Golden, CO
Phone:
Fax:
B & B Selectcom Contact: Bob Link
Contact Phone:520-882-0911
Contact Email:
Tucson, AZ
Phone:
Fax:
B & L Communications Contact: Bruce Vadenbos
Contact Phone:605-337-3377
Contact Email:
Platte, SD
Phone:
Fax:
B & L Communications Contact: Todd Bearsch
Contact Phone:812-339-5208
Contact Email:
Bloomington, IN
Phone:
Fax:
Badger Creek Wildfire Contact: Wayne Brown
Contact Phone:406-774-3034
Contact Email:
Poplar, MT
Phone:
Fax:
Bartronics Contact: Bruce Resteau
Contact Phone:219-929-4277
Contact Email:
Chesterton, IN
Phone:
Fax:
Beacon Light Communications Contact: R. D. Beacon
Contact Phone:707-877-3311
Contact Email:
Elk, CA
Phone:
Fax:
BearCom Operating LP Contact: Sales Department
Contact Phone:214-340-8876
Contact Email:
Denver, CO
Phone:
Fax:
BearCom Operating LP Contact: Hugh
Contact Phone:214-340-8876
Contact Email:
Dallas, TX
Phone:
Fax:
Bi-State Electronics Contact: Randy or Ann
Contact Phone:712-523-3627
Contact Email:
Bedford, IA
Phone:
Fax:
Boise Mobile Equipment Contact: Steven Theisen
Contact Phone:208-338-1444
Contact Email:
Boise, ID
Phone:
Fax:
Bridger Comms Svc. Contact: BOB NANSEL
Contact Phone:406-388-8818
Contact Email:
Belgrade, MT
Phone:
Fax:
Bridger Comms Svc. Contact: Brian Lee Weber
Contact Phone:406-388-8818
Contact Email:
Cheyenne , WY
Phone:
Fax:
Bullitt Communications Contact: Scott Richardson
Contact Phone:406-752-5900
Contact Email:
Kalispell, MT
Phone:
Fax:
Cagle Communications Contact: John Lenker
Contact Phone:541-672-1233
Contact Email:
Roseburg, OR
Phone:
Fax:
Calkins Electronics Contact: David L. Calkins
Contact Phone:715-237-2928
Contact Email:
New Auburn, WI
Phone:
Fax:
Canyon State Wireless Inc Contact: James Pitt
Contact Phone:520-458-4772
Contact Email:
Sierra Vista, AZ
Phone:
Fax:
Capital Communications Contact: GARY SCHMIDT
Contact Phone:406-442-1220
Contact Email:
Helena, MT
Phone:
Fax:
Capitol Equipment, Inc Contact: Joe Guarrera
Contact Phone:626-357-3768
Contact Email:
Duarte, CA
Phone:
Fax:
Capone Communications Contact: David Capone
Contact Phone:508-528-2239
Contact Email:
Norfolk, MA
Phone:
Fax:
Catoosa Auto Radio Comm. Contact: Denus Benton
Contact Phone:918-266-1342
Contact Email:
Catoosa, OK
Phone:
Fax:
Clark Radio Electronics Contact: Paul Clark
Contact Phone:208-785-1430
Contact Email:
Blackfoot, ID
Phone:
Fax:
Cleland's Radio Contact: Tom Cleland
Contact Phone:918-427-4744
Contact Email:
Muldrow, OK
Phone:
Fax:
Code 3 Service Contact: David Jones
Contact Phone:575-202-9709
Contact Email:
Alamogordo, NM
Phone:
Fax:
Columbia Comms Inc Contact: HEIDE PERLEWITZ
Contact Phone:209-533-0252
Contact Email:
Columbia, CA
Phone:
Fax:
Columbia Helicopters Contact: Margo Holdredge
Contact Phone:503-678-1222
Contact Email:
Portland, OR
Phone:
Fax:
Comm Technologies Inc Contact: Carl Wise
Contact Phone:307-382-5663
Contact Email:
Rock Springs, WY
Phone:
Fax:
Commercial Business Radio Contact: James
Contact Phone:435-864-5000
Contact Email:
Delta, UT
Phone:
Fax:
Commline Inc Contact: Jeff Fukasawa
Contact Phone:310-390-8003
Contact Email:
Culver City, CA
Phone:
Fax:
Complete Wireless Technologies Contact: Kerry Drake
Contact Phone:970-686-7530
Contact Email:
Windsor, CO
Phone:
Fax:
Comprehensive Communication Serv Contact: Gary Collins
Contact Phone:972-772-2721
Contact Email:
Terrel, TX
Phone:
Fax:
ComTech Communications, Inc. Contact: Mike Fraser
Contact Phone:916-568-7800
Contact Email:
Sacramento, CA
Phone:
Fax:
Comtronix Communications Contact: Richard
Contact Phone:951-719-3266
Contact Email:
Temecula, CA
Phone:
Fax:
Continental Wireless,Inc. Contact: Scott
Contact Phone:972-926-7443
Contact Email:
Dallas, TX
Phone:
Fax:
Cooks Communications Corp Contact: Derek Marchini
Contact Phone:559-233-8818
Contact Email:
Fresno, CA
Phone:
Fax:
Cottonwood Communications Contact: Ron Hassell
Contact Phone:719-221-0771
Contact Email:
Buena Vista, CO
Phone:
Fax:
Cross Connections Contact: Dennis Cross
Contact Phone:951-852-1834
Contact Email:
Temecula, CA
Phone:
Fax:
CWC Tek Com Contact: Chad Tomaszewski
Contact Phone:(608) 562-3637
Contact Email: chad@cwctckcom.com
PO Box 222 New Lisbon WI 53950
Phone:
Fax:
D & D Two Way Radio Contact: David Dean
Contact Phone:423-552-1074
Contact Email:
Russellville, TN
Phone:
Fax:
Danko Emergency Equipment Contact: Ron Wetter
Contact Phone:402-568-2200
Contact Email:
Snyder, NE
Phone:
Fax:
Davis Communications Contact: Larry Davis
Contact Phone:620-226-3477
Contact Email:
Bartlett, KS
Phone:
Fax:
Day Wireless Systems Contact: SCOTT FIELDS
Contact Phone:503-659-1240
Contact Email:
Milwaukie, OR
Phone:
Fax:
DB Marketing Contact: Paul Merkouris
Contact Phone:907-331-3911
Contact Email:
Anchorage, AK
Phone:
Fax:
DBA Banner Communications / John Pekarek Contact: Ellisworth Blakeslee
Contact Phone:530-273-0070
Contact Email:
Grass Valley, CA
Phone:
Fax:
Dean's Electronics Contact: H Dean Johnson
Contact Phone:701-840-2271
Contact Email:
West Fargo, ND
Phone:
Fax:
Destin Thomas Communications Inc Contact: Steve Thomas
Contact Phone:805-642-4300
Contact Email:
Ventura, CA
Phone:
Fax:
Digitcom Electronics Contact: Bob Benz
Contact Phone:719-384-8553
Contact Email:
La Junta, CO
Phone:
Fax:
Dirigo Wireless Contact: Mark Davis
Contact Phone:707-523-9743
Contact Email:
Poland, ME
Phone:
Fax:
Eagle Communications LLC Contact: Dale Lotspeich
Contact Phone:775-934-6301
Contact Email:
Elko, NV
Phone:
Fax:
Economy 2-Way Dist. Contact: Tom Janson
Contact Phone:603-528-6411
Contact Email:
Laconia, NH
Phone:
Fax:
EK International Inc. DBA American Comm Systems Contact: Ed Kirtsky
Contact Phone:718-891-3535
Contact Email:
Brooklyn, NY
Phone:
Fax:
Electronic Services, Inc. Contact: Aaron McCallister
Contact Phone:304-586-0024
Contact Email:
Winfield, WV
Phone:
Fax:
EMCO Technologies Contact: Perry Aguillard
Contact Phone:225-925-8900
Contact Email:
Baton Rouge, LA
Phone:
Fax:
Emergency Vehicle Specialists Contact: Donna Haynes
Contact Phone:831-634-1600
Contact Email:
Hollister, CA
Phone:
Fax:
ERP Technical Service LLC Contact: Michael Fisher
Contact Phone:720-353-4622
Contact Email:
Firestone, CO
Phone:
Fax:
Falcon Direct Contact: Burch Falkner
Contact Phone:800-489-2611
Contact Email:
Birmingham, AL
Phone:
Fax:
Feitek Inc. Contact: Gary Sullivan
Contact Phone:314-423-1770
Contact Email:
St. Louis, MO
Phone:
Fax:
Field Support Services Contact: C. T. "Rusty" Boys
Contact Phone:770-454-1130
Contact Email:
Chamblee, GA
Phone:
Fax:
Fire Extinguisher & Safety Shop Contact: Jay Moore
Contact Phone:931-762-5724
Contact Email:
Lawrenceburg, TN
Phone:
Fax:
First Choice Communications LLC Contact: Jack Foote
Contact Phone:469-454-4057
Contact Email:
Cedar Hill, TX
Phone:
Fax:
First Responder Communications Contact: Mark Hall
Contact Phone:303-972-4902
Contact Email:
Littleton, CO
Phone:
Fax:
Fisher Wireless Contact: SHANNON HENDRY
Contact Phone:760-922-4150
Contact Email:
Blythe, CA
Phone:
Fax:
Foothill Communications, LLC Contact: Kenji Luster
Contact Phone:626-744-9292
Contact Email:
Pasadena, CA
Phone:
Fax:
Fowler Comm. System Contact: Tom Fowler
Contact Phone:419-823-7015
Contact Email:
Bowling Green, OH
Phone:
Fax:
Frontier Radio Inc. Contact: Roger Combs
Contact Phone:702-739-2940
Contact Email:
Las Vegas, NV
Phone:
Fax:
Gem State Communications Contact: Kirby Ortiz
Contact Phone:208-323-1976
Contact Email:
Boise, ID
Phone:
Fax:
Gila Electronics of Yuma,Inc Contact: Robert Henderson
Contact Phone:928 726-0896
Contact Email:
Yuma, AZ
Phone:
Fax:
Glendas Creative Corner Contact: Jack Vantrump
Contact Phone:660-542-1321
Contact Email:
Carrolton, MO
Phone:
Fax:
H & W Communications Inc Contact: Charles
Contact Phone:662-843-7046
Contact Email:
Cleveland, MS
Phone:
Fax:
H Kenneth Goist d/b/a HKG Enterprise Contact: Ken Gosit
Contact Phone:330-720-0801
Contact Email:
New Middletown, OH
Phone:
Fax:
Hanson Communications Contact: Bob Hanson
Contact Phone:541-621-4588
Contact Email:
Eagle Point, OR
Phone:
Fax:
Holzberg Comms. Inc. Contact: Rafael Musheyev
Contact Phone:973-389-9600
Contact Email:
Totowa, NJ
Phone:
Fax:
Homman Electronics Contact: BRAD Homman
Contact Phone:785-655-9471
Contact Email:
Solomon, KS
Phone:
Fax:
Hot Tempered Products Contact: Stanley Konoski
Contact Phone:866-487-4784
Contact Email:
Hemet, CA
Phone:
Fax:
Industrial Comms Inc. Contact: Kathy
Contact Phone:509-928-0322
Contact Email:
Spokane Valley, WA
Phone:
Fax:
Industrial Communications Contact: Janie Garcia
Contact Phone:210-226-3682
Contact Email:
San Antonio, TX
Phone:
Fax:
Infinity Fire Communications Contact: JEFF CLARK/480-688-2041
Contact Phone:480-688-2041
Contact Email:
San Tan Valley, AZ
Phone:
Fax:
Inter-Mountain Comm. Contact: Jay Larson
Contact Phone:928-778-0750
Contact Email:
Prescott Valley, AZ
Phone:
Fax:
Intermountain Communications Contact: Lori Bennett
Contact Phone:208-587-7122
Contact Email:
Mountain Home, ID
Phone:
Fax:
Johnson Equipment Co Contact: Greg Johnson
Contact Phone:951-940-0606
Contact Email:
Perris, CA
Phone:
Fax:
Kelly McNabb Contact: Kelly Mcnabb
Contact Phone:940-825-3306
Contact Email:
Nocona, TX
Phone:
Fax:
KR Nida Corporation Contact: Kevin Nida
Contact Phone:818-957-1248
Contact Email:
La Crescenta, CA
Phone:
Fax:
Mcintosh Communications Inc Contact: Darrly Wilson
Contact Phone:702-253-5390
Contact Email:
Las Vegas, NV
Phone:
Fax:
MHZ Contact: Donald Theriault
Contact Phone:619-425-9659
Contact Email:
Chulavista, CA
Phone:
Fax:
Mobile Phone of Texas, Inc Contact: Dwayne Haehn
Contact Phone:940-723-7180
Contact Email:
Wichita Falls, TX
Phone:
Fax:
Mobil-Tec Communications Contact:
Contact Phone:210-695-8056
Contact Email:
Helotes, TX
Phone:
Fax:
Mountain Top Communications Contact: Reggie Parsons
Contact Phone:435-979-3727
Contact Email:
Monroe, UT
Phone:
Fax:
MT Communications Contact: Mike Heaverer
Contact Phone:301-926-1891
Contact Email:
Gaithersburg, MD
Phone:
Fax:
Musi-tronics Contact: Susan Lankford
Contact Phone:843-574-2000
Contact Email:
Goose Creek, SC
Phone:
Fax:
My-Comm Contact: Kelli and Craig Myers
Contact Phone:541-686-1873
Contact Email:
Springfield, OR
Phone:
Fax:
Nick's Telecom Contact: Gary Nicklin
Contact Phone:805-441-3135
Contact Email:
Nipomo, CA
Phone:
Fax:
Niles Radio Comms. Contact: Kelly Cullen
Contact Phone:928-774-4621
Contact Email:
Flagstaff, AZ
Phone:
Fax:
North Western Electronic* Contact: Carolyn Cardwell
Contact Phone:800-467-4193
Contact Email:
Lenoir, NC
Phone:
Fax:
Northway Exchange Contact: Mike Kanofsky
Contact Phone:518-792-7077
Contact Email:
Glens Fall, NY
Phone:
Fax:
Omega Electronics Contact: Kelly Bernhardt
Contact Phone:806-352-8251
Contact Email:
Amarillo, TX
Phone:
Fax:
Orcomco Inc DBA Racom Contact: Marlene
Contact Phone:541-963-5232
Contact Email:
La Grande, OR
Phone:
Fax:
Ossipee Mountain Elect Contact: Tom Tilton
Contact Phone:603-476-5581
Contact Email:
Moultonboro, NH
Phone:
Fax:
Ozborn Comm Service Contact: Mike Ozborn
Contact Phone:601-859-3433
Contact Email:
Canton, MS
Phone:
Fax:
P & W Service Center Contact: Mike Stoker
Contact Phone:941-360-2277
Contact Email:
Sarasota, FL
Phone:
Fax:
Peak Mobile Comm. LLC Contact: Roger
Contact Phone:801-966-7500
Contact Email:
Salt Lake City, UT
Phone:
Fax:
PMMI Services,LLC Contact: Craig Peterson
Contact Phone:979-487-9077
Contact Email:
Sweeny, TX
Phone:
Fax:
Precision Electronics Contact: Don Wood
Contact Phone:801-292-4474
Contact Email:
Centerville, UT
Phone:
Fax:
Pro-Comm Contact: Doug Seal
Contact Phone:865-992-5533
Contact Email:
Maynardville, TN
Phone:
Fax:
Procomm Alaska LLC Contact: Erin Schutte
Contact Phone:907-536-1176
Contact Email:
Anchorage, AK
Phone:
Fax:
Procomm Div of SouthWest Radio Sales Contact: Randy Power
Contact Phone:623-492-9800
Contact Email:
Phoenix, AZ
Phone:
Fax:
Puget Sound Instrument Co Contact: Pat Hash
Contact Phone:253-922-7890
Contact Email:
Tacoma, WA
Phone:
Fax:
R C S Comm Group Contact: RANDALL WILLIAMS
Contact Phone:336-788-9191
Contact Email:
Winston, NC
Phone:
Fax:
R. Communications Specialists Contact: Randy Gillen
Contact Phone:608-269-5337
Contact Email:
Sparta, WI
Phone:
Fax:
Raccoon Springs Communications Contact: Regina Passmore
Contact Phone:870-448-5579
Contact Email:
Marshall, AR
Phone:
Fax:
Radio Communications Svc Contact: JIM
Contact Phone:503-362-1388
Contact Email:
Salem, OR
Phone:
Fax:
Rangeley Dispatch Center Contact: RANDAL DAVIS
Contact Phone:207-864-2162
Contact Email:
Rangeley, ME
Phone:
Fax:
Rathbun Communications LLC Contact: TERRI EVETT
Contact Phone:208-746-0433
Contact Email:
Lewiston, ID
Phone:
Fax:
Rebecca & Associates DBA Coast Electronics Contact: Bill Peirce
Contact Phone:805-772-5303
Contact Email:
Morro Bay, CA
Phone:
Fax:
Reich Associates Inc. Contact: Ernest
Contact Phone:800-757-3220
Contact Email:
Lakehills, TX
Phone:
Fax:
RF Communications Inc. Contact: Kyle Shearer
Contact Phone:406-655-1007
Contact Email:
Billings, MT
Phone:
Fax:
Rice Capital Communications Contact: DON KERNAN
Contact Phone:337-785-9494
Contact Email:
Crowley, LA
Phone:
Fax:
Riner Radio Inc. Contact: Bob Riner
Contact Phone:765-676-6017
Contact Email:
Jamestown, IN
Phone:
Fax:
Rivcomm LLC Contact: Chuck Rich
Contact Phone:951-328-0211
Contact Email:
Riverside, CA
Phone:
Fax:
Roger's Two Way Radio Contact: Roger Paskan
Contact Phone:800-243-3077
Contact Email:
Bemidji, MN
Phone:
Fax:
RS Communications Consultants Contact: Rick Smith
Contact Phone:805-714-8875
Contact Email:
Santa Maria, CA
Phone:
Fax:
Rushmore Communications Contact: ANDY
Contact Phone:605-348-4940
Contact Email:
Rapid City, SD
Phone:
Fax:
Ryan Electronics Contact: Gregory Ryan
Contact Phone:307-326-8356
Contact Email:
Saratoga, WY
Phone:
Fax:
Shipman Communications Contact: Rita Shipman
Contact Phone:903-465-8297
Contact Email:
Denison, TX
Phone:
Fax:
Sierra Electronics Contact: Jerry Walton
Contact Phone:(775) 358-9309
Contact Email: joelc@sierraelectronics.com
PO Box 1545 Sparks NV 89432
Phone:
Fax:
Sierra Electronics Corp. Contact: Dan Pena
Contact Phone:775-359-1121
Contact Email:
Sparks, NV
Phone:
Fax:
Silke Communications, Inc. Contact: Starsky Brolin
Contact Phone:541-687-1611
Contact Email:
Eugene, OR
Phone:
Fax:
Silverado Avionics Contact: Bob Samo
Contact Phone:(707) 255-0114
Contact Email: rsamo@silveradoavionics.com
2500 Airport Rd Napa, CA 94558
Phone:
Fax:
Silverado Avionics Inc. Contact: Bob Samo
Contact Phone:707-255-5588
Contact Email:
Napa, CA
Phone:
Fax:
Sis-Q Communications Contact: Steve Porter
Contact Phone:541-479-0417
Contact Email:
Grants Pass, OR
Phone:
Fax:
Six Rivers Communications, Inc Contact: Ray Daniels
Contact Phone:707-443-4448
Contact Email:
Eureka, CA
Phone:
Fax:
Slatercomm-Wireless Contact: GARY DOHERTY
Contact Phone:541-504-4020
Contact Email:
Redmond, OR
Phone:
Fax:
Southwestern Wireless Contact: Jerry Padilla
Contact Phone:575 622-9944
Contact Email:
Roswell, NM
Phone:
Fax:
Spectrum Communications Contact: Doug Vines
Contact Phone:509-765-7773
Contact Email:
Moses Lake, WA
Phone:
Fax:
Stereos 'N Stuff Contact: Ross "Oz" Hespe
Contact Phone:605-892-4904
Contact Email:
Belle Fourche, SD
Phone:
Fax:
Stine Electronics Contact: Bob Stine
Contact Phone:406-677-2148
Contact Email:
Seeley Lake, MT
Phone:
Fax:
Stroud Comm. & Elect. Contact: Joe Stroud
Contact Phone:260-638-4621
Contact Email:
Markle, IN
Phone:
Fax:
Strutman Electronics Contact: Dennis R. Strutman
Contact Phone:562-225-1889
Contact Email:
Cuba, MO
Phone:
Fax:
T & B Enterprises Contact: Tom Clarke
Contact Phone:205-339-2033
Contact Email:
Northport, AL
Phone:
Fax:
T & W Electronics Contact: Troy Short
Contact Phone:616-241-3645
Contact Email:
Grand Rapids, MI
Phone:
Fax:
T.A. Radio Contact: Tim Downey
Contact Phone:(321)725-4824
Contact Email:
W. Melbourne, FL
Phone:
Fax:
Tactical Communications ,Inc. Contact: David Moffat
Contact Phone:203-453-2389
Contact Email:
Guilford, CT
Phone:
Fax:
Targhee Fire, LLC Contact: Edward Wright
Contact Phone:360-930-8529
Contact Email:
Poulsbo, WA
Phone:
Fax:
Taylor & Sanderson Contact: Ricky Taylor
Contact Phone:910-592-2578
Contact Email:
Clinton, NC
Phone:
Fax:
TBS Electronics Inc. Contact: Mark Grabar
Contact Phone:785-862-7450
Contact Email:
Topeka, KS
Phone:
Fax:
Telecom Engineering Contact: Michael Atmore
Contact Phone:(916) 485-4789
Contact Email: sales@portableradios.com
3435 Mission Ave Carmichale CA
Phone:
Fax:
Ten-Four Communications Contact: Nathan Hansen
Contact Phone:209-529-9967
Contact Email:
Modesto, CA
Phone:
Fax:
Teton Communications Contact: Tony Hafla
Contact Phone:208-522-0750
Contact Email:
Idaho Falls, ID
Phone:
Fax:
TFM Comm, Inc. Contact: Troy Flair
Contact Phone:785-233-2343
Contact Email:
Topeka, KS
Phone:
Fax:
The Radio Guys Contact: Dave Matthews
Contact Phone:530-406-0700
Contact Email:
Woodland, CA
Phone:
Fax:
Tom Ferri Company Contact: Tom Ferri
Contact Phone:907-457-1560
Contact Email:
Fairbanks, AK
Phone:
Fax:
Tom Ferri Company Contact: Tom Ferri
Contact Phone:(907) 457-1589
Contact Email: tomferri@alaska.net
1170 Donna Drive Fairbanks, AK 99712
Phone:
Fax:
Tom Stritzke Co. Contact: Tom Stritzke
Contact Phone:918-273-3600
Contact Email:
Nowata, OK
Phone:
Fax:
Tomfone Communications Contact: Chuck Thomas
Contact Phone:662-226-1248
Contact Email:
Grenada, MS
Phone:
Fax:
Tower Works, Inc./dba Power Works Contact: Jeff Johnson
Contact Phone:888-567-7234
Contact Email:
Danville, CA
Phone:
Fax:
TRN Communications LLC Contact: John Popolo
Contact Phone:724-292-7310
Contact Email:
New Eagle, PA
Phone:
Fax:
Two Way Comm. Inc. Contact: Chris Green
Contact Phone:970-243-9823
Contact Email:
Grand Junction, CO
Phone:
Fax:
Two Way Radio of Carolina Contact: Fred Guin
Contact Phone:704-372-3444
Contact Email:
Charlotte, NC
Phone:
Fax:
Val-Comm Inc. Contact: Zachary Rael
Contact Phone:505-292-7509
Contact Email:
Albuquerque, NM
Phone:
Fax:
Valence Wireless and Communications Contact: Michael Deakins
Contact Phone:509-927-4777
Contact Email:
Otis Orchards, WA
Phone:
Fax:
Valley Industrial Comm. Contact: Eric Wagnor
Contact Phone:530-241-6025
Contact Email:
Redding, CA
Phone:
Fax:
Viking Communications Contact: Lloyd Boltin
Contact Phone:(507) 662-6191
Contact Email:
111 West Mill Road Lakefield MN 56150
Phone:
Fax:
Viking Communications Contact: Shelley Becklund
Contact Phone:507-662-6191
Contact Email:
Lakefield, MN
Phone:
Fax:
Vincent Communications Contact: Jim Vincent
Contact Phone:559-292-7010
Contact Email:
Fresno, CA
Phone:
Fax:
Vision Communications Contact: Mary Khavarian
Contact Phone:562-494-1326
Contact Email:
Lakewood, CA
Phone:
Fax:
Warner Radio & Comm. Contact: Thomas Keller
Contact Phone:940-627-1442
Contact Email:
Decatur, TX
Phone:
Fax:
Western States Enterprise Contact: William Bass
Contact Phone:775-289-3251
Contact Email:
Ely, NV
Phone:
Fax:
Wheeler Communications Contact: Bob Delaney
Contact Phone:541-296-3500
Contact Email:
The Dalles, OR
Phone:
Fax:
White Cloud Communications, Inc Contact: Jim Harpole
Contact Phone:(208)733-5470
Contact Email:
Twin Falls,, ID
Phone:
Fax:
White Mountain Communications, Inc. Contact: Richard Wise
Contact Phone:928-367-6116
Contact Email:
Pinetop, AZ
Phone:
Fax:
Wildfire Truck & Equipment Sales Contact: John Wright
Contact Phone:817-783-3833
Contact Email:
Arlington, TX
Phone:
Fax:
Willenborg Electronics Contact: Ken Willenburg
Contact Phone:712-790-0328
Contact Email:
Manning, IA
Phone:
Fax: