EMAIL PURCHASE ORDER TO: TIPSPO@TIPS-USA.COM
ATTACH PO AS A PDF - ONLY ONE PO PER EMAIL
PO MUST REFERENCE TIPS CONTRACT NUMBER
VENDOR

Palmieri Furniture

WEBSITE

www.palmierifurniture.com

SERVICE/PRODUCTS DESCRIPTION

Across Canada and the United States, some of the most esteemed learning institutions and libraries have made Palmieri furnishings solutions their choice. Our ever growing collection offers a diverse range of designs from refined to contemporary to cutting edge. Palmieri Furniture invites you to experience our unique selection of library furnishings.
CONTRACT: 1102215 Furniture (Expires Oct 2018)
Oct-22-2015 to Oct-25-2018
Palmieri Furniture
CONTRACT: 1102215 Furniture (Expires Oct 2018)
Oct-22-2015 to Oct-25-2018
TIPS CONTACT

PAYMENT TO

NAME

Meredith Barton

ADDRESS:

1230 Reid St

POSITION

TIPS CONTACT

PHONE

(866)-839-8477

CITY:

Richmond Hill, ON, Canada

FAX

(866)-839-8472

STATE:

ON

MOBILE

ZIP:

L4B 1C4

EMAIL

tips@tips-usa.com
| | |
| --- | --- |
| FEDERAL OR EDGAR COMPLIANCE DOCUMENTS FILED WITH CONTRACT: | Yes |
| DISADVANTAGED/MINORITY/WOMAN BUSINESS ENTERPRISE | NO |
| HISTORICALLY UNDERUTILIZED BUSINESS (HUB) | NO |
| | |
| --- | --- |
| | AL AK AZ AR CA CO CT DE DC FL GA HI ID IL IN IA KS KY ME MD MA MI MN MS MO MT NE NV NH NJ NM NY NC ND OH OK OR PA RI SC SD TN TX UT VT VA WA WV WI WY |
0

We are committed to provide a financing experience based on unwavering integrity, unmatched service and complete transparency. Our processes have been established with the client in mind, and we are dedicated to ensuring that you enjoy your experience working with our team. Our goal is for you to build a long-term relationship with Live Oak Equipment Finance, not only as your financial partner, but also a firm that can help you grow and excel as a professional in your industry.
Contact Information:
Phone: (512) 726-0367
Email: tips@loequipmentfinance.com
Website: www.loequipmentfinance.com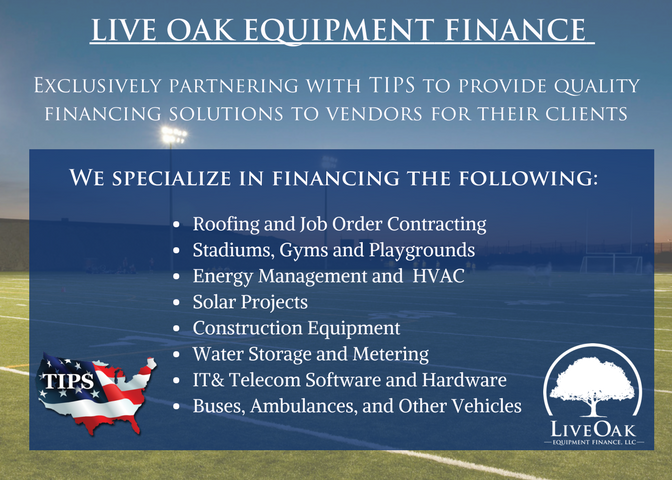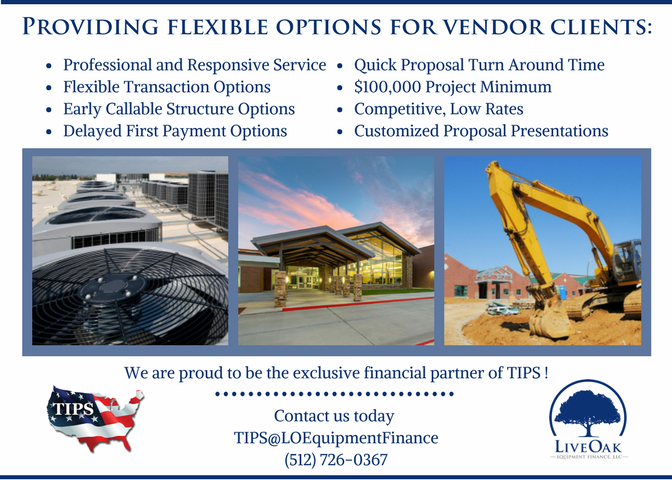 Resellers listed below may also hold a current TIPS contract. PO's for quotes provided by a reseller that are also awarded in the same category will be processed and sent directly to that reseller.

Please check under "ALL VENDORS" before requesting a quote from any listed reseller.
Resellers
Address
A.R.Kropp Contact: Greg Kropp
Contact Phone:
Contact Email:
Long Island, NY
Phone:1-631-549-9240
Fax:1-631-549-9240
Accent Commercial Furniture Contact: Kali
Contact Phone:
Contact Email:
Rochester, NY
Phone:1-518-482-4000
Fax:1-518-482-4000
Amara Associates Contact: Marisa Amara
Contact Phone:
Contact Email:
Connecticut, NE
Phone:1-203-974-9223
Fax:1-203-974-9223
Creative Library Associates Contact: Brad Kingsburg
Contact Phone:
Contact Email:
New Jersey, NJ
Phone:1-908-812-8190
Fax:1-908-812-8190
DEMCO Contact: Amy Schmale
Contact Phone:(866) 558-9068
Contact Email: amys@demco.com
4810 Forrest Run Rd Madison Wisconsin 53704
Phone:(888) 329-4728
Fax:(888) 329-4728
Demco Library Interiors Contact: Janet Nelson
Contact Phone:
Contact Email:
Madison, WI
Phone:1-608-241-8568
Fax:1-608-241-8568
Douron Contact: John Davenport
Contact Phone:
Contact Email:
Balitmore, MD
Phone:1-410-363-2600
Fax:1-410-363-2600
GN Associates Contact: Glenn Norton
Contact Phone:
Contact Email:
Metarie, LA
Phone:1-504-828-1092
Fax:1-504-828-1092
J.P.Jay Associates Contact: Jim Malise
Contact Phone:
Contact Email:
Philadelphia, PA
Phone:1-610-435-9666
Fax:1-610-435-9666
JKO Associates Contact: Jennifer Kline
Contact Phone:
Contact Email:
New York, NY
Phone:1-917-494-4764
Fax:1-917-494-4764
Jones Library Sales Contact: Ken Jones
Contact Phone:
Contact Email:
Des Moines, IO
Phone:1-515-989-4241
Fax:1-515-989-4241
LFI Contact: Scott Fairbanks
Contact Phone:
Contact Email:
Chicago, IL
Phone:1-847-564-9497
Fax:1-847-564-9497
Liberty Systems Contact: Kim Miller
Contact Phone:
Contact Email:
Virginia, BM
Phone:1-800-487-6421
Fax:1-800-487-6421
Library Design Associates Contact: Rich DeBear
Contact Phone:
Contact Email:
Ohio, OH
Phone:1-614-923-4600
Fax:1-614-923-4600
Library Interiors of Texas Contact: Michael Taylor
Contact Phone:
Contact Email:
Houston, TX
Phone:1-888-689-5489
Fax:1-888-689-5489
Monitor Equipment Contact: Brian O'Neil
Contact Phone:
Contact Email:
Massachusetts, NE
Phone:1-781-934-5621
Fax:1-781-934-5621
Only libraries Contact: Amanda Flynn
Contact Phone:
Contact Email:
Cincinatti, OH
Phone:1-513-761-0885
Fax:1-513-761-0885
Red Thread Contact: Mary MacMahon
Contact Phone:
Contact Email:
Connecticut, CT
Phone:1-860-291-5780
Fax:1-860-291-5780
Red Thread Contact: Mary MacMahon
Contact Phone:(860) 291-5780
Contact Email: mmacmahon@red-thread.com
300 E River Dr East Hartford CT 06108
Phone:
Fax:
RPA Contact: Patty Malt
Contact Phone:
Contact Email:
Alabama, AL
Phone:1-205-324-5643
Fax:1-205-324-5643
Rulyn Design Resources Contact: Rulyn Graves
Contact Phone:
Contact Email:
New York, NY
Phone:1-518-692-9917
Fax:1-518-692-9917
SF Space Solutions Contact: Jerry Mattinger
Contact Phone:
Contact Email:
San Francisco, CA
Phone:1-415-391-9999
Fax:1-415-391-9999
SF Space Solutions Contact: Jerry Macktinger
Contact Phone:(415) 391-9999
Contact Email: jerrym@sfspacesolutions.com
1045 Sansome St 304 SanFrancisco CA 94111
Phone:(415) 391-9990
Fax:(415) 391-9990
Source Interiors Contact: Mark Patterson
Contact Phone:(678) 319-4347
Contact Email:
420 Kingsgate Ct Simpsonville SC 29681
Phone:(864) 751-1699
Fax:(864) 751-1699
Source Interiors Contact: John Cummings
Contact Phone:
Contact Email:
Orlando, FL
Phone:1-407-896-0949
Fax:1-407-896-0949
Source Interiors Contact: Mark Patterson
Contact Phone:
Contact Email:
Simpsonville, SC
Phone:1-678-319-4347
Fax:1-678-319-4347
Southern Contract Sales Contact: CJ Mazzola
Contact Phone:
Contact Email:
Atlanta, GA
Phone:1-770-237-2510
Fax:1-770-237-2510
Team Schutmaat Contact: Fred Schutmaat
Contact Phone:
Contact Email:
Holland , MI
Phone:1-812-309-0782
Fax:1-812-309-0782
The Casper Corporation Contact: Jim Casper
Contact Phone:
Contact Email:
Michigan, MI
Phone:1-248-442-9000
Fax:1-248-442-9000
The Ross McDonald Company Contact: Bob Schmidt
Contact Phone:
Contact Email:
San Francisco, CA
Phone:1-925-455-1635
Fax:1-925-455-1635
The Tucker Company Contact: Cori McGrath
Contact Phone:
Contact Email:
New Hampshire, NE
Phone:1-603-666-7030
Fax:1-603-666-7030
Varia Contact: Ron Vaughan
Contact Phone:
Contact Email:
Knoxville, TN
Phone:1-901-853-6966
Fax:1-901-853-6966
Yamada Contact: Linda Braverman
Contact Phone:
Contact Email:
Burbank, CA
Phone:1-714-843-9882
Fax:1-714-843-9882
Young and Watson Contact: Bryan Rice
Contact Phone:
Contact Email:
Maryland, MD
Phone:1-804-822-5490
Fax:1-804-822-5490