EMAIL PURCHASE ORDER TO: TIPSPO@TIPS-USA.COM
ATTACH PO AS A PDF - ONLY ONE PO PER EMAIL
PO MUST REFERENCE TIPS CONTRACT NUMBER
VENDOR

BEST Access Solutions Inc

WEBSITE

www.dormakaba.com

SERVICE/PRODUCTS DESCRIPTION

(Formerly known as Stanley Security) BEST products represent the top security products in the United States and have been a standard in the government markets for more than 75 years. Whether you need our trademark small format interchangeable core locks and masterkey infrastructure or a cutting-edge, full-facility electronic access control system, we have solutions that are applicable in a wide range of applications and security requirements.
CONTRACT: 170203 Security Systems Products and Services
Apr-27-2017 to Apr-23-2020
BEST Access Solutions Inc
CONTRACT: 170203 Security Systems Products and Services
Apr-27-2017 to Apr-23-2020
TIPS CONTACT

PAYMENT TO

NAME

Meredith Barton

ADDRESS:

P.O. Box 896617

POSITION

TIPS CONTACT

PHONE

(866)-839-8477

CITY:

Charlotte

FAX

(866)-839-8472

STATE:

NC

MOBILE

(903)-243-4789

ZIP:

28289

EMAIL

tips@tips-usa.com
| | |
| --- | --- |
| FEDERAL OR EDGAR COMPLIANCE DOCUMENTS FILED WITH CONTRACT: | Yes |
| DISADVANTAGED/MINORITY/WOMAN BUSINESS ENTERPRISE | NO |
| HISTORICALLY UNDERUTILIZED BUSINESS (HUB) | NO |
| | |
| --- | --- |
| | AL AK AZ AR CA CO CT DE DC FL GA HI ID IL IN IA KS KY LA ME MD MA MI MN MS MO MT NE NV NH NJ NM NY NC ND OH OK OR PA RI SC SD TN TX UT VT VA WA WV WI WY |
0

We are committed to provide a financing experience based on unwavering integrity, unmatched service and complete transparency. Our processes have been established with the client in mind, and we are dedicated to ensuring that you enjoy your experience working with our team. Our goal is for you to build a long-term relationship with Live Oak Equipment Finance, not only as your financial partner, but also a firm that can help you grow and excel as a professional in your industry.
Contact Information:
Phone: (512) 726-0367
Email: tips@loequipmentfinance.com
Website: www.loequipmentfinance.com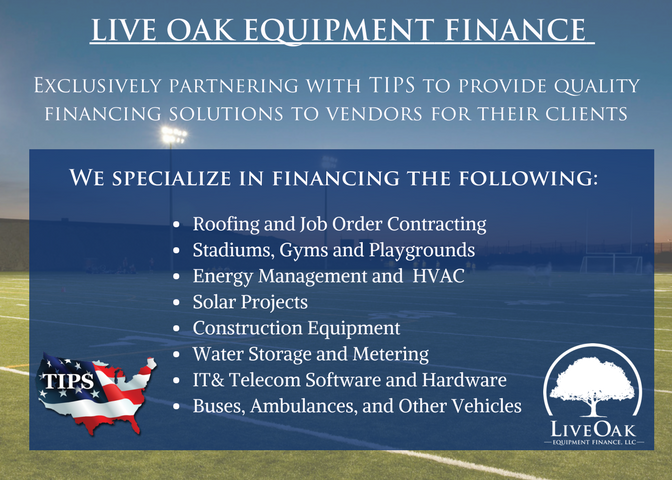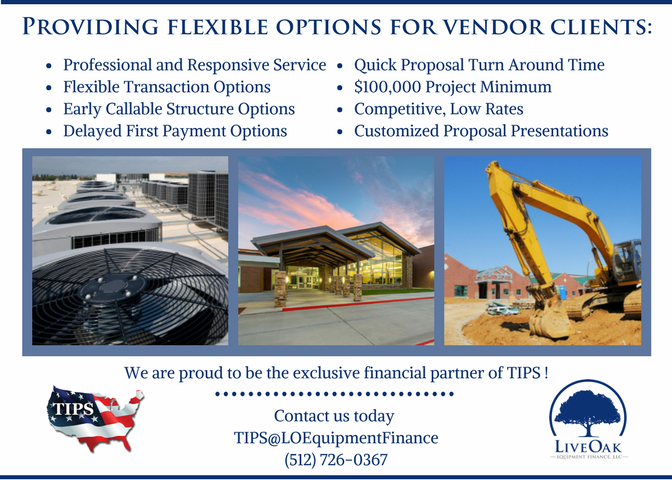 Resellers listed below may also hold a current TIPS contract. PO's for quotes provided by a reseller that are also awarded in the same category will be processed and sent directly to that reseller.

Please check under "ALL VENDORS" before requesting a quote from any listed reseller.
Resellers
Address
A&A Building Specialties Contact: Roy Parr
Contact Phone:
Contact Email: roy@aandspecialties.com
5031 Flournoy Lucas Road, Shreveport, LA 71129
Phone:(318) 687-4081
Fax:
Access Control Technologies www.accesscontrolinc.com
Contact: Steven Schwiederek
Contact Phone:(973) 689-0469
Contact Email: sschwiederek@accesscontrolinc.com
429 Getty Avenue, Clinton, NJ 07011
Phone:(973) 689-0469
Fax:
Accredited Lock Supply Co. www.acclock.com
Contact: Shantell Rondon
Contact Phone:(800) 625-2835 Ext. 234
Contact Email: srondon@acclock.com
1161 Paterson Plank Rd Secaucus NJ 07094
Phone:(800) 625-2835 Ext. 234
Fax:
ACME Architectural Hardware, Inc. www.aahdw.com
Contact: Tim Richards
Contact Phone:(713) 263-1010
Contact Email: trichards@aahdw.com
1006 West 34th Street, Houston, TX 77018
Phone:(713) 263-1010
Fax:
Advanced Locking Solutions www.advls.com
Contact: Bill McLoughlin
Contact Phone:(971) 770-8555
Contact Email: bill@advls.com
8115 SW Nimbus Avenue Bldg. #11, Beaverton, OR 97008
Phone:(971) 770-8555
Fax:(844) 858-2557
AM Hardware www.amhardware.com
Contact: Dena McAtree
Contact Phone:(509) 927-8399
Contact Email: dena@amhardware.com
2616 N Dartmouth Ln Spokane, WA 99206
Phone:(509) 927-8399
Fax:
American Building Services www.ambldg.com
Contact: Andris Lizenbergs
Contact Phone:(847) 541-7136
Contact Email: alizenbergs@ambldg.com
953 Seton Court, Wheeling, IL 60090
Phone:(847) 541-7136
Fax:(847) 541-0020
Architectural Division 8 www.archdiv8.com
Contact: Brent Case
Contact Phone:(210) 826-6616
Contact Email: bcase@archdiv8.com
2425 Brockton Street, San Antonio, TX 78217
Phone:(210) 826-6616
Fax:(210) 826-6900
Architectural Products of Virginia (APV) www.apva.com
Contact: April Taylor
Contact Phone:(804) 550-2822 Ext. 138
Contact Email: ataylor@apva.com
1022 Sycamore Drive, Ashland, VA 23005
Phone:(804) 550-2822
Fax:(804) 496-5974
B&M Metal Door And Frames Contact: Shawn Brown
Contact Phone:(504) 465-9572
Contact Email: shawn@bmmetaldoors.com
2621 Delaware Ave, Kenner, LA 70605
Phone:
Fax:
Big Lake Hardware and Specialties, Inc. Contact:
Contact Phone:(337) 478-2009
Contact Email: camille@biglakeroad.net
5393 Big Lake Road, Lake Charles, LA 70605
Phone:
Fax:
BR Johnson, Inc. www.brjohnson.com
Contact: Nanci Reynolds
Contact Phone:(315) 437-1070
Contact Email: nreynolds@brjohnson.com
6960 Fly Road, East Syracuse, NY
Phone:(315) 437-1070
Fax:
Builders-Hardware www.builders-hardware.net/stanley
Contact: Holly Toaccone
Contact Phone:(814) 453-4736 Ext. 272
Contact Email: holly.taccone@builders-hardware.net
2002 West 16th Street, Erie, PA 16505
Phone:(814) 453-4736 Ext. 272
Fax:
CBS Manhattan, LLC. www.cbsmhk.com
Contact: Michael Waggoner
Contact Phone:(913) 845-3345
Contact Email: orders@cbsmhk.com
9130 Green Valley, Manhattan, KS 66502
Phone:(913) 845-3345
Fax:
Cook & Boardman, LLC DBA Delta Door & Hardware Contact: Anita Carson
Contact Phone:
Contact Email: acarson@delta-door.com
1710 Shelby Oaks Dr., #7, Memphis, TN 38134
Phone:(901) 414-7012
Fax:
Cook and Boardman www.cookandboardman.com
Contact: Tonya Miller
Contact Phone:(704) 940-3641
Contact Email: txmiller@cookandboardman.com
3916 Westpoint Blvd., Winston Salem, NC 27103
Phone:(704) 940-3641
Fax:
Craftmaster Hardware craftmasterhardware.com
Contact: Karolina Laboriel
Contact Phone:(800) 221-3212 Ext. 106
Contact Email: kbl@craftmasterhardware.com
190 Veterans Way Northvale, NJ 07647
Phone:(800) 221-3212 Ext. 106
Fax:
Dallas Door & Supply Co. www.dallasdoor.com
Contact: Steve Wheat
Contact Phone:(214) 630-9783
Contact Email: steve.wheat@dallasdoor.com
9101 Chancellor Row Dallas, TX 75247
Phone:(214) 630-9783
Fax:
DH Pace Co www.dhpace.com
Contact: Angela Jaegle
Contact Phone:(816) 480-2419
Contact Email: angela.jaegle@dhpace.com
1901 E 119th Street, Olathe, KS 66061
Phone:(816) 480-2419
Fax:
Door Components, L.P dba Door Pro Systems www.doorprosystems.com
Contact: Amy Coleman
Contact Phone:(972) 848-7460
Contact Email: acoleman@doorprosystems.com
6711 Bingle Road, Houston, TX 77092
Phone:(972) 848-7460
Fax:
Door Specialties Inc. www.doorspec.com
Contact: Faith Dehn
Contact Phone:(716) 799-0463
Contact Email: faith.dehn@doorspec.com
530 Fillmore Ave. Tonawanda, NY 14150
Phone:(716) 799-0463
Fax:
Easter Lock & Security Solutions www.easterslock.com
Contact: Samantha Easter
Contact Phone:(410) 825-3535
Contact Email: samantha@easterslock.com
1713 E. Joppa Road, Parkville, MD 21234
Phone:(410) 825-3535
Fax:
Fairway Supply, Inc www.fairwaysupply.com
Contact: Glen Millican
Contact Phone:(512) 452-6300
Contact Email: gemillican@fairwaysupply.com
8814 Shoal Creek Blvd. Austin, TX 78757
Phone:(512) 452-6300
Fax:
General Supply Company www.generalsupplycompany.com
Contact: Cindy Starr-Williams
Contact Phone:(610) 882-2246
Contact Email: cindy@generalsupplycompany.com
2651 Baglyos Circle, Bethlehem, PA 18202
Phone:(610) 882-2246
Fax:
Georgia Hardware www.gahardware.com
Contact: Candic Edwards
Contact Phone:(706) 736-1328
Contact Email: candice@gahardware.com
1704 N. Keg Ct. Augusta, GA 30909
Phone:(706) 736-1328
Fax:
H & G Schultz Door www.h-gschultzdoor.com/
Contact: Todd Bowman
Contact Phone:(314) 432-8188
Contact Email: todd.bowman@h-gsales.com
11635 Lackland Road, St Louis, MO 63146
Phone:(314) 432-8188
Fax:
Hudson Valley Door & Hardward www.845hardware.com
Contact: Meghann Hockler
Contact Phone:(845) 849-3566
Contact Email: meghann@845hardware.com
35 Van Wycke Lane, Wappingers Falls, NY 12590
Phone:(845) 849-3566
Fax:
Hull Supply Co. Inc. www.hullsupply.com
Contact: Rob Metcalfe
Contact Phone:(512) 385-1262
Contact Email: robertmetcalfe@hullsupply.com
5117 East Cesar Chavez, Austin, TX
Phone:(512) 385-1262
Fax:
Huntington Hardware www.huntingtonhardware.com
Contact: Kelly Harris
Contact Phone:(909) 766-7132
Contact Email: kellyh.huntingtonhardware@gmail.com
340 West Holt Avenue, Pomona, CA 91768
Phone:(909) 766-7132
Fax:
Intermountain Lock & Security Supply www.imlss.com
Contact: Sean Steinmann
Contact Phone:(800) 453-5386
Contact Email: Sean.steinmann@imlss.com
3106 South Main Street, Salt Lake City, UT 84155
Phone:(800) 453-5386
Fax:
K-D-L Hardware www.kdlhardware.com
Contact: Angi Struebing
Contact Phone:(800) 926-7716
Contact Email: angi@kdlhardware.com
850 Poplar Pl S, Seattle, WA 98144
Phone:(800) 926-7716
Fax:
Kelley Bros, LLC www.kelleybros.com
Contact: Martha Grajdek
Contact Phone:(800) 856-2550
Contact Email: mgrajdek@kelleybros.com
PO Box 177 Colvin Station, Syracuse, NY 13205
Phone:(800) 856-2550
Fax:(800) 856-9040
Martin Architectural Products, Inc. www.cookandboardman.com/martinarchitectural/Home.aspx
Contact: Tonya Miller
Contact Phone:(704) 940-3641
Contact Email: txmiller@cookandboardman.com
415 E. Chatham Street, Cary, NC 27511
Phone:(704) 940-3641
Fax:
Mayflower Sales Co. Inc. www.mfsales.com
Contact: Jeff Weinstein
Contact Phone:(718) 622-8785
Contact Email: jweinstein@mfsales.com
614 Bergen Street
Phone:
Fax:
Mullins Building Products Contact: Debra Nix
Contact Phone:
Contact Email: dnix@mullinsbp.com
5631 Clifford Circle, Birmingham AL 35210
Phone:(205) 836-0011
Fax:
Precision Doors & Hardware, LLC www.pdoor.com
Contact: Steve Murdoch
Contact Phone:(703) 461-8282
Contact Email: smurdoch@pdoor.com
6295-80 Edsall Road, Alexandria, VA 22312
Phone:(703) 461-8282
Fax:(703) 461-3431
Puget Sound Hardware www.pugetsoundhardware.us
Contact: Niki Eklof
Contact Phone:(800) 464-4801
Contact Email: orders@pugetsoundhardware.com
1519 West Valley Highway N. Suite 102, Auburn, WA 98001
Phone:(800) 464-4801
Fax:
R.E. Friedrichs Company (Refoc) www.refco.ws
Contact: Connor Friedrichs
Contact Phone:(956) 687-6164
Contact Email: connor@refco.ws
3409 S. Jackon Road Pharr, TX 78577
Phone:(956) 687-6164
Fax:
Rae Security www.security.rae.com/
Contact: Holly Lamontagne
Contact Phone:(832) 849-4112
Contact Email: h.lamontagne@rae.com
5201 Mitchelldale St, STE A1, Houston, TX 77902
Phone:(832) 849-4112
Fax:
Security Lock and Key www.slkva.com
Contact: Scott Kanode
Contact Phone:(540) 343-7600
Contact Email: scott@slkva.com
3736 Franklin Rd SW, Roanoke, VA 24014
Phone:(540) 343-7600
Fax:
Weilgus & Sons www.weilgusnj.com
Contact: Lesley Weilgus
Contact Phone:(973) 716-0559
Contact Email: Lesley@weilgusandsonsnj.com
One Naylon Place, Livingston, NJ 07039
Phone:(973) 716-0559
Fax:
Wessely-Thompson Hardware, Inc. Contact: Terry Thompson
Contact Phone:(210) 344-3081
Contact Email: terry@wessley-thompson.com
102 Interloop San Antonio, TX 78216
Phone:(210) 344-3081
Fax:
Wm. S. Trimble Co., Inc. www.wmstrimbe.com
Contact: Wendy Russell
Contact Phone:(865) 609-3531
Contact Email: wrussell@wmstrimble.com
220 Atchley Street Knoxville, TN 37920
Phone:(865) 609-3531
Fax: