VENDOR

GT Distributors Inc

WEBSITE

WWW.GTDIST.COM

SERVICE/PRODUCTS DESCRIPTION

n April 1st of 1972, GT Distributors opened its doors in Rossville, Georgia. Bill Orr, our founder, only had two suppliers Smith & Wesson and Colt. At the time, Smith & Wesson offered a range of products from firearms, body armorer, tear gas, night vision, radar, ammunition, lightbars and sirens. Today GT carries over 500 name brands. The name 'GT' originally came from the fact that our first location is one block from the Georgia and Tennessee state line. This location is at 100 McFarland Road in Rossville, Georgia. The north portion of our building is on the Tennessee state line. Now that we have a store in Texas, we like to think that GT means Georgia and Texas.
CONTRACT: 1032416 Safety Equipment and Supplies
Mar-24-2016 to Mar-28-2019
GT Distributors Inc
CONTRACT: 1032416 Safety Equipment and Supplies
Mar-24-2016 to Mar-28-2019
PRIMARY CONTACT

SECONDARY CONTACT

NAME

Doriane Pissonnier
Clint Welch

POSITION

South East Texas Account Manager
Contracts and Managed Accounts Supervisor

PHONE

(800) 252-8310
(800) 252-8310

FAX

(800) 480-5845
(800) 480-5845

MOBILE

EMAIL

sales@gtdist.com
txbids@gtdist.com

WEBSITE

WWW.GTDIST.COM
TIPS CONTACT

PAYMENT TO

NAME

Meredith Barton

ADDRESS:

2545 Brockton DR, STE 100

POSITION

TIPS CONTACT

PHONE

(866)-839-8477

CITY:

Austin

FAX

(866)-839-8472

STATE:

TX

MOBILE

ZIP:

78758

EMAIL

tips@tips-usa.com
| | |
| --- | --- |
| FEDERAL OR EDGAR COMPLIANCE DOCUMENTS FILED WITH CONTRACT: | NO |
| DISADVANTAGED/MINORITY/WOMAN BUSINESS ENTERPRISE | NO |
| HISTORICALLY UNDERUTILIZED BUSINESS (HUB) | NO |
| | |
| --- | --- |
| | AL AR FL GA KS LA MO NE NM OK TN TX |
0

We are committed to provide a financing experience based on unwavering integrity, unmatched service and complete transparency. Our processes have been established with the client in mind, and we are dedicated to ensuring that you enjoy your experience working with our team. Our goal is for you to build a long-term relationship with Live Oak Equipment Finance, not only as your financial partner, but also a firm that can help you grow and excel as a professional in your industry.
Contact Information:
Phone: (512) 726-0367
Email: tips@loequipmentfinance.com
Website: www.loequipmentfinance.com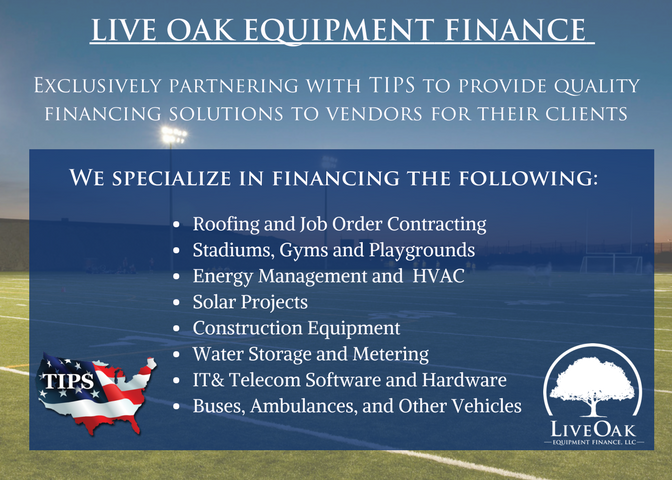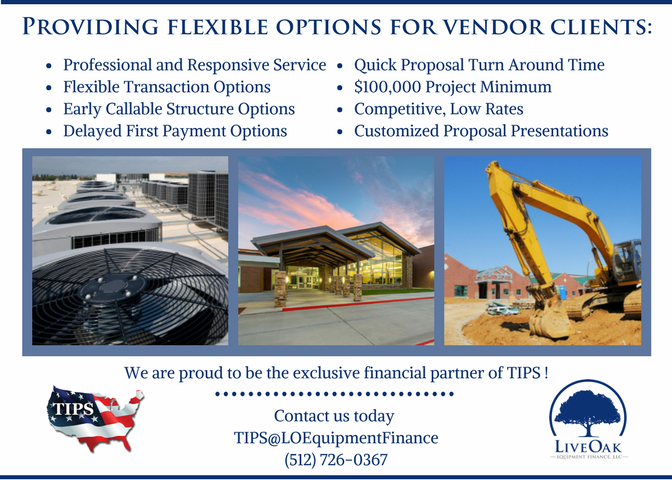 Resellers listed below may also hold a current TIPS contract. PO's for quotes provided by a reseller that are also awarded in the same category will be processed and sent directly to that reseller.

Please check under "ALL VENDORS" before requesting a quote from any listed reseller.
Resellers
Address
GT DISTRIBUTORS, INC www.gtdist.com
Contact: Clint Welch
Contact Phone:(800) 252-8310
Contact Email: SALES@GTDIST.COM
2545 BROCKTON DRIVE, STE 100, AUSTIN, TX 78758
Phone:(800) 480-5845
Fax: