EMAIL PURCHASE ORDER TO: TIPSPO@TIPS-USA.COM
ATTACH PO AS A PDF - ONLY ONE PO PER EMAIL
PO MUST REFERENCE TIPS CONTRACT NUMBER
VENDOR

Ident A Kid Services of America

WEBSITE

www.ccssvm.com

SERVICE/PRODUCTS DESCRIPTION

Ident-A-Kid (IAK) has provided child safety services to schools and parents since 1986. IAK is an INC500 company with over 100 locations in 40 states. These services are constantly utilizing new technologies to keep pace with the changing needs of schools and parents across the country. IAK provides schools with its award winning Visitor Management software and Child Identification program. Ident-A-Kid is entirely customizable; allowing schools to track visitors with optional Sexual Offender Checks, tardy students, volunteers, staff, etc. in an easy to use, low cost solution.
CONTRACT: 3071615 Software
Jul-16-2015 to Jul-26-2018
Ident A Kid Services of America
CONTRACT: 3071615 Software
Jul-16-2015 to Jul-26-2018
TIPS CONTACT

PAYMENT TO

NAME

Meredith Barton

ADDRESS:

1780 102nd Ave. N, Ste 100

POSITION

TIPS CONTACT

PHONE

(866)-839-8477

CITY:

St. Petersburg

FAX

(866)-839-8472

STATE:

FL

MOBILE

ZIP:

33716

EMAIL

tips@tips-usa.com
| | |
| --- | --- |
| FEDERAL OR EDGAR COMPLIANCE DOCUMENTS FILED WITH CONTRACT: | NO |
| DISADVANTAGED/MINORITY/WOMAN BUSINESS ENTERPRISE | NO |
| HISTORICALLY UNDERUTILIZED BUSINESS (HUB) | NO |
| | |
| --- | --- |
| | AL AK AZ AR CA CO CT DE DC FL GA HI ID IL IN IA KS KY LA ME MD MA MI MN MS MO MT NE NV NH NJ NM NY NC ND OH OK OR PA RI SC SD TN TX UT VT VA WA WV WI WY |
0

We are committed to provide a financing experience based on unwavering integrity, unmatched service and complete transparency. Our processes have been established with the client in mind, and we are dedicated to ensuring that you enjoy your experience working with our team. Our goal is for you to build a long-term relationship with Live Oak Equipment Finance, not only as your financial partner, but also a firm that can help you grow and excel as a professional in your industry.
Contact Information:
Phone: (512) 726-0367
Email: tips@loequipmentfinance.com
Website: www.loequipmentfinance.com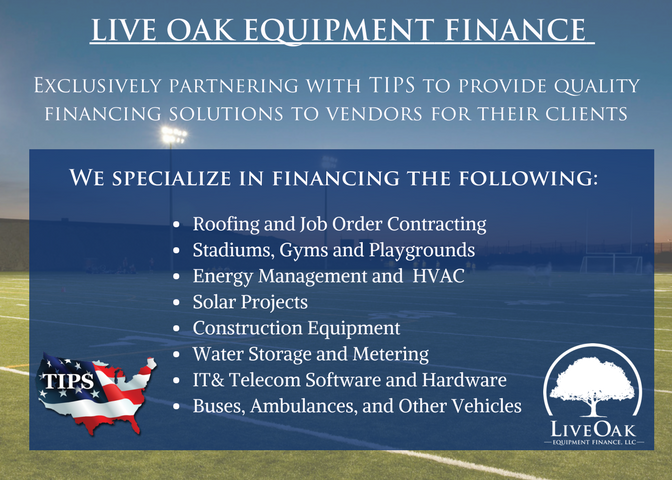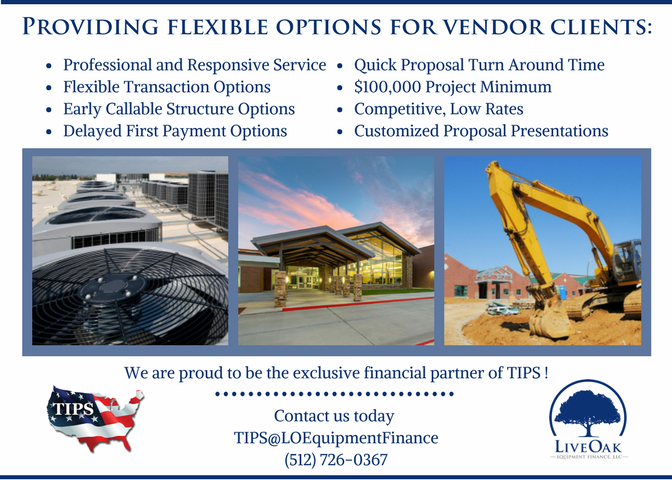 Resellers listed below may also hold a current TIPS contract. PO's for quotes provided by a reseller that are also awarded in the same category will be processed and sent directly to that reseller.

Please check under "ALL VENDORS" before requesting a quote from any listed reseller.
Resellers
Address
Barbara Ernst Contact: Barb Ernst
Contact Phone:(812) 660-0201
Contact Email: ernst@identakid.com
1774 N 350 West, Rockport, IN 47635
Phone:
Fax:
Bill Levinsohn Contact: Bill Levinsohn
Contact Phone:(706) 569-0477
Contact Email: bill@identakid.com
4701 Shenandoah Ct., Columbus, GA 31907
Phone:
Fax:
Brian O'Hara Contact: Brian or Jamie O'Hara
Contact Phone:(252) 544-0408
Contact Email: ohara@identakid.com
4808 Pebble Beach Circle, Wilson NC 27896
Phone:
Fax:
Cathy Riggs Contact: Cathy Riggs
Contact Phone:(757) 359-7132
Contact Email: cathyriggs@identakid.com
1111 Arlynn Lane, Virginia Beach, VA 23451
Phone:
Fax:
Chris Adamo Contact: Chris Adamo
Contact Phone:(770) 922-1129
Contact Email: adamo@identakid.com
4196 E Fariview Rd., Stockbridge, GA 30281
Phone:
Fax:
Dan Gordon Contact: Dan Gordon
Contact Phone:(703) 709-8556
Contact Email: gordon@identakid.com
3644 Beech Down Drive, Chantilly, VA 20151
Phone:
Fax:
Darlene Bocan Contact: Darlene Bocan
Contact Phone:(210) 313-1336
Contact Email: bocan@identakid.com
29o746 FM 3009, New Braunfels, TX 78132
Phone:
Fax:
David Estrada Contact: David or Tracey Estrada
Contact Phone:(805) 484-2916
Contact Email: estrada@identakid.com
2390-C Las Posas Rd., Camarillo, CA 93010
Phone:
Fax:
Delores Parker Contact: Delores Parker
Contact Phone:(405) 596-1047
Contact Email: parker@identakid.com
9628 Gold Field Place, OK City, OK 73128
Phone:
Fax:
Don Rothell Contact: Don or Peggy Rothell
Contact Phone:(864) 646-2521
Contact Email: don@identakid.com
1235 Wilson Rd., Central SC 29630
Phone:
Fax:
Donna Aversa-Smith Contact: Donna Aversa-Smith
Contact Phone:(443) 275-1543
Contact Email: daversasmith@identakid.com
2015 Holly Ridge Court, Timonium MD 21093
Phone:
Fax:
Greg White Contact: Grge or Dede White
Contact Phone:(256) 238-0159
Contact Email: white@identakid.com
1101 Forest Lane, Anniston, AL 36207
Phone:
Fax:
Harry Ayers Contact: Harry or Kerry Ayers
Contact Phone:(405) 470-1735
Contact Email: ayers@identakid.com
8917 N Shannon Ave., OK City, OK 73132
Phone:
Fax:
Heritage Children LLC Contact: Jim Creagh or Chris Hugo
Contact Phone:(919) 866-2365
Contact Email: rdu@identakid.com
117 Industrial Court, Goldsboro, NC 27530
Phone:
Fax:
Jan Switzer Contact: Jan Switzer
Contact Phone:
Contact Email: switzer@identakid.com
1400 S Cedar Street, Borger, TX 79007
Phone:
Fax:
Joyce Gold Contact: Joyce or Rich Gold
Contact Phone:(717) 497-1828
Contact Email: jgold@identakid.com
161 Evergreen Lane, Plalmyra, PA 17078
Phone:
Fax:
Joyce Johnston Contact: Joyce Johnston
Contact Phone:(336) 558-2000
Contact Email: johnston@identakid.com
6998 Branson Meadows Rd., Archdale, NC 27263
Phone:
Fax:
Julie Costanzo Contact: Julie Costanzo
Contact Phone:(678) 469-7429
Contact Email: costanzo@identakid.com
1260 Thomas Circle, Roswell, GA 30075
Phone:
Fax:
Kathy Fields Contact: Kathy Fields
Contact Phone:(706) 482-0099
Contact Email: fields@identakid.com
9 Hummingbird Valley, Dahlonega, GA 30533
Phone:
Fax:
Kim Jackson Contact: Kim Jackson
Contact Phone:(410) 360-1000
Contact Email: kjackson@indentakid.com
1005 Chestnut Haven Ct, Baltimore, MD 21226
Phone:
Fax:
Kim McKean Contact: Kim McKean
Contact Phone:(904) 654-6951
Contact Email: kmckean@identakid.com
4158 Kelly Lee Drive, Jacksonville, FL 32224
Phone:
Fax:
Kimberly Campbell Contact: Kim Campbell
Contact Phone:(405) 205-2625
Contact Email: campbell@identakid.com
3116 NW 71st, OK City, OK 73116
Phone:
Fax:
Kirk Cox Contact: Kirk Cox
Contact Phone:(803) 467-5836
Contact Email: kirkcox@identakid.com
1041 Lofty Pine Dr., Columbia, SC 29212
Phone:
Fax:
Lauren Sellers Contact: Bryan Greenway
Contact Phone:(843) 206-9088
Contact Email: greenway@identakid.com
1212 Pinckney Ave., Florence SC 29505
Phone:
Fax:
Louise Bauman Contact: Louise Bauman
Contact Phone:(317) 437-6882
Contact Email: bauman@identakid.com
2089 Woodcock Drive, Avon, ION 46123
Phone:
Fax:
LuEllen Pierson Contact: LuEllen Rierson
Contact Phone:(910) 409-0076
Contact Email: lrierson@identakid.com
1634 Trinity Church Rd., Pinnacle, NC 27043
Phone:
Fax:
Lynn McCarthy Contact: Lynn McCarthy
Contact Phone:(702) 567-8111
Contact Email: lmccarthy@identakid.com
561 Preakness Stakes, St., Henderson NV89015
Phone:
Fax:
Maria Davis Contact: Maria or Vic Davis
Contact Phone:(704) 827-8231
Contact Email: mdavis@identakid.com
7418 Gate Key Court, Stanley, NC 28164
Phone:
Fax:
Melissa McNair Contact: Melissa McNair
Contact Phone:(704) 616-6555
Contact Email: mmcnair@identakid.com
240 Short Rd., Be4ssemer City, NC 28016
Phone:
Fax:
Pat Horner Contact: Pat or Sherry Horner
Contact Phone:(940) 389-8961
Contact Email: idkidtx@identakid.com
1471 S Wickham, Alvord, TX 76225
Phone:
Fax:
Ruth Stephenson Contact: Rith Stephenson
Contact Phone:(816) 734-5062
Contact Email: stephenson@identakid.com
9200 N Kenwood Ave., Kansas City, KS 64155
Phone:
Fax:
Sandra Jacobs Contact: Charmaine Van Schalkwyk
Contact Phone:(727) 359-4924
Contact Email: sjacobs@identakid.com
14003 Queens Harbor Rd., Charlotte, NC 28278
Phone:
Fax:
Shannon Stepner Contact: Shannon or Josh Stepner
Contact Phone:(619) 546-9583
Contact Email: stepner@identakid.com
5446 Mound Ave., San Diego, CA 92120
Phone:
Fax:
Stephanie Williamson Contact: Stephanie Williamson
Contact Phone:(630) 709-3578
Contact Email: swilliamson@identakid.com
5597 Cascade Dr., Lisle, IL 60532
Phone:
Fax:
Tim Tickle Contact: Tim or Dana Tickle
Contact Phone:(336) 508-1148
Contact Email: tickle@identakid.com
1225 Frank Road, Gibsonville, NC 27249
Phone:
Fax:
Ty Gantzer Contact: Ty Gantzer
Contact Phone:(614) 270-1968
Contact Email: tgantzer@identakid.com
30 Spring Hollow Ct., Westerville OH 43081
Phone:
Fax: