EMAIL PURCHASE ORDER TO: TIPSPO@TIPS-USA.COM
ATTACH PO AS A PDF - ONLY ONE PO PER EMAIL
PO MUST REFERENCE TIPS CONTRACT NUMBER
VENDOR

Clear Touch Interactive Inc

WEBSITE

www.getcleartouch.com

SERVICE/PRODUCTS DESCRIPTION

Clear Touch Interactive provides fully integrated interactive panel and display solutions that are big, beautiful, rich and intutive. These interactive panels and displays are specifically designed for the demands and requirements of today's interactive environments. It is through a combination of immersive audio and video technologies that leads Clear Touch Interactive in transforming the interactive experience.
CONTRACT: 171001 Audio Visual Equipment, Supplies and Services
Dec-15-2017 to Dec-18-2020
Clear Touch Interactive Inc
CONTRACT: 171001 Audio Visual Equipment, Supplies and Services
Dec-15-2017 to Dec-18-2020
TIPS CONTACT

PAYMENT TO

NAME

Meredith Barton

ADDRESS:

561 Keystone Avenue, Suite 821

POSITION

TIPS CONTACT

PHONE

(866)-839-8477

CITY:

Reno

FAX

(866)-839-8472

STATE:

NV

MOBILE

(903)-243-4789

ZIP:

89503

EMAIL

tips@tips-usa.com
| | |
| --- | --- |
| FEDERAL OR EDGAR COMPLIANCE DOCUMENTS FILED WITH CONTRACT: | NO |
| DISADVANTAGED/MINORITY/WOMAN BUSINESS ENTERPRISE | NO |
| HISTORICALLY UNDERUTILIZED BUSINESS (HUB) | NO |
| | |
| --- | --- |
| | AL AK AZ AR CA CO CT DE DC FL GA HI ID IL IN IA KS KY LA ME MD MA MI MN MS MO MT NE NV NH NJ NM NY NC ND OH OK OR PA RI SC SD TN TX UT VT VA WA WI WY |
0

We are committed to provide a financing experience based on unwavering integrity, unmatched service and complete transparency. Our processes have been established with the client in mind, and we are dedicated to ensuring that you enjoy your experience working with our team. Our goal is for you to build a long-term relationship with Live Oak Equipment Finance, not only as your financial partner, but also a firm that can help you grow and excel as a professional in your industry.
Contact Information:
Phone: (512) 726-0367
Email: tips@loequipmentfinance.com
Website: www.loequipmentfinance.com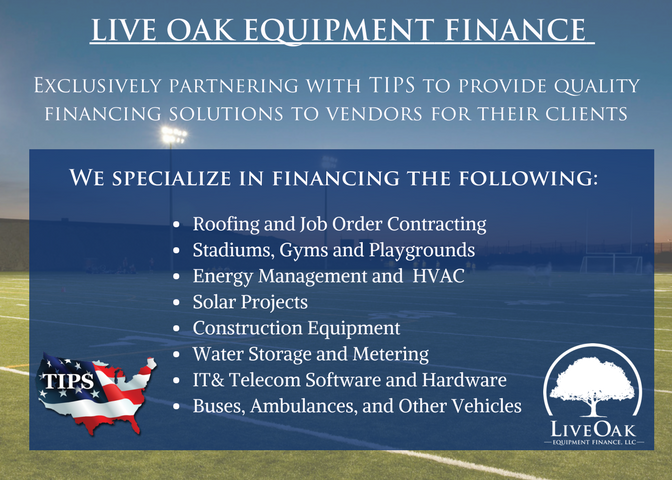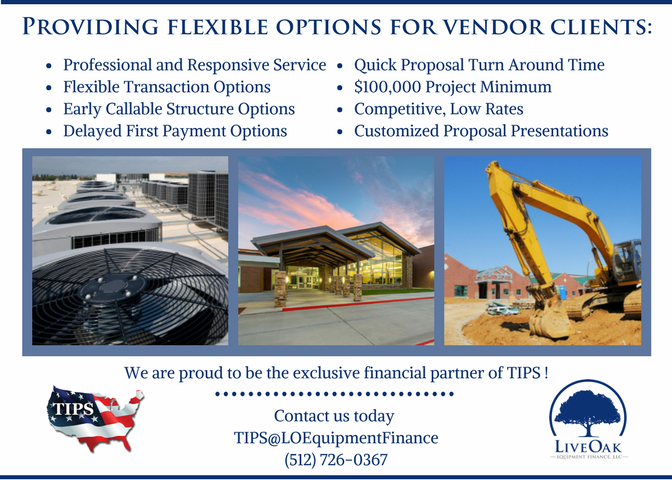 Resellers listed below may also hold a current TIPS contract. PO's for quotes provided by a reseller that are also awarded in the same category will be processed and sent directly to that reseller.

Please check under "ALL VENDORS" before requesting a quote from any listed reseller.
Resellers
Address
323Link Contact: Chuck Conder
Contact Phone:502 615 3731
Contact Email: cconder@323link.com
109 Holiday Ct, Franklin, TN 37067
Phone:502 615 3731
Fax:
3rday productions Contact: Melvin Rodriguez
Contact Phone:828 333 4029
Contact Email: 3rdayprod@gmail.com
PO Box 1772, Forest City, NC 28043
Phone:828 333 4029
Fax:
Academic Technologies Contact: Bret Eltiste
Contact Phone:(601) 427-3587
Contact Email: bret@academictechinc.com
4560 Office Park Drive, Jackson, MS 39206
Phone:(601) 427-3587
Fax:
Advanced Classroom Technologies Contact: Denise Williamson
Contact Phone:800-355-2905
Contact Email: DeniseW@act-ol.com
13350 41st Ave NE, Suite B, Marysville, WA 98271
Phone:800-355-2905
Fax:
Adwar Video Contact: Mike Adwar
Contact Phone:(631) 777-7070
Contact Email: mike@adwarvideo.com
125 Gazza Boulevard, Farmingdale, NY 11735
Phone:(631) 777-7070
Fax:
Alliant Intergrators Contact: Jim Bozarth
Contact Phone:(330) 220-9990
Contact Email: jbozarth@alliantintegrators.com
2700 Diode Lane, Louisville, KY 44233
Phone:(330) 220-9990
Fax:
Auburn AV Contact: Neal Nisewender
Contact Phone:(334) 821-2701
Contact Email: neal.niswender@auburnav.com
211 Orr Avenue, Opelika, AL 36804
Phone:(334) 821-2701
Fax:
Audio Visual Aids Contact: Ron George
Contact Phone:(210) 732-1234
Contact Email: rgeorge@audiovisualaids.com
203 N Flores St, San Antonio, TX 78212
Phone:(210) 732-1234
Fax:
Audio Visual Assc. Contact: Ed Susco
Contact Phone:888 435 6678
Contact Email: esusco@avaonline.com
1 Stewart Crt, Denville, NJ 07834
Phone:888 435 6678
Fax:
Audio Visual Invasion Contact: Panos Anassis
Contact Phone:516 345 2636
Contact Email: pano@audiovideoinvasion.com
53 Werman Crt, Plainview, NY 11803
Phone:516 345 2636
Fax:
AVES Audio Visual Systems, Inc. Contact: Angie Gomez
Contact Phone:(281) 295-1300
Contact Email: pamb@avesav.com
12502 Exchange Dr, #400, Sugar Land, TX 77477
Phone:(281) 295-1300
Fax:
AVEX AV Contact: Ted Collier
Contact Phone:713 823 9527
Contact Email: ted@avexav.com
102000 Hemstead Rd, Suite 2D, Houston, TX 77092
Phone:713 823 9527
Fax:
AVISPL Contact: Patrick Hannon
Contact Phone:813 834 7168
Contact Email: patrick.hannon@avispl.com
6301 Benjamin Rd, Suite 101, Tampa, FL 33634
Phone:813 834 7168
Fax:
Avitecture Contact: Brad Pittman
Contact Phone:703 404 8900
Contact Email: bpittman@avitecture.com
1 Export Dr, Sterling, VA 20164
Phone:703 404 8900
Fax:
AZBell Electronics Contact: John Copeland
Contact Phone:2547544689
Contact Email: john.copeland@azbellelectronics.com
7595 W US HWY 190, Belton, TX 76513
Phone:2547544689
Fax:
Beacon Technologies Contact: Bryan Merville
Contact Phone:(615) 301-5020
Contact Email: bmerville@beacontech.net
1441 Donelson Pike, Nashville, TN 37217
Phone:(615) 301-5020
Fax:
BG Innovations Contact: Chris Butler
Contact Phone:218 390 3523
Contact Email: Chris@bgi-usa.net
2822 Snowy Owl Circle, Duluth, MN 55804
Phone:218 390 3523
Fax:
BridgeTek Solutions Contact: Tom Clinton
Contact Phone:(864) 214-0221
Contact Email: tclinton@bridgeteksolutions.com
744 East Stone Avenue, Greenville, SC 29601
Phone:(864) 214-0221
Fax:
Bri-Tech Contact: Brian McAuliff
Contact Phone:631 563 8000
Contact Email: brianm@bri-tech.com
829 Lincoln Ave, Bohemia, NY 11716
Phone:631 563 8000
Fax:
CCS / CIM Technology Solutions Contact: Dale Gayman
Contact Phone:(800) 742-5036
Contact Email: dgayman@cimtechsolutions.com
1256 Washington Street, Columbus, IN 47201
Phone:(800) 742-5036
Fax:
CCS Colorado Contact: Scot Bestick
Contact Phone:3036943323
Contact Email: sbestick@ccsprojects.com
700 West Mississippi, Suite A-6, Denver, CO 80223
Phone:3036943323
Fax:
CCS Mid Atlantic Contact: Strib Meares
Contact Phone:410 290 9028
Contact Email: smeares@ccsprojectss.com
9891 Broken Land Pkwy, #106, Columbia, MD 21046
Phone:410 290 9028
Fax:
CCS Nevada Idaho Contact: Rian Flourens
Contact Phone:208 860 5515
Contact Email: rflourens2@ccsprojects.com
2870 S. Jones Blvd., Suite 3, Las Vegas, NV 89146
Phone:208 860 5515
Fax:
CCS New England Contact: Jim Salvatore
Contact Phone:978 513 6531
Contact Email: jsalvatore@ccsnewengland.com
132 Northeastern Blvd, Nashua, NH 03062
Phone:978 513 6531
Fax:
CCS South East Contact: John Doster
Contact Phone:904 998 7227
Contact Email: jdoster@ccssoutheast.com
5530 Florida Mining Blvd, Jacksonville, FL 32257
Phone:904 998 7227
Fax:
ClassTech Contact: Stacey Trampeneau
Contact Phone:408 515 3322
Contact Email: Stacey@classtech.us
14336 Bercaw Lane, San Jose, CA 95124
Phone:408 515 3322
Fax:
Cleartech Contact: Max Brown
Contact Phone:8005615070
Contact Email: max@cleartechmedia.com
729 W Woodbury Road, Altadena, CA 91001
Phone:8005615070
Fax:
Collaboration Solutions Inc Contact: Summer Vyne
Contact Phone:(818) 506-0339
Contact Email: svyne@collaborationsolutions.com
15335 Morrison St Suite 306, Sherman Oaks, CA 91403
Phone:(818) 506-0339
Fax:
Communication Systems Contact:
Contact Phone:
Contact Email:
4670 Schantz Rd, , Allentown, PA 18104
Phone:
Fax:
Communications Engineering Contact: Lynda Moore
Contact Phone:703-550-5800
Contact Email: lmoore@commeng.com
8500 Cinder Bed Road Suite 100, Newington, VA 22122
Phone:703-550-5800
Fax:
ConnectView Contact: John Seaman
Contact Phone:(855) 400-8476
Contact Email: jseaman@connectview.com
314 West Millbrook Road, Suite 109, Raleigh, NC 27609
Phone:(855) 400-8476
Fax:
Cooper Technologies Contact: Nick O'Neill
Contact Phone:(831) 818-1703
Contact Email: noneill@coopertech.net
303 Potrero Street, Santa Cruz, CA 95060
Phone:(831) 818-1703
Fax:
CPU Sales Contact:
Contact Phone:
Contact Email:
10 Tower Office Park, Flr 6, Woburn, MA 01801
Phone:
Fax:
Creative-Image Technologies Contact: Larry Glynn
Contact Phone:877.834.9711
Contact Email: lglynn@c-it.cc
211 Breighton Circle, Suite 8, Shelbyville, KY 40065
Phone:877.834.9711
Fax:
CV Technologies Contact:
Contact Phone:
Contact Email:
747 Bee Gee Rd, Lumberton, NC 28358
Phone:
Fax:
Cytek Media Systems Contact:
Contact Phone:785 295 4245
Contact Email: ryanj@cytekmedia.com
126 NW Jackson St, Topeka, KS 66603
Phone:785 295 4245
Fax:
Daly Computers Contact: Jeff DiBella
Contact Phone:301 963 1516
Contact Email: jeff.diBella@daly.com
22521 Gateway Center Dr, Claksburg, MD 20871
Phone:301 963 1516
Fax:
Data Projections Contact: Megan Stasio
Contact Phone:713 344 9838
Contact Email: mstasio@dataprojections.com
3700 W Sam Houston Pkwy, Suite 525, Houston, TX 77042
Phone:713 344 9838
Fax:
Data-Smart Contact: Lesley Mukoro
Contact Phone:601 664 8993
Contact Email: lmukoro@gmail.com

Phone:601 664 8993
Fax:
Delcom Group Contact: Sean Delph
Contact Phone:214-389-5500
Contact Email: sdelph@delcomgroup.com
2525 B SH 121 Ste 400, Lewisville, TX 75056
Phone:214-389-5500
Fax:
DETEL Contact: Brandi Dubea
Contact Phone:(225) 952-9430
Contact Email: brandi@detel.com
2906 Main Street, Hessmer, LA 71341
Phone:(225) 952-9430
Fax:
Digital Video Systems Contact: Jorge Necuze
Contact Phone:954.239.4410
Contact Email: jorgen@digitalvideosystems.net
3270 Executive Way, Miramar, FL 33025
Phone:954.239.4410
Fax:
Distex Contact: Maria House
Contact Phone:770-537-4821
Contact Email: maria@distexinstalls.com
1954 Shedd Rd., Bremen, GA 30110
Phone:770-537-4821
Fax:
Edge Business Systems Contact: Rich Simmons
Contact Phone:404 228 4951
Contact Email: rsimons@edgeatl.com
1350 Northmeadow Pkwy, Suite 130, Roswell, GA 30097
Phone:404 228 4951
Fax:
Educate Me Contact: Mark Menzella
Contact Phone:877-791-4550
Contact Email: mmenzella@educate-me.net
116 Fairfield Road, Fairfield, NJ 7004
Phone:877-791-4550
Fax:
EHP Solutions Contact: Han Byul Kim
Contact Phone:213 663 8886
Contact Email: timkim@ehpsolutions.com
5405 Wilshire Blvd, Loas Angeles, CA 90036
Phone:213 663 8886
Fax:
Engaging Technologies Contact: Dustin Frank
Contact Phone:(800) 705-4049
Contact Email: dustin@engaging-technologies.com
5810 S. 142nd St., Ste. B,, Omaha, NE 68137
Phone:(800) 705-4049
Fax:
ESHA AV Contact: Natasha D'Souza
Contact Phone:732-390-6446
Contact Email: natasha@eshacorpav.com
6 Alvin Court, East Brunswick, NJ 8816
Phone:732-390-6446
Fax:
EVCO Sound Contact: Joe Melton
Contact Phone:509 499 7343
Contact Email: joe@evcosound.com
3511 E Trent Ave, , Spokane, WA 99202
Phone:509 499 7343
Fax:
First Service Technology Contact: Scott Holcomb
Contact Phone:210.338.8896
Contact Email: scott@teamfst.com
18587 Sigma Rd. Ste 210, San Antonio, TX 78258
Phone:210.338.8896
Fax:
Ford Audio Visual Contact: Matt Arbuckle
Contact Phone:405-946-9966
Contact Email: Arbum@fordav.com
4800 W I40 Service Rd,, Oklahoma City, OK 73128
Phone:405-946-9966 Ext. 2038
Fax:
HB Communications Contact: Matthew Rose
Contact Phone:203 747 7092
Contact Email: matt.rose@hbcommunications.com
60 Dodge Ave, North Haven, CT 06473
Phone:203 747 7092
Fax:
Howard Technology Solutions Contact: Frank Blanco
Contact Phone:(888) 912-3151
Contact Email: fblanco@howard.com
36 Howard Drive, Ellisville, MS 39437
Phone:(888) 912-3151
Fax:
Image Solutions Contact: Kimberlie Sutterfield
Contact Phone:866 834 9711
Contact Email: ksutterfield@imagesolutions.email
12 National Ave, Fletcher, NC 28732
Phone:866 834 9711
Fax:
Information Transport Solutions Contact: Tony Helton
Contact Phone:(877) 487-1993
Contact Email: tony.helton@its-networks.com
335 Jeanette Barrett Industrial Blvd, Wetumpka, AL 36092
Phone:(877) 487-1993
Fax:
InTech Southwest Services Contact:
Contact Phone:210 690 0000
Contact Email: kreyher@intechsouthwest.com
4778 Research Dr, San Antonio, TX 78240
Phone:210 690 0000
Fax:
iTech Solutions www.itechavs.com
Contact: Eder Aguirre
Contact Phone:832-919-7378
Contact Email: eaguirre@itechavs.com
1416 North Sam Houston Pkwy East, Suite 150, Houston, Tx 77032
Phone:832-919-7378
Fax:
ITSavvy Contact: Heather Carlson
Contact Phone:(312) 676-5246
Contact Email: hcarlson@ITsavvy.com
8300 NW 53rd Street, Suite 350-018, Doral, FL 33166
Phone:(312) 676-5246
Fax:
JourneyEd Contact:
Contact Phone:800 876 3507
Contact Email: spoole@journeyed.com
80 E. McDermott Dr, Allen, TX 75002
Phone:800 876 3507
Fax:
Kansas City AV Contact: Jerry Bernard
Contact Phone:816 333 5300
Contact Email: jbernard@kcav.com
7535 Troost Ave, Kansas City, MO 64131
Phone:816 333 5300
Fax:
Katz Computers Contact: Joe Katz
Contact Phone:561 746 2515
Contact Email: joekatz@katzcomputer.com
2885 Jupiter Park Drive, Suite 1300, Jupiter, FL 33458
Phone:561 746 2515
Fax:
Key Code Media Contact: Andrew Holinsky
Contact Phone:818 303 3900
Contact Email: HOLINSKY@KEYCODEMEDIA.COM
270 s. Flower St, Burbank, CA 91502
Phone:818 303 3900
Fax:
Learning Partners LLC Contact: Roger Choate
Contact Phone:270-210-8907
Contact Email: roger@yourlearningpartners.com
475 Calvert Drive, Paducah, KY 42003
Phone:270-210-8907
Fax:
Lee Hartman & Sons Contact: Cindy Smith
Contact Phone:540-366-3493
Contact Email: csmith@leehartman.com
3236 Cove Road NW, Roanoke, VA 24017
Phone:540-366-3493
Fax:
Level 3 AV Contact: Wendy Reyes
Contact Phone:480 892 1071
Contact Email: WReyes@L3AV.com
955 E. Javelina Ave Ste B106, Mesa, AZ 85204
Phone:480 892 1071
Fax:
Lifeline Technologies Contact: Scott Wright
Contact Phone:800.236.4327
Contact Email: scott@lifelineav.com 
41 Means Drive, Suite A, Platteville, WI 53818
Phone:800.236.4327
Fax:
LJ Frame Contact: Gerry Torrence
Contact Phone:(773) 269-6525
Contact Email: gerry@ljframe.com
710 East 47th Street Suite 204W, Chicago, IL 60653
Phone:(773) 269-6525
Fax:
M & A Technology www.macomp.com
Contact: Donna Shepard
Contact Phone:(800) 225-1452
Contact Email: dshepard@macomp.com
2045 Chenault Drive, Carrollton, TX 75006
Phone:(800) 225-1452
Fax:
M&A Technologies Contact:
Contact Phone:800 225 1452
Contact Email: dshepard@macomp.com
2045 Chenault Dr, Carrolton, TX 75006
Phone:800 225 1452
Fax:
Mediatech, Inc Contact: Lou Gallo
Contact Phone:386-258-9958
Contact Email: lou.gallo@gomediatech.com
829 Carswell Ave., Holly Hill, FL 32117
Phone:386-258-9958
Fax:
Micro Technology Consultants Contact: Joel Stringer
Contact Phone:(478) 953-1921
Contact Email: joel.stringer@microtechnology.net
132 Osigian Boulevard, Suite 200, Warner Robbins, GA 31088
Phone:(478) 953-1921
Fax:
MTG IT Contact:
Contact Phone:215 247 8324
Contact Email:
520 State Rd, Bldg A, Bensalem, PA 19020
Phone:215 247 8324
Fax:
Netrix Contact: Terrance McNamee
Contact Phone:847 283 7311
Contact Email: tmcnamee@netrixllc.com
2801 Lakeside Dr, Suite 125, Bannockburn, IL 60015
Phone:847 283 7311
Fax:
Next Step Innovation Contact: Micah Edmonds
Contact Phone:(601) 708-4500
Contact Email: micah_Edmonds@nextstepinnovation.com
703 Hwy 80, Clinton, MS 39056
Phone:(601) 708-4500
Fax:
Nicholas P Pipino Contact: Stephen Pipino
Contact Phone:888 596 0014
Contact Email: spipino@pipinoinc.com
9139-C Red Branch Rd, Columbia, MD 21045
Phone:888 596 0014
Fax:
Nisewonger AV Contact: Randy Nisewonger
Contact Phone:770-338-0335
Contact Email: randy@nisewongerav.com
1125 Cripple Creek Drive, Lawrenceville, GA 30043
Phone:770-338-0335
Fax:
Ohio Valley AV Contact: Sean Merkle
Contact Phone:(937) 438-9710
Contact Email: smerkle@ohvav.com
858 Distribution Drive, Beavercreek, OH 45434
Phone:(937) 438-9710
Fax:
Onyx AV Contact: Shaun Paulsen
Contact Phone:800 766 2715
Contact Email: spaulsen@onyxAV.com
800 Principal Crt, Chesapeake, VA 23320
Phone:800 766 2715
Fax:
Pathway Communications, Ltd. Contact: Harold Dalton
Contact Phone:(972) 436-6161
Contact Email: haroldd@pcomus.com
720 Valley Ridge Circle Suite 13, Lewisville, TX 75057
Phone:(972) 436-6161
Fax:
Prime Systems Contact: Michael Chang
Contact Phone:(713) 933-1017
Contact Email: michael@directron.us
10402 Harwin Drive, Houston, TX 77036
Phone:(713) 933-1017
Fax:
Pro AV Systems Contact: Kimberly Bishop
Contact Phone:978 692 5111
Contact Email: kbishop@proavsi.com
275 Billerica Rd, Suite 3, Chelmsford, MA 01824
Phone:978 692 5111
Fax:
ProTech Projection Systems Inc Contact: Rod Bradbury
Contact Phone:330) 220-9990
Contact Email: rod@protechprojection.com
2597 Center Rd, Hinckley, OH 44233
Phone:330) 220-9990
Fax:
RnB Enterprises Contact: Robert Serio
Contact Phone:800 998 8865
Contact Email: bob@rnbenterprises.com
115 Hurley Rd, #4 B/C, Oxford, CT 06478
Phone:800 998 8865
Fax:
Ronco CALA Contact: Darrell Hines
Contact Phone:345 947 5710
Contact Email: dhines@roncocala.com
The Concord Center, Unit 3,, 59, MacLendon Dr. Georgetown, Grand Cayman KY1-1103
Phone:345 947 5710
Fax:
Ronco Specialized Systems Contact: Mark Schmitkors (sp)
Contact Phone:716-879-8136
Contact Email: mschmitkors@ronco.net
84 Grand Island Blvd, Tonawanda, NY 14150
Phone:716-879-8136
Fax:
Royal Business Equipment Contact: Glenn Pubal
Contact Phone:800-238-8973
Contact Email: sales@royalbusiness.com
591 Cleveland St, Elyria, OH 44035
Phone:800-238-8973
Fax:
RTW Media Contact: Zack Guida
Contact Phone:8044488400
Contact Email: Zack@rtwav.com
18405 Jefferson Davis Hwy, Ruther Glen, VA 22546
Phone:8044488400
Fax:
SHI Government Solutions www.shi.com
Contact: Christina Santos
Contact Phone:800-845-6801
Contact Email: christina_santos@shi.com
1301 South Mopac Expressway, Suite 375, Austin, Tx 78746
Phone:800-845-6801
Fax:
SHI International www.shi.com
Contact: Victoria Pubylski
Contact Phone:(512) 366-2928
Contact Email:
1301 South Mopac Expressway, Austin, Texas 78746
Phone:(512) 366-2928
Fax:
SHI Technology Consultants Contact: Ashley DeLia
Contact Phone:888-764-8888
Contact Email: ashley_delia@shi.com
290 Davidson Ave., Somerset, NJ 8873
Phone:888-764-8888
Fax:
Signal House Communications Contact: Keith Paniucki
Contact Phone:850-224-2212
Contact Email: keith@shcvideo.com
1535 Killearn Center Blvd Ste. C-1, Tallahassee, FL 32309
Phone:850-224-2212
Fax:
Smart Computers and Consulting Contact:
Contact Phone:701 483 7075
Contact Email: jberger@realsmart1.com
26 West Villard, Dickinson, ND 58601
Phone:701 483 7075
Fax:
Stage Front Contact: Natalie Flloyd
Contact Phone:800 736 9242
Contact Email: natalie.ffloyd@stagefront.net
6 Southern Oaks Dr., Savannah, GA 31405
Phone:800 736 9242
Fax:
Street and Company Contact: John C Ritter
Contact Phone:
Contact Email: jritter@streetandco.com
3593 Mayland Ct, Henrico, VA 23233
Phone:
Fax:
TechNet Partners, Inc. Contact: Brian Schumann
Contact Phone:760-683-8393
Contact Email: bschumann@technetpartners.com
2262 Rutherford Rd. #106, Carlsbad, CA 92008
Phone:760-683-8393
Fax:
Technical Training Aids Contact: Travis Coon
Contact Phone:(620) 249-0688
Contact Email: travis@ttaweb.com
2076 Valleydale Terrace, Birmingham, AL 35244
Phone:(620) 249-0688
Fax:
TechXtend Contact: Kevin Askew
Contact Phone:800-441-1511
Contact Email: kevin.askew@techxtend.com
4 Industrial Way West, 3rd floor, Eatontown, NJ 7724
Phone:800-441-1511
Fax:
Tele-Measurements Contact: Gary Gorski
Contact Phone:973 473 8822
Contact Email: ggorski@tele-measurements.com
145 Main Ave., Clifton, NJ 07014
Phone:973 473 8822
Fax:
The Integration Factory Contact: Pamela McCarty
Contact Phone:(321) 704-8252
Contact Email: pamm@tifav.com
485 Gus Hipp Blvd., Rockledge, FL 32955
Phone:(321) 704-8252
Fax:
The Ockers Company Contact: Jason Houser
Contact Phone:(508) 586-4642
Contact Email: JasonH@Ockers.com
830 West Chestnut Street, Brockton, MA 2301
Phone:(508) 586-4642
Fax:
Training Aids Contact: Travis Coon
Contact Phone:620 249 0688
Contact Email: travis@ttaweb.com
2076 Valleydale Terrace, Birmingham, AL 35244
Phone:620 249 0688
Fax:
Troxell Communications Contact: Mark Barber
Contact Phone:(800) 337-3854
Contact Email: mark.barber@trox.com
4675 E. Cotton Center Blvd. Suite #155, Phoenix, AZ 85040
Phone:(800) 337-3854
Fax:
Troxell Communications, Inc. www.etroxell.com
Contact: Dave Johnson
Contact Phone:972-542-8560
Contact Email: dave.johnson@trox.com
906 W McDermott Dr Ste 166 #294, Allen, Tx 75013
Phone:972-542-8560
Fax:
Unified AV Systems Contact: Ken Colson
Contact Phone:(866) 980-8287
Contact Email: kcolson@unifiedav.com
120 Interstate North Pkwy East, Bldg 300, Suite 314, Atlanta, GA 30339
Phone:(866) 980-8287
Fax:
Unified Classroom Technology Contact: George Lusk
Contact Phone:(803) 807-7034
Contact Email: george@unifiedclassroomtechnology.com
1549 Clowney Road, Blair, SC 29015
Phone:(803) 807-7034
Fax:
United Data Technologies (UDT) Contact: Sal Incardone
Contact Phone:813 391 7790
Contact Email: sal.incardona@udtonline.com
8825 NW 21st Terrace, Doral, FL 33172
Phone:813 391 7790
Fax:
VICOM Contact: Stephanie Ayers
Contact Phone:757 490 7777
Contact Email: sayers@vicom-corp.com
5361 Cleveland St, Virinia Beach, VA 23462
Phone:757 490 7777
Fax:
Vision Integration Services, Inc. Contact: Scott Daniel
Contact Phone:(251) 279-0981
Contact Email: sdaniel@invisionav.com
1210 Hutson Drive, Mobile, AL 36609
Phone:(251) 279-0981
Fax:
Visionality (Designs that Compute) Contact: Richard Barnett
Contact Phone:972 598 1717
Contact Email: richard@visionality.com
1778 N. Plano Rd, Richardson, TX 75081
Phone:972 598 1717
Fax:
Visual Sound Contact: Karen Bogosian
Contact Phone:610-690-1312
Contact Email: kbogosian@visualsound.com
485 Park Way, Broomall, PA 19008
Phone:610-690-1312
Fax:
Walsh Door & Hardware Contact: Marty Walsh
Contact Phone:(515) 777-7277
Contact Email: mjwalsh@walshsecurity.com
2600 Delaware Avenue, Des Moines, IA 50317
Phone:(515) 777-7277
Fax:
WARD'S MEDIATECH Contact: Brad Ward
Contact Phone:888 852 8122
Contact Email: bward@fws.net
125 W Victoria St, Long Beach, CA 90805
Phone:888 852 8122
Fax:
XIT Solutions Contact: Shawn Santerre
Contact Phone:661 635 0365
Contact Email: ssanterre@xitsolutions.com
1112 20th. St, Bakersfield, CA 93301
Phone:661 635 0365
Fax:
Zip Networks Contact: Jim Colloca
Contact Phone:315 416 7497
Contact Email: jim.colloca@zipnets.com
100 Wilkinson St, Syracuse, NY 13204
Phone:315 416 7497
Fax: